If you're well-versed in the Instagram influencer baddie culture, you've probably heard of the brand House of CB.
Founded in 2010 by Conna Walker, this UK-based brand is known for its elevated, tailored, and luxurious take on party dresses and evening wear.
House of CB was created for women to feel fierce, sexy, and absolutely incredible in all the right places.
If you love House of CB and need similar brands to shop from, we've got you covered. Keep reading to see the top stores like House of CB you'll fall in love with.
RELATED: 16 Best Feminine Clothing Brands To Release Your Inner Goddess
What is House of CB?
House of CB is a UK-based and UK-designed clothing brand created in 2010 by Conna Walker.
Best known for its luxurious, curve-hugging, and beautifully tailored dresses, it's no wonder the CB in House of CB stands for Celeb Boutique.
House of CB wants to give its shoppers luxury without the overwhelming price, but also with the highest quality.
A good majority of dresses sold on House of CB fall between $200 – $300, but every piece is created in London from sketch to store.
Whether you're looking for more budget-friendly options or just similar brands as far as style goes, let's check out the 16 brands similar to House of CB!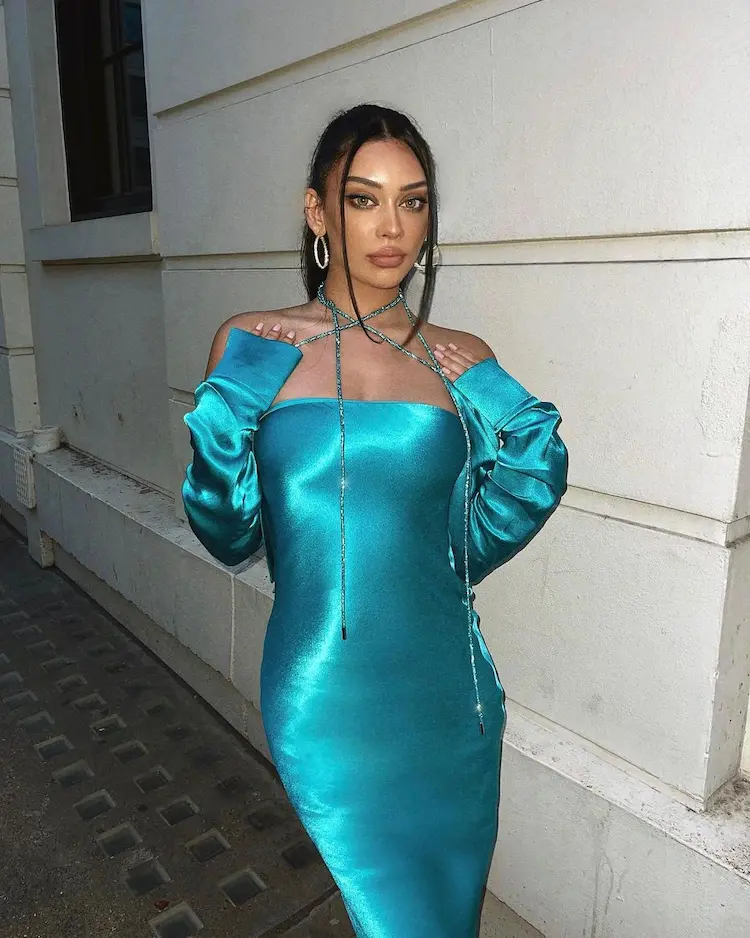 Average pricing: $50 – $150
Popular Sections: Co-Ord Sets, Sale, Jumpsuits
Sizing: XXS – XXL
Meshki is a brand made by women for women.
Another brand popular for its wide selection of gorgeous dresses, Meshki specializes in neutral tones with the idea that even neutral-toned clothing can be bold, sexy, and sleek.
Meshki draws inspiration from current trends and spins it into clothing aimed at modern millennial women that is well-priced and very wearable.
Meshki is similar to House of CB in terms of clothing styles, but Meshki is definitely more affordable with the highest-priced dress being $210. However, most options fall under $150 and they have a great sale section for extra affordable finds.
---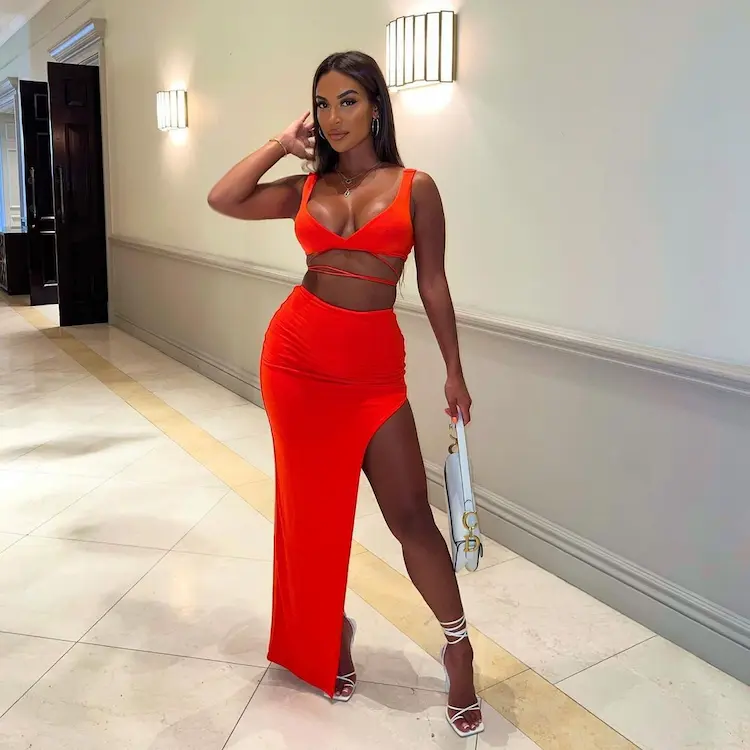 Average pricing: $35 – $75
Popular Sections: Best Sellers, Rompers, Sets
Sizing: XXS – 3X
Created by three sisters from Los Angeles, Naked Wardrobe is an inclusive brand meant to empower women of all shapes and sizes.
This brand is a great alternative to House of CB if you're looking for more affordable options as their styles typically range from $35 – $80 on average.
They offer a variety of body-contouring styles to help accentuate your curves, typically available in neutral colors that are perfect to pair with a wide variety of outfits in your wardrobe.
With trendy and fashion-forward clothing, Naked Wardrobe designs and produces limited quantities to remain exclusive and individualized toward their shoppers.
RELATED: Naked Wardrobe Reviews: Read This First
---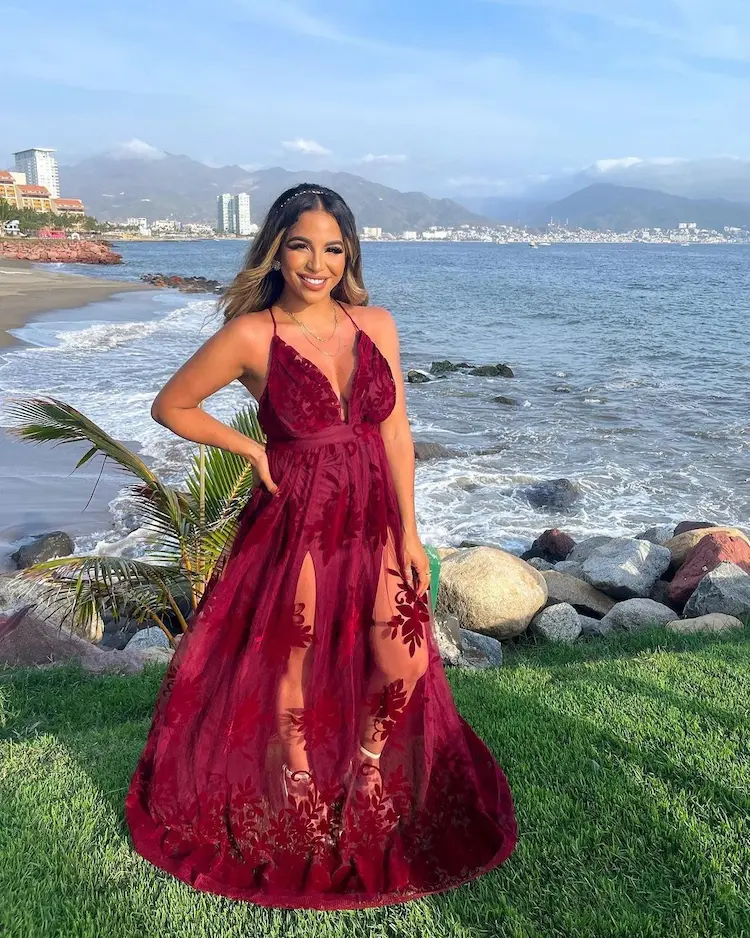 Average pricing: $25 – $80
Popular Sections: Dresses, Shoes, Tops
Sizing: XS – XL
Often seen in big malls and outlets, Windsor is primarily a dress shop dedicated to offering women dresses for any and every occasion.
That said, they also have gorgeous styles aside from dresses, so don't be afraid to branch out.
Windsor is another affordable store similar to House of CB, so you can find cute styles without breaking the bank here. Their prices range from as low as $10 for sale items up to $180 for formal dresses. However, everyday wear items are far more affordable.
A perfect place to shop for date night, dances, and even more formal events like prom, Windsor has a beautiful selection to match anybody's taste at an affordable price.
---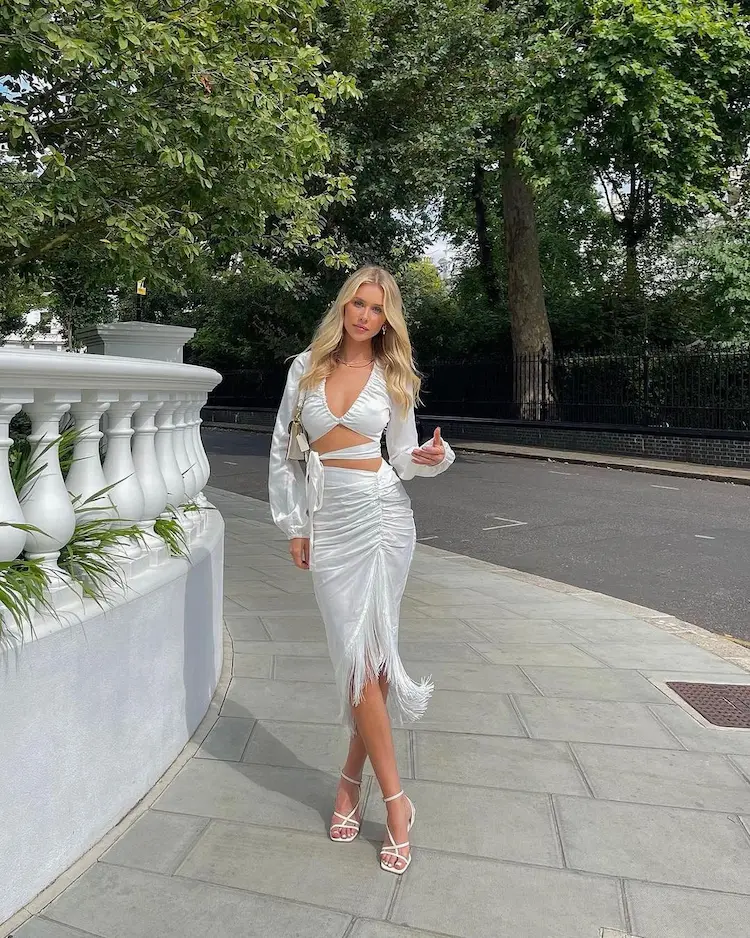 Average pricing: $50 – $400
Popular Sections: Resort, Dresses, Swimwear
Sizing: 0 – 20
Founded in 2007, Club L is another UK-based brand, with the "L" standing for London.
Club L offers clothing similar to House of CB (and for slightly cheaper)! Club L's dress selection is a marvelous place to look through, and a good chunk of the dresses are priced at around $150.
Although shipping costs $15–$20 to the USA and Canada, it might be worth it if you fall in love with their styles.
---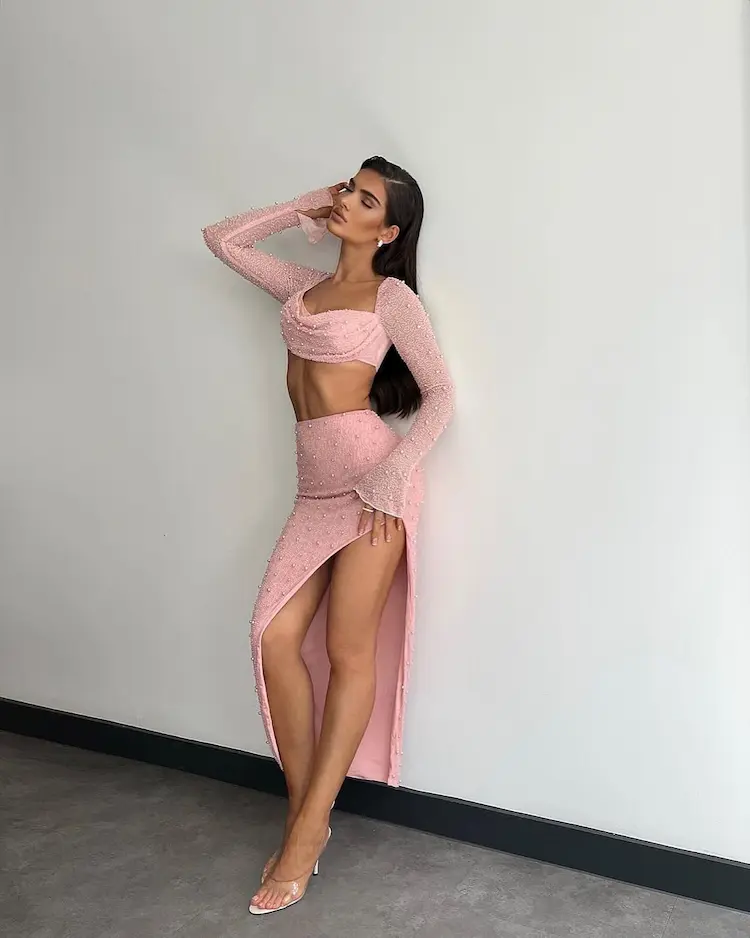 Average pricing: $25 – $100
Popular Sections: Date Night, Jumpsuits, Crop Tops
Sizing: 0 – 12
Another UK-based and UK-designed brand similar to House of CB, Oh Polly was founded in 2015 and has grown tremendously across Europe and into the United States.
Oh Polly is a brand for women focused on affordable and trendy clothing. If you browse their new arrivals, you'll notice they release items within the same color palette, which we love.
Popular for their bright colors and eye-catching styles that hug your curves, Oh Polly is very similar to House of CB at a cheaper price tag (plus free shipping on orders larger than $130).
---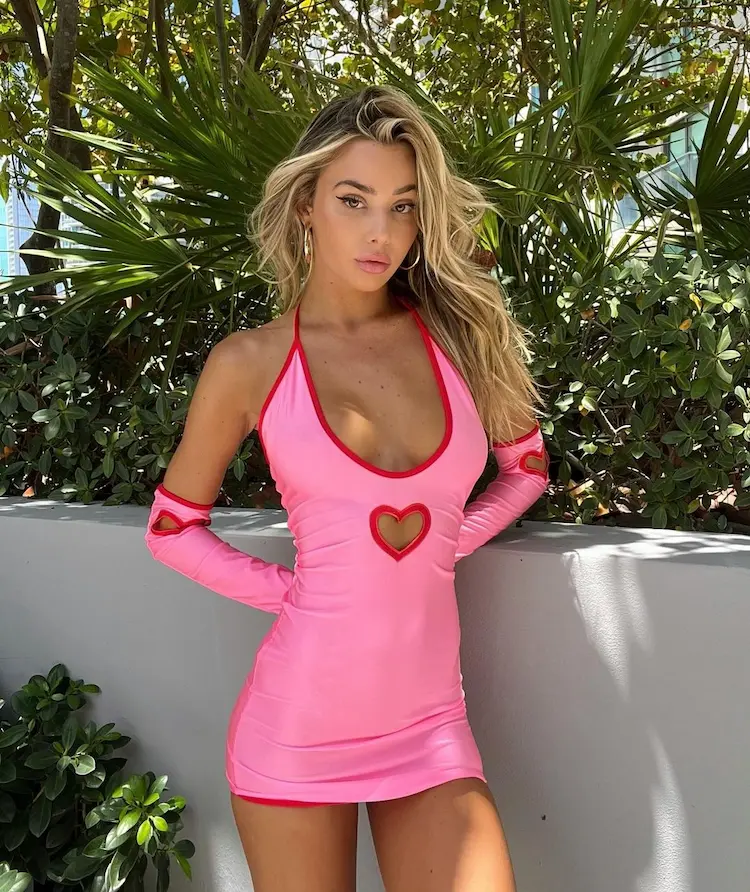 Average pricing: $5 – $70
Popular Sections: New Dresses, Jumpsuits, Swimwear
Sizing: XS – 3X
Of course, we can't talk about Instabaddie culture without mentioning Fashion Nova.
This fast-fashion retailer is famous for its constant deals, social media presence, and celebrity endorsements from the likes of Cardi B and Kylie Jenner.
Fashion Nova truly has everything you could possibly need for your closet, all at low prices that are much more affordable than House of CB.
Prices typically fall under $50 for most of their items, but they do have a few more luxurious garments (like this gorgeous pearl dress) that cost over $100.
---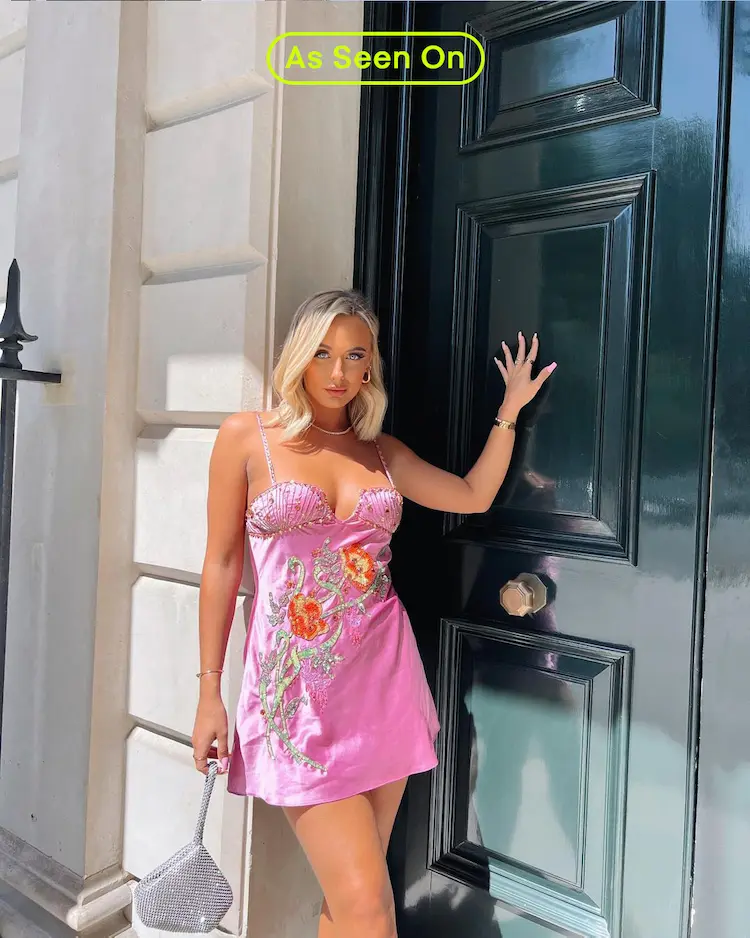 Average pricing: $10+
Popular Sections: Matching Sets, Mini Dresses, Swimwear
Sizing: 00 – 26
ASOS is a reputable, holy grail retailer that has literally everything.
ASOS has a ton of brands and designers to shop from within any and every price range. It's super easy to use the filters provided on the website to find exactly what you need and for what occasion (and we highly recommend doing so since their collection is so massive).
What's also great about ASOS is that the price range accommodates everyone, as the brand has super affordable but cute pieces, but also really high fashion-looking pieces at a higher price point.
---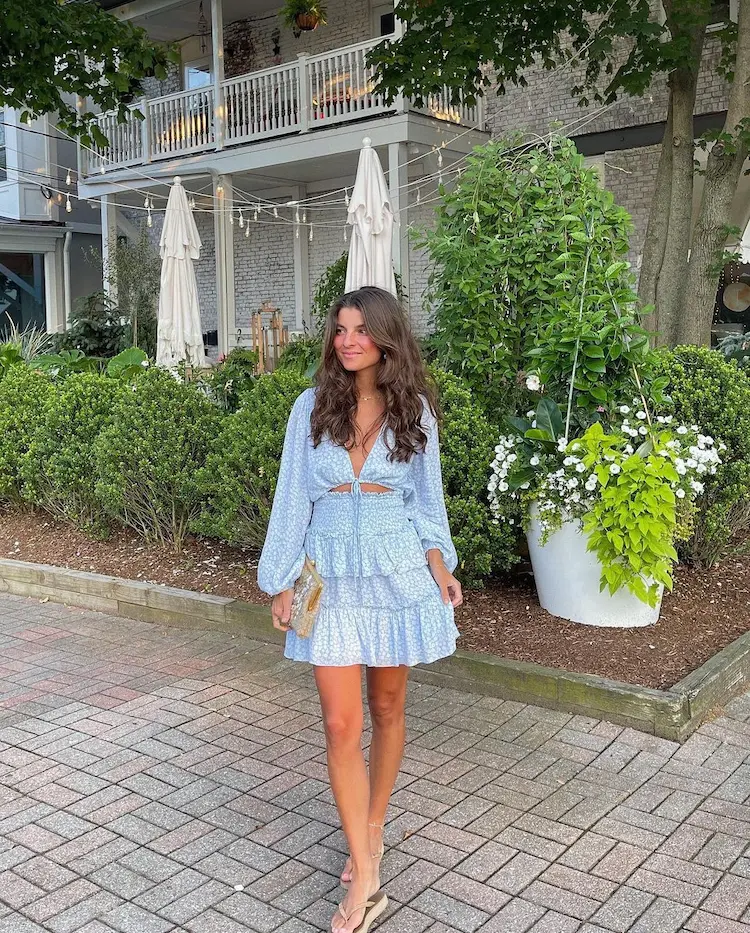 Average pricing: $20 – $100
Popular Sections: Sets, Bestsellers, Cocktail Dresses
Sizing: XXS – 3X
Lulus is a clothing brand that has a fun and cute aesthetic that makes it very approachable, and that's what we appreciate about it!
The brand gives picnic, Sunday brunch with the girlies, strolling through the botanical gardens vibes.
Lulus has a wonderful, huge assortment of clothing styles. If you're looking for something luxurious and bold like House of CB's dresses, Lulus has lots of options too.
Prices are also slightly more affordable than most House of CB options, so you can save some money while you're at it.
---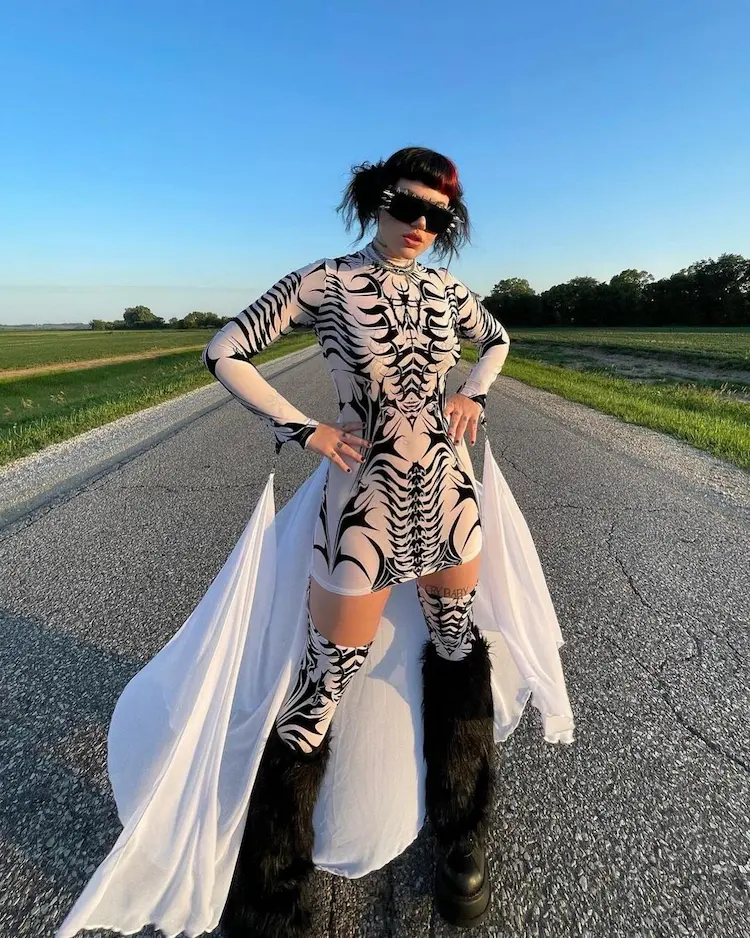 Average pricing: $5 – $100
Popular Sections: Dresses, Bodysuits, Sets
Sizing: XXS – 3X
Dolls Kill is the place for you if you're looking for something more edgy, bold, and unique.
A popular brand with a big social media presence, Dolls Kill is known for its daring, fashion-forward clothing.
Dolls Kill encourages its shoppers to where whatever they feel like and be whoever they want to be.
Although House of CB is a little more girly and colorful, we'd still recommend giving Dolls Kill a shot – some of their styles might surprise you. Plus, their prices are more affordable and they offer free standard shipping on orders over $75.
---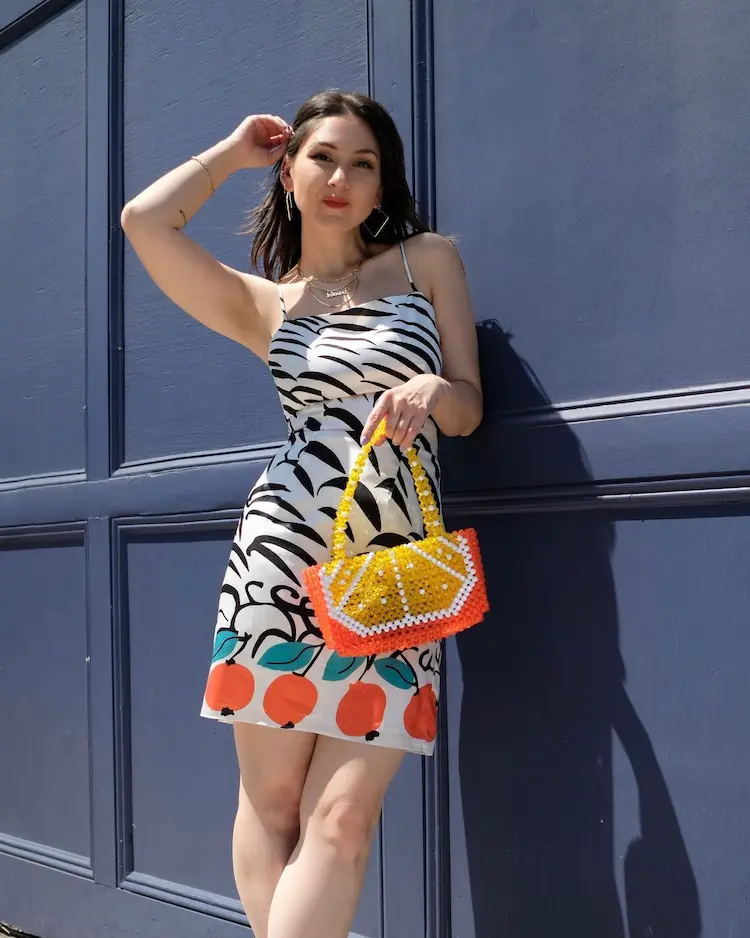 Average pricing: Varies based on garment or membership
Popular Sections: All Dresses, Jumpsuits, Formal Dresses
Sizing: 00 – 22
Rent the Runway is a bit different from the other stores on this list because it's a rental service. If you're someone who loves wearing new styles frequently but can't afford to buy them as often as you want, renting some of your clothes is a great alternative.
You're able to rent single garments or sign up for their monthly membership to receive multiple items each month. They offer a huge variety of styles and designers, so you'll never run out of things to wear.
If you're looking for formal dresses to wear for special occassions, Rent the Runway is a great alternative to rent a gorgeous designer dress instead of paying full price for something you might only wear a few times.
Side Note: We also love Nuuly for monthly clothing rentals – they charge a flat fee of $88 for six items per month (read our Nuuly review for more deets).
RELATED: My Honest Rent the Runway Reviews
---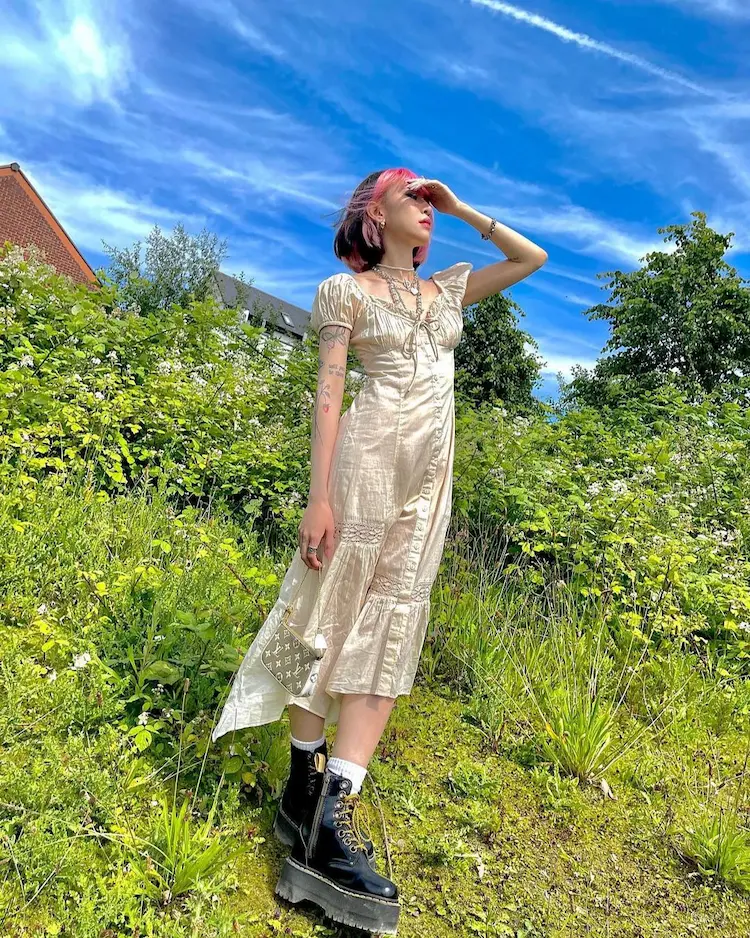 Average pricing: $30 – $200
Popular Sections: Jumpsuits, Mini Dresses, Activewear
Sizing: XS – XL
Urban Outfitters is a very reputable brand popular with young people and trend-lovers.
This brand has trendy pieces, but also niche products inspired by vintage and indie designs and influences.
The best thing about Urban Outfitters is how versatile the pieces are. A lot of the clothing UO offers can be dressed up or down, and the quality of the material is always high.
Prices can vary since they sell their own brands as well as other popular brands that fall within their style, but you can find plenty of budget-friendly options.
With casual, chic, classy, and fashion-forward clothing, UO appeals to every aesthetic.
---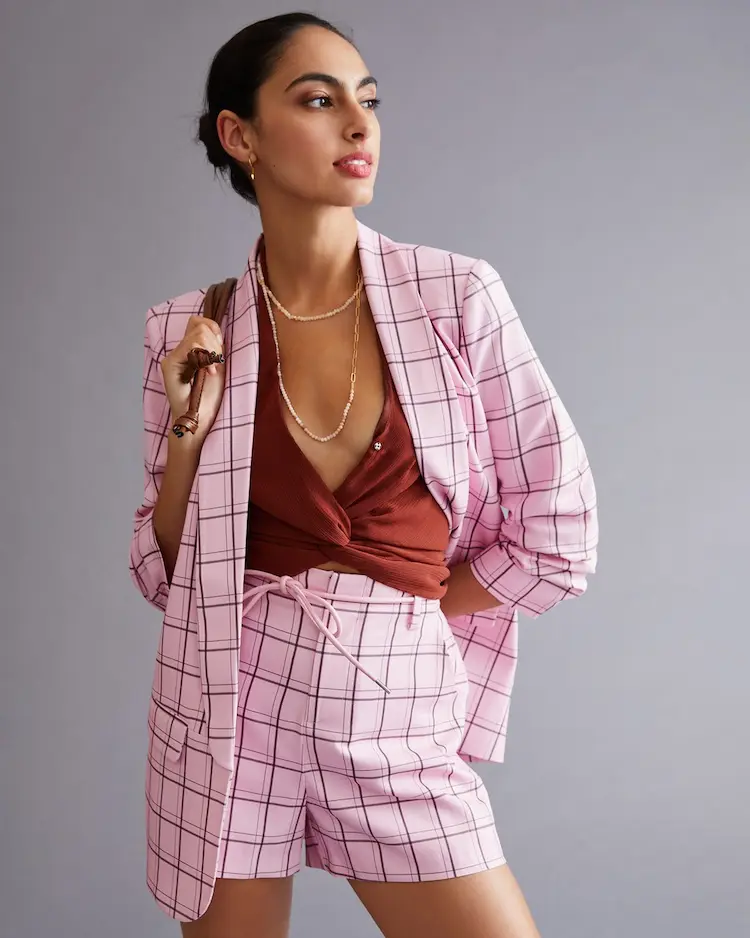 Average pricing: $50 – $300
Popular Sections: Top-Rated Styles, Dresses, Loungewear
Sizing: XXS – 3X
Anthropologie is a brand made for our boho-chic dreams, and the collection of dresses Anthro offers is full of absolute gems!
If you want to look like you spend your time picking beautiful flowers in the backyard of your vacation cottage in Switzerland or that you're the main character boss lady at the business luncheon, Anthropologie is the perfect place for you.
Their prices are similar to House of CB, but the styles are slightly different and more targeted towards a bohemian style.
---
Average pricing: $20 – $75
Popular Sections: All Dresses, Back in Stock, Bodysuits
Sizing: XXS – XXL
That's So Fetch is an Australia-based online retailer for women that carries the absolute trendiest and hottest clothing.
That's So Fetch's dresses are super cute and are bound to make you feel confident and empowered wherever you decide to wear them.
Their dresses are just the start – they have a wide array of other styles that you'll want to check out too.
The best part? The prices are super affordable. However, keep in mind that shipping costs $15–$20 to the USA since the brand is based in Australia.
---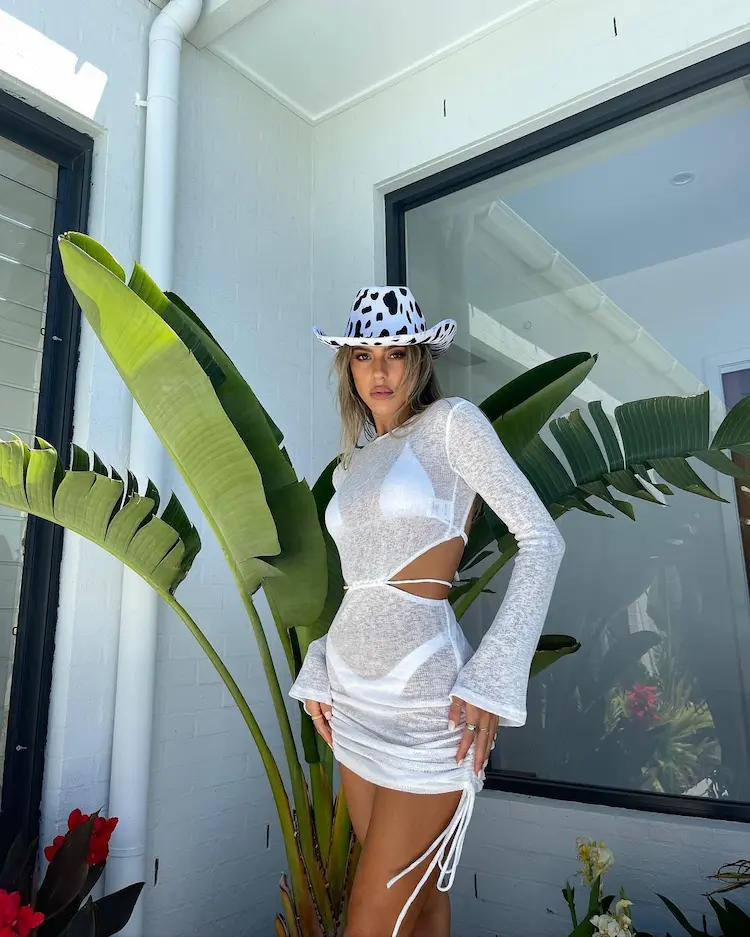 Average pricing: $20 – $80
Popular Sections: New Arrivals, Recently Restocked, Mini Dresses
Sizing: 2 – 14
If you don't know about White Fox already, you're in for a treat.
Another Australia-based brand, White Fox Boutique's mission is to make women feel unapologetically themselves.
Always with the latest styles, White Fox's clothes are bold, fashion-forward, and stylish. Prices are also affordable (and their sale section is even better), ensuring everyone can get their hands on their gorgeous designs.
RELATED: White Fox Boutique Reviews: What You Should Know
---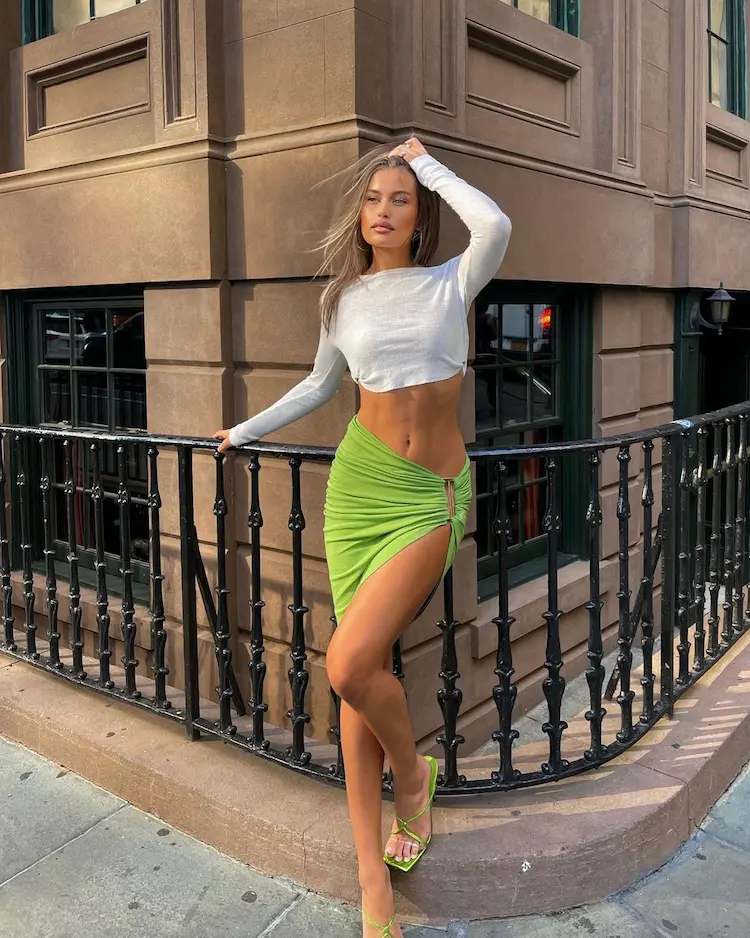 Average pricing: $50 – $400+
Popular Sections: Black Dresses, Night Out, All Dresses
Sizing: XXS – XXL
Aimed to please the millennial and gen-z demographic, REVOLVE is a premium lifestyle brand that has plenty to choose from.
Founded in 2003, REVOLVE evolves with the fashion industry and isn't afraid to be bold and branch out with its own unique touches.
Keep in mind that this store is essentially a marketplace that hosts a wide variety of labels and brands, so you can find a huge array of styles here (as well as a variety of price ranges).
You're sure to find something you'll love and discover some new favorite brands while you're at it!
---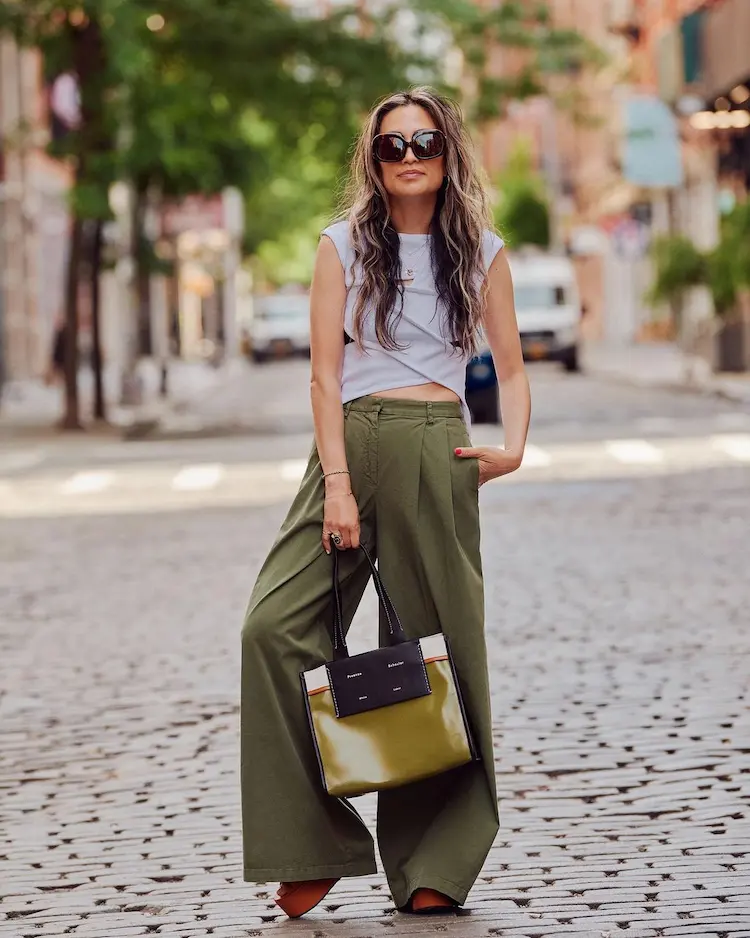 Average pricing: $50 – $500+
Popular Sections: Their Favorites, Most-Liked, Black-Owned
Sizing: XXS – XL
ShopBop is an online retailer that curates and houses emerging and established designer brands.
Offering clothing for women and men, ShopBop is the perfect destination to find something beautiful and new that's bound to have amazing quality.
At ShopBop, you can find everything from the hottest designers to more boutique labels and brands you might not know about yet.
In Conclusion
House of CB is a great brand that houses beautiful clothing styles, but sometimes you want to expand your horizons (or find more affordable options).
These 16 brands are the perfect alternatives to House of CB, and maybe one of them will become your new favorite.
UP NEXT: 20 Best High-Quality Clothing Brands to Shop Right Now