Let's be honest, having a bomb wardrobe can be expensive. Whether it's ten pieces or just one, some brands are just too expensive. But thankfully, rental services like Rent the Runway can help fashion-lovers who want to stay on-trend get that wardrobe we dream of. Since there aren't a ton of Rent the Runway reviews, I decided to just try it out myself.
Rent the Runway is all about bringing you clothes from high-end brands at a fraction of the price. I'll be going to go over how it works, average cost, my personal experience with their subscription, and if it's really worth it.
So, without further ado, let's get started.
What is Rent the Runway?
Rent the Runway is a brand that allows you to shop, rent, and buy designer clothes for an affordable price from the comfort of your own home.
The brand started with two creators who had a vision of bringing luxury to those who never thought they could have it. They wanted everybody to know what it feels like to love every piece of clothing you own and feel lavish every time you walk into your closet (without spending a fortune).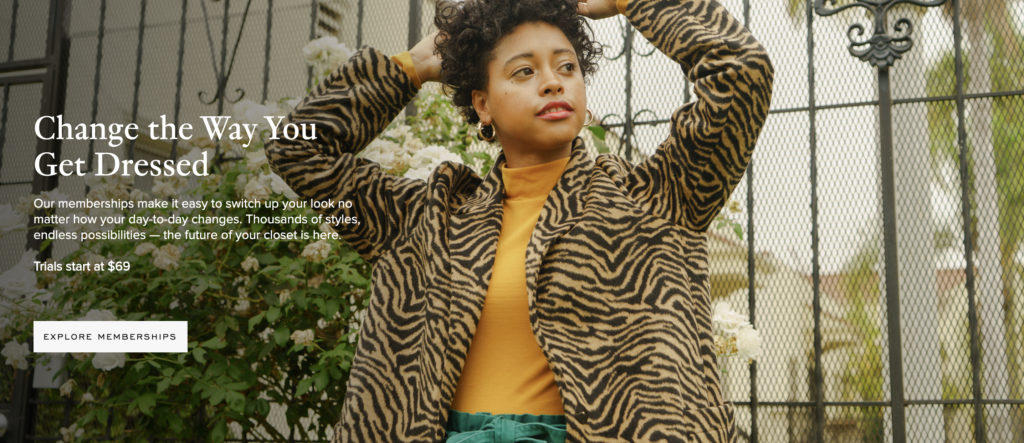 How It Works
So, how do you rent clothes without even leaving the comfort of your home?
For one, they have monthly plans that allow you to rent 4 to 16 items per month.
$89 / month ($69 trial month) – up to 4 items per month (1 shipment per month)
$135 / month ($88 first 2 months) – up to 8 items per month (2 shipments per month)
$199 / month ($149 first 2 months) – up to 16 items per month (4 shipments per month)
The cheapest plan gives "basic" closet access, which means some of the higher-end items aren't available. The other two plants give you premium closet access.
After you select your plan, you can then pick the items you want for that month and keep them for as long as you'd like. If you decide you want to keep them forever, you can purchase them for the price they have listed.
They ship orders out immediately with a two-day average arrival time.
You can pause or cancel anytime with no commitments.
On top of that, there is also Rent the Runway Unlimited, which is currently unavailable and we're not sure if they'll bring it back. This plan featured an upfront fee of $140 and then unlimited rentals to follow.
One-Time Rentals
Aside from the monthly memberships, you can also rent single items for flat fees, which is great for special occasions like weddings or fancy dinners. These are for either 4-day or 8-day periods (8 days is more expensive). Shipping costs an extra $10 (or more if you need the item fast).
They do offer one backup size with your order, which is pretty cool.
The biggest downsides of one-time rentals are the late fees ($50 per day) and the memberships are a way better deal.
However, one-time rentals might be a good fit for you if you just need items for special occasions.

Styles + Brands
All this sounds great, but what type of clothes does Rent the Runway offer?
Perhaps the biggest perk is their variety of designer brands and styles. You can even view them all on their website before you even subscribe (just make sure to click the membership filter instead of one-time rental).
A few of the designers you can shop on this website include:
Campbell
GANNI
MONSE
Phillip Lim
Paco Rabanne
PAIGE
Ralph Lauren
And a ton more (see their full list of designers)!
You can find activewear, dresses, sweaters, gowns, wedding dresses, pants, skirts, and more! Rent the Runway has a little something for everybody (including maternity styles and even options for kids). If you're someone who likes to stay on top of trends, they have plenty of trendy new arrivals every week.
Returns
Although it might sound inconvenient to mail back the returns every month (or more if you want a new clothing selection pretty frequently), they make it super easy.
They're sent in a reusable garment bag. Inside, they provide a new return label that you simply switch out and send back (you can easily schedule a free package pick up right at your door).
They also started to offer returns in-person around various large cities (see the full list of cities). These include San Francisco, NYC, Chicago, and more.
This allows you to return your items quicker rather than waiting a few days for them to receive it. This way, your package of new clothes is shipped out faster. It also eliminates the possibility of your return package being lost.
Their membership also includes cleaning, so you don't need to wash or dry clean items before returning.
RELATED: Le Tote Reviews: The Pros and Cons of Renting Outfits
My Rent The Runway Review
I opted for the $135 per month plan that allows you to rent up to 8 items. I was going to try the cheapest 4-item plan first, but I wanted access to everything they offered, so I leveled up.
I do wish the larger plans shipped all the clothes to you in one shipment rather than allowing you to rent only 4 items at once. It can be a hassle to ship them back and wait for the new shipment, especially when you're busy.
The biggest con I read in other RTR reviews was bizarre charges if your package goes missing, especially when doing one-time rentals (they charge $50 per day of late fees). So, although I chose a membership, I still used my secondary bank account to ensure they wouldn't be able to charge me thousands if my package went missing.
Shipping: My package arrived very quickly, just 3 days after I subscribed. It came in a cute reusable bag with the clothes packed nicely inside. All of the items were wrinkle-free and in perfect condition!
Everything was true-to-size and I loved 3 out of 4 items I received.
Are rent the runway clothes clean?
Being a germaphobe, one of the biggest worries of mine with a clothing rental subscription like this was cleanliness. Luckily, they clean their clothing pretty thoroughly. Each piece is dry cleaned using biodegradable detergents, and most are steamed at high heats. They also inspect each item before sending it out. Here is more about their full cleaning process.
This was definitely reflected when I received my items. Everything looked brand new, you would never know it had been worn before!
How does RTR compare?
The only other rental service I've tried so far is Nuuly (see my review of Nuuly). Honestly, they're pretty similar, but I like Nuuly more because they offer more items per shipment and it's cheaper. They do only let you rent one batch of items per month, but this is completely fine for my needs.
Reviews From Other Customers
Since everyone can have different experiences with the same brand, we researched through hundreds of Rent the Runway reviews to see what other people think the biggest pros and cons are. Here's what we found:
Cons
❌ If shipment goes missing, the renter is liable for paying 200% of the full price (plus $50 per day late fees for one-time rentals)
❌ Customer service is not very understanding when packages go missing
❌ Some orders took longer than advertised to arrive
❌ When doing one-time rentals, some women experience last-minute cancellations, ruining their outfit plans
❌ Sometimes hard to get in contact with customer service representatives
Is Rent the Runway Worth It?
While the subscription does seem a bit expensive considering you don't actually get to keep the items, the real value is receiving ongoing access to thousands of dollars worth of high-end clothing. So, for what I'm looking for, it's absolutely worth it. Clothing rental services are way better than purchasing from cheap brands that don't last.