As the new saying should go, lab-grown diamonds are a girl's best friend.
Lab-grown diamonds have upped in popularity over the years after we all settled on the fact that mining for diamonds is harmful to the planet, not to mention the glaring human rights issues.
Luckily, lab-grown diamonds have become a normal sight to see in the jewelry world. One jewelry company that offers exclusive lab-grown diamonds is Grown Brilliance, but does the brand measure up?
Read our Grown Brilliance reviews to see if these diamonds make the cut.
What is Grown Brilliance?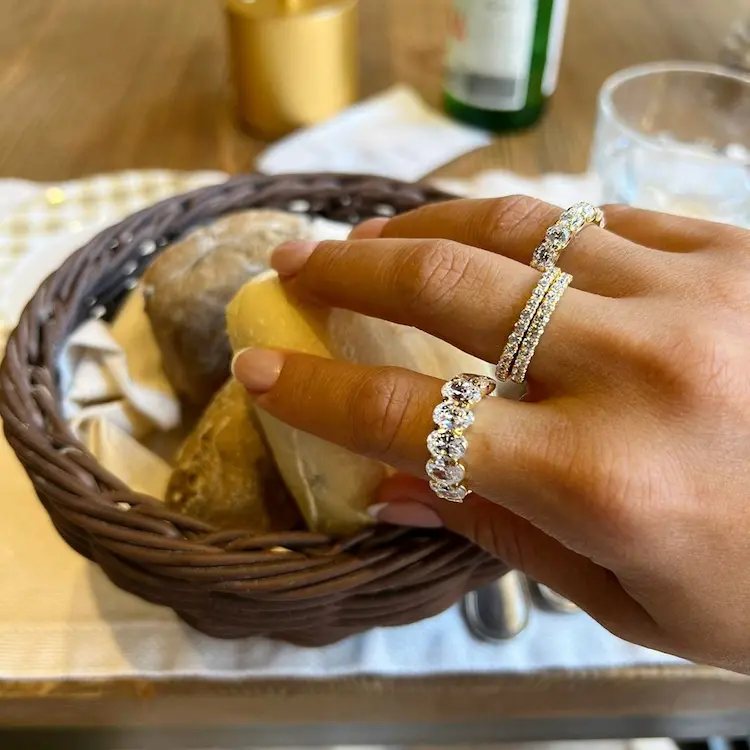 Grown Brilliance is a jewelry brand that started on Amazon and eventually branched out with its own website.
Although there's not much information regarding who actually owns Grown Brilliance or when the company was established, Grown Brilliance's About page claims it has years of experience in the jewelry industry.
However, there's not much information, background, or context that makes it very believable. In fact, this trademark shows Grown Brilliance is affiliated with AJS Creations LLC, which is a web company.
This is not to say it makes the brand seem sketchy, but when dealing in the diamond industry especially, there's usually some background to go off of for credibility purposes.
Grown Brilliance Product Offerings
Grown Brilliance carries engagement rings, wedding bands, and fine jewelry, with diamonds certified by IGI (International Gemological Institute), a reputable diamond-grading lab specializing in lab-grown diamonds.
Grown Brilliance offers pre-designed bands, but shoppers also have the option to design their own where they can choose the carat weight, metal, and other diamond settings.
Grown Brilliance Reviews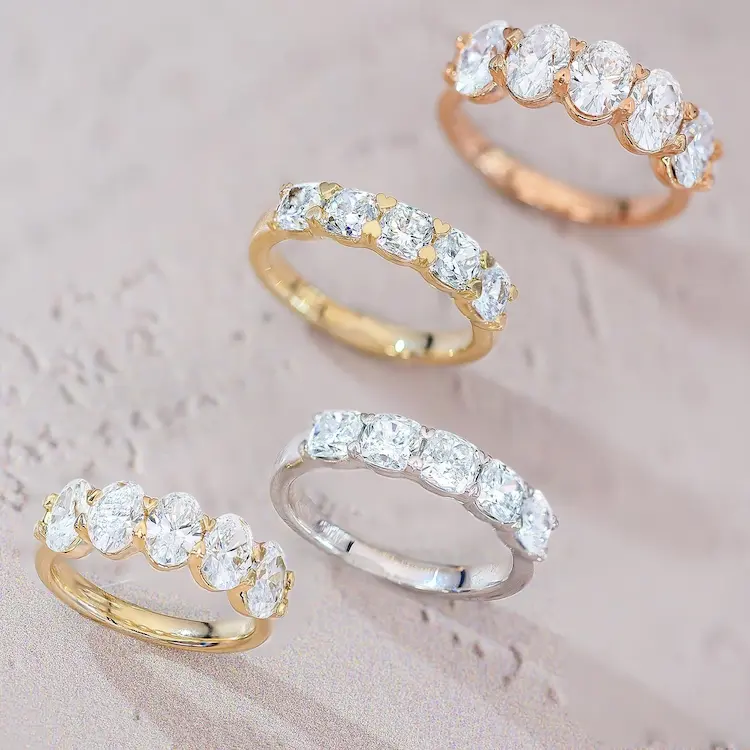 Overall: ★★★★ 4 stars
Despite there not being much history surrounding the company, Grown Brilliance has lots of happy customers who are satisfied with their purchases. 
Shoppers say their rings and jewelry are stunning, though shipping can take a little while.
Additionally, lab-grown diamonds are a better choice for the environment, so Grown Brilliance exclusively sells them as part of its commitment to helping the planet.
If you'd rather support a company that focuses on lab-grown exclusively, Grown Brilliance is a great choice (many companies offer both mined and lab-grown diamonds).
Quality & Longevity: ★★★★ 4 stars
Customers seem to be happy with the quality and longevity of Grown Brilliance diamonds, and as mentioned before, the diamonds are certified by the IGI.
All reviews we have seen have had none or very few issues with jewelry, and the brand even has a virtual appointment option to inspect pieces and talk about the best options if you can visit their in-person store.
Grown Brilliance also offers high-quality photos and videos with a 360-degree function and zoom so you're really able to look at the diamond and its features, which is nice.
Price: ★★★★ 4 stars
Grown Brilliance does have competitive prices. Since lab-grown diamonds aren't finite like mined diamonds are, prices tend to be lower.
It is difficult to give a specific price range since Grown Brilliance allows custom designs and modifications. Prices can start as low as $700 and can get as high as $23K.
However, there are plenty of options in price ranges below $10K, and luckily the website has a price bar to set your budget when searching their collections. There are a lot of other options too – we'd recommend learning more about the 4C's before selecting a diamond to make sure you get exactly what you're looking for.
What Customers Are Saying
For a deeper dive into the brand, we looked at tons of Grown Brilliance reviews to see what the real 411 was. Here are some of the most common things we found about them:
Shipping takes a little longer than expected (update: they started offering free 2-day Fedex shipping, so we don't think this is something to worry about anymore)
The diamonds are beautiful and look like real diamonds
The bands are of great quality
Customer service is awesome
The free lifetime warranty gives peace of mind, although it doesn't cover everything
People love being able to design their rings
It can feel scary to order diamonds online, but their free returns policy makes it easier
Now that we've covered some feedback from other customers, let's take a more in-depth look at the brand's jewelry.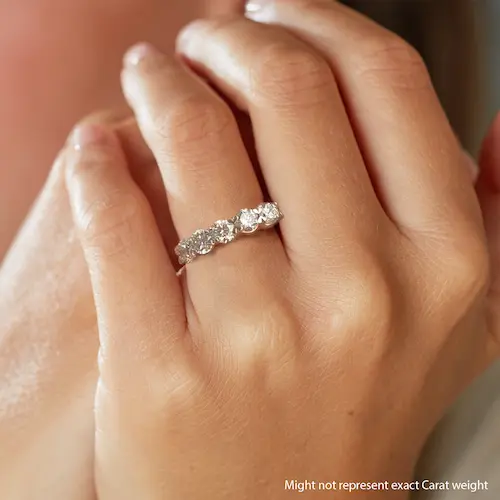 Grown Brilliance has some awesome options for wedding rings that can perfectly complement any engagement ring.
The website's filters allow for an easygoing experience as you can shop by style, shape, carat, and metal!
Not just that, there are some pretty unbeatable prices starting as low as $290 and peaking at $12K.
For example, this Eleven Stone Wedding Band is priced at $290 with an S1+ clarity, near colorless color, and 0.25-carat weight!
Of course, you can change the carat weight and customize however you'd like, but the starting price is truly remarkable for a wedding ring.
---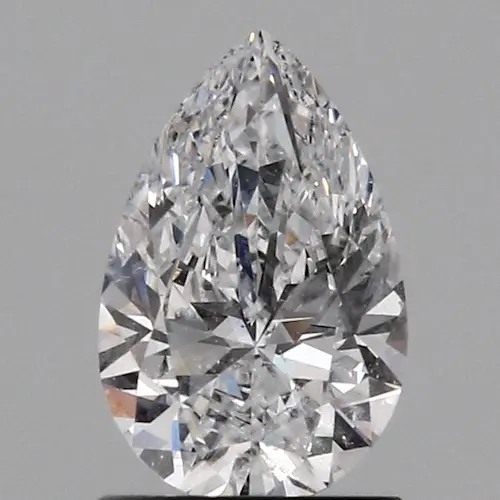 Grown Brilliance has a section on its website called "Loose Diamonds" which is basically where you go when you want to design your ring from scratch.
Once there, Grown Brilliance gives you a list of lab-grown diamonds with different carat weights, colors, clarities, cuts, polishes, symmetries, and even which lab certified the diamond.
Each diamond comes with a thorough 360 and zoom function so you can really inspect the diamond before purchasing!
This allows for an easy shopping experience and is a great way to really be a part of the design experience.
---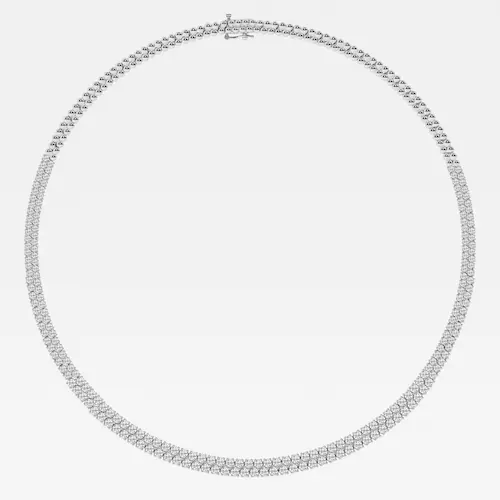 Not just limited to wedding bands and engagement rings, Grown Brilliance also offers fine jewelry for everyone, whether you want something dainty or bold!
Grown Brilliance carries earrings, bracelets, necklaces, and rings with prices ranging from $125 to $35K.
Grown Brilliance has an easy filter process where you can shop by metal, stone, carat weight, style, shape, and price, making it super simple to find exactly what you're looking for.
Return Policy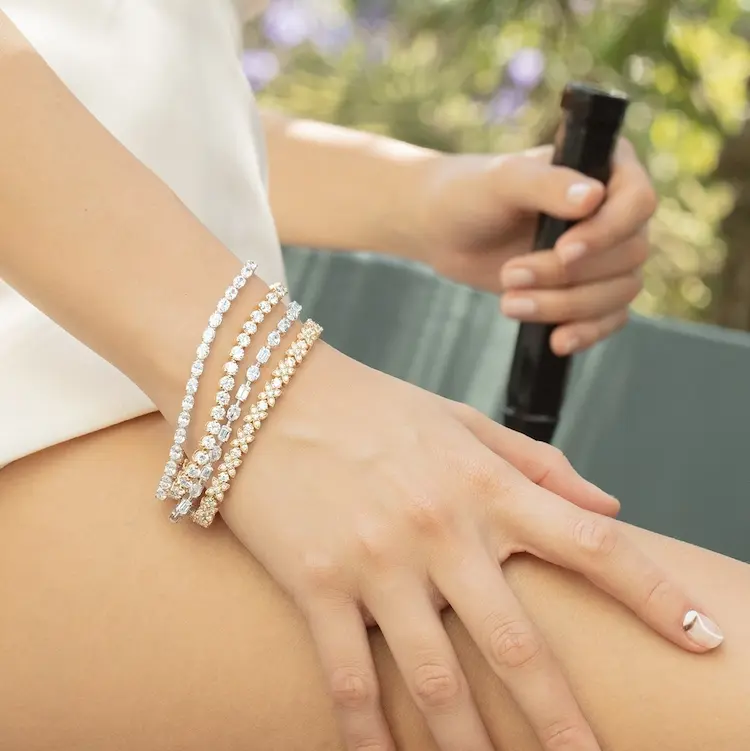 Grown Brilliance has a 45-day return policy that includes free return shipping.
Items should be in unused and unworn condition. If your jewelry was modified, engraved, or resized by any jeweler other than Grown Brilliance, a return cannot be made.
The lab certificate that comes with each purchase must also be present, and there may be a $100 fee to replace the certificate if it is lost.
They also offer a free lifetime warranty that covers manufacturing issues and defects, but make sure to take note of the things the warranty doesn't cover.
FAQs
Does Grown Brilliance offer a warranty?
Yes, Grown Brilliance offers a Lifetime Manufacturing Warranty meaning the company promises the products will be free of manufacturing defects and will not cloud or fade over time. 
Who owns Grown Brilliance?
Apparently, AJS Creations LLC owns Grown Brilliance. 
Is Grown Brilliance ethical?
Yes, Grown Brilliance only offers lab-grown diamonds, which are as ethical as can be as opposed to mining diamonds (aside from buying secondhand). Lab-grown diamonds are better for the planet because they don't involve deforestation, erosion, or contamination. That said, lab-grown diamonds still require lots of energy to be created, so this is worth considering before purchasing (some people believe the amount of energy created for a lab-grown diamond outweighs the positive effects).
Are lab-grown diamonds real?
Yes, lab-grown diamonds are just as real as mined diamonds. They are made to have the same composition, same sparkle, and are also graded and certified the same. The only difference is that lab-grown diamonds are grown in a lab, whereas nature grows mined diamonds.
The Final Verdict
We think Grown Brilliance is a safe place to shop and browse for a large variety of jewelry featuring lab-grown diamonds.
They offer excellent customer service paired with free returns within 45 days and even a lifetime warranty in case anything goes wrong, you can shop nearly risk-free.
There are nothing but good reviews from happy customers and buying lab-grown diamonds makes shelling out the money feel a lot better.
But even so, Grown Brilliance has a great price range that's considerate of everyone's budgets, and the stones and designs are absolutely stunning.
Grown Brilliance Alternatives
Not feeling this brand? Luckily, there are plenty of brands offering lab-grown diamonds out there. Here are three of our favorite alternatives, plus some other reviews we have written on similar brands.
Read More ClothedUp Diamond Reviews:
If you're looking for the best places to buy lab-grown diamonds, we have reviewed many of the top brands out there. Take a peek at some other reviews below: