Buying the perfect diamond is a process that should be fun, creative, and unforgettable, which is why where you're buying from is just as important as what you're buying.
There's definitely some research that goes into finding a jeweler or retailer that's trustworthy and reputable but also carries beautiful stones and gems you'll fall in love with. 
One brand that will probably come up during your research is With Clarity, a company that offers both lab-grown diamonds and natural diamonds.
They have some gorgeous pieces, but are their diamonds a good choice in the long run?
Keep reading our With Clarity reviews to see if you should say "I do" to their diamonds.
What is With Clarity?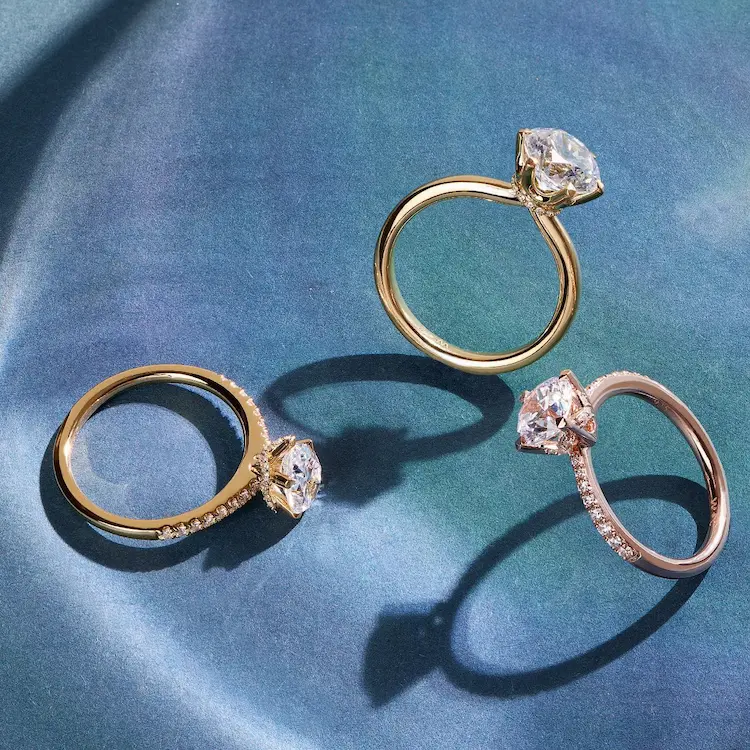 With Clarity is a jeweler based in New York, New York that was founded by then newly-engaged couple Anubh and Slisha Shah.
Anubh wanted to create the perfect ring for his spouse, which catapulted the idea that brought With Clarity to life.
Although they're not as popular as some other diamond brands out there, With Clarity is a fast-growing company that uses technology and creativity in order to provide high-quality pieces lovers can enjoy for a lifetime.
With Clarity: Overview
With Clarity offers engagement rings, wedding rings, fine jewelry, and loose diamonds you can buy lab-grown or naturally mined.
One of the best features of With Clarity is the ability to create your own jewelry, be it rings, earrings, or necklaces! 
It all starts with choosing a metal, a diamond shape, which type of diamond you want, and diamond features like color, cut, and clarity.
With Clarity Reviews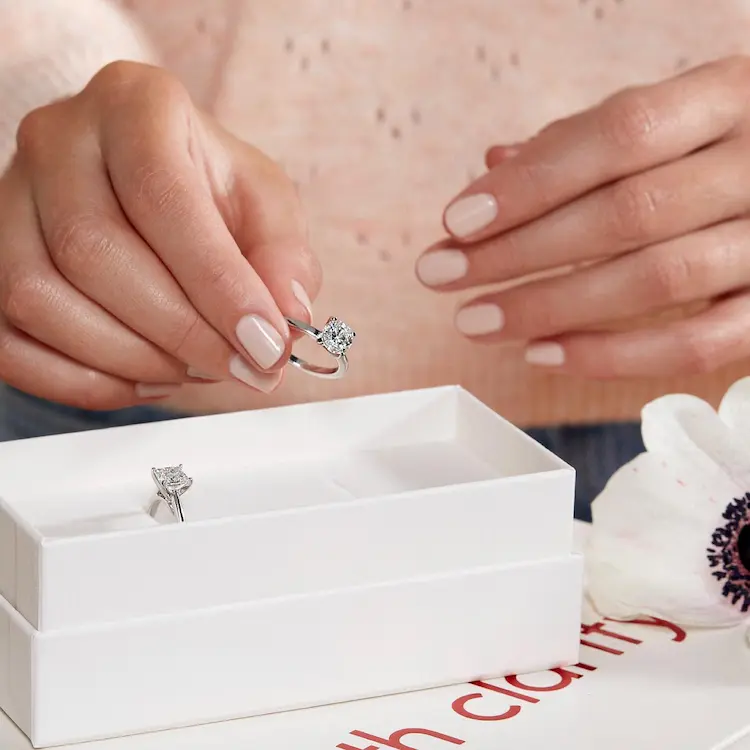 Overall: ★★★★★ 5 stars
With Clarity has some awesome reviews from customers, with shoppers praising the excellent service, quality, and prices.
People appreciate that they make the buying process pretty risk-free since they offer free returns, a lifetime warranty, and even easy financing.
With Clarity's custom jewelry option is perfect for all couples who want a piece of jewelry as extraordinary and unique as their love.
Prices: ★★★★★ 5 stars
With Clarity has some pretty impressive prices that accommodate those who don't want to break the bank as well as options for those who are willing to make an investment. Prices start at $300 and can reach as high as $500,000!
Of course, this depends on how many modifications and customizations your piece of jewelry has, and whether or not you're choosing from preset jewelry or custom.
Diamonds: ★★★★★ 5 stars
With clarity offers lab-grown diamonds and natural diamonds to choose from.
Both options are conflict-free and ethically sourced, and With Clarity goes out of the way to ensure the diamond cutters and miners affiliated with the company use ethical and humane practices.
All lab-grown diamonds are IGI-certified while natural diamonds are GIA-certified! Shoppers state that the diamonds they received are excellent quality and are exactly what they asked for.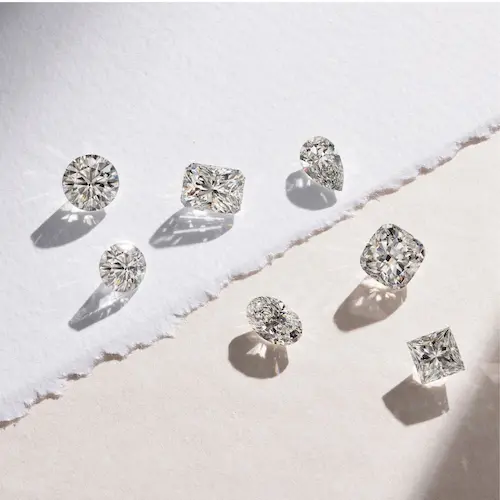 As previously mentioned, With Clarity offers natural diamonds and lab-grown diamonds that are 100% ethically sourced and conflict-free. 
When purchasing from With Clarity, shoppers are buying directly from the manufacturer, which allows more affordable prices due to diamonds not being marked up for retail.
All diamonds are IGI-certified or GIA-certified, which are two of the most reputable diamond-grading institutions in the world. In addition to that, all With Clarity diamonds are thoroughly reviewed by the company's in-house gemologist team to ensure the best cuts, sparkle, and brilliance.
With Clarity offers nine different diamond shapes available as lab-grown and natural including:
When purchasing loose diamonds, With Clarity gives the option to choose the price range, the carat range, what kind of cut the diamond is, the color, and the clarity.
---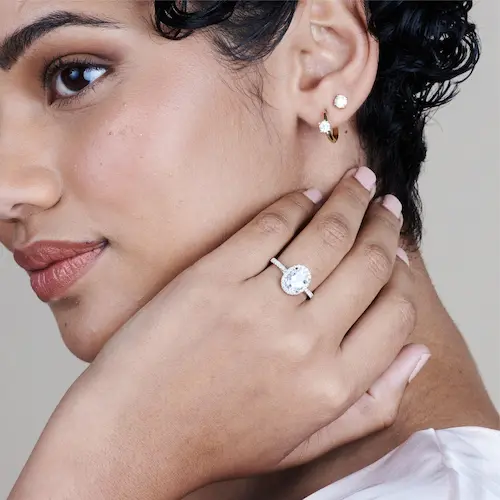 With Clarity offers two options when it comes to engagement rings — one option being to craft your own ring and the other is choosing from a present selection.
Crafting your own ring is super easy. All you have to do is start with a setting, which includes precious metals like white gold, gold, rose gold, and platinum. These settings are available in 14k and 18k! 
Then, you pair your setting with one of the thousands of diamonds and gemstones With Clarity offers, which are available in nine different shapes.
Finally, you choose the size, finalize the metal, and receive a complimentary engraving from With Clarity.
They also offer free home preview boxes with 2 replica rings to help you decide on a ring in-person before you commit.
From the preset selection, you choose from a curated ring selection where you can then choose the size and engraving!
---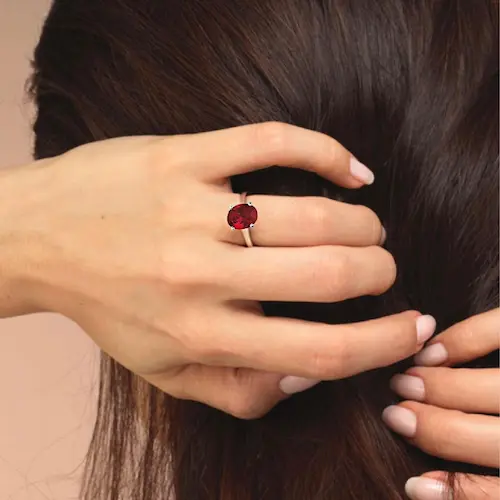 If diamonds aren't your spouse's best friend, With Clarity offers beautiful gemstone rings that are just as dazzling.
With Clarity offers gemstones of all colors such as rubies, amethysts, aquamarines, and gems for all birth months! 
Shoppers have the option to choose the shape of the gemstone, the metal used, and the style, like solitaire and halo.
Prices start at $940 and can reach more than $3,000 depending on the setting and the carat.
---
Return Policy
With Clarity offers a free returns policy, allowing 30 days to customers after the purchase date to receive a refund or exchange with no questions asked.
Shipping is always free and there is also free insurance in case anything happens during the shipping process. 
After 30 days, items are non-returnable.
FAQs
Is With Clarity worth it?
Yes, we think With Clarity is absolutely worth it. Other customers agree, too. The company has nearly five stars on all review platforms praising the brand's service, quality, and prices. Plus, they offer a risk-free buying process that ensures you can return it if you're unhappy.
Where can I buy With Clarity?
You can purchase from With Clarity directly from the With Clarity website, or you can shop in-store at the jeweler's New York location.  
Does With Clarity offer a warranty?
Yes, With Clarity offers a lifetime warranty. That includes a lifetime of complimentary cleaning, complimentary replacement of stones under 0.10 carats, free prong-tightening, and free re-polishing! 
In Conclusion
When the wedding bells are ringing, With Clarity is worth saying "I do" to. 
This jeweler scores tens in all areas, offering beautiful stones and gems made with different styles and shapes to appease any set of lovers.
With Clarity excels at customer service and making sure every ring is perfect before being sent out. Customers love the detail and craft poured into each piece from With Clarity, and the awesome price options are quite the bonus.
No matter what, love deserves to be celebrated. Happy ring hunting!
With Clarity Alternatives
If you're not fully convinced on With Clarity, here are a few other top options for diamond and gemstone jewelry to compare with.