For all the jewerly enthusiasts out there and potential fiances-to-be, today we're going to be reviewing Diamond Nexus, a jewelry company known for its lab-made stones and impressive prices. 
It's no secret that diamond mining has a bad rep due to unethical work practices and the endangerment of miners and the environment.
Because of this, a lot of people have opted for lab-grown diamonds and stones, such as what Diamond Nexus has to offer.
But is Diamond Nexus the real deal? Read our Diamond Nexus reviews to find out!
What is Diamond Nexus?
Diamond Nexus is a Wisconsin-based jewelry company that was founded in 2004 by Gary LaCourt.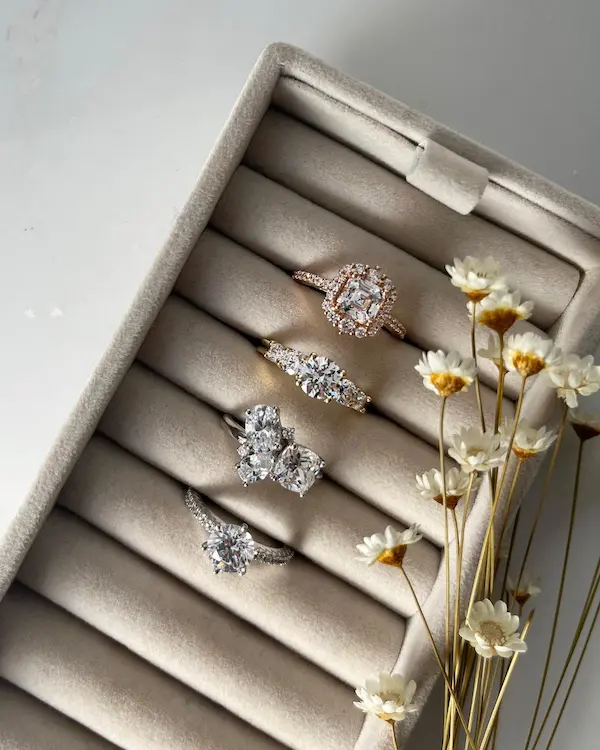 Diamond Nexus believes in providing quality jewelry that doesn't involve mining, is affordable, and will last through generations. 
They stand behind the quality of their stones, even offering a lifetime guarantee that ensures their diamonds will not chip, crack, become discolored, or become cloudy. If something does happen, they claim they will replace it for free.
Diamond Nexus: Overview
Diamond Nexus offers all the different types of jewelry you need: earrings, necklaces, bracelets, and more.
However, what Diamond Nexus is most popular for are its wedding bands and engagement rings, and thus will be the main focus of this Diamond Nexus review. 
Specifically, the brand is known for its Nexus Diamond Alternative, which is a patented lab-created diamond simulant meant to mimic the look, feel, and shine of a real diamond.
Diamond Nexus Reviews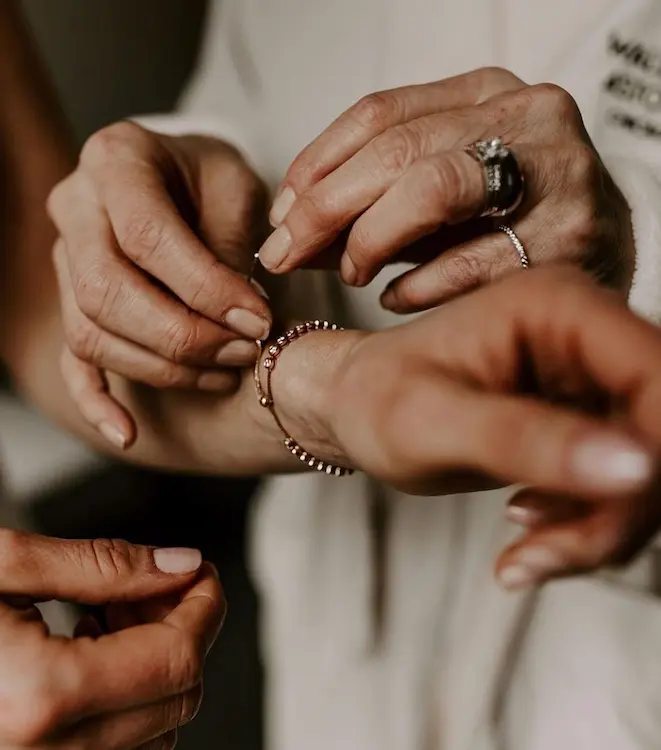 Overall: ★★★ 2.5 stars
Based on customer reviews, Diamond Nexus does not appear to be as transparent with its shoppers as it claims to be.
Customers have issues with customer service, the quality of the pieces, and making returns and exchanges. A majority of complaints surround the quality of the stones.
However, we will say that a lot of bad reviews are from 10+ years ago. More recent Diamond Nexus reviews seem to be more positive, so it's likely they started taking their quality a little more seriously these recent years.
The brand also offers a lifetime guarantee as well as 30-day free returns, plus a free one-year protection plan.
Quality: ★★★ 3 stars
Diamond Nexus offers jewelry in either the Nexus Diamond Alternative or moissanite, which is a gemstone with similar properties as diamonds in terms of strength and durability that is mostly all lab-made.
The main character of this review, though, is the Nexus Diamond Alternative, which Diamond Nexus describes as "a lab-created diamond simulant."
Unfortunately, there are many customers who have taken their Diamond Nexus rings to jewelers and have come to find out the stones are actually just coated cubic zirconia (CZ). 
Though lab-made diamonds and CZ can look incredibly similar, the chemical compositions and crystal structures are different. However, this post dives into the main differences, so the CZ claims might not be true.
A representative from Diamond Nexus did respond to a Reddit post (over a decade ago) claiming that they do not sell CZ with an explanation. See the photo below: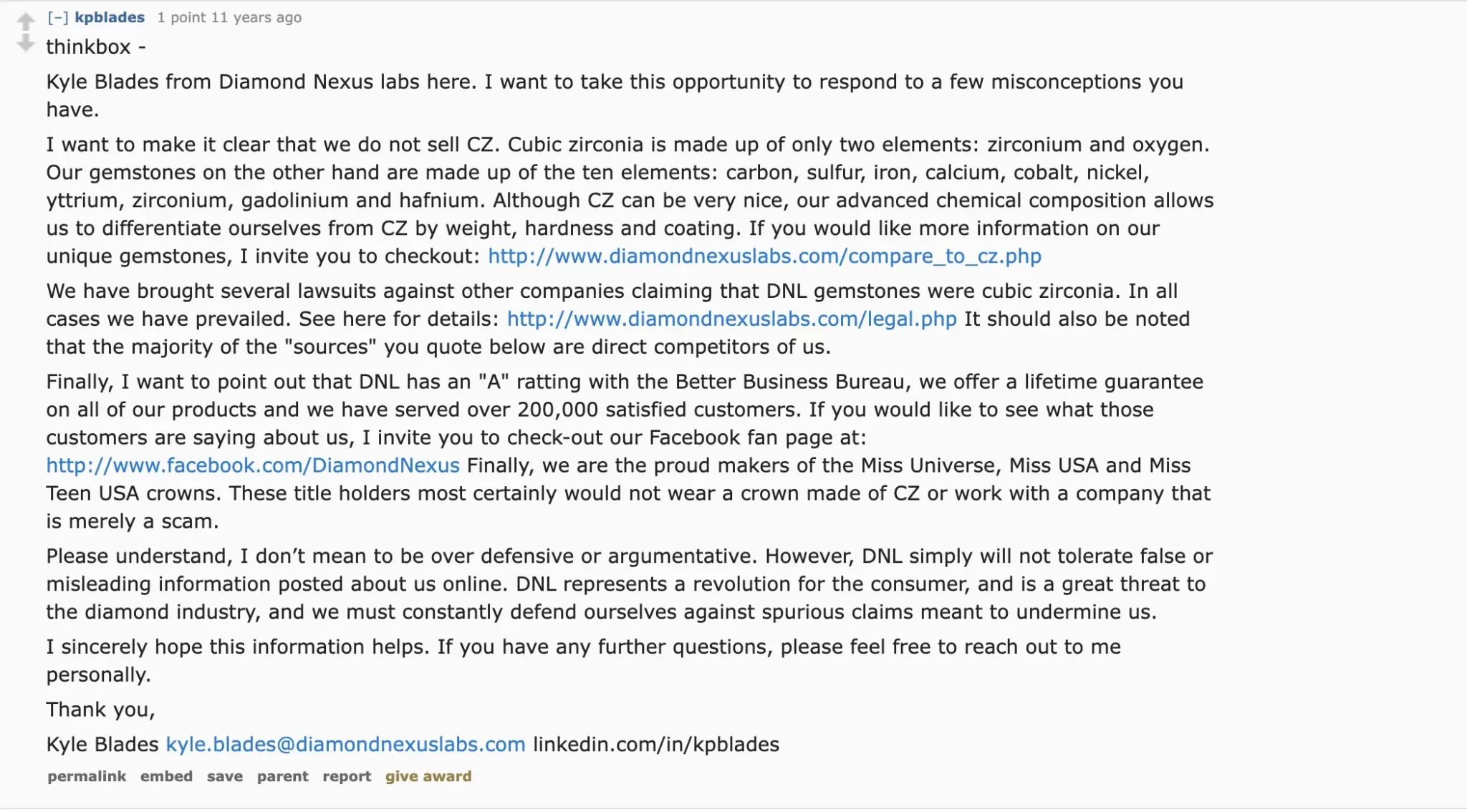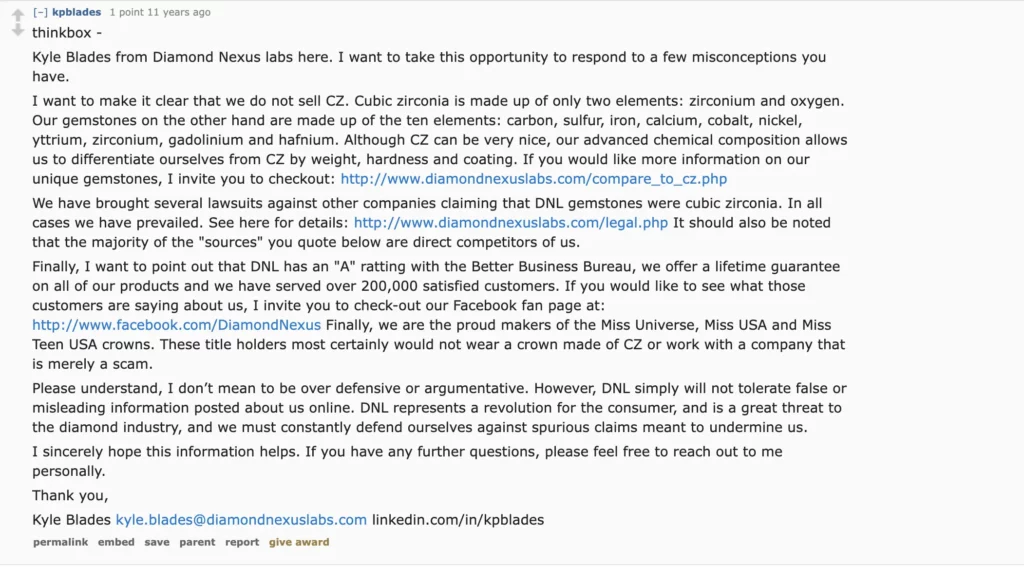 Regardless, many shoppers still experience lower-quality stones that don't shine or sparkle, get cloudy over time, or fall out altogether.
It's also worth noting that some jewelrs could possibly mistake the Nexus Diamond Alternative for CZ because they don't know the true makeup.
Price: ★★★★ 3.5 stars
A big part of Diamond Nexus's appeal is how budget-friendly and affordable the brand is. Getting married is already an expensive ordeal, so wanting to cut down costs when you can is totally understandable!
With that being said, Diamond Nexus has a lot of sales and clearance items scattered throughout the website in every category, so it's not difficult to find something marked down and affordable. 
Prices range from $100 to $3,000 and there are a lot of pieces to choose from so you're bound to find something you and your partner will love. 
Now that we've covered the important information, let's dive into some of Diamond Nexus's best-selling products!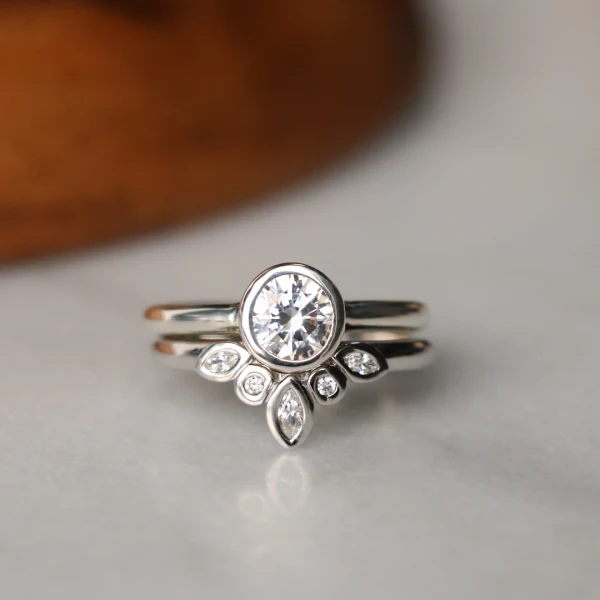 This beautiful-looking ring features alternating round and marquise-cut bezel settings to be interpreted as the petals of a flower or the points of a crown.
Made with the Nexus Diamond Alternative, the band is available in 14K white gold, 14K yellow gold, and 14K rose gold. The band comes in sizes ranging from size 4 to size 10 and costs $860!
The average total carat weight is 0.21 and the shape is romantic and royal, looking like something straight out of a storybook.
---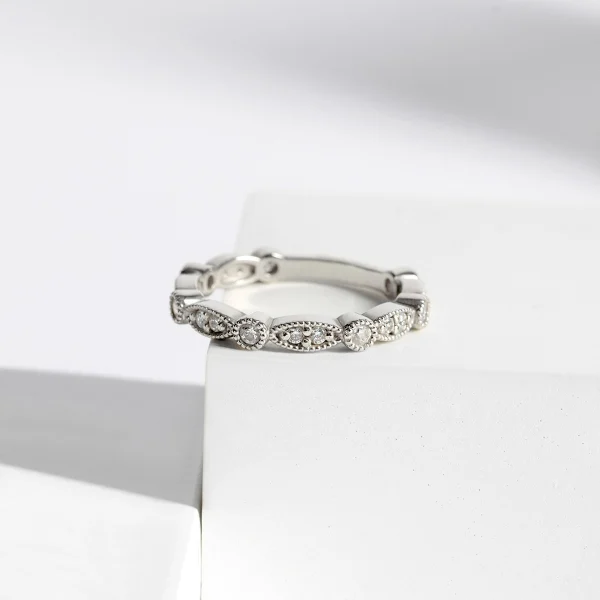 The Infinite Love Wedding Band features a lacey design that showcases a pattern of round accent stones in bezel settings and illusion East-West marquise stones.
The stones are lined around the band for an intertwined, romantic-looking pattern and the band is finished off with a milgrain metalwork meant to twinkle in the light.
The Infinite Love Wedding Band can be made with Nexus Diamond's Alternative or moissanite, and is offered in 14K white gold, 14K yellow gold, and 14K rose gold.
Sizes for the ring begin at size 4 and reach size 10, and the band is currently selling for $880!
---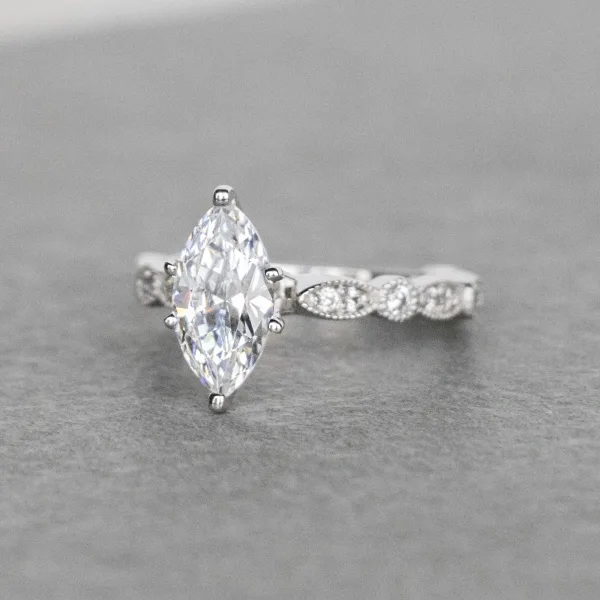 This engagement ring has a scalloped band and a lacey, romantic look that ignites the fairytale fantasy.
Featuring a six-pronged peg head design highlighting the Nexus Diamond Alternative, the design is then followed by the lining of alternating round-cut accents and illusion East-West marquise stones.
This ring is somewhat customizable as you can choose the center-stone size, and it also comes in either 14K white gold, 14K yellow gold, or 14K rose gold.
The Infinite Love Marquise-cut Engagement Ring is $1,560 and can be paired with the Infinite Love Wedding Band.
---
Return Policy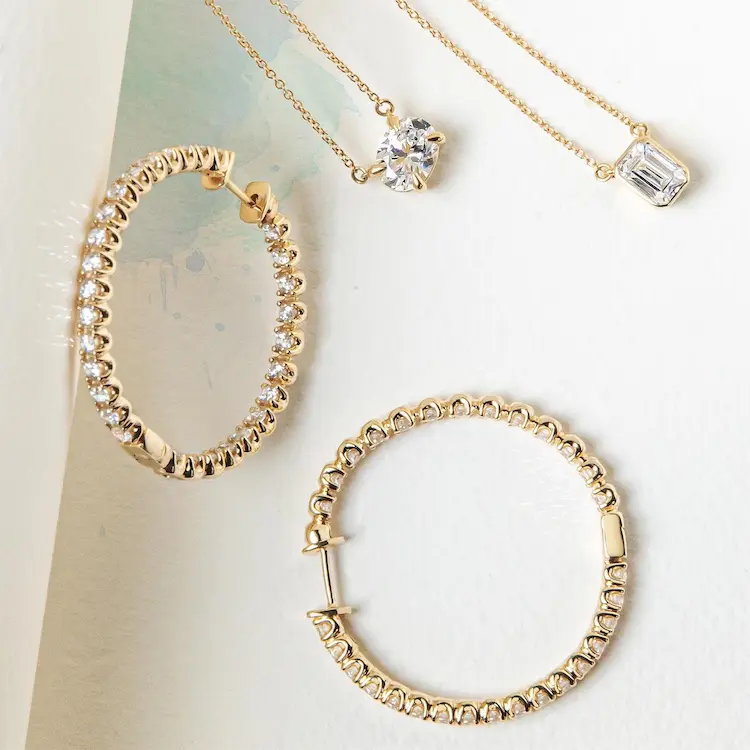 Diamond Nexus has a 30-day return policy and are free so long as there are no missing items and the items are in their original packaging.
If the items you are returning are clearance items, a restocking fee up to 25% may be charged.
Diamond Nexus also has a pretty flexible exchange policy which also follows the 30-day time frame. After the first exchange, you may exchange the piece two more times as long as it's within two weeks of the first exchange.
All of Diamond Nexus's pieces also come with a one-year Everything's Covered Plan that includes repairs, inspections, cleanings, and polishings with free shipping going both ways.
The Everything's Covered Plan is not applicable if a different jeweler works on the item, and the plan does not cover missing jewelry or items with missing components or pieces.
FAQs
Do Diamond Nexus diamonds test real?
Sometimes they do and sometimes they don't. Upon chatting with a Diamond Nexus agent, the company claims jewelers mistake the Nexus Diamond Alternative for CZ because "they don't know what the stones are." 
Why is Diamond Nexus so cheap?
Diamond Nexus is so cheap because the company does not use real diamonds in their jewelry and uses lab-made stone alternatives like moissanite and the Nexus Diamon Alternative.
Where can I buy Diamond Nexus products?
Dose Diamond Nexus offer a warranty?
Yes, Diamond Nexus has a one-year Everything's Covered Plan that includes two repairs a year and two inspections a year. They also offer a lifetime guarantee that covers the stone (including chips and clouding).
In Conclusion
Now that we've reached the end of our jewelry journey, are we Diamond Nexus stans?
We're teetering on a narrow fence, but all the negative Diamond Nexus reviews and the alleged CZ-coated products are pretty big turn-offs. Despite their generous lifetime guarantee, it might not be worth the headache.
Though the prices of the pieces are definitely note-worthy and there are some beautiful designs, there are an abundance of lab-grown jewelry brands that offer similar products with a more trustworthy rep. See our faves below.
Diamond Nexus Alternatives
In fact, here are a couple similar stores to Diamond Nexus to get you started.