There's nothing quite like finding a piece of jewelry that resonates with you and putting it on for the first time. Whether it's diamond studs, beautiful pearls, or a dainty bracelet, jewelry is an expressive piece of art!
There are lots of jewelry brands out there, and surprisingly, a lot of the major companies like Tiffany and Cartier were founded by men (despite women being the target demographic and main consumers).
Thankfully, a lot more women-driven businesses have made their way to the forefront of men-dominated industries. One of those companies is Ring Concierge, a jewelry brand created for women, by a woman.
This definitely makes us excited, but it's still important to analyze quality and make sure their pieces are worth the money.
So today, we're going to find out how Ring Concierge measures up. Keep reading our Ring Concierge review to see if this brand is worth the hype.
What is Ring Concierge?
Ring Concierge is a luxury jewelry company that was founded in 2013 by Nicole Wegman. The company is based in New York City and has a huge social media sphere that plays a big part in the brand's success and expansion.
Ring Concierge's mission is to provide women with forever pieces and help make them feel their most beautiful and confident while wearing the brand's jewelry.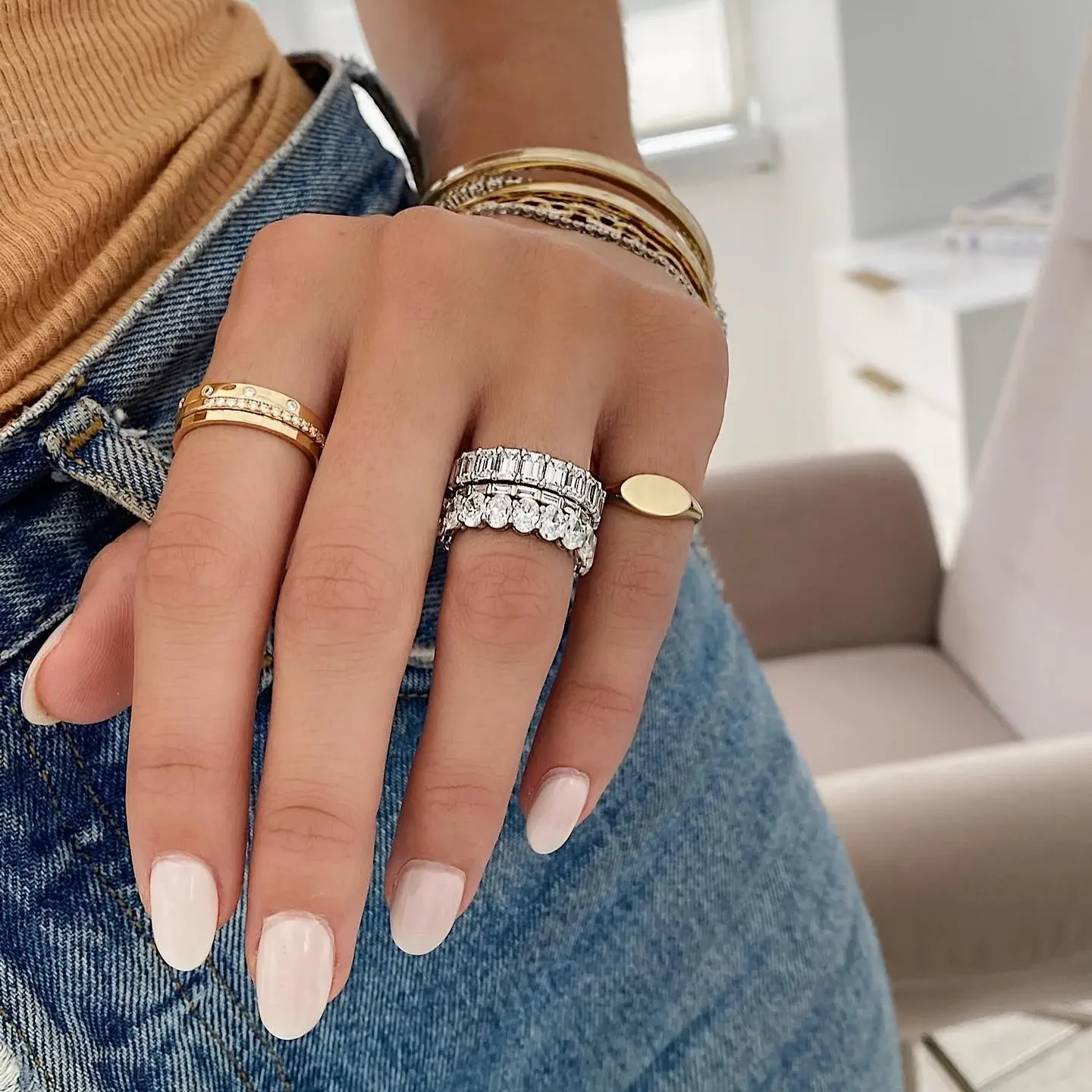 Ring Concierge: Overview
Ring Concierge offers fine jewelry like rings, bracelets, and necklaces, but also has an engagement collection and a bridal collection.
Even cooler, Ring Concierge has their VOW collection, which is a completely customizable process where you can choose the metal, the diamond shape, the size, and even which diamond you want!
Also, their amazing home try-on program allows you to try on three rings at home for 7-days before you commit to one (plus, this also includes a selection of wedding bands and a nail polish bottle that you can keep no matter what).
They only offer this try-on program in ring size 6. If you're not this size, it can still be beneficial to get a real-life feel for the ring, even if it doesn't fit on your finger.
RELATED: 13 Italian Jewelry Brands That Will Make Nonna Proud
Ring Concierge Reviews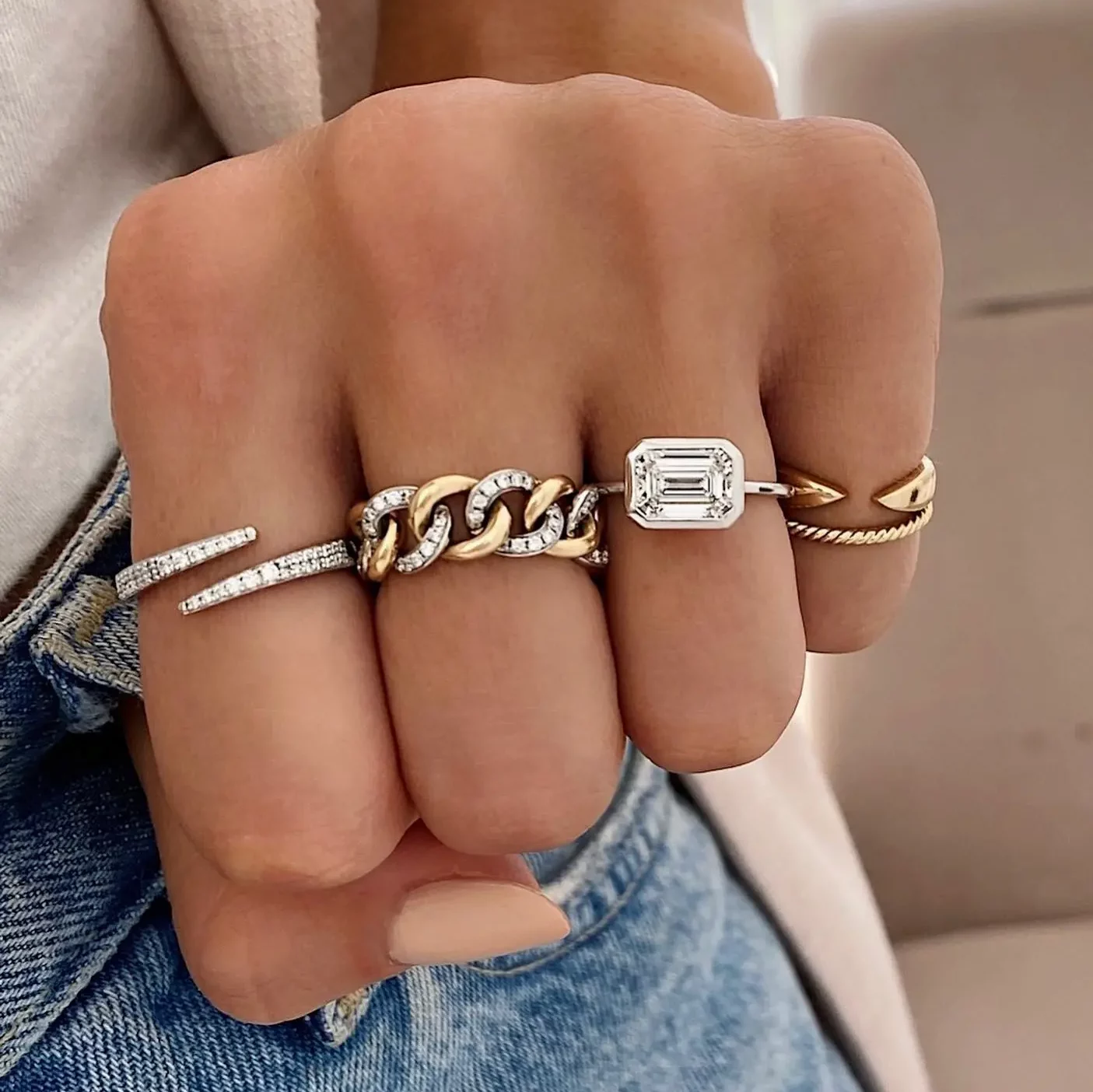 Overall: ★★★★★ 4 stars
Ring Concierge's social media presence plays a big role in the brand's popularity and growth. In fact, founder Nicole Wegman said that the brand is blurring the lines between being a retailer and an influencer. Wegman often mixes in the business and her personal life on the RC Instagram, making shoppers feel a lot more connected to the brand.
Customers rave about the brand's beautiful designs, customer service, reasonable prices, and excellent attention to detail.
To make buying from them less risky, we love that they offer free returns within 14 days and a helpful home try-on program for certain ring styles.
Quality: ★★★★ 3.75 stars
Ring Concierge is a luxury jeweler and uses real, certified diamonds that are conflict-free and compliant with the Kimberley Process, which is an organization created to promote transparency in the diamond industry.
If you don't want to support the mining industry, that's fine, too! Ring Concierge also offers lab-grown diamonds which are all certified by GIA (Gemological Institute of America) or IGI (International Gemological Institute).
In addition to diamonds and gemstones, Ring Concierge offers fine jewelry pieces (including 14K yellow gold, 14K white gold, and 14K rose gold).
That being said, we noticed quite a few Ring Concierge reviews where customers had stones fall out of their jewelry pieces, which is why we knocked the rating down a bit.
Even so, Ring Concierge customer service came to the rescue and helped repair the damage, so their customer service is always something you can rely on.
Price: ★★★★ 4 stars
Since Ring Concierge is considered to be a luxury jewelry brand, the pieces offered are definitely on the pricier side of things. However, their prices are reasonable compared to other fine jewelry brands that sell pure gold and diamond pieces.
For fine jewelry, the prices start as low as $42 and can reach up to $3,000.
As for engagement rings and wedding bands, there's no set price until you set up a consultation with one of Ring Concierge's specialists, but the ballpark starting price is listed at $10,000.
If you're balling on a budget, you can always consider the lab-grown diamonds Ring Concierge has to offer since they are less expensive due to not being in finite supply.
And if you're interested in lab-grown diamonds, check out the best places to buy lab-grown diamonds.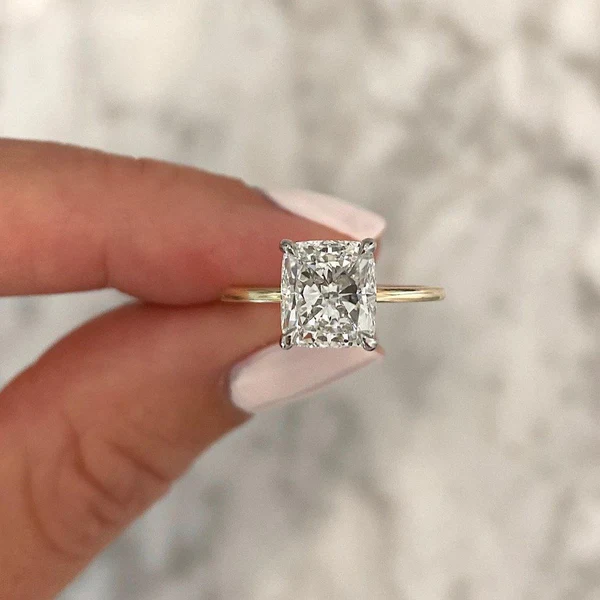 The Whisper Thin™ engagement ring is the Ring Concierge's most popular and best-selling style.
Featuring an ultra-thin band still safe for everyday wear, this style makes your diamond the absolute star. With no other distractions, your diamond will be the main character on your hand all day, every day.
As for all the engagement rings and wedding bands, the Ring Concierge's jewelry is handcrafted in NYC and can be customized based on carat weight, diamond shape, and precious metal.
However, Ring Concierge reviews on this ring aren't as good as some of their other styles. The diamond has fallen out for quite a few customers, so we might go with a more secure design instead.
Prices for the Whisper Thin™ engagement ring start at $10,000.
---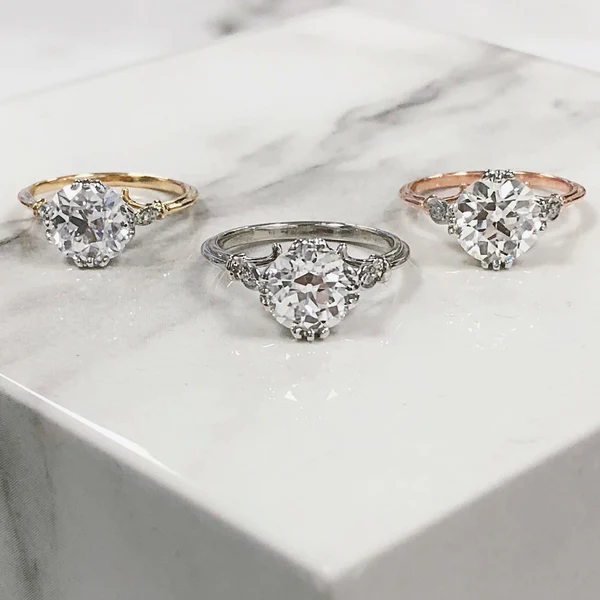 This Signature Antique engagement ring is an Edwardian-style diamond ring that features six stunningly-cut diamonds on the band.
The vintage vibes are real and the ring is bound to look nothing less than ordinary thanks to its unique shape.
The ring is customizable by carat weight, diamond shape, and precious metal, and the starting price is $12,000.
---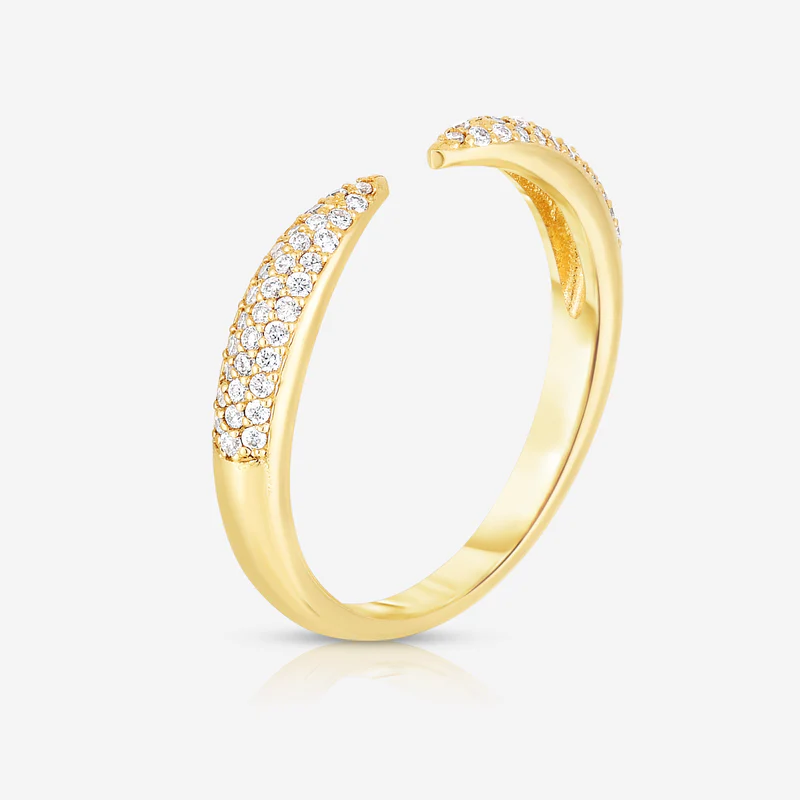 Another of Ring Concierge's best-sellers, this beautiful ring is 0.20 carats studded with pave diamonds.
This is a solid 14K gold ring with diamonds of SI clarity and H-I color. Shoppers can also choose from 14K white gold, 14K yellow gold, and 14K rose gold!
This ring comes in sizes 2 to 10, can be stacked or worn alone as a statement piece, and is priced at $498.
---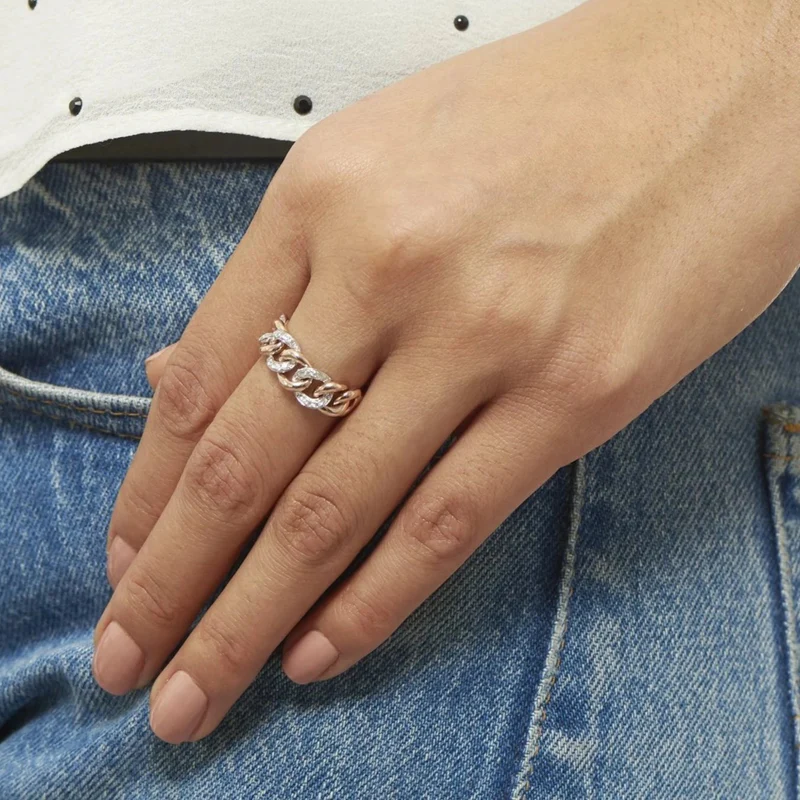 Definitely not a style of ring you see often, this bold and daring Diamond Chain Ring by Ring Concierge features a two-toned chain design with diamonds and solid 14K yellow gold.
The diamonds used have H-I color and SI-1 clarity. This is a 0.60 carat ring with 52 diamonds spread across and throughout the alternating links.
This is a totally eye-catching statement piece that is regal and stunning, and it can be yours for $1,398!
Return Policy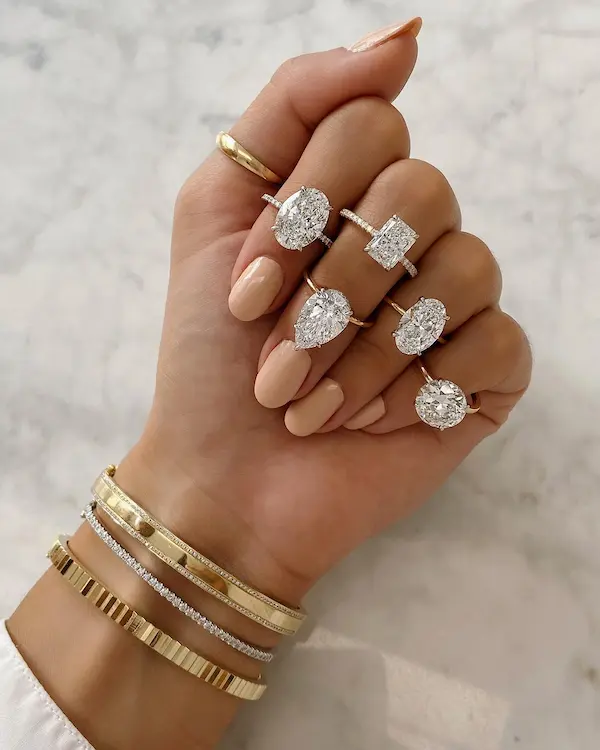 Many Ring Concierge reviews also rave about the brand's 14-day free returns policy (only applicable to customers residing in the U). 
Ring Concierge provides the return label, and upon receiving the return label, customers have a week to drop the return items to the postal office.
Items that are being returned must still have the tag on, be unaltered, unworn, and in saleable condition. Final sale items like personalized pieces, bridal pieces, and non-jewelry pieces that cannot be returned.
For more information regarding Ring Concierge's return policy, you can check it out on the Ring Concierge website here.
FAQS
Who owns Ring Concierge?
Nicole Wegman is the founder and owner of Ring Concierge. 
Where can I buy Ring Concierge?
Is Ring Concierge worth it?
We think so! Customized jewelry with specialists that will be with you every step of the way is a very memorable experience that will ensure you're receiving the jewelry of your dreams. Their prices are reasonable, they have a wide variety of beautiful styles, and their excellent customer service ensures you won't be left in the dark in case anything goes wrong.
In Conclusion
Is Ring Concierge worth the hype? We think (plus many Ring Concierge reviews think) that the brand is well worth it. Not only are you getting quality jewelry that will last a lifetime, but when it comes to engagement rings especially, you're certain to get a one-of-a-kind piece completely tailored to you and your interests. 
Most importantly, Ring Concierge highly values customer service. Their specialists are there for you throughout the whole journey and are there to help personalize one of the most important pieces of jewelry you could own.
Ring Concierge's rave reviews paired with the excellent customer service make this a brand to look out for.
Ring Concierge Alternatives
Looking for more? Here are some popular Ring Concierge alternatives you can check out: