It feels like the past decade has been marked by an explosion of celebrity brand launches. Whether it's perfume, makeup, fashion, athleisure, or anything else, the rich and famous have certainly taken to expanding beyond the industry they got their start in. But in some cases, these lines have fallen short of expectations.
So when I heard pop culture icon Rihanna was throwing her hat in the ring with the launch of her own lingerie line, Savage X Fenty, I had to ask – is it worth the hype?
We'll be sharing our Savage X Fenty review after trying out the brand ourselves!
What is Savage X Fenty?


Rihanna has been a household name since the release of "Pon de Replay" in 2005. But in recent years, the singer has made a name for herself as a skilled businesswoman.
In 2017, she made headlines with the successful launch of her own makeup line, Fenty Beauty. One year later, she expanded her business with the launch of a lingerie collection, Savage X Fenty.
Following the release of her makeup line, which was praised for its representation of a wide range of skin tones, Rihanna took a similar approach in emphasizing inclusivity in the Savage X Fenty collection. The line's products are available in an array of sizes and skin tones, increasing accessibility for its would-be customers.
The brand aims to inspire the same confidence in its customers that Rihanna's music has for over a decade. Rihanna herself is quoted on the collection's website saying:
"Savage X means making your own rules, and expressing your mood, character, and style for you– not for someone else"
Average Pricing
My biggest criticism of the Savage X Fenty website is its inaccessibility in regard to finding items' prices.
In an effort to promote the Xtra VIP membership program, each product is initially shown with its membership price or promotional deal, which are significantly less expensive than the regular price.
So keep in mind that you will need to click on individual items to see their real price if the membership program isn't for you.
While bra prices range from $25 – $70, the majority of the brand's best-sellers go for around $50.
As for underwear, the average price is around $20 – $25, although the site does offer items up to $40 if you're looking to spend a little more.
The remaining loungewear and lingerie sections of the site vary a bit more on pricing, depending on what you are looking for. However, the line has received praise for its general affordability.
RELATED: 18 Best Lingerie Brands For Every Style + Budget
How Does the VIP Membership Work?
While it can be frustrating to have to weed through promotional sales and prices only available to VIP members to find the actual price of items, the process does highlight the potential savings that come with becoming an Xtra VIP.
The gorgeous Savage Not Sorry Unlined Lace Balconette Bra is usually sold for $60, but with the Xtra VIP membership, you can get it for $45. And the brand offers even better promos for new members – these are often 50% off your first order or 2 for $29 bras.
The basic concept of the Xtra VIP membership resembles that of many other brands, such as Adore Me (check out our review) or Fabletics (check out our review).
You have five days at the beginning of each month to decide whether to shop the newest styles at a potential discount, or skip that month.
If you don't skip, you get charged $49.95 which goes to credit you can spend on any purchase equal to or over $49.95.
Savage X Fenty lists a variety of perks included in their membership:
VIP Intro Offer
Up to 25% off all styles
Free shipping over $49
Free returns
Exclusive VIP sets
Early access to new drops
Access to monthly VIP pack
Pay with Afterpay on orders over $30
The Xtra VIP membership has received mostly good reviews from fans of the lingerie collection. If you enjoy a particular item, or are looking to explore beyond your comfort zone, the membership allows you to do so for a significantly lower price.
But be warned: if you decide to sign up, make sure to skip that month, or else you will be charged the full $50. The company has received complaints from those who did not realize how quick the turn-around is.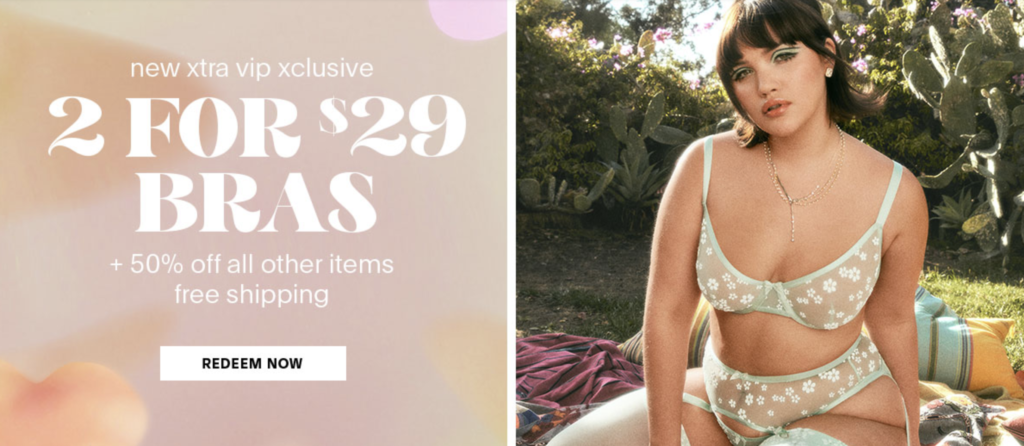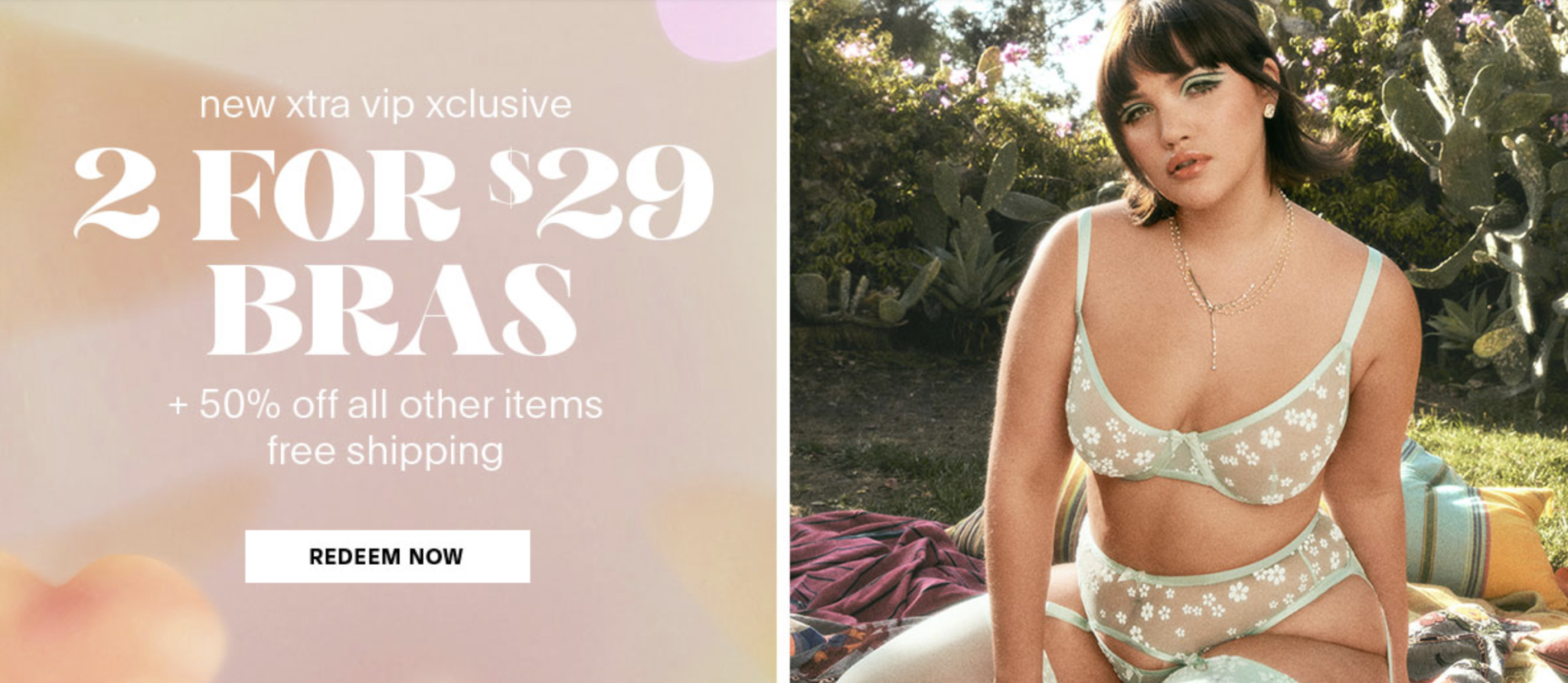 Return Policy
In regards to their return policy, Savage X Fenty has extended their usual 30-Day Fit Guarantee to 90 days due to the COVID-19 pandemic.
For up to 90 days after your purchase, you can return and/or request an exchange for any of your items free of charge.
All returns must be in new condition with the original tags attached. All sale purchases are final and cannot be returned.
Top Products
If you're looking for something to wear on the daily, look no further than the T-Shirt Bra or the perfect-for-lounging Forever Savage Bralette.
And while the site carries a variety of other styles, from strapless to strappy, push-up to bustier, the Lace Racerback Bralette has been praised by customers as stunning both in its comfortability and beauty.
Savage X Fenty also carries an array of Unlined Bras , many of which received five-star reviews for their combination of comfort and sexiness.
Additionally, Savage X Fenty caters to all your underwear needs, with every style of undies imaginable available in sizes ranging from XS-3X.
If you're looking for something basic, the Cotton Essentials will be right up your alley, available in Cheeky or Thong style, depending on your preference. They also offer racier undies, like the bikini, g-string, or crotchless styles, if you're looking for something a bit out of the ordinary.
Men can even shop the Savage X Fenty collection in its Men's Section.
The website also contains sections dedicated to sleepwear and lingerie; so whether you're planning a cozy night in or you want to add a bit of spice to your date night, Savage X Fenty has got you covered.
Our Savage x Fenty Review
Our editor Laurice tried out the brand for a couple of months – here is her feedback:
"One bra and panty set I received was super cute, but both pieces were almost completely lace and wasn't very comfortable. They started feeling scratchy almost right away. However, the other two sets I got were very comfortable!
All of the sets also fit me perfectly, but I don't have particularly large breasts. Overall, I would just recommend staying away from lace if you want something that will stay comfortable for hours."
Savage X Fenty Customer Reviews
In general, the majority of customers are satisfied with the quality and price point of the Savage X Fenty collection. Each item on the website is chalk full of 4-5 star reviews:
"It's true to size and fits great. It looks classy, elegant and edgy all at the same time!" – Rickelle
"Once on, I forget I'm wearing it because I can't feel it. The fabric is so nice, the seaming is superb, it doesn't stretch out or get baggy while being worn" – Rachel
"I've never had a more sturdy and well made bra for such an amazing price. It fits very true to size and the straps are comfortable and don't dig into my shoulders like other brands I've worn." – Alexa
However, despite the company's emphasis on inclusivity, many plus-size customers were less than impressed with the fit of the larger sizes:
"Unfortunately with the bra I bought, even though it was labeled as 36DDD, the cups had major spillage and the band was too tight." – Catherine
Outside of the website's reviews, plus-size bloggers have also taken issue with the limited selection of items in their size.
If you're looking for a subscription with great plus size options we recommend Adore Me – We have an in depth review here.
The Bottom Line
Overall, is Savage X Fenty worth it?
To sum up our Savage X Fenty review, Rihanna's lingerie collection is certainly a step in the right direction when it comes to inclusivity. I appreciate her effort to represent a wide variety of skin tones, body types, and genders in her line.
So while there may be room for improvement in expanding the options for women on the curvier side, the overall quality and affordability of the Savage X Fenty collection warrant giving it a try in my opinion.
Luckily, the first-time member deals make it easy to try out their products without spending a fortune. And if you enjoy it as much as many customers have, the Xtra VIP membership might be for you!
UP NEXT: Our Honest Experience With Adore Me