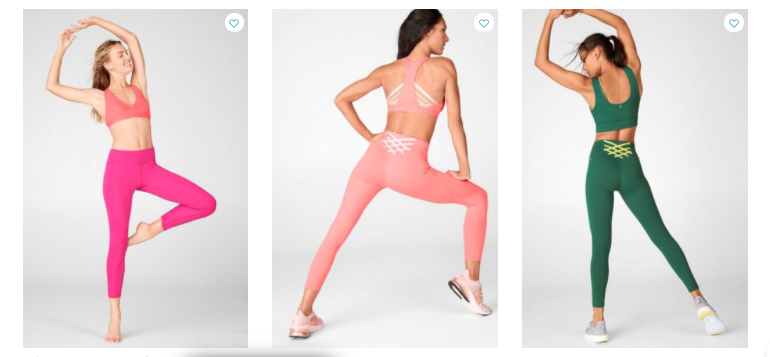 Since I wear activewear at least 75% of the time (it's just so comfy), I'm a stickler for finding the best options on a budget. I've been shopping from Fabletics for over a year now and own too many of their leggings and sports bras, so I decided to create my Fabletics reviews to share with those interested in the brand!
When it comes to activewear, quality is incredibly important (especially for leggings). Bad quality might be too sheer, uncomfortable, give you a cameltoe, roll down, make your curves look strange, or could even rip in the gym! Because of this, I'm always on the lookout for top-quality activewear.
Keep reading to learn more about Fabletics and my experience with their products!
What is Fabletics?
Fabletics is an inexpensive activewear brand that sells a wide range of Premium quality items. Their clothes are comfortable while also making you feel comfortable about your body! They're also known for their great deals – for example, they offer 2 pairs of their signature leggings for $24 upon your first "VIP" purchase.
How Does Fabletics Work? (VIP Program)
A lot of Fabletics reviews complain about the VIP program, but this is usually because they don't understand it. Their VIP program is a subscription-based service that provides you with personalized workout sets (usually made up of a sports bra and pair of leggings) each month. These are recommended based on the type of workouts you enjoy.
On the first of each month, you'll be able to log into your account to view your options and have it shipped to your door shortly after. These outfits start at $49.95 for VIP members, which is sometimes up to 50% off what you'd pay if you weren't a member.
To kick off your subscription, they offer a 2 for $24 deal on their bottoms, which is an amazing deal! Even if you can't afford to keep the subscription, I would recommend at least getting two of these $12 leggings since you can cancel soon after. They are extremely high quality and last a long time.
As I said previously, this is a monthly subscription that'll charge you $49.95 per month.
Aside from the 2 for $24 deal that is always available, Fabletics also has occasional first-time VIP member sales (like 60% or even 70% off everything in their store, even outfits).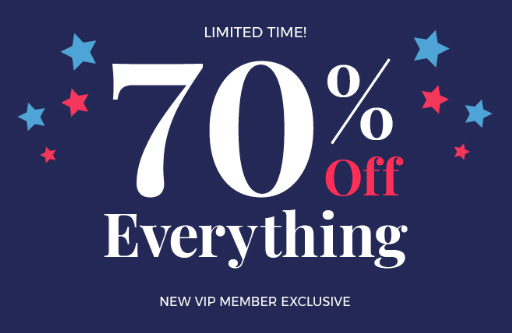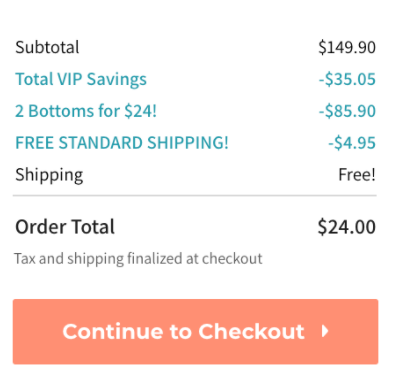 What happens if I don't like anything that month?
If you do decide to keep the subscription and come across a month where you don't like their new collections, you can just skip that month with no charge (as long as you skip by the 5th). I really like this option because there's definitely months where I don't feel like spending $50 on a set or honestly just don't like the sets that month.
Forgot to Skip a Month?
If you forget to make a purchase or skip, you will be charged the $49.95 for 1 member credit. Each credit can be redeemed for one outfit (you can also purchase single items, but only if the total reaches exactly $49.95. If you spend under this amount, it will still take your entire credit. If it's over this limit, you have to reach out to customer service to help you place the order as the system won't let you.
Luckily, member credits never expire, so if you forget to skip, you can always skip the next month and just use this credit for next month's outfit.
If you're not a VIP, you're going to be paying a high premium for everything in your cart. During their 70% off new VIP members sale, I purchased nearly $500 of products (3 leggings and 2 tops) for just $60. Without signing up for the VIP program, I would've had to shell out nearly $500!
My Fabletic Leggings Review
Now, let's get into the good stuff. Leggings are their most well-known products, so I figured I'd start out with those.
I honestly love all of the legging fits that Fabletics carries (they have over 18 different fits with 6 different types of compressions). Plus, most options offer 3 different lengths!
I own just about every fit that they offer (with an exception of maybe one or two). I'm going to give my honest Fabletics reviews on each and let you know why I like each of them.
Seamless
I've found that these are perfect for anything, from lounging to aerobics. They are extremely comfortable and lightweight. That said, they're not the best if you're looking for compression – I definitely choose some other options when I'm ready to hit the gym for a hard workout.
PureLuxe
This is the one fit that I have not tried myself, but I know yoga lovers are big fans. I chose not to get this fit because I felt it was going to be similar to seamless, but I'll have to try them soon. I'll keep you updated!
SculptKnit
Although I haven't tried this style out yet, it's next on my list! Apparently their fabric doesn't fray, meaning you can cut these leggings to your desired length. I thought that was pretty cool! I've heard these are very form-fitting and great if you want compression (and they make your butt look nice, which is always a plus).
UltraCool
I enjoy this fit for the summertime or just generally working out in warmer weather (such as hiking or yoga outdoors). They have mid-rise options, but I've always purchased high-rise and love them.
Powerhold
This is one of their most popular fits – Powerhold leggings will offer you high compression with a firm hold, making it perfect for showing off your curves. In my opinion, this is the highest quality pair of leggings (it almost feels like it's 2 or 3 layers thick). I find it perfect for the winter. They're squat proof and have a fit that just makes your booty look great! I always go for the high-rise Powerhold.
Motion 365
This one is my second favorite out of all their legging fits. They aren't as tight as the Powerhold, making them more practical for hanging out and doing everyday things like grocery shopping. I love how it cinches at the waist and feels snug – many leggings often roll down my waist as the day goes on and I find myself continuously having to pull them up. That's one thing I rarely have to worry about with most fits from Fabletics.
Short, Regular and Long (Lengths)
Being a brand that focuses on making women feel comfortable in any shape and size, they offer three lengths. I love this – being on the shorter side, it can be hard to find bottoms that aren't too long. With Fabletics, I can find the perfect length.
Fabletics Sports Bras Review

Fabletics has some great sports bras that complement their leggings really well. They have various fits including low impact, medium impact, and high impact.
I especially love their outfits, they're always well put together and look super cute (plus they're an even better deal than buying the pieces by themselves). Their medium and high impact bras have great coverage and hold. I've never had to worry when going hard in the gym.
I haven't experienced many other items from Fabletics aside from sports bras and leggings. I have received a couple of outfits that came with tank tops, which are very breathable and have lasted a long time.
Is Fabletics VIP Worth It?
This depends. If you're responsible enough to remember to push it off on the months that you don't want to get an outfit, then I definitely think you might like it. I definitely tend to forget about subscriptions, so I usually end up paying for Fabletics every month, but I really don't mind because I love their activewear so much. Plus, they sometimes even have special VIP sales that I try to save some member credits for.
As far as bang for your buck, I definitely think the outfits are worth it! You get a high-quality sports bra and pair of leggings (sometimes a top as well) for just $50. While the first-time member deals will definitely be better, it's just a one-time thing unless they have a great sale just for members. Don't expect those cheap prices forever.
How to Cancel Fabletics
You can cancel your membership at any time, either by contacting their phone number available 24 hours a day, 7 days a week. You can also cancel through live chat (hours are 9 am – 9 pm). You can cancel anytime after joining.
Bottom Line
To sum up my Fabletics reviews, you can probably tell I love this brand. Their products are such high quality. Although the monthly VIP program was a little weird at first and just seemed like a way to reel me in, I feel in love with their quality and I've started looking forward to my monthly outfits!
Still not interested? Here's a list of similar stores!