Since I wear activewear most of my life (it's just so comfy), I'm a stickler for finding the best options on a budget. I've been shopping from Fabletics for over a year now and own too many of their leggings and sports bras, so I decided to share my Fabletics reviews to help anyone curious about this brand!
When it comes to activewear, quality is so important (especially for leggings). Poor quality might be too sheer, uncomfortable, give you a cameltoe, roll down, make your curves look strange, or could even rip in the gym! Because of this, I'm always on the lookout for top-quality activewear.
Keep reading to learn more about Fabletics and my experience with their products!
I found this quiz extremely helpful for choosing leggings, since they have so many options.
What is Fabletics?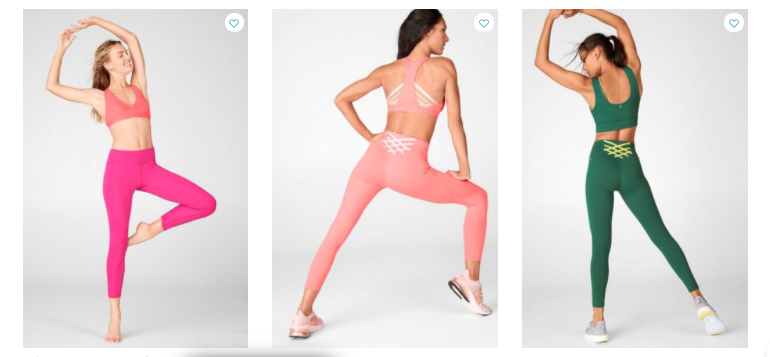 Fabletics is an inexpensive activewear brand that sells a wide range of premium quality items. Their clothes are comfortable while also making you feel comfortable about your body!
They're also well-known for their great introductory deals – for example, they almost always offer 2 for $24 leggings upon your first "VIP" purchase.
Fabletic Reviews
Now, let's get into the good stuff. Leggings are their most well-known products, so I figured I'd start out with those.
I have tried just about every fit that they offer (with an exception of maybe one or two). They also sometimes release new limited-edition legging styles that I don't always get to try. However, I have tried all of their signature collections. I'm going to give my honest Fabletics reviews on each and let you know why I like each of them.
They're always releasing new styles, so I will update any time I try a new style as well.
Overall Rating: ★★★★ 4 stars
When it comes down to it, Fabletics offers high-quality clothing and amazing deals when you become a member. I love that you can skip a month any time you want, but if you think you won't remember to skip or cancel before you're charged, you might not like the idea of having a membership.
Quality: ★★★★ 4 stars
All of the leggings I have tried have been top-notch quality; they're durable, squat-proof, and they don't roll down at the waist. Since originally posting this it seems as though the quality has taken a major nose dive.
Fit: ★★★★★ 5 stars
I honestly love all of the leggings fits that Fabletics carries (they have over 18 different fits with 6 different types of compressions). Plus, most options offer 3 different lengths!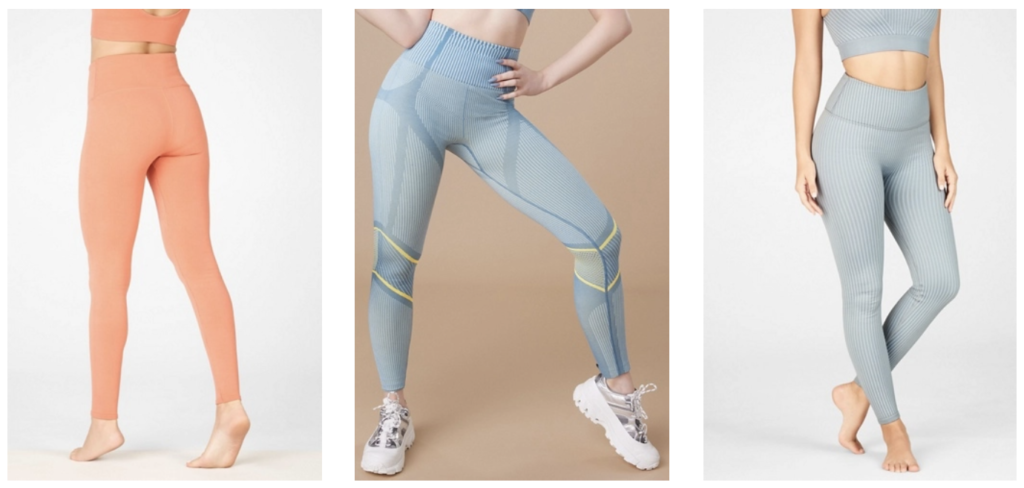 I've found that these are perfect for anything, from lounging to aerobics. They are extremely comfortable and lightweight.
That said, they're not the best if you're looking for compression – I definitely choose some other options when I'm ready to hit the gym for a hard workout.
---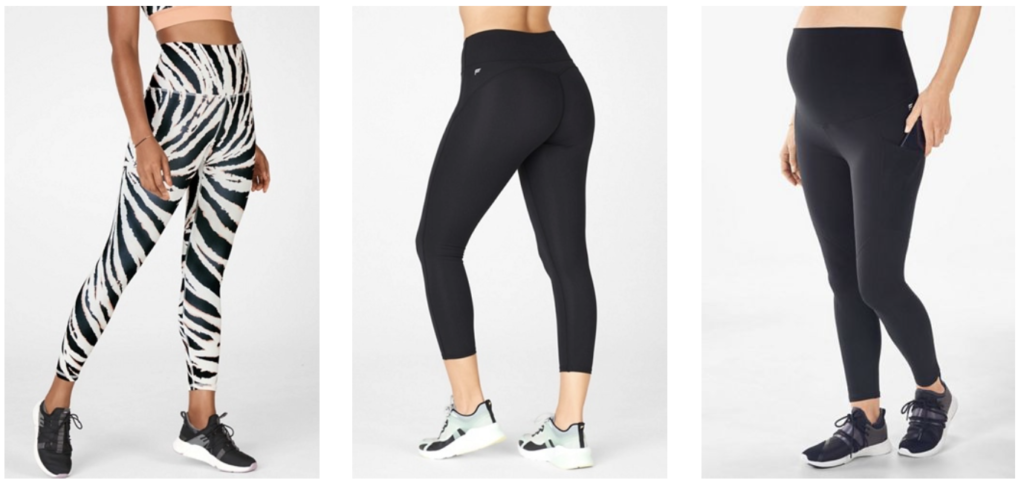 This is the one fit that I have not tried myself, but I have heard yoga lovers are big fans. I chose not to get this fit because I felt it was going to be similar to the seamless leggings, but I'll have to try them soon. I'll keep you updated!
---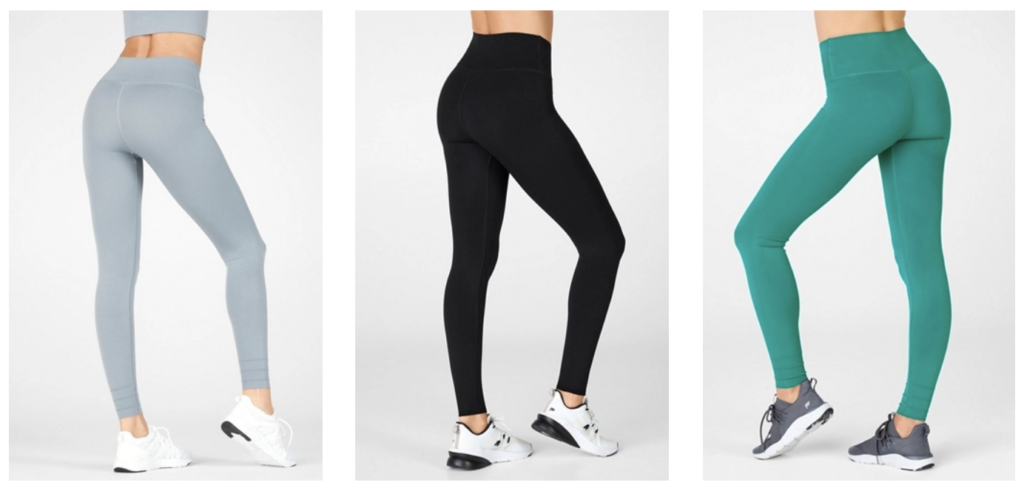 This is the one fit that I have not tried myself, but it's next on my list.
Apparently, this fabric doesn't fray, meaning you can cut these leggings to your desired length. I thought that was pretty cool! I've also heard these are very form-fitting and excellent if you want compression (and they make your butt look nice, which is always a plus).
---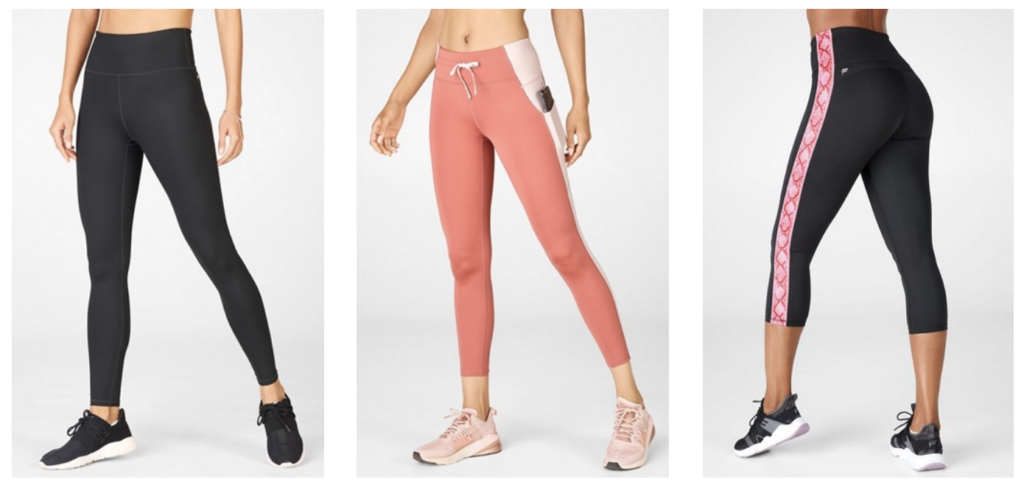 I love this fit for the summertime or just generally working out in warmer environments (such as hiking or yoga outdoors). I live in the desert, and these manage not to make me feel suffocated and overheated during the summer.
They have mid-rise options, but I've always purchased high-rise and love them. I like having these leggings as an option for summertime so I don't always have to go for shorts.
---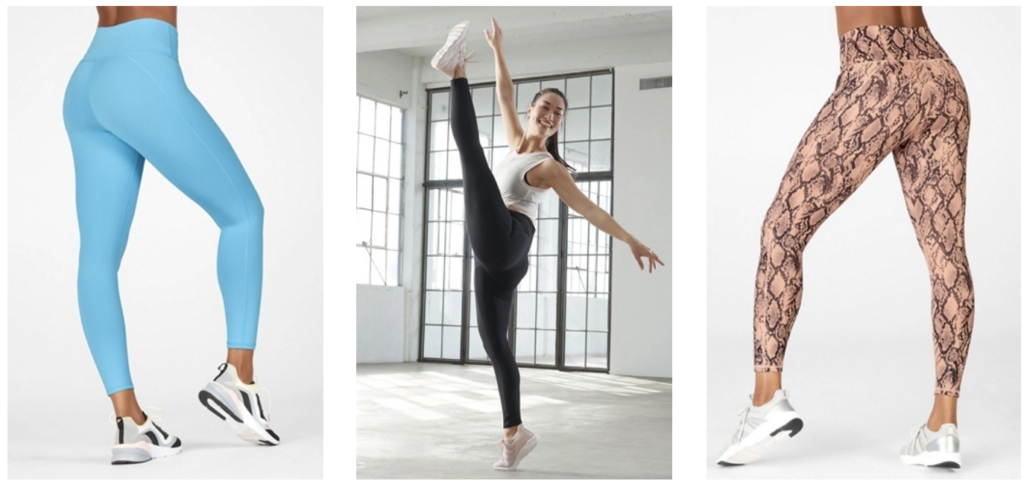 This is one of their most popular fits – Powerhold leggings will offer you high compression with a firm hold, making it perfect for showing off your curves.
In my opinion, this is the highest quality pair of leggings they have (it almost feels like it's 2 or 3 layers thick). I find them perfect for the winter. They're squat proof and have a fit that just makes your booty look great! I'm never disappointed by these – I always go for the high-waisted fits.
---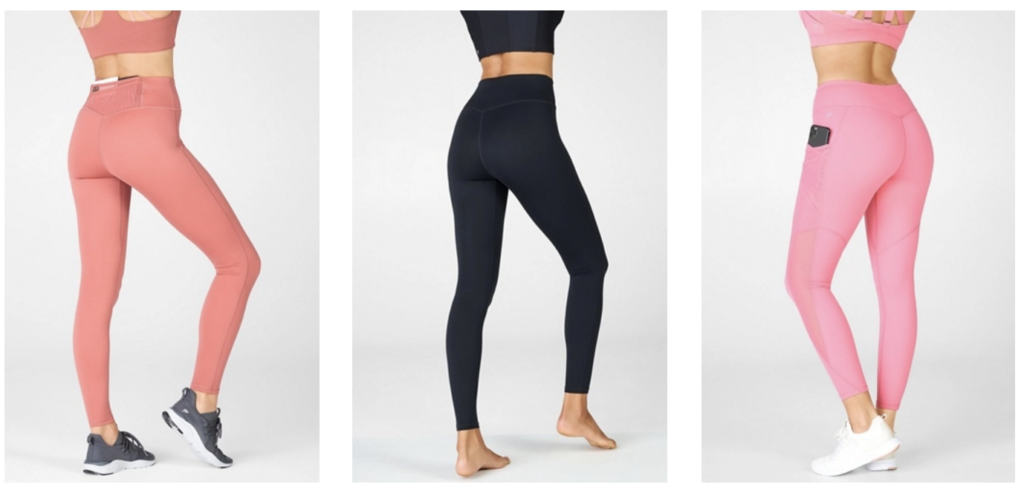 This one is my second favorite out of all their legging fits. They aren't as tight as the Powerhold, making them more practical for hanging out and doing everyday things like grocery shopping.
I love how it cinches at the waist and feels snug – many leggings often roll down my waist as the day goes on and I find myself continuously having to pull them up. That's one thing I rarely have to worry about with most fits from Fabletics.
Since this is the name of the fabric, they can be harder to find, so make sure to look at the product details. The "Trinity" leggings use the Motion365 fabric. You can also search "motion365 leggings" and all of their leggings that use this fabric will typically come up.
Fabletics Sports Bras Review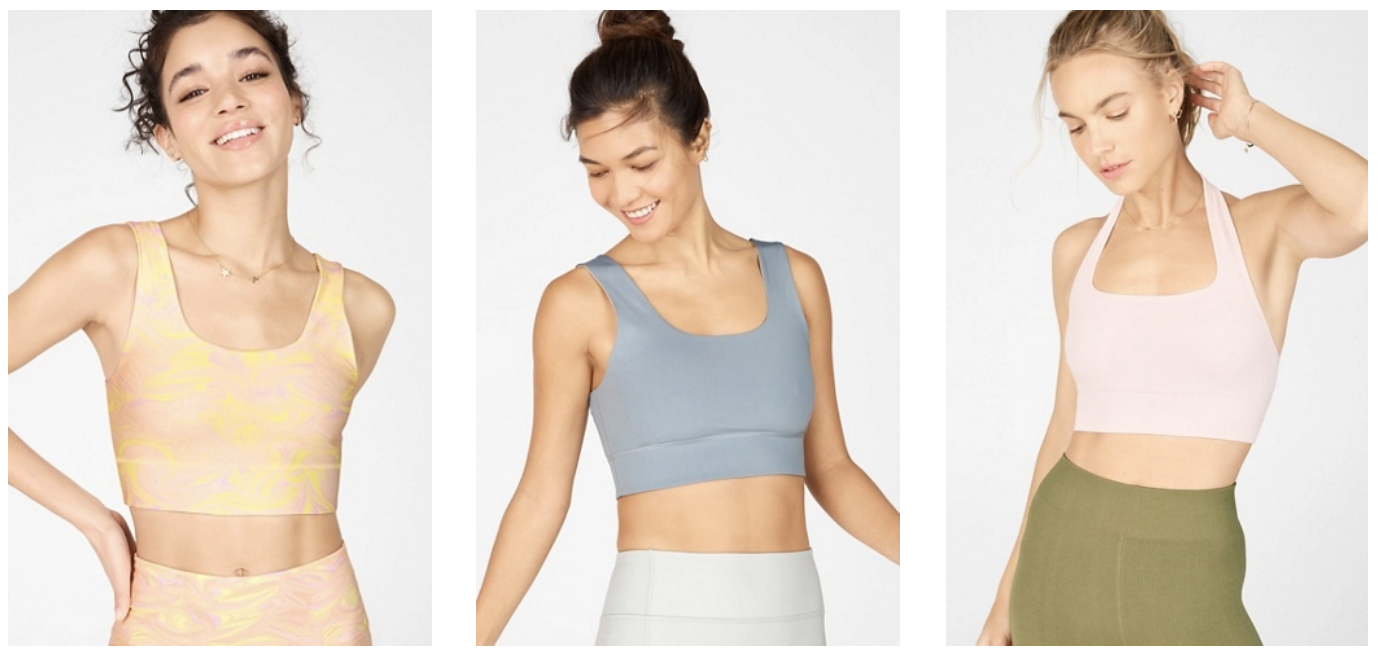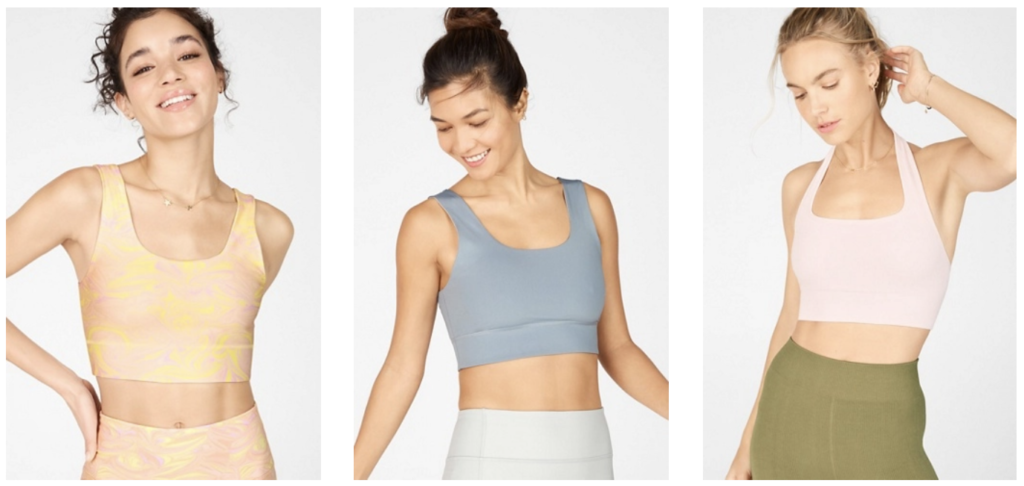 Fabletics has some great sports bras that complement their leggings really well. They have various fits including low impact, medium impact, and high impact.
Their medium and high impact bras have great coverage and hold. I've never had to worry when going hard in the gym, and my gals aren't small.
I've only ever received their sports bras when buying outfits, but I've got quite a collection going. Their outfits are always well put together and look super cute (plus they're an even better deal than buying pieces by themselves).
I haven't experienced many other items from Fabletics aside from sports bras and leggings. I have received a couple of outfits that came with tank tops, which have been very breathable and have lasted a long time.
Based on other customer reviews, it seems as though their men's line is just as great as their other products. Customers say the clothing is comfortable and high-quality.
Plus, they have a variety of activewear to choose from such as shorts, joggers, tees, pants, jackets, and more. You can also view the men's size chart here to find the perfect fit.
Sizing Reviews
For the most part, many people seem to agree that Fabletics runs true to size. However, the fit of each item is also important to keep in mind, since compression fabrics will be tighter than the others.
Lengths
Since Fabletics focuses on making women feel comfortable in any shape and size, they offer three lengths: short, regular, and long.
I love this – being on the shorter side, it can be hard to find bottoms that aren't too long. With Fabletics, I can find the perfect length.
Size Chart
If you still aren't sure about your perfect fit, Fabletics provides an in-depth size chart to help you find what's right for you. You can view the size chart here.
How Does Fabletics Work? (VIP Program)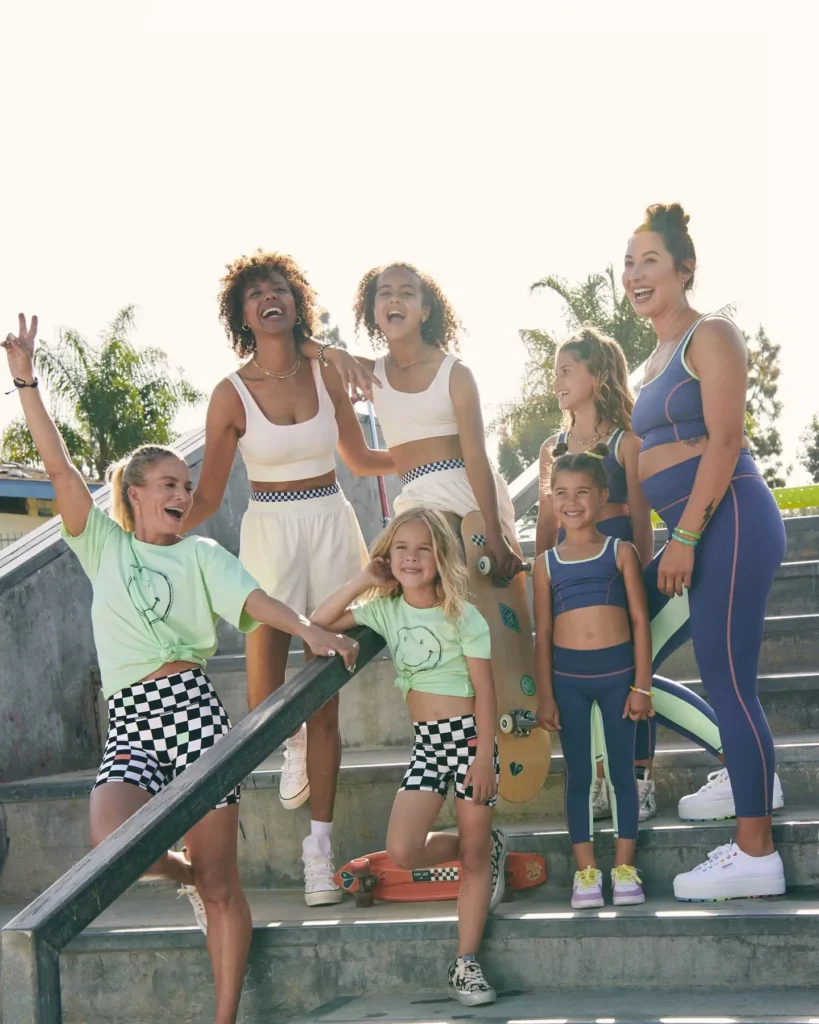 A lot of Fabletics reviews complain about the VIP program being confusing and misleading, but this is usually because they don't understand it or read the fine print.
Their VIP program is a subscription-based service that provides you with personalized workout sets (usually made up of a sports bra and pair of leggings) each month. These are recommended based on the type of workouts you enjoy.
However, they don't just charge you and automatically send you an outfit each month. There's a bit more work involved.
You're charged $49.95 per month for 1 "member credit" that allows you to purchase one outfit (or another item of your choice). Their outfits are a great deal – as a VIP member, these are significantly reduced compared to buying them as a non-member.
On the first of each month, you'll be able to log into your account to view your outfits for the month. Also, between the 1st and 5th of the month, you can decide to skip the month if you don't see anything you like.
If you want more than one outfit, you can add extras to your cart and just pay for them. You will still get the exclusive member pricing. You can also compile credits over multiple months and use them later (or like me, forget about them and then get excited when you see you have 3 member credits waiting).
To kick off your subscription, they offer a 2 for $24 deal on their bottoms, which is an amazing deal! Even if you can't afford to keep the subscription, I would recommend at least getting two of these $12 leggings and canceling after. They are extremely high quality and last a long time.
As I said previously, this is a monthly subscription that'll charge you $49.95 per month, so don't just purchase your first order and forget about it!
Aside from the 2 for $24 deal that is always available, Fabletics also has occasional first-time VIP member sales (like 60% or even 70% off everything in their store, even outfits).
What happens if I don't like anything that month?
If you do decide to keep the subscription and come across a month where you don't like their new collections, you can just skip that month with no charge (as long as you skip by the 5th). I really like this option because there are definitely months where I don't feel like spending $50 on a set or honestly just don't like the sets that month.
Forgot to Skip a Month?
If you forget to make a purchase or skip, you will be charged $49.95 for 1 member credit.
Each credit can be redeemed for one outfit (you can also use the member credit to purchase single items, but this isn't as good of a deal). If you want to buy more than one item, you can simply add them to your cart and pay the extra cost with your card. You will still get their exclusive member pricing.
Luckily, member credits never expire. So if you forget to skip, you can always skip the next month and just use this month's credit for next month's outfit.
If you're not a VIP, you're going to be paying a high premium for everything in your cart. During their 70% off new VIP members sale, I purchased nearly $500 of products (3 leggings and 2 tops) for just $60. Without signing up for the VIP program, I would've had to shell out nearly $500!
FAQs
How do you cancel Fabletics membership?
Your membership can be canceled at any time, either by contacting their phone number available 24 hours a day, 7 days a week.
You can also cancel through live chat (hours are 9 am – 9 pm). You can cancel anytime after joining. 
Who owns Fabletics?
TechStyle Fashion Group own Fabletics, along with other fashion retailer brands like JustFab and ShoeDazzle. The company was founded by Kate Hudson, Don Ressler, and Adam Goldenberg.
Is Fabletics VIP Worth It?
Overall, this depends. If you're responsible enough to remember to skip months when you don't want to get an outfit, then I definitely think you might like it.
I definitely tend to forget about subscriptions, so I usually end up paying for Fabletics every month, but I really don't mind because I love their activewear so much and I can always use the credits. Plus, they sometimes even have special sales that I try to save some member credits for.
The only thing I dislike is that some of their VIP sales don't let you use member credits, so you have to spend extra money on top of the monthly fee to get these deals. I wish my credit could be applied to these sales.
As far as bang for your buck, I definitely think the outfits are worth it! Outfits typically have a high-quality sports bra and pair of leggings (sometimes a top as well) for just $49.95.
While the first-time member deals will definitely be better savings, it's just a one-time thing unless they have a great sale just for members. Don't expect those crazy cheap prices forever.
Bottom Line
To sum up my Fabletics reviews, you can probably tell I love their activewear. Their products are such high quality for great prices. Although the monthly VIP program was a little weird at first and just seemed like a way to reel me in, I fell in love with their quality and I've started looking forward to my monthly outfits!
Not what you're looking for? Here's a list of clothing subscriptions you might like better!