Everyone wants to smell like a million bucks, but no one really wants to pay the cost. Fortunately, some websites sell luxury perfumes at a lower rate, but are they too good to be true Perfume.com is one popular option that pops up on our radar, so we decided to try it out. Keep reading for our in-depth Perfume.com reviews!
What is Perfume.com?
Perfume.com is the leading website for discounted authentic fragrances since 1995. They carry over 13,000 different fragrances for men and women. Their stock is diverse, offering anywhere from popular celebrity scents to discontinued brands that are hard to come by.
They pride themselves on not only their wide selection but also their great deals. They offer up to 70% off retail prices!
To top it all off, they offer fast and easy shipping. They ship to every country around the world. They even state that most of the orders they get leave their headquarters after only a few hours.
Products & Pricing
True to their word, they do carry a wide variety of fragrances. Right off the bat, a few brands that caught my eye were Versace, Dolce & Gabbana, and Gucci. They carry a variety of scents as well as full sizes, minis, roller balls, and anything in between.
They also clarify what their products are. They sell new bottles, but they also sell testers and unboxed fragrances if you're really looking to get a deal. 
They keep these separate from their new products, so you know what you are buying. Testers and unboxed products tend to be cheaper, so if you don't mind not having original packaging, you can save even more.
As for pricing, their prices can be up to 70% off retail, but it all depends on the product you're looking for and the condition it's in.
Perfume.com Key Features
When ordering from Perfume.com, we analyzed various features about the company aside from the pricing and product offering.
Rewards Program
They do offer a rewards program for their customers. It runs on a point system. For every dollar you spend, you get a point. 100 points get you 2% off your next purchase, 500 points gets you 5% off, and 1000 points gets you 10% off.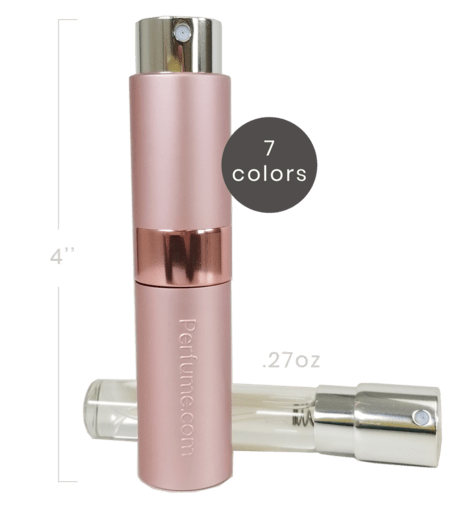 Considering they do offer many luxury perfumes, you can rack up the points fairly quickly if you are frequently buying fragrances.
On top of offering their customers a rewards program, they also have a fragrance of the month club (featured on our best perfume subscription services article)!
The service is a monthly subscription of $9.95 with free shipping in the U.S. and you get a new fragrance in a .27 oz travel atomizer. They offer this subscription for both women's and men's fragrances.
This service is perfect for those who want a bit of variety or who want to try a perfume without committing to a full bottle.
Beware, this service renews automatically, but if you don't want to continue getting the perfumes, you can cancel at any time.
Return Policy + Cancellations
Just like their shipping, they offer free returns. It's as simple as logging into your account and printing a return label. You can also contact them.
Your order can be returned up to 30 days after the ship date for you to get a full refund (minus shipping and gift wrap charges). 
It's important to note that the products you are returning must be unopened, meaning that if you try the fragrance and don't like it, you can't return it. They do offer some sample sizes, but not for all scents.
They also do not accept returns for cosmetics or skincare items due to health reasons, so make sure to consider this before purchasing.
What about canceling? As I mentioned before, they send out their orders fast. Their system is automated, which makes cancellations a bit more difficult. The only time you can make a cancellation is when a
The "cancel" option appears in your order history.
This can be rare, so make sure you're ready to commit when placing an order!
Perfume.com Shopping Experience
Browsing through the website getting ready to place my order, I've noticed some key features about the shopping experience.
Searching + Inventory
Searching through their huge variety can be helpful since you can see what options you have, but it can also be overwhelming. If you are going in blind, I can see the wide selection being a bit stressful. But, if you have a fragrance in mind, it makes finding it a bit easier.
Searching for specific scents is easy – you can simply search up the name or brand to find it. If you only remember part of the name, you can still search that up and it'll show you what they have that matches.
My only issue was that you could not search up specific fragrance notes. You can refine your search to certain scent notes, but they only include a small list to choose from. If you want a specific note, it's best to do some research before you go looking. 
The fragrances I was looking for were Maison Margiela's Replica collection and Ariana Grande's Cloud. Both are two different price points and availability, so I was able to see what searching for them was like.
For Replica, they did have a bit of variety, but not every perfume in the collection. What I found interesting was that they did have a fragrance, Coffee Break, that was sold out at both Sephora and the Maison Margiela website.
After this, I got curious and searched for all of the Ariana Grande perfumes to see what I would find. Funny enough, I found the reverse. They were out of stock for R.E.M. when it was still available at other stores like Ulta.
They do clarify on their customer support page that their inventory is always changing. If they don't have the scent you want, you can be put on a waitlist.
Available Products
Another thing I found interesting about the fragrances they had available were the products that were being offered.
For Replica, they only had testers available. These are products that were meant to be put on the counter of a store for customers to sample. They clarify that they are new and full, but are typical without original packaging and sometimes without a cap.
For both fragrances, some of their items were out of stock. They were either more full size bottles that were either new or unboxed or they were different products entirely.
Price
Where these two products really start to differ is the price and the price difference.
Full size Replica perfumes go for $135 on both the official website and at other stores like Sephora. On Perfume.com, they were offering a full size tester for a couple bucks less.
For me, the price is far too similar to bother. However, it is often the same price or even cheaper for scents that are sold out everywhere else.
For Cloud, it is sold at Ulta for $64. On Perfume.com, the full size bottle was $50.97. For 3.4 oz, this price is closer to the 1 oz bottle at $44. If this is a scent you've been wanting or you want to replace your empty bottle, this would be a pretty good place to find a deal.
Overall, the deals seem to vary based on the particular perfume. They also have additional coupons that may be available while you're shopping. For example, if you sign up for their email at the moment, you receive 20% off your order.


Other Perfume.com Reviews
Like with any site, you want to see the reviews before you buy. To see how customers liked their products, I chose to look at the reviews left on some of their most popular women's fragrances. Some recurring issues were quality, authenticity, and shipping.
"I was not happy with this lotion! I have been trying to send a message and so glad to see this today! The lotion first wasn't filled to the top and it smelled old! The scent doesn't even come out when I put it on my hands!"
"I do not know if the products are really authentic here. I bought this perfume from here and however liked the smell but had to keep reapplying. After I finished with it, I bought the same perfume locally at a lesser price and it smells the same, however it stays the whole day."
"The spray does not smell like the fragrance that I have previously purchased in department stores. This was the 1st time that I purchased a tester and I think in the future I will not do this."
"I never received the item. I have sent numerous emails and when I call, there was nobody to talk to. Very disappointed."
On top of all these, many complained that they did not like the scent they bought. This is mainly an issue with shopping for scents online where you can't smell before you buy.
A lot of Perfume.com reviews complained about quality and even suggest their products might not be authentic. It could be very likely that they are selling older or even expired products, meaning the quality has started to decline. They could even be selling fakes, but this seems unlikely.
Final Verdict: Shop or Skip?
To sum up my Perfume.com reviews, I do like the variety and the discounts they offer. However, there are still a bit of risks in shopping on Perfume.com (as well as just buying fragrances online in general).
If you are buying a perfume you have not smelled or tried out before, you risk not liking the scent or it not working with your body chemistry. You don't want to pay for a full size bottle of perfume that you can't wear and can't return.
You also cannot verify the freshness or authenticity of the product before you buy, which has been an issue a few customers encountered. Again, this is something you risk when you buy a fragrance online.
If you are willing to take the risk, Perfume.com might be the place for you to save some money. Some precautions you can take is by buying their new bottles and trying the fragrance you're interested in at a local store before you commit.
I would also recommend trying their fragrance of a month club. For a small price, you can try the fragrance before you buy a full size. It's a fun way to try new scents without splurging on a full bottle. This is similar to Scentbox and Scentbird (see our Scentbox vs. Scentbird comparison).
If shopping for perfume online still worries you, you can still shop many of these fragrances in department and beauty stores like Macy's and Sephora where you can try them before committing. You can even save a bit of money by buying gift sets or waiting for sales to get a little more for your dollar.  
Perfume.com Alternatives