Want affordable haircare that doesn't make a dent in your wallet? Let's talk about MONDAY—not the day, the haircare brand. They make salon-quality products at affordable prices, but are they really worth the money? Read our Monday Shampoo review to find out.
MONDAY is a viral hair care brand with irresistable pink packaging that we are seeing everywhere, but are they worth the hype? This MONDAY shampoo review dives into pricing, ratings, real customer reviews, and more.
What is MONDAY?
MONDAY is a haircare brand that was launched in 2020 in New Zealand and Australia by founder Jaimee Lupton. The brand was founded with the goal of creating high-quality and transparent haircare at affordable prices.
They focus on creating formulations made of natural ingredients that work hard but are still gentle on the hair and scalp. Their products are:
vegan
cruelty-free
free of SLS and parabens
100% recyclable
Not only are the bottles recyclable, but they are designed to be packed tighter and more efficiently, minimizing the brand's carbon emissions. 
MONDAY Overview
The name MONDAY was inspired by the day that kicks off every week—a day for setting intentions for the rest of the week. 
MONDAY creates hair care products made for everybody—they created an inclusive movement in haircare. The brand claims to create salon-quality products and sells them at drugstore prices to ensure they are accessible to everyone.
Plus, their products are formulated with natural ingredients, eliminating exposure to harmful chemicals and giving everyone a good hair day every day. 
MONDAY haircare products are available to purchase at several top retailers including Ulta, Walmart, Target, and oftentimes found in larger bottles at Costco.
ALSO CHECK OUT: 11 Best Shampoos at Ulta
MONDAY Hair Care Reviews
Overall: ★★★ 3.5 Stars 
Monday Shampoo has had some pretty mixed reviews online. While there are many positive comments, there are also quite a few negative. In positive reviews, customers say they loved the lather and saw a difference in their hair, feeling very clean and moisturized after using.
However, there are a large number of customers who experienced bad reactions to MONDAY products, including dry and brittle hair as well as hair loss. Some people said it also caused itching, irritation, and dandruff.
If you're already experiencing hair issues such as thin hair, it might not be worth trying out their products since it could make these issues worse.
Price: ★★★★★ 5 Stars
The price of Monday shampoo can definitely be considered affordable at around $8 per 12oz bottle. For products that claim to give salon-quality results, this is a cheap price. You can also typically find larger bottles at Costco for a better bang for your buck.
Selection: ★★★★ 4 Stars
The brand offers shampoo and conditioner in four different ranges: Smooth, Moisture, Gentle, and Volume.
Value: ★★★★ 3 Stars 
Overall, it's hard to say if it's worth the value for you personally. Some customers had a great experience with their hair products and state the value is unbeatable. However, some others experienced brittle hair or even hair loss, so they say it's not worth the money.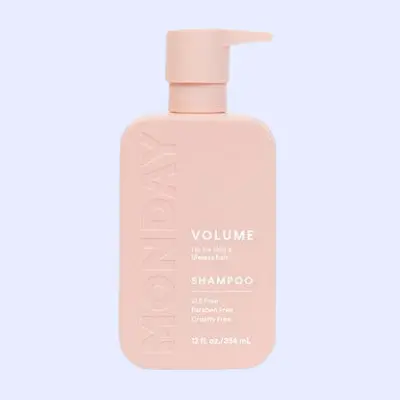 4.2 Stars based on 139 Reviews
The Volume shampoo is suitable for those with straight or fine hair. It's formulated with coconut oil, ginger root, glycerin, and Vitamin E.
This shampoo dispenses a thin gel consistency. Although it is free of SLS, it still produces a lather. The shampoo leaves hair feeling clean and light when it is rinsed off. That said, not many customers stated they noticed a difference as far as volume goes.
---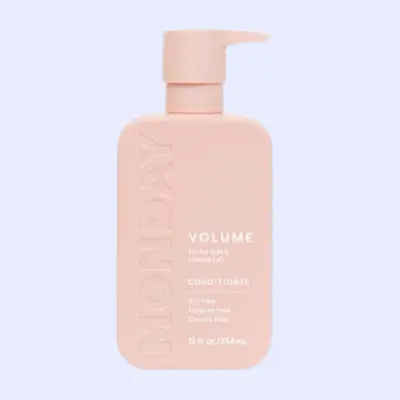 4.5 Stars based on 111 Reviews
This conditioner is a lightweight cream consistency, which makes it easy to spread and work throughout the hair. Their products are scented with their signature Gardenia scent, which many customers think smells nice and not overpowering.
This volumizing conditioner hydrates the hair while leaving it weightless after rinsing.
MONDAY Reviews: What Customers Are Saying
After searching through hundreds of customer reviews, it seems that people either love or hate the products. Overall, here are the main points of feedback from customers about Monday Shampoo:
Affordable price point with a luxurious feel
Some stated products left their hair feeling soft and hydrated
Even better bang for your buck at Costco
Some reviewers experienced hair loss after using their products
A surprising number of customers experienced brittle hair or even hair loss after using MONDAY products
Return Policy
You can't actually buy from the MONDAY website, you just get redirected to Ulta or another retailer. So, each retailer will have a different return policy depending on where you buy the product.
Although you can't buy buy directly from the MONDAY website, they do state that if you have any issues to contact their customer service or send them a DM on social media. You can also view where you can buy their products on their website.
RELATED: See some of our return policy tips & tricks for Ulta and Target.
Conclusion: Is it Worth Trying?
Based on this MONDAY haircare review, we would say that their products are worth trying since they are affordable and available at large retailers will great return policies in case it doesn't work out. There are some negative customer comments, but haircare differs for everyone and will work differently for different hair types. 
That said, we don't think their products are worth trying if you already have hair issues such as thin hair or dandruff.
Unfortunately, many customers experienced brittle hair and hair loss after using MONDAY products. Because of this, we would proceed with extra caution if you already have thin hair and don't want to risk losing more.
Also, for people that get their hair colored or bleached, you should consult a professional before trying their products. 
Monday Shampoo Alternatives