Searching for the perfect strapless bra? These best strapless bras won't let you down!
There are few things as difficult and dreaded as bra-shopping. Finding one that's comfortable, practical, and fits just right is almost impossible—but finding a strapless bra? That can seem like an odyssey in its own right.
With so many brands and styles to filter through as you begin your search, finding the perfect starting place can seem like an impossible task. To help you find the perfect strapless bra that offers all you're looking for, we've compiled this list of the best strapless bras to kickstart your shopping adventure!
Best Strapless Bras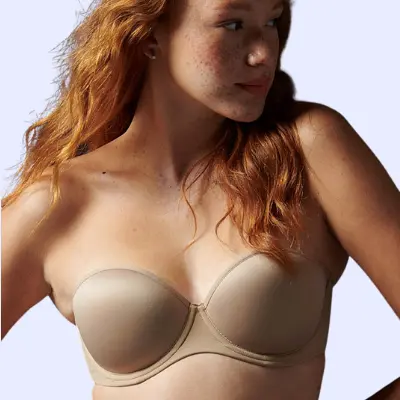 The Thirdlove 24/7® Classic Strapless Bra is the perfect sweet-spot option if you're looking for a practical, comfortable, and seamlessly hidden strapless bra. The padding is a comfortable foam that is soft and wearable all day without getting itchy or feeling sticky.
In addition to its comfortable fit, this bra follows Thirdlove's standard bra sizing—meaning half-cup sizes that range from AA to size H. So not only is this a comfortable bra, but their extensive sizing and sizing guide makes shopping a quick and painless experience!
---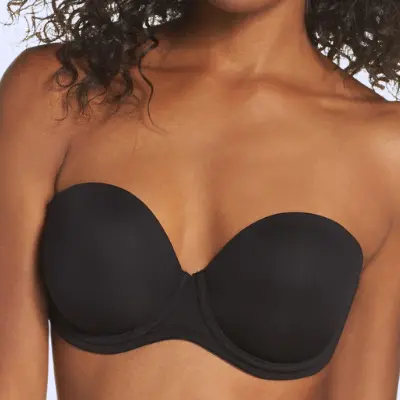 The Wacoal Red Carpet Convertible Strapless Bra is a great choice if you're looking for a versatile bra that offers the coverage and support you need for a night on the town. In addition, this bra offers underwire support, so if you're looking for an extra push-up or want to feel more secure, this bra has got you covered—literally!
Not only is this a great choice for its push-up effect, but it also comes with straps that can be worn vertically, as a halter, or crisscrossed in the back. So if you're looking for a bra that is compatible with every evening gown you own, the versatility of this piece won't let you down!
---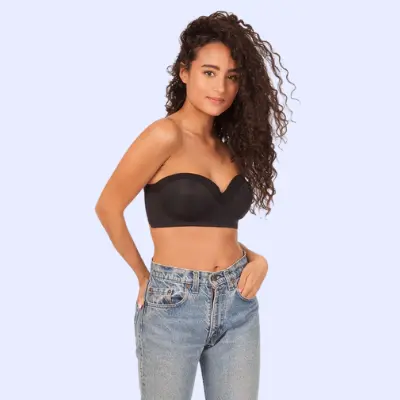 The No-Wire Strapless Bra from Lively specializes in comfort. If you aren't a fan of underwire and want something that provides coverage with a barely-there feel, this is a fantastic option for you!
Not only is it super comfortable, but it has a no-slip strip around the top to ensure the bra stays in place all day. So not only is this the perfect bra from the comfort-seeker, but it's great for someone on the go as well!
---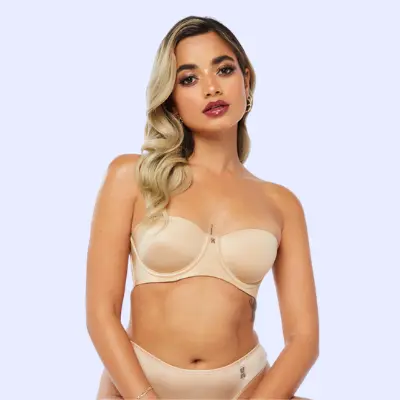 Savage x Fenty is one of the hottest, most sought out lingerie brands currently on the market. This is partly due to Rihanna's involvement, but well beyond that, it's because the pieces are functional and stylish!
In particular, their strapless bra is a great staple piece to have for those days you want to bare your shoulders (or simply give them a break from the weight of your bust). With detachable straps, you can wear this bra with any outfit. If you want the extra support provided by straps, you've got it. If you want the freedom to go without, that's an option too!
---
The SKIMS Fits Everybody Strapless Bra is comfortable, seamless, and multi-functional. In addition, this particular style has one of the most inclusive shade ranges on our list! So if you're seeking out an option that matches your skin tone perfectly, this style is a great place to begin your search!
In a bandeau style, this bra has no underwire, no noticeable padding, and no hardware. This bra is truly seamless and can be worn on its own to the gym, underneath your most skintight dress, or with a pair of denim shorts and cute butto- up tee on a hot summer day! If you're looking for a bra that can pull double duty as a top, this is a great choice for you!
---
The Spanx Up For Anything Strapless™ Bra is set apart from the rest due to its ability to truly stay put all day. If you're trying to find a bra that will give you all the support you need to go dancing at the club, or simply a bra to run errands in all day without fear of it falling out of place, this is your new go-to!
Additionally, Spanx includes their patented technology to ensure the perfect fit. This bra will literally mold your body to give you perfect structure and shape without being uncomfortably tight!
---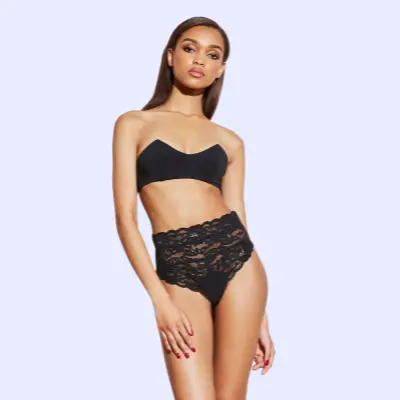 The Fleur du Mal Charlotta Bandeau Bra is a perfect selection for the fashionista. If having a strapless bra that can double as a stylish top is a staple piece for your closet, then look no further!
This bra offers a corset-inspired sweetheart neckline and structuring without the corset. It can give you great support hidden away under a dress, or it can be paired with a blazer for a stylish and put-together outfit!
---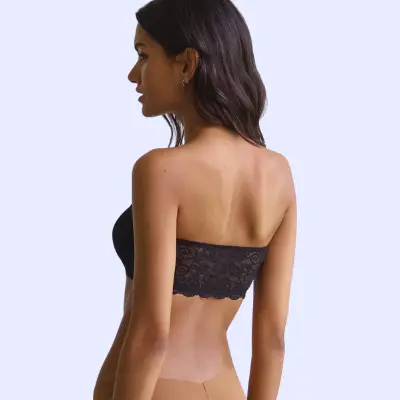 The Commando Double Take Bandeau Bra is another amazing option if you're looking for a barely-there strapless bra. With seamless stitching, no lines will show, and your bra will truly be incognito.
Another great feature of this bra is its lace backing! So if you have a backless top or dress and still want coverage without straps or a traditional closure showing in the back, the lace adds a soft and elegant touch to any outfit!
---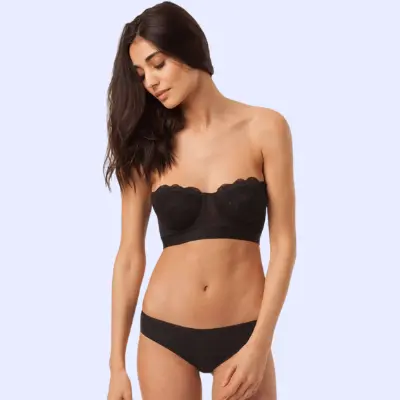 The Lace Strapless Bra from Lively is one of the most romantic and elegant styles on our list, making it a great option for date night! The flirty peek-a-boo lace detailing is feminine and adds some extra frill to any look.
This is another bra which can be worn as a top! Paired with a blazer, worn alone with a high-waisted skirt, or even just with your favorite pair of denim—this bra is fabulous when used as lingerie or paired with your favorite wardrobe staples for a cute outfit!
---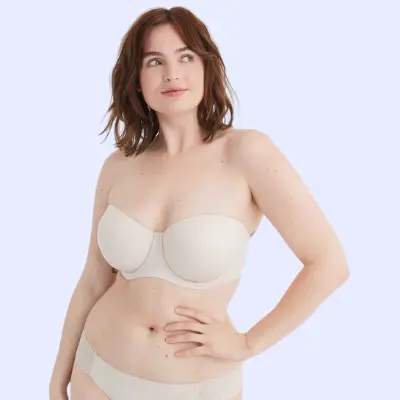 The Aerie Real Sunnie Strapless Lightly Lined Bra is a comfortable and versatile everyday bra. With removable straps, this bra can go from being strapless to strapped in a snap!
The light lining, underwire, and structuring of this bra make it perfect if you're after gentle support. This bra isn't too tight or snug, but you will get the shaping you're after—all in a piece of lingerie that can be worn for any occasion!
---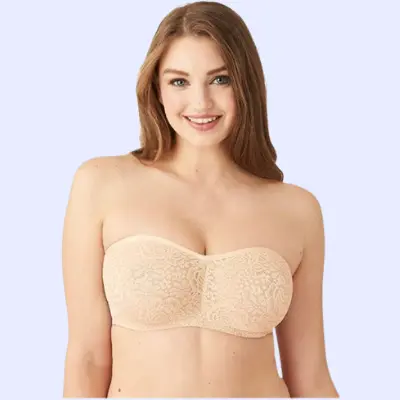 The Wacoal Halo Lace Strapless Underwire Bra is another great seamless option on our list. The delicate lace is thin enough to be completely undetectable, while the bandeau cut of the bra ensures there is a seamless look all around.
The feminine lace surrounding this bra makes it feel a bit more fun and feminine, but not to the extent it loses its functionality.
---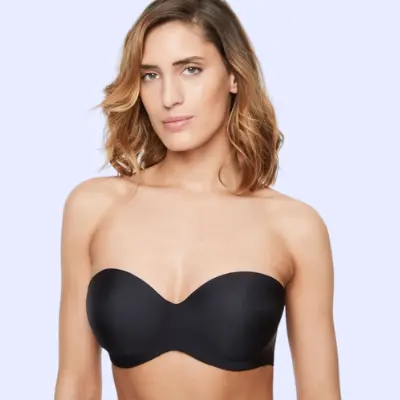 The Chantelle Absolute Invisible Smooth Strapless Bra is excellent if you're looking for a highly supportive bra that offers a seamless appearance! This bra will give you a great push-up effect, while the cut and hidden seams allow it to go undetected.
This is another versatile option on our list as it comes with straps as well! This bra can easily be transitioned between strapless dresses and comfy t-shirts with no worry about whether it will suit the fabric!
---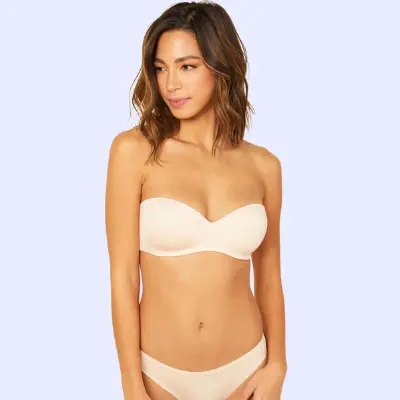 The Cosabella Evolution Bra is a great choice if you're looking for a basic strapless bra. This bra does what it sets out to do and offers you the perfect strapless support!
While this bra takes a no-frills approach in its design, it will get you through any strapless or backless piece you're looking to pair it with. This is a must-have staple for any closet!
---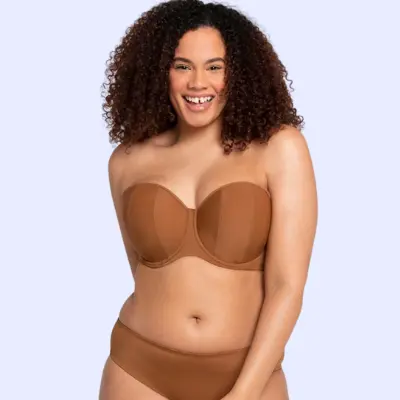 The Curvy Kate Luxe Strapless Bra is specially designed for cup sizes D-J! So if you're on the bustier side and have had trouble finding a strapless bra that offers support and can stay in place all day, this is the perfect choice for you!
With internal and external support and comfortable padding, this bra is the supportive best friend you need in your life! Not only is it discrete enough to remain hidden under strapless and backless pieces, but it will also maintain its structure and position throughout the day (or night)!
Bottom Line
Bras are always tricky to shop for, especially strapless bras. Despite this, there are so many options on the market, and the best strapless bras for you do exist!
The strapless bras on our list cover a wide array of preferences and specifications. So as you begin trying to hunt down the perfect piece of lingerie, we know our list can help you find exactly what you want!
UP NEXT: Honeylove VS Spanx