The right bra can make you feel sexy, comfortable, and empowered, which is obviously goals for all women. However, finding a bra that is comfortable, attractive, and the right fit is near impossible. But thankfully, brands are devoting themselves to bridging this gap.
ThirdLove is one brand that was created for women by women to give you the most optimal bra on the market. But is it all it's made up to be? Today, we're going to share our Thirdlove reviews to see if they're worth the hype.
What Is ThirdLove?

Founded by two women with a dream to differ from the status quo of women's clothes, ThirdLove was born to empower, comfort, and inspire women of all shapes and sizes.
The creators of this company worked hard to create perfect-fitting bras that will help you feel good about yourself (even for less common breasts, such as asymmetrical).
ThirdLove Bra Reviews
ThirdLove Underwear Reviews
Pricing
When it comes to prices, you're paying for quality, comfort, and a bra that will last for years to come.
Their typical prices are going to be around $50 – $60 without shipping included (which is often free on orders $75+). They also offer a bunch of bundle deals to help you save money.
First Order Deals:
10% off your first purchase when you use fit finder
Bundle Deals:
Spend $135, save $15
Spend $150, save $20
Spend $200, save $30
Spend $300, save $50
Frequent underwear bundle deals (such as 6 for $48)
Return Policy
What happens if your pieces don't work out?
Try Before You Buy: Aside from their regular return policy, you can essentially try before you buy their 24/7 Classic T-shirt Bra.
You have 30 days to wear them as much as you'd like, wherever you like. If they don't work out for you, you can return them (even with the tags detached)!
What ThirdLove Reviews Say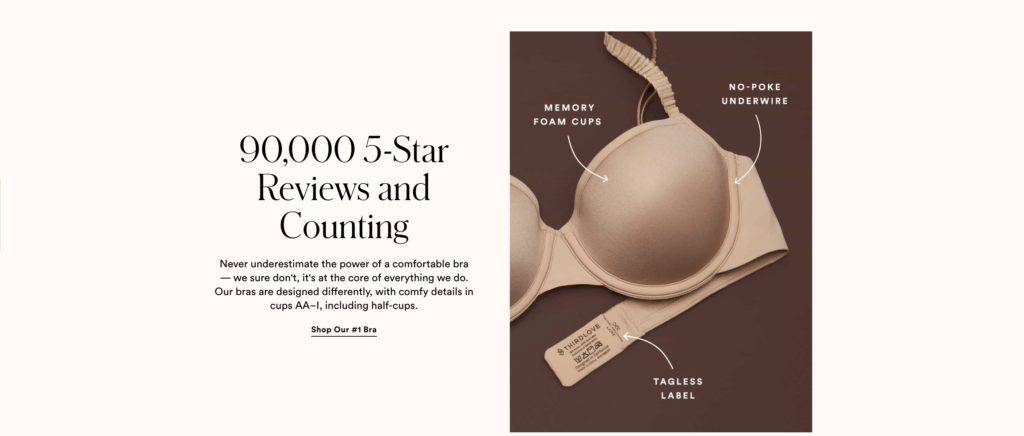 Now that we've gone over price let's talk about how good ThirdLove really is. We did some research online, and wanted to share with you a few authentic and true ThirdLove bra reviews, both on their website as well as other sites.
"I've struggled all my life with my right breast coming out of my bra. This bra is amazing. The fit feels like it was custom-made just for me. I will never wear another brand of bras." – Sandra O
"Finding a bra in my size and comfortable has been a challenge until now! I don't ever have to adjust, and sometimes I totally forget I'm even wearing a bra at all!" – Jess
"After two babies, I have never been able to find a bra that fits just right, and this is as close as I have ever gotten! Comfortable, light, and the shape is perfect for what I am looking for. I have had a hard time fitting into cups post-breastfeeding, and this bra is by far the one that most closely resembles my size and shape. If it had straps that were a little wider, then it would no doubt be a 5-star product!" – Rachel T.
"The plunge bra was not comfortable for me, and I got some angry dents from those ill-fitting underwires. The replacement 24/7 Classic T-Shirt Bra fit me much better—its wires curve out more widely—and I found it comfortable enough for a day's wear, though I wouldn't want to have it on "24/7″. The wireless bra, however, passed my comfort test with flying colors and felt soft enough to sleep in, if you do that sort of thing. But for nearly $70 each, these bras set a high-value bar for me, and they just didn't clear it." – Amy Roberts
"I liked the bra at fist. But after about six months of wearing it, the underwire is already coming out. I emailed customer service several times with no response. Very poor customer service. For the price, you would think you would get excellent service. I will not waste my time on a company that doesn't care about their customers." – Memberdf8b5
RELATED: 13 Top Luxury Lingerie Brands
Bottom Line: Is ThirdLove Worth It?
Honestly, Thirdlove reviews seem very mixed. Some people say they are the best bras in the world, while others have 0-star experiences. We'd say that since they have such a great return policy (especially on the 24/7 T-shirt Bra that you can wear for 30 days), it might be best to just try them out yourself.
Thirdlove may end up being a great brand for you, especially if you've been hunting high and low for the perfect bra, but just can't seem to find the right fit.