When it comes to cheap overseas clothing brands, it's hard to find one that has it all (including quick shipments, easy returns, high-quality pieces, and great deals). Zaful is one of the most popular options and, although it doesn't have all of these qualities, it came pretty close. Today, I'll be sharing my Zaful reviews on various pieces that I've ordered from them over the last few months.
This brand is especially known for catchy deals, like their section under $9 or activewear under $10!
I will be walking you through the buying process, how to make returns, sizing guide, some of my favorite pieces, tips to get the most of your buying experience, and even more. Let's get started!
Is Zaful Legit?
Yes, Zaful is a legit online store that sells relatively high quality clothing compared to their competitors, especially for the low price points. Over the course of the last 6 months or so I've ordered 7+ times and had nothing stand out that would raise any red flags.
How Long Does Zaful Take to Ship?
Short answer: My orders usually took 2–3 weeks to arrive
One thing that I didn't like about Zaful was how long it took for me to actually receive my packages. I understand that it comes from another country, but I've had some of their competitors come in shorter time periods.
I also really don't like that they only have free shipping on orders $59 or higher. This is pretty high, but they do have occasional sales where they lower it to $35+ or even better, so I'm always on the lookout for these. Shipping costs $6 and shipping insurance is $1.99.
If you're not patient or need your clothes in a hurry, you'll probably want to check out something like SheIn where you'll get your order in about a week (or simply buy faster shipping). They also have free express shipping on orders over $129, but that's a lot to spend, especially if it's your first time buying.
However, if you're willing to wait, it's well worth it! As mentioned before, my orders took around 2 weeks to arrive (a couple were 3 weeks) which in all reality wasn't that horrible. I usually ended up forgetting I made a purchase and then it was a fun surprise when it arrived!
Is Zaful True to Size?
YES!
This has been something that I've always had an issue with when ordering from overseas brands – it almost always runs either large or too small! Much to my surprise, nearly everything that I've ordered on Zaful has fit as good as many of the US brands I shop at.
I've never had an issue so I don't usually use their sizing guide, but it can definitely be helpful so you should check it out if you're concerned. They also have these on each product.
Returning Zaful
The Zaful return policy is one thing that I'm not a big fan of (and to be honest, I don't know if anyone is). For one, they only let you return certain pieces of clothing (see the list below) AND they make you pay for the return shipping.
Items not eligible for returns
Lingerie
Swimwear
Beauty items
Luck Bags
Masks and protective equipment
Discounted items
I encountered this a couple of times when wanting to return one or two items in a couple of orders. Turns out, the price of shipping was comparable to the actual cost of the clothes, so it wasn't even worth returning. This isn't a complete turn off for me since I've had a good experience with their clothes, but I definitely enjoy the peace of mind that comes with brands who let you return for free.
If you're worried about this return policy, I would recommend going crazy at SheIn as they let you return your first order for free.
Zaful Swimsuit Reviews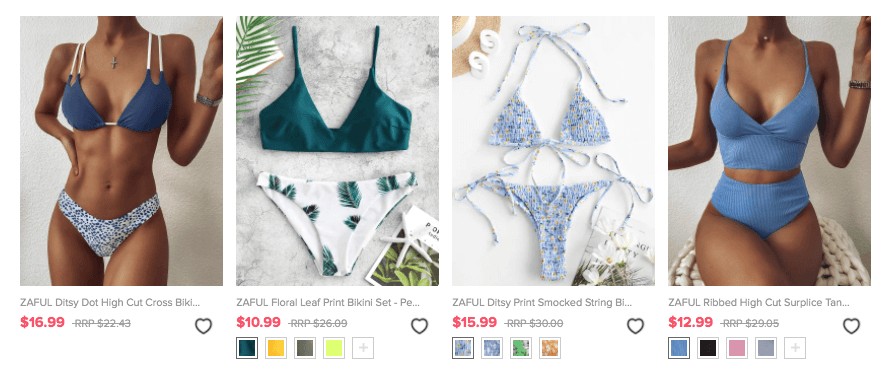 I'm dedicating an entire part of my review to the Zaful swimsuits because I love them so much. After dipping my toe in the water (no pun intended) with a bathing suit from Zaful, I immediately followed it up with 6 more.
They're extremely affordable and relatively high-quality fabric (aside from a few frayed threads here and there). I wore them this entire summer and haven't had any issues with them falling apart or fabric fading.
Price: $8 – $15 for an entire set
Fit: True to size. I would say that if you normally have issues with how your tops fit, try to go for one with adjustable straps.
Quality: Good! Obviously it's not incredible quality, but it's pretty impressive based on the price. You can wash it multiple times without it falling apart or fading, which is saying a lot for the price you get.
My Tips For Purchasing From Zaful
Always scroll down and look at the reviews to see what other people are saying about that particular item and even pictures to see how the clothes actually look.
Always get a deal or a coupon. When you shop outside of their sale sections, items can actually get a bit spendy (like $20–$30 sweaters). Make sure to add one of their current coupons to your cart – they always have one. For example, you can get 15% off your first order just for signing up for their email program.
Start off with a smaller purchase to make sure the sizing and quality meet your standards.
Check what types of products are able to be returned before purchasing.
Shop their fun discounted sections and sign up for their email list for better deals. I love their under $9.99 section for great deals, sometimes they even have buy one get one 99% off.

Overall Thoughts
If you're looking to add some trendy affordable pieces to your wardrobe and are willing to take a little risk, I'd recommend Zaful. Definitely be a little cautious when shopping as their return policy isn't the best, but with the price points being so low, it's worth the risk. I'm satisfied with 90% of the purchases I've made.