Honest SheIn Reviews (After Ordering $130+)
SheIn is a fast-fashion clothing brand known for its cheap pricing and a massive selection of products (they even have home items). With over 8 million Instagram followers and plenty of collaborations with famous influencers, it's hard to ignore them. 
Since many wonder about their clothing quality considering how cheap many of their products are, I created a few SheIn reviews surrounding products I recently ordered from the company.
SheIn Reviews – My Order
I had shopped with SheIn years ago and didn't have a great experience. However, with so many recent reviews being great (and free returns on your first order), I figured I would give them another chance. This time, I purchased about $150 worth of tops, bottoms, a dress, a lingerie set, and a couple of jewelry pieces.
Sales – I also got an additional 10% off my order (they often have sales and discounts to save even more money). 
To discover these, you can visit the clearance page or visit any page of their website – a window listing their current sales usually pops up.
Scoop Neck Form Fitted Crop Tee – $8
This crop top was a bit darker than the picture made it look (on the left), but the fit was great. It was also good quality – this is my favorite item I ordered!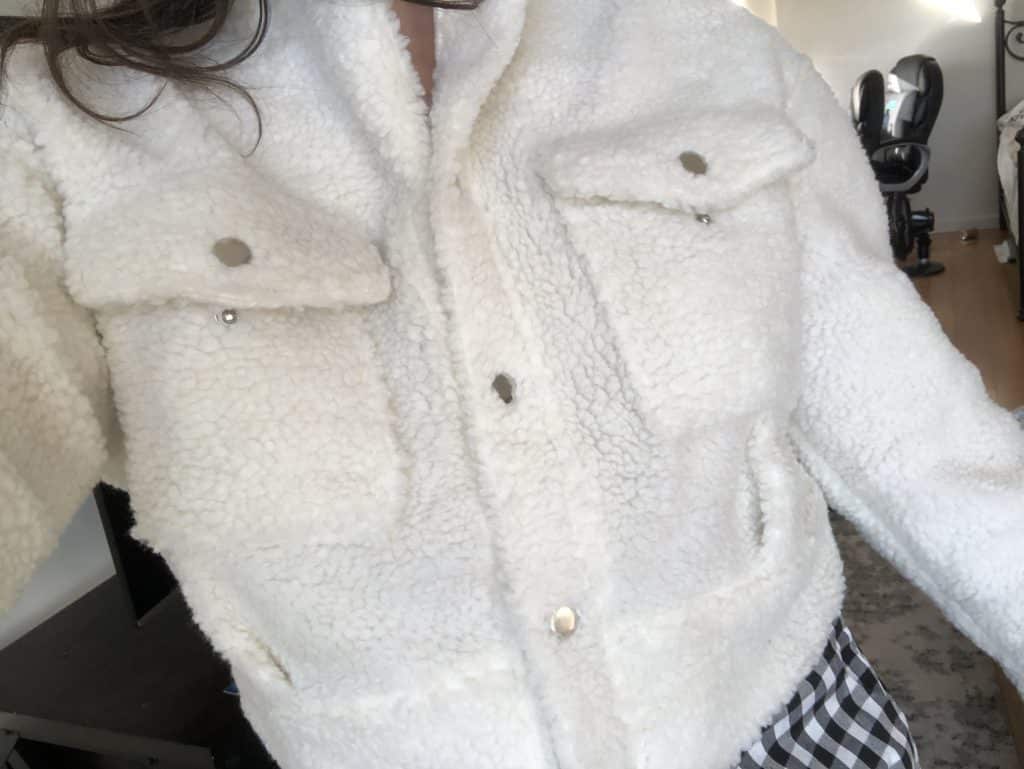 Glamaker Flap Pocket Front Button Up Teddy Jacket – $25
This jacket looked cute online and was more expensive than most SheIn clothes. It was cute and fit well, BUT the fabric was incredibly itchy wherever it touched my skin, so I had to send it back.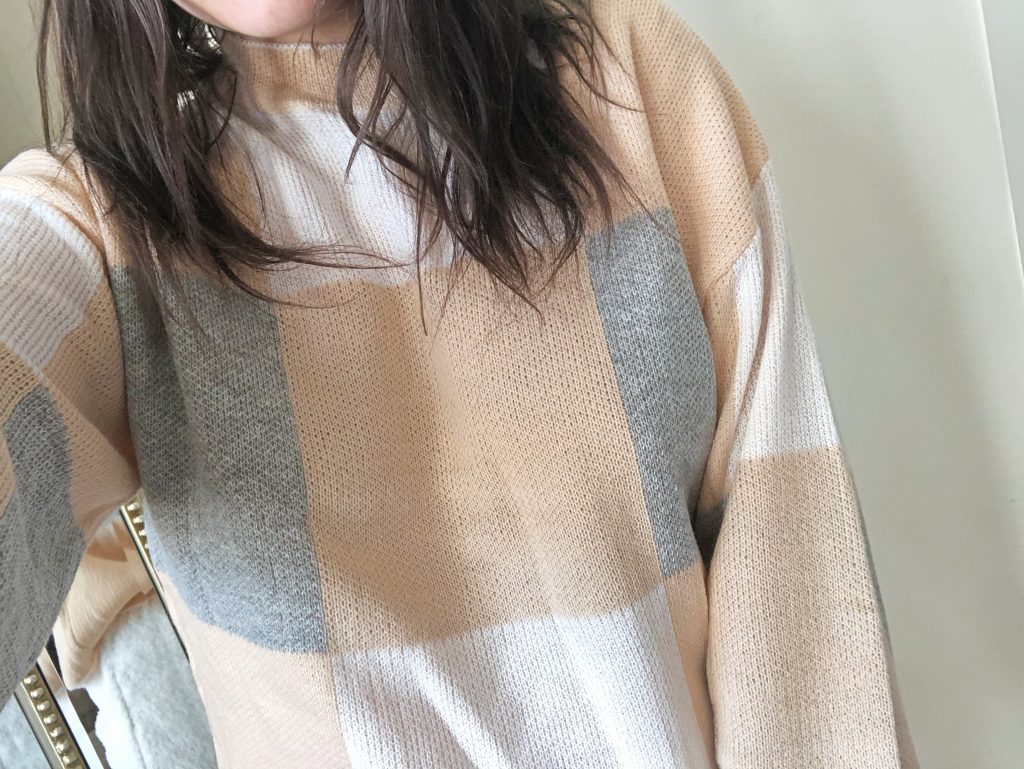 Mock-neck Drop Shoulder Sweater – $19
I really liked this sweater! It fit great, looked cute, and was comfortable – I ended up keeping it.

Snakeskin Print Mock Neck Bodycon Dress – 
$13
This looked cute online, but it was slightly too large at home even though I ordered the correct size. A bodycon dress is definitely unflattering when it doesn't fit tight enough, so this was sent back as well.
I added a couple of jewelry pieces to my cart since they were ridiculously cheap ($2 each). They definitely feel fragile and easily breakable, but I've worn both a few times without breakage. Score!
These two items were $9 each. Unfortunately, they weren't the best quality or fit. The top of the lingerie set didn't fit well and the fabric was pretty uncomfortable. The biker shorts were too baggy. Since I wasn't able to return the set, I wouldn't purchase SheIn lingerie again.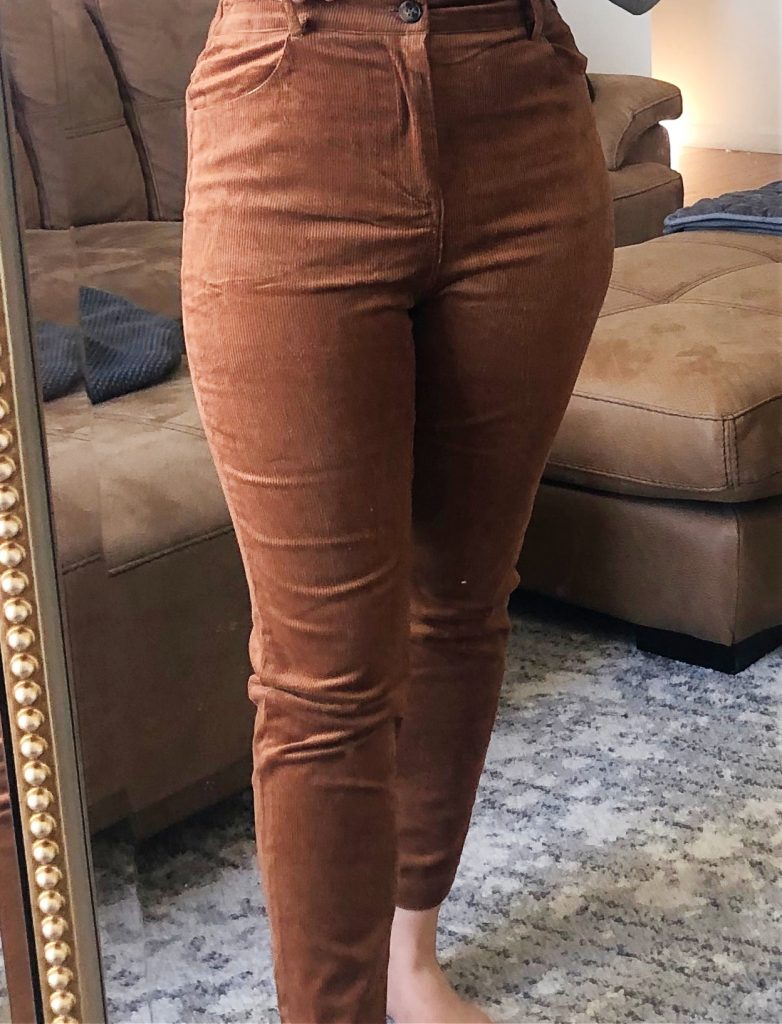 Simplee Corduroy Crop Cigarette Pants – $20
These looked great on the skinny model, but were unflattering for my thicker thighs (this seems to be common with SheIn clothes).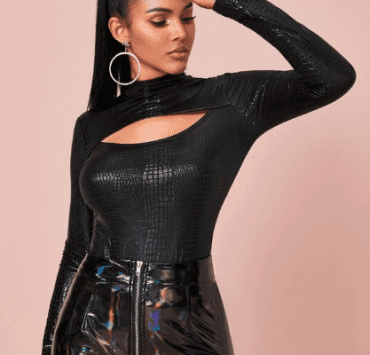 To my surprise, this top was pretty cute and flattering! It could be pulled up to look like the model or pulled down to show off a little more cleavage.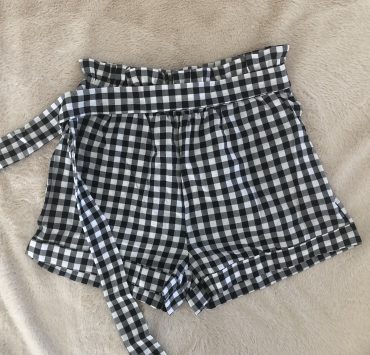 Finally, these paperbag shorts fit well and looked good. However, the fabric wasn't very comfortable so I sent them right back.  
Is Shein True to Size?
Their sizing was better than I figured it would be – most of my items actually fit well! When I first purchased a couple of items years ago, everything was far too small. They have definitely taken the initiative to improve SheIn sizing since then. That said, there were still a couple of items that were slightly off.
Normally, I would worry more about sizing, but the free return on your first order eased my mind so I just picked my regular size. The only things that didn't fit me well were the lingerie set (bra was too small while the panties were fine) and the biker shorts (slightly too big).
Wondering if there are any hacks for how to select size in SheIn? Typically, you should be fine with your regular size. If you want to be extra cautious, the only trick I would recommend is to read reviews on each product and look at any pictures that customers post. Since the company offers rewards points for leaving brief SheIn reviews on products you've purchased, many customers leave plenty of helpful feedback. Photos can help you see the product in different lighting and on different body types.
These reviews and photos are typically at the bottom of each product page.
Are SheIn Clothes Good Quality?
Unfortunately, the quality was all over the place. You'd imagine that the more expensive products would have improved quality, but this wasn't always the case.
For example, the fabric of the corduroy pants ($20) was great, but the design looked weird when I put them on. The white jacket ($25) was cute, but incredibly itchy. To my surprise, the two inexpensive crop tops I ordered were actually the best quality (just $4 and $7 each)!
The SheIn clothing reviews from customers definitely help if you have the time to go through them (especially the pictures that people post). You can see items in different lighting and how they look on bodies similar to yours. These are typically found at the bottom of each product listing.
Is SheIn from China?
Yes, everything SheIn sells is made in China.
Returning SheIn
The only reason I will continue to purchase is because they offer free returns (with your first order). This diminishes any worries I may have about their products because I can just return them if they suck (except for some types of items that are excluded such as SheIn swimwear and a few others listed below).
However, returns are only free on your FIRST RETURN. It's easy to get around this by using a different email, but you might not be comfortable with this. This can be a hassle if you plan to make orders often or want to rack up rewards points.
After your first return, they will deduct $7.99 from your return total. This is a bit spendy considering many of their single items are less than this price. But, it might be worth it if you make a large order and want to send most of it back.
Additionally, there are a couple of exclusions in the SheIn return policy. These include lingerie, swimwear, bodysuits, sleepwear, cosmetics if the seal is broken, most accessories, and jewelry. All returns should be unworn.
You have 45 days from your purchase date to make returns. It's easy to start your return by going into your account, clicking "my orders" in your profile, and starting your return. They will provide a printable shipping label.
Final Thoughts
Is She In Legit?
Overall, SheIn is definitely a legit company. However, purchasing with them is almost a gamble in terms of quality – you often get what you pay for. That being said, there were still a few gems in my order (one of the best quality items was also the cheapest)!
I always recommend reading the SheIn reviews on every product to see what other shoppers have to say about sizing and quality. Their best-selling products tend to have thousands of reviews. Plus, many people upload helpful pictures of them wearing the clothing to show what it actually looks like.