SheIn is a fast-fashion clothing brand based in China and is known for its cheap pricing and a massive selection of products (they even have home items). With over 8 million Instagram followers, plenty of collaborations with famous influencers, and tons of videos showcasing SheIn reviews, it's pretty hard to ignore them.
Many wonder about their clothing quality considering how cheap many of their products are, so I decided to create a few SheIn reviews surrounding clothes I recently ordered from the company (as well as see what other customers have to say)!


Is SheIn Legit?
Overall, SheIn is definitely a legit company. However, shopping with them is almost based on luck in terms of quality – sometimes, you get what you pay for. That being said, there were still a few gems in my order (one of the best clothing items was also the cheapest)!
I always recommend reading the SheIn reviews on every product to see what shopper comments say about sizing and quality for that particular piece. Their best-selling clothes tend to have thousands of reviews. Plus, many people upload helpful pictures of them wearing the clothing to show what it actually looks like.
I've found that I've had better luck with their more basic clothing items like simple crop tops. And always make sure you're placing your orders when there is a great sale or discount!
SheIn Reviews
I had shopped with SheIn years ago and didn't have a great experience. However, with so many recent reviews being great (and free returns on your first order), I figured I would give them another chance.
This time, I purchased about $150 worth of shirts, bottoms, a dress, a lingerie set, and a couple of jewelry pieces.
Is Shein True to Size?
Short answer – Yes, most of the clothes I got fit me well.
Sizing Rating: 8/10 ⭐️⭐️⭐️⭐️⭐️⭐️⭐️⭐️
Their sizing was better than I figured it would be – most of the clothes actually fit well! When I first purchased a couple of years ago, everything was far too small. They have definitely taken the initiative to improve SheIn sizing since then. That said, there were still a couple of items that were slightly off.
Normally, I would worry more about sizing, but the free return on your first order eased my mind so I just picked my regular sizes. The only things that didn't fit me well were the lingerie set (bra was too small while the panties were fine) and the biker shorts (slightly too big).
When it comes to hacks for selecting sizes in SheIn, there aren't too many. Typically, you should be fine with your regular size. The only trick I would recommend is to read reviews on each product and look at any pictures that customers post.
Since the company offers rewards points for leaving brief SheIn reviews on products you've purchased, many people leave helpful feedback. A good photo can help you see the product in different lighting and on different body types that might be more similar to your own.
These reviews and photos are typically at the bottom of each product page.
---
Are SheIn Clothes Good Quality?
Short answer – Quality is all over the place, even when it comes to more expensive products.
Quality Rating: 6/10 ⭐️⭐️⭐️⭐️⭐️⭐️
You'd imagine that the more expensive products I purchased would be better, but this wasn't always the case.
For example, the fabric of the corduroy pants ($20) was great, but the design looked weird when I put them on. The white jacket ($25) was cute, but incredibly itchy. To my surprise, the two inexpensive crop tops I ordered were the highest quality (just $4 and $7 each)!
The SheIn clothing reviews from customers definitely help if you have the time to go through them (especially the pictures that people post). You can see items in different lighting and how they look on bodies similar to yours. These are typically found at the bottom of each product listing.
RELATED: 21 Stores Like SheIn for Affordable, Trendy Clothes
---
Sales
Sales Rating: 7/10 ⭐️⭐️⭐️⭐️⭐️⭐️⭐️
I also got an additional 10% off my already inexpensive order (they often have sales and discounts to save even more money) as well as free shipping.
Currently, there is a deal for $40 off $200 with the code 40SNOWUS.
To discover these, you can visit the clearance page and the flash sales to find super inexpensive quick deals for a mere $2–$4 per item.
Shipping was faster than I expected, my package arrived within a week after I placed an order! See the photos and my reviews below for each product.
---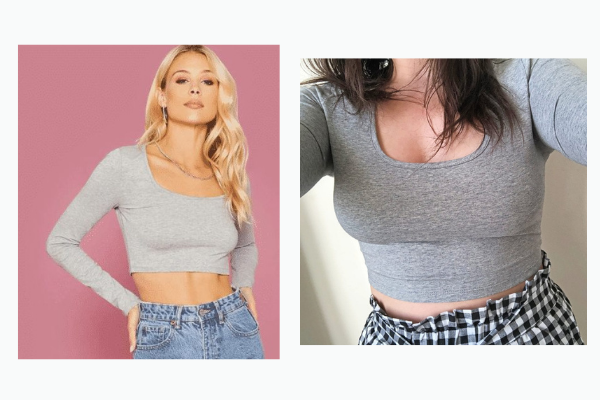 Scoop Neck Form Fitted Crop Tee Review
This crop top was a bit darker than the picture on their website made it look, but the fit and quality were great. This is actually my favorite item I ordered!
I've learned that it's best to stick with basics like this when it comes to SheIn.
---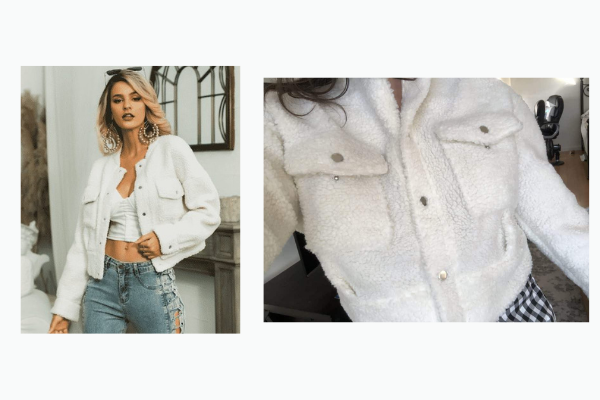 Glamaker Flap Pocket Front Button Up Teddy Jacket Review
This jacket looked cute online (it was a bit more expensive than most SheIn clothes).
Although it looked nice and fit well, the fabric was incredibly itchy wherever it touched my skin, so I had to send it back.
---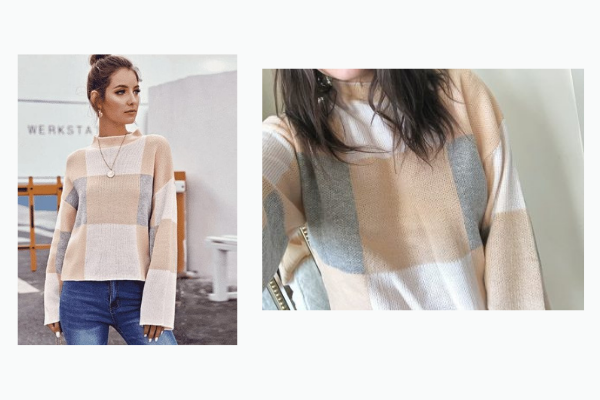 Mock-Neck Drop Shoulder Sweater Review
I really liked this sweater! It fit great, looked cute, and was comfortable – I ended up keeping it.
It's cozy, but not too heavy and is perfect for a nice fall day.
---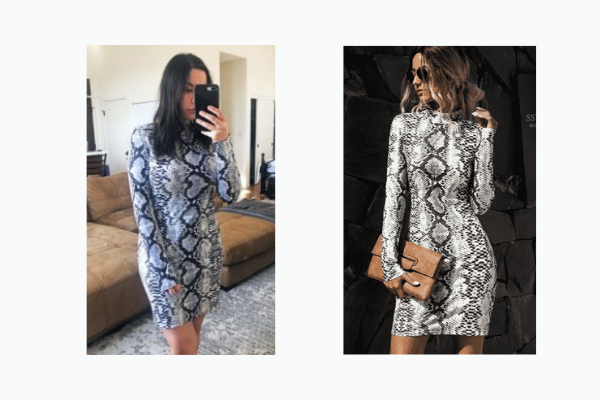 Snakeskin Print Mock Neck Bodycon Dress Review
This looked cute on the website, but it was slightly too large at home (even though I ordered my typical size.
A bodycon dress is definitely unflattering when it's not tight enough, so this was sent back as well. The fabric was a bit strange as well.
---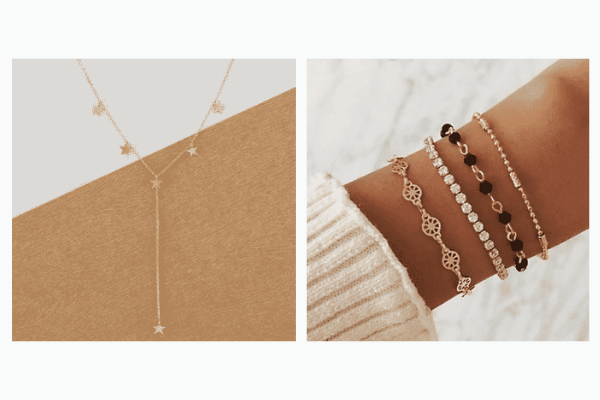 SheIn Jewelry Review
I added a couple of jewelry pieces to my cart since they were ridiculously cheap ($2 each). They definitely feel fragile and easily breakable, but I've worn both a few times without breakage. Score!
That said, they would definitely break if they were to snag on something or get pulled too hard. But, I really wasn't expecting much considering how cheap they were.
---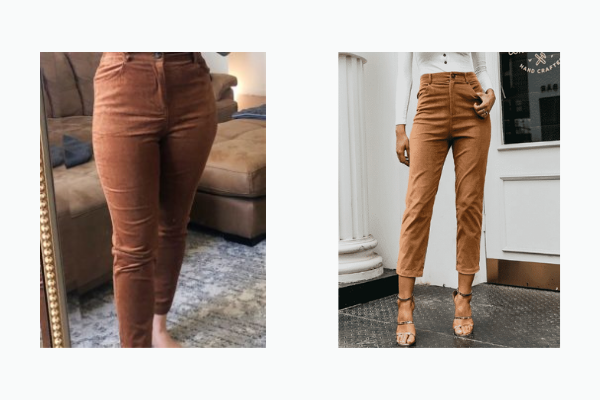 Simplee Corduroy Crop Cigarette Pants Review
These looked great on the skinny model but were unflattering for my thicker thighs (this seems to be common with SheIn clothes). I liked the high waist though!
---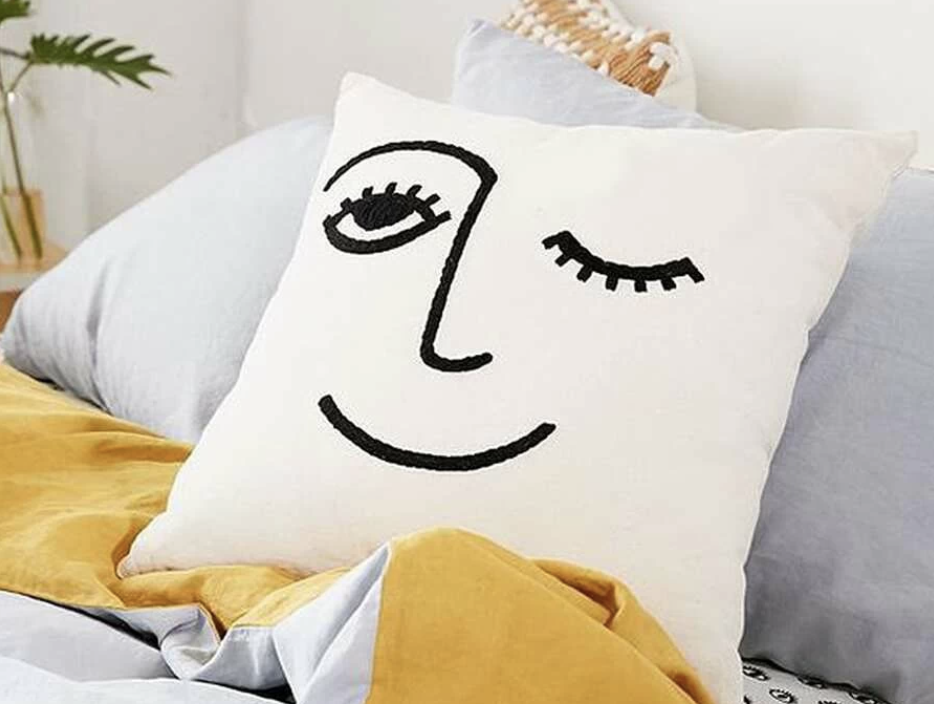 Pillow Covers Review
I stumbled across SheIn's pillow covers recently and fell in love. I always struggle to find affordable throw pillows to decorate my home, so I figured I would try buying these covers and putting an affordable insert inside (I get the $3 inserts from IKEA).
This worked great! Now, I always love adding a pillow cover (or three) to my SheIn orders.
---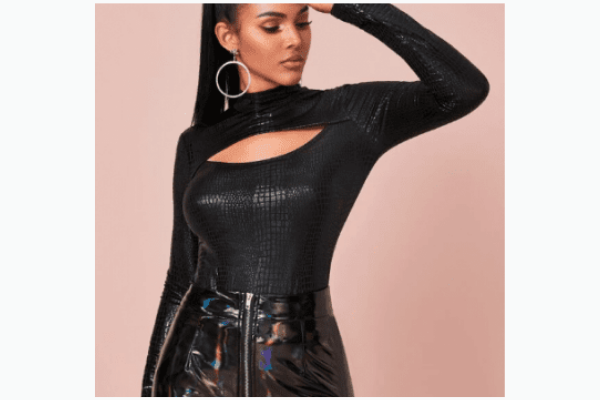 Open Front Crocodile Embossed Top Review
To my surprise, this shirt was pretty cute and flattering!
The material was very stretchy. It could be pulled up to look like the model or pulled down to show off a little more cleavage.
---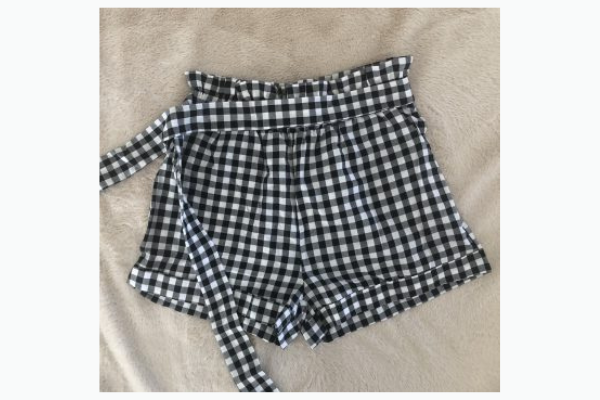 Paperbag Waist Rolled Shorts Review
Finally, these paper bag shorts fit well and looked good. However, the fabric wasn't very comfortable so I sent them right back.
---
Lingerie + Biker Shorts Review
These two items were $9 each. Unfortunately, they weren't the best quality or fit. The bra of the lingerie set didn't fit well and the fabric was super uncomfortable. I didn't expect it to be the comfiest set ever, but I couldn't imagine wearing it for more than 10 minutes (I guess lingerie isn't intended to be worn very long though).
Since I wasn't able to return the set, I don't think I would buy SheIn lingerie again. As for the biker shorts, they were too baggy and the fabric was too heavy.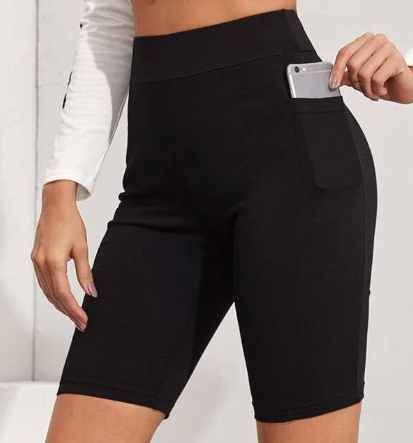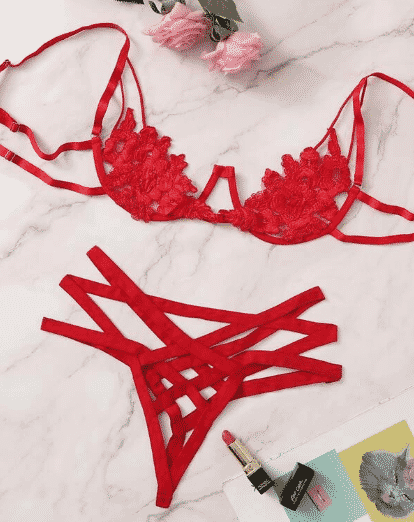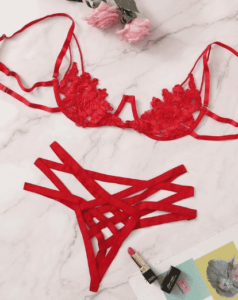 ---
---
What SheIn customers are saying
Since I'm only one person, our team decided to look through hundreds of top reviews from other SheIn shoppers to see what other people think about the brand. Here are the top points of feedback we found:
Great prices
Quality is a hit or miss, many items fall apart
Make sure to read reviews and view customer photos for each item before you buy
Long shipping times
Terrible customer service
Some never received their order
Some were never refunded after returning products
---
UP NEXT: 31 Adorable Gifts From SheIn in 2021
Return Policy
Return Policy Rating: 10/10 ⭐️⭐️⭐️⭐️⭐️⭐️⭐️⭐️⭐️⭐️
The only reason I will continue to purchase is because they offer free returns (with your first order). This diminishes any worries I may have about their clothes because I can just return them if they suck (except for some types of clothes that are excluded such as SheIn swimwear and a few others listed below).
However, returns are only free on your FIRST order. It's easy to get around this by making a different account, but you might not be comfortable with this. This can be a hassle if you plan to make orders often or want to rack up rewards points.
After your first return, they will deduct $7.99 from your refund total. This is a bit spendy considering many of their single items are less than this price. But, it might be worth the money if you make a large order and want to send most of it back.
Additionally, there are a couple of exclusions in the SheIn return policy. These include lingerie, swimwear, bodysuits, sleepwear, cosmetics if the seal is broken, most accessories, and jewelry. Your return should be unworn in order to receive a refund.
You have 45 days from your purchase date to send undesired items back. It's easy to start your return by going into your account, clicking "my orders" in your profile, and starting it. They will provide a printable shipping label for free.
My refund took longer than I expected and I had to chat with their customer service to prompt them, but I got it! Getting your money back seems to be one of the common issues with this company, so I kind of expected it to take a bit of time.
Is SheIn Ethical?
The final thing I felt I should point out is the ethics behind SheIn (but, this really ties into the majority of fast fashion brands as well as large brands in general). Unfortunately, SheIn is able to price their products so low because they pay their factory workers extremely low wages.
In many cases, these workers need to work ridiculously long hours just to make a decent living. Poor working conditions and child labor are also a problem.
SheIn provides no information regarding their labor practices, which probably means they're not that great. However, even the pricier fast fashion brands are questionable (think Nasty Gal, Missguided, etc.)
For those of us that are struggling with money, it can be hard to avoid fast fashion brands like this. My #1 recommendations are to use a rental service like Nuuly (my favorite) or to shop secondhand – see some of the best stores to thrift shop online. You're able to find great brands like new (or new with tags) for cheaper prices, plus help prevent unwanted clothes from ending up in landfills.
---
Is Shein Worth It?
The bottom line is: Shein has affordable, trendy clothes that may or may not be good quality. They are a legitimate company, but the quality of the clothes you receive is a little bit of a gamble. Their customer service also doesn't have the best reputation.
Although you can order from their website and make use of their free return policy, I recently discovered that Amazon actually has a ton of SheIn clothes! This is a great way to try before you buy.
These can be shipped within 2 days with a Prime membership, plus returning through Amazon is incredibly easy.
The only downside is that you can't get the great sales that are available when shopping on their actual website.
RELATED: 15 Stores Like Tillys for That Trendy, Edgy Style