From bright and bold patterns to psychedelic swirls, there's no limit to what you can do with trippy nails.
The sky is the limit when it comes to trippy nail ideas, so be creative and have fun! We've shared a few of our favorite trippy nail designs below, but don't be afraid to let your imagination run wild.
These outrageous designs are perfect for making a statement, and they're sure to turn heads wherever you go.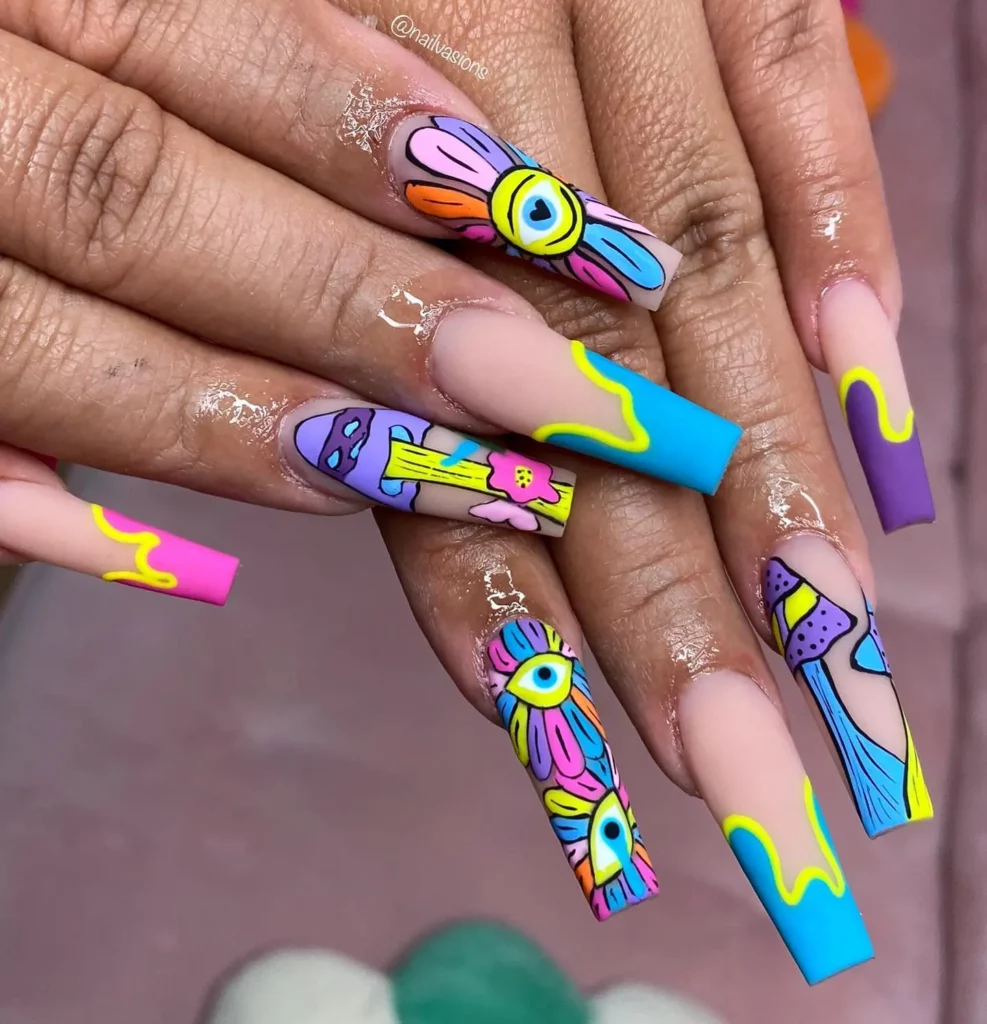 Tie-Dye Nails
There's no denying that tie-dye is trippy. These fun nails feature an eye-catching neon tie-dye design that's to dye for.  
Trippy Swirls
Similar to a tie-dye design (but easier to do), wear these nails to any festival or groovy event and you'll be getting compliments left and right.
Various Trippy Nail Art
The following designs feature a variety of different trippy nail art designs. They all have one common theme: there's a lot going on.
From mushrooms to melting smiley faces to third eyes, you can't go wrong with any of these psychedelic nail designs. 
There are endless possibilities for this category – the following are some of our favorites.
RELATED: 41 Yellow Nail Designs – Ideas for Your Next Mani
Alice in Wonderland
For seriously talented nail artists, these hand-drawn Alice in Wonderland nail designs are beyond impressive.
Neon Waves
A perfect color combination combined with squiggly and wavy lines equals a beautiful nail design that's beyond groovy.
Wavy Pastel Tips
For a trippy design that's more minimalistic by incorporating blank space, opt for something like this design.
Dark Wavy Lines
Some will love the bright wavy designs and others will love this dark style – either is fun and groovy.
Pink Wavy Lines
This fun wavy design features pastel pink and neon pink abstract lines.
Colorful Yin Yang Tips
Practice the art of balance with these colorful and unique French tips.
Alien-Inspired
Who said you can't put aliens in space on your nails? This design incorporates aliens, rainbows, and plenty of colors of course.
Blank Space Trippy Decals
This design is actually pretty simple using a natural base shade and some trippy nail art decals with a matte topcoat.
RELATED: 42 Gorgeous Purple Nail Designs & Ideas to Try Today
Marbleized Swirls
This design features a marbleized effect in the middle of the nail, allowing for some blank space around the edges. Stick with this groovy color combination or pick other colors you love!
Trippy Faces
If you have a nail artist with some serious talent (or you are one), go for one of these trippy designs with a bunch of different colored faces melting into each other.
Groovy Flowers
Perfect for a music festival, this fun look features impressive nail art with groovy flowers spread around all of the nails.
Blue Deformed Smiley Faces
These rad nails feature a matte white base and some wavy smiley faces – the perfect nail design if you want something trippy without all the colors.
Groovy Abstract Lines
Add some pops of color with this rad nail design. We love how this design uses a good amount of blank space to balance out the eye-catching design.
Simple Faces
A trippy design that's more minimalistic, just plop a few different colored faces on your nails and call it a day.
Black & White Optical Illusion
You won't be able to take your eyes off these optical illusions on your nails – don't get sucked into them.
Mushroom Nail Art
Featuring neon ombre tips and a couple of statement nails that have hand-drawn mushroom nail art, these nails are definitely trippy.
Multicolored Flames
Last but definitely not least, don't forget to add this extra colorful flame design to your trippy nails radar.
UP NEXT: 49 Black and White Nail Designs, From Simple to Lavish Ideas