Purple nails are a great way to add a pop of color to your look. They can be dressy or casual, depending on the shades and designs you choose (plus how you style them).
If you want a more subtle look, try a lavender shade. For something bolder, go for a deep plum or grape color.
If you're obsessed with purple nails like we are, keep reading some of our favorite purple nail designs to find inspiration for your next design.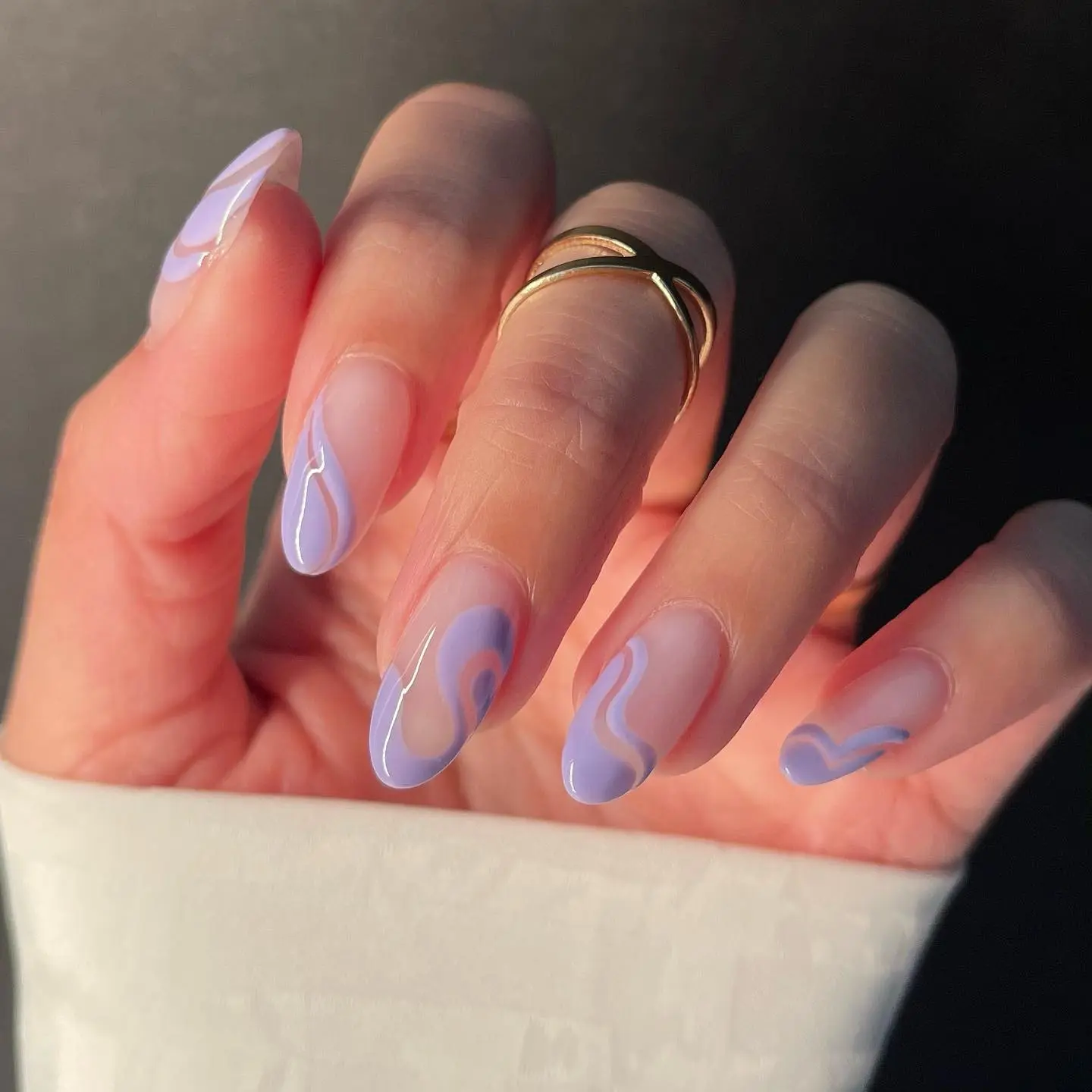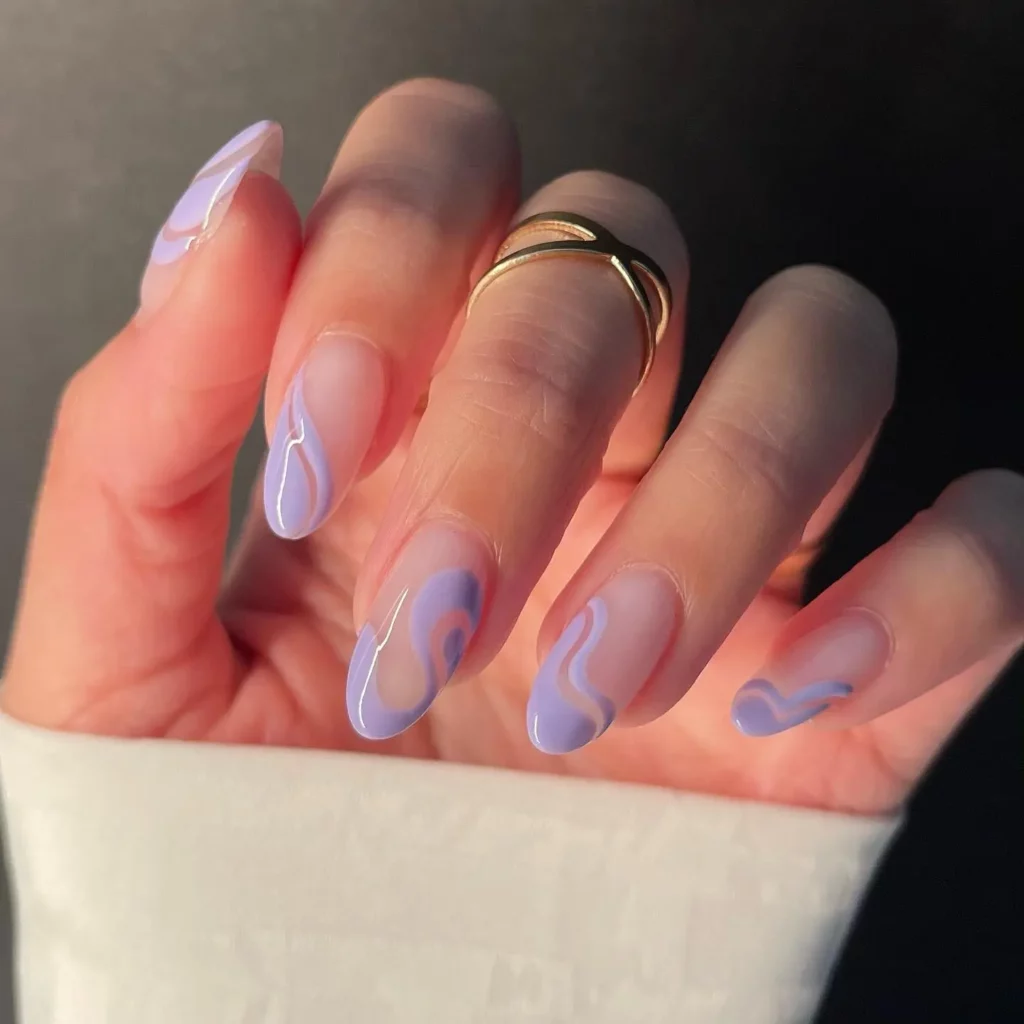 Purple Smoke
Smoky nails have been becoming more and more popular lately and we couldn't be happier. This gorgeous purple smoke design didn't miss a single detail.
Purple Wavy
These swirly nails are perfect if you want something simple that still manages to make a statement.
Pastel Purple French Tips
You can't go wrong with French tips – purple included. The first design features a classic design, while the second replaces the tips on some nails with cute purple flowers. Adorable!
Purple with Glitter
If you're a nail bling type of person, these are for you. With a couple of purple glitter statement nails and another nail with some fun bling at the base, your nails will be catching eyes left and right.
Purple Marble Tips
This gorgeous nail design features purple marble tips with a few small gems spread out across each nail. We love the gems, but you can always just go with the marble tips by themselves.
Full Purple Marble
Want more than just the tips? This marble design uses various shades of purple and the end result is magical.
Purple Chrome
We're obsessed with chrome nails – check out these purple chrome designs that will inspire you to try out this fun nail color.
Purple & Pastel Blue Dots
A unique dotted design you don't see every day, these nails combine a glittery purple shade with a pastel blue. If you're not a fan of the blue, opt for white instead (pastel yellow works great too).
Zebra Print
Who said zebras have to be black and white? We're living for these purple zebra nails. You can opt for a natural nail base with one color of purple zebra print on top, or pick various shades of purple like the photo below.
Smiley Faces
Need a mood lifter? These adorable upbeat smiley print nails will remind you to smile throughout the day.
Purple Ombre Tips
Ombre is always a satisfying nail design. This design uses a natural nail base to keep things simple, with a lilac purple tip that fades into the clear nail.
Purple Base & Purple Tips
We see plenty of clear nail bases with purple tips, but this design uses a lighter purple nail base and a darker purple French tip.
Yin Yang
Although most often seen in black and white, these pastel purple yin yang nails are to die for.
Wavy Abstract Tips
These pretty tips are great for anyone who wants to stand out, yet still keep their nails minimalistic.
Shiny Lilac
Simple and classy, these shiny lilac purple nails won't disappoint.
Deep Purple
We see a lot of light purple and pastel shades, but you can't forget about a gorgeous deep purple shade. This shade is perfect for fall and wintertime, whereas pastel is a great choice for warmer weather months.
Extra Special Occasion Nails
If you're looking for more elegant purple nail ideas, these designs are absolutely gorgeous. The artists didn't miss a single detail. Perfect for a night out, a wedding, fancy dinner, or any other special occasion.
Glitter and Flowers
Could there be a better combo than glitter and flowers? We don't think so. These extra-long nails feature purple glitter tips and two pastel purple floral nails. And of course, you can always ask for a shorter length if you're not a 10-inch nail type of person.
Flower Power
Embrace minimalism (and flowers) with these fun nail designs featuring purple nails and flowers on the middle and ring fingers.
Purple Wavy Line
This simple design features a single wavy pastel purple line down the middle of each nail. Simple, but so cute!
Shades of Purple
Can't pick just one shade? Embrace your love of purple with a different shade on each nail.
Pastel Purple & Peach
Peach and pastel purple is a new color trend we hope never dies. This effortless color combo pairs so well together, we're surprised we don't see it more often – if you thought purple and yellow looked good together, this is even better.
Cloudy
These dreamy nails feature a sparkly light purple tip with white clouds and stars over the top.
Iridescent Glitter
A truly standout shade, these gorgeous iridescent nails will catch more than a few eyes.
Glitter Statement Nail
If you love glitter but don't want it on every nail, you can always go with a single statement nail like this design!
Groovy Purple Nails
These trippy nails use three different shades of purple to create a fun, swirly design you'll want to stare at for hours.
Purple Matte with Shiny Tips
These simple, gorgeous nails have a purple matte base with thin shiny tips.
Purple with Cow Print
If you're willing to add some black and white cow print, these adorable nails are perfect.
Neon Purple
This bright purple color is a statement itself – you don't even need to add anything else.
Pink & Purple Ombre
If you're comfortable adding another color, this pink and purple pastel ombre is a fun nail design that is perfect for spring and summer.