Whether you're looking to switch up your go-to nail color or want a look that pairs perfectly with any outfit, white nails are a great option.
They can be dressed up or down, and they always look classy. If you're not sure what type of design to pick, don't worry. We've got plenty of ideas for white nail designs to get you started, so read on and get inspired!
White Nail Designs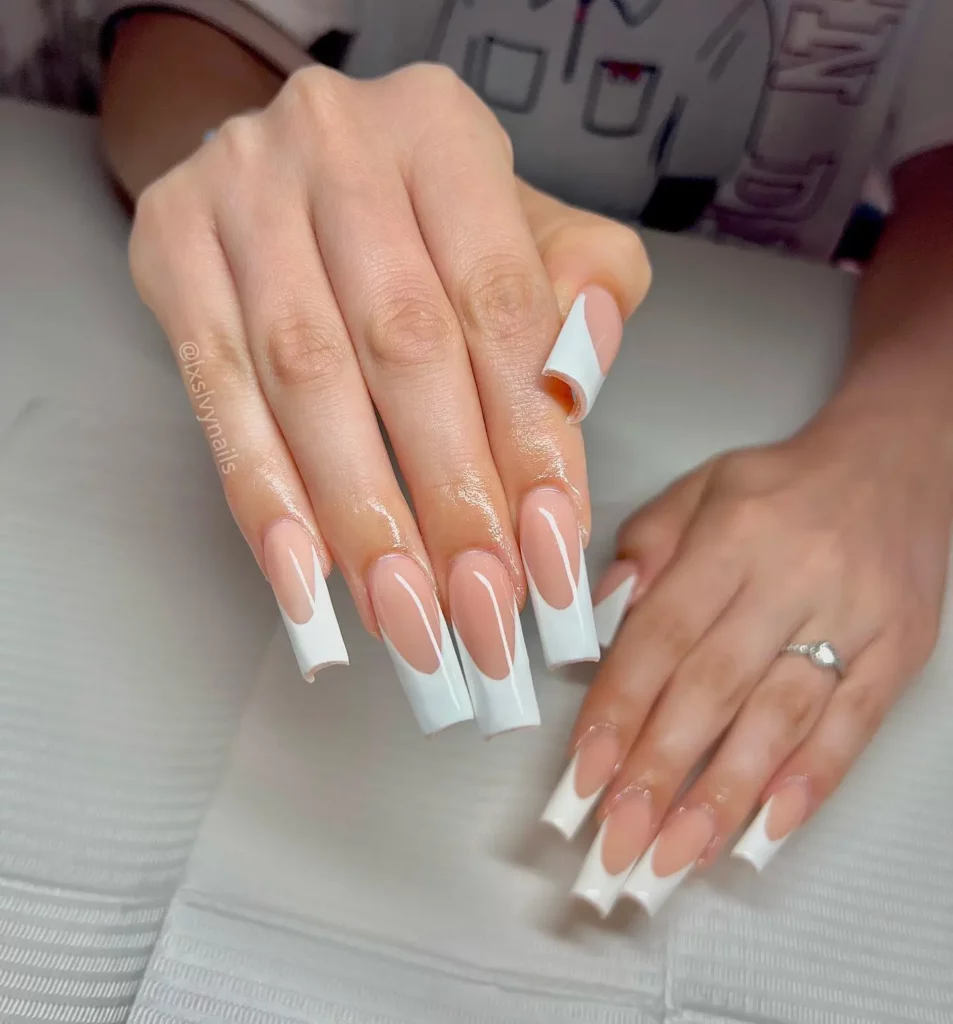 Classic White Square Acrylics
Keep it simple with some classy white square acrylics. Whether you go with more of a translucent white or a bright milky white, these simplistic nails always look classy (and always match your outfits).
Coffin Style White Nails
The classic coffin shape is another great option. Use one of the inspo pictures below, or pick another favorite design to pair with the coffin shape.
Subtle Glitter
We love the barely-there look of these glittery designs. The first idea features two on each hand covered in glitter. It sounds extreme, but the glitter matches the nail color so you can just barely tell. A beautiful look if you want to spice up some simple nails!
Or, add a tiny line of silver glitter as shown in the second idea.
Classic White French Tips
When it comes to white nails, you can't go wrong with French tips. This classic nail design always looks amazing and is the perfect minimalistic style.
Trendy Wavy
The abstract wavy nail trend is one we're living for. There are so many different ways you can put this trend into practice – view some of our favorite ideas below.
Simple, But Abstract
If you want a simple white nail design that isn't just a blank white nail, check out these options that utilize your natural nail paired with some more abstract line designs.
Wavy White French Tips
If you love French tips and want to spruce them up a bit, this nail combines the wavy trend with French tips. So unique and fun!
Thin White French Tips
If you're really going for minimalistic, these barely-there French tips are perfect and will come in handy for any occasion.
V-Shaped White Tips
We love French tips and we love V French tips. Pick your favorite – you can't go wrong with either!
Smoky White Nails
Marble is cool, but our new obsession is smoky white nails. Do it on all fingers or just a single finger – whatever you're feeling.
White Ombre
Ombre nails are another classic design that never seems to go out of style. White ombre utilizes your natural nail color for another minimalistic, gorgeous look.
White-on-White
You'll notice plenty of nail art inspiration featuring your natural nail color as the base, but you can also opt for white-on-white designs like this one. Simply select a greyish beige for the base color and use bright white for the design on top!
Flower Pearls
This gorgeous design is perfect for warmer seasons. It features a few pearls on each finger and a couple of fancy flower gems on each hand to top it off. Absolutely beautiful!
Flower Power
If you love flowers, you'll love these white floral-inspired nails.
Pointy Claws
There's nothing like a sharp nail that will make your mom cringe. If you're looking for a white nail design that uses the shape to stand out, opt for some cat claws. For the design, we love a simple white nail or french tips!
Single Finger Bling
Adding bling to a single nail is a great way to add some excitement to your white nails. Whether you decide to cover the nail or opt for a single statement gem, bling is always
Ring Finger Marble
Classic white nails with a marble design on the ring finger just screams luxury. You can also go for marble on every nail if you want something more exciting!
Add a Heart
This fun cream-colored nail adds a black heart design to a single nail on each hand. Cute and simple, we love it.
White With Gold
If you're willing to bring in some color, adding some gold flakes or glitter is a great way to bling up your white nails.
Wedding-Inspired
For a gorgeous set of nails that are perfect for a wedding, get inspired by this gorgeous floral set below.
RELATED: 42 Neutral Nail Ideas for a Minimalistic Look
Touch of Color
Add a fun, tiny touch of color with this subtle white ombre nail design.
White & Grey Marble
Add some grey into your white nails look with this gorgeous marble set. You won't regret it.
Designer-Inspired
If you're obsessed with your collection of designer bags, these are the nails for you. Opt for the cute LV design shown in the photo, or pick your favorite brand.
Add Some Extra Bling
Finally, you can never go wrong with more bling. These unique ideas feature sparkly gems, gems, and more gems.