If you're looking for a nail color that's both eye-catching and unique, yellow is perfect. This happy color instantly brightens up any look and, when it comes to nails, it's surprisingly versatile.
No matter what style you choose, you're sure to turn heads with this cheerful hue. So if you're ready to add a little sunshine to your look, scroll through these yellow nail designs to find an idea for your next mani.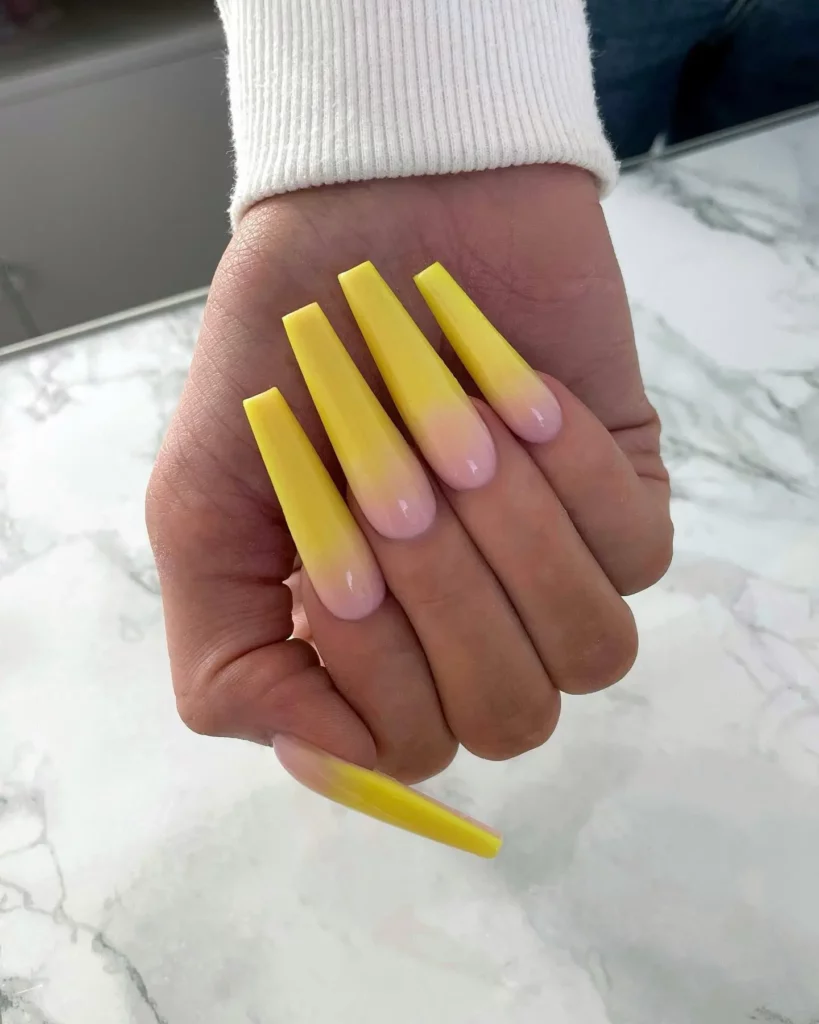 RELATED: 49 Black and White Nail Designs, From Simple to Lavish Ideas
Pastel Yellow Tips
Keep it simple with just the tips, or add the cute little white heart on the ring finger.
Wavy Yellow Nails
We're obsessed with yellow swirly and wavy nails. These fun, groovy designs will uplift your mood during spring and summer (or any season). There are plenty of options if you want to follow this trend – here are some of our faves.
Glam Pastel Yellow Nails
An absolutely gorgeous nail design for a special occasion, or if you're just feeling extra luxurious. These nails feature statement gems on the middle finger and a glittery nail on the ring finger, with the rest of the nails being pastel yellow.
Statement Jewels
Another luxurious nail design that is perfect for any special occasion, these nails use plenty of blank space with jewels on every finger. Plus, two nails on each hand have yellow v-tips to add some brightness to the design.
Pastel Yellow Tips & Pearls
These extra-long tips add 4–5 pretty small pearl embellishments on each nail. Plus, the fun flame-inspired design on the ring finger makes even more of a statement.
Textured Yellow French Tips
For French tips that add an extra element, try these nails. They feature a classic French tip in a yellow shade, with a brighter yellow dot pattern over the top to create some fun texture.
Single Statement Bling
We love this simple design that still makes a statement. It features long rounded pastel yellow nails, with a perfect statement gem on the ring finger.
Glam Yellow Flower Nails
An adorable design for spring or summer, these nails feature a pastel yellow base with small pearl embellishments and a larger white flower on each nail to make a statement.
Neon Yellow Tips
If you want to stand out with a bright color but don't want to paint your entire nail with it, these neon yellow tips are the way to go.
Lemon Nail Art
When life gives you lemons, put them on your nails! This nail design didn't miss a single detail, with a cute entire lemon on the thumb and little lemons on the middle finger.
Pastel Tips & Flower Embellishments
Another one for all you flower lovers – these fun pastel yellow tips feature a white flower and smaller pastel pink flower embellishment on each nail. Perfect for spring!
RELATED: 42 Neutral Nail Ideas for a Minimalistic Look
Yellow Floral Nail Art
When it comes to yellow nail ideas, flower designs are a common combo that's adorable and perfect for spring and summertime. Check out the following designs that use flower-inspired art rather than actual embellishments like the ideas we shared above.
Yellow Ombre Nails
Who doesn't love an ombre nail design? These nails feature a yellow ombre that blends seamlessly into the natural nail, plus the first design adds a fun touch with a flower on the ring fingers.
Lighting Strike
A unique design you don't see every day, everyone will do a double-take when they see these cute lighting bolts on your nails.
Subtle Reverse Tips
We often see thin lines at the tip of the nails, but these nails feature a thin line at the base of the nail rather than the tip. This is a super subtle design that still manages to be unique while adding a hint of color to your natural nails.
Neon Yellow Nails
This fun design uses a standout neon yellow and we're loving it. The pointer finger and middle finger are French tips, while the rest of the nails are a basic neon yellow coat.
Fun Yellow Color Combos
If you're looking to add some extra color to your yellow nails, the following ideas have you covered. Yellow pairs well with a variety of colors, so have fun with this!
UP NEXT: 42 Gorgeous Purple Nail Designs & Ideas to Try Today