When it comes to black and white nails, the opportunities are endless. They can be dressed up or down and pair well with any outfit. How can you go wrong?
For all you monochrome-lovers looking for the best of the best black and white nail designs, continue reading to be inspired by our favorites.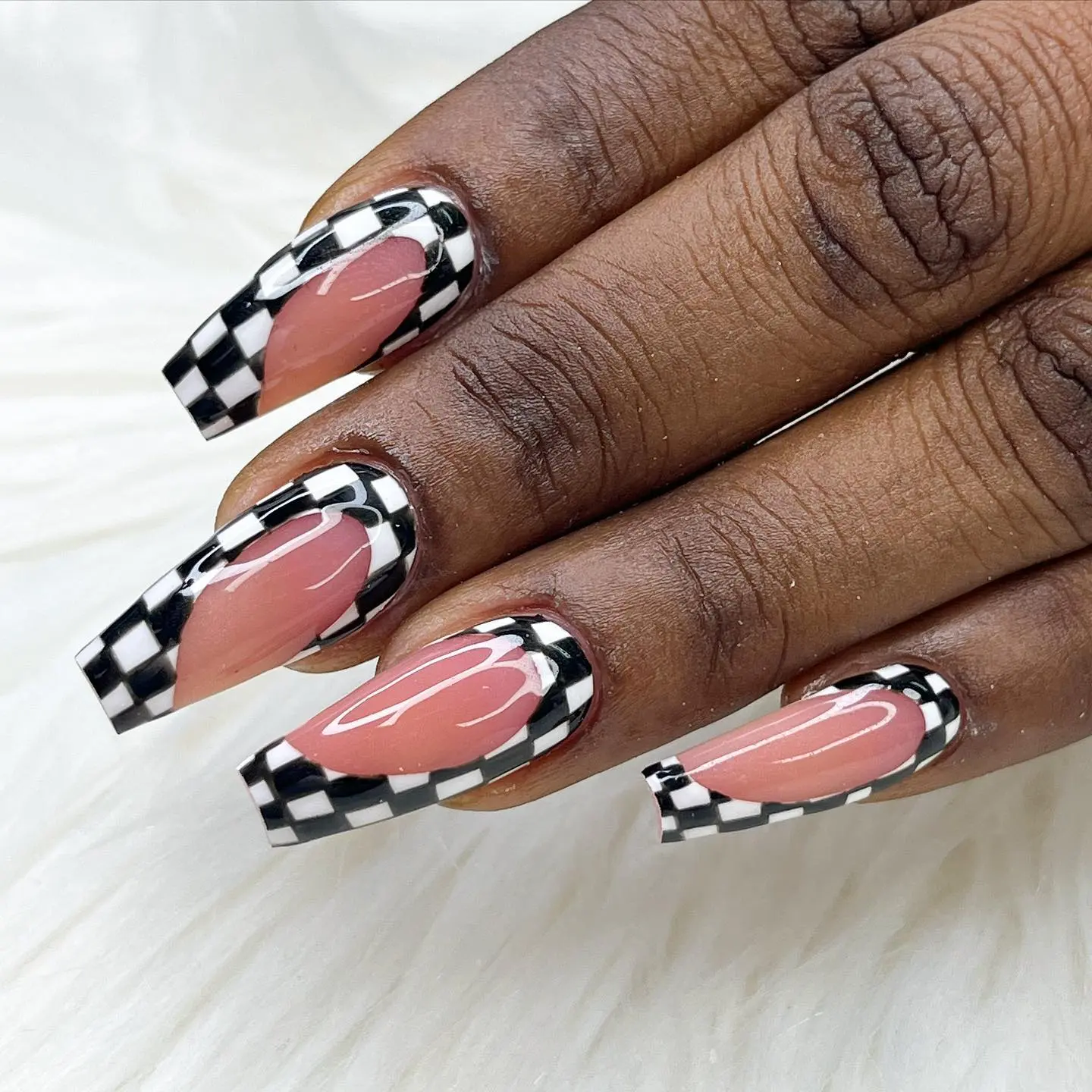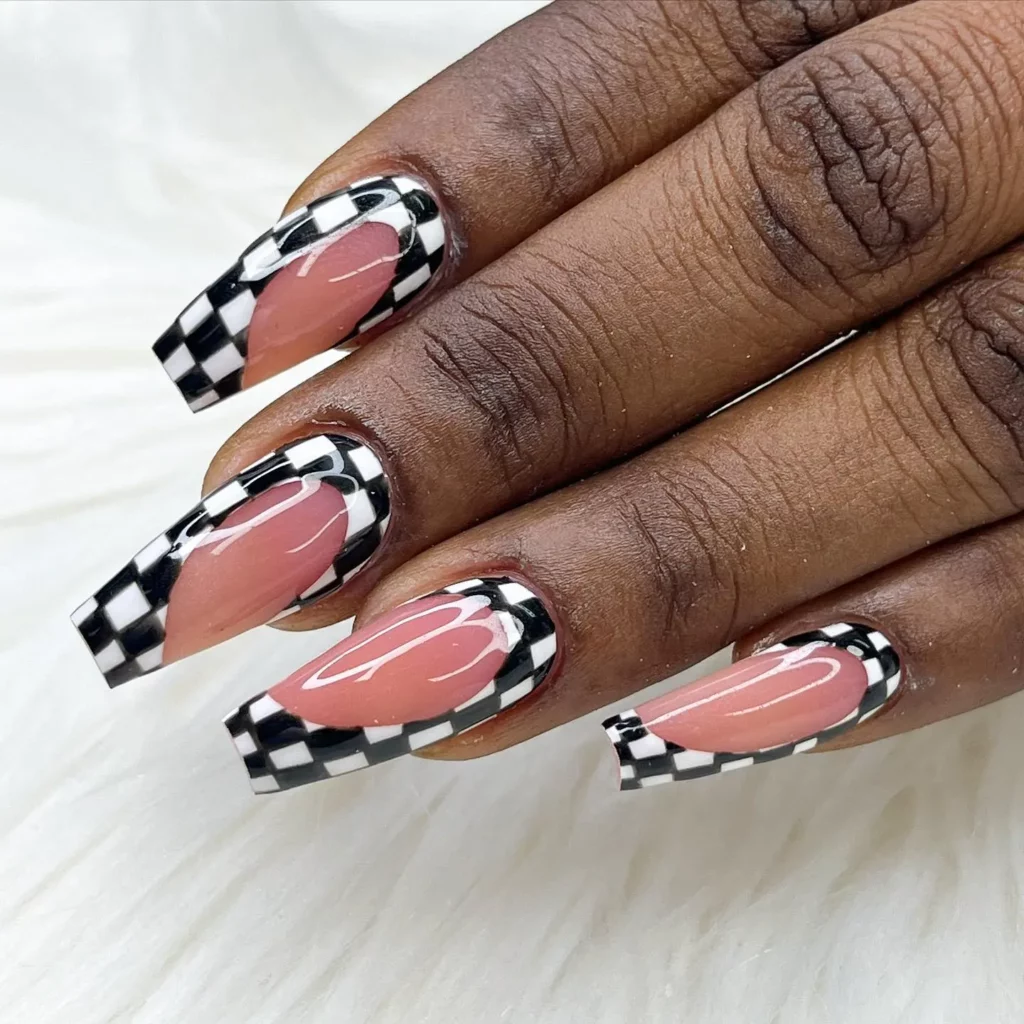 Related post: 34 Black Nail Ideas for Sleek, Stylish Nails
Marble
You can't go wrong with marble-inspired nails. Go for a hint of marble on a couple of nails like the first design or full-on marble on every nail on the last design – either choice is gorgeous.
Designer-Inspired
For those who are never seen without their designer bag, these nail designs are for you. Keep it simple or add some bling—your choice. 
Abstract Checkerboard
Checkerboard is a fun print to add to your nails – this one takes this classic print above and beyond by making it more abstract.
White and Black Abstract V-Tips
If you're looking for something different yet chic and not over-the-top, this fun design is definitely a conversation starter.
Half & Half V-Tips
A little more simple than the previous design, you can't go wrong with a classic V tip. This one does half black and half white on each nail.
Black & White Tips + Gems
Classic black and white tips are always a good choice. This design also adds 3–4 small crystals spread out across each nail to add some bling without overdoing it.
Funky Tips
Embrace your hippie roots with these swirly, funky nails. With a shiny natural nail base and abstract swirls at the tips of each nail, everyone will be stopping to complement your nails.
Black and White Tips
Tips never go out of style! Check out a few of our favorite black and white nail designs inspired by French tips, with a unique twist.
Black and White Abstract
White French tips meet with black abstract flame-inspired lines to create unique, fun nail art. Add some small pearls on the top to add even more flair!
Simple Lines
For an easy design that looks like hours of work were put into it, these designs featuring various simple lines are a great choice.
Moon Phases
Warning: this design requires a steady hand and some serious talent (or some impressive decals). For anyone who loves the night sky, this design features a shiny black nail base and a different moon phase on each nail. Beautiful!
White & Black Squiggles
We're here for the wavy lines and squiggles trend. We love this particular design because of the clear matte base with a few black and white waves – it's sleek and simple, but unique.
Optical Illusion
If you really want to go all out, this trippy manicure will definitely draw some eyes. It's a tricky design so your nail artist might decline, but it's worth giving a shot.
Zebra-Inspired
For anyone who knows a Zebra is their spirit animal, these nail designs are for you.
Floral Tips
Cute and simple, these black tips feature a single statement flower design on each nail.
Floral Half & Half
Another adorable flower-inspired design, you can't go wrong with flowers on your nails. This design has a black base with white flowers on one hand, and white base with black flowers on the other to mix things up.
Cow Print
Cow print is all the rage lately – check out the following ideas to put it into practice.
Black and White Tiger Stripes
This simplistic nail idea reminds us of fierce tiger stripes, minus the orange.
Yin Yang
If you're all about balance, a yin yang design is the black and white nail design for you. You can opt for a statement design on one nail, or put the symbol on every nail.
Starry Night
This gorgeous black and white nail design feature black and white tips with perfectly-drawn stars on each nail.
Half & Half
Can't pick just one color? Just go half and half like these nail ideas.
Houndstooth Print
Another classic black and white print, houndstooth nails are one of our favorites. This design features the perfect balance: houndstooth print on the middle and ring finger, with the other nails a sleek shiny black. Or, opt for houndstooth tips with a couple of full-on nails like in the second photo. 
Balance
This unique design utilizes plenty of blank space, with classic tips and a half-circle at the base of each nail. The end result is a nail design that looks perfectly balanced – we're obsessed. 
All Over the Place
If you can't pick between multiple designs, do all of them! These nails incorporate cow print, wavy lines, checkerboard, flames, and yin yang design – all on different nails. It sounds hectic, but it actually looks good.