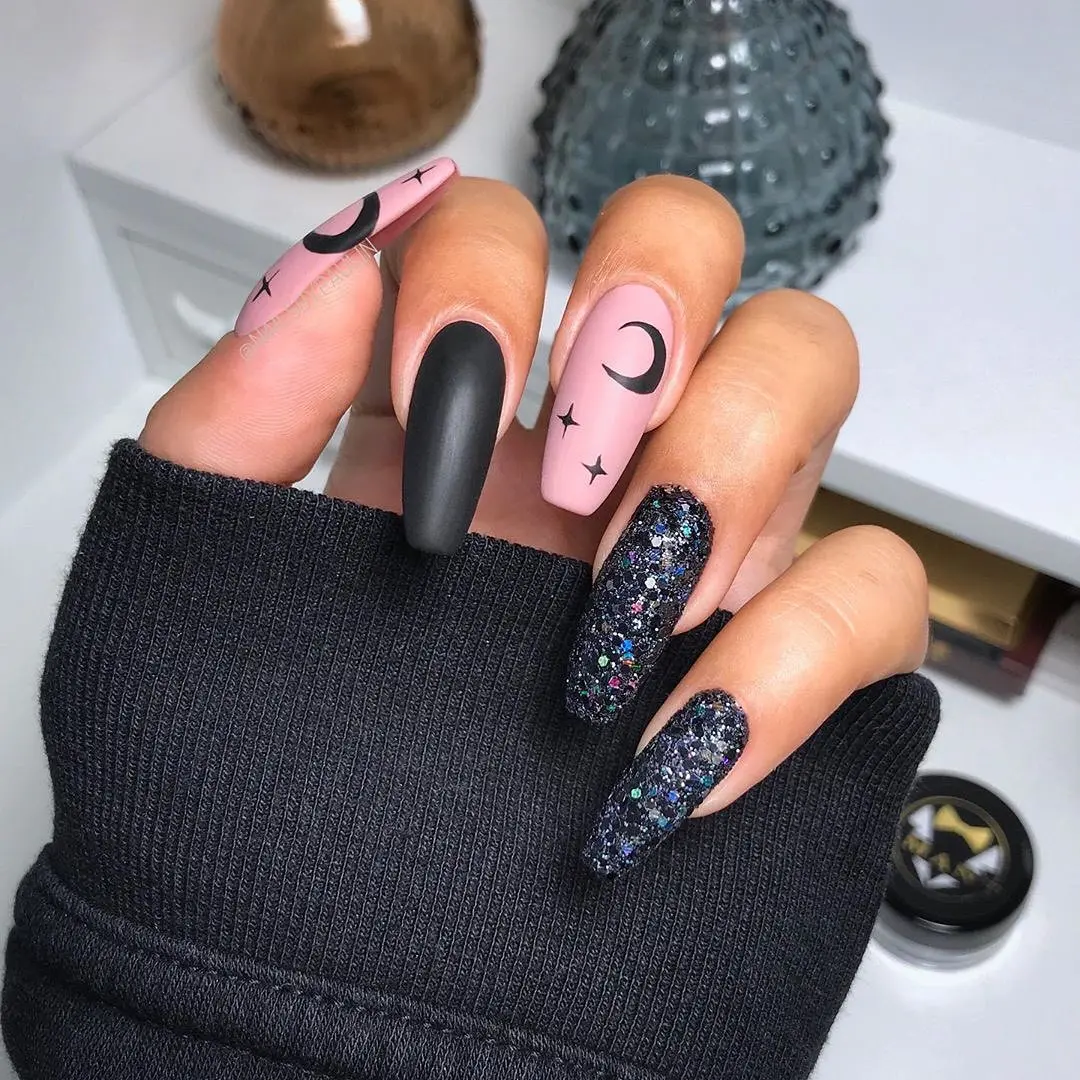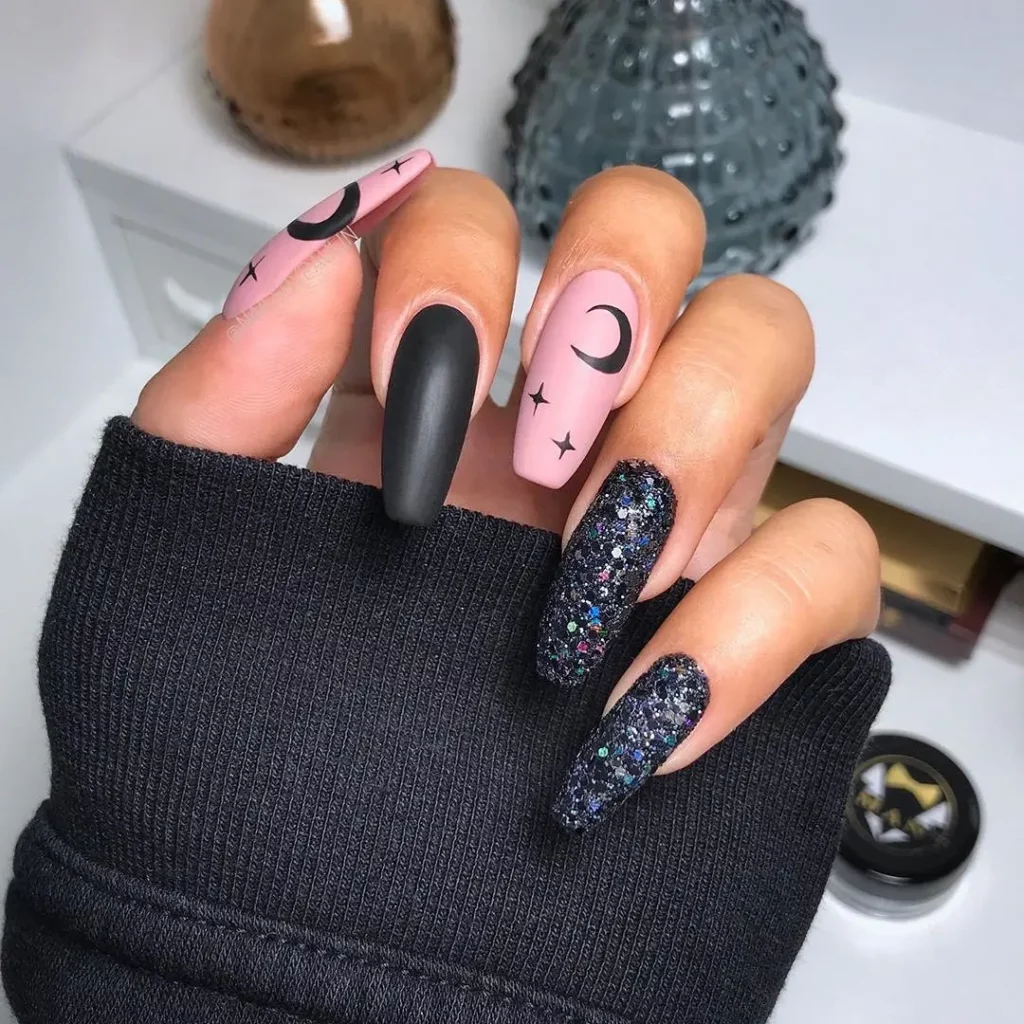 Nails are often an underestimated aspect of fashion, but they can be a great way to show off your unique style. Black nails are a great choice – they look sleek and match every outfit. They can be formal or casual, and there are endless ways to do them.
Check out some of our favorite black nail ideas to find your favorite new look!
Black Outlined Tips
This unique design is inspired by French tips, but with its own spin on it. With a black outline around the tip and more of a sheer black/grey color inside the tip, this sleek and simple design will catch everyone's eye.
Black Squiggles
Abstract nails are all the rage, especially when it comes to wavy lines. These nails incorporate black squiggle lines in different ways – pick your favorite!
Black and White Mix
These fun nails utilize black and white, featuring different designs on each nail tip. One thing is for sure, you'll make a statement with this design.
Natural Nail with Black Lines
If you want to keep things subtle and minimalistic, this is the perfect design for you.
Black Zebra Nails
This design features a fun zebra print on a couple of nails and a basic shiny black color on the rest of the nails.
Black and Silver Lines
If you want to incorporate a little color without being too dramatic, this black nail design is a fun way to do so.
Black and Gold Lines
Similar to the previous design, you can opt for black and gold lines instead! Opt for a natural colored base to keep things minimalistic.
Thick Black & White Lines
You often see thin lines in nail art, so these thick lines are a great way to spice things up and stand out a little more.
Matte with Shiny Tips
These fun nails keep it simple, with a black matte base and shiny tips.
Edgy Black Nails
These fun claws feature flaming tips and a snake design on one nail, with a basic black nail on the rest.
Black Hearts
This simple and adorable design features two nails with a couple of dainty black hearts on a natural nail base. The other nails are a basic black. So cute!
Jet Black with Dainty Hearts
Keep it simple with a shiny set of jet-black nails. You can always just leave all your nails black, but we love how this design features a dainty heart on all the nails on one hand.
Smoky Black Nails
Marble is out, smoky nails are in. Both of these smoke-inspired designs are a gorgeous way to make a statement with your black nails.
Black Drippy Nails
Who doesn't love a drip nail art design? Enough said.
Black Nails with Silver Glitter Flames
A black base with silver glitter flames is another way to make a statement.
Black and White Flowers
These fun nails feature black and white flower designs, with a white base on one hand and a black base on the other.
Black & White Abstract Tips
For nails that remind you of a lava lamp, go with this design. It's fun, yet still minimalistic and sleek.
Marble Statement Nail
Marble nail art is always a good match for black nails. This design features a single marble nail to make a statement, with the rest of the nails being a simple shiny black.
Cow Print
Yes, cow print is still trendy. Take advantage of it with these nail ideas!
Black Hieroglyphics
If you want nail art you don't see every day, get inspired by this hieroglyphics design. Each symbol has a meaning, so research what you want your nails to say!
Clear Smoky Tips
These fun claws feature a black base that leads up to a smoky-looking tip. Unique and creative, yet still simple and will match every outfit.
Black & Gold Glitter
If you're not afraid to add some gold to your black nails, this should be your go-to. The huge flakes of glitter/flaking give off a super cool, luxurious vibe.
Lunar Black Nails
These gorgeous matte black nails feature a moon and stars design on two nails, with one matte black nail and two glittery nails that will remind you of a starry night.
And if you don't like the pink base under the moon, simply opt for a white or a natural nail base.
Black Zodiac Nails
This simplistic black nail design features a black partial outline on each nail with its zodiac sign on the middle finger. Perfect sleek nails for any astrology lover, or the perfect black nails to celebrate your birthday!
If you're not tied to black nails, we suggest you take a look at these 47 White Nail Design Ideas as well!
UP NEXT: 9 Best Black Nail Polishes to Unleash Your Dark Side