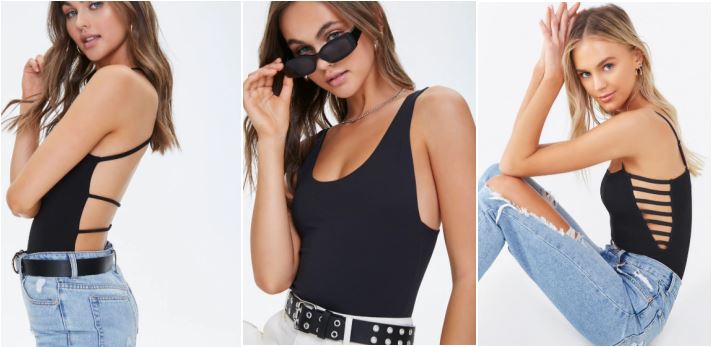 Shopping at one store all the time can get bored, which is why we've created this list of stores like Forever 21! Whether you're looking for inexpensive clothes or trendy styles (or a combination of both), the stores below are perfect.
Stores Like Forever 21
---
Nasty Gal
This trendy shop has anything and everything you could ever want. From adorable sleepwear to quality denim, you'll never run out of things to add to your wishlist.
Their regular prices are a little spendy compared to Forever21, but they do have frequent 50% off (or even more) deals to make it much more affordable!
---
Boohoo
Unlike the name suggests, this brand won't make you cry. Boohoo has hundreds upon hundreds of styles that any trendsetter will love.
Again, regular prices can be steep, but they make up for it with their amazing sales and deals. Their fall selection is to die for.
---
Missguided
This is another of our top stores like Forever 21 due to their large amount of cute products that don't cost a fortune.
There's options for everyone with their plus-size, petite, and even maternity sections.
---
Topshop
Topshop is one of those stores that you can find wonderful deals at, or you can spend $100+ on one shirt.
Luckily, you can always find some great deals, especially when there are sales or coupons available. Plus, their quality is definitely more reliable than Forever 21.
---
Modcloth
Again, Modcloth is another store that only has prices comparable to Forever 21 when there are great deals, so keep your eye out!
They also have a small decor section that's worth browsing through. There's some cute finds! Outwear is another noteworthy spot that we spend far too much time browsing through.
---
Lulu's
Lulu's is a cute boutique that gravitates towards more girly styles (they're especially known for their dresses). Prices are a tad higher, but their quality is on point.
They also have free returns on all orders, which is always a plus when ordering from a new brand. Check out more shops similar to Lulu's.
---
Urban Outfitters
UO is the best spot to find clothes that are trendy, yet still have some uniqueness to them. They sell more brands than just their own, so prices range. You can typically find the best prices when shopping their exclusive brands (UO, BDG, and more).
They also have the furniture collection of our dreams, if you can afford it. Browse more brands comparable to UO!
---
ThredUp
This online secondhand clothing store is a great way to shop more sustainably while still enjoying the cheap prices of fast fashion (you can even get $10 off your first order)!
Some of their deals are even better than Goodwill! Since they have a huge selection, we recommend searching for your favorite brands to avoid scrolling through their options for hours.
---
Windsor
As far as pricing goes, Windsor matches up pretty closely to Forever21. Most items cost between $20–$30 and they have new releases daily.
We especially love their shoes, since it can be difficult to find options in this price range that are actually good quality.
---
H&M
You probably already know who H&M is, but we had to include them in the list.
This inexpensive store sells staples for men and women, and even a decent selection of home items! When in doubt, H&M is always a great store like Forever21 to turn to.
---
Cotton On
While their more intricate items like jackets are pricier, Cotton On has some wonderful deals on their basic items. They even have a special deals section where you can find their best sales of the moment.
Plus, this shop has free returns and free shipping on orders $40+.