When it comes to online thrifting, Thredup is one of the first that comes to mind. With their affordable prices and hundreds of thousands of items available, it's no wonder they're so popular. But, is this brand really all that it's made out to be? Today, I'll be sharing my in-depth Thredup reviews as I've been shopping (and sometimes selling) on this site for years.
If you're ready to break apart this brand and learn all its secrets, let's get started.
Sections


What is ThredUp?
Thredup is a company all about making thrift shopping easily accessible from your couch. With an eye on environmental impact, ThredUp works to prevent pollution by recycling clothing from thousands of brands for up to 90% off.
They offer styles for women and kids, including maternity and plus-size options. They also have accessories such as bags, watches, belts, sunglasses, and more.
Overall, Thredup is full of unique pieces for everyone and aims to inspire future generations to think secondhand first and to help support recycling become a norm in the future.
Average Prices
ThredUp prices are determined by the brand, condition, quality, and estimated retail price. You can find pieces from $2 to thousands of dollars (for designer pieces).
Is Thredup Legit?
ThredUp is absolutely legit, I have placed 10+ orders from them. They are a great place to shop for discounted pieces from the comfort of your own home.
When it comes to selling your items on ThredUp, their practices do start to get a little suspicious as shared in more detail below.
ThredUp Return Policy
Unfortunately, ThredUp doesn't have the best return policy. Their official policy states that they will accept returns with original tags attached for up to 14 days after your item has been delivered.
On top of that, you will be charged a restocking fee of $1.99 per item plus the return label fee of $8.99. If you just want to return a couple of items, it may not be worth it.
Final sale items will also not be refunded under any circumstances.
First Time Order Deals

In addition to all the other great things Thredup has to offer, they also feature an up to 50% off deal for your first order.
This means they have thousands of styles that are an extra 20% off – 50% off. You can filter these deals when searching for products.
All you have to do is sign up and enter the code listed (right now it's "NEW"), and then you will receive your unique coupon deal! Talk about a warm welcome!
Free shipping is only available on orders over $79, which I didn't really like, but it's free with their goody boxes). 
RELATED: My Honest Rent the Runway Reviews
Goody Boxes
On top of their coupons, high discounts, and huge selection, Thredup is also well-known for their Goody Box. This is a clothing stylist box that features 10 handpicked items that are a complete surprise.
You just visit the Thredup website, click the "Goody Box" tab, and take a quick quiz. From there, they will handpick 10 items for you that match your style and budget solely based on your answers. Pretty cool, right?
To get awesome items, the key is to be as descriptive as possible when you leave a note to your stylist. I even include brands I want to receive and maybe a link to a Pinterest board that captures my style. Make sure to share your specific price range as well.
The best thing about these boxes is that the returns are 100% free. Avoid the $9 return shipping and $2 restocking fees (as long as you return within the 7-day return period). If not, you'll have to pay a $3 per item fee.
You do have to pay a $10 deposit, but this is applied towards anything you keep as long as you keep one or more items. Otherwise, it's non-refundable.
Thredup Reviews (Buyer's Perspective)
Is it worth it? Although reviews of ThredUp are all over the place, I personally love shopping here. Even without the extra coupon, prices are usually affordable and there are so many things to choose from.
They have so many search filters that can help you find exactly what you're looking for. At first I was overwhelmed by them having hundreds of thousands of items in their inventory, but I learned that you should search by as small of filters as possible.
Here are a few examples of orders I've placed:
Overall, Thredup is a great place to shop if you want quality clothes for cheaper. The only downside is the fees for returns, but this can be avoided with the Goody Box.
Are ThredUp Clothes Washed?
Unfortunately, clothes are not washed at ThredUp. A lot of people wonder if you can get bed bugs from these unwashed clothes. Honestly, it's possible.
However, it's easy to avoid. The most important thing to do once you receive these clothes is to wash them and dry them in heat.
Thredup Selling Review
Now, time for the bad part.
Having sold my fair share of clothes on ThredUp, I would not recommend it.
First off, payouts are very bad. Overall, I got an average of 50 cents per item. These were brand new items from mid-range brands (think Madewell, BDG, etc.)
Being someone who has also sold on Poshmark and Mercari, I know for a fact I could have profited at least $50 on the 15 pieces of clothes I sold to ThredUp for about $5. This includes shipping and fees!
Their payout estimator gives this breakdown:
Items listed under $20 – 3% to 15% of the listed price
Items listed $20 to $49.99 – 15% to 30% of the listed price
Items listed $50 to $199.99 – 60% to 80% of the listed price
Items listed $200 or higher – 80% of the listed price
The real profits are when you start getting into luxury items (you get 80% of anything they list for over $200).
Also, unless ThredUp decides to buy your item before it sells, you don't get paid until your product sells. For cheaper brands, you have 60 days to sell, and more premium brands get 90 days.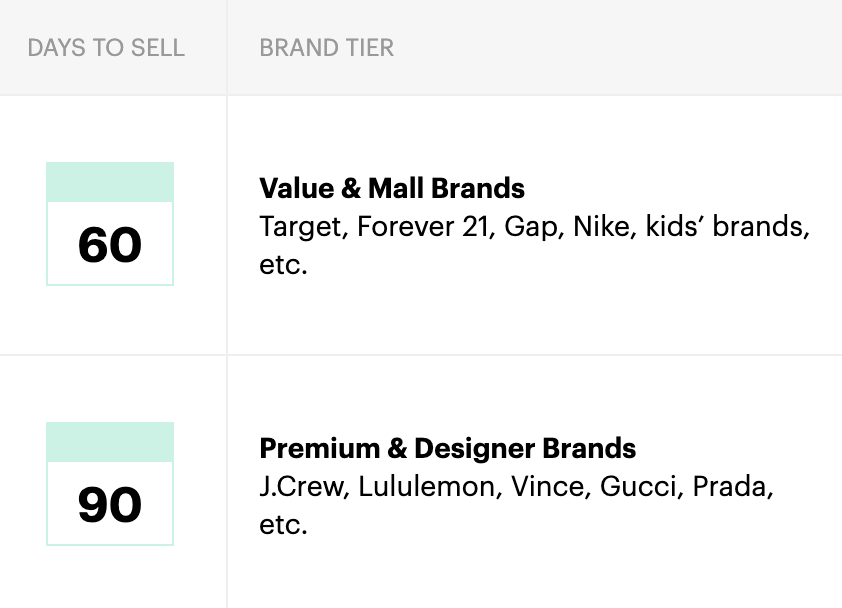 According to their FAQ, you have to reclaim your item within the final 7 days of the listing window. If you don't, the item becomes "property of ThredUp."
Being someone who leads a busy life, I could easily see myself forgetting to check back in time. They bank on this!
Denied Items
I didn't experience this myself, but ThredUp can actually deny your items if they don't live up to their quality standards. They even state themselves that they accept "an average of 40% of clothing sent to them."
When you're ordering the Cleanout Kit, you need to click the guarantee that they will return your items to you if unaccepted (this costs $10.99 upfront).
If you don't select this option, you can't get them back and they will "donate" your items for you (I'm suspicious that they still sell these or they go into their rescue boxes that they still profit on).
Most other seller reviews are pretty bad, so it's not just a one-time thing.
"With 17 items, I'm gonna make at least like 15 bucks, right? I made $6.10. I didn't even make enough to cover the shipping, so ThredUp waived the fee for me." – Kierstin
Bottom Line
Overall, the experience as a seller was so poor it almost made me not want to shop there. However, I do find myself making purchases from time-to-time because they have some great deals (and buying secondhand is always better than purchasing from fast fashion brands).
Before you sell your clothes here, make sure to read ThredUp reviews. There are plenty of other websites and apps to sell your clothes online and actually make a good profit, or even consider donating instead since you won't make much money on ThredUp anyways (unless you have designer items).