Looking for Stitch Fix Reviews? I've tried 4 boxes from this styling service and share my insight below!
Let's be real: there's a lot of different online styling services out there. From Trunk Club to ThredUp, the options are endless. 
But there's one styling service, in particular, that has been topping the charts, and that's Stitch Fix. With an eye for lavish designs at an affordable price for everyone, Stitch Fix seems to be a great option.
But, is it reall that good? Today, we're going to delve into Stitch Fix reviews (both our own and reviews from other customers)  to find out if it's worth trying out. 
RELATED: 17 Best Clothing Subscription Boxes (For Women + Men)
What is Stitch Fix?
Stitch Fix is, put simply, a personal online styling service for women. Founded by Katrina Lake in 2011, the owner has worked hard to develop a brand for women and create the styles needed for quality and fashionable pieces on their own terms. 
Katrina believes that no matter what background you come from, all styles, of high and low price, should be available to you at an affordable price.
Therefore, Stitch Fix was born: a runway for you where you are in charge, and you are your own fashion icon. 
Stich Fix Overview
Stitch Fix is a subscription-style box without requiring the subscription part. You can set up recurring boxes, or you can just receive boxes whenever you'd like. 
To start, you take a quiz to help them find your style (as well as picking sizes and price range), then submit it to a stylist who will select a variety of items that meet your criteria. 
From here, you just have to pay a $20 styling fee. However, the fee is credited toward any items you keep (and if you don't like anything in your first box, they will refund the first styling fee).
Once your Stitch Fix package arrives, you get to decide if you want to keep any of the items at an individual price per piece and send what you don't want back for free.
My Stitch Fix Reviews
I've given Stitch Fix a few chances, but overall, I'm not impressed.
Overall: ★★ 2 stars
Sadly, I'm giving Stitch Fix a pretty low rating. I might have liked their service more if I hadn't tried a variety of other stylist services as well. Having had great experiences with Trunk Club, ThredUp Goody Box, and Nuuly (three of my favorite alternatives), Stitch Fix paled in comparison.
I've tried at least four boxes so far and have been disappointed every time. They don't capture my style well at all, pricing is often over the budget I input, and quality isn't always great.
RELATED: 12 Best Stitch Fix Alternatives
Styling: ★ 1 star
Overall, I have yet to receive a single item that I absolutely love. They do include some nice staple pieces (one of my favorite pairs of jeans is from a Stitch Fix box), but nothing makes me gasp because it's perfect for me.
I gave them a couple more chances (and asked for different stylists), but I still never receive products that really fit my style. On top of that, there are only a couple of products in each box that I would even wear.
Pricing + Quality: ★★ 2 stars
Like many other Stitch Fix reviews complain about, I received at least two or three products that were above the price range I set.
Aside from the pricing, quality wasn't always great. For items that were within my price range, quality was pretty poor. In my experience, a $30 shirt shouldn't feel like a $5 shirt from SheIn!
There were definitely some pieces that were better quality (like I mentioned, I've received a few staple wardrobe pieces I love), but poor quality seems to be more common than good quality.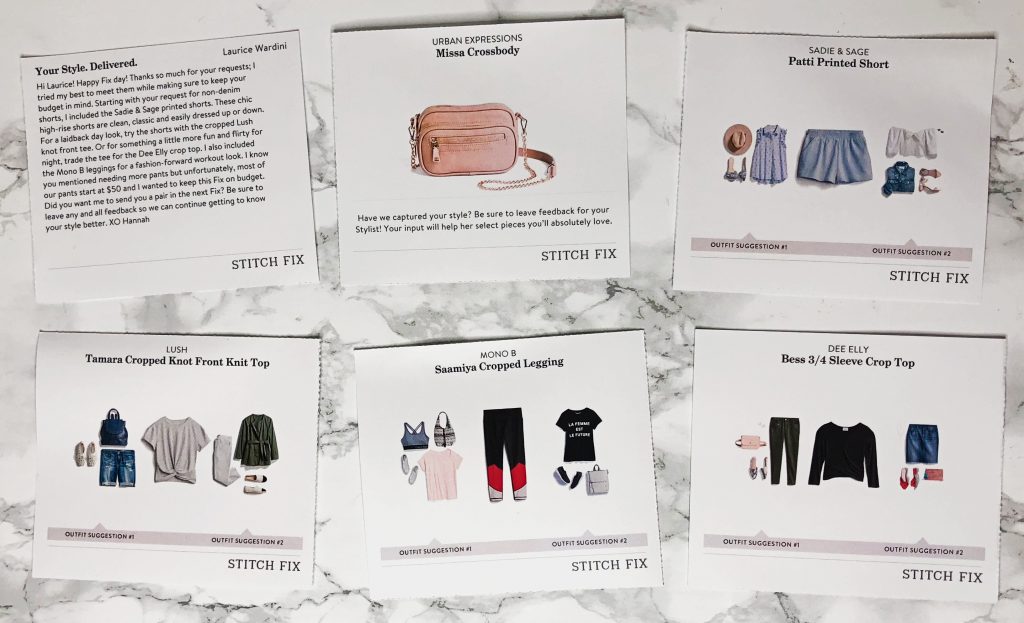 Pricing
Now, what about their prices? 
At Stitch Fix, you will only pay for the items you want to keep. If you don't keep a single item from your box, you will have to pay the $20 styling fee. Otherwise, this fee is applied towards anything you keep.
In terms of the average price of items, pieces can range anywhere from $20–$400, so all items will be uniquely priced on their own. With the ability to set your budget ahead of time as well as select only as many items as you want to keep, you will never spend more than you want to. They also offer 25% off if you keep everything in your box.
That said, some Stitch Fix reviews mention that the brand will sometimes send pieces that are higher than their set price range.
I will also say I've seen very rare occasions where Stitch Fix offers introductory deals when you sign up. Most often, this is "no styling fee" with your first box. However, I have also seen them offer $100 credit to use on your first box a couple of times, so jump on this offer if you ever see it.
Return Policy
When you receive your first box, you have a mere 3 days to return the items you don't want to keep before being charged. That said, this is pretty short, so you can extend the checkout window by a few more days if needed.
If you keep something from your box that ended up not working out, you're not out of luck. According to their return policy, you have 30 days to return (unworn with original packaging and tags).
This return can be completed on the 'orders' page, where you will click 'return' and fill out a quick questionnaire about why you're returning your items. They offer free return shipping.
Other Stitch Fix Reviews 
Since I'm only one person, we've searched through 100+ positive and negative reviews to find what the most common feedback for the brand was. Check out a few quotes that share the top-commented aspects of the brand.
"They nailed everything I said I wanted. My stylist seems to have read everything I had asked for, besides the pricing I wanted to spend. I wanted each item to be between 15-20 dollars, and I specified that. All the shirts were 40-50$. The jeans were 60, and the shoes were $89." – Jennifer, ConsumerAffairs
"Hoodie, sweats, plain t-shirts – so much for bloody styling, this was atrocious. I am shocked and ashamed I paid someone money to pick these items out. dreadful product, don't waste your time or money." – Robert, TrustPilot
"Stitch Fix has been a blast. The stylist I have been working with did a great job of analyzing my information. The styling and fit of all the clothing have exceeded my expectations. The quality has been good with unique finishing touches that you don't usually see at this price point." – Brad, ConsumerAffairs
Overall, it seems like Stitch Fix is hit or miss with most customers. Here are the main takeaways from other Stitch Fix reviews:
Some say the stylist captured their style great while others say it wasn't their style at all
Some say the quality of the clothing doesn't match the price
Many customers say it's overpriced
A lot of negative complaints mention poor customer service or difficult cancelling
Overall: Is it Worth it?
Overall, we love the thought of working with our own personal stylist to pick items out that match your style, budget, and fit.
However, many Stitch Fix reviews aren't great, claiming that the brand is overpriced and most items picked were outside their selected budget. Not to mention, many people also mentioned their items were low quality. 
I didn't have a great experience either. Many items were higher than my budget and the items that were within my budget were poor quality. Plus, I didn't even like many of the items in my box (even though I included a great Pinterest board to show them my style).
They don't seem to be a good fit for those who like to follow trends or have a unique style. If you're looking for casual, basic garments or are building a capsule wardrobe, Stitch Fix could be a good fit!
Although I'd recommend trying out some Stitch Fix alternatives first, they do offer the ability to try Stitch Fix risk-free (they will refund your styling fee if you don't like anything from your first box). So, it still might be worth giving a shot if you're on the fence about them.
Personally, I like Trunk Club much better because you're able to view your box before they ship it and they seem to have trendier styles (plus you can get $50 credit to spend in your first box). Check out our Trunk Club vs. Stitch Fix comparison.
Stitch Fix Alternatives
Trunk Club (read our review!)
Fabletics (read our review!)