With so many different shapewear brands, it can be hard to know which brands are the best. Two of the most popular options right now are arguably Shapermint and Spanx. Since it's natural to wonder which brand is better, we're going to share our ultimate guide to Shapermint vs. Spanx!
Keep reading for everything you need to know to compare and contrast these two brands to help you find the shapewear of your dreams.
What's the difference between Shapermint and Spanx? The main difference between the two is that Shapermint is more of a marketplace that sells a variety of different shapewear brands, while Spanx sells only their own brand.
We will dive deeper into the more specific details and differences between each brand throughout this article.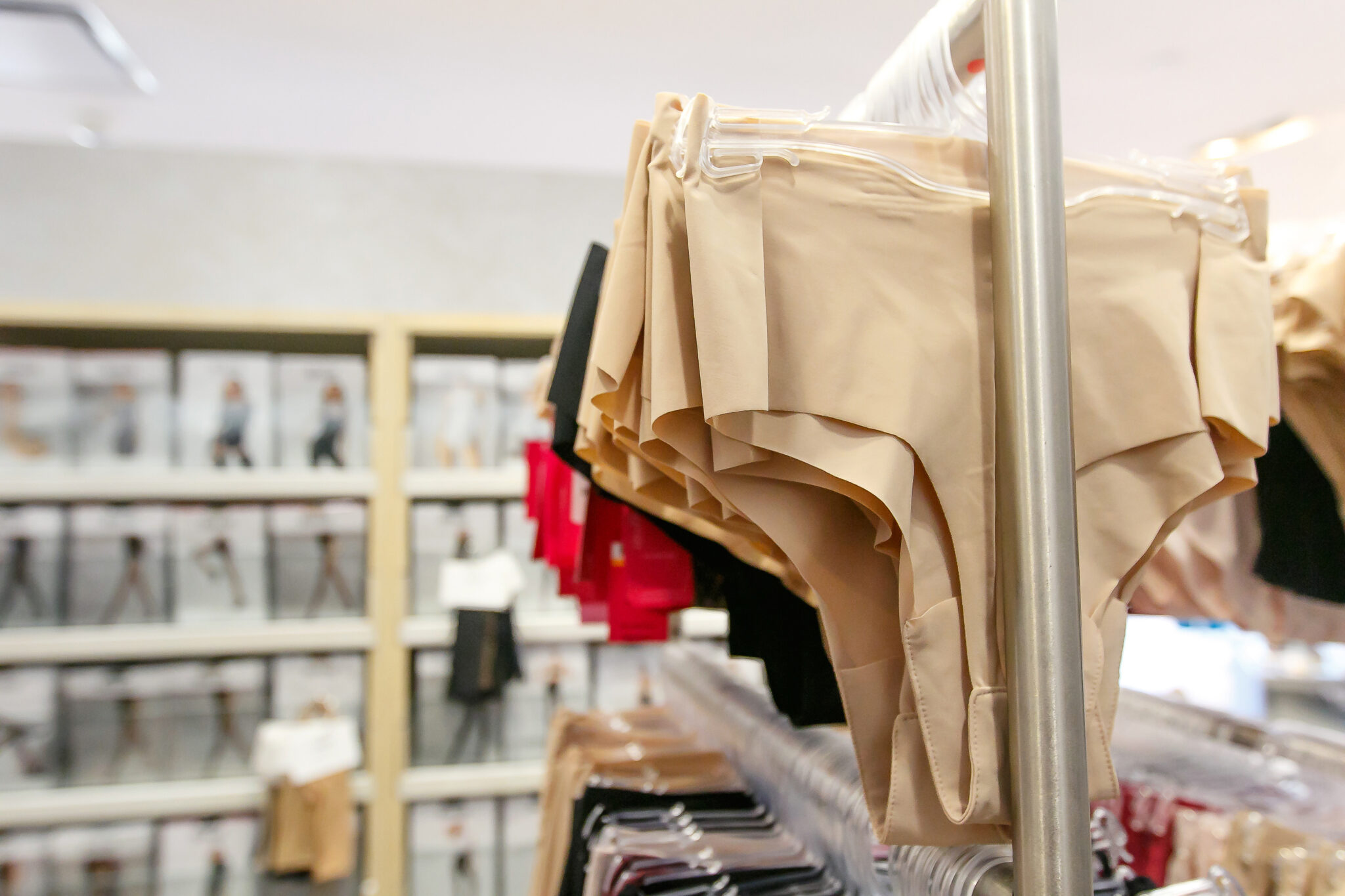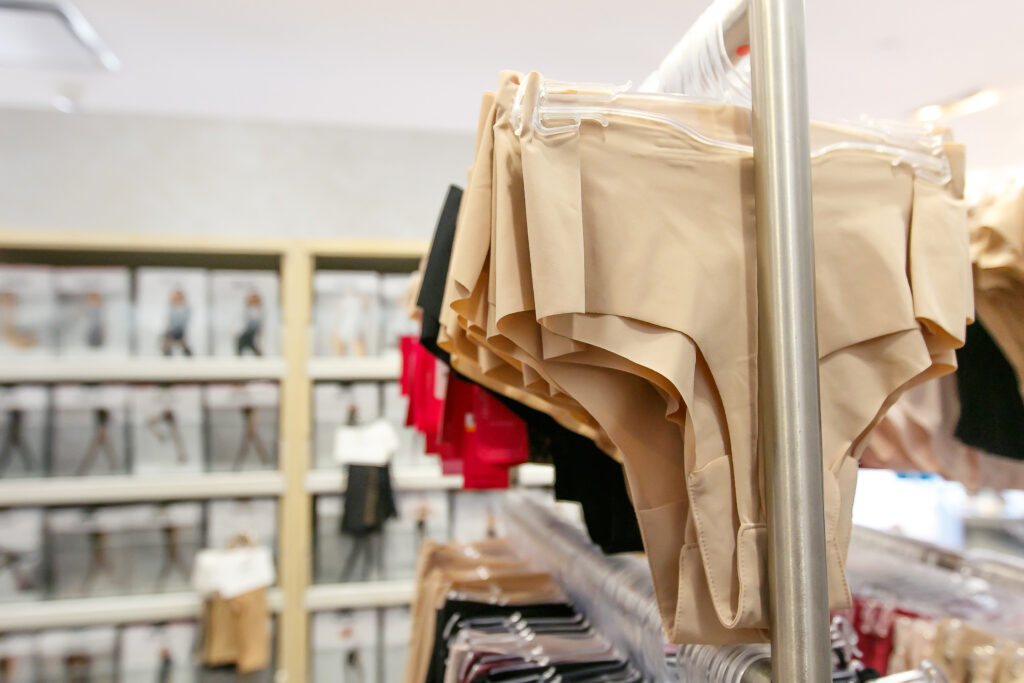 Shapermint vs. Spanx Overview
Founded by Sara Blakely with a vision of making women feel more comfortable and confident, Spanx is one of the most popular shapewear brands around.
As for Shapermint, rather than selling products from their own brand, they are more of a marketplace for top shapewear brands within various price ranges. They sell brands like Hanes, Wacoal, Empetua, Champion, and more.
The two brands have quite a few similarities, but a few other differences worth mentioning as well. The table below shows some key differences and similarities between Shapermint vs. Spanx.
Spanx (WINNER)
Shapermint
– Products are all from the Spanx brand

– High-quality products

– Shapewear prices range from $30 – $100

– Offers a variety of shaping levels

– Sizing isn't always true to size

– Offers shapewear, clothing, activewear, and more

– Free shipping on all orders in the USA

– Free returns

– $20 off for referring a friend
– Products are from various shapewear brands

– Quality and fit can vary depending on the brand

– Shapewear prices range from $20 – $100

– Offers a variety of shaping levels

– Sizing and pricing varies between different brands

– Offers shapewear, bras, leggings, and tanks

– Free shipping $60+

– Free returns

– $20 off for referring a friend
As you can see, Spanx and Shapermint have a lot of similarities as well as a few differences.
Another large difference is that Spanx offers a wider variety of products. They have shapewear, leggings, bras, activewear, pants, jeans, and even menswear. Shapermint has more basic items such as shapewear, bras, leggings, and tanks.
Shapermint also has options that are more affordable for those on a budget. They also have more frequent sales than Spanx – you can often see items for 50% (or even more) off.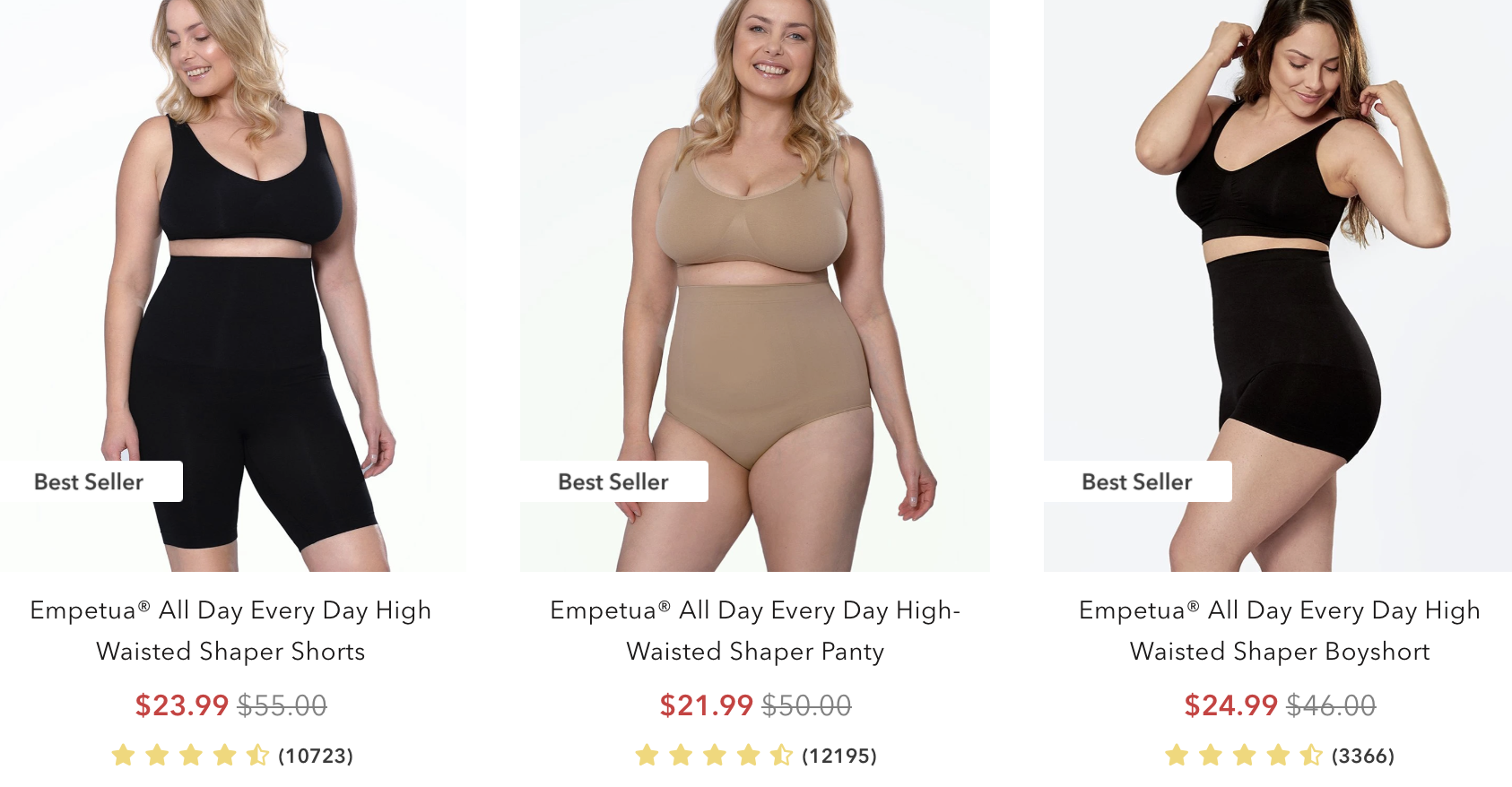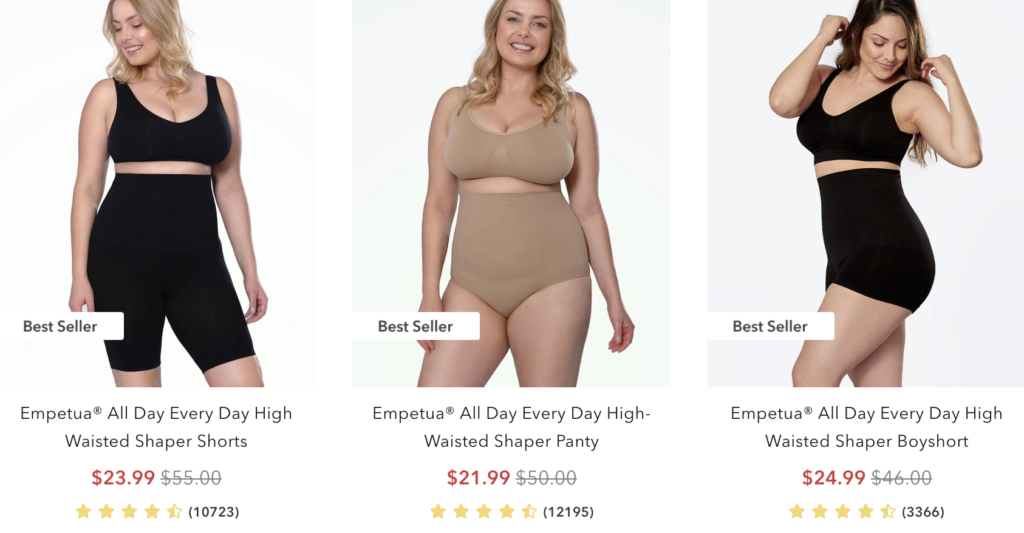 Shapermint vs. Spanx (Pricing)
An important feature when comparing two brands is pricing, so let's dive deeper into that.
For Spanx, prices can vary pretty significantly. You can expect to pay around $100 for leggings (these are our all-time favorite faux leather leggings), $60 for bras as well as other smaller shapewear pieces, and $20 for undergarments.
Prices do vary per item, so it is best to look into the shop yourself for an accurate estimate of their items.
They do offer deals like "free shipping on all orders" and 10% off with email signup, as well as markdowns in their sale section. That said, they don't have 50% off sales like Shapermint does.
For Shapermint, you can find both affordable shapewear as well as some higher-end options from brands like Wacoal.
They offer frequent sales on certain brands, so you can typically find these discounted pieces for $20 – $40. A couple of brands you can often find discounted are Empetua and Truekind.
For full price items and brands, they typically hover around $30 – $70 (depending on the piece). Some brands do cost more, you can find some options at $100 or even higher.
Overall, it really depends on what brand and what type of shapewear you're shopping on Shapermint. Aside from that, you can also get free shipping on $60+ as well as free returns!
What Do Reviews Say?
Now, let's dive deeper into more common positives and negatives about each brand that we noticed in reviews (including our own experiences).
One big complaint about Spanx was that the sizes were off. They were either too loose or too tight, so this is something to consider before purchasing (it can help to read reviews and sizing guide for each particular item you're looking for).
Depending on which product you look for reviews on, some complain that the shaping effects of Spanx weren't as good as they had hoped for.
Personally, I have tried multiple pieces from Spanx and the quality can definitely vary. For example, their faux leather leggings are incredible! They make my butt (and legs) look incredible and are super comfortable, not to mention they really level up my outfits.
I've also tried a few of their shapewear pieces and some were amazing, while others weren't so impressive. I have noticed that Spanx pieces I've purchased on sale or from discount stores (such as Nordstrom Rack) tend to be lower quality, so that's something to keep in mind.
I have also noticed that most Spanx pieces I've tried roll down. This isn't a huge deal to me, but can be a bit annoying. I do enjoy Honeylove (see my review) more because they don't roll down. All Honeylove pieces have boning, which keeps them from rolling down.
I do prefer a comfortable pair of Spanx for everyday wear, but I love Honeylove for special occasions.
RELATED: This Is The Best Shapewear for Bodycon Dresses
Shapermint
When it comes to Shapermint, a lot of people complain about customer service. They say it's hard to get into contact with a real person if you have an issue, which can definitely be an annoying problem.
Sizing is also a common issue, which is understandable since they offer different brands. Make sure to read the size chart for each specific item! Luckily, their 60-day fit guarantee will save the day in case your shapewear doesn't fit right.
Some people also say returns from Canada aren't very easy.
Personally, I tried two pieces from Shapermint and they were higher quality than I expected! I got two pieces from Empetua (the cheapest options when I was shopping) and spent a total of around $50.
They're definitely not the highest quality pieces of shapewear in my closet, but they're still great considering the price! The fabric feels nice and they do a great job shaping and smoothing my body.
Overall: Which is Better?
The biggest difference between Shapermint vs. Spanx is that Shapermint is more of an online catalog of shapewear brands. At the same time, Spanx designs and manufactures its own products.
If you're looking for a variety of brands and more affordable options, check out Shapermint. If you're looking for more reliable quality and plenty of different categories to choose from, Spanx might be for you.
Sizes and quality can vary for both brands, so make sure to search for reviews on the specific item you're considering.
In my personal experience, I would recommend Spanx if you have the budget. I've received good Shapermint pieces for great prices, but Spanx items have definitely been better quality and had better shaping effects.
That said, Shapermint is still a great choice if you're on a strict budget or just want to try shapewear out! They also have higher-end brands as well, so don't rule them out completely (I only tried the more affordable pieces from their site). To dive deeper, read our Shapermint reviews.