Looking for the best shapewear? Our Honeylove Review will dive into pricing, quality, sizing, and more to help you decide if it's worth the price.
HONEYLOVE 72 HOUR BLACK FRIDAY SALE UP TO 40% OFF
Having searched high and low for the perfect shapewear, I recently stumbled across Honeylove and decided to try it out after reading raving reviews. I'll be sharing all about my experience with this brand today
In this review, I will be reviewing all of the brand's top-selling Shapewear, Scultpwear, Bras along with the following: Material, Sizing, Shaping, and Price. Let's get started!
Honeylove Sculptwear Reviews
Honeylove features a variety of products that are smoothing, toning, thinning, and comfortable.
Their products are top-quality with targeted compression, posture support, and even boost bands to help you create the smoothest and sexiest shape possible.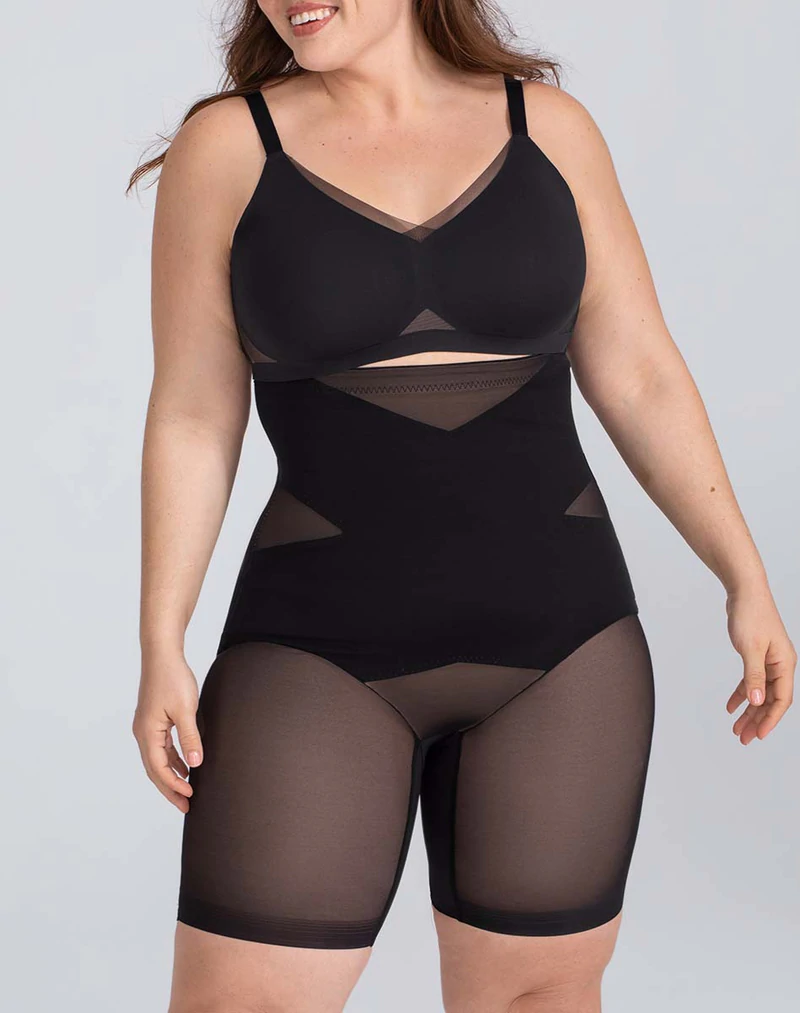 ★★★★★ 4.9 stars (1,570 Reviews)
Price: $89
These sculptwear shorts feature targeted compression to create a smooth shape while being ultra-comfortable. They stay up and support your posture.
You can wear these all day long without even noticing. One thing I love about the Super Power Shorts is that I don't have to keep adjusting them throughout the day like most other shapewear I've tried!
★★★★★ 4.9 Stars (711 Reviews)
Price: $84
I was super excited to try Honey loves SuperPower briefs, it's one of their most popular products, and after trying I can see why. They are designed with a variety of compression panels to offer a slimming fit in some places and relief in others.
This shapewear is sure to not let you down, it is on the pricier side but you should look at it like an investment piece, the quality is high and will last you.
RELATED: 8 Best Shapewear for Lower Belly Pooch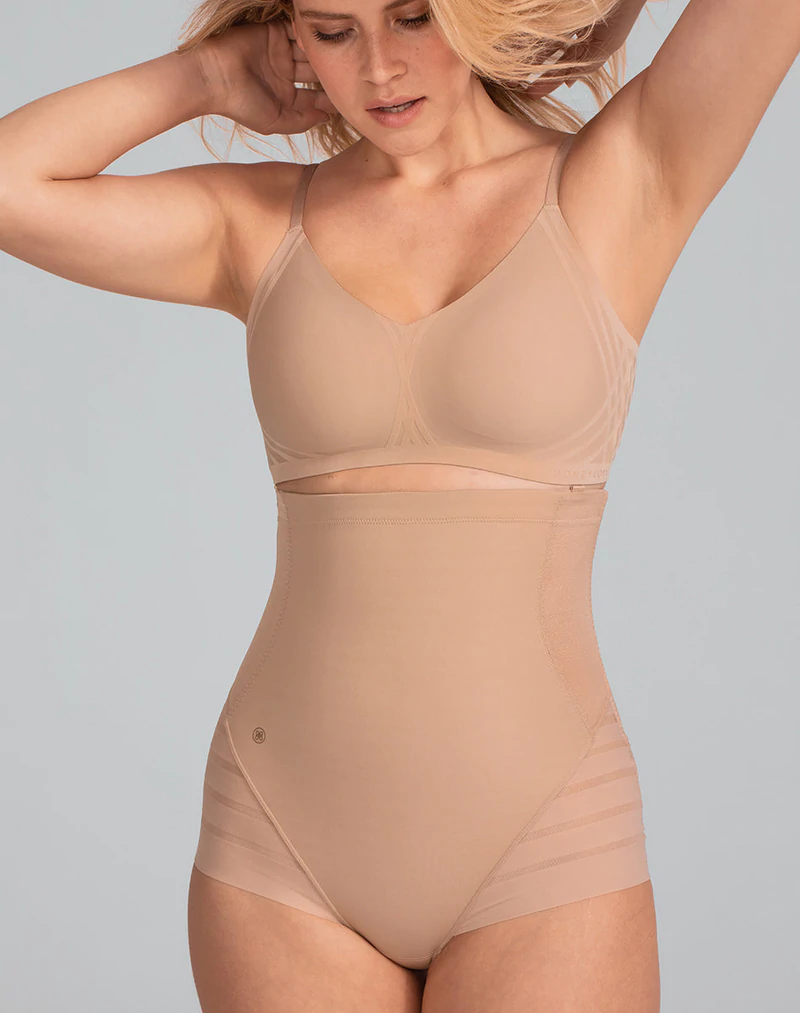 ★★★★★ 4.9 Stars (261 Reviews)
Price: $84
This Queen Brief is a lifesaver! I'm not the type of girl that likes to wear shapewear ALL of the time due to the massive amount of constricting. The Queen Brief is Aimed more towards comfort, it still has great shape correction but focuses heavily on comfort.
This is the perfect choice for someone that wants to reap some of the benefits of shapewear without being restricted.
★★★★★ 4.9 Stars (217 Reviews)
Price: $79
This high-waisted thong shapes your stomach and waist without showing any panty lines.
If you want that hourglass figure without needing to buy an extra bulky piece of shapewear, look no further.
Honeylove Tops + Bodysuits Review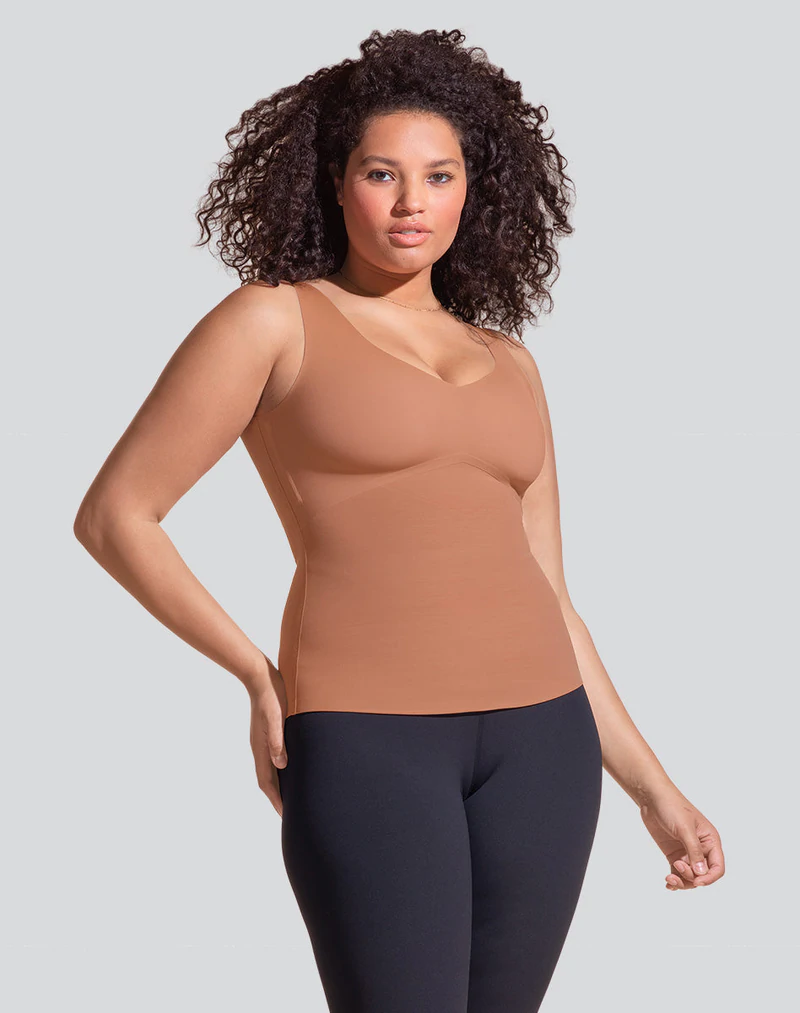 ★★★★★ 4.9 Stars (530 Reviews)
Price: $84
Most of the Honeylove collection focuses on making you feel sexy in your clothes, but I felt that this missed the mark. It's a fairly new piece, so I wouldn't be surprised if it gets discontinued.
If you're looking to ditch underwire bras, this might be a good solution. I will admit I wish the tank dipped a little bit lower to allow for some cleavage to show – I also wish the top was tighter.
Other reviews mention that it didn't fit snug around the stomach, which defeats the purpose of the product.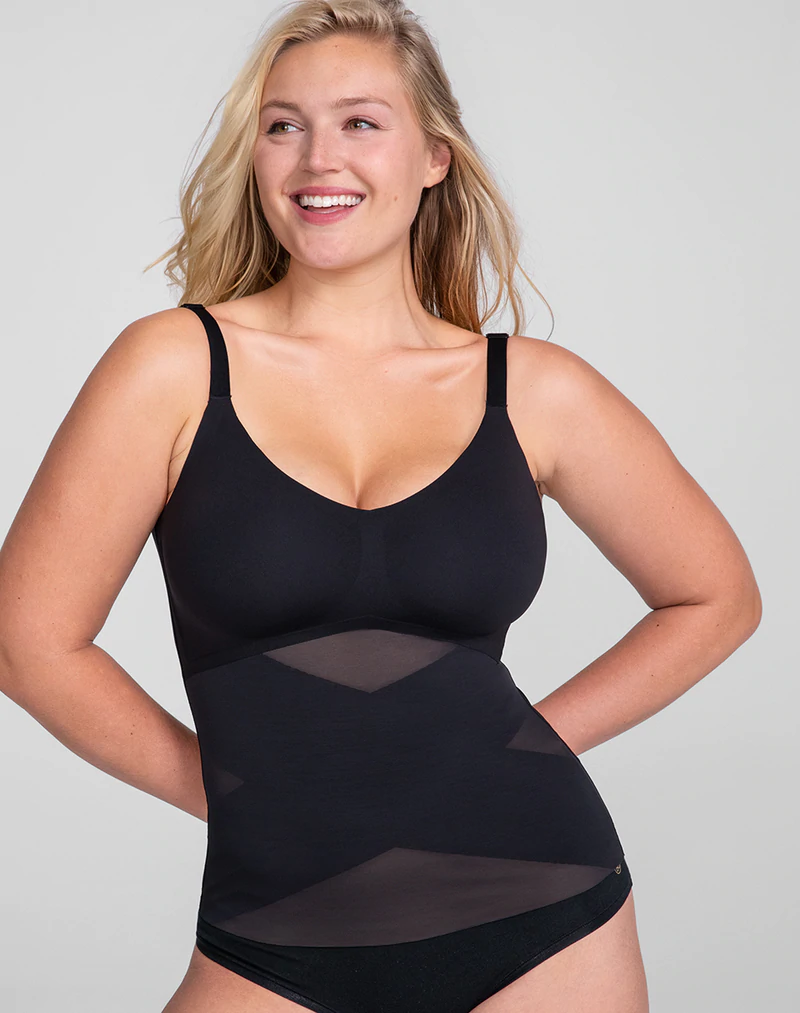 ★★★★★ 4.6 Stars (339 Reviews)
Price: $84
I liked the Cami a lot better than the tank above. Overall it looked great, was very comfortable, and held everything in nicely.
What really got me was how much support there was, even with the small straps.
Honeylove Bra Review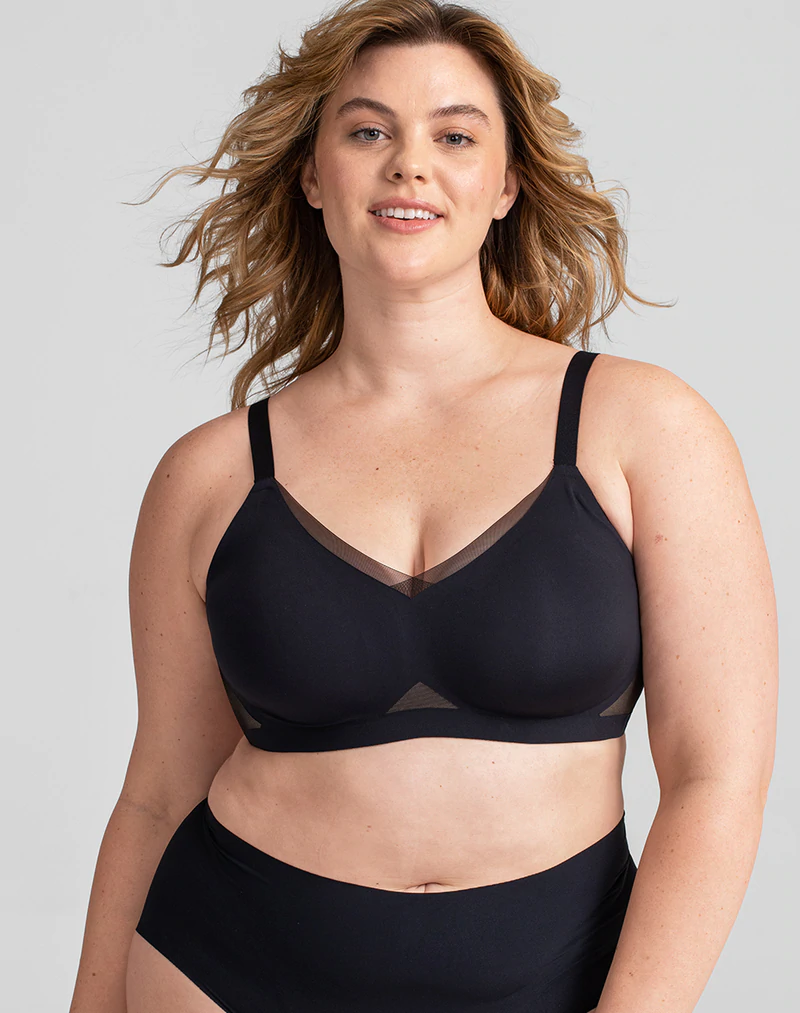 ★★★★★ 4.8 Stars (138 Reviews)
Price: $69
This is one of Honeylove's newest products and people are REALLY loving it!
One reviewer mentioned that it comfortably supported her DDDs. The crossover bra doesn't have an underwire, which makes it extremely comfortable while also being sexy.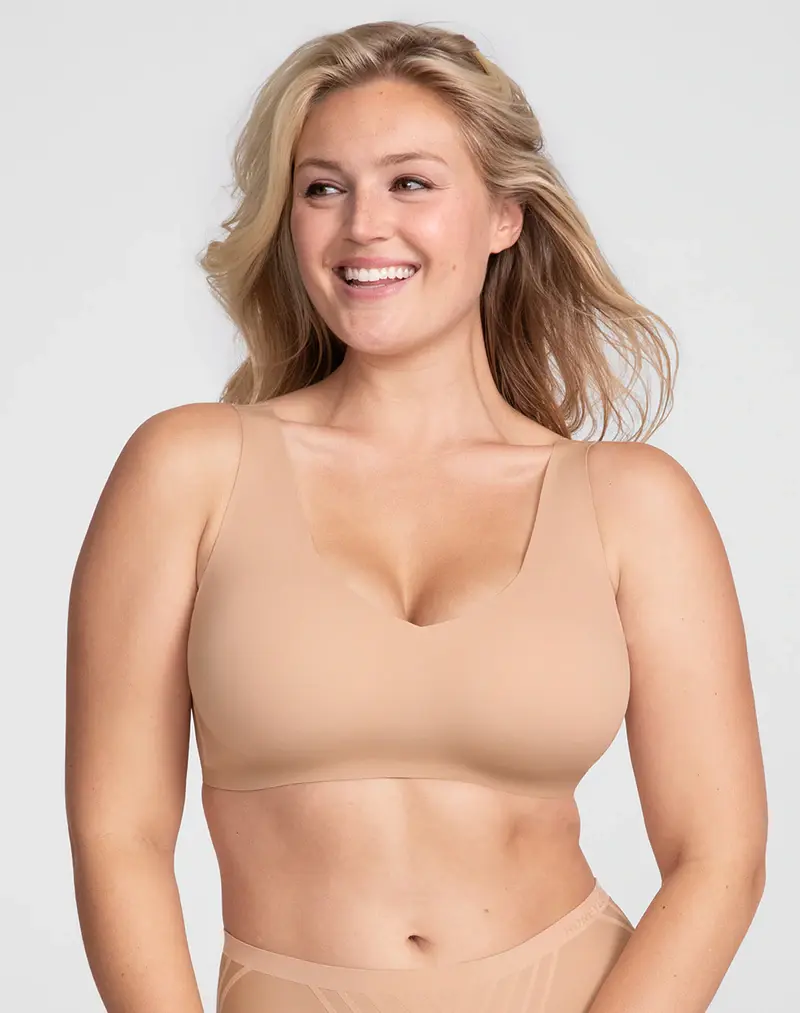 ★★★★★ 4.9 Stars (227 Reviews)
Price: $64
This Bra will keep everything in place without showing under clothing. It has an extreme hold while still allowing for maximum comfort.
Honeylove Shapewear Customer Reviews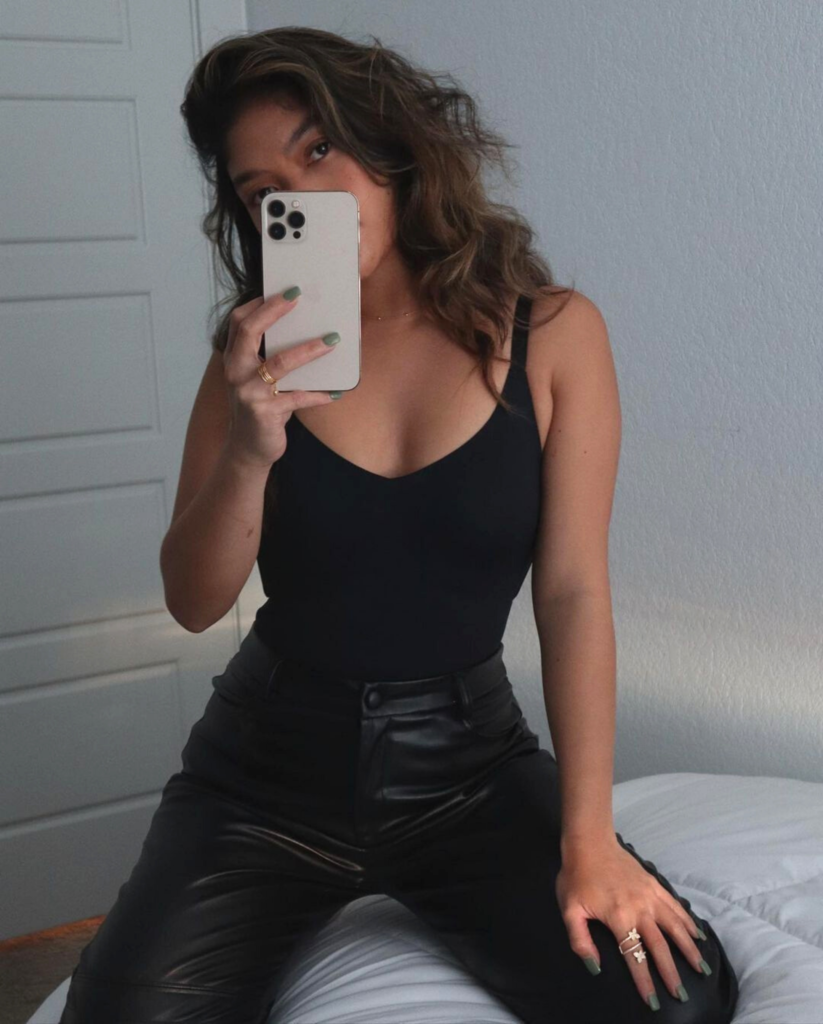 Lastly, we wanted to do a quick feature of real people who left real reviews on Honeylove's products and their experience.
Looking at Honeylove's website and reviews on Google, we found that the majority of reviews were very positive (an average of 4.3-star satisfaction rating). Here's what others are saying about Honeylove shapewear.
"I feel like I can comfortably move and groove, play all day and still look great! The v-neck bras are a great blend of sports bra comfort and great support (they are more comfortable than some of my sports bras)! Bonus points for size inclusivity and body positive messaging!" – Hiley
"I love my HoneyLove products! I own a Liftwear Tank and two of the v-neck bras, and I absolutely adore them. They are extremely soft and supportive, it doesn't feel like you are being suffocated. The Liftwear tank is versatile, you could wear it under a dress, or even to work with a blazer and skirt. However, my favorite part about HoneyLove, is that they are true to size." – Grace
"I've had my fair share of shapewear and can be skeptical of new products. As a mature woman, finding a breathable and comfortable shaper is my top priority. I tried the Power Short and was so impressed! No harsh lines where the shaper ends. No rolling down in the back. The wash bag was an unexpected bonus, but it really shows how much the company values the quality of the product." – Anita
"Being a woman with a bit more curves, I still want to feel confident and look good in my clothes. I recently tried a few different products from Honeylove ranging from the bras to shapewear and I have been so pleased with the quality and durability. Everything is comfortable, stretchy, and fits really well. I especially love the Shapewear cami + tank styles. They fit the boobs so comfortably and supportively, there's no need for a bra. The compressive and smoothing fabric in the mid area makes me look a little more snatched. I really love HoneyLove and their garments are amazing quality." –Chanice
"When it was advertised that it doesn't roll down I figured it was a lie because they ALL roll down. But NOPE! IT DOESNT ROLL DOWN!!" – Melissa H.
Overall, the majority of customers were happy with their products, raving about the great quality and excellent shaping effects. Plus, since they offer free returns, you won't have to stress in case you got the wrong size or it just doesn't work out for you.
Material Review ⭐️⭐️⭐️⭐️⭐️ (5/5)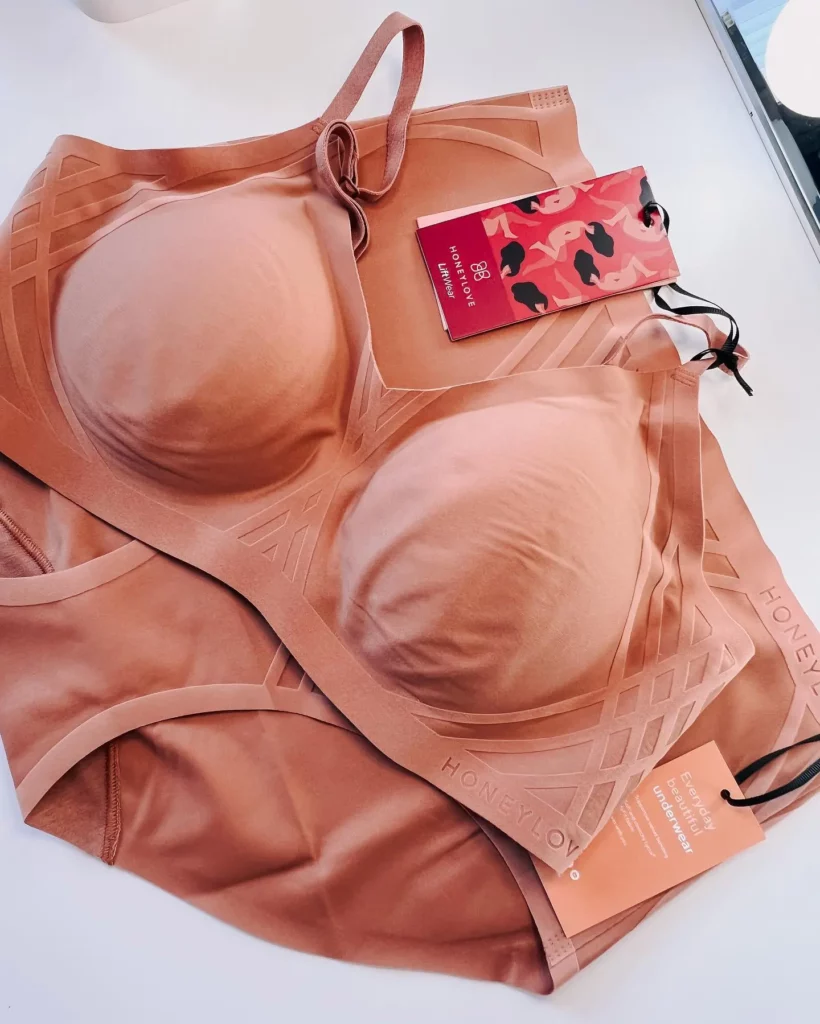 Unlike most other shapewear I've tried, Honeylove feels thick and strong. The sides of the waist had boning to prevent rolling. Even with this material, it wasn't uncomfortable to wear after hours.
Sizing and Comfort Review ⭐️⭐️⭐️⭐️ (4/5)
The size fit great, but both products were definitely a bit constraining because I picked their lowest recommended size.
That said, it wasn't terrible and I got used to it after a bit. It definitely made my body look incredible! I was most shocked by the fact that both pieces didn't roll at all.
I've never been able to find shapewear that doesn't roll down even a little bit, but I wore these both for hours and never experienced a single roll.
I wore the thong with a dress I love but I never wear it because it's fairly thin and always seems to show panty lines, and there were no lines!
A few Honeylove Shapewear reviews complained about the boning being uncomfortable after hours, but I didn't notice this. I wore mine for about five hours tops, so I will try to wear it longer one of these days to see if it starts to happen.
Shaping Review⭐️⭐️⭐️⭐️ (4/5)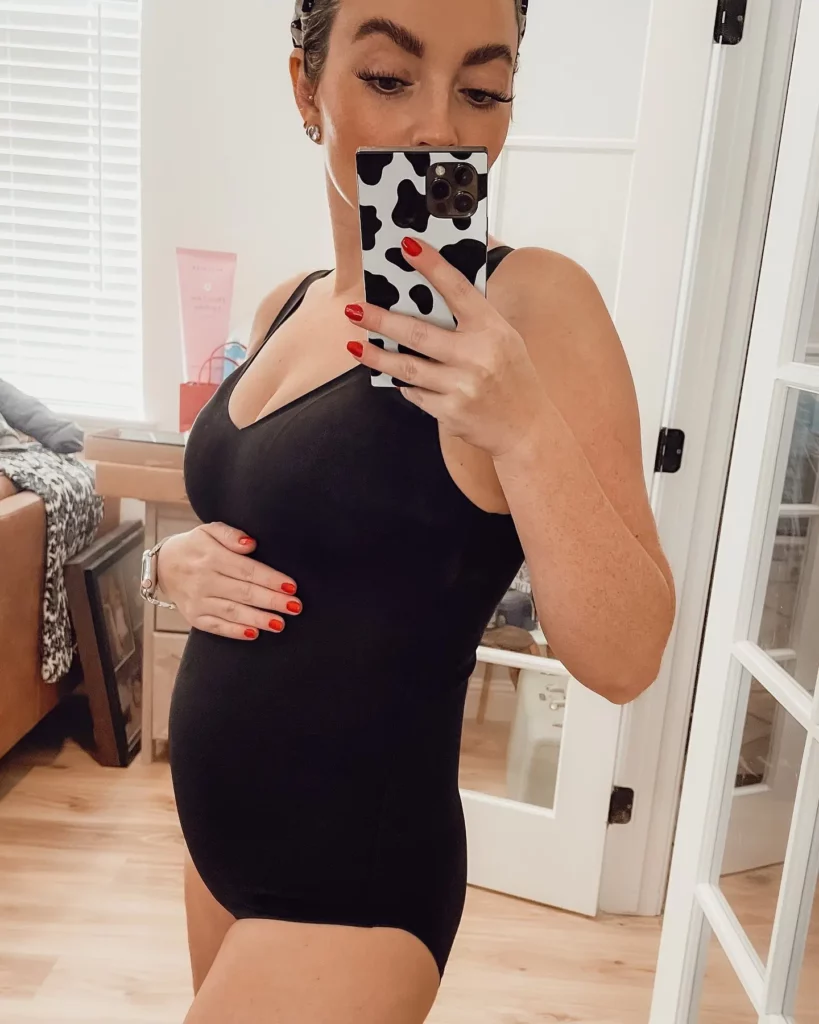 The shorts made my booty look lifted, smoothed my stomach, enhanced my waist, and slimmed my thighs. The thong just enhanced my waist and smoothed my stomach, but it's perfect to wear with dresses.
While some other pieces weren't as great (like the tank), most Honeylove shapewear I tried was very shaping and flattering.
Price Review ⭐️⭐️⭐️ (3/5)
I took off a couple of stars in this category because the price is a bit scary, but I definitely think it's worth it after trying the products out.
They were higher quality than others I've tried before (even shapewear I've spent $50+ on), and of course, the overall shaping and no roll effects were fantastic.
Honeylove FAQs
Honeylove Average Prices
When it comes to Honeylove prices, you can expect to pay anywhere from $80 – $95 per piece on average (without tax). I listed the prices for each product in more detail above.
While this may be on the higher end of most people's budgets, they're built to last forever and are great quality. They may just be worth the purchase if you've been having trouble finding that perfect shapewear. Plus, since they offer free returns within 60 days, there isn't much risk involved when ordering from them.
Plus, they offer Affirm, which lets you split your purchase into 3 interest-free payments rather than paying the entire chunk at once.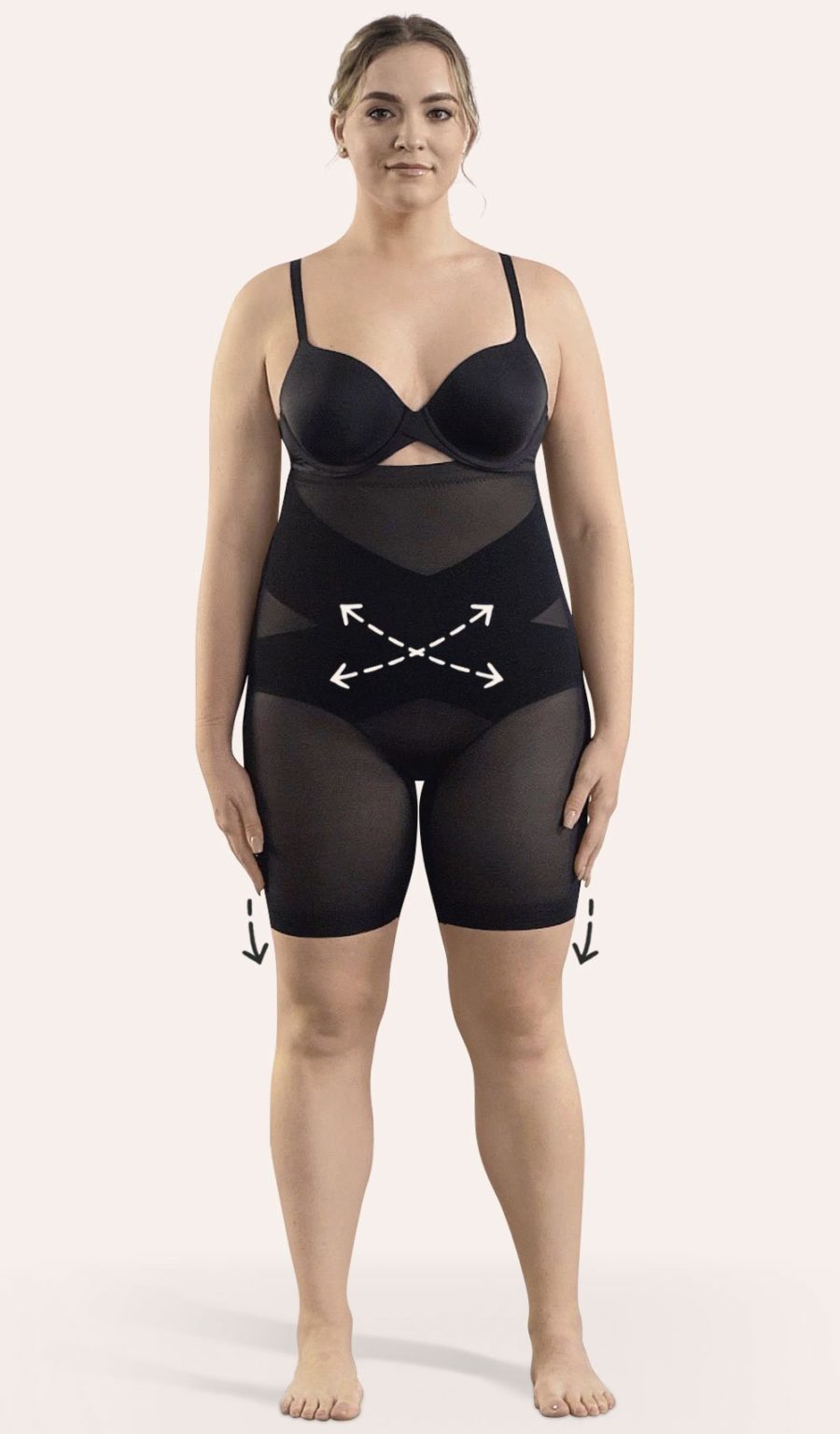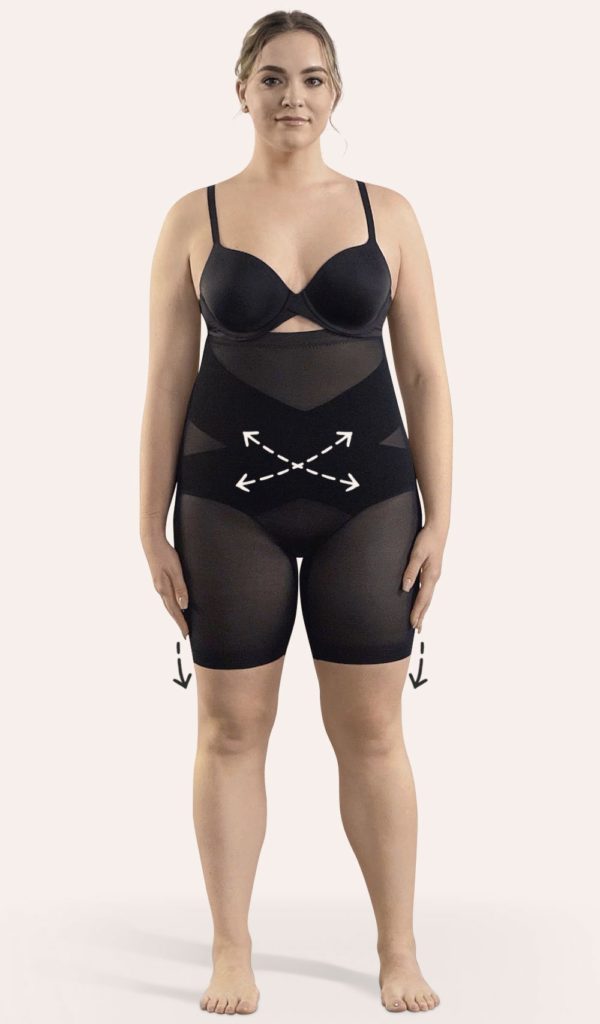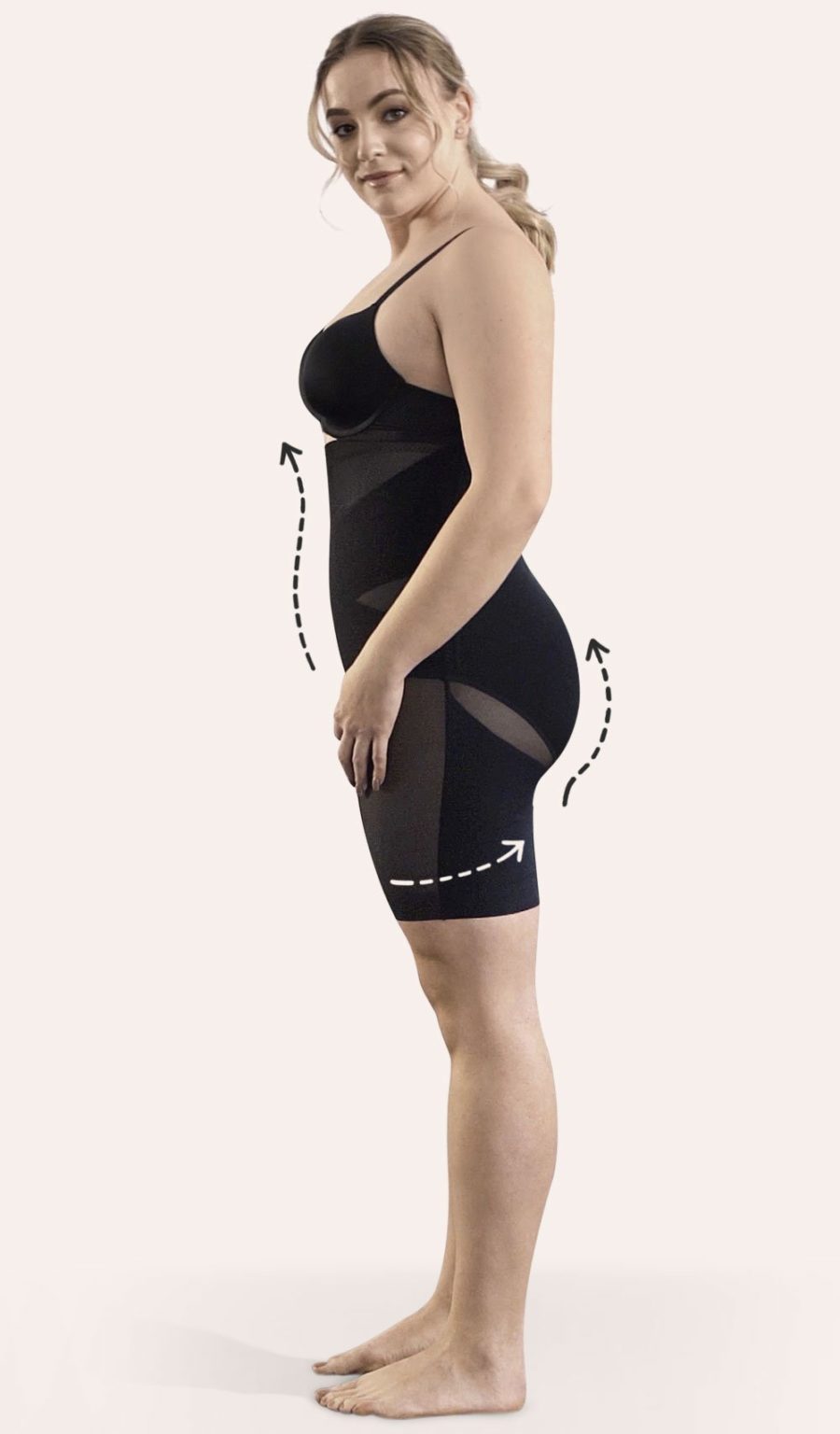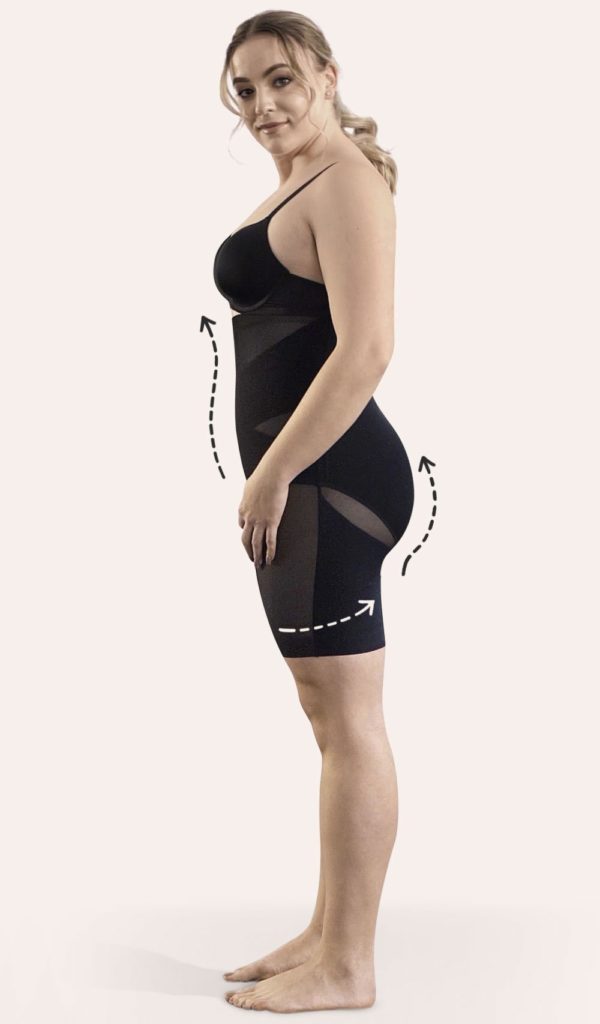 Honeylove Sizing
When it comes to Honeylove's sizing, they actually go out of their way to work with you to find the perfect size instead of just showing you a chart.
You go through a mini questionnaire on their website to determine the proper size based on what you wear currently if you've used shapewear before, and the tightness you're looking for.
You will be asked to provide your dress size, jean size, and height in order to get the most accurate fit possible. They will then give you 3 sizing options (one will be for the perfect fit, one is built for breathability, and the final is a bit loose to help you achieve the comfort you desire).


Return Policy
Honeylove is one of the more flexible brands on the market when it comes to returns and exchanges. They guarantee that if you are not satisfied with your purchase for any reason, you can return it to them within 60 days for a full refund.
However, Honeylove will only accept returns and exchanges if your item is unworn (you are encouraged to try your purchases on over underwear and bra). If you try to return an item that was obviously worn, you will not qualify for a refund. This is definitely understandable, so just make sure to try it on over your underwear!
RELATED: My Skims Reviews
Are There Any Discounts?
Believe it or not, Honeylove actually does not offer any coupon codes for their pieces. They believe that they are offering you the highest quality material at the best price possible, so coupons are unnecessary.
That said, they do have occasional discounts directly on their site, which is typically $3 – $5 off your purchase. You can also qualify for a $20 discount if you add an additional color to your cart before checkout. If you do this, you will also receive a free wash bag complimentary from Honeylove.
Lastly, they do also offer free shipping and returns for US purchases, which is always a great perk.
Bottom Line – Is Honeylove Worth It?
Overall, I loved the sculptwear I ordered from HoneyLove and most other Honeylove reviews I read had the same experience. However, there were a few negative reviews as well. While their shapewear isn't comfortable enough for me to want to wear daily, I don't think any shapewear is. They're still perfect for special occasions!
Since Honeylove shapewear reviews are all over the place, it can be difficult to decide if it's truly a top-performing sculptwear brand, or if you should hold out for something else. Honestly, you never know until you try, so we encourage you to give it a shot and see how it works for you. I'm grateful they offer free returns within 60 days, so there really is no harm with testing it out.
Give it a shot and let us know below if it's the sculptwear of your dreams, or if you're holding out for a bigger and better brand in the future.