That stubborn pooch of lower belly fat can seem nearly impossible to get rid of, even after hardcore dieting and working out. Lucky for us, there are plenty of innovative shapewear products for lower belly pooch that can hide it amazingly and boost confidence!
We've tried quite a few top-rated products and picked these as the winners. Whether you're on a budget or want the best of the best, there's something for you.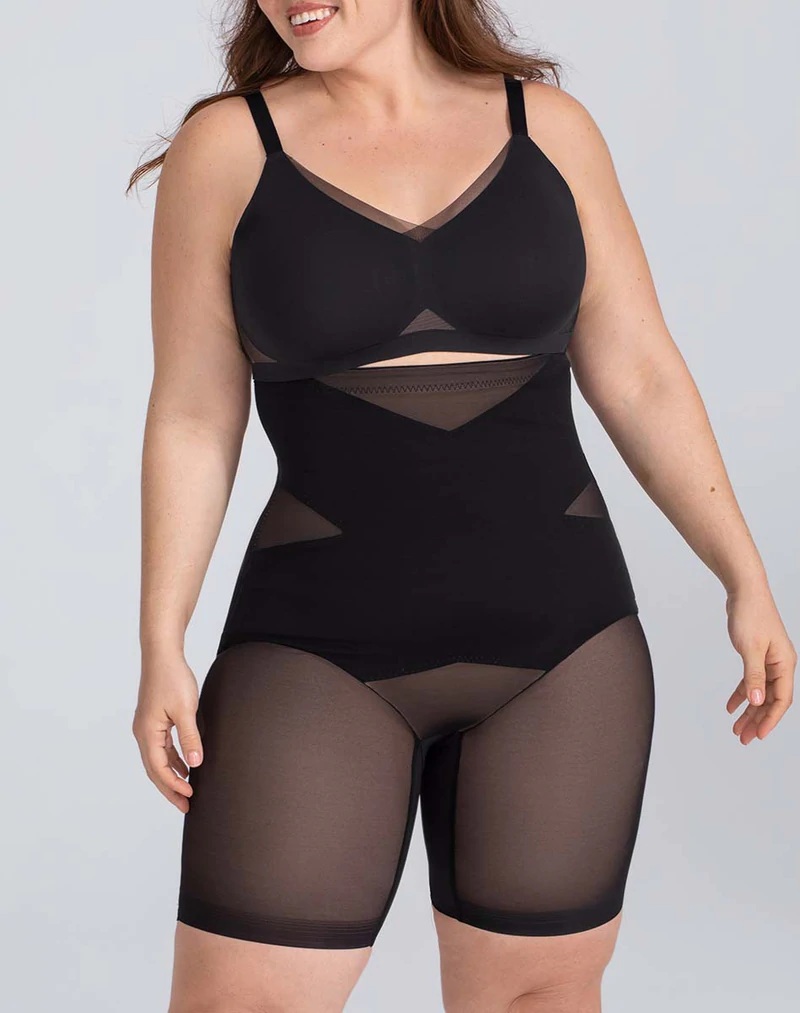 ★★★★★ 4.9 Stars (1,570 Reviews)
Sizes: XS – 3X
Price: $89
Having tried quite a few pieces of Shapewear from various brands, HoneyLove stands out in terms of quality and effectiveness. One of the key features is that these don't roll down, which can be a huge annoyance found in many shapewear pieces.
Even if the price is higher than you're hoping for, these are absolutely worth the investment and will last for years. I personally own multiple Honeylove pieces and they are well worth the investment.
Check out more about why we love Honeylove: review of Honeylove!
---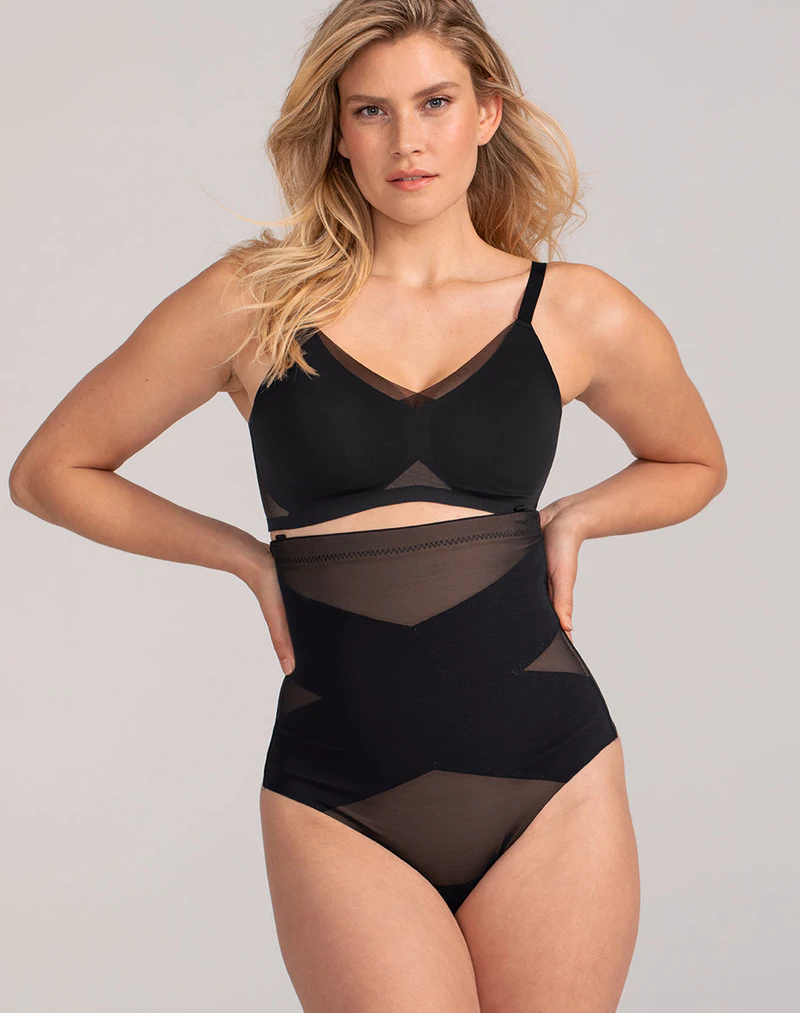 ★★★★★ 4.9 Stars (270 Reviews)
Sizes: XS – 3X
Price: $79
Although the priciest thong on the list, it's the best quality and truly doesn't roll down due to the unique boning at the waist.
It's a great alternative to their SuperPower Shorts if you want something more lightweight. Plus, since it's a thong, there are no panty lines to worry about!
---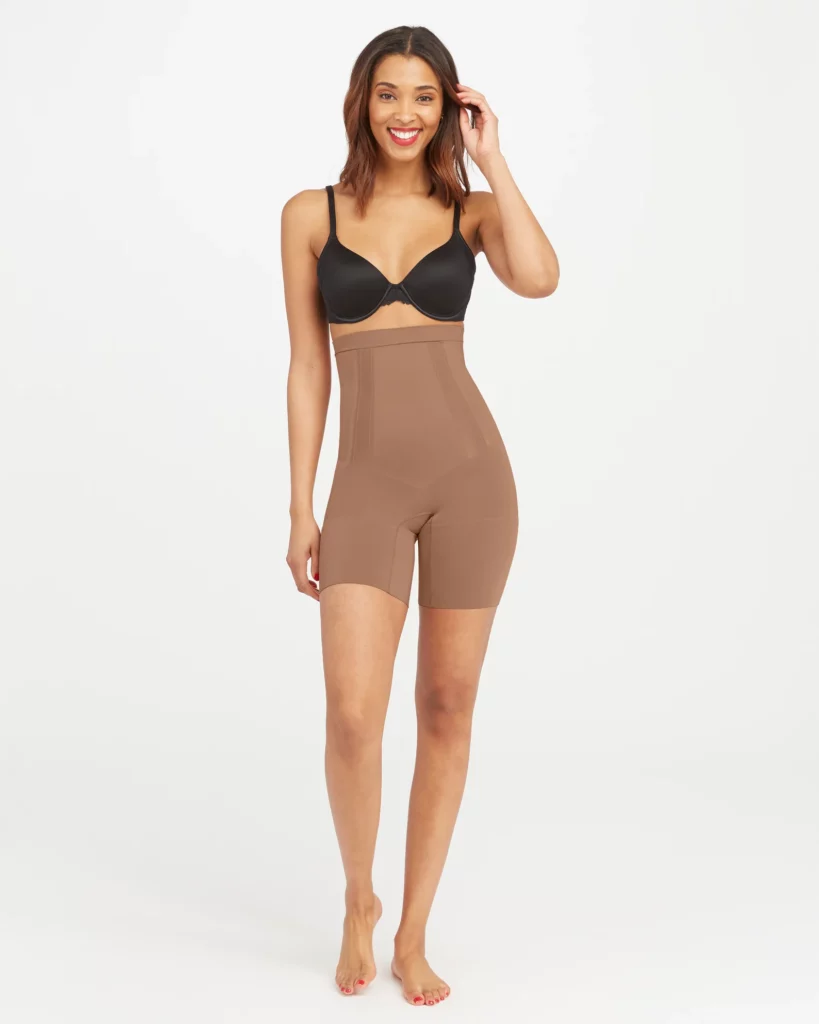 Price: $78
Sizes: XS – 6XL
When it comes to shapewear for lower belly pooch, Spanx is a top brand. Their Oncore Shaper is a pair of high-waisted shorts that do an amazing job at sucking you in (without squeezing you to death).
This pair enhances your stomach, thighs, hips, and even booty! They offer sizes up to 3X!
---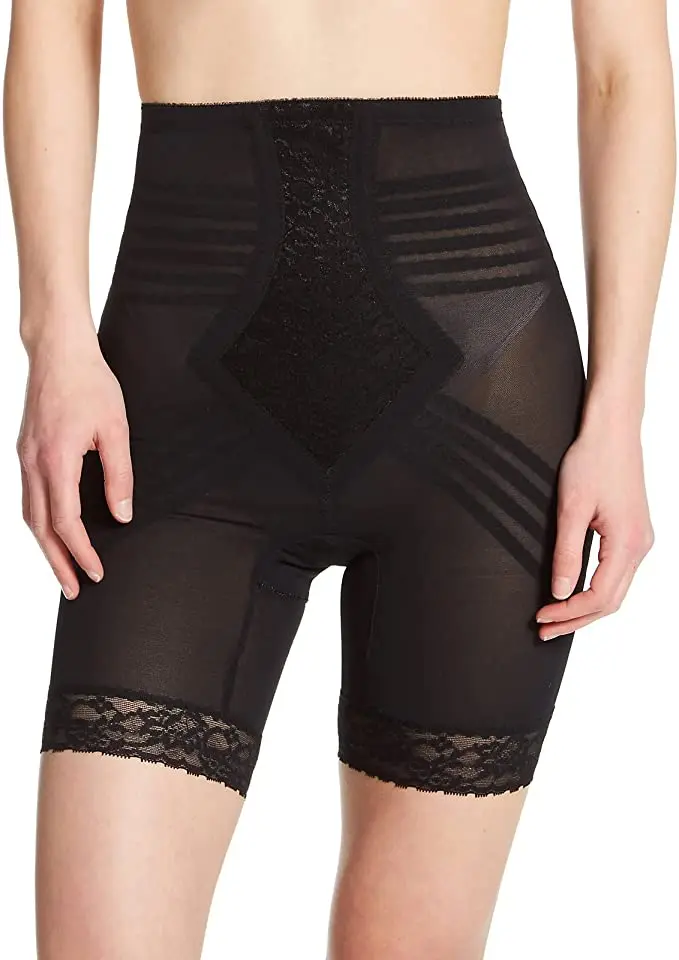 Sizes: XS – 2X
This Rago shapewear piece is great for sucking in your lower belly pooch and is a great bang for your buck.
Keep in mind that comfort shouldn't be a priority with these (they're not terribly uncomfortable, but they're nothing like a pair of spandex leggings). They're especially tight if you're curvy.
RELATED: Shapermint vs. Spanx – Which Shapewear Brand is Best?
---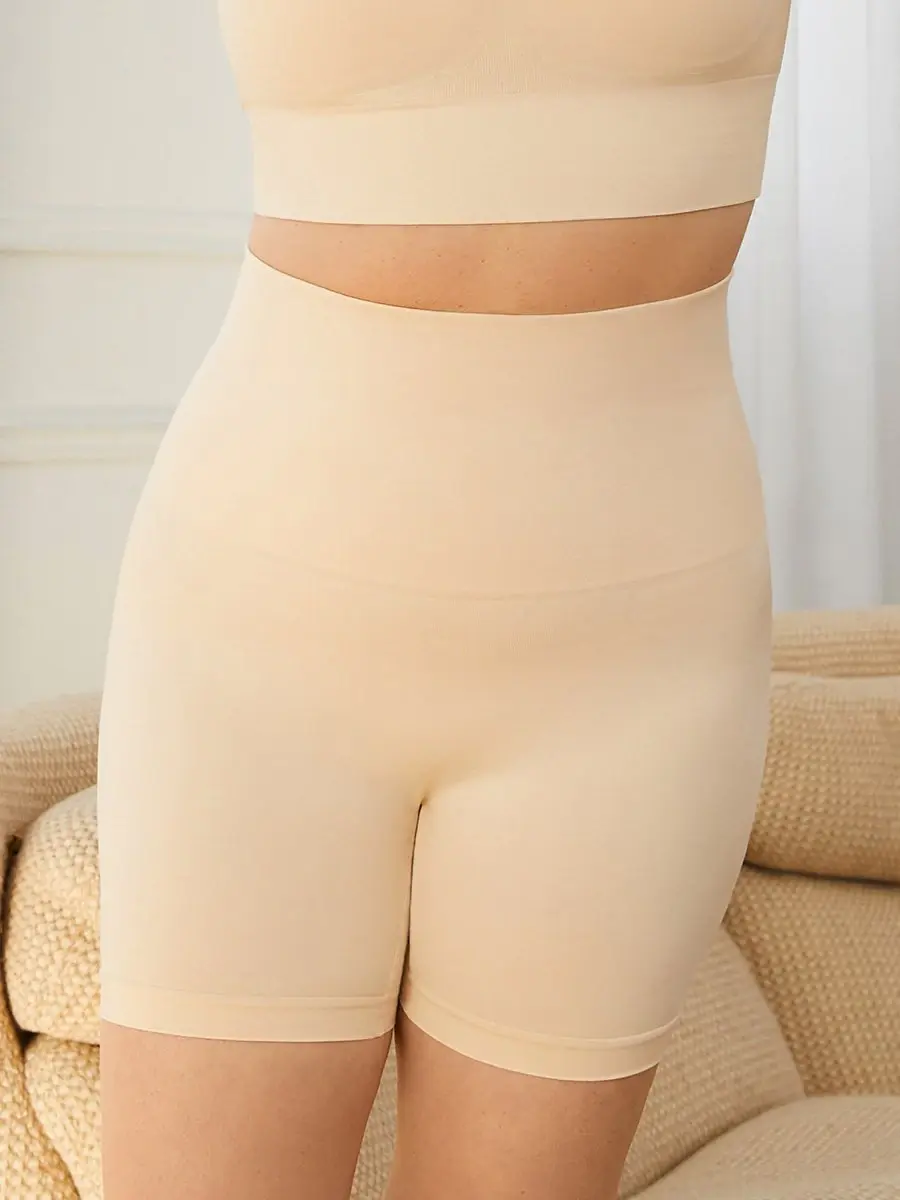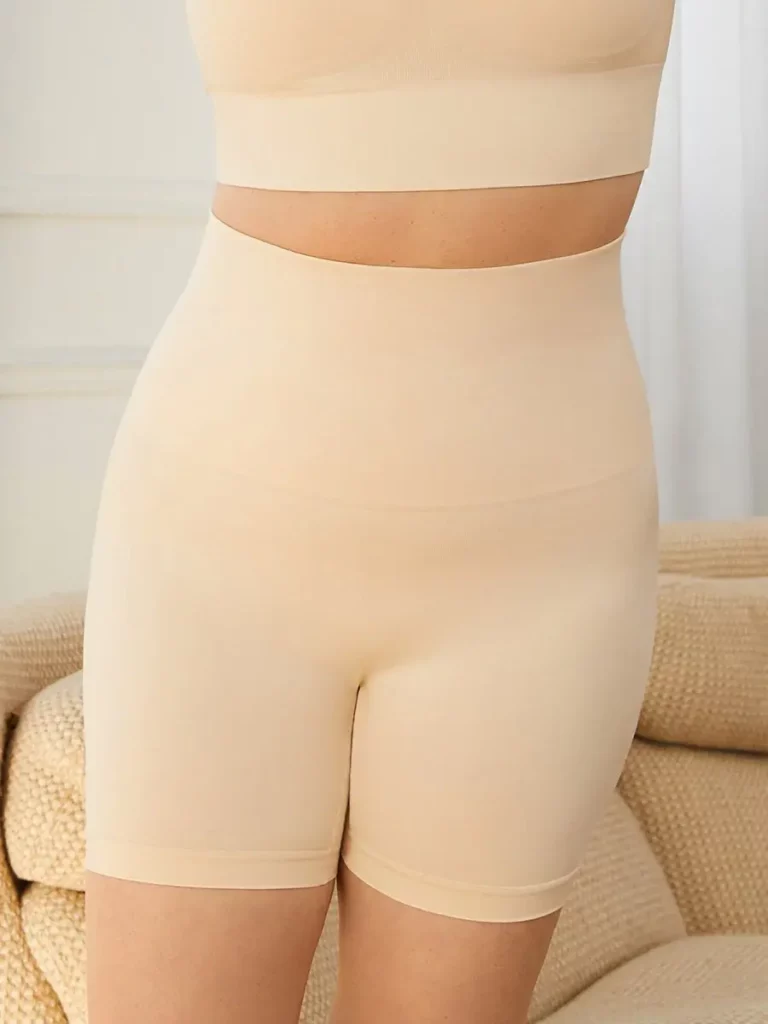 ★★★★★ 4.5 Stars (10,910 Reviews)
Sizes: XS – 4X
Price: $20 – $52 (depending on sale)
This comfortable pair of shaper shorts is perfect for hiding that stubborn lower belly fat. If you catch them on sale, you can get them for pretty affordable prices. The quality is fantastic and they're comfortable, plus they're practically invisible under any clothes.
Aside from their website, you can also get them for a great deal on Amazon. Check out our in-depth Review
---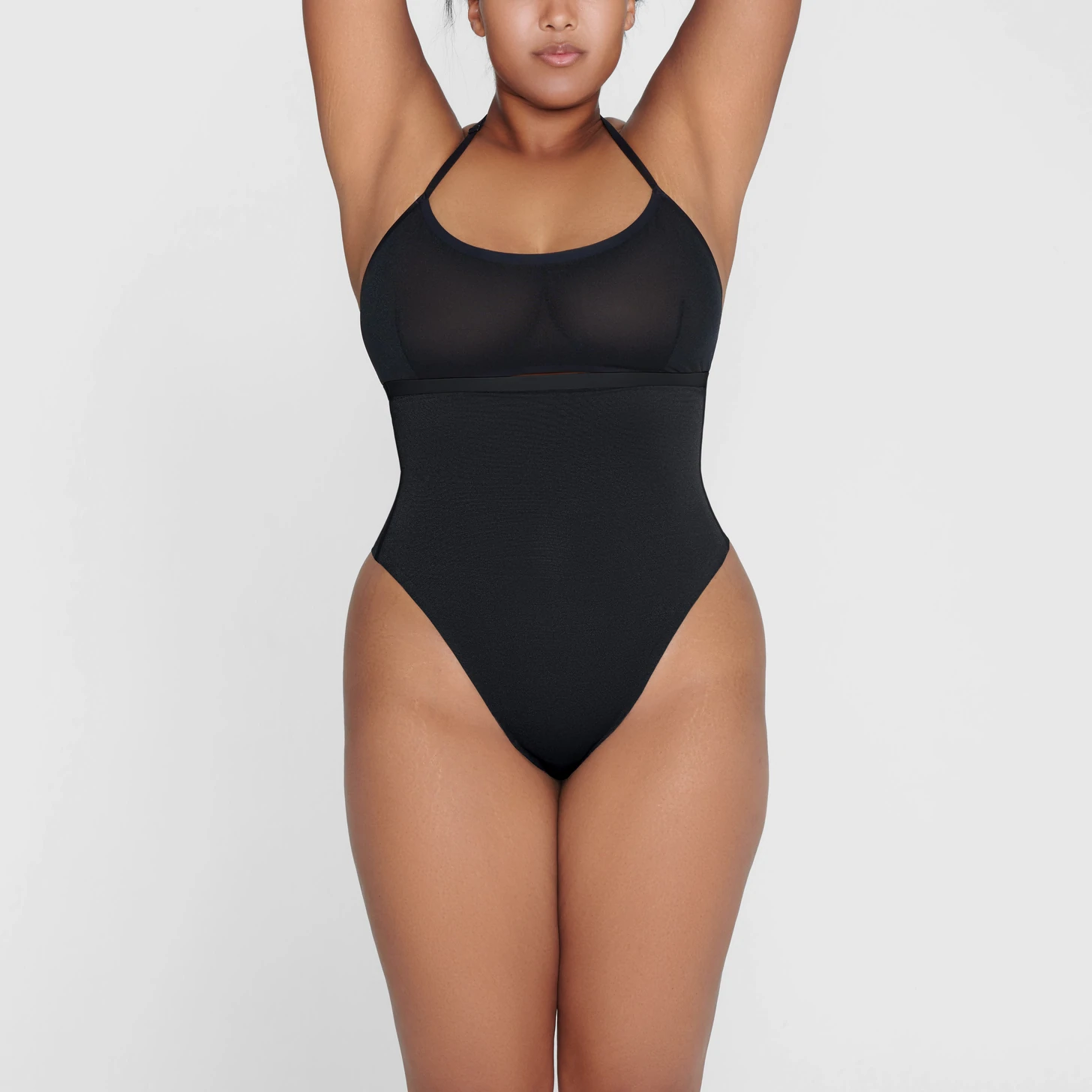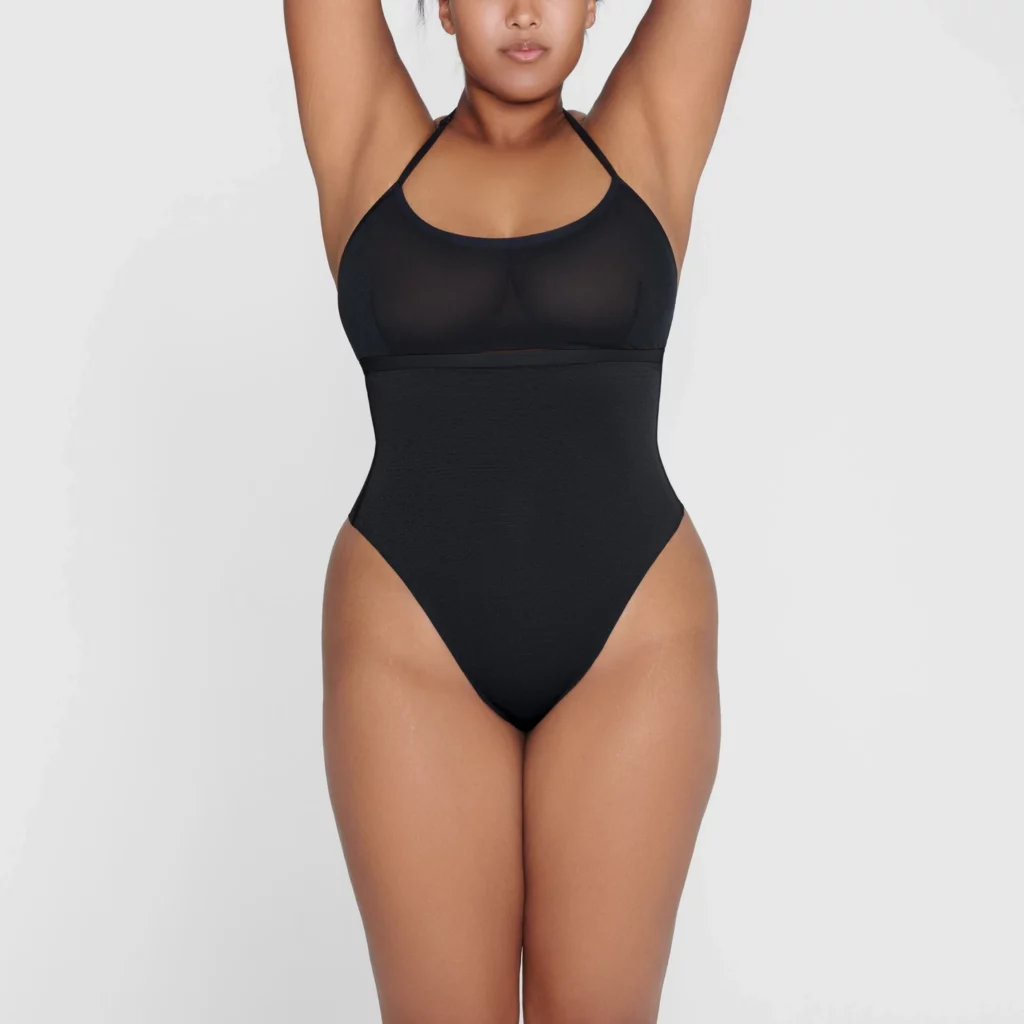 ★★★★★ 4 Stars (596 Reviews)
Sizes: XXS – 4X
Price: $36
Want a Kim Kardashian shape? Her shapewear brand can help you get there. If you're not a fan of shorts, this high-waisted shapewear thong will hide your lower belly pooch without being bulky.
These feature a bonded waist to minimize rolling down and are perfect for curvy women!
---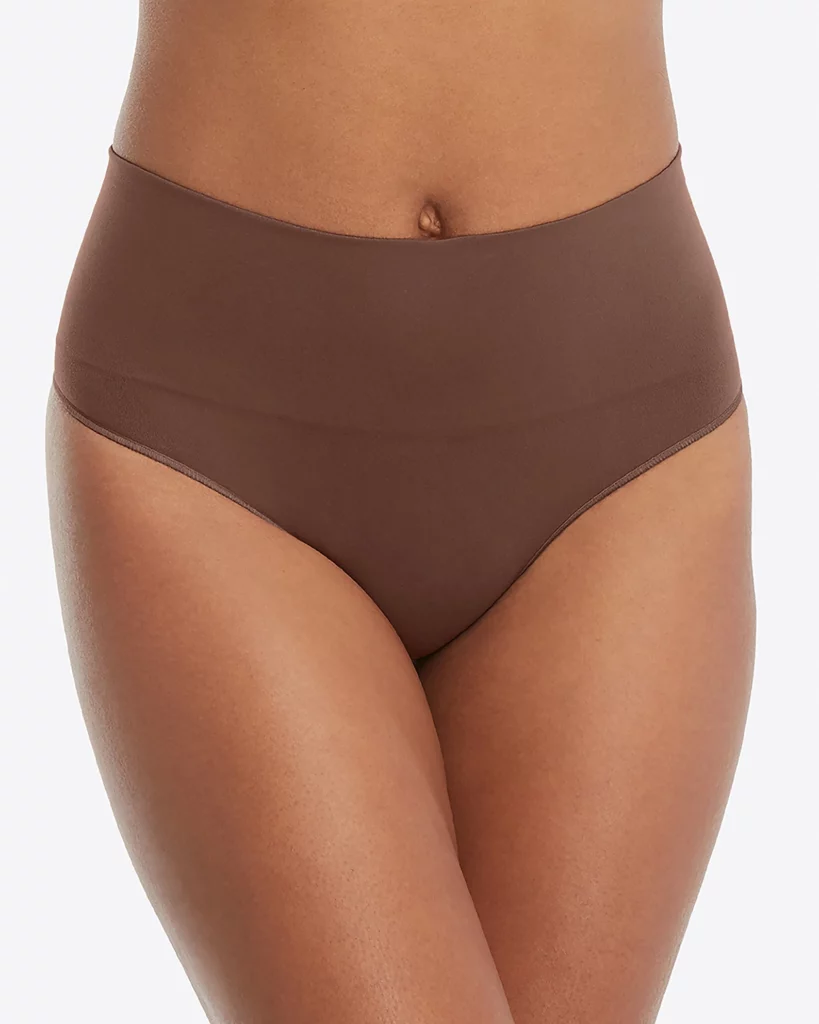 Sizes: S – XL
Price: $22
For something more lightweight (and more affordable), these shaping underwear offer light control for those who don't have much belly pooch to hide (if this is you, consider yourself lucky).
They offer brief, thong, or boyshorts styles of underwear as well as a variety of neutral shades to choose from. Although there isn't a huge range of sizes, this is a great addition to your shapewear collection for those days when you don't want to wear something extreme.
---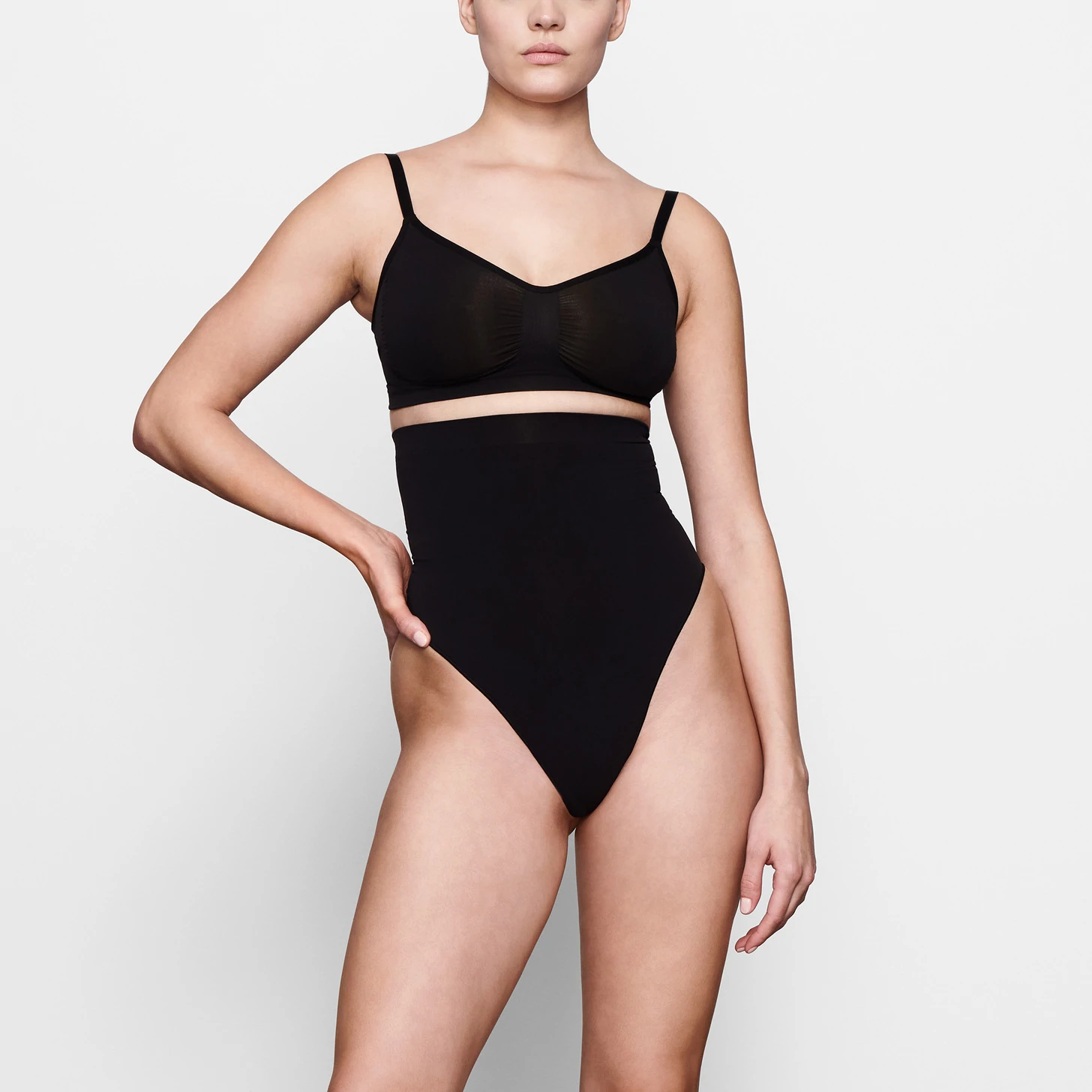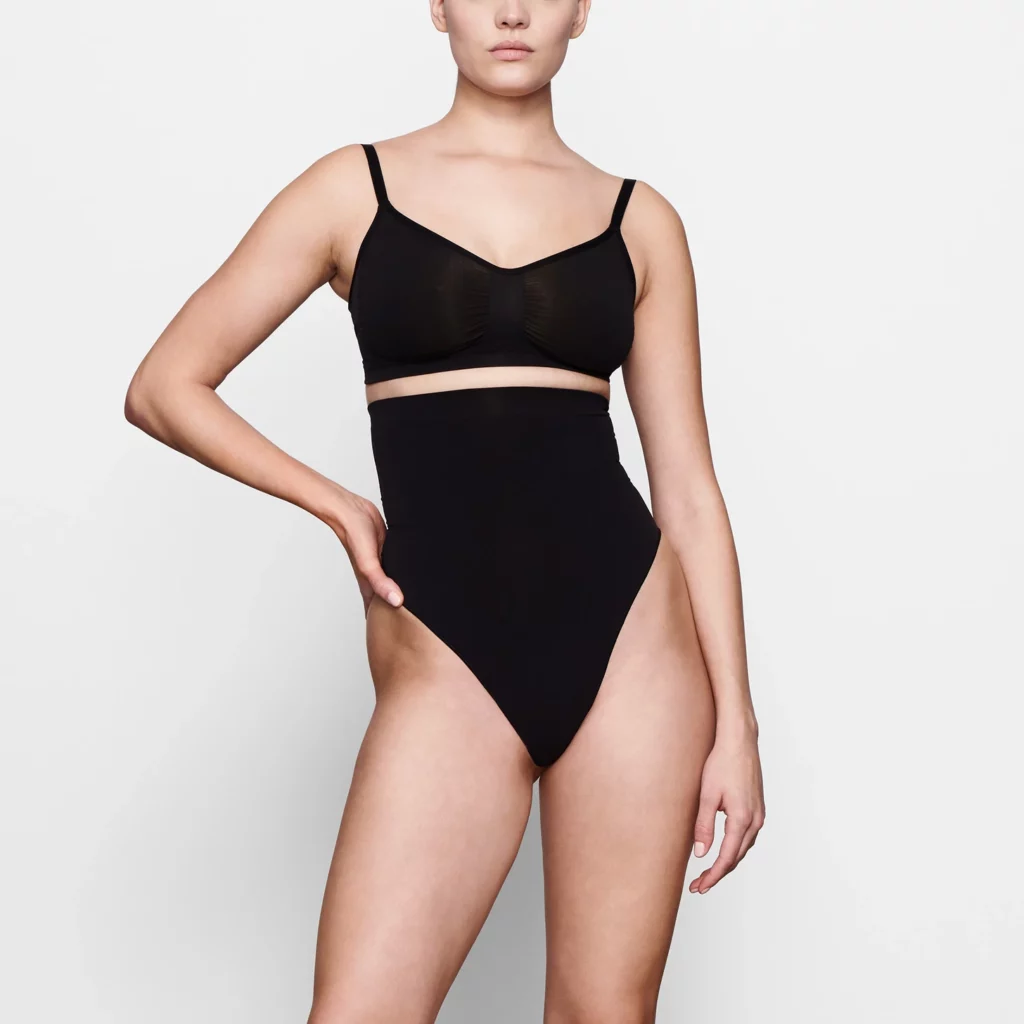 ★★★★★ 4 Stars (165 Reviews)
Sizes: XXS – 4X
Price: $68
Similar to the previous thong from Skims, this one is also worth mentioning if you want to avoid shorts.
These are nearly double the price, but they're much more powerful than the previous pair. It tends to stay up much better and is available in nude or black.
---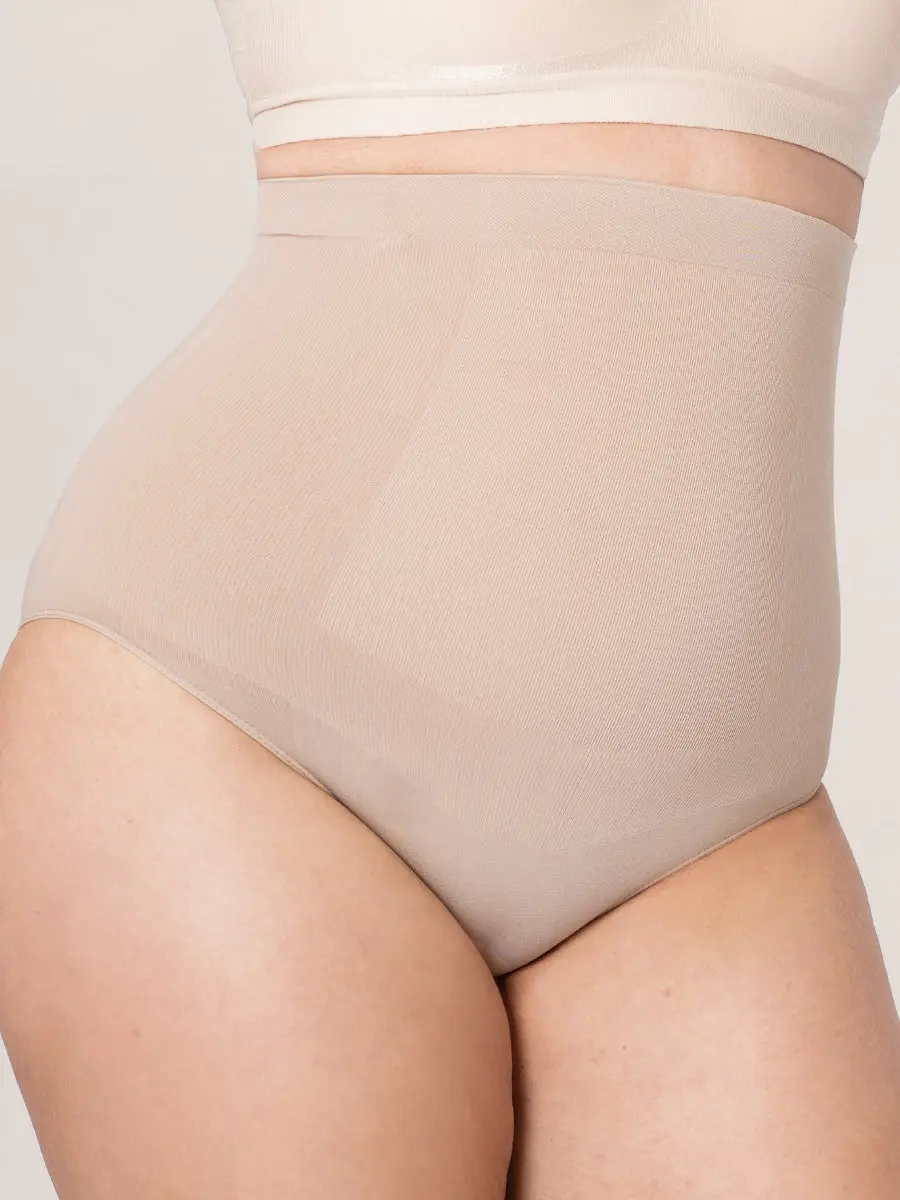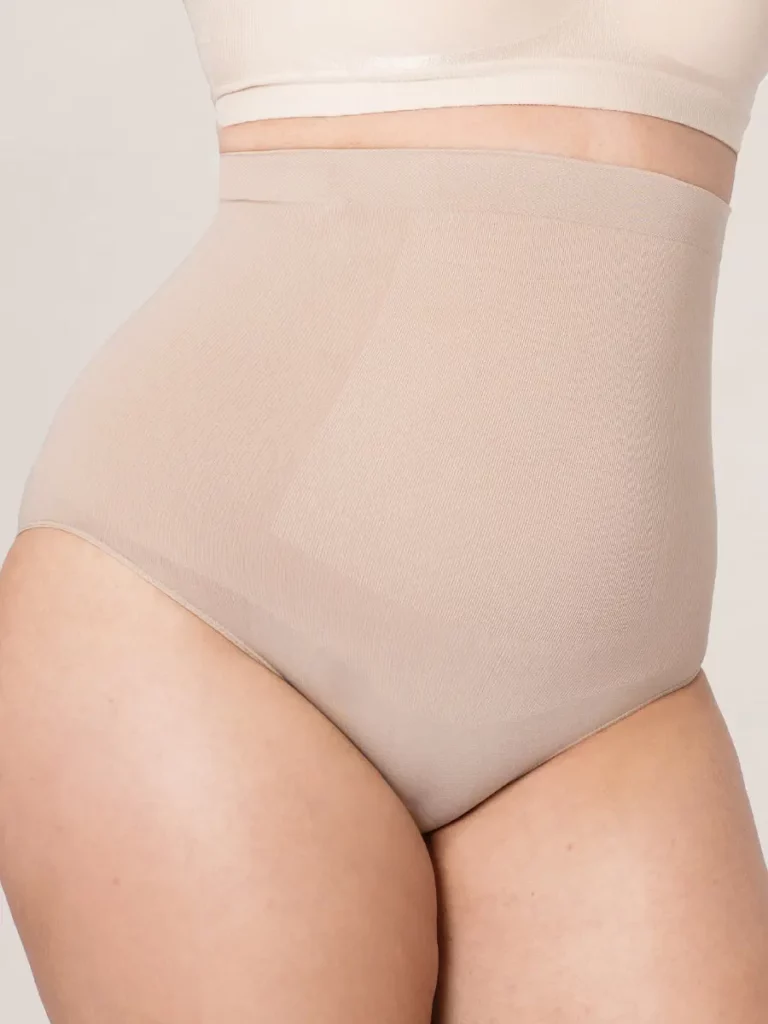 ★★★★★ 4.7 Stars (12,542 Reviews)
Sizes: XS – 4X
Price: $20 – $40 depending on sale
This pair of shaping panties is another great choice in the mid-range price point (especially when on sale). These will instantly boost your confidence by making your lower belly pooch nearly invisible!
---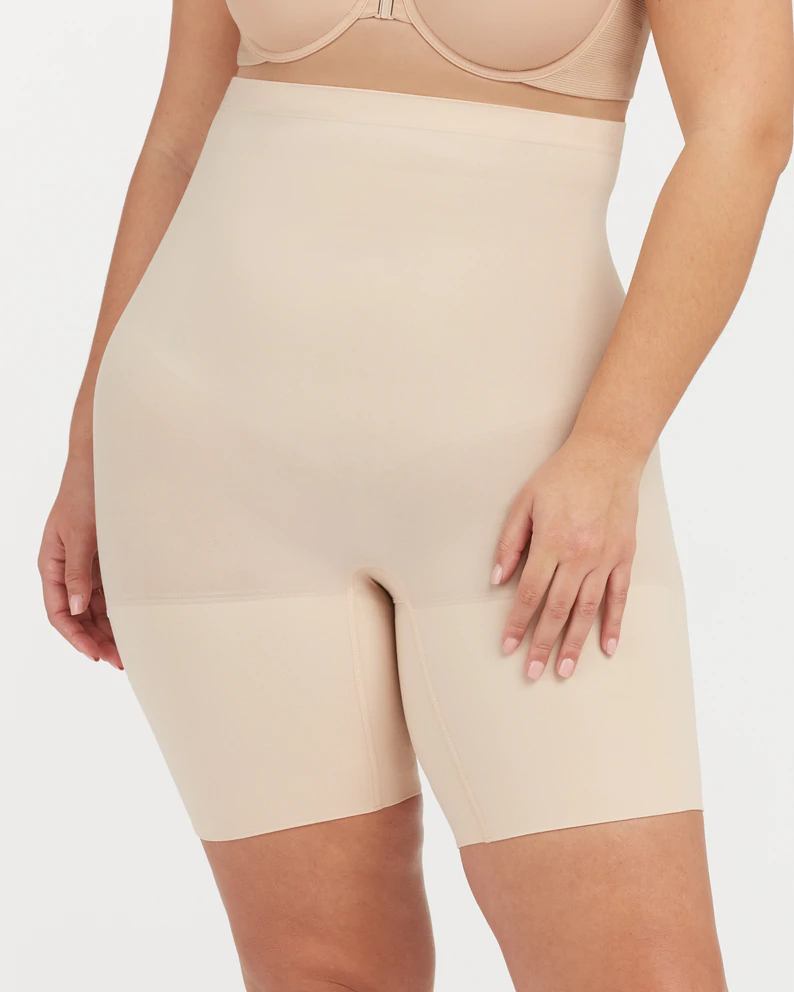 Price: $38
Sizes: S – 3X
Looking for a little extra support without sacrificing style or comfort? Spanx Higher Power Short has got you covered. This lightweight shaper provides comfortable smoothness and shaping in four different shades of nude, so you can find the perfect match for your skin tone.
The high-waisted design offers extra coverage and support, while the breathable fabric ensures all-day comfort.
---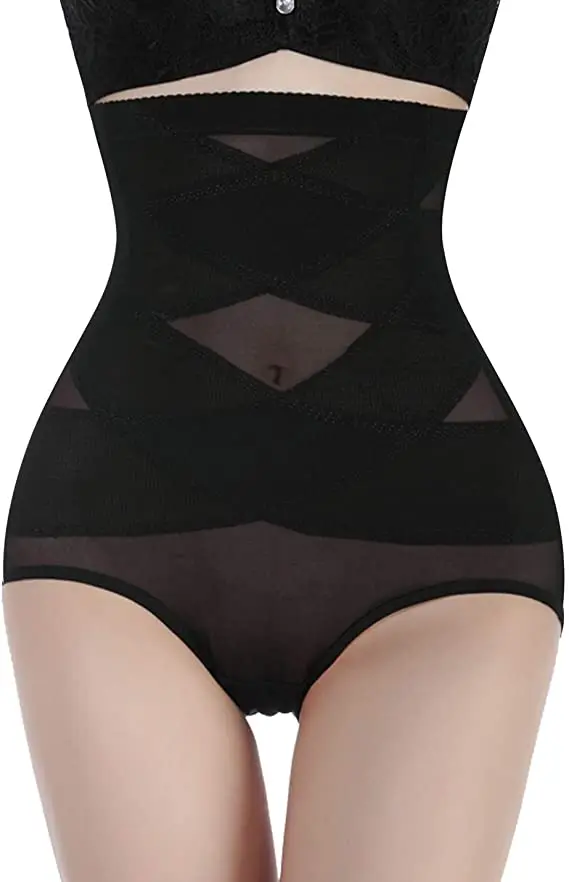 Sizes: S – 3X
This shapewear is designed to give you natural-looking curves and definition in all the right places. The revolutionary butt-shaping fabric lifts and enhances your assets while the tummy control waist panel creates a defined waistline.
All of this in a comfortable, lightweight garment that can be worn under any outfit. Whether you're looking for a little extra lift and shape or you want to completely transform your look, Nebility Women Butt Lifter Shapewear is the answer.
---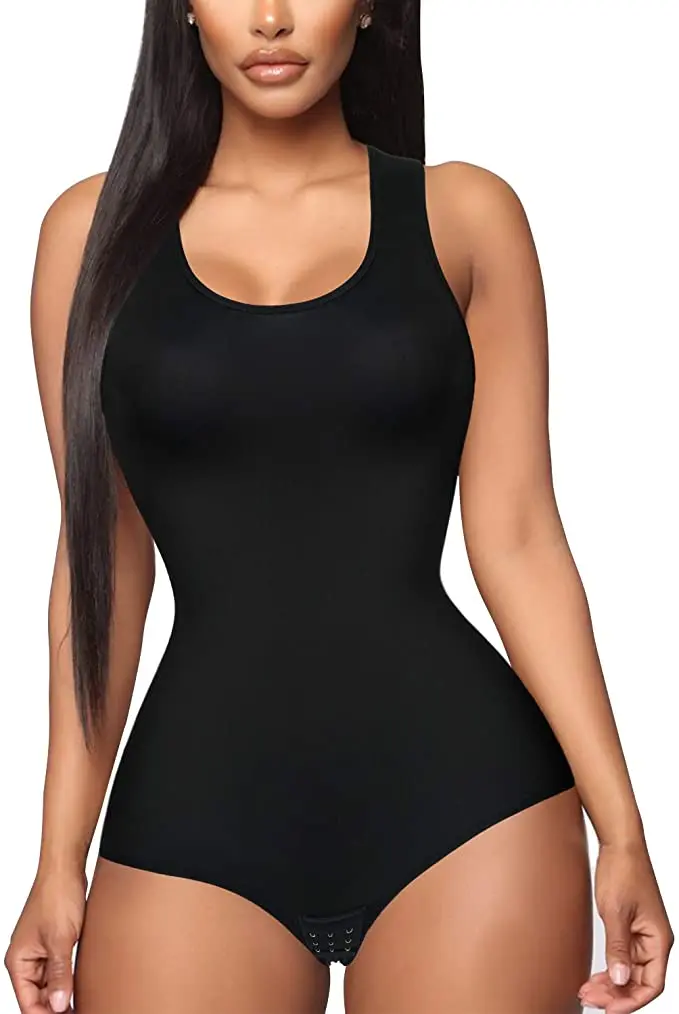 Sizes: S- 3X
This scoop-neck bodysuit is perfect for those who want a little extra shape and smoothing. The stretchy, breathable fabric is light and comfortable, making it ideal for everyday wear.
The best part about this bodysuit is that it provides light shaping and smoothing without feeling constricting or suffocating.
---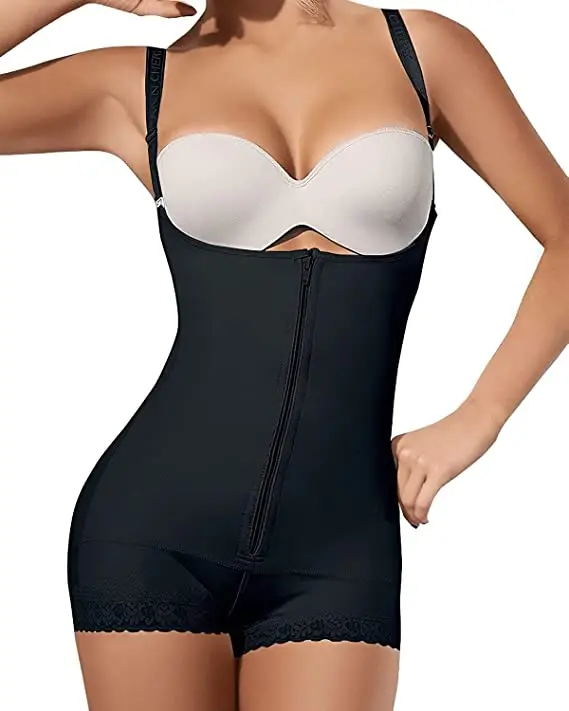 Sizes: XS – 3XL
If you're looking for a little extra help shaping and slimming your figure, this bodysuit is just what you need. This compression garment is designed to give you a firmer, sleeker silhouette while still providing all-day comfort.
The unique u-front chest shape helps to accentuate your assets while the overall bodysuit design provides full coverage and support. Ideal for wearing underdresses, this shapewear will help you feel confident and beautiful in your own skin.
---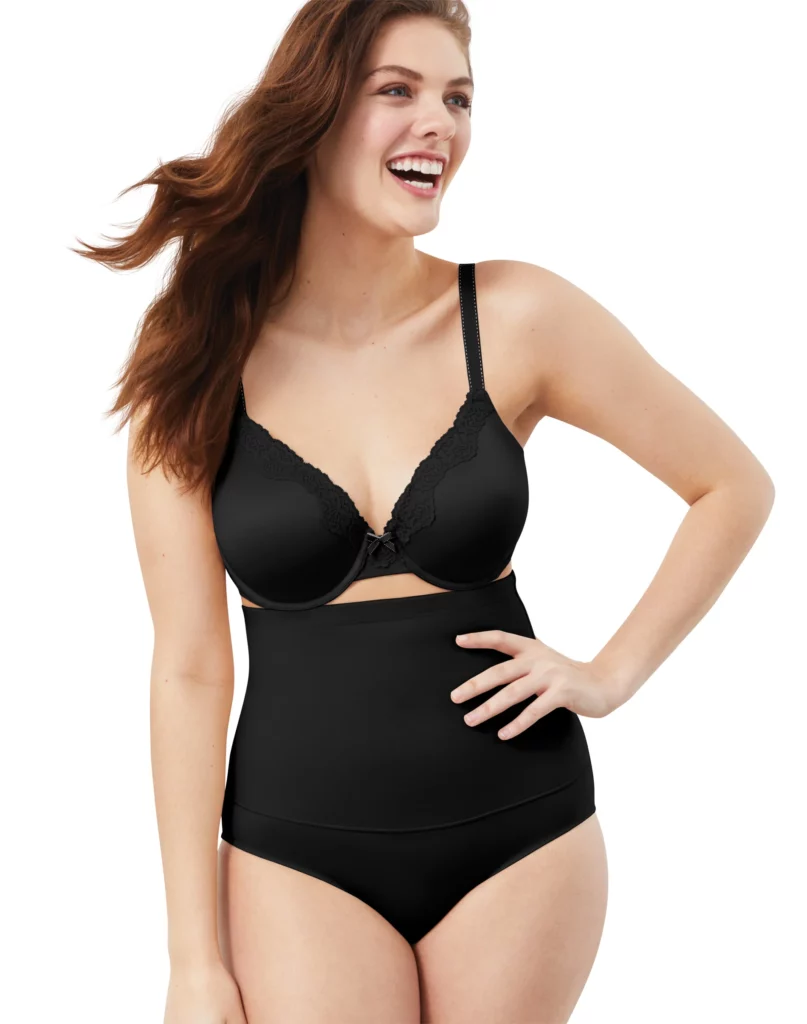 Price: $22.40
Size: S- 2XL
Looking for a little extra support around the tummy? These shaping briefs have you covered. This comfy pair of undies provide gentle compression to help smooth and shape your tummy area.
Plus, the soft moisture-wicking fabric will keep you feeling dry and comfortable all day long. So no matter what you're up to, you can rest assured that your tummy will look and feel its best.
---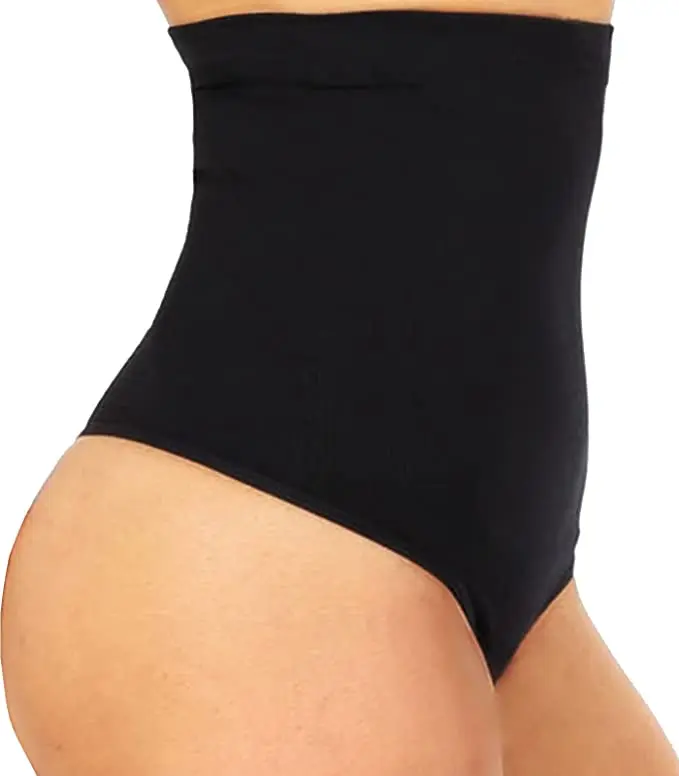 Size: XS-3XL
Made with firm control fabric, this panty will help sculpt your midsection while still being comfortable to wear all day long.
Plus, the high-waisted design means no more muffin tops! Whether you're dressing for a special occasion or just want to feel extra confident in your own skin, this waist trainer is a must-have in your lingerie drawer.
---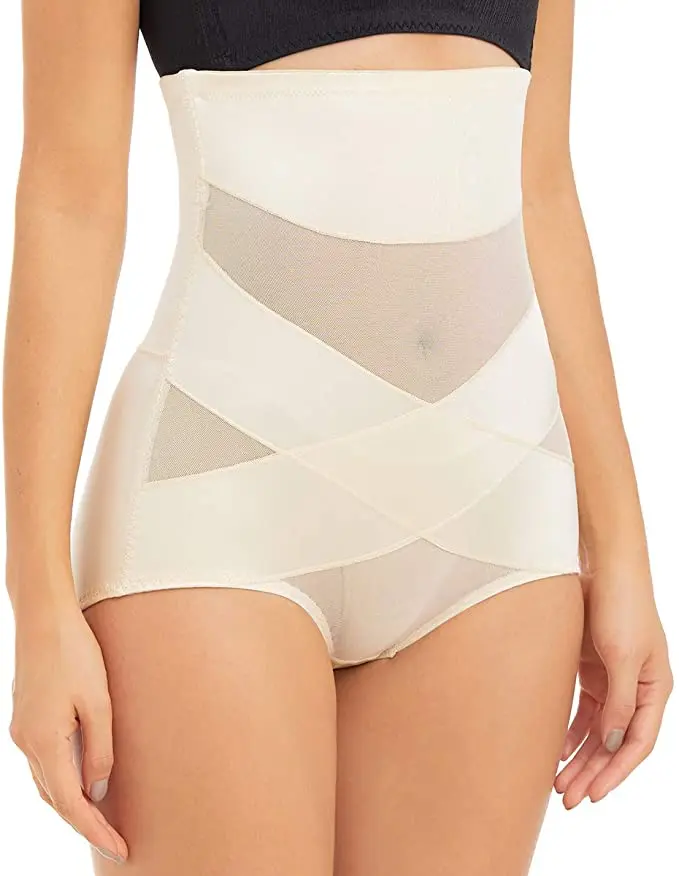 Sizes: 0-24
Made of comfortable spandex material, this shapewear will mold to your curves for a perfect fit. It's also stretchy enough to move with you, so you'll never have to worry about being uncomfortable.
Plus, the slimming design will help give you the confidence you need to take on anything!
How To Choose The Best Shapewear
With thousands of shapewear options on the market that all look very similar, it can be hard to know what to look for.
Keep reading for some tips on picking out high-quality shapewear perfect for your body!
Material
Different brands use various types of material, some being superior.
Nylon and spandex are the most popular, but cotton and microfiber are used as well. All of these are perfectly fine!
Keep in mind that if your shapewear doesn't have spandex, it will lack stretch, so you'll need to select sizing very carefully.
We'd recommend staying away from polyester if you can.
Level of Control
If you're browsing through options aside from our list, you'll want to watch out for what type of control the brand labels their shapewear as.
Light control is typically more lightweight and comfortable, with the ability to slightly smoothen your body. These tend to be stretchy and often tend to roll down.
Moderate control is a level up from light control, helping accentuate your curves while also smoothing any bulges and extra fat. These are still stretchy and some might roll down.
Firm control is often less comfortable, but does the best job of toning your body. They shouldn't be terribly uncomfortable either – a good piece will feel more like a firm hug rather than a death squeeze.