Whether you're wearing that tight-fitting dress for a special occasion or just for fun, getting some quality shapewear can take a good fit and turn it into a godly one. Shapewear isn't only a great confidence booster, it can also help your clothes fit better if they aren't sitting on your frame quite right.
If you're new to shapewear, you may be wary about buying it without knowing which kind is right for you, especially if you're looking online.
Before we dive into the best shapewear for bodycon dresses, here are a few tips to help you make the best choice when shopping for a new shapewear piece:
Always be true to size
Shapewear is already a form-fitting garment, so trying to choose a smaller size for extra shaping will most likely just lead to discomfort and bulging, which can ruin the effect you were going for.
In this case, going to a store where you can try it on would be the best thing to do.
If you prefer to shop online, make sure you have your measurements on hand and make sure they have a size chart or guide so you can find the right size. Most online retailers also have reviews from customers that will tell you if the sizing the site provides is accurate.
It's also a good idea to double-check the return policy before buying, just in case your shapewear doesn't fit and you need to send it back.
Pick shapewear that suits your figure
If you have a triangle body shape, for example, you might choose shapewear that accentuates the bust and minimizes the hips. For a rectangle shape, you might choose something that slims the waist.
Pick your target areas, or the areas you most want to shape, and choose the shapewear suited for those areas.
Choose the best fabric for your needs
Most shapewear is made of nylon and spandex, which aren't great for breathability, so if you're planning to use it in the summer, you may find yourself a lot sweatier than you thought you'd be.
For a lighter touch, choose something made with cotton to absorb sweat and allow for airflow.
Keeping these tips in mind, here are the 11 best shapewear for bodycon dresses.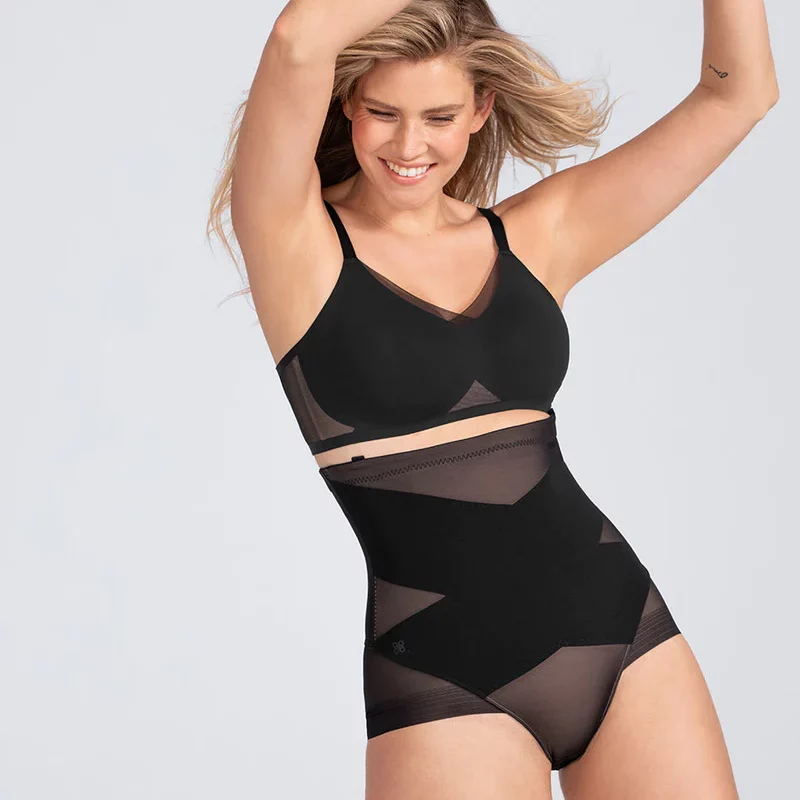 We've said it before and we'll say it again: Honeylove is one of the best (if not the best) shapewear brands out there. They are a splurge at $84, but the quality is next level.
Their SuperPower Brief specifically targets the waist area, providing a slimming effect for the belly and waist.
Honeylove shapewear is especially great because they use a unique boning technology that ensures the garment doesn't roll down, while also staying surprisingly comfortable throughout the entire day.
Plus, it's sweat wicking and available in 7 different colors. Their SuperPower Short is a great choice too if you want to add in some thigh-slimming action. 
RELATED: Our Honeylove Reviews: Why It's Our Fave
---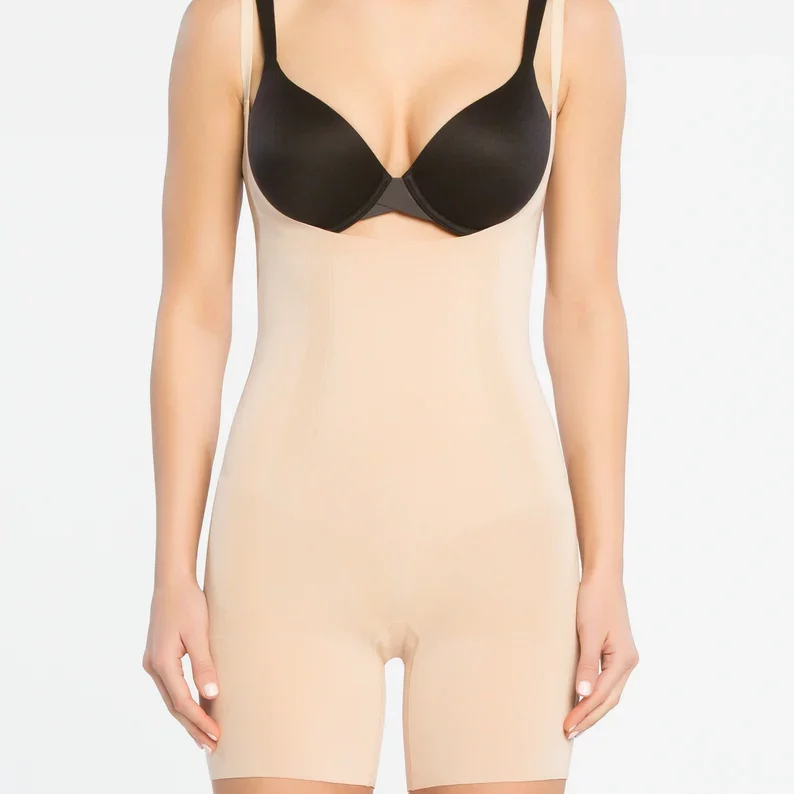 This body suit from Spanx features an open bust, which means you can wear your own bra with it. It's designed to provide sculpting mostly for the lower half of the body, featuring fully-bonded front panels to smooth out your tummy and edge-bonded side panels, so you're not being squeezed.
It's less bulky than some shapewear, so it should look natural underneath most bodycon dresses. You can get it in nude or black.
---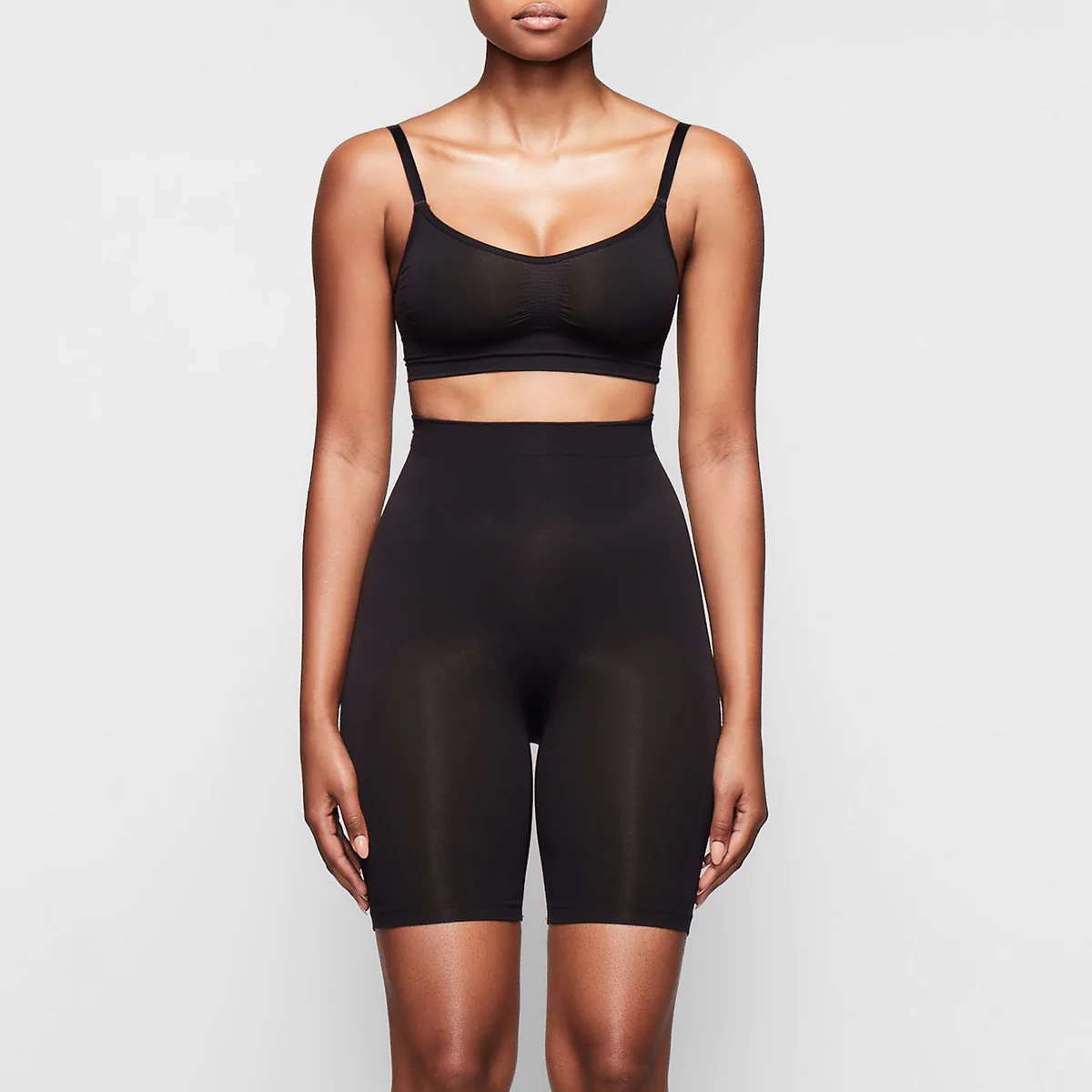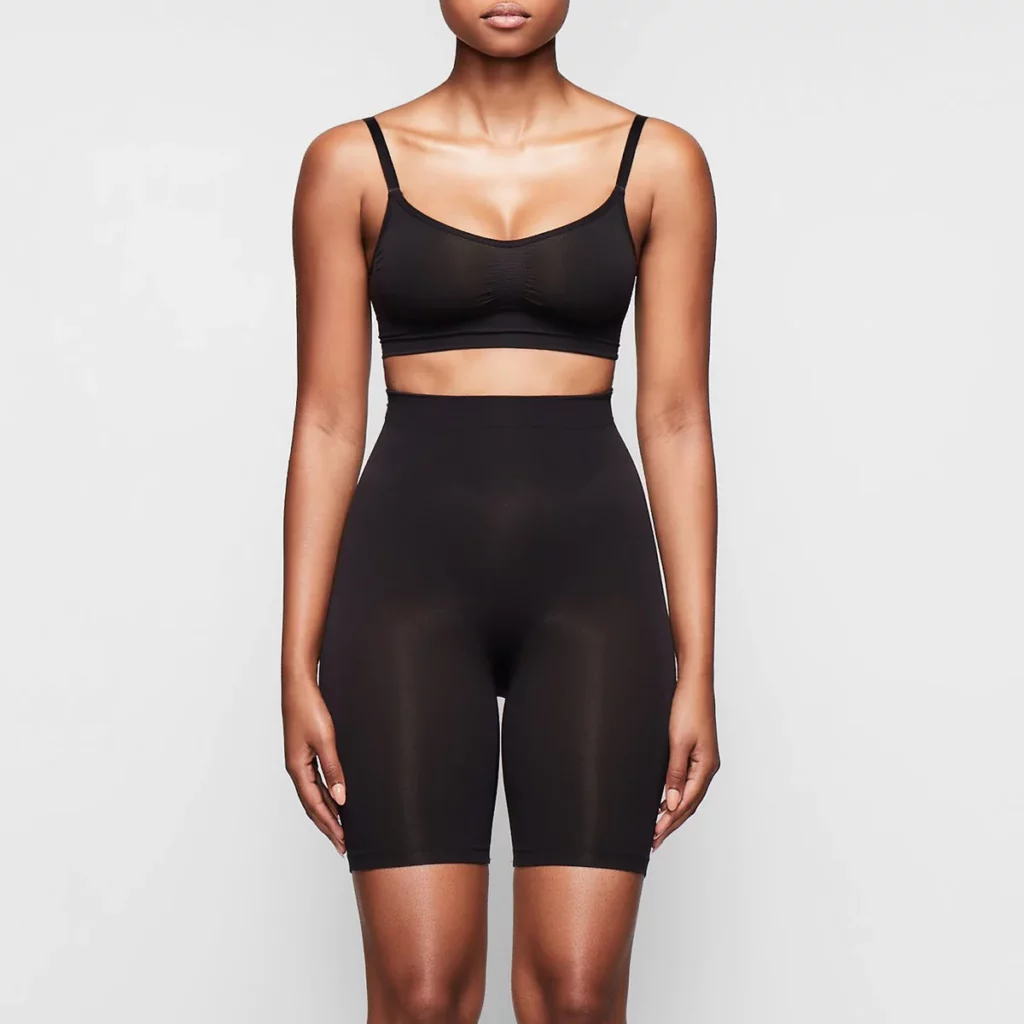 These sculpting shorts from Skims offer decent compression in the thighs and stomach, with a wide variety of shades to match any skin tone.
They offer a nice slimming effect while also being ultra-comfortable, plus they're relatively affordable at $34.
Skims also offers a variety of other sculpting shorts that are great for bodycon dresses, but most of these offer a lighter support level (we love how you can easily view the level of support on every Skims garment).
---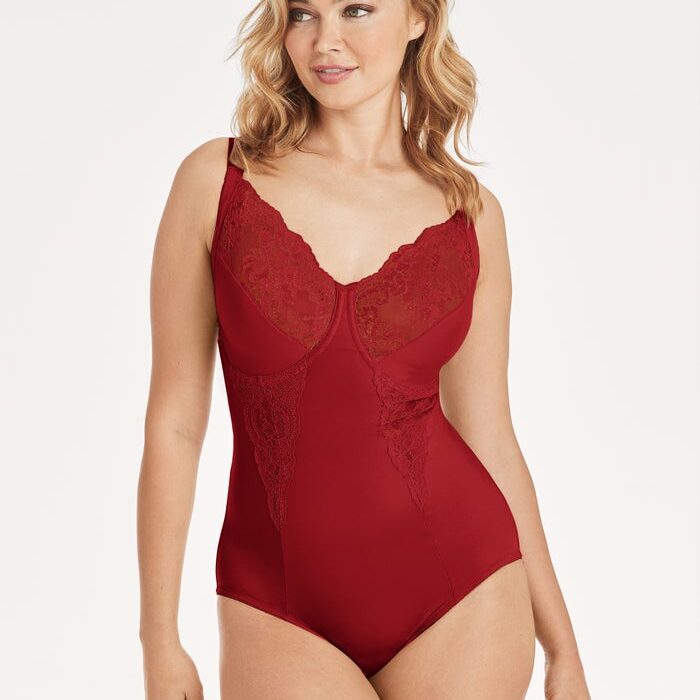 Maidenform's Body Shaper targets the tummy, hip, and back, and even comes with a built in bra. It features a mesh lining for comfort and a pretty lace design that styles well with thinner/transparent material. You can also get this piece in 7 colors.
Maidenform is one of the cheaper shapewear brands around, so if you're looking to try something a bit more budget friendly, this is a good option.
It won't compare to the impressive shaping you get with a higher-end brand like Honeylove, but it's a good option for the price point.
---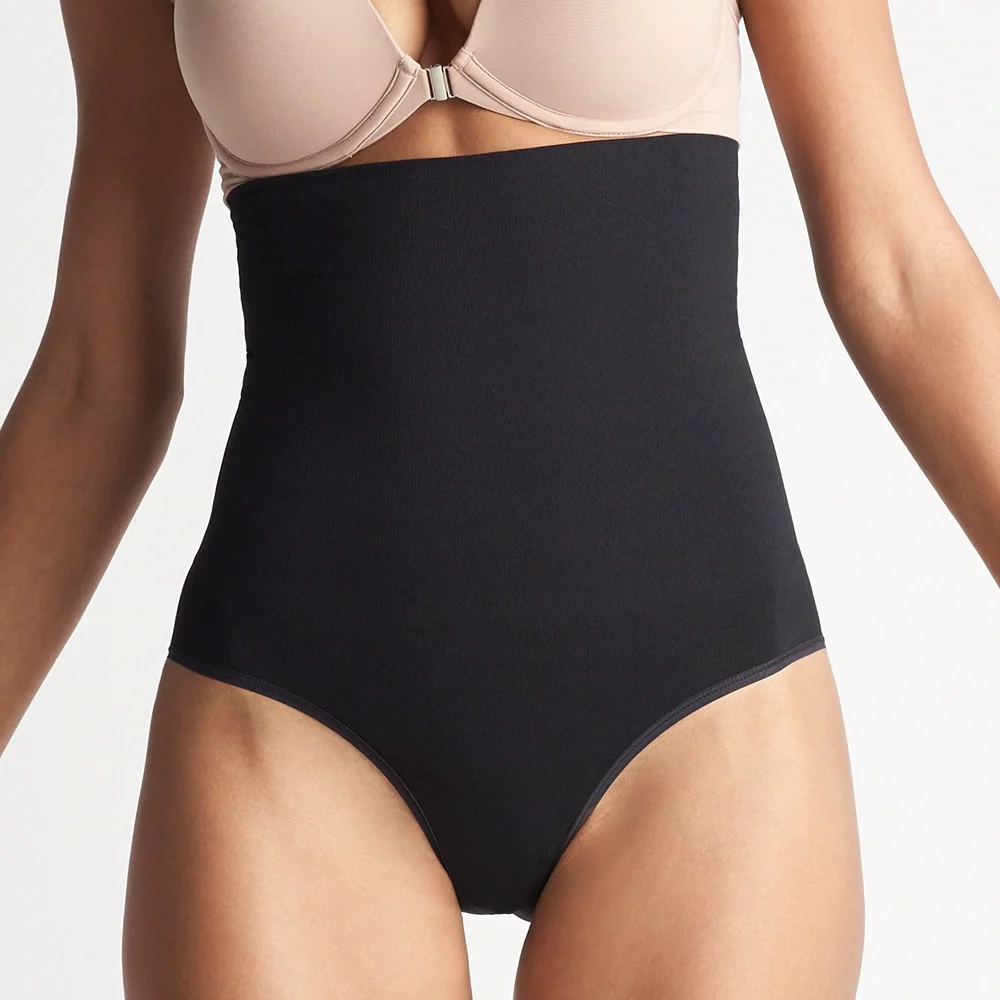 High-waisted shapewear is the best for creating a snatched silhouette. Soma's piece smooths the tummy, tightens the waist, and raises the rear.
It sits right under the bra and has a silicone strip at the top to keep it from rolling down. Plus, it's made with NILT Breeze yarns to keep you cool.
---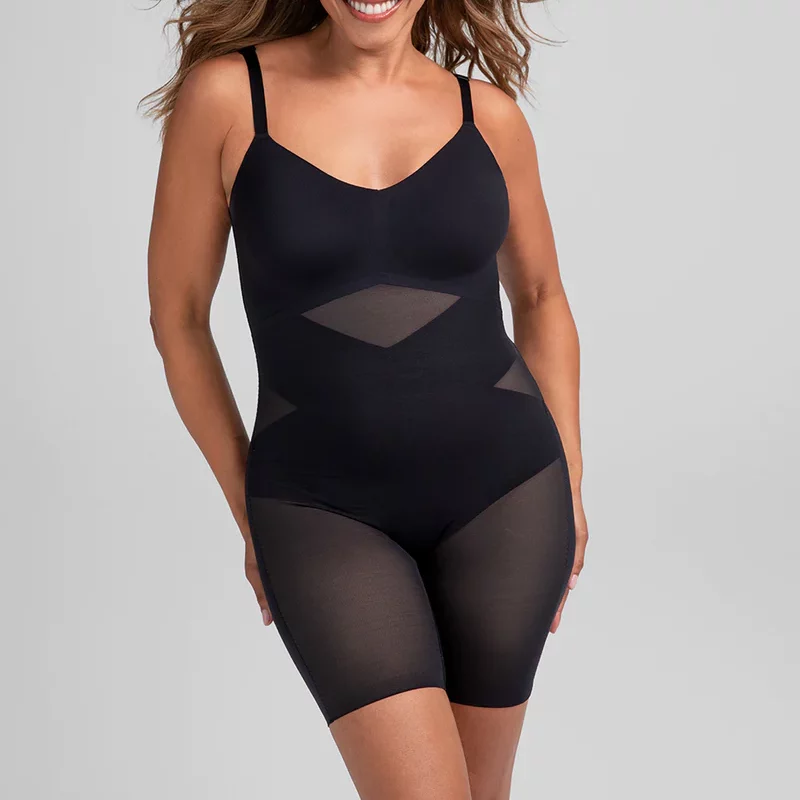 Another piece from our fave Honeylove, this mid-thigh bodysuit is perfect for full figure sculpting. The built-in bra provides lift for the bust, while the X shaped compression shapes the midsection and power mesh shapes the thighs.
The design also makes it easy to use the bathroom, so you're not peeling out of it every time nature calls.
---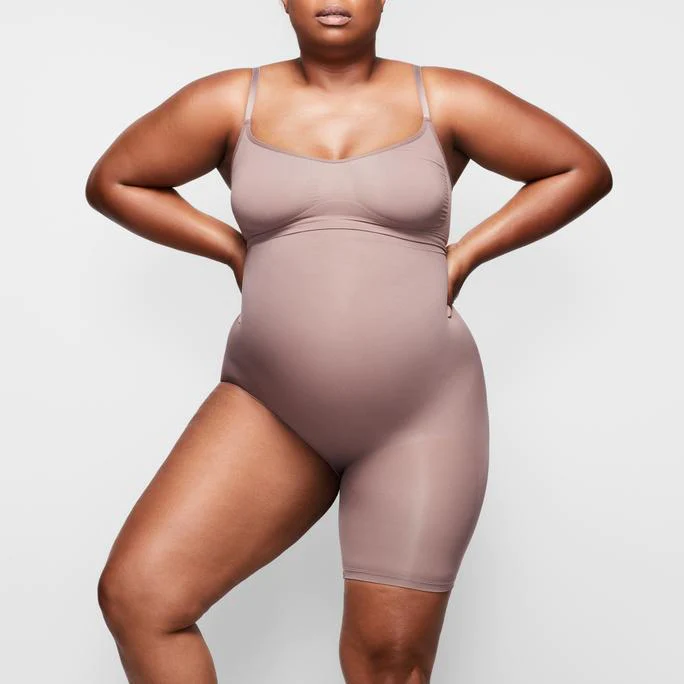 Looking for a uniquely designed piece of shapewear that sculpts the thighs and stomach, but still works with a slit-legged dress? This piece from Skims is the answer.
It provides sculpting at the waist and thighs and lifts the rear. Choose short #2 for right leg exposure, and #1 for left leg exposure.
---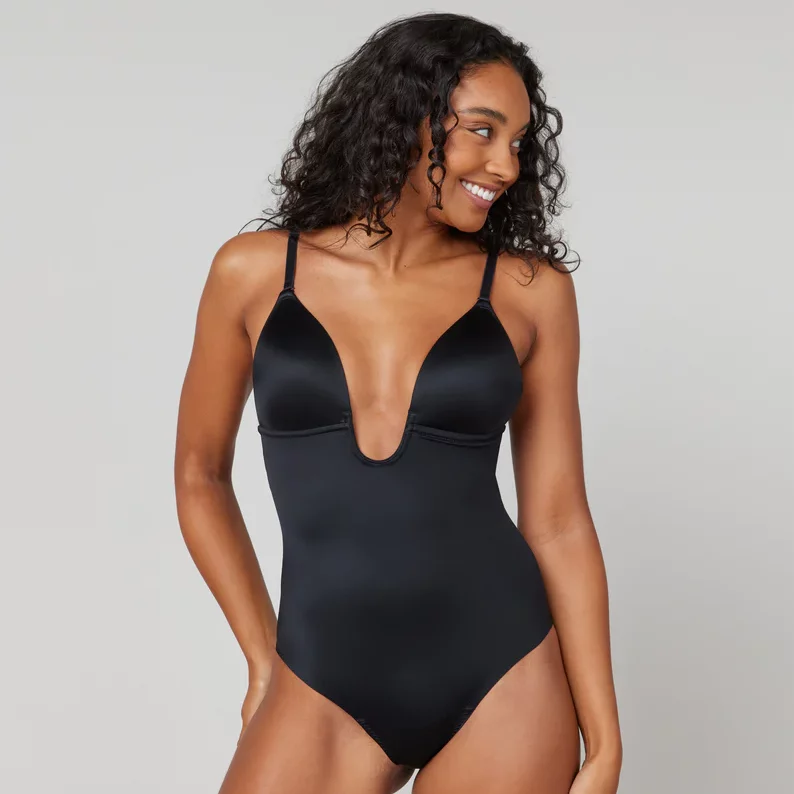 You may find yourself shying away from the more revealing bodycon dresses if you think that your shapewear will be visible through it. For example, dresses with plunging necklines may be a no-go for you.
However, Spanx makes shapewear for that too – their low back thong bodysuit features a plunging neckline in the front and a plunge in the back, so you can safely explore dresses with that kind of style while still utilizing shapewear.
While the top isn't designed for full bust support, it is lightly padded enough to serve as a bra for most. The thong bottom suits dresses with higher hemlines or slits. The back clasp is also removable.
---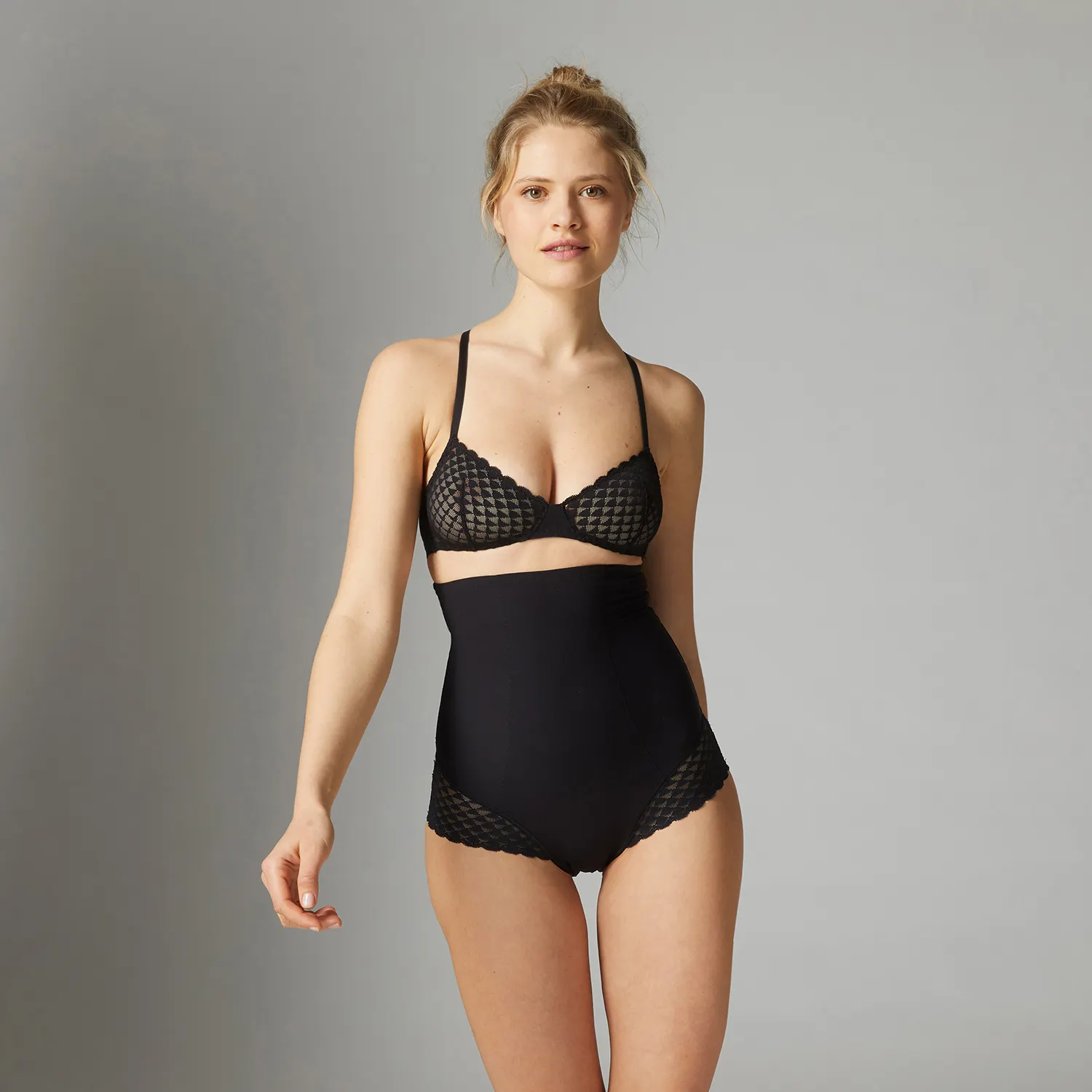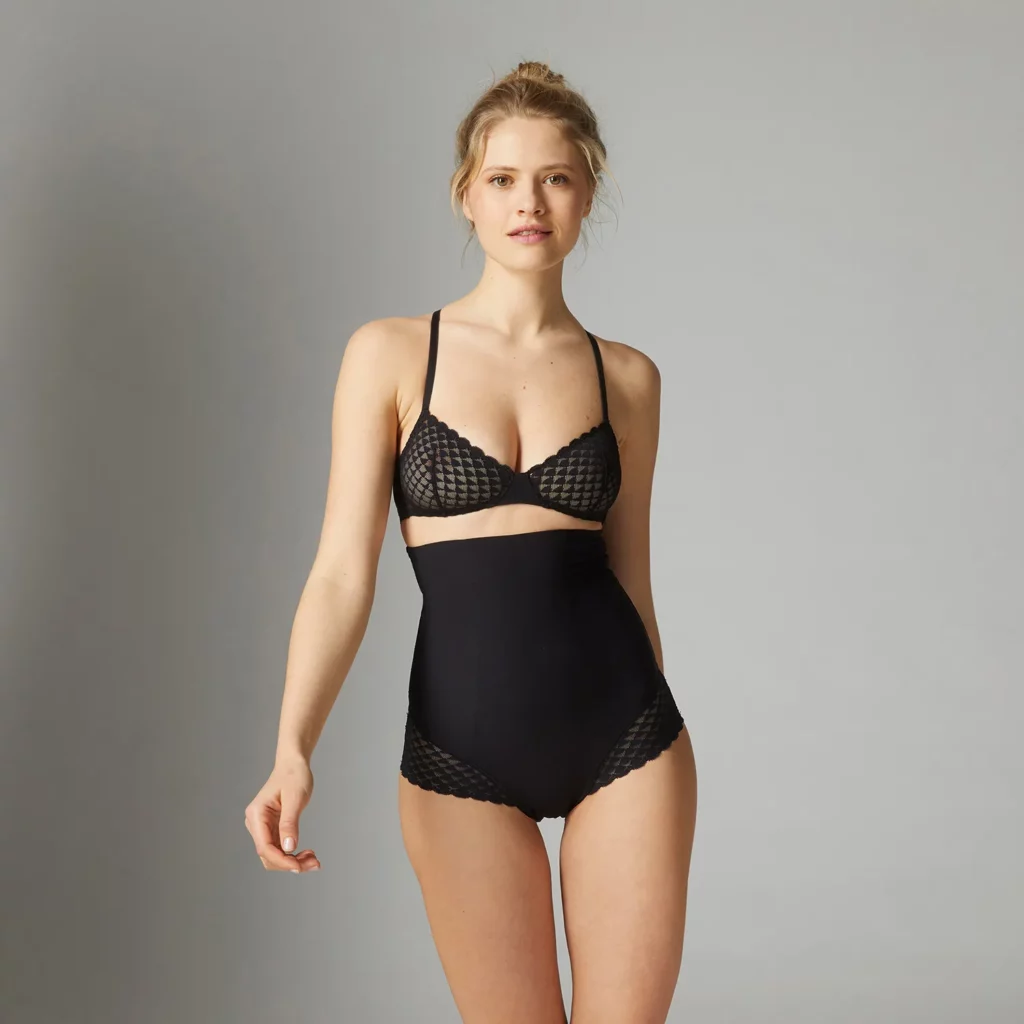 This garment is lightweight and flexible for all day wear. It shapes the waist and belly and also has a silicone strip to prevent rolling.
It's invisible under most clothing, so if you're worried about shapewear being too bulky under a bodycon dress, this piece is probably the most likely to blend in seamlessly.
---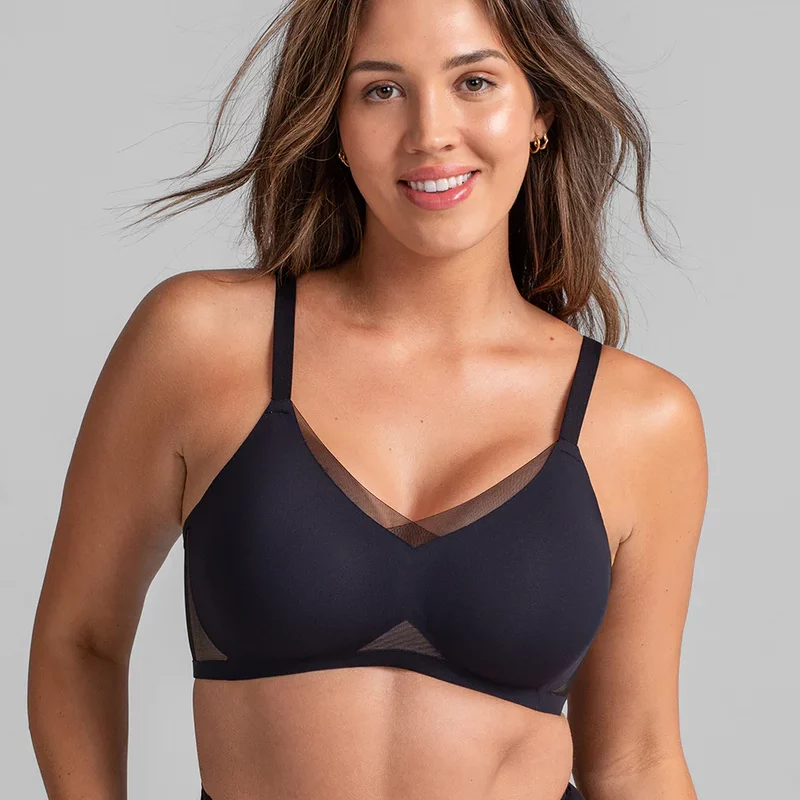 If you're looking for shapewear for under your bodycon dress that's mainly just targeting the bust, you'll want a piece like Honeylove's CrossOver Bra.
It has a bonded underbust to lift without wire, and comes with adjustable straps. It also features mesh to add a sexy touch to the overall look.
---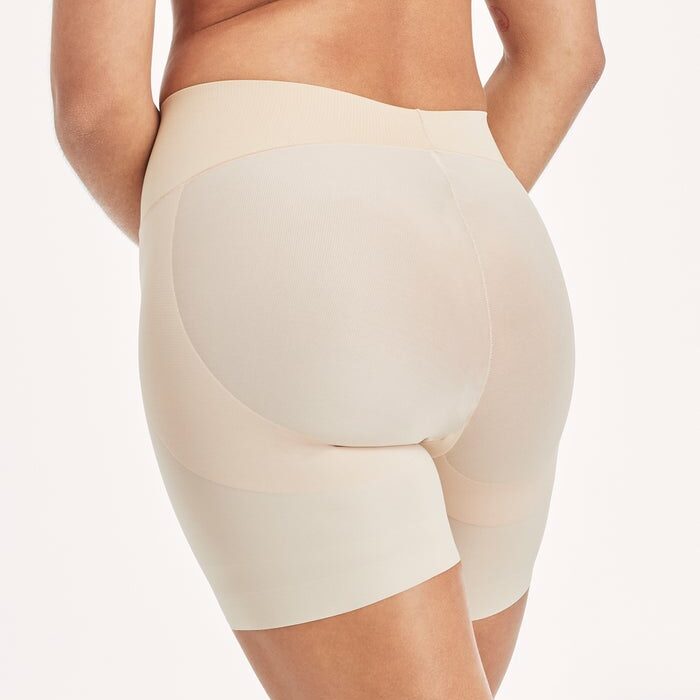 If you're looking for shapewear that mostly targets the butt, Maidenform's Booty Lift Shorty has your back (literally).
It has a SmartComfort targeted control panel to smooth the tummy and lift the rear, and it boasts the use of cooling fabric, so this is definitely wearable year-round.
---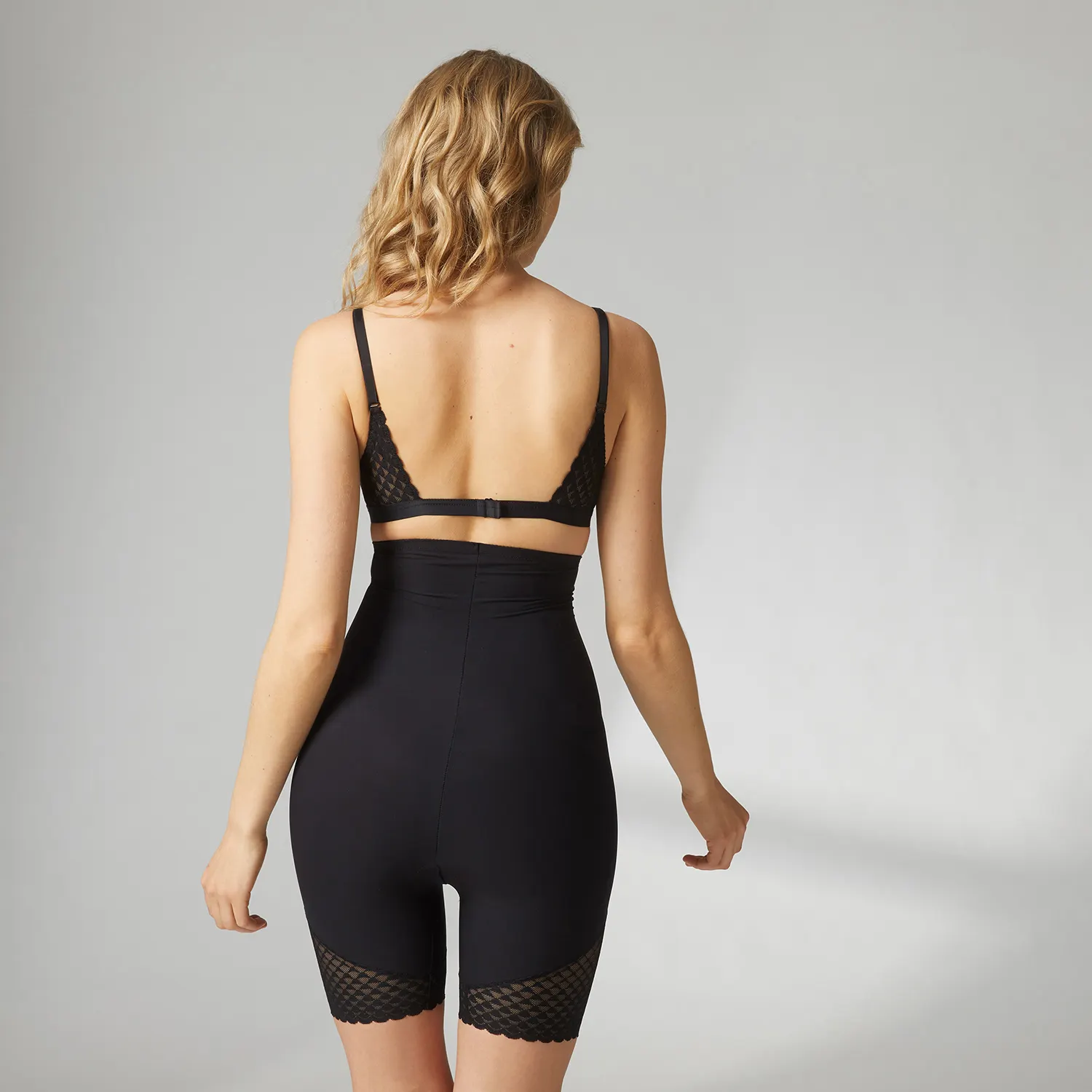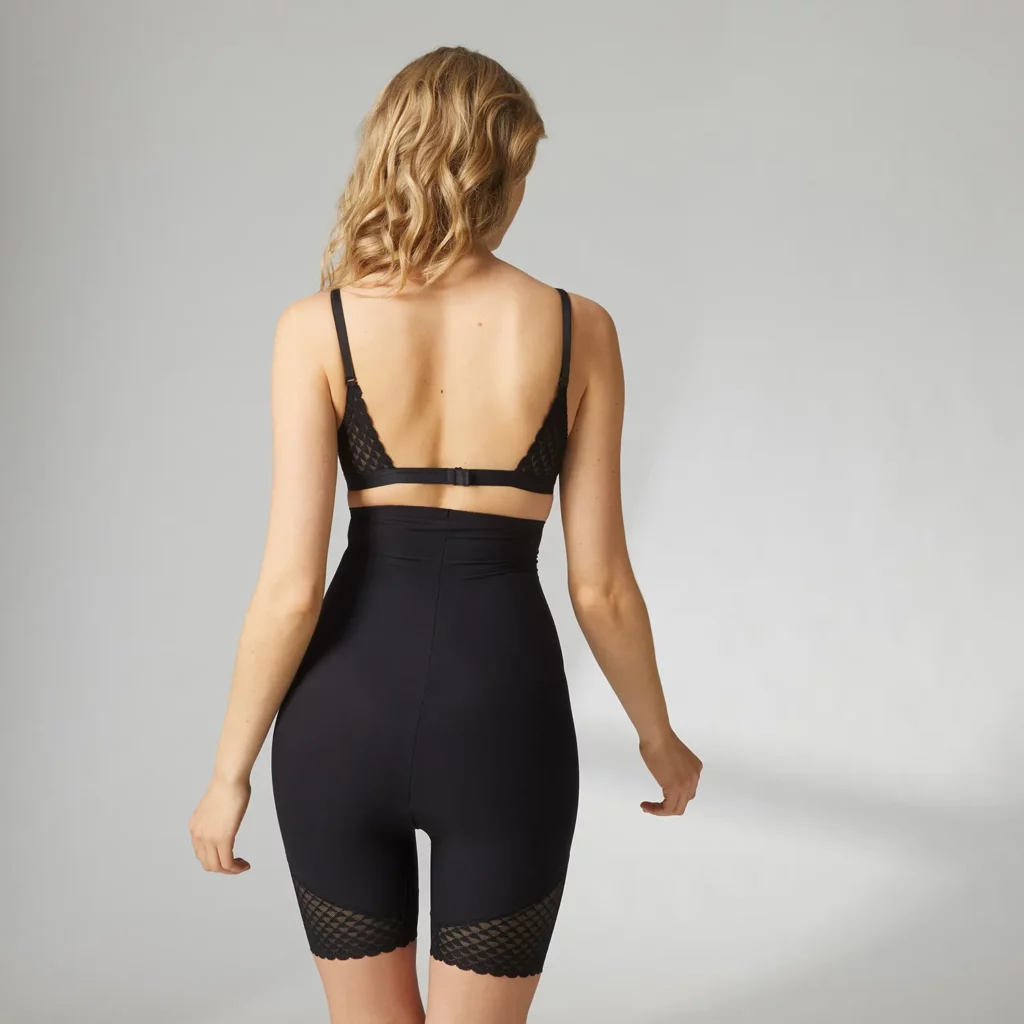 Another piece just for the chest, this bra comes with a vertical seam to lightly shape the bust.
The lace lays flat against the skin, so it can fit seamlessly under clothes. You can also wear the straps two ways, either classic or criss-cross.
RELATED: 16 Best Shapewear for That Pesky Lower Belly Pooch
Conclusion
Whatever the occasion, wearing something tight-fitting like a bodycon dress can be incredibly empowering and confidence-boosting.
But if you're worried about how your silhouette will look in it or just want a little boost of confidence, shapewear is an easy solution.
If you're choosing shapewear for a particular dress, be conscious of where your skin will be exposed to avoid getting shapewear that pokes out of the hem or neckline.
Also, be conscious of where and how long you'll wear it. Some shapewear is better for long-term wear than others, so if you're worried about comfort, get something light that's designed to be worn all day. 
Whatever shapewear you're planning to wear, as long as you feel good in it, you'll look good!