Clothing rental services are super trendy these days, from companies like Rent the Runway to Prime Wardrobe by Amazon. With so many options available, how do you know which subscription is right for you?
Renting clothes over buying is a great option because you can try out different styles without having to commit. Le Tote is an online rental subscription you may have heard of that offers a customized renting experience with a variety of styles, sizes, and brands.
However, is this rental service really all it's chalked up to be? Ahead are our *unsponsored* Le Tote reviews that delve into what we love (and don't love) about this clothing rental subscription.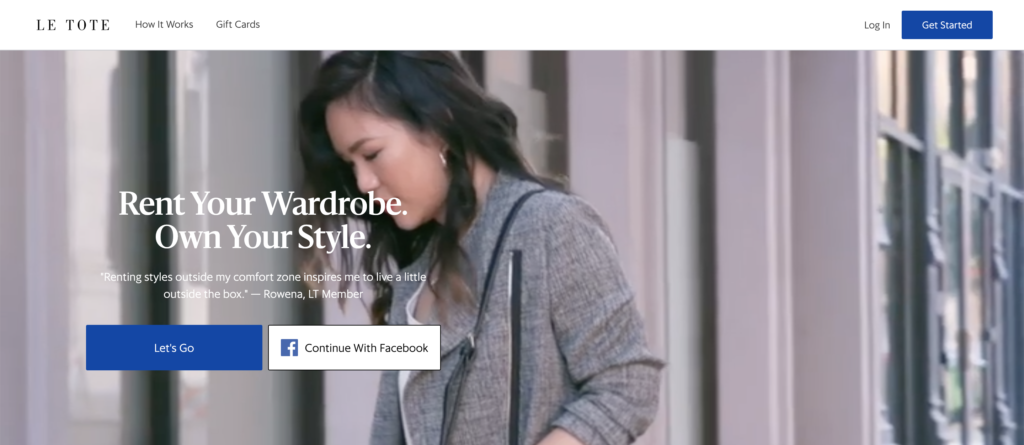 What is Le Tote?
Le Tote is a fashion subscription service that allows you to rent clothes and accessories that are delivered to your door for a flat rate per month.
They offer a variety of styles from business casual, to athleisure, to special events. Le Tote also carries an assortment of brands and sizes (from size 0 to 16) to ensure there's something in their stock to please every type of customer!
How Does Le Tote Work?
Le Tote is fairly simple to use: all you have to do is browse their collection and choose what items you want in your tote, test out your borrowed items by wearing them as much or as little as you want, then decide what (if anything) you want to keep, and return the rest!
After your box is created, you have 48 hours to swap out any items for something different. Le Tote offers 2-3 day priority shipping for free, and it's free to return your rented items as well!
You can choose to purchase any products that are sent in your tote, but it'll be an added cost; it's not included in your rental fee. Le Tote does, however, claim to offer everything at a discounted rate for up to 50% off retail price. Any of the clothes that don't make the cut can be sent back through their pre-paid envelope.
How to Get Started
The first time you sign up, Le Tote gets to know you by asking some questions about your height, measurements, taste in clothing, and even the weather in your area to better suggest items for you!
Although Le Tote does make customized suggestions, you always get to pick what ships in your box.
Your first box will likely be a discovery phase, since you haven't been able to rate any items yet. After you return your first box, you can rate your items in order to give Le Tote a better idea of what you like. Hypothetically, each box you receive should be more and more curated toward your taste!
Once you return the clothes in your box, you'll be eligible to receive your next one, depending on which plan you choose.
Le Tote Membership Plans
Le Tote offers quite a few plans that differ in price, amount of clothing in your tote, whether or not you want to receive accessories, and even if you're pregnant.
While it's great that Le Tote offers such a variety of options to their customers, it can also get a little overwhelming. To help break it down, here's a table of their plans and what each one includes.
Subscription Type
Boxes Per Month
Price Per month
Items Per Box
Classic
1
1
1
$59
$89
$109
5 clothing items
8 clothing items
10 clothing items
Classic special*
Unlimited
$79
4 clothing items
Classic w/ accessories
1
$79
$99
$119
5 clothing, 3 accessories
7 clothing, 3 accessories
10 clothing, 5 accessories
Classic w/ accessories special*
Unlimited
$79
3 clothing, 2 accessories
Maternity
1
$79
$99
$119
5 clothing
8 clothing
10 clothing
Maternity special*
2
$99
4 clothing
Maternity w/ accessories
1
$89
$109
$129
5 clothing, 3 accessories
7 clothing, 3 accessories
10 clothing, 5 accessories
Maternity w/ accessories special*
2
$89
3 clothing, 2 accessories
Our Le Tote Reviews
Now that you know more about Le Tote and the plans they offer, let's dive into the pros and cons of this fashion rental subscription!
What We Love:
There are so many plans to customize the subscription to your exact needs.
There is a huge variety of brands and types of products to choose from, with frequent new arrivals.
The affordable prices! Compared to some other rental services, Le Tote offers their subscription at reasonable prices.
You can change, pause, or cancel your membership at any time.
You can choose to add insurance for $5 to your subscription for peace of mind in case your clothes get damaged.
You get to choose exactly what clothes and accessories come in your tote.
They have a great referral program where you receive $25 in credit for every friend who joins using your code.
You don't have to wash the clothes before you send them back – they do that for you!
The Downside:
You have to return everything in your tote at the same time. This means if you receive an item that doesn't fit or you don't like, you're stuck with it until you're ready to send back your whole tote. You can't send it back by itself and receive something in its place.
Other Le Tote Customer Reviews
To help you receive a better understanding of what other customers think about their Le Tote experience, here are some reviews from past and recent subscribers:
"Out of 5 totes of 5 items only one didn't fit and I have loved every single item. I'm excited everytime the box arrives and rush to try on the clothes. I love having a new wardrobe every month."- Shelley on Trustpilot
"I paused my account and I will try other companies. The inventory is just lacking, you may see a large selection, but it's very limited when it's time to customize your order."- Sarahburst on Trustpilot
"Been using Le Tote for six plus months. I enjoy the variety of clothing and most everything has fit me with a few exceptions. I am an executive and it is great to have nice workplace wear that is replaced every month. It is easy to mail back and the selection process is also very smooth. Would love to see more high end choices available."- Angeleno on Trustpilot
"I love LeTote, for a bunch of reasons… it lets you play with different styles that you may not really want to commit to."- miau_am on Reddit
The Bottom Line
Overall, Le Tote customers seem happy with their subscription but would like to see more options! Perhaps Le Tote will take this into consideration and add even more choices to their inventory.
Le Tote, however, is a great option if you want to test out new brands without all the risk, or if you want to wear designer pieces without paying the hefty price tag. Plus, it's perfect if you want to shop in a more "green" fashion: renting clothes instead of buying fast fashion is an excellent way to help the planet!
That said, there are a huge variety of other clothing rental services as well. One of our favorites is Nuuly (check our our review) which costs $88 monthly to rent six items. We recommend this service for anyone who loves brands such as Urban Outfitters and Free People, since it was created by their parent company.
So, whether you want to reduce your carbon footprint or create an infinite wardrobe, you can always give Le Tote a try and form your own opinions!