One of the most notable things about Pharrell Williams, besides his numerous chart-topping records, is his ability to maintain impeccable skin all these years. Instead of just revealing his age-defying routine, Pharrell launched his own skincare line so that people could try out the best products for themselves.
Humanrace claims to be a simple and sustainable skincare line that empowers customers by helping them feel the best in their own skin. But does Humanrace actually work or is it just another celebrity brand that doesn't deliver the results it promises? Find out in our Humanrace Skincare Review.
RELATED: 15 Best Luxury Skincare Brands Worth Buying
What is Humanrace Skincare?
Humanrace is a sustainable, gender-neutral skincare brand founded by singer Pharrell Williams in 2020 who has always been fascinated with skincare. Pharrell created this brand because he believes that "taking better care of ourselves can teach us to take better care of each other."
Cleansing your skin means starting the next day fresh, creating better habits for yourself, and clearing your mind to begin anew. Humanrace focuses on quality and sustainability, providing safe and carefully researched formulas for your skin while also being as friendly to the environment as possible.
Humanrace sells body care and sun care products like body bars and SPF creams, but it is most known for its 3 step skincare routine complete with a cleanser, exfoliator, and face cream.
Is Humanrace Skincare Legit?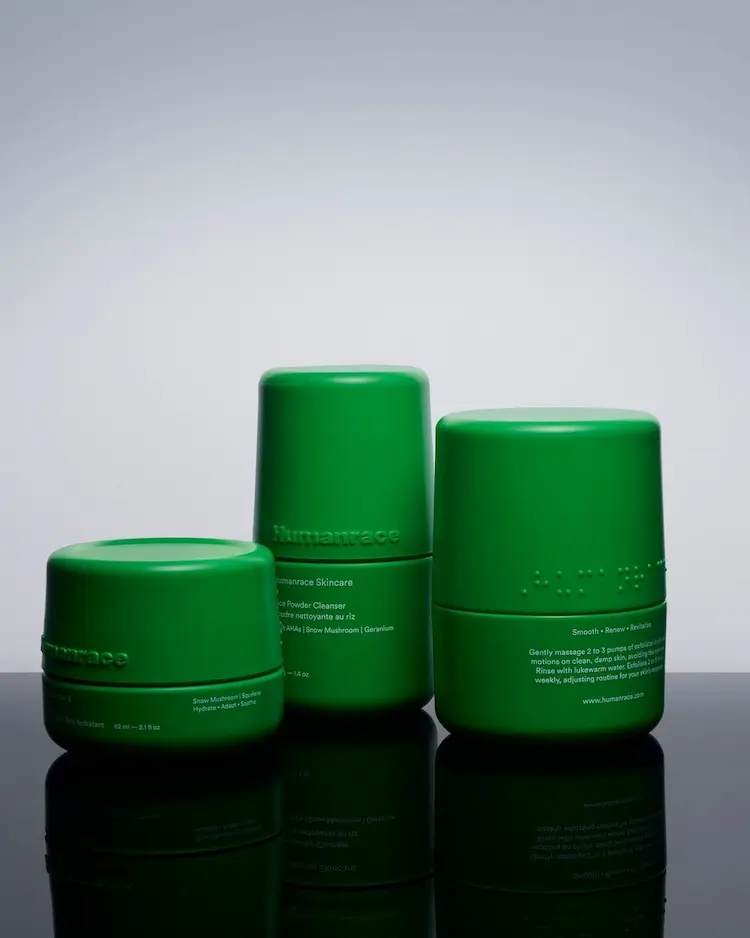 Yes, Humanrace Skincare is legitimate. Not only has the brand won multiple beauty awards from various magazines, but the customer reviews are also overall very positive with evidence that their skin benefited from using the products.
Humanrace Skincare Review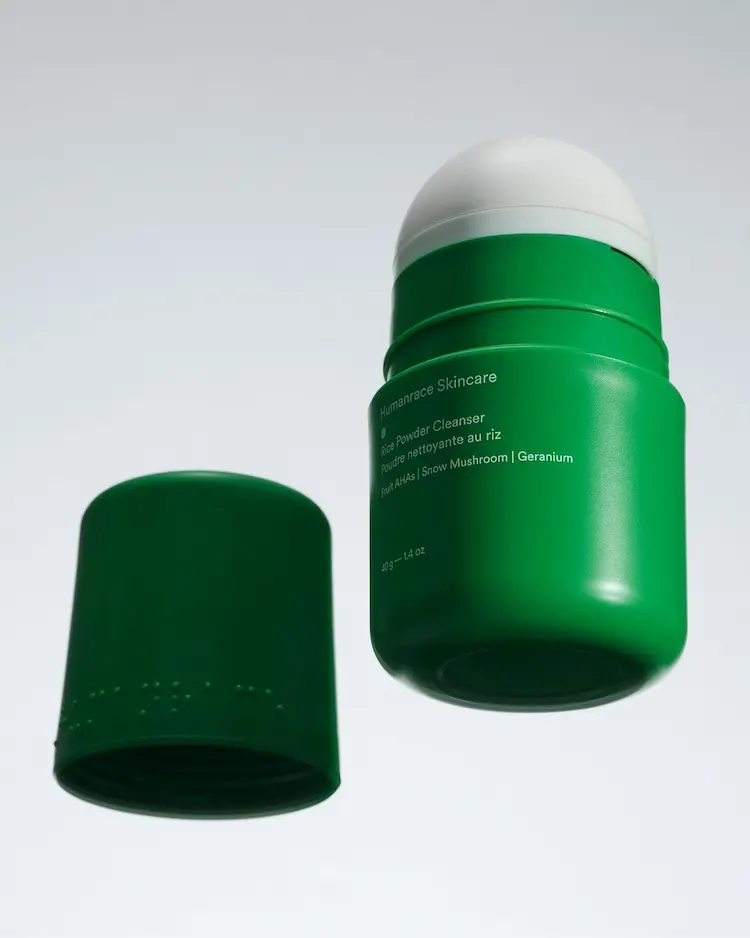 Overall: ★★★★ (4 stars)
Upon first glance, Humanrace may seem like any other celebrity skincare line. However, Pharrell's brand surely stands out with its gentle formulas and proven results. Though the cost is not the best on the market, you are sure to be getting your money's worth.
Another great thing about Humanrace is that the packaging of the products is completely eco-friendly and is meant to be reused. Instead of buying the whole thing again when you run out, you just can purchase a refill of the product to use with the original packaging.
Pricing: ★★★★ (4 stars)
At $32 to $46 per item, Humanrace is definitely not affordable for everyone, especially if you are just looking for any normal skincare routine. However, you have to consider that these products are on the higher end of things and take special care to be as sustainable as possible.
Compared to similar brands, the cost of Humanrace is fairly average and there are many skincare products that are more expensive.
When you buy the three products in the bundle, you can get everything for $16 cheaper than buying them separately. Purchasing a subscription also helps you save a few dollars on each item.
Quality: ★★★★★ (5 stars)
The Humanrace skincare products have received multiple beauty awards since it was launched just a couple of years ago. The quality of ingredients is highly regulated at Humanrace in order to produce the best and safest formulas for your skin and the planet.
Reviews are overall very positive saying that the products felt great on the skin and produced noticeable results that left the skin clearer, softer, and more hydrated.
Shipping: ★★★★ (4 stars)
Humanrace offers free shipping (3-7 business days) for orders over $50. Shipping for orders under $50 cost $10.99 which is a little steep, but it's pretty easy to be eligible for free shipping since individual items hover around $40 – $50.
Humanrace also ships internationally to a number of other countries. The products are only available through the official website.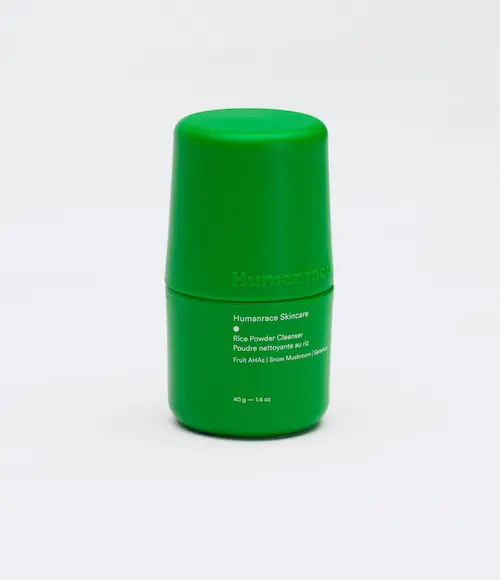 Price: $32
The Rice Powder Cleanser is the first step in Humanrace's proposed skincare routine. In order to start any skincare, you have to first clean your skin. It's a little different than your average cleanser because it comes in a powder form that you have to add water to in order to get it to the right consistency for your face. It dissolves oil, makeup, and dirt without drying the skin.
The cleanser unclogs pores, pulls impurities, smoothes skin, and prepares the skin for the rest of your skincare routine. It uses ingredients like Kaolin clay to detoxify the skin and snow mushroom extract to hydrate.
There aren't very many customer reviews for Humanrace skincare yet, but there are a lot of renowned magazines and dermatologists that have put in their two cents. It does a good job as normal cleanser that cleans off dirt and oil and leaves the skin feeling hydrated, but it doesn't really work for tackling issues like stubborn acne.
---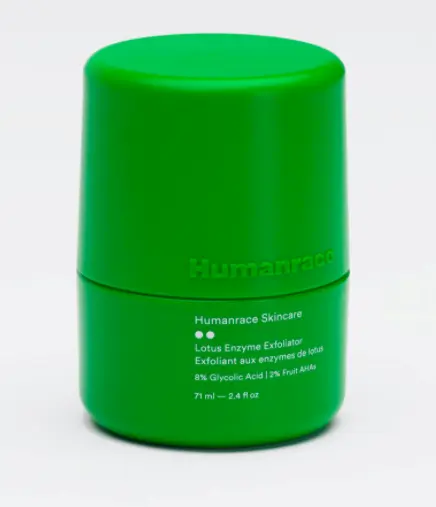 Price: $46
The Lotus Enzyme Exfoliator is the second step in the Humanrace routine. Exfoliating is important to remove dead skin cells and let new skin cells grow.
The exfoliator uses 8% glycolic acid that targets those dead skin cells and revitalizes the skin with rice particles as the exfoliants. It also includes 2% Fruit AHAs, fruit enzymes, and antioxidant lotus lead to improve texture and complexion and protect against UV.
Reviews say that this exfoliator works extremely well and leaves the skin feeling soft and smooth almost immediately after application. It's gentle enough to still feel the exfoliator getting rid of the dead skin cells and remaining dirt on your face, but not too abrasive that it leaves a burning sensation like with other chemical exfoliators.
The exfoliator should be used only a couple of times a week to start, especially for sensitive skin.
---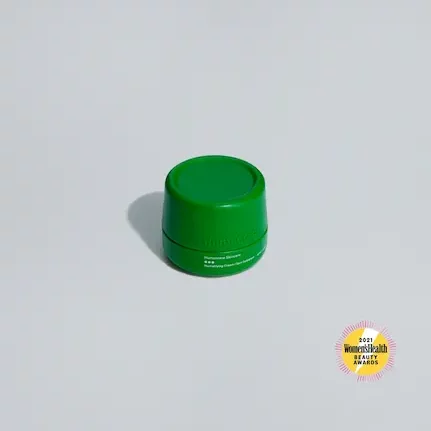 Price: $48
The last step is the Humidifying Face Cream, which is meant to lock in moisture and soothe the skin, the same way humidity does in tropical places. Snow mushroom extract, squalane, and hyaluronic acid are used to hydrate, protect, firm, and plump the skin.
Customers loved that the formula is really rich, buttery, and moisturizing without being so thick that it leaves a film of residue or grease behind. The face cream feels good on the skin and leaves it feeling refreshed and nourished at the very end of your skin routine.
What Customers Are Saying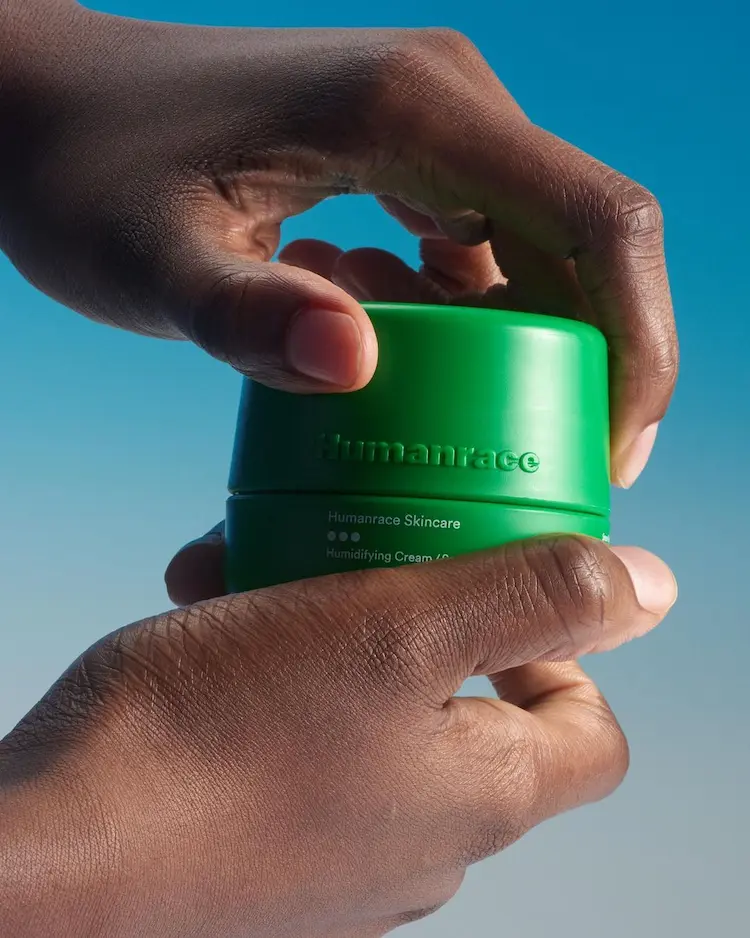 Need more information before you decide to purchase from Humanrace? Check out this list we put together of the most important points customers and reviewers have given online about Humanrace skin care products.
Safe and gentle ingredients
Really good sustainable packaging
All products were very hydrating
Definitely more expensive than the usual products you might be using
Didn't drastically improve skin
Works on many skin types, but doesn't target any specific skincare needs
Customers felt it worked best when combined with other skincare products
To Wrap It Up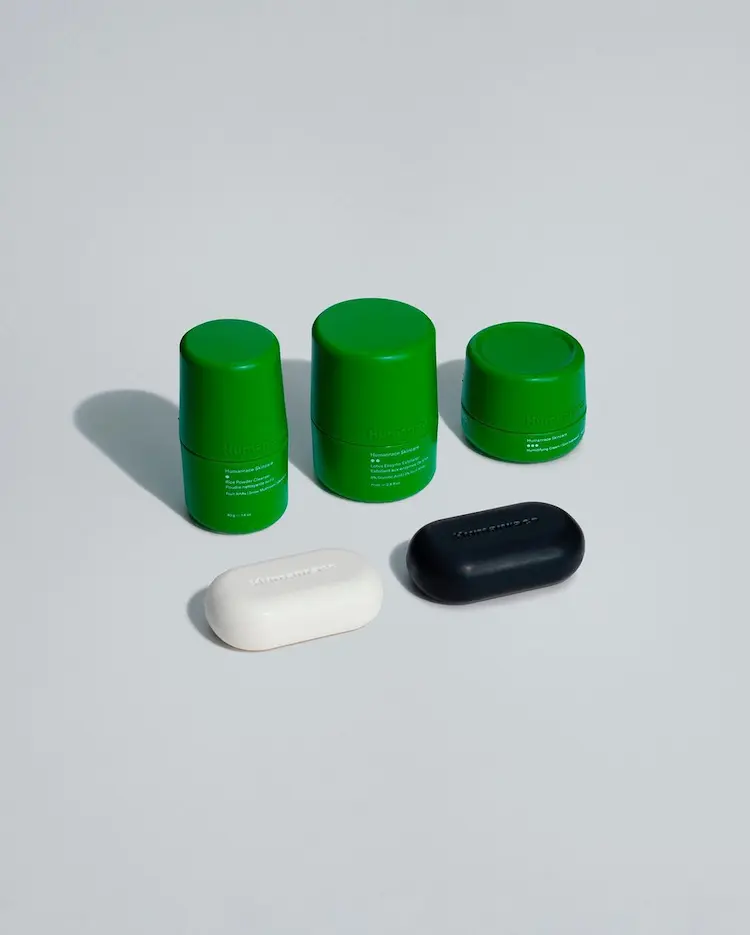 All in all, Humanrace is a solid skincare line that you should definitely consider purchasing from if you are looking for products that are gentle, safe, effective, and eco-friendly.
Results show that the formulas have been researched carefully to produce skin-loving products that work on just about everyone. It's a simple routine, but reviews say that it's worth it.
However, if you struggle with certain skin concerns such as acne, the one-size-fits-all approach might not be the best choice for you, or at least not by itself. If you're interested in a more custom approach, check out these 12 Best Custom Skincare Brands.
Humanrace Alternatives
Return Policy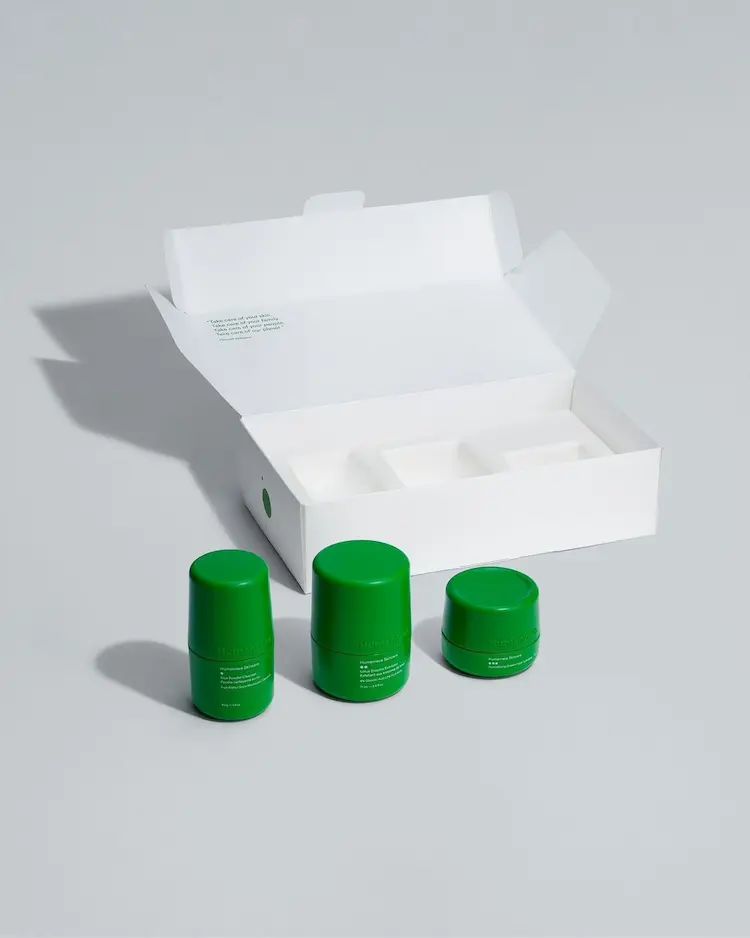 If you are not pleased with your products, you can start a return by emailing returns@humanrace.com. A full refund and a prepaid shipping label are available the return is within 30 days of purchase. Returns are currently only available for those in the contiguous United States.
FAQs
How do you use Humanrace?
The Humanrace skin care line is best used all together as a 3 step routine. The Rice Powder Cleanser should be used first, making sure you mix the powder with water in order to apply. Then, the exfoliator and the face cream. 
Does Pharrel own Humanrace?
Yes, Pharrel owns Humanrace, which he first launched in 2020. 
How Long does Humanrace Skincare take to ship?
It takes about 3-7 business days for Humanrace products to ship. 
UP NEXT: 12 Best Indie Skincare Brands To Keep On Your Radar