Jean trends are forever coming and going (raise your hand if you've ever felt personally victimized by the colored skinny jeans trend back in the day), so it's always good to know how to style different kinds of jeans.
Today, wide-leg jeans are in the spotlight, and we're going to show you the best ways to style them.
Whether you're hopping on the wide-leg jean train for the first time or you just want some inspo, here's our review on how to wear wide-leg jeans.
Let's get started!
What Are Wide-Leg Jeans?
Wide-leg jeans are jeans with a wider cut in the legs than straight jeans, giving a roomier fit and look.
Some might think they can't wear wide-leg jeans because they're scared of what it'll look like on them due to height or body shape, but we're here to tell you there's not just one type of wide-leg pants!
I say this as a short person wearing wide-leg jeans as we speak, wide-leg jeans can fit anyone. There are some jeans that are fitted in the thighs and wider down the leg, and some that are wide and roomy down the whole length.
There are high-waisted wide-leg jeans, mid-rise wide-leg jeans, and even extra-wide jeans as well.
How to Wear Wide-Leg Jeans
Now, not to police you on how to dress, but there are some general tips when styling wide-leg jeans. Of course, fashion doesn't really have any rules, but if you need some extra guidance, we got you!
Here are the dos and don'ts of wearing wide-leg jeans.
The Do's
Go for simpler and subtle tops to make your wide-leg jeans the focal point of the outfit, especially if you have a statement pair of wide-leg jeans.
A crop top or a tucked-in fitted top will typically look better paired with wide-leg jeans. Since wide-leg jeans are baggier, a fitted or cropped top helps balance the look.
Wide-leg jeans already give the effect of longer legs, so if you want to give yourself even more height, pair your jeans with sleek heeled boots or a cute dressy heel
Go for high-waisted wide-leg jeans if you want to define the curves of your body
Dress for the seasons! Wide-leg jeans are very versatile and can be dressed up or down.
The Don'ts
Don't go for a top that has a lot going on — it could make your fit look a little all over the place
Don't be afraid to play with lengths, especially a crop top or cropped blazer
Don't have your wide-leg jeans go past the ankle if you don't want a baggy look
12 Wide-Leg Jeans Outfit Ideas
The best thing about wide-leg jeans is that they're super versatile and easier to dress than some may think.
Here are some items you can pair with wide-leg jeans that'll have you looking absolutely stunning!
Casual White Tee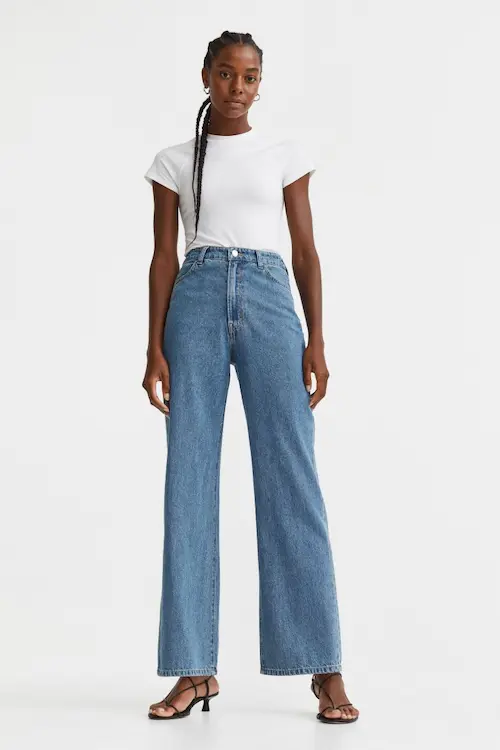 One thing you can never go wrong with is a trusty white tee.
Pair a casual, solid-colored shirt with your wide-leg jeans to make your jeans the main star of your outfit.
Bonus points if your shirt is fitted — it'll show off a beautiful silhouette!
---
Tucked-in Sweater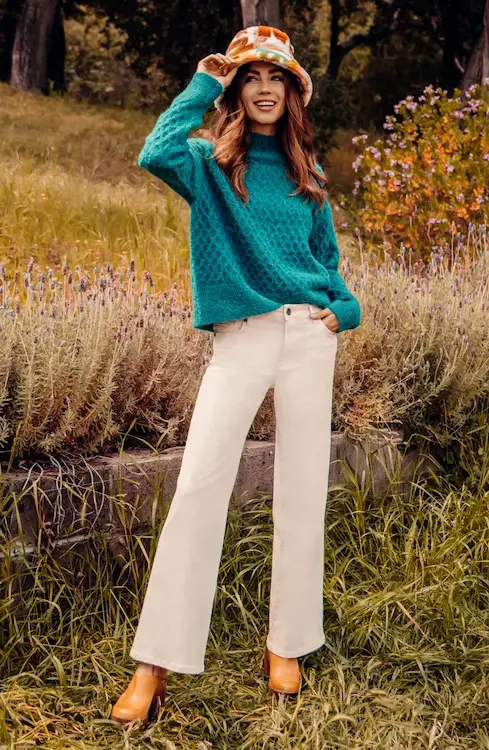 We love a tucked-in sweater, especially when paired with wide-leg jeans.
Tucking in your sweater will show off your waistline and give the appearance of longer legs!
---
Turtleneck Tee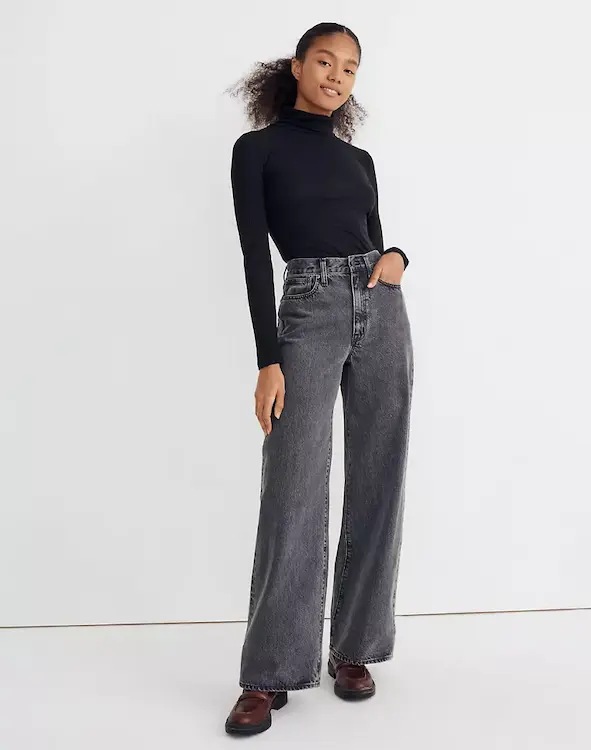 A turtleneck tee is perfect to couple with wide-leg jeans, especially high-waisted ones.
The turtleneck will give the appearance of a longer torso and always makes an outfit look super put together.
---
Crop Top & Blazer Outfit
If you need an outfit for a less casual setting or even a business-casual setting, wearing a crop top paired with your favorite blazer is always a good idea.
Blazers will always get the job done if you need to dress up a casual fit without looking too formal.
---
Relaxed Button-Up Tee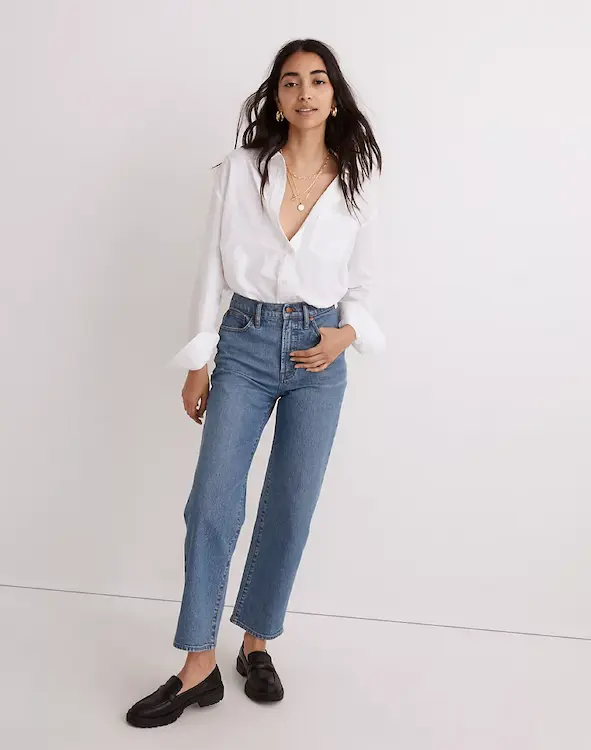 If you aren't feeling a fitted tee but want to look chic and put together, wearing a relaxed button-up tee is the way to go!
Without looking messy, wearing the button-up tee will have you feeling comfortable and looking sophisticated.
---
Tied Button-Up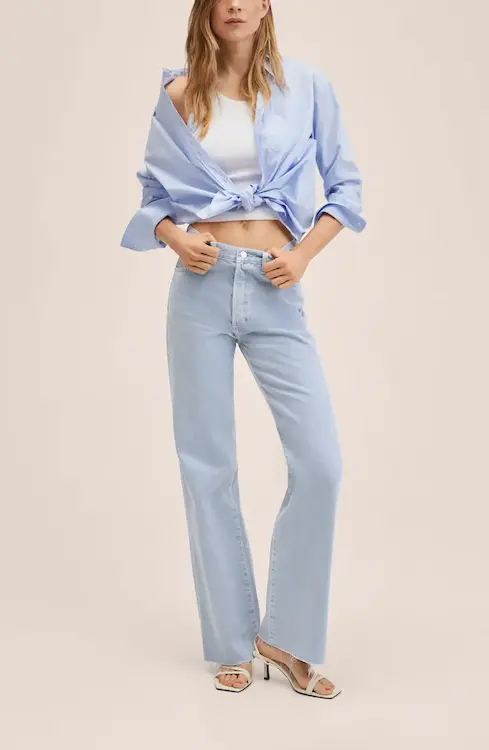 If you want a tighter-looking fit but still want to wear a button-up, try tying it!
Tying your button-up will show a little skin, and paired with your favorite wide-leg jeans, will continue to highlight the length of your legs.
---
A Statement Top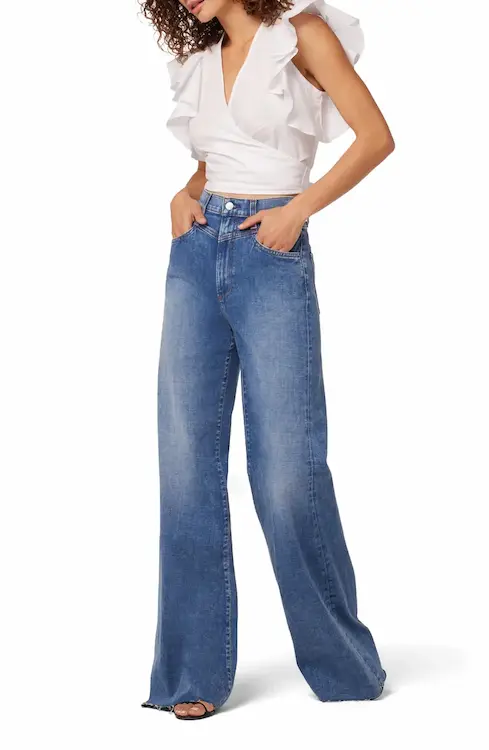 I know we said to keep your tops simple when wearing wide-leg jeans, but there are still ways to get creative with textures and add a unique flair to your wide-leg jeans outfit.
Whether its ruffles, silk, knit, or other materials and designs, a statement top with wide-leg jeans can elevate the whole outfit while still looking clean and stylish.
---
A Statement Coat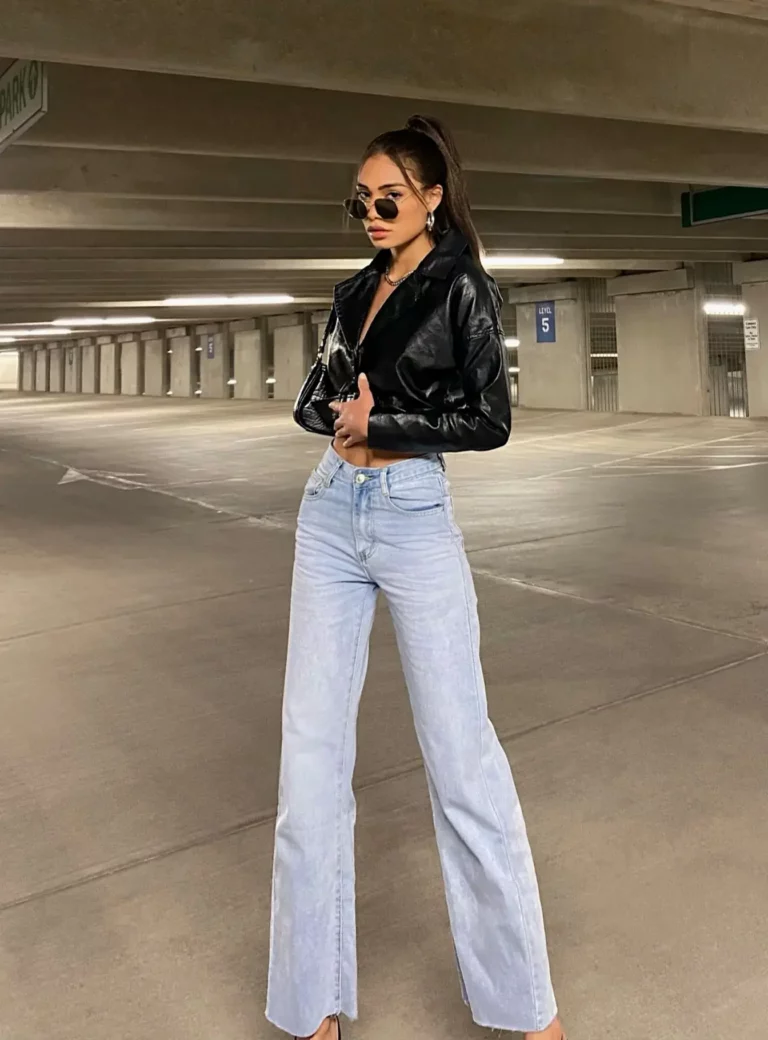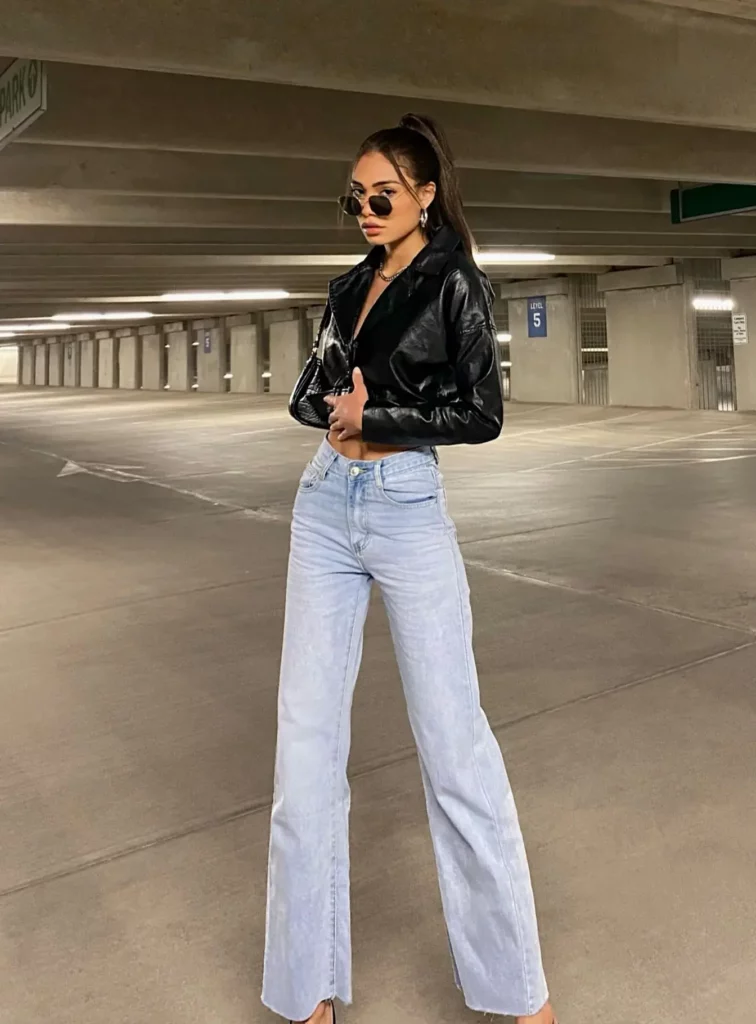 Couple wide-leg jeans with a beautiful statement coat to look cool, relaxed, and super cozy for the fall and winter seasons.
---
Denim on Denim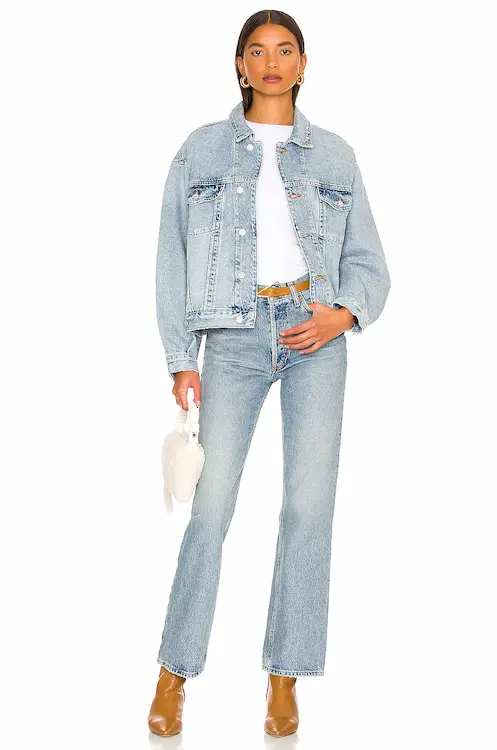 If you live for a monotonous look, denim on denim is totally the vibe.
Wear wide-leg jeans with a simple top under a same-wash denim jacket for a casual but bold look.
---
Cropped Jacket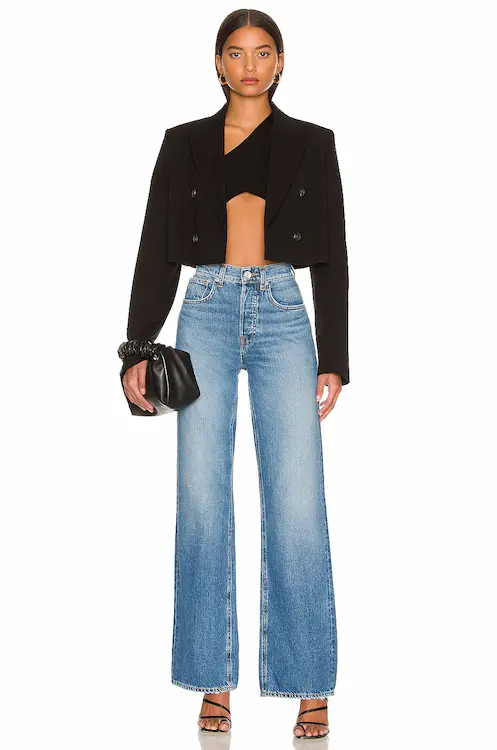 When wearing wide-leg jeans, playing with lengths and texture is the move.
Wearing a cropped jacket will have you looking trendy while also elongating your legs and keeping the perfect ratio in your wide-leg jeans outfit.
---
Tie-Front Top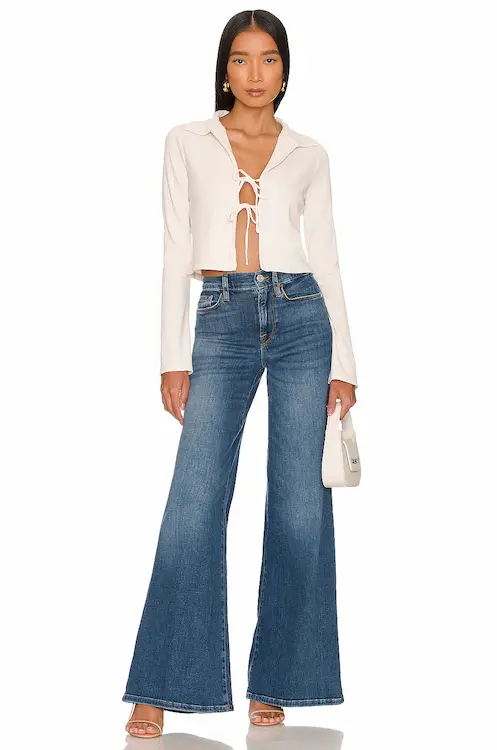 If you want to show off some midriff and look super cute and stylish, wear your wide-leg pants with a tie-front top.
Not only will the wide-leg pants give the appearance of longer legs, but tie-front tops are flattering on all figures!
---
One-Shoulder Top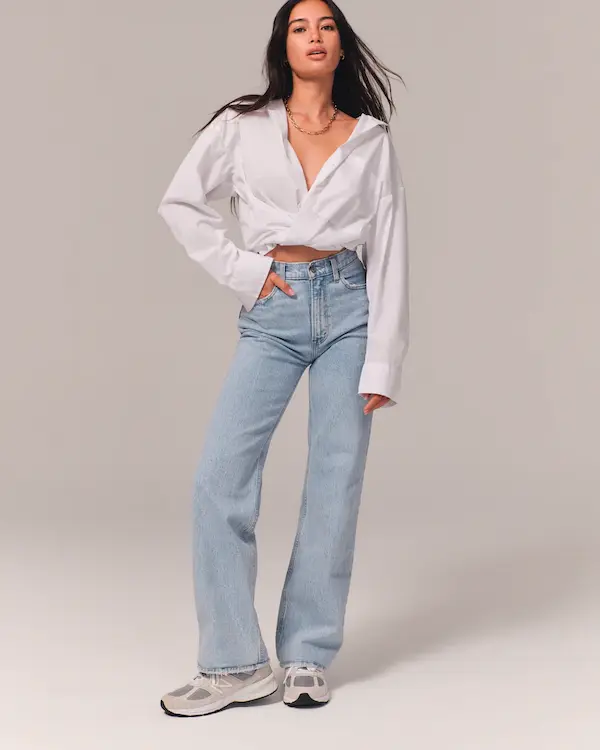 Again, wearing a "simple" top is a super flexible term.
The best part about fashion is there really are no limits when it comes to textures, lengths, and designs, which is why you can try pairing your wide-leg jeans with a one-shoulder top.
An asymmetric look will give texture to your fit, while also keeping it fashion-forward and hip.
---
Shoes to Wear with Wide-Leg Jeans
Now that we've covered some outfit ideas to go with your favorite pair of wide-leg jeans, let's move on to the item that can make or break an outfit: shoes.
Luckily, wide-leg jeans are pretty versatile when it comes to shoes, but here are some of the best shoes to wear with wide-leg jeans!
Pointed Heels
Pointed heels are a staple to have in any business girly's wardrobe.
They give off cute but professional vibes and the pointed design complements perfectly with wide jeans!
Platform Shoes
If you want to look like your legs are miles long and you're itching for some height, platform shoes with wide-leg jeans are absolutely the way to go.
You can opt for platform sneakers for a casual streetwear-inspired look, or other types of platform shoes.
Combat Boots
To keep warm but also slay the day, wearing combat boots with wide-leg jeans will have you looking fabulous and cozy at the same time.
Plus, they'll keep your ankles warm!
Sneakers
You can never go wrong with a good pair of sneakers, and it's the same case with wide-leg jeans.
Especially if you're going for that baggier, street-style look, wearing a pair of trusty sneakers will guarantee comfort and drip.
Where to Buy Wide-Leg Jeans
Shopping for a good pair of jeans is definitely an experience, and we're here to help. Here are some of the best places to shop for wide-leg jeans!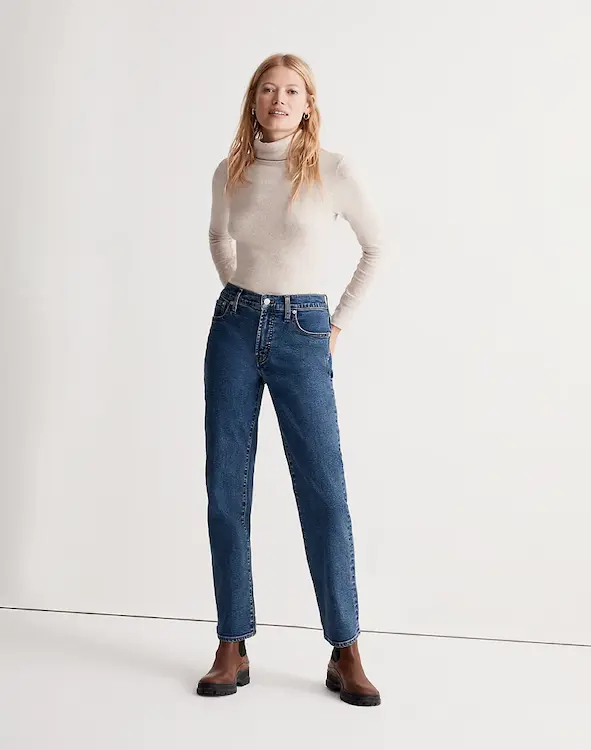 Mainly known for its jeans, Madewell is an awesome store to shop for jeans.
Not only does the brand have a ton of options for wide-leg pants, but it's also very size and body-inclusive!
Sizes start at size 00 and can go up to size 33! Not just that, but Madewell also offers sizes for petite bodies, tall bodies, taller bodies, and an impressive plus-size collection with sizes up to 4X.
Note: Check out our Madewell jeans review for a deeper dive into their jeans!
---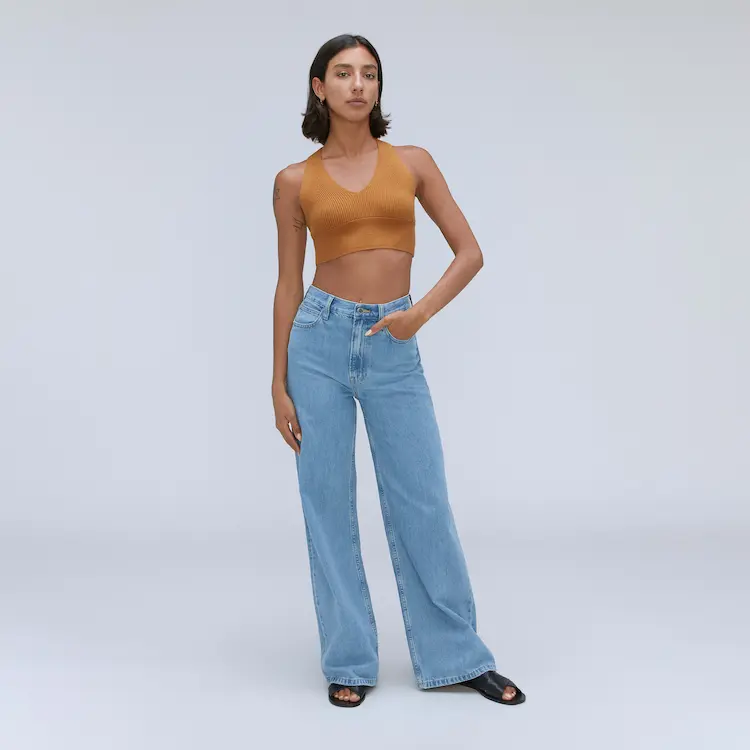 Another popular store for jeans is Everlane, an online retailer that offers apparel for men and women.
Everlane doesn't have the most extensive wide-leg jean collection, but you can't deny Everlane's quality when it comes to denim.
Everlane offers up to three washes for its wide-leg jeans, with prices starting at $118. Additionally, the brand offers sizes up to size 33!
For more info on their jeans and the quality, we also have an Everlane jeans review to check out.
---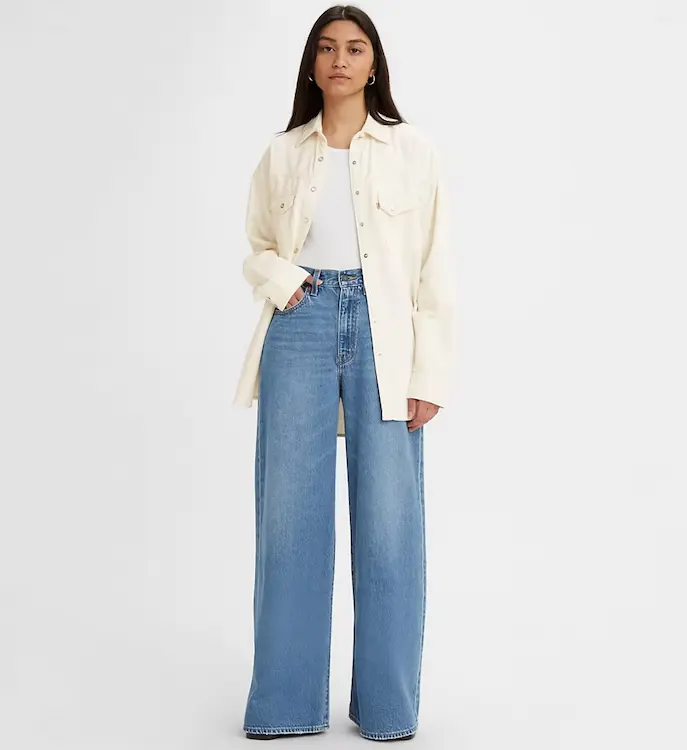 One of the most well-known denim brands, Levi's is always a trusty and reputable choice when it comes to shopping for jeans.
In fact, Levi's offers up to waist size 34 with prices ranging from $100 to $200. If you want jeans that'll surely last, Levi's is an excellent choice.
---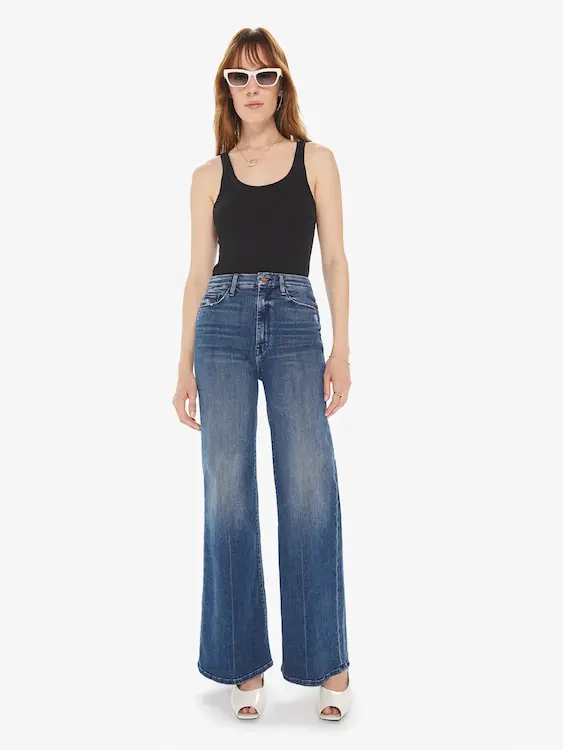 If you want to have a good amount of choices when shopping for wide-leg jeans, Mother Denim is a great choice.
With over 30 pairs of wide-leg jeans to choose from, Mother Denim has different styles and cuts to fulfill your wide-leg fashion desires.
Prices start at $180 and can reach $300! Although a little spendy, their silhouettes are perfect and the quality is unparalleled.
---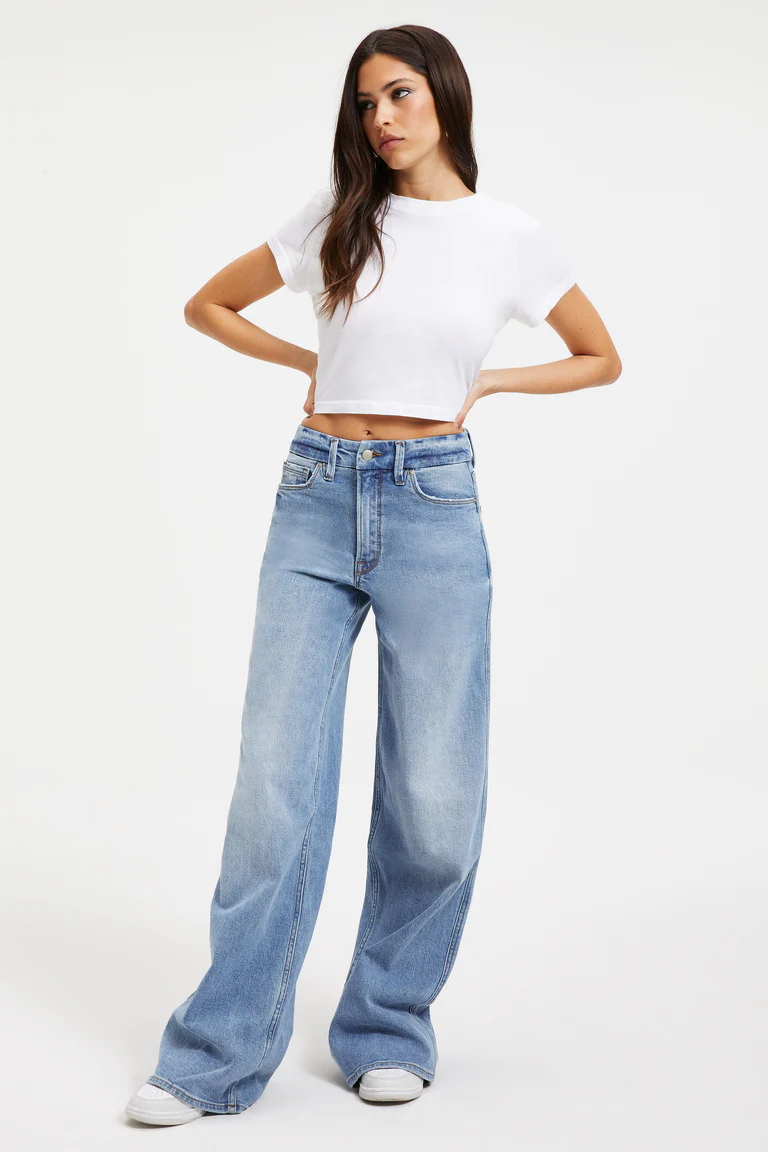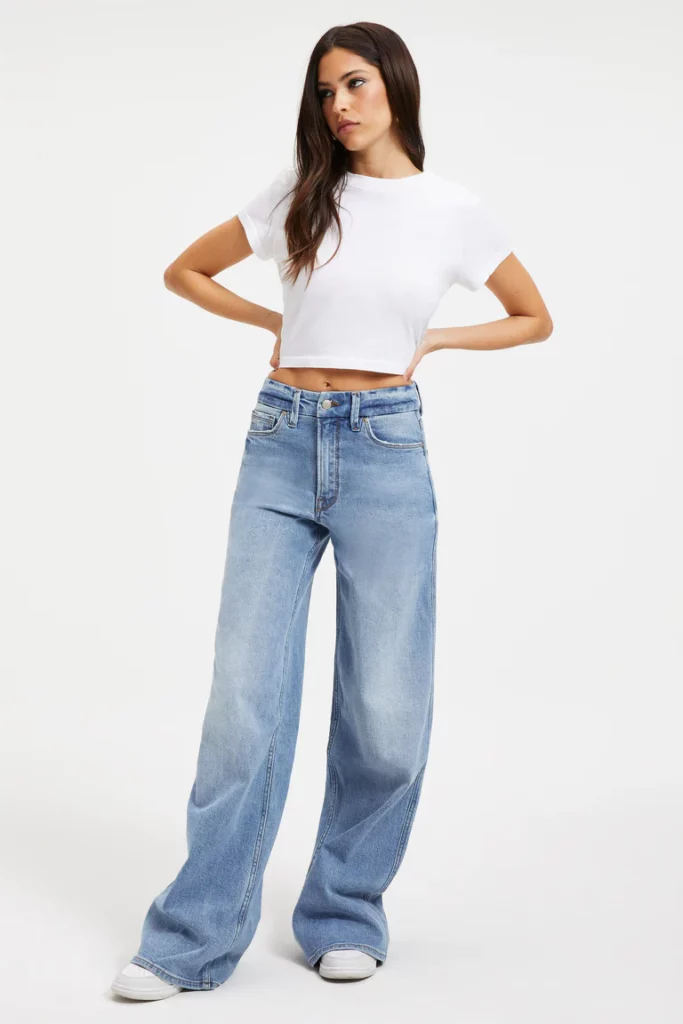 If you're looking for a company that is size-inclusive, check out Good American! The brand offers sizes from size 00 to size 32 plus and has a wonderful selection of wide-leg pants priced up to $160.
RELATED: Our Good American Jeans Review: Worth the Money?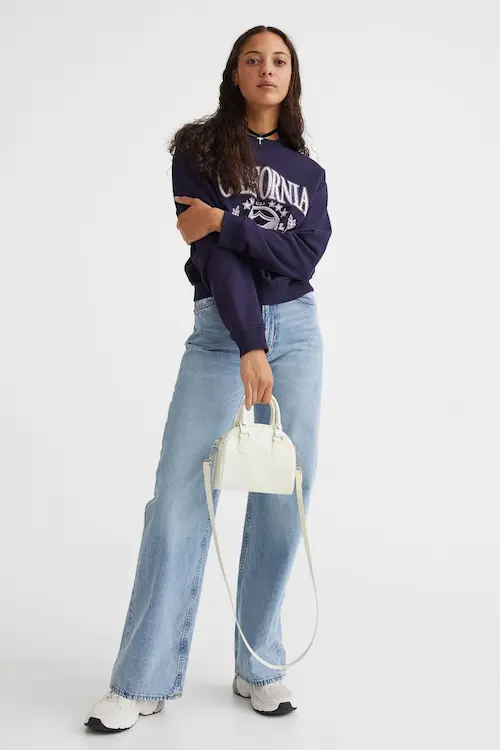 H&M is the perfect place to get wide-leg jeans if you're looking for a more budget-friendly option.
Always keeping up with the latest styles and trends, H&M offers a good variety of wide-leg jeans that cover all the bases: high-rise, baggy, low-rise, flared, and more!
---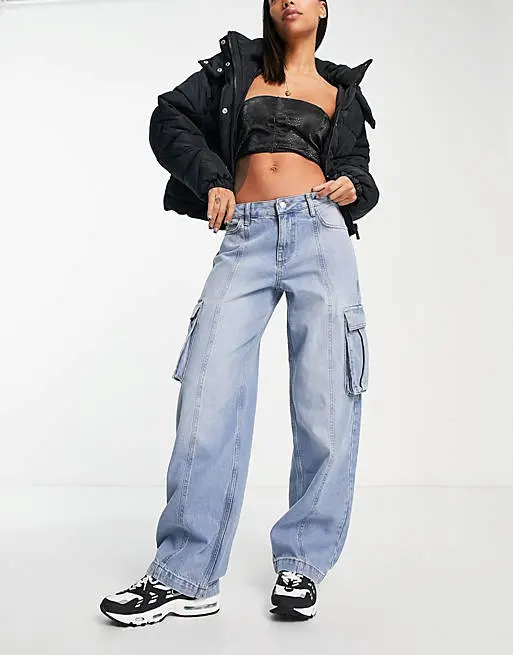 When in doubt, go to ASOS.
With tons of styles, budget-friendly prices, and an awesome plus-size collection, ASOS is one of the top spots to hit when looking for a good pair of wide-leg jeans no matter what your budget is.
In Conclusion
We hope these tips and tricks helped you out with shopping for and styling wide-leg jeans! Remember, fashion doesn't actually have any rules, so at the end of the day, wear whatever you feel like!
However you decide to wear wide-leg jeans, we hope you feel confident and absolutely iconic. Happy shopping!