Madewell specializes in quality clothing, and more specifically, jeans. We've seen nearly every Madewell jeans review say this is the place to find the jeans of your dreams, but, is it really all that it's made up to be?
To get to the bottom of this, I've put together an article sharing my experience with their jeans (I've purchased quite a few pairs and have tried every style they offer). I'll also share input from other genuine reviews to help get an overall gauge on their quality, sizing, and if the brand is worth it.
So, if you're ready to learn the secrets of Madewell, let's get started with this Madewell jeans review!
What Is Madewell?
Madewell is a unique fashion brand that sells all types of clothing and accessories. They're especially well-known for their denim that is high-quality, comfortable, and flattering.
When it comes to their jeans, there are quite a few different style options available. I'll be sharing my Madewell denim reviews for ALL of their styles below.
Before we get into it, you might be overwhelmed by the number of jean styles they have. At the top of their jeans page, they have a visual guide to each that was helpful for me when I first started my search. They also have a more detailed "find your perfect pair" page.
Another great thing about their jeans is their various fits. For each style of jeans, you can select from Petite, Regular, and Tall. Also, in the description, they state how stretchy that particular pair of jeans is.
When viewing each pair of jeans, you can actually select which model you want to see the jeans on (based on their height and jean size). This is a great way to see how the jeans look on different bodies and can give you a better perspective of how they might look on you.
Madewell Overview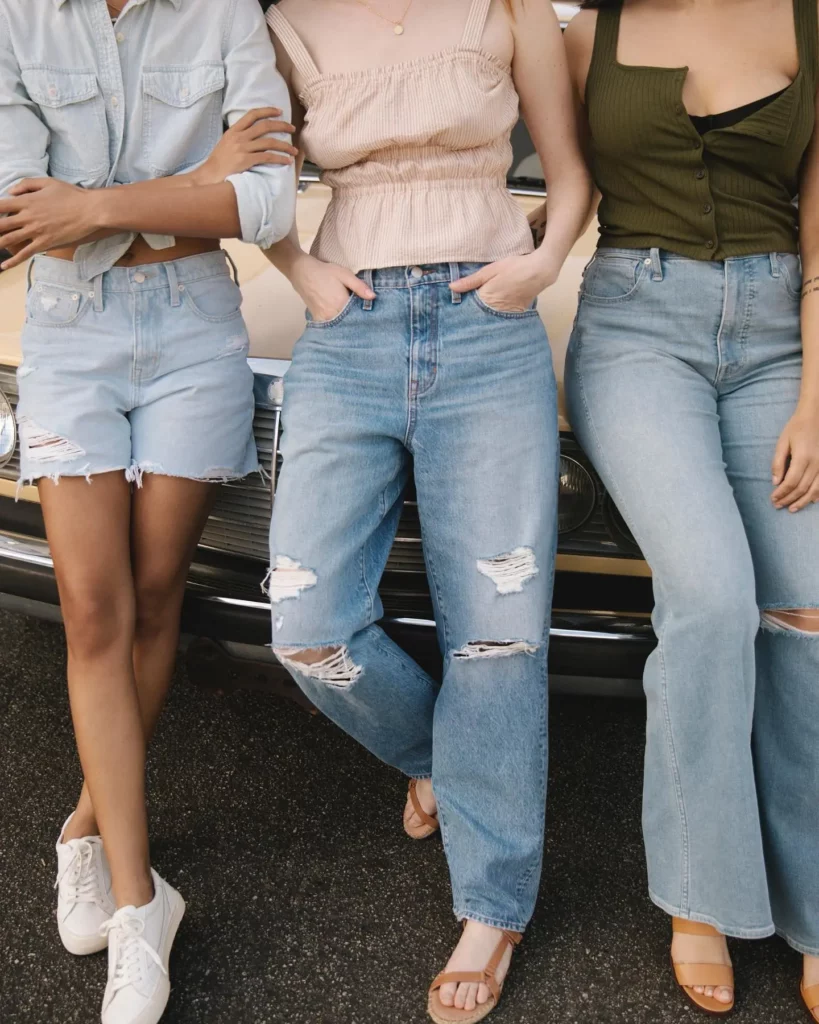 Denim is actually the highlight of this brand—they even state that they "focus on all things you wear with denim, like effortless tees, keep-forever bags, cool jewelry and compliment-worthy shoes." Whatever you purchase at Madewell, you'll know that you can always wear your favorite pair of denim with it.
When it comes to the average prices of Madewell, you're paying a bit more for quality. For their jeans, you can expect to pay anywhere from $80–$140 on average.
Other clothing items tend to cost $30–$100, but some of their items cost more as well, so it really just depends on what you're looking for.
RELATED: Mom Jeans vs Boyfriend Jeans
Madewell Jeans Review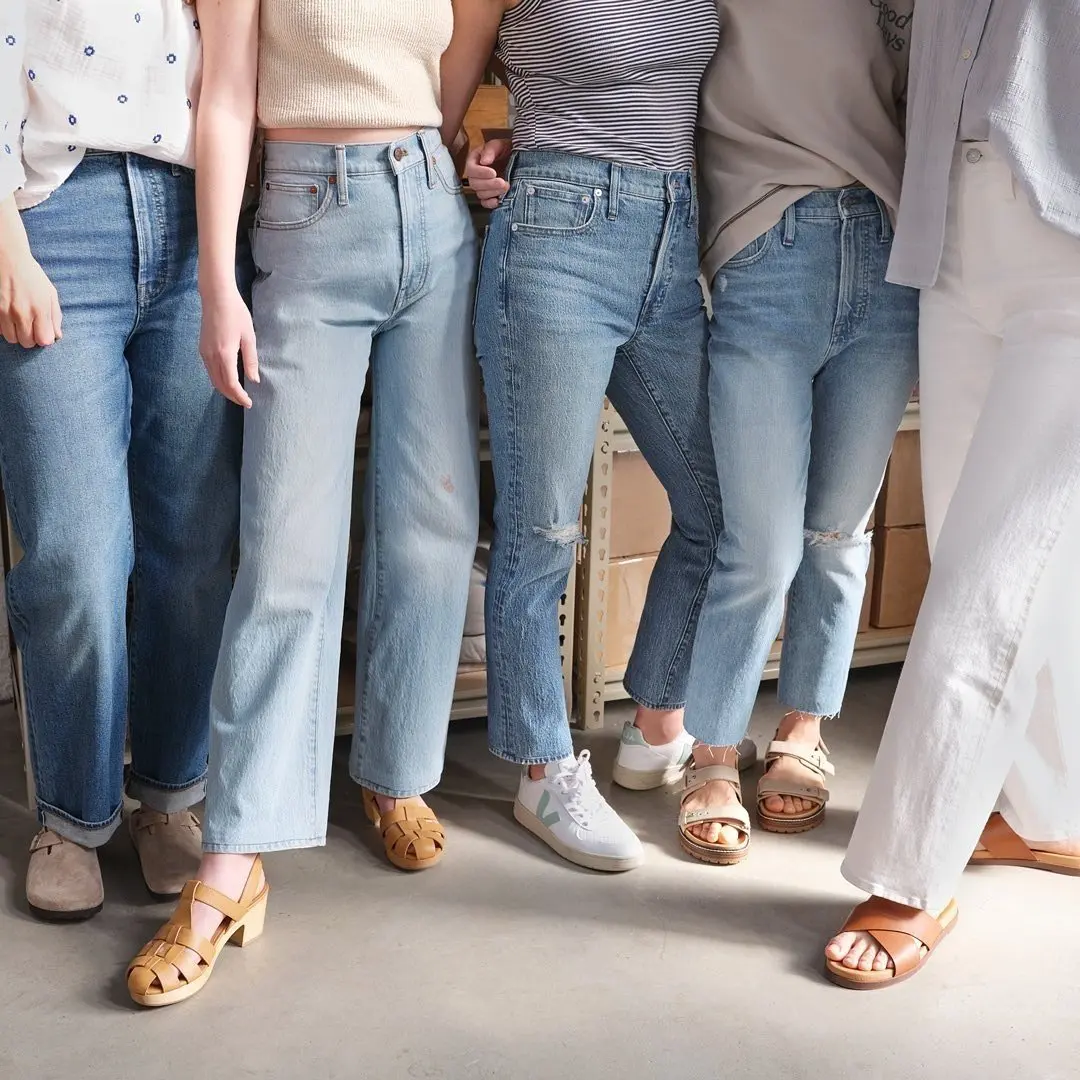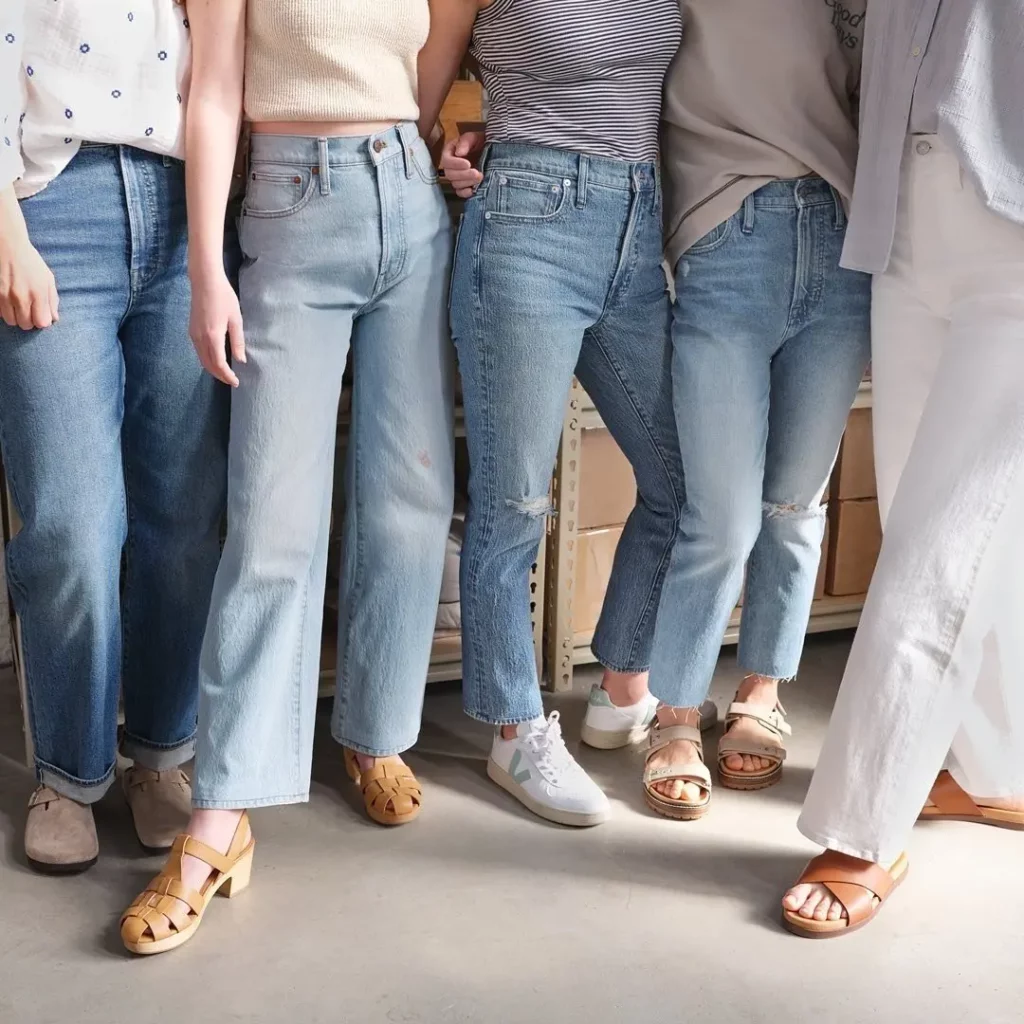 Overall: ★★★★ 4 stars
Overall, Madewell jeans are high-quality, long-lasting, comfortable, and fit great. They are definitely worth the investment!
Price: ★★★★ 4 stars
Madewell jeans can definitely be a little pricier than other jeans, averaging between $80-$140 per pair. However, you are paying for high-quality jeans that will last for years.
Quality: ★★★★★★ 5 stars
Madewell jeans are definitely top-quality, durable pieces to add to your wardrobe. Most customers agree the quality is superb.
Fit: ★★★★ 4 stars
Sizing really depends on which style you get–in my case, my regular size of jeans fits perfectly for most styles.
Some reviews do recommend sizing down, so I'd recommend trying on both your regular size and a size down just to make sure you're able to find the best fit. For the majority of people, their boyjeans need to be sized down as they tend to be too large.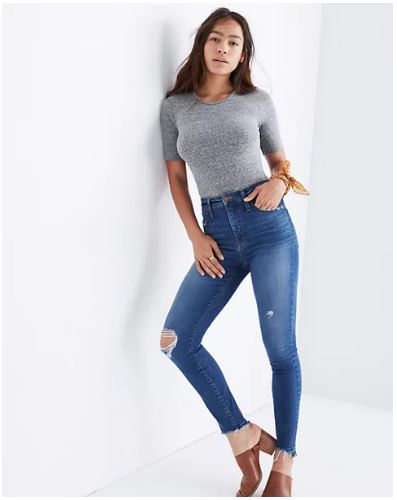 Sizing: True-to-size
Their Curvy line is made for hourglass shapes, which makes them perfect for me. These are by far my favorite jeans I've purchased from Madewell and I own 5+ pairs. They're very flattering and comfortable due to their stretchiness. My booty looks way better in these compared to most of their other styles.
Curvy isn't actually a single style either–most of the styles below come in curvy options, which is awesome.
---
Sizing: True-to-size
As flared jeans are becoming more trendy, I figured I'd pick up a pair of these adorable demi-boot style jeans from Madewell. They offer the flattering fit of skinny jeans with a slight flare at the bottom.
I picked the curvy style of course (Curvy Cali Demi-Boot Jeans) and absolutely loved them. They're very flattering – I've never worn any type of flared jeans because they just always look baggy and unflattering, but I've obviously been picking the wrong ones.
I do think that the length of these can throw some people off. They're definitely cropped because they hit my ankles (I'm 5'4), so the regular size might look a little strange if you're a bit taller and you might want to get the Tall version.
---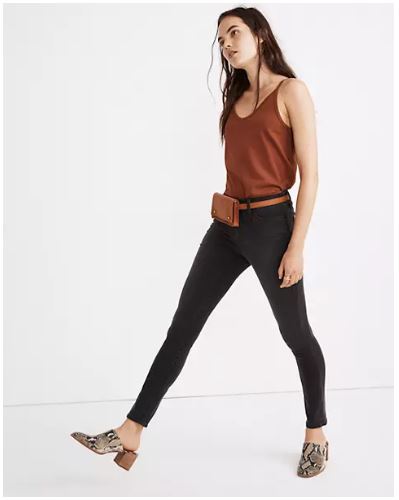 Sizing: True-to-size
Having owned a pair of regular Madewell skinny jeans as well as their curvy skinny jeans, I like the curvy much better. However, I think this will vary based on your body shape. As I mentioned before, the curvy line is perfect for my body shape, so it's not a surprise that I like it so much.
The regular skinny jeans seemed to stretch less and were less flattering on my body. But, I think these would definitely be great if you have more of a slim build.
---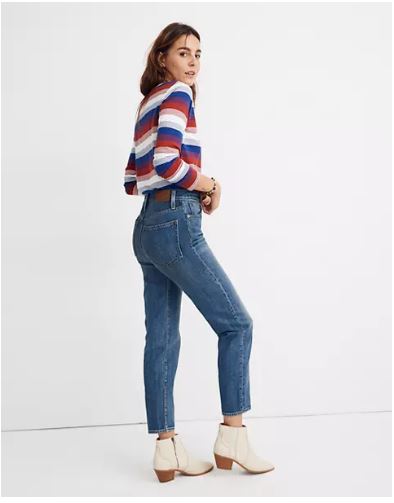 Sizing: a bit snug but they stretch to perfect size after a couple of hours of wear.
This style reminds me of mom jeans! While Madewell jeans sizing has been great for me, these vintage jeans are the only thing I've had small problems with. I purchased my normal size and they were snug to get on, but then stretched out after a few hours of wear.
This stretched size is perfect, but they snap back into the original size after I wash them and I have to repeat the process. Although I do really like these, I'm still a bigger fan of their curvy jeans. Other Madewell reviews state the Vintage fit is great if you have a pear-shaped body.
---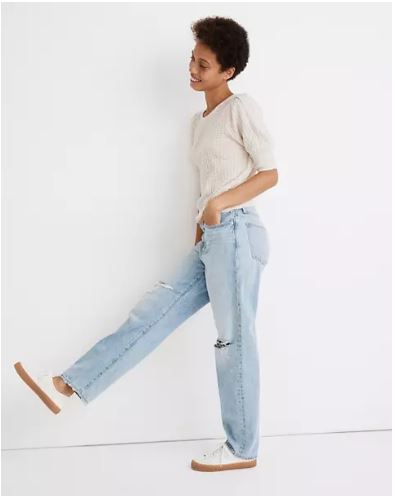 Madewell Boyjeans Review
Sizing: Slightly too big
A vast majority of Madewell reviews for these boyfriend-fit jeans fawned over the comfortable stretchy fit, as well as their soft, legging-like feel. I got my regular size for these and was disappointed, so I'd recommend ordering a size down.
I also don't recommend these if you're curvier or have thicker thighs. These don't really give you that loose, relaxed look you see in the pictures if you have thick thighs (and sizing up will just give you a gap in the back). It looks more like an unflattering pair of skinny jeans, depending on how thick your thighs are.
I also didn't have an issue with the length as I'm 5'4, but some others who are 5'7 and above didn't like the length and recommended ordering the Tall version instead.
---
Madewell Jeans Reviews: Customer Reviews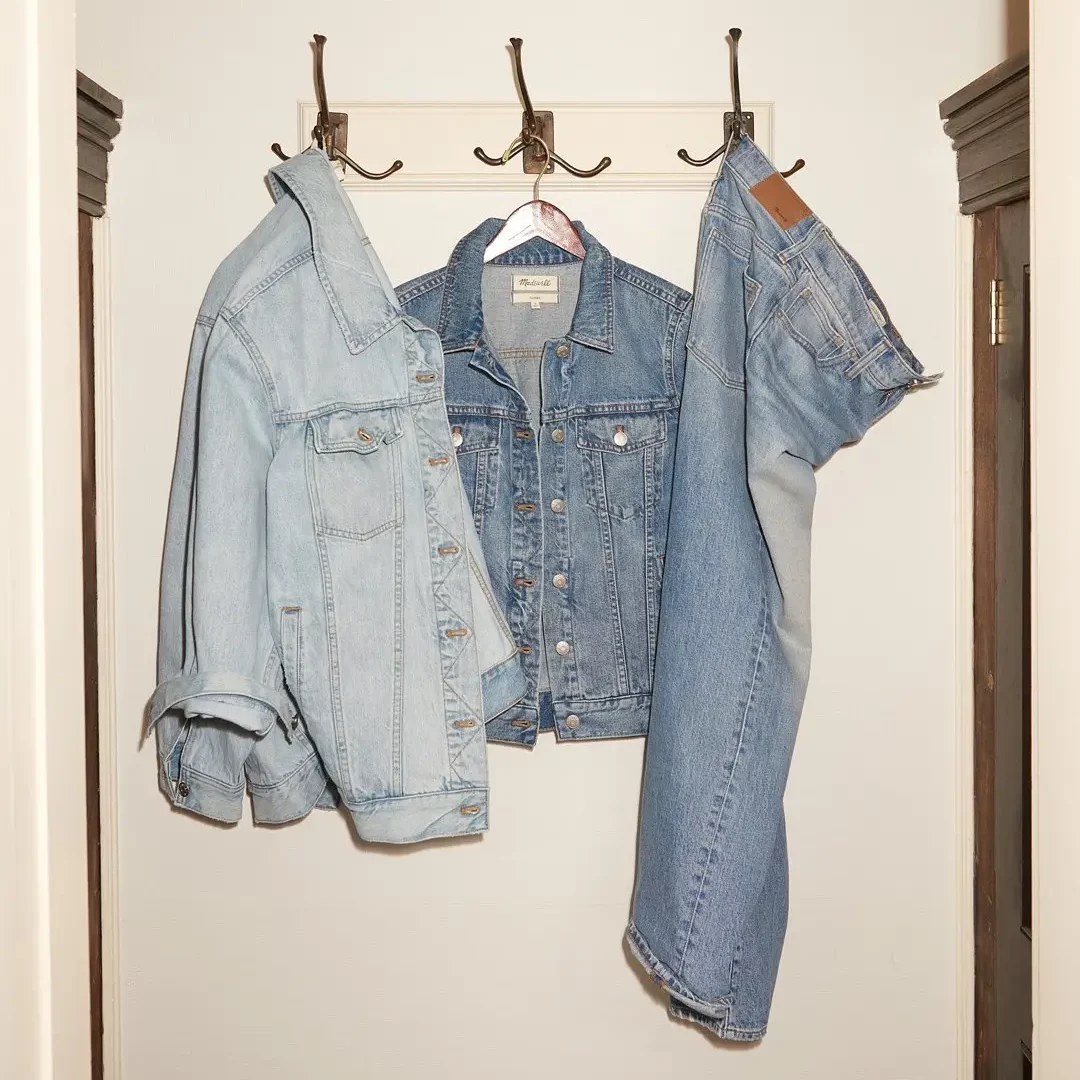 To get a better idea of how most customers feel about their Madewell jeans, we searched through hundreds of reviews to find the main takeaways from what other buyers had to say. Here are the top points of feedback about Madewell jeans:
Fit is superb
High-quality material
They last through a lot of wear
Can be pricey so always check for sales
Deals and Sales
I had to mention their frequent deals in this Madewell jeans review, so make sure to check their promo codes page before checking out. My rule of thumb is to never purchase a pair of their jeans without getting them on sale (you'd be surprised by some of their clearance deals – I've purchased a quality pair of their jeans for $20 before).
The best deals come when they discount an item, then they offer an additional percentage off that discounted price. The cheapest pair I got was discounted to $35 with an extra 40% off that price. Such a steal!
Return Policy
Their return policy states that they will accept any unworn, unwashed, and undamaged pieces within 30 days of purchase. For bathing suits or intimates, tags and protective liners must still be intact in order to be returned.
As for beauty products, these must only be lightly used or in new condition to qualify for a return. If your return is accepted, you will then receive a refund on the original payment option you used to purchase these items.
Return shipping is free if you're a Madewell Insider (which only requires you to sign up with your email and create a password). You also get a birthday gift and can accumulate points for your purchases.
Are Madewell Jeans Worth it?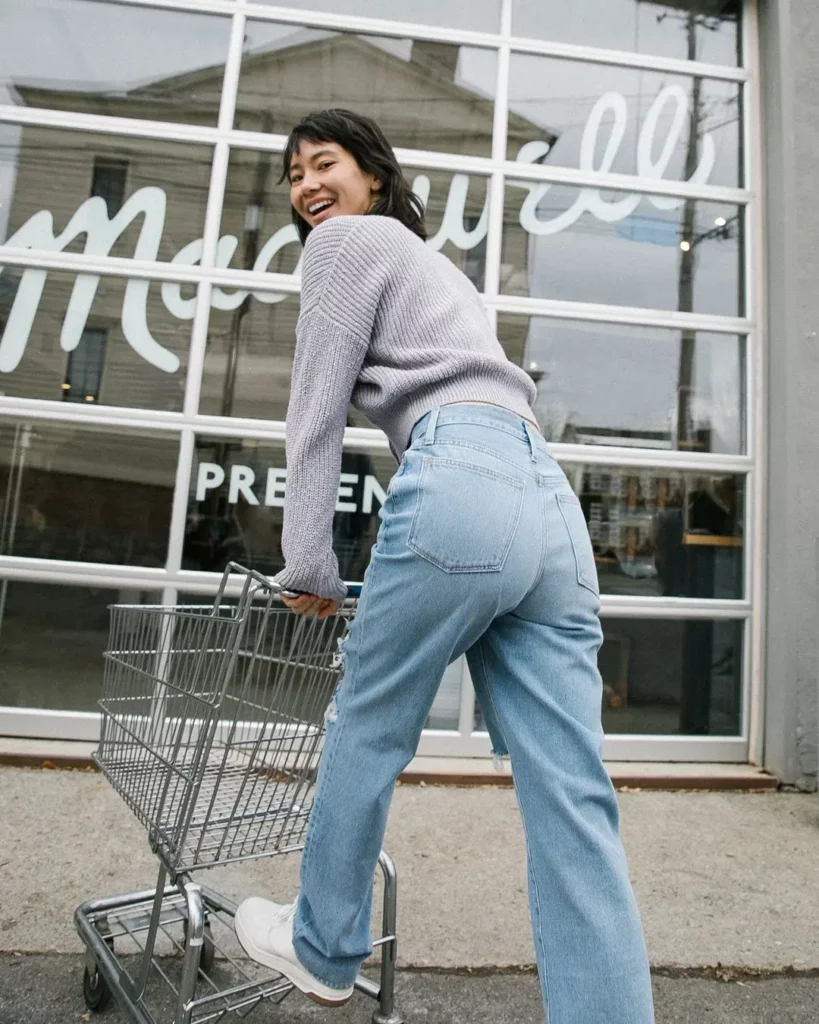 To sum up my Madewell review, I've definitely had great experiences with most of their jeans (high-rise curvy styles being my favorite). Some of their prices can get spendy, so make sure to look out for sales or shop secondhand. The quality is always excellent and they have lasted me years.
Since they have hundreds of retail stores, I'd definitely recommend going in-store to try on their various styles to see what you like best. But, if you don't have one near you, they have free returns as long as you sign up for their Madewell Insiders reward program.