There's no denying that jewelry is a form of self-expression (and oftentimes a symbol of love), and everyone deserves to have access to things that make them feel like the best versions of themselves. 
Sadly, buying jewelry can be a little overwhelming, especially since there are so many brands to choose from. We're here to help. 
If you've been wondering about Brook & York's gorgeous minimalistic jewelry, you're in the right place. 
Keep reading to see if Brook & York is worth the hype!
What is Brook & York?
Brook & York is an American jewelry company based out of Connecticut and New York City for women, by women.
Brook & York's mission is to inspire creativity, self-expression, and confidence among those who decide to wear its jewelry. 
They offer a variety of minimalistic styles, all of which are manufactured in the USA (Rhode Island, to be specific).
Brook & York: Overview
Brook & York offers all types of jewelry like anklets, earrings, pendants, and more. Their prices vary depending on the collection, but most pieces hover between $80 – $200 each.
The company also offers custom jewelry so that you can really make your jewelry feel and look special (these also make a super thoughtful gift for someone you love). 
Brook & York Reviews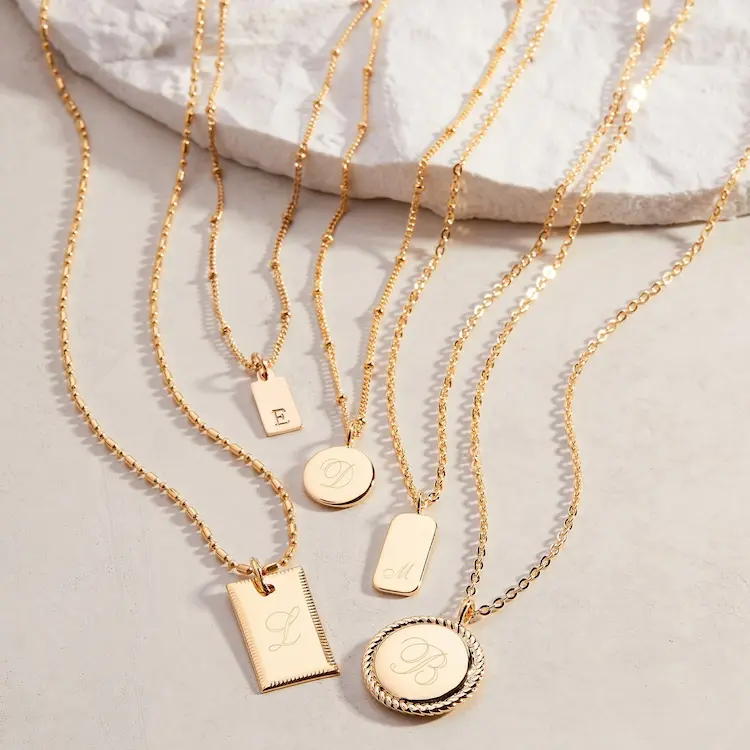 Overall: ★★★★ 3.75 stars
Brook & York offers a great selection of jewelry that's been generally well-loved among shoppers.
The jewelry is dainty and simple, which is perfect for layering up or mixing and matching. Many people also love that their jewelry is made in the USA and that the brand is woman-led.
However, some people say the jewelry is pricey for being gold-plated and that customer service is not always the best. 
We will say that for the price range or even cheaper, you can find gold vermeil pieces elsewhere (gold vermeil is typically thicker than gold plating). For example, Mejuri's gold vermeil line typically costs $70 – $150.
Quality: ★★★★ 4 stars
There are some mixed feelings about the quality of Brook & York from customers, but it really depends on what materials you are hoping for. They focus on gold-plated jewelry, vermeil, and rhodium-plated jewelry. 
There are many Brook & York reviews talking about how satisfied they are with their products, but you may experience some tarnishing with the jewelry that isn't 14k gold. 
Price: ★★★★ 3.5 stars
Not going to lie, Brook & York falls a little bit on the pricier side, which a lot of customers critique due to a lot of their jewelry being just gold-plated. 
However, it's not to say Brook & York doesn't have any pure gold jewelry.
When it comes to rings, 14k gold rings peak at $600, while the lowest-priced ring is $40! With that being said, there's definitely jewelry that falls within everyone's budgets — you just have to do a little digging.
Customer Service: ★★★ 3 stars
Unfortunately for Brook & York, customer service seems to fall flat according to many customer Brook & York reviews.
Shoppers talk about how customer service is uncommunicative and often fails to solve issues quickly and efficiently in regard to slow shipping times, missing items, and returns. 
---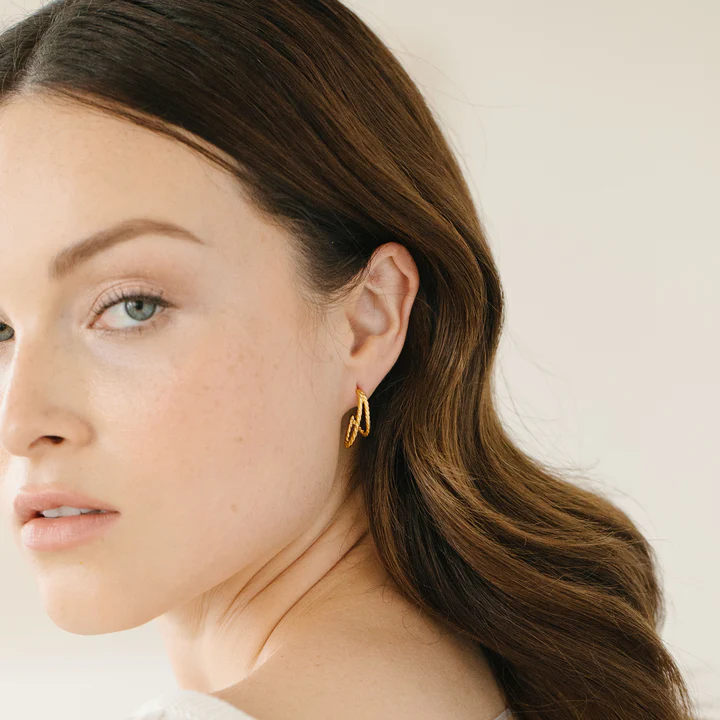 Brook & York has a nice collection of earrings that are dainty and minimalistic for everyday styling and wear.
Earrings start at $40 — typically made with gold-plated brass and stainless steel — and can reach up to $440.
In fact, the most expensive pair of earrings you can get is the Coco Diamond Huggies, which is studded with 1.3mm round diamonds and is available in 14k gold vermeil.
Customers love Brook & York's earrings collection and rave about the quality of them as well as how darling they are!
---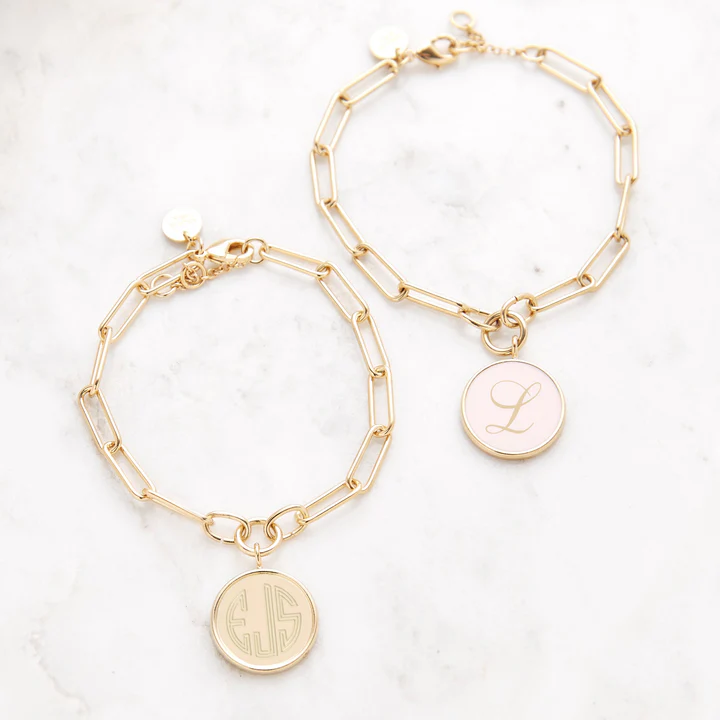 Brook & York offers a beautiful selection of bracelets available in gold, silver, and rose gold. Not just that, but B&Y offers a bunch of customizable bracelets in different styles that are perfect for mixing and matching.
Whether you want your bracelet to be engraved with initials, coordinates, or names, Brook & York has got you covered.
Prices for B&Y's bracelets range from $40 to $350 and are 14k gold-plated brass or 14k gold vermeil.
Customers love how light the bracelets feel while still looking luxurious and rich, and also love how customizable they are. One of the best-selling bracelets is the Engravable Cuff Bracelet, which is currently retailing for $70.
---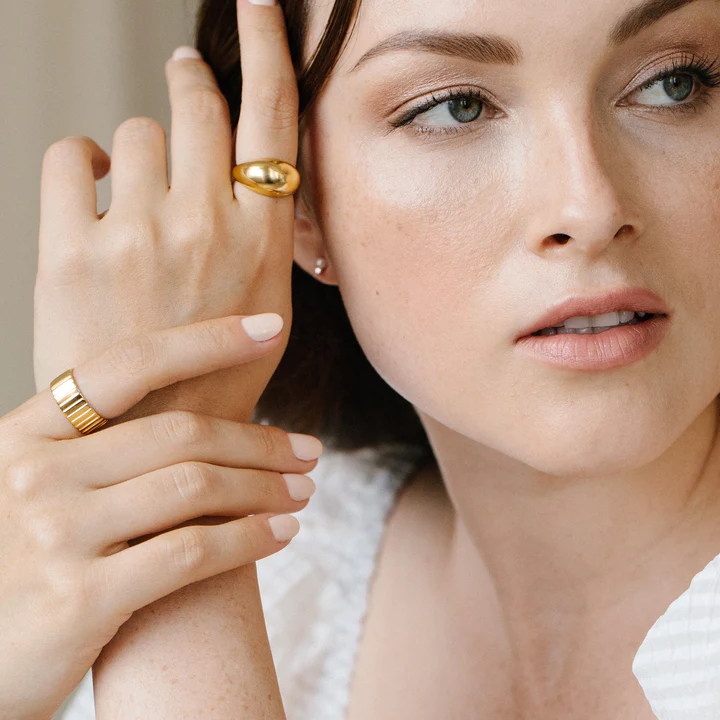 If you love dainty, stackable, and cute rings, Brook & York is the place for you.
With prices ranging from $40 to $600, these rings are available as plated gold or you can even find rings that are 14k yellow gold, like the Micaela 14k Gold Ring.
Not just that, but if you want to customize and personalize your ring, you totally can! Brook & York offers engravings of initials, monograms, and coordinates.
In general, customers have high praises for Brook & York's rings; however, there are some reviewers who have reported tarnishing.
---
Return Policy
Brook & York offers a 60-day return policy, and the company is happy to accommodate returns and exchanges so long as the items are in their original condition. 
Items that have been personalized or engraved are not eligible for returns, nor are items that are final sale.
FAQs
Where is Brook & York located?
Brook & York is located in two locations, Connecticut and New York. 
Who owns Brook & York?
Brook & York is owned by Tenth Avenue Holdings, which is a privately-held holding company headquartered in New York. 
Is Brook & York legit?
Yes, Brook & York is a legit company! In fact, you can purchase Brook & York Jewelry from major stores like Anthropologie and Nordstrom. 
In Conclusion
Brook & York is a great brand to shop from if you're into dainty, minimal, and stackable jewelry. 
Brook & York accommodates those with all budgets and offers cute and trendy styles. Not just that, Brook & York also offers timeless and luxurious-looking pieces that range from being made of gold-plated brass to 14k gold!
Whether you're balling on a budget or looking to splurge, Brook & York is a great choice!
Although Brook & York pricing is a bit high compared to similar minimalistic jewelry brands (such as Mejuri), all of their pieces are made in the USA. This might be worth the extra cost if this is something important in your buying process.
RELATED: 18 Best Minimalist Jewelry Brands Out There
Brook & York Alternatives