It's no secret that jewelry is a great way to express your style, make a statement, or add an elegant touch to your outfit. When it comes to buying jewelry, however, it can sometimes feel as though you only have two choices: cheap jewelry that's not meant to last more than a few years, or very expensive, fine jewelry that's often saved for special occasions.
Mejuri is a fairly new jewelry company that offers something in between: more affordable fine jewelry for everyday wear. They offer luxury pieces and precious metals at a fraction of the cost you'll pay at typical retailers. It almost sounds too good to be true!
These are lofty claims, so how do you know if Mejuri is really worth it? Below are our Mejuri reviews we've put together to answer just that. Here's everything you need to know about the company before you make a purchase, plus our experience with their products.
What is Mejuri?
Mejuri is a fine jewelry company that's all about wearing luxury jewelry every day, just because. They offer dainty jewelry for men and women, claiming that their pieces are genuine, authentic, and ethically made (they're one of our favorite minimalist jewelry brands).
Mejuri was founded in 2013 by founder Noura Sakkijha. She believed that jewelry didn't need to be reserved for special occasions; that every day is reason enough to wear luxury pieces.
Mejuri Overview
Mejuri puts great importance on how their jewelry is made. They even break down their pricing and how similar quality would cost at a traditional jewelry retailer, which is impressive to see. To top it all off, they share everything you need to know about their materials.
They only use high-quality materials such as sterling silver, 14k solid gold, 18k gold vermeil (a thicker and higher quality type of gold plating), diamonds, and more. We love how transparent Mejuri is about how they run their business and how serious they seem to take quality.
Mejuri Reviews
Overall: ★★★★ 4 stars
All in all, Mejuri sells timeless, modern fine jewelry of great quality and design. The only complaint some customers had is that they don't list the weight of their products online. Other than that, customers seem more than happy with their purchases.
Price: ★★★★ 4 stars
Most Mejuri pieces cost around $100-$400, though it differs per item. For fine jewelry, this is much more affordable than other retailers.
Quality: ★★★★ 4 stars
Most customers praise the jewelry for its excellent quality and durability.
Value: ★★★★ 4 stars
Although their jewelry is somewhat pricey, Mejuri actually offers their fine jewelry at a fraction of what you'd pay somewhere else. The price is justified for the quality pieces you receive.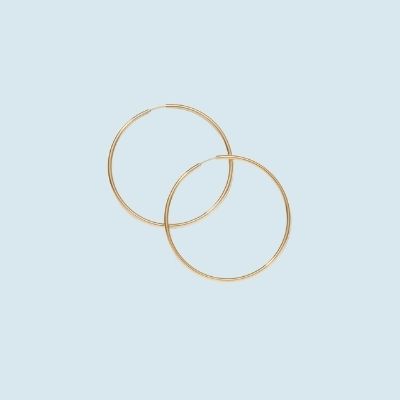 Hoops are a wardrobe staple, and these ones are anything but basic.
Lightweight, chic, and perfect for everyday wear, Mejuri's oversized thin hoops are a crowd favorite. They come in 14k yellow and white gold.
---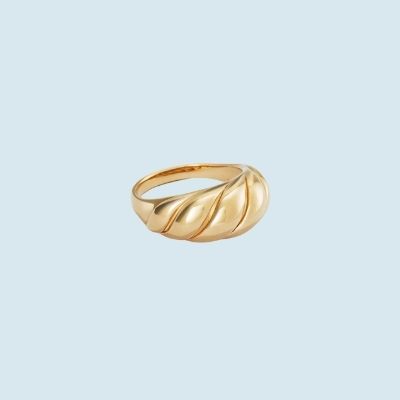 This best-selling ring is the perfect way to add a statement piece to your outfit.
It can be worn alone or stacked and comes in sterling silver or gold vermeil. For just $75, you can have a fine jewelry piece that's sure to rake in the compliments.
---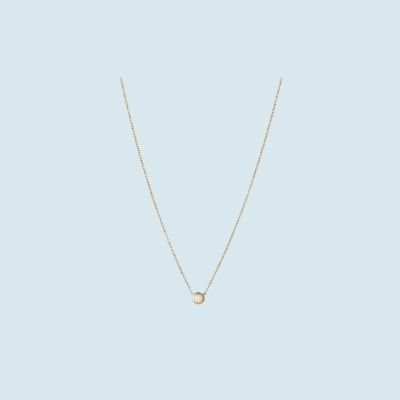 Mejuri's diamond necklace is an elegant piece that's dainty enough to wear every day.
Although this necklace has a more expensive price tag at $300, you can't go wrong with its ethically-sourced diamonds. Buy it in either 14k yellow or white gold.
What Others Are Saying
Now that you know more about Mejuri and what they stand for, let's take a look at what their customers had to say when it comes to Mejuri reviews:
"I'm a young person building up my gold/fine jewelry collection after mostly wearing sterling silver, and this is a great brand to do that with. The designs are simple, modern, and sleek. The quality is great, and the prices are pretty fair considering competitors." – Erika H.
"I only have one ring from them and I LOVE it – it doesn't rust or turn colour and it also doesn't make my skin itch or have a bad reaction." – getawei on Reddit
"I have a few pairs of their earrings – all seem nicely made and legit (and get compliments all the time!) but across the board I felt that they seemed less fine/delicate in person than they came across in pictures. They do feel really substantial and the packaging is lovely." – TeysaKarlov421 on Reddit
Overall, most customers agree that Mejuri jewelry is:
Modern and chic
Great quality
Doesn't oxidize
Is fairly priced
Mejuri FAQs
There is a lot to consider when purchasing fine jewelry, so it's totally normal to have a few questions. Here are some things that other potential buyers typically ask.
Is Mejuri good quality?
Although Mejuri's prices are much more affordable than most fine-jewelry retailers', that's not for lack of quality. Mejuri's jewelry is made from precious metals such as 14K solid gold that won't oxidize, and sterling silver plated in rhodium.
Can you shower with Mejuri jewelry?
To properly care for your items, Mejuri suggests removing your jewelry before showering, washing your hands, exercising, or applying haircare and skincare products.
Is Mejuri an ethical brand?
Mejuri commits to integrity and ethical practices, which results in fine, hand-crafted jewelry that you can feel good about wearing. They believe in tracing their materials back to their origin in order to stay accountable for the impact they have on the environment and our communities.
Shipping and Returns
Shipping price depends on where you're ordering from, but it's free for residents of the US and Canada. Mejuri offers free shipping to other countries as well, but only if you spend a certain amount on their site. Both standard and express shipping are available.
Mejuri accepts returns up to 30 days after you receive your item, and it's free to return if you live in the US, Canada, Australia, or the UK. If you ordered a personalized piece with engraving or monograms, those cannot be returned. They do not offer exchanges except for pieces from their Milestone collection.
In Conclusion
To sum up our Mejuri reviews, this is definitely one of the most affordable brands to buy fine, quality jewelry from. They know how to make jewelry in an ethical fashion that people want to buy for themselves.
A typical complaint from buyers, however, is that Mejuri doesn't list the weight of their products on their site, which might be something to consider if you're trying to decide whether to buy from them. Otherwise, most customers agree though that Mejuri's timeless, durable, and luxurious pieces are well worth it.
UP NEXT: 16 Sustainable Jewelry Brands