There are two main types of makeup primers on the market – water-based primer or silicone-based. While silicone tends to leave more of a shiny residue on your skin, water-based primer is free of oil and more mattifying. This makes it ideal for oily skin!
Water-based primers are also very light on your skin and won't clog your pores like silicone-based have the tendency to do. Ultimately, which you choose depends on your preference and skin type, but we're going to focus on the best water-based primers today because we're huge fans.
---
Best Water-Based Primer For Every Skin Type
Let's dive into the best water-based primers on the market.
Best Overall
Smashbox Photo Finish Hydrating Primer Water
You've probably heard of this top-selling product. This non-silicone primer provides instant moisture that absorbs quickly into the skin and helps your makeup last all day long.
It also works to revitalize electrolytes to boost the radiance of your skin and even restore your skin's natural ability to hold moisture. This primer is a must-have for any skincare routine!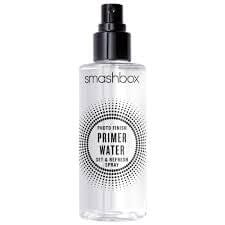 ---
Best Water Based Primer for Acne-Prone Skin
Lorac "I'm So Sensitive" Soothing Face Primer
If you have more acne-prone skin, this Lorac primer is perfect. It's made with natural ingredients (including essential vitamins, antioxidants and plant extracts) and free of ingredients that irritate sensitive skin (such as parabens and fragrances).
This ultra-light primer is also super hydrating & creates a naturally smooth finish for long-lasting makeup. It's a great primer, even for those with the most problematic and sensitive skin.
---
Best Water-Based Primer for Dry Skin
NYX Hydra Touch Primer
If you struggle with finding dry skin primer, NYX's Hydra Touch is for you. It uses gentle ingredients to provide flawless coverage and a smoothed, soft complexion.
While this primer works great for all skin-types, people with dry skin in particular rave on about its moisture replenishing. It's rejuvenating, inexpensive, and the perfect addition to any skincare collection.
---
Best Water-Based Primer for Oily Skin
Milk Makeup Hydro Grip Primer
Next, this award-winning water-based face primer is ideal for those with oily skin. The deeply hydrating, makeup-gripping formula smoothes the texture of your skin. It eliminates oil, while still keeping your skin hydrated!
It's made with nourishing hemp-derived cannabis seed extract, blue agave extract, aloe water, and hyaluronic acid. You can kiss the oil good-bye and say hello to a beautiful, hydrated new you with this primer!
---
Best Water-Based Primer for Large Pores
BECCA Ever-Matte Poreless Priming Perfector
If you're looking for a primer to tackle large pores, our girl BECCA is for you. This powerful silicone-free primer controls oil and shine for a healthier appearance that will last all day.
It also has a natural skin tightening effect to provide a more youthful look and minimize the appearance of pores. What more could you want in a primer?
---
Best Water-Based Primer for Wrinkles + Aged Skin
Dr. Barbara Sturm Anti-Aging Primer
Lastly, this water-based makeup primer is perfect for those with mature skin. It contains powerful antioxidants that work to keep your skin youthful, rejuvenated and glowing no matter what age you are.
This primer mainly attacks fine lines and wrinkles, but is also excellent for redness. Not to mention, it is carefully crafted with Hyaluronic Acid to keep your skin looking refreshed.
---
FAQ
Can I use a water-based primer with a silicone-based foundation?
No. You should always pair a water-based primer with a water-based foundation (and vice versa) for the best results. When you attempt to mix the two, the foundation may become grainy or clumpy & won't absorb well or spread evenly. 
How do you know if a primer is water-based?
You can tell if a primer is water-based if it says "oil-free," or by directly reading the ingredients. If the first few ingredients end with silicate, silicone, siloxane, or anything ending in -cone, the primer is silicone-based. If these ingredients are not listed, these are primers without silicone & are therefore water-based.
---
Bottom Line
Overall, no matter what skin type you're shopping for, you can be sure that these water-based primers have got your back (especially if you have oily skin). It's important to treat your skin with quality ingredients to keep it healthy and happy!