When your makeup becomes cakey on different areas of your face, it really just makes you want to throw the entire look away. Having a good base to apply your makeup on is crucial in avoiding cakey and patchy-looking makeup.
To avoid any mishaps when applying your products, keep in mind how much of everything you are using and how the products' ingredients will interact together.
For example, if you use sunscreen on dry skin it might start to pill and ruin your makeup look. Applying sunscreen on top of a moisturizer or plant-based oil will make sure the sunscreen soaks into the skin and doesn't affect your makeup application.
For more ways to avoid cakey makeup, keep reading to find our best tips and recommendations.
How to Fix Cakey Makeup
Tip 1: Exfoliate, Exfoliate, Exfoliate
Like I always say, skincare is the most important step in any makeup application. You can't expect your skin to be glowing or flawless without taking care of it.
Exfoliating the skin allows you to shed the layer of dead skin that has dirt and oil stuck inside of it. When you exfoliate, your skin becomes brand new (like a new Balenciaga handbag)!
Without exfoliating, your skin becomes dry and more dull due to all of the bacteria clogging up the skin. Your skin will be best prepared when it is fresh and new!
Products to try: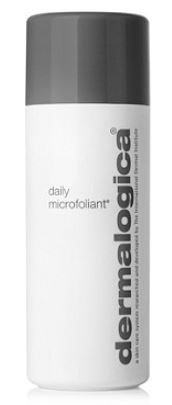 ---
Tip 2: Apply Setting Powder Before Foundation
Every pro MUA's secret to flawless foundation is applying a translucent powder or your favorite setting powder before you start foundation.
Don't use too much when applying the powder—a little will go a long way. Make sure you apply the powder to your smile lines and anywhere else on your skin that is prone to spoltchiness (like your nose area and T-zone).
Our top recommendations:
---
Tip 3: Blend with a Beauty Blender
If you have applied too much foundation to your skin, a damp beauty blender will save your makeup. Pat the damp sponge or beauty blender onto the areas that have too much product. This will blend it into a more natural finish.
Wrapping a tissue around the sponge will also work in getting rid of excess product!
Products to use:
---
Tip 4: Avoid Putting Too Much Product on Areas That Crease
Some people think that the more they apply, the more they will cover up. However, this actually just makes everything look worse.
When applying foundation or concealer, avoid heavily applying the product on any problem areas. Wait until your face is covered in all the places that don't give you trouble (leaving your eye concealer for last).
When applying concealer to your undereye area, only apply on the inner and outer corners. This will help you avoid any cakeyness underneath your eye and blend beautifully. I like to use a sponge to blend concealer under the eye because brushes can be harsh on such a sensitive area.
Some people have also found that eye primer helps prevent creasing under their eyes or other areas.
Apply the eye primer to the skin, then lightly set it with some powder. Wait a few minutes in between each step, then proceed by setting it with some setting spray.
Pro-tip: Wait to set the eyes with powder until after you have finished every other step of your routine to make sure they don't start creasing!
Our recommendations:
---
Tip 5: Use a Setting Spray
By far the most crucial of all of the steps is using a setting spray to lock in all of the hard work you just put in.
If you aren't using a setting spray, you probably don't love yourself (kidding!). A setting spray will take away any powdery look of your makeup and leave you looking matte or dewy, depending on which finish you prefer.
Shop these top products:
---
Tip 6: Hydrate Your Skin
Moisturizing and priming before you apply any makeup will also help to avoid the cakey look. This gives your skin a base that is ready to soak in the product. Starting off with dry skin will only set you up for flakiness.
Check out these products for hydrated skin:
Tip 7: Use Oil to Fix Dry Patches
If your skin is still dry or irritated after putting all of these steps to use, take a damp beauty blender and apply a little bit of oil to the areas you are having problems with.
Stippling the product onto your skin hydrates the parts of your skin that need a little extra moisture. Apply a couple of drops to the back of your hand and then dab the blender in before applying to avoid placing too much oil on your skin (nobody wants to look greasy!).
Here are some of our top recommendations:
---
Tip 8: Read the Ingredients
Water-based products work well with water-based products, and the same goes for products that are silicone-based. If you mix and match, you are way more prone to cakey makeup.
Reading the ingredient list on any product will only increase your makeup knowledge and help you learn what is better for your skin.
Look for the suffix -cone, -cane, -col, and -conol when scanning the ingredient list. This is a sign that the product is silicone-based. Otherwise, the product is water-based.
Bottom Line
Cakey makeup can definitely be annoying, but it's nothing these simple tips can't fix. With the right powder, beauty sponge, and setting spray, you'll be on your way to flawless makeup in no time.
And remember: less is more when it comes to avoiding cakey makeup. Lightweight foundations will be your best friend!