Leggings have become a staple piece of many closets for various occasions. Whether you wear them to exercise, go grocery shopping, or simply to lounge around the house, you probably have a few pairs of leggings in your wardrobe right now.
With leggings becoming all the rage, there's a multitude of brands and styles on the market to choose from. If you're looking for the perfect pair of black leggings, we've compiled a list of the best black leggings to help you along your shopping journey!
Best Black Leggings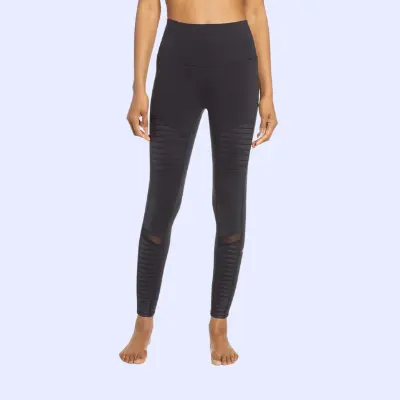 The Zella Live In High-Waist Leggings offers a great standard option. These leggings are available at a reasonable price, they have no-frills, and they offer a smooth finish that's perfect for layering.
If you're looking for a pair of leggings that can easily be used between the gym, home, and running errands, this is the perfect option for you! Understated but flattering, these leggings will work well with any look you desire.
---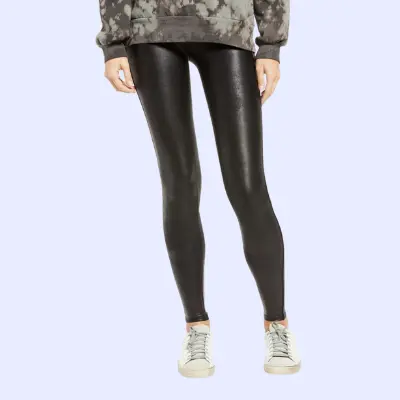 Spanx Faux-Leather Leggings offer a stylish option if you're looking for a pair that can be used as a fashion piece. Whether layering under oversized t-shirts, pairing with a sleek button-up top, or simply looking to be the best-dressed at the gym, these leggings are a standout style piece for sure.
In addition to being oh-so-stylish, these leggings are made with Spanx technology, ensuring the smoothest fit. You will have an effortless, contoured figure.
---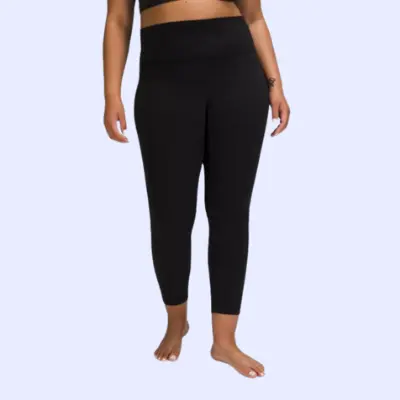 Lululemon Align Pants 25 are perfect for the gym-seeker. If you want a pair of leggings solely for exercise— this is your go-to!
With a snug-but-breathable fit, comfy material, and a made-for-yoga design, these pants offer optimum comfort while moving about and breaking a sweat. If you're looking to branch out a bit and try other colors in addition to black, there is a large offering for this style!
---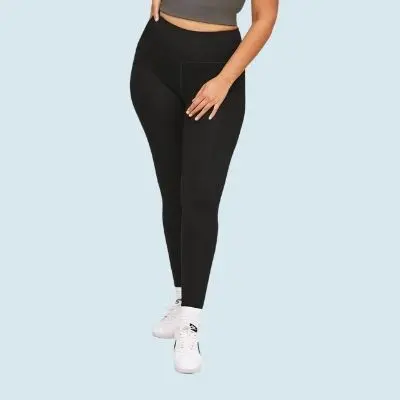 Girlfriend Collective Compressive High-Rise Leggings are a fan-favorite and it's so easy to see why! The brand offers a wide range of sizes (XXS-6XL) and a comfortable, breathable fabric.
Girlfriend Collective is a great option if you're a conscious shopper! The brand is eco-certified and all employees (yes, even factory employees!) are paid fair wages.
---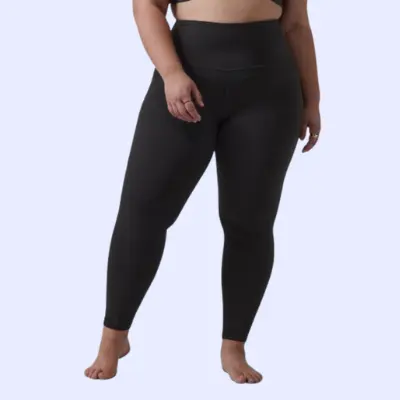 Athleta Ultra High Rise Elation Tights offer you a super snug fit. If you're after a pair of leggings that contours your body snugly, this is the perfect option for you!
These leggings are made of a patented fabric that allows breathability while ensuring you get the most figure-hugging fit. This pair of leggings also features quite a range of sizing, including tall and petite options!
---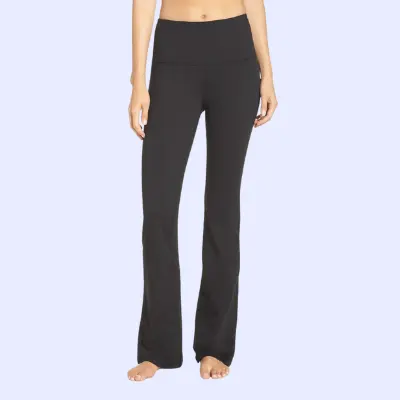 Zella Barely Flare Live In High-Waist Pants are perfect for the legging lounger. If you enjoy wearing leggings while running errands or simply around the house, these are your perfect pair!
They offer a flare-leg look and a looser fit than traditional leggings. You will find optimum comfort for cozying up with your favorite book, working from home, or picking up some groceries!
---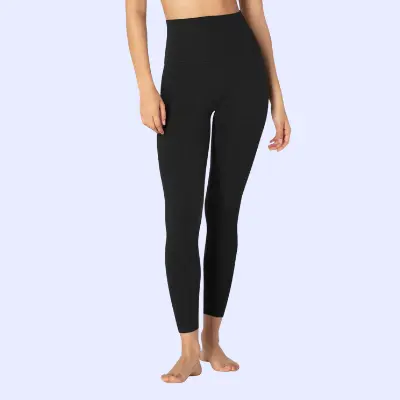 Beyond Yoga Heather High-Waist Rib Leggings offer a ribbed texture to ensure greater warmth and comfort. If you want a pair of leggings to keep you warm and cozy, these are a great choice for you!
These leggings also offer a completely seamless look as there are no outside seams. They are incredibly flattering and offer you the put-together look you're after!
---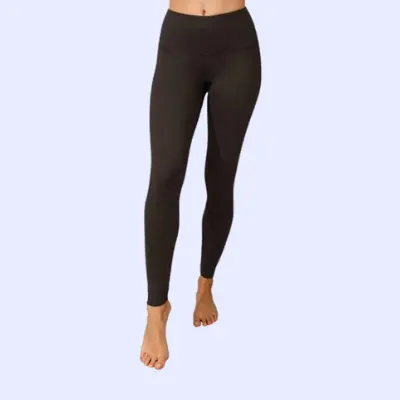 90 Degree by Reflex Leggings is another fantastic staple pair of leggings. They are incredibly versatile and can be worn in a variety of ways.
The great thing about these leggings is that they also offer a shaping effect! If you're seeking a perfectly sculpted silhouette, this pair will give you the desired effect!
---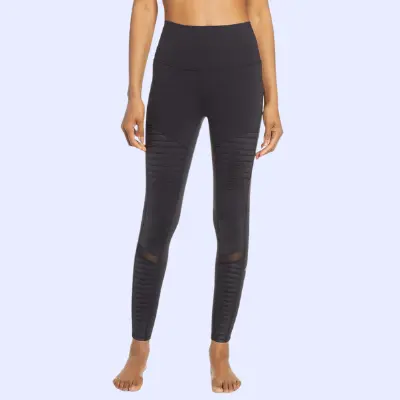 Alo High Waist Moto Leggings are another great choice for the fashionista. They are a casual pair of leggings with leather detailing that allows them to be worn casually or dressed up.
Not only is this pair great for the fashionista, but when paired with a sports bra or tank top, they offer an effortlessly sporty look making them perfect for the athlete! So whether you follow the outfit-of-the-day hashtag or spend your free time hitting the gym, this is a great option to check out!
---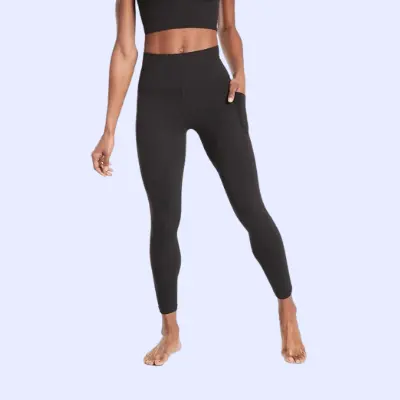 Athleta Salutations Stash Pocket II Leggings offer all the comfort and versatility of a standard pair of leggings, but with a deep side pocket! If you hate having to carry a small bag for your phone and keys when you go for a run, these are a great choice for you!
Not only do they offer a solution for the pocket-seeker, but these leggings also have a range of sizes as well, including petite and tall. You're sure to find your perfect fit—and the perfect solution to going handbag-free!
---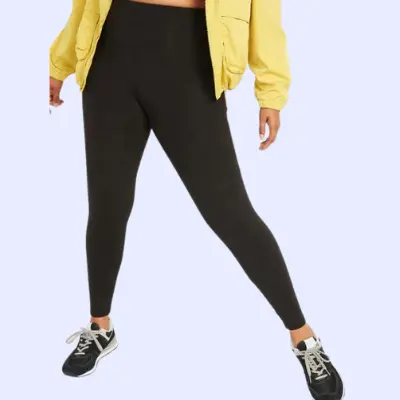 If you're looking for a more budget-friendly option, these four-way stretch leggings from Old Navy get a thumbs up from us.
They have enough compression to sculpt you while still allowing room to move. Plus, their Go-Dry moisture-wicking material will wick away sweat during any intense workouts.
---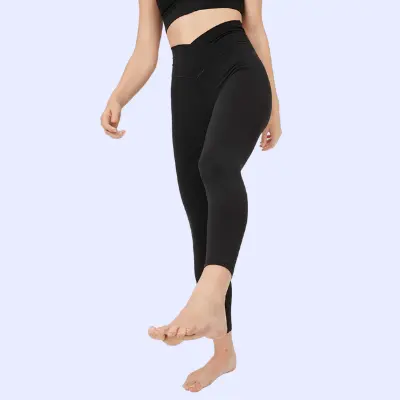 The crossover waistband on these leggings is the most flattering fit you'll find in a legging. Plus, they're made with Aerie's soft and lightweight Real Me fabric. They feel like butter on your skin and are super stretchy so you have room to move.
---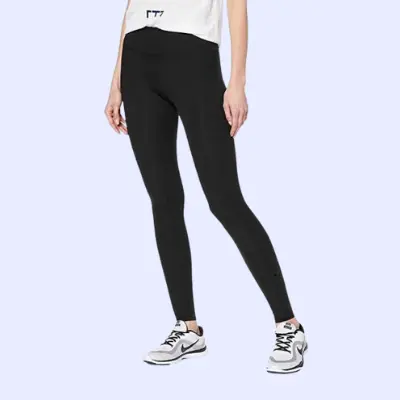 If you need a pair of leggings to do more than run errands in, these are your best bet. They're lightweight, silky smooth, and, possibly the best part, not see-through! Perfect for doing squats at the gym!
Bottom Line
There is a seemingly endless amount of black leggings available on the market. While it may seem a bit overwhelming, your perfect pair of leggings does exist!
These best black leggings are perfect for a variety of preferences and tastes. As you begin your shopping journey, we've no doubt our list will help you find exactly what you're after!
UP NEXT: What Shirts to Wear With Leggings