Custom hair care is a booming market in the beauty industry, and Aura Hair Care is breaking into the field with their own twist: vibrant and fun semi-permanent hair color. Aura promises to boost your specific hair goals similar to other brands, but at a cheaper price point and added bonuses like pigmented formulas.
But is this deal too good to be true? Personalized hair care and the color of my dreams? Read our Aura Hair Care reviews to see if it is worth a try!
RELATED: 11 Best Clarifying Shampoos to Detox Your Hair
What is Aura Hair Care?
Aura Hair Care is a custom hair care brand launched in 2021 by eSalon, a renowned custom hair color brand. Aura's mission is to offer hair care that isn't restricted by beauty standards or the traditional way the beauty industry is run.
With a hair quiz that informs actual chemists about your exact hair type and needs, you can get personalized and targeted hair care to get the best results. No matter what your hair is like, you can get hair care that is a fit for you. Aura prioritizes the individual customer and their individual needs.
Even more, Aura also offers hair care products with semi-permanent dye so you can easily transform your look, perfect for hair color enthusiasts.
Another notable characteristic of Aura is that the brand uses ethically sourced ingredients, cutting out all the unnecessary stuff that can be harmful. Aura is also vegan, cruelty-free, paraben and sulfate free, and uses recycled materials for packaging.
Aside from shampoo and conditioner, Aura Hair Care also sells hair masques, products for dyed hair, and a bunch of hair accessories.
Is Aura Hair Care Legit?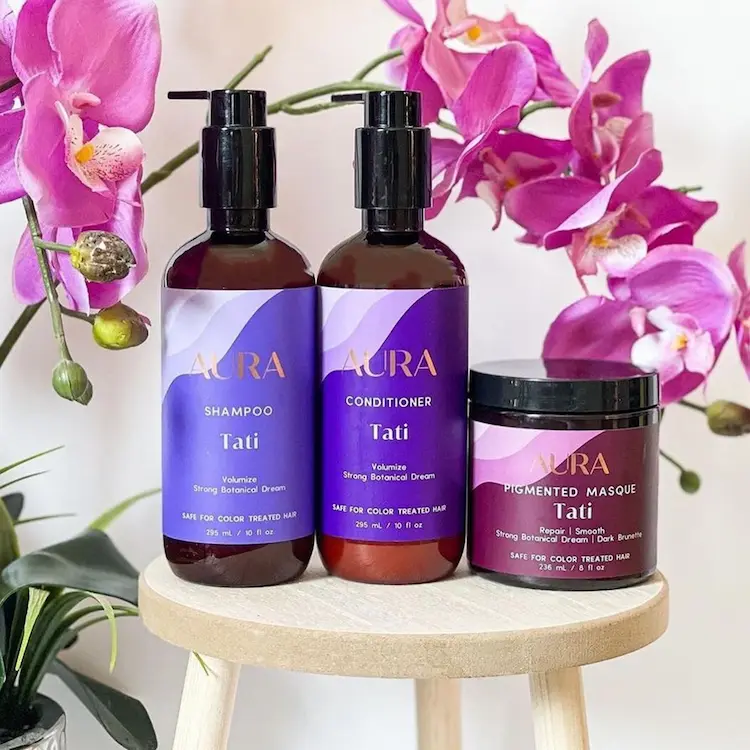 Yes, Aura Hair Care is legit. There are many customers who love their products. There haven't been many complaints about shipping, customer service is very responsive, and people love the packaging.
No worries, you are definitely going to get your products in the mail with safe and quality formulas specific to your hair. But, keep in mind that hair care works differently on different hair types, so results may vary.
Aura Hair Care Reviews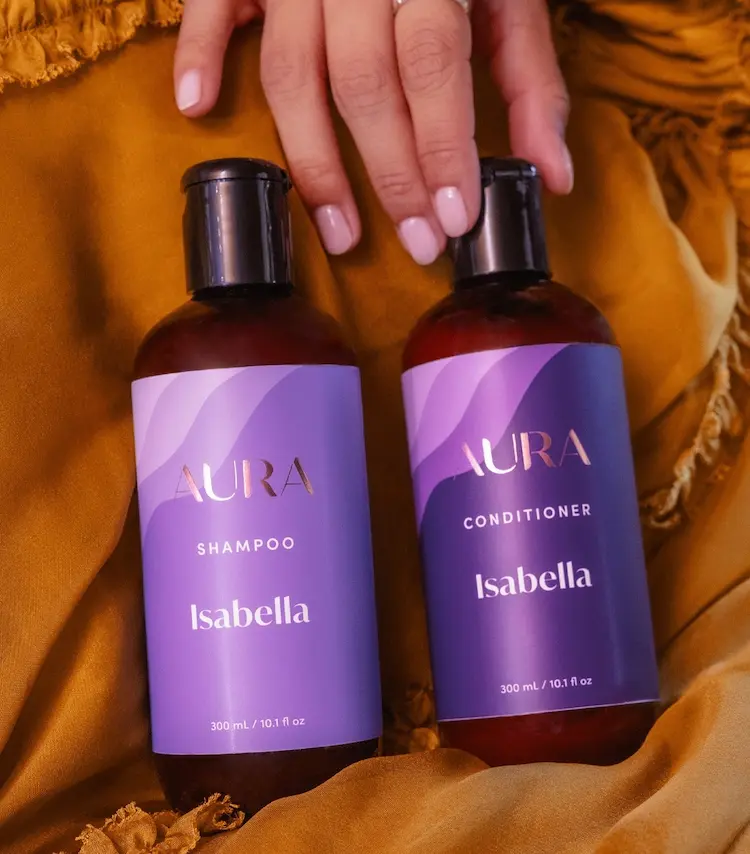 Overall:★★★★ (4 stars)
Aura Hair Care is a great option if you are looking to get into personalized hair care with a fun color boost. At a much more affordable price than its competitors, Aura offers really high-quality custom formulas with safe and natural ingredients.
However, its reputation amongst customers is very divided. It has worked really well on some, but not so well on others, so it's pretty hit or miss.
The quiz is quick, but still long enough to get the necessary information about your hair to create the best formula possible without being too tedious. Another special thing about Aura is that you can add pigments to your conditioners and masques for no extra cost, which work as color enhancers or neutralizers that change the color of your hair to anything from a vibrant purple or a subtle red.
Pricing: ★★★★ (4 stars)
Aura's customizable shampoo and conditioner are both $28 for 10 fl oz. This is definitely more expensive than a normal hair care brand, but for a personalized product, it's quite a steal. Other brands like Function of Beauty and Formulate that also sell custom hair care sell their bottles for about $30 for 8 oz, so Aura is the cheaper option.
For the first purchase, you can get all three custom products (shampoo, conditioner, and hair masque) for only $56.
Quality: ★★★ (3 stars)
The formula of Aura's products are high-quality and results-driven with natural ingredients like tea tree oil, murumuru butter, caffeine, chia seed oil, squalane, and more. All the products are cruelty-free, vegan, and free of harmful ingredients like parabens and sulfates, so we know that Aura takes extra care with their formulas.
As for the effectiveness of the products, there are many mixed reviews. Some customers love it and plan to purchase again while other customers didn't get the results they wanted.
Shipping: ★★★★ (4 stars)
Aura offers free shipping on all orders, which take 3-5 business days to ship. International shipping is available for select countries.
You can even save %15 on your purchase when you select auto-ship, which is a major perk.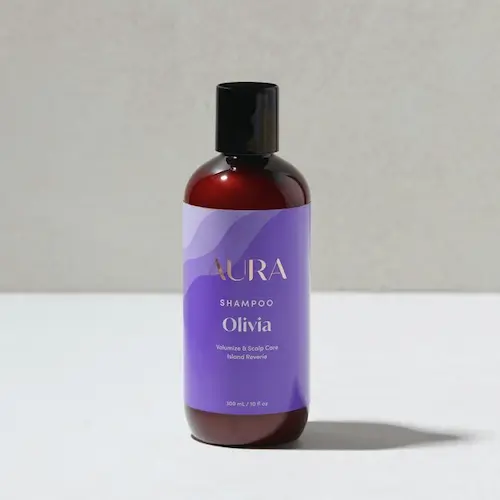 The Aura Personalized Shampoo starts with a quiz that is used to create the formula for your shampoo, conditioner, and masque. The quiz contains information regarding your hair type and hair goals in order to make a formula that is best suited for you. The 10 oz bottle costs $28.
Customers have mixed reviews about the shampoo. Some say it revitalized their hair and left a healthy bounce to their locks. But there are a lot of people who were not pleased with their results, claiming that their shampoo either left residue or driness behind.
---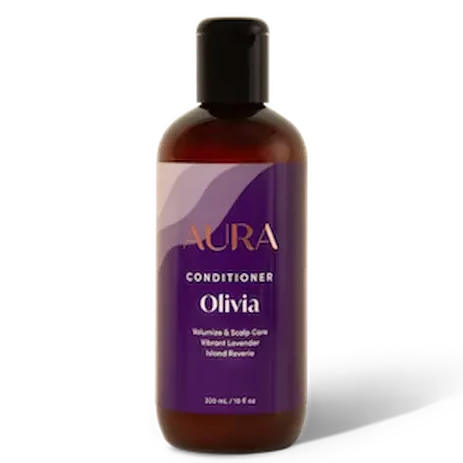 Just like the personalized shampoo, the Aura conditioner is created according to the answers to your hair quiz for the same price and size. With the conditioner, you can add pigments to your formula that can add color or neutralize brassy tones in your hair.
Customer reviews say that the pigments were very strong and were able to provide great color results for a color-depositing product. However, because of this, some customers have said it left their hair feeling dry.
---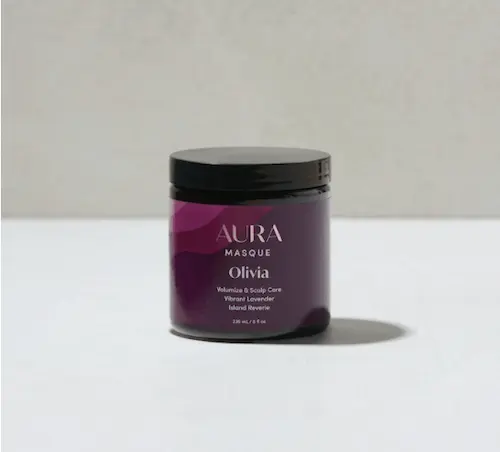 Aura's last customizable product is their hair masque, and it looks like it's an early customer favorite. The goal of the masque is to offer your hair an extra boost of nourishment and help you accomplish your hair goals faster. Pigments can also be added to the masque, which is the best product to do so because it sits in your hair longer.
Reviews say that the Aura masque is definitely pigmented, and there are many people who love the vibrant color payoff. A minor drawback is that after using the product, many claim that there were stains left in their bathtub or sink.
Some say that the results did not match what they thought they were getting, but there are others who were really pleased with the final color.
What Customers Are Saying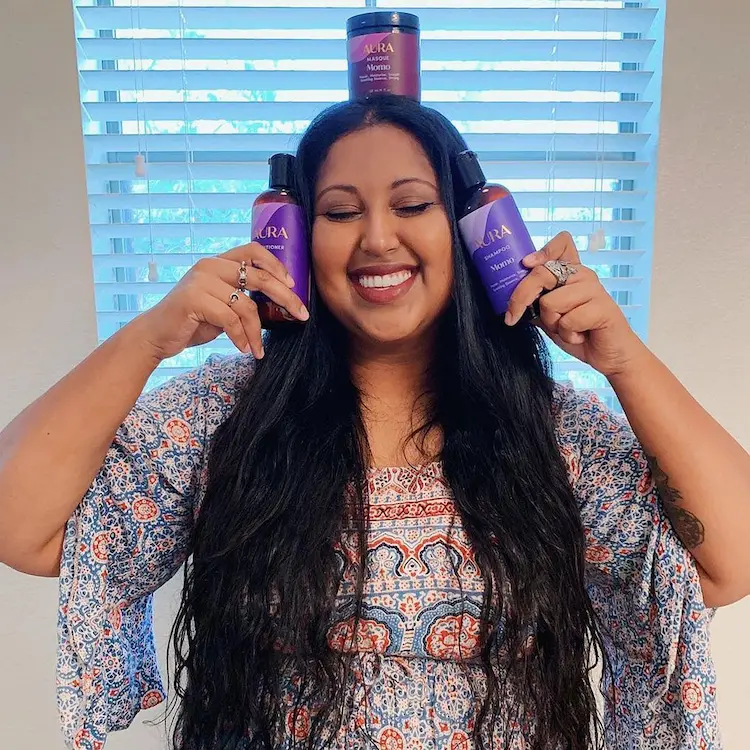 If you still aren't sure if you want to give Aura Hair Care a chance or not, we've compiled the top comments customers have made about their experience shopping at Aura and using their customized hair care products:
Better price compared to competitors
Color is really strong in conditioner and masque
Pigments work best for touch ups and maintaining color
Some say shampoo left hair feeling greasy
Scents are pleasant and not too overpowering
Frequent sales on the website
There are many customers whose products achieve their hair goals in a short amount of time (enhancing waves, making hair soft, hydrating, etc.)
In Conclusion: Worth It?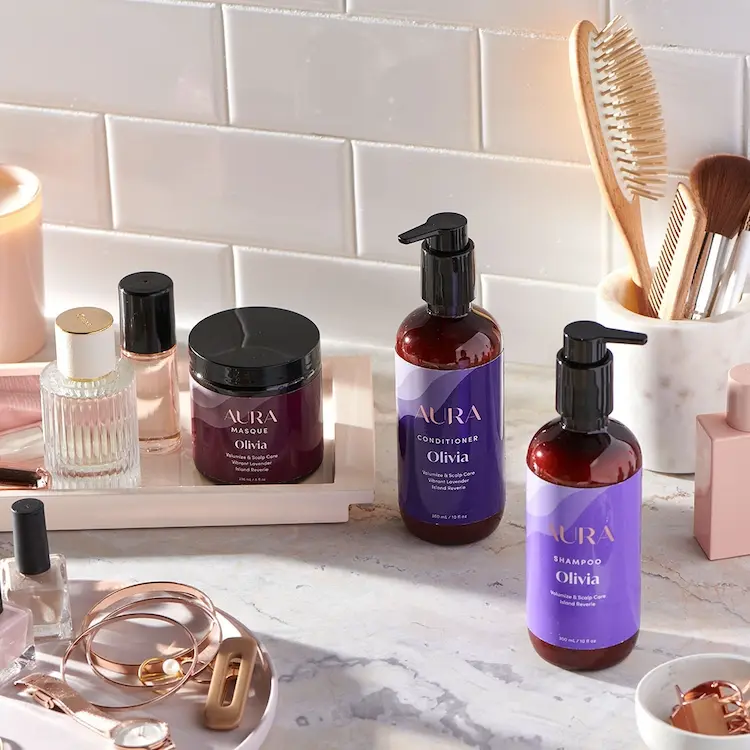 All in all, Aura Hair Care doesn't have a ton of customer reviews yet, but it seems that many people think it's worth it. There are some people who were unhappy with the results, saying the shampoo left a residue on their hair, but others say the color payoff is excellent.
It seems that this brand is perfect for those who want to swtich up their hair color frequently without the commitment of permanent dye, but maybe not for those who are only looking for the best customized shampoo.
Whether you decide to purchase from Aura or not all depends on what you are willing to risk. Maybe because the company is relatively new (only a little over a year old), they are still working out the kinks to their process.
It might be worth it to spend a few more dollars to purchase from other customizable hair care brands that have better reviews like the ones listed below. However, if you are set on a custom color depositing product, Aura is definitely the way to go.
Aura Hair Care Alternatives
FAQs
Where is Aura Hair Care located?
Aura Hair Care doesn't have any retail stores, but it's headquarters are located in Los Angeles. 
Where can I buy Aura Hair Care products?
Aura Hair Care products can only be purchased through their official website.
What is Aura Hair Care Return Policy?
There aren't many specific details to their return policy, but their website states that if you aren't happy with your personalized products that they will adjust your formula or give you refund. To start a return, contact their support team by sending a message on their website or calling the customer service number (844)973-3910.