Calling all jewelry lovers! Wondering how these two brands size up against each other? Keep reading to see our Ana Luisa vs Mejuri review below.
I think we can all agree that nothing complements an outfit better than accessories, especially jewelry: a hint of gold or silver, a flash of blue or purple, or a lavish statement piece.
The right jewelry can transform an outfit from basic to chic, casual to classy, or just elevate an already stylish fit.
But buying quality jewelry is an expensive habit, and not everyone has the money to always shop from luxury brands. That's when companies like Ana Luisa and Mejuri enter the chat.
Both companies are dedicated to providing quality, accessible, and sustainable jewelry so that everyone can feel confident in themselves and what they're wearing.
Often seen on social media, Ana Luisa and Mejuri are two popular brands influencers swear by. But, which one is worth the hype? Here is our in-depth Ana Luisa vs Mejuri review to see which brand we recommend.
RELATED: 18 Best Online Jewelry Stores For Every Occasion
Ana Luisa vs Mejuri Overview
A fairly new company, Ana Luisa is based in Brooklyn, New York. Founded in 2019 by David Benayoun and Adam Bohbot, one of the company's biggest selling points is that it sells carbon-neutral jewelry.
Simply put, being carbon-neutral means removing as much carbon from the atmosphere as is emitted. With that, Ana Luisa is very transparent about the sourcing and traceability of their materials. They state that they use recycled materials as much as they can for their rings, bracelets, necklaces, and earrings.
On the other hand, Mejuri is a jewelry company founded in 2015 by Noura Sakkijha with the mission statement, "Jewelry for every day, for our own damn selves."
According to Sakkijha, she wanted to create a jewelry industry that wasn't reliant on men gifting women, but women and men buying their own jewelry to celebrate and empower themselves. Thus, Mejuri was born.
Ana Luisa and Mejuri have similarities, but also have their own unique qualities that set them apart from one another. Let's see what some of those qualities are when comparing the brands side-by-side.
Ana Luisa (Winner)
Mejuri
–offers rings, necklaces, earrings, and bracelets

–has often sales and deals$30-$300 price range

–has a loyalty and rewards program called Club AL

–has a 30-day return policy
–has a wider selection including anklets and jewelry boxes

–not many sales advertised

–$30-$4,500 price range

–has multiple store locations and a piercing studio

-has a 60-day return policy
Ana Luisa vs Mejuri
Now that we've gone over some general points between the two brands, we're going to break it down even further to see how they stack up against each other.
What They Have to Offer
Ana Luisa quickly became a popular brand on social media thanks to its trendy and dainty aesthetic paired with their affordable prices. Regularly, the price range is from $30-$300, but there are tons of final sale discounts that mark the price as low as $20!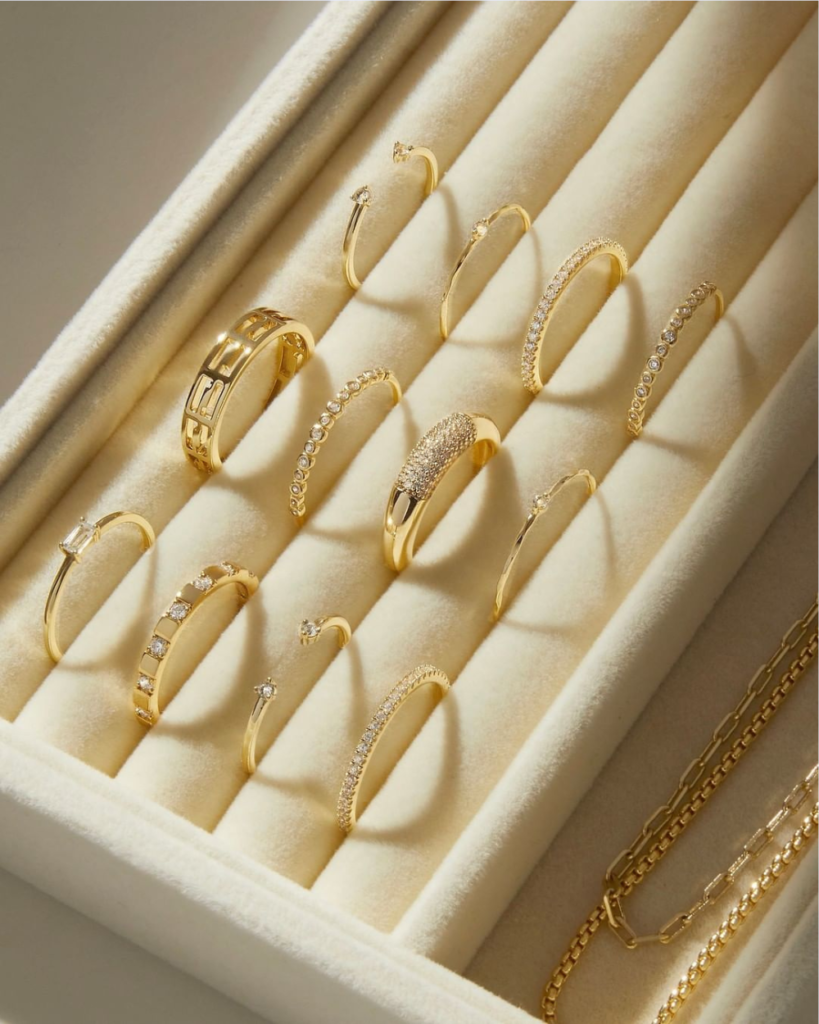 In addition to the final sale discounts, Ana Luisa offers BOGO deals with up to 40% off on select pieces from all categories.
The brand is able to offer such awesome deals because of their weekly drop system. Rather than launching a new collection during certain periods of time, Ana Luisa drops product every week in small batches not only to help with sustainability, but to create a direct approach with shoppers.
RELATED: Our Ana Luisa Jewelry Review
Another favorite brand on social media, Mejuri is huge on uplifting yourself and the surrounding community by using jewelry as a form of expression.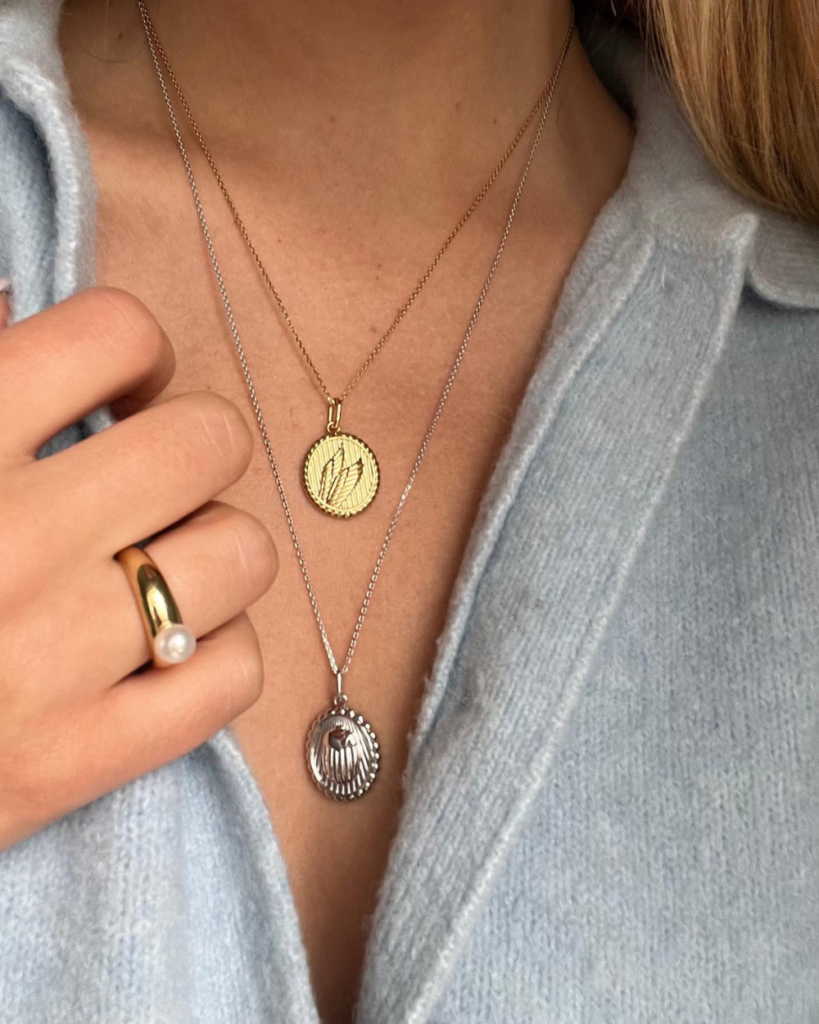 Because of this, Mejuri is always up to date with the latest trends, so that shoppers can continue to cultivate their signature styles and add to their jewelry collections, all within an accessible price range.
In fact, Mejuri also has a number of stores for in-person shopping, and you can even book an appointment at their Piercing Studio.
Quality
Each piece of jewelry is designed by a team in New York and is then produced in factories around the world.
Because this company is so huge on transparency with their shoppers, each product is put through a chemical test, a physical test, and on-site inspections to ensure that what you pay is what you get.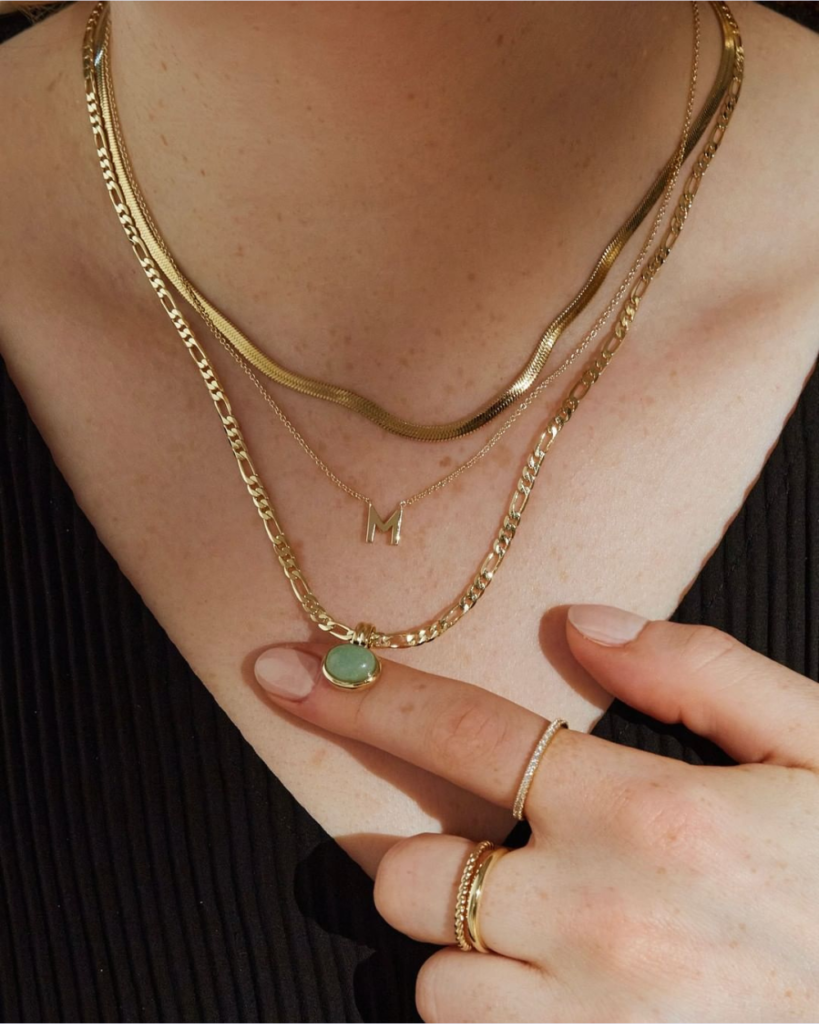 Specifically, these tests are designed so that you can be assured whatever piece of jewelry you're wearing is safe, hypoallergenic, and nickel-free.
For the most part, customers are satisfied with their orders from Ana Luisa, albeit some reviews talk about specific products like the Chloe ring that easily deform. Some customers say the products feel light and somewhat cheap, but the longevity of the jewelry holds.
Ideas for products for Mejuri begin with their in-house design team, and every material and workmanship of a piece must pass a test for everyday wear.
Their best-selling products are made of 14k gold, as it's less prone to getting scratches and doesn't wear and tear as easily as 18k gold.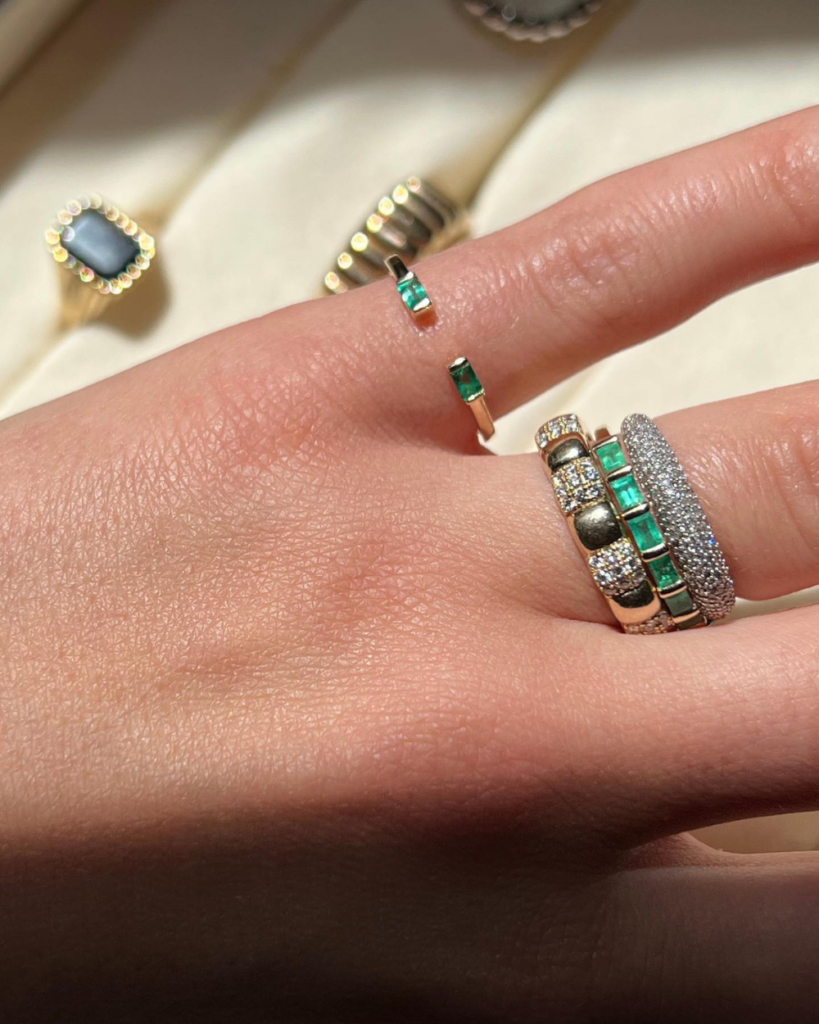 Their 14k gold pieces and sterling silver pieces are finished with rhodium plating, giving them extra durability.
Some customers of Mejuri, however, were not very satisfied with their purchases. Customers were saying the jewelry tarnished quickly, sometimes with very little wear. The vermeil pieces especially did not last, and even some of the 14k gold pieces began to tarnish.
RELATED: Mejuri Reviews: Is Their "Affordable Luxury" Jewelry Worth It?
Materials
Ana Luisa is all about being transparent with their shoppers about the materials used in their jewelry. From gold-plated brass, sterling silver, and pearls, you can find out what materials Ana Luisa uses and where they come from by taking a look at their Glossary of Materials.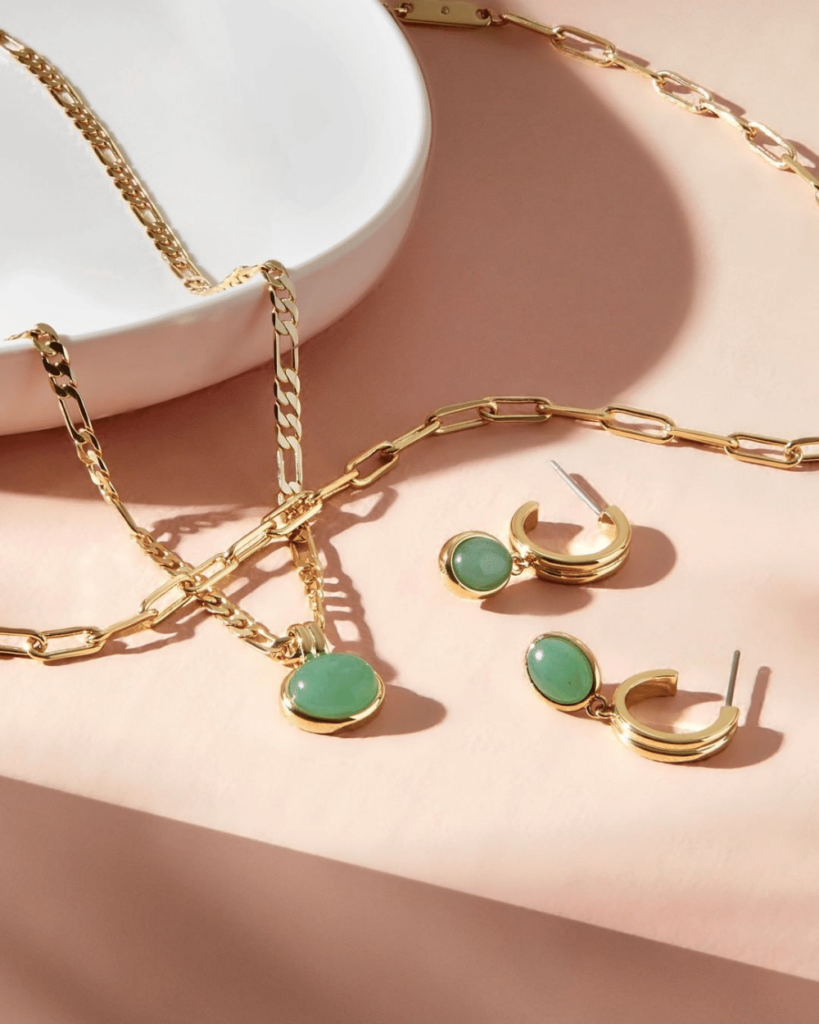 The brand carries natural stones like black onyx and red jasper, but also offers synthetic stones like synthetic opal and lab-grown diamonds.
Mejuri products begin with their in-house design team. The company works often with 18k gold vermeil, AAA-grade gemstones, 14k gold, and sterling silver, among other materials.
In fact, Mejuri selects diamonds that follow the Kimberley Process, meaning the diamonds used, "do not fuel armed conflict in high-risk countries."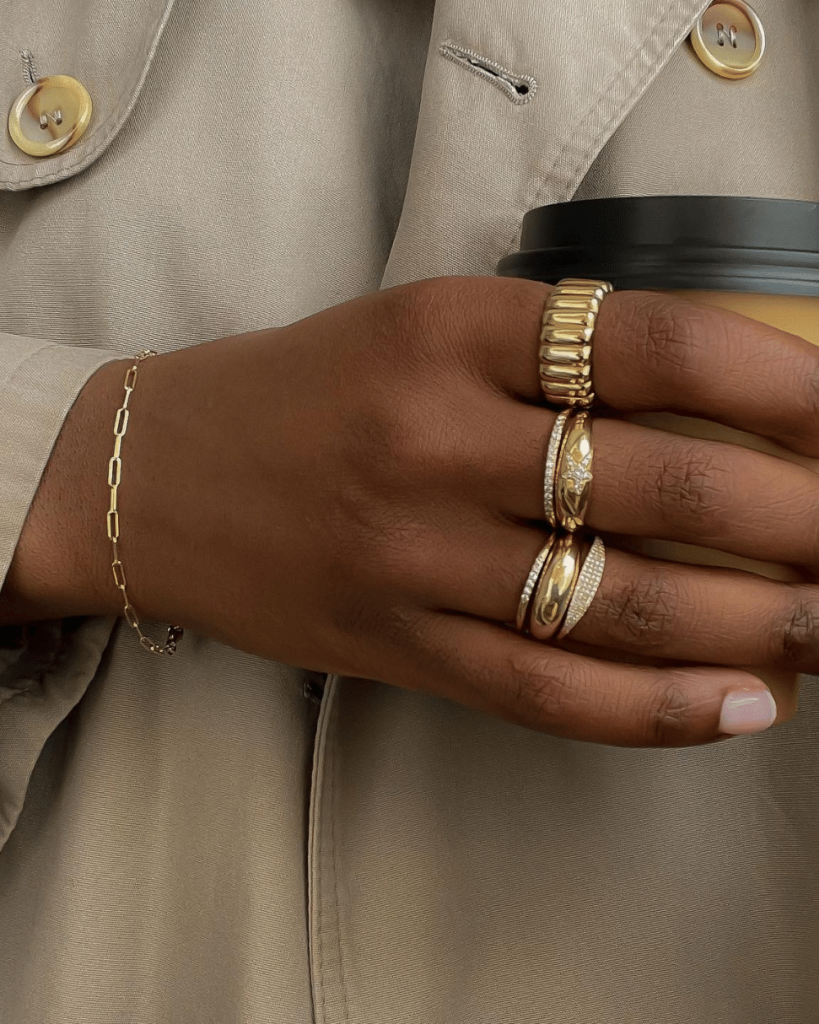 Along with trying to responsibly source their diamonds, Mejuri also works with suppliers who are RJC (Responsible Jewellry Council) certified. To those who are certified, this means the suppliers are compliant with health laws, safety laws, fair labor, protecting the environment, and human rights.
Sustainability
As mentioned before, Ana Luisa is a 100% carbon-neutral and water-neutral company. In fact, in 2021 the company became a certified Climate Neutral company.
One of the highlights of their sustainability campaign is their use of lab-grown diamonds. Not only are the diamonds less expensive for shoppers, but because they do not need to be mined or dredged, it is the more earth-friendly option.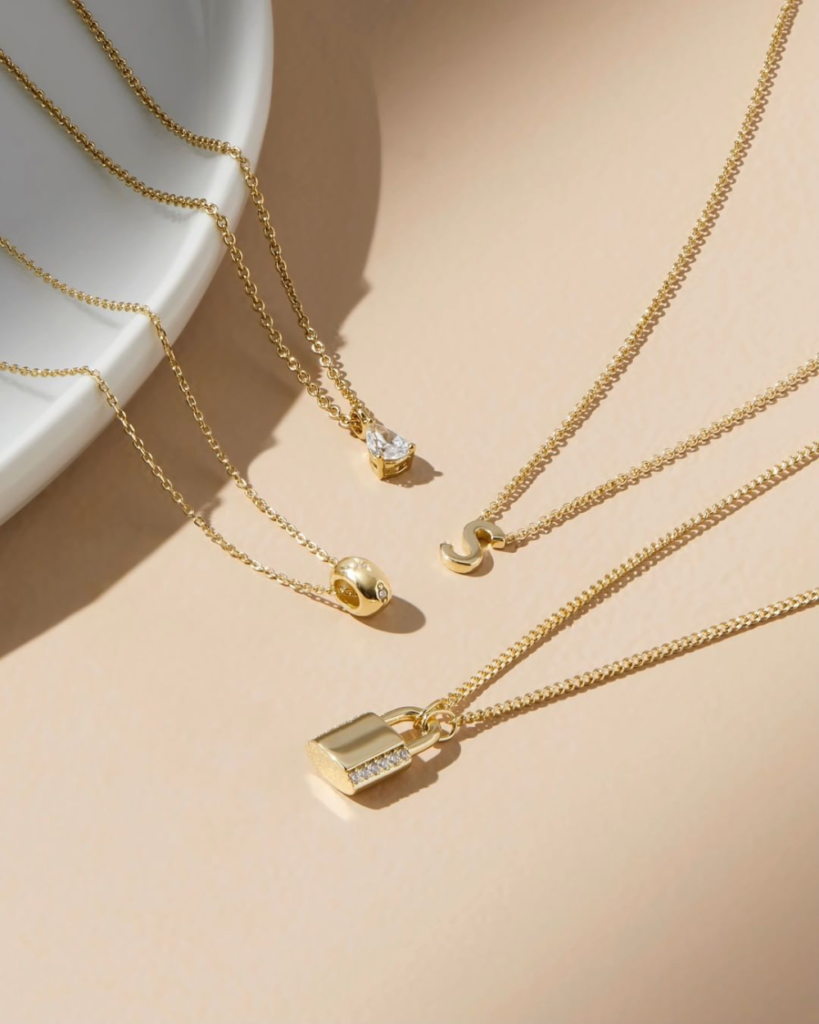 On their website, the brand provides their impact report, glossary of materials, methodology report, and a list of their manufacturing partners to ensure transparency between consumers and the company.
Ana Luisa also takes care to practice circularity, meaning they donate any of their imperfect and returned jewelry to Dress for Success, an organization that centers on the empowerment of women in need.
Currently, 80% of Mejuri's gold used in their jewelry are recycled sources certified by SCS (Scientific Certification System) or RJC (Responsible Jewelry Council). The other 20% consists of newly mined gold from sources also certified by the RJC.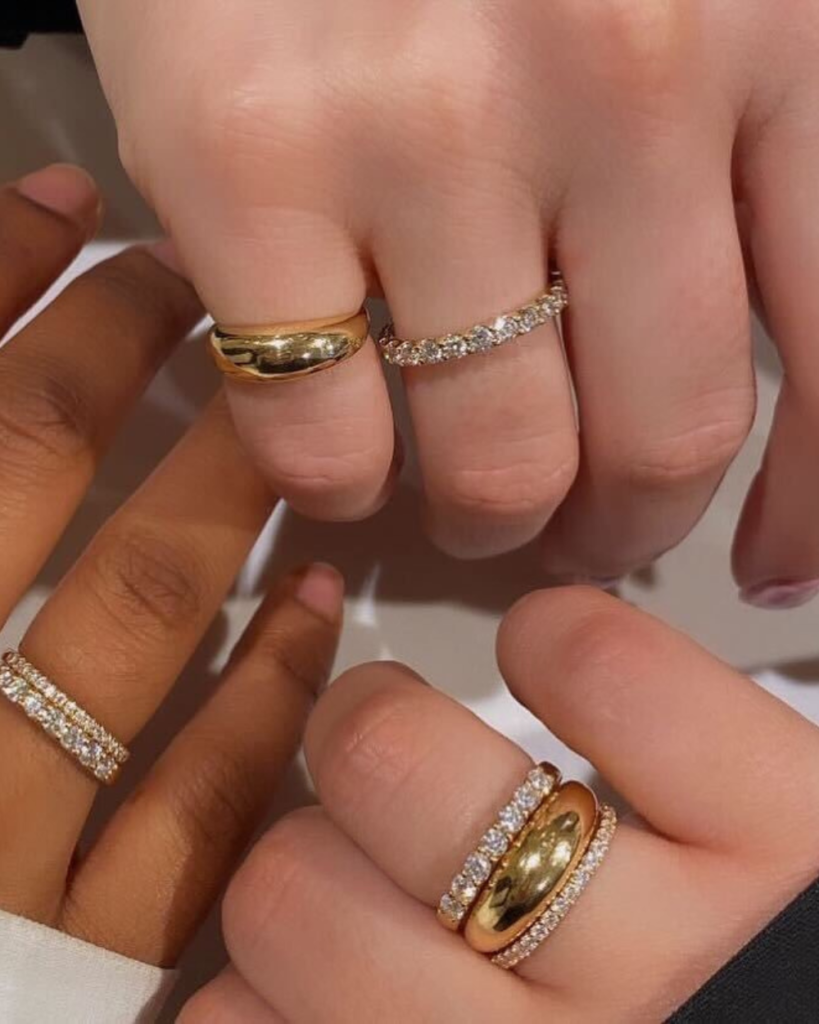 Mejuri's goal for the future is to have 100% traceability for their materials, and they are in the process of finding frameworks and processes that will achieve that goal.
What Customers Are Saying
For more opinions on what consumers are saying about Ana Luisa and Mejuri, we've compiled a list of prominent feedback from real customer reviews:
As a cheaper alternative to luxury brands, Ana Luisa jewelry holds up in terms of quality and style
The gold-plated jewelry from both brands are not worth the price, since gold-plated pieces tarnish eventually
Mejuri is inconsistent with their quality of materials
Mejuri has a lot of cute and trendy designs
The Conclusion: Who's the Winner?
After some major in-depth comparisons, we're back to asking ourselves: Ana Luisa or Mejuri? Though both are popular brands on social media and are ever-growing, we think Ana Luisa is the better choice between the two.
Not only does Ana Luisa have a thorough process and plan for being an environmentally-conscious company, but they are also so transparent with how they manufacture and source their products.
The jewelry has the same cute and dainty aesthetic Mejuri has, and the prices are similar, if not cheaper. Ana Luisa's weekly drops keep the website in stock with popular and new products, and from what customers are saying, the quality is impressive.
UP NEXT: 16 Sustainable Jewelry Brands to Ethically Brighten Your Wardrobe