Your hair is an important, yet very tricky, part of your body to take care of. With all the different products on the market, it's hard to know which one is best for you and your hair type.
Have you ever used a product that just made your hair feel icky and full of gunk?
The "Ghost" collection at Verb hair care claims to be the solution for those searching for weightless formulas for their fine or easily weighed-down hair.
Can Verb Ghost really be the one true solution? Read our Verb Ghost Shampoo reviews where we talk about all the pros, cons, and everything in between. 
RELATED: 11 Best Shampoos at Ulta Worth Buying
What is Verb Ghost Shampoo?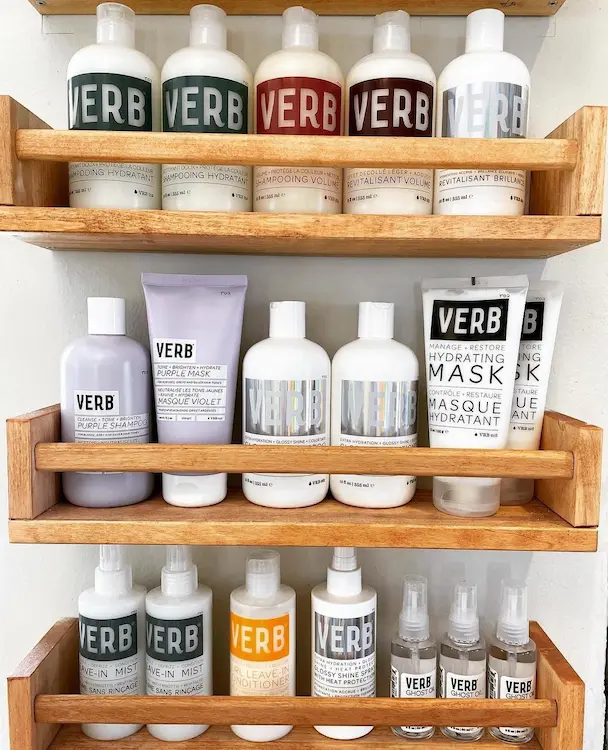 Verb is a gender-neutral haircare brand made without any harsh ingredients so everyone can find the best hair products for them.
The idea for Verb came to Jayson Rapaport and Michael Portman, founders of Birds Barbershop in Austin, Texas, which affordably prices hair services on length and style rather than gender.
They wanted to create a hair care line that was as affordable as their hair cuts but still provided quality care, so they, along with Claire Moses, founded Verb in 2011.
Verb categorizes its products by hair goals. The Verb "Ghost" collection is a line of hair care that features weightless formulas that smooth and add shine to fine hair. The collection is complete with various products from shampoo and conditioner to hair oil and masks. Other lines at Verb include hydrate, volume, glossy, and more. 
Verb is all about creating affordable products with only the best and safest ingredients to provide real results, no filters.
Verb Ghost Shampoo Reviews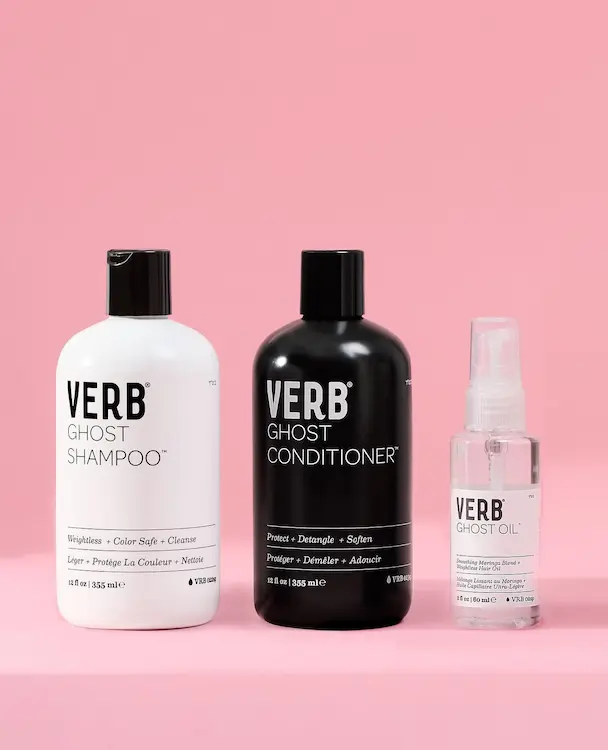 Overall: ★★★★ (4 stars)
Verb Ghost Shampoo gets a solid 4 stars from us because, despite a few drawbacks, the overall product and brand experience is very positive.
Verb provides clean and professional level hair care, all at an affordable price. Though there are some complaints about the results of the products (like there are for any brand) most customers have found the Verb Ghost collection to be really helpful, moisturizing and refreshing the hair with their weightless formulas. 
Pricing: ★★★★ (4 stars)
All of the standard products in the Verb Ghost collection are $20. The only products that cost more are the combo packs/kits and the larger sizes of shampoo and conditioner.
Though $20 might seem a little expensive for one bottle of hair product, keep in mind that this is a professional grade brand that is used in salons and barber shops. Verb products come at a much more affordable price than other professional hair care brands as well.
Quality: ★★★★ (4 stars)
Verb products are made with high quality ingredients that are tested and researched to create formulas that are result-driven and safe for your hair. Verb is gluten-free, paraben and sulfate-free, and cruelty-free.
Overall, customers have very positive feedback about Verb Ghost products. Reviewers said that the products left their fine hair hydrated and rejuvenated without feeling heavy or weighing down on their hair. However, there were a few complaints about how it made their scalp dry and didn't clean thoroughly.
Shipping: ★★★★ (4 stars)
Standard shipping (5-10 business days) at Verb costs $8 or is offered for free with orders over $40. Verb doesn't ship internationally, and it's a flat rate of $35 to ship to Alaska or Hawaii.
Select Verb products are also available at Sephora, Ulta, and Amazon.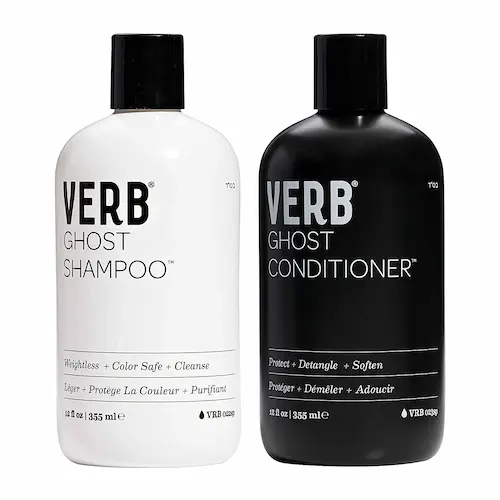 ★★★★ 4.5 stars (1783 Reviews)
This vegan shampoo and conditioner set is the full package—it's color-safe, hydrating, anti-frizz, and great for all hair types. There are so many positive reviews for the shampoo and conditioner with most customers saying it smells great and gives their hair that extra volume they were looking for.
There have been some people who didn't love the products, saying it made their scalp dry or too oily. Hair will ultimately depend on your specific needs since everyone's hair is different, but many people did find success with Verb Ghost products. 
---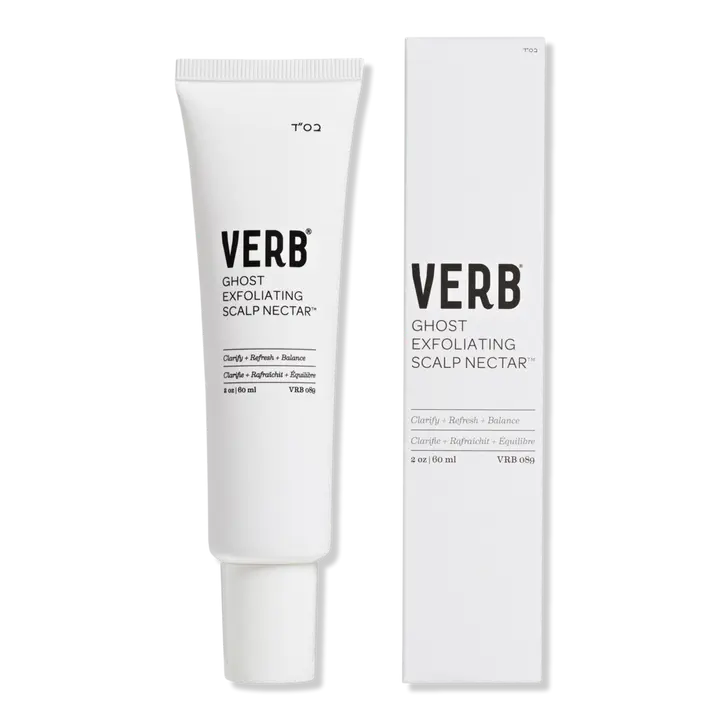 ★★★ 3.8 stars (10 Reviews)
Price: $20
This product is a lightweight serum meant to hydrate, clean, and refresh your scalp. It uses moringa oil to hydrate, biotin to nourish, and AHAs and PHAs to exfoliate.
For the best results, you should leave the serum in for 10 minutes and rinse after applying directly to the scalp and massaging thoroughly. It is recommended to use it once a week.
Reviews for the Exfoliating Scalp Nectar are mixed. Many customers say that the product did a good job of making their scalp less dry and cleaning out the excess oil, dirt, and scalp buildup. However, others say that they didn't see much of a difference or that it made their scalp more irritated.
---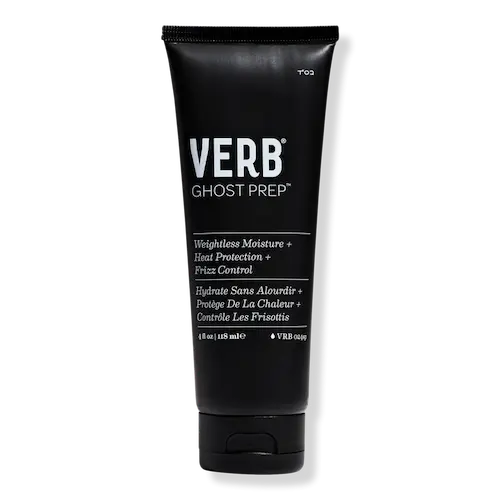 ★★★★ 4. 7 (233 Reviews)
Price: $20 
This Verb Ghost product is a lightweight heat protectant product. The formula is designed to provide weightless moisture, protect against heat up to 425 degrees, and control frizz.
The product uses glycerin for moisture, moringa oil to hydrate and smooth natural frizz, and pro-vitamin B5 to add vibrancy and body. The product should be applied to damp hair before using styling tools.
Reviews for this item are generally positive with customers saying that the Verb Ghost Prep was great for frizz control, doesn't add residue that weighs down the hair, and prevents heat damage. There were some comments from customers claiming that it was a bit sticky and wasn't great at moisturizing, but all in all, the feedback is excellent.
---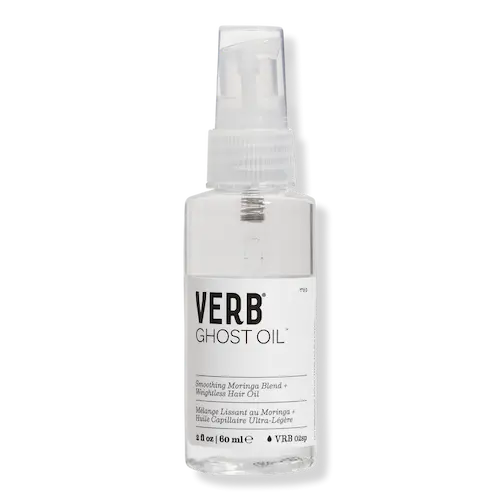 ★★★★ 4.9 stars (940)
Price: $20
The Ghost Oil is one of Verb's best-selling products. It is a weightless hair oil meant to enhance shine and nourish hair and reduce frizz. It uses moringa oil to hydrate and smooth hair, bamboo extract to strengthen, and hydrolyzed soy protein to lock in moisture. 
Customers love this Verb product. Reviews rave about how the Ghost Oil adds a healthy shine to your hair without feeling heavy and weighing down your hair with product. It works on many different hair types from thick curly hair to fine straight hair. The oil also helps with frizz and hair damage.
---
What Customers Are Saying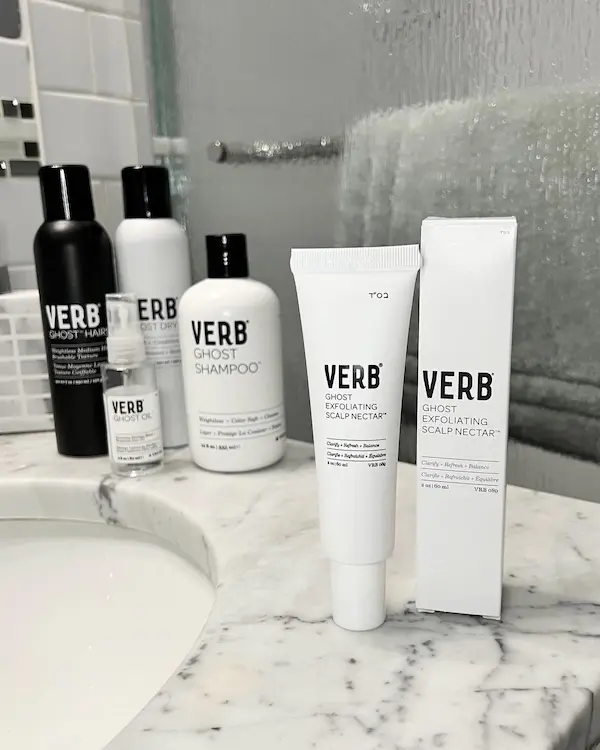 If you are still unsure about purchasing a Verb Ghost product, then check out this list we put together of the main points customers have made in reviews that you should know before you make your decision:
Lives up to the promise of being weightless
Some say it makes hair oily
Hydrates and moisturizes well
Great for controlling frizz
Best for fine/thin hair, but works for all hair types
Small amount of product, but a little goes a long way
Some say shampoo didn't clean thoroughly enough
Scent smells nice, not too overwhelming
To Wrap It Up
All in all, Verb Ghost is definitely worth a try if you are looking for hair care products that are weightless but are still able to keep your hair hydrated and nourished.
Though there are some complaints about Verb products, the general consensus is overwhelmingly positive and customers love the brand that provides clean and safe formulas while delivering great results.
Verb Ghost Shampoo Alternatives
Return Policy
Verb allows returns of products purchased within 30 days, no questions asked. To start a return, email infor@verbproducts.com. 
FAQs
Is Verb Ghost good for your hair?
Yes, Verb Ghost is good for your hair. The formulas use only the safest ingredients for your hair, and clinical research and customer reviews show positive results. 
Is Verb Ghost Shampoo sulfate-free?
Yes, Verb Ghost Shampoo and all of the Verb Brand are sulfate-free, paraben-free, gluten-free, and cruelty-free. 
Where to buy Verb Ghost Shampoo?