From classic styles to more eccentric designs, there are many kinds of belts that men can add to their wardrobe for social and professional situations. It doesn't hurt to have some variety in stock, and although a leather belt is a great all-around choice, other designs can easily accentuate an ensemble.
Of course, sticking to a style you're comfortable with is important, but don't be shy to try something different for a standout look.
This list will cover the different 9 types of belts for men that offer any wardrobe an excellent rotation.
RELATED: 11 Best Shoe Brands for Men: Style, Form, & Function
1. Leather Belt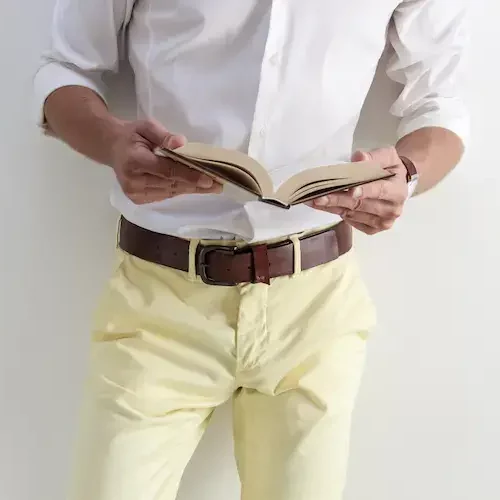 If you're looking for a belt you can rely on with numerous outfits, the classic leather belt is an essential that every man should own. There are different kinds of leather belts, some with a more polished look, while others intentionally boast a more rugged design.
It's also fairly common to find a double-sided leather belt that offers two tones to work with for a blend of casual and professional looks. You can find a belt that works with denim or a sharp suit, but it's advisable to have a dress belt and a more casual option on hand as well.
Try this brown leather belt from LL Bean for something classic yet stylish.
---
2. Braided Belt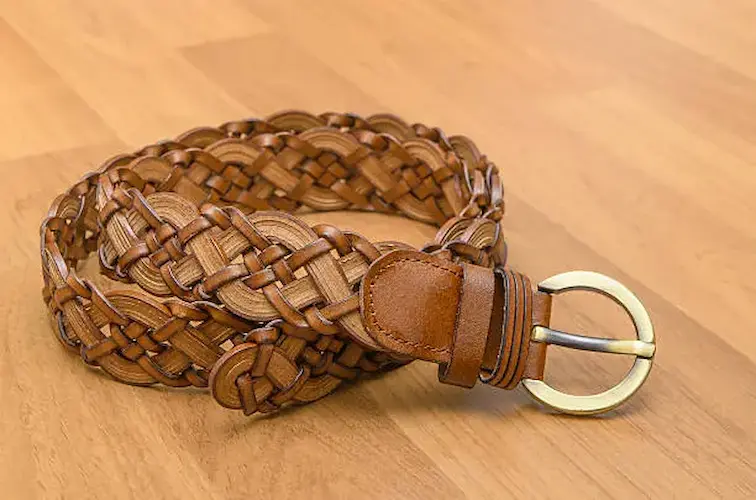 As the name suggests, this is a belt that has a braided or woven look to it and can be found in a wide variety of fabrics and materials. Generally sported in a brown or black color, a leather braided belt is the usual preference for most people.
It offers more variety in its design than standard belts, and many of them come with metal or contrasting material accents for a little extra detail.
Here's a stylish option from Land's End that comes in 3 color options.
---
3. Military Belt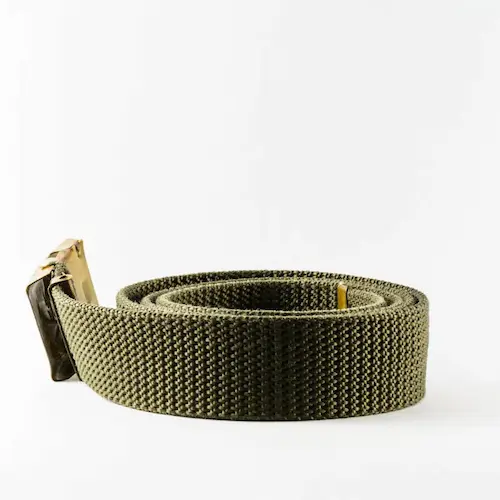 Primarily made for its potential utility, the military belt is crafted with a simple design, yet it can work with many different scenarios. Many people like the neutral yet bold look of the buckle, and they're usually made from nylon, giving them a decent amount of flexibility.
They can easily be adjusted to specific sizes, and they're fastened via tension instead of using buckle holes. When styling, it's best to stick with more casual outfits, as it wouldn't be the first choice with any professional looks.
Here's a casual option from Kohl's that will help you nail the look.
---
4. Snap Belt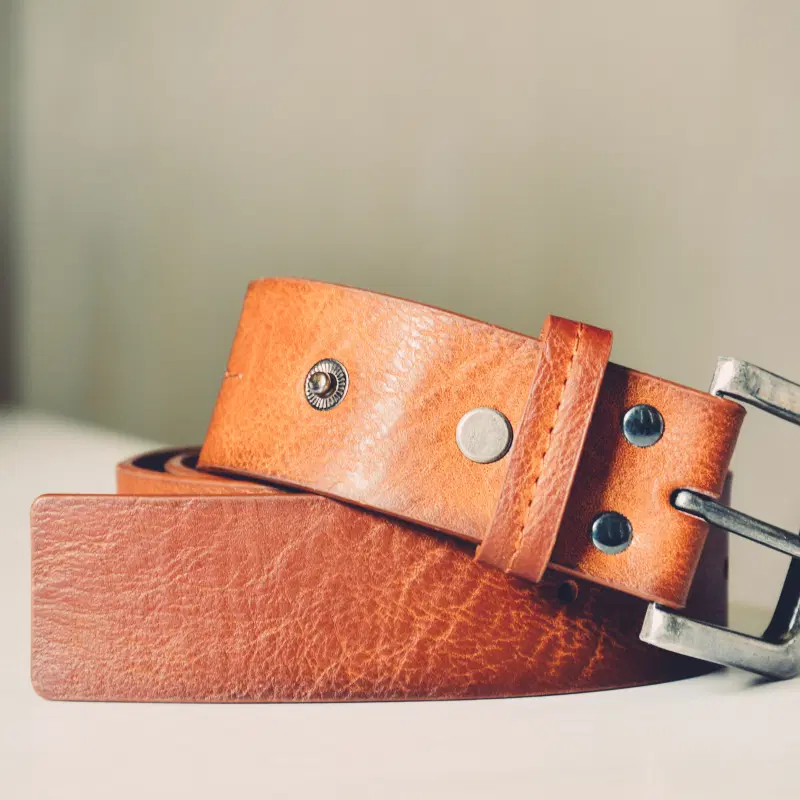 Hailed for their ease of use, there are actually multiple belt styles that hold this name. It can refer to a belt with a buckle you can easily snap together or to a belt that offers snaps that make it easy to customize your belt buckle.
Either way, they come in an array of designs and materials, but a majority of the time, these belts are found to be made out of leather.
This option from Dick's Sporting Goods is snazzy and practical.
---
5. Casual Belt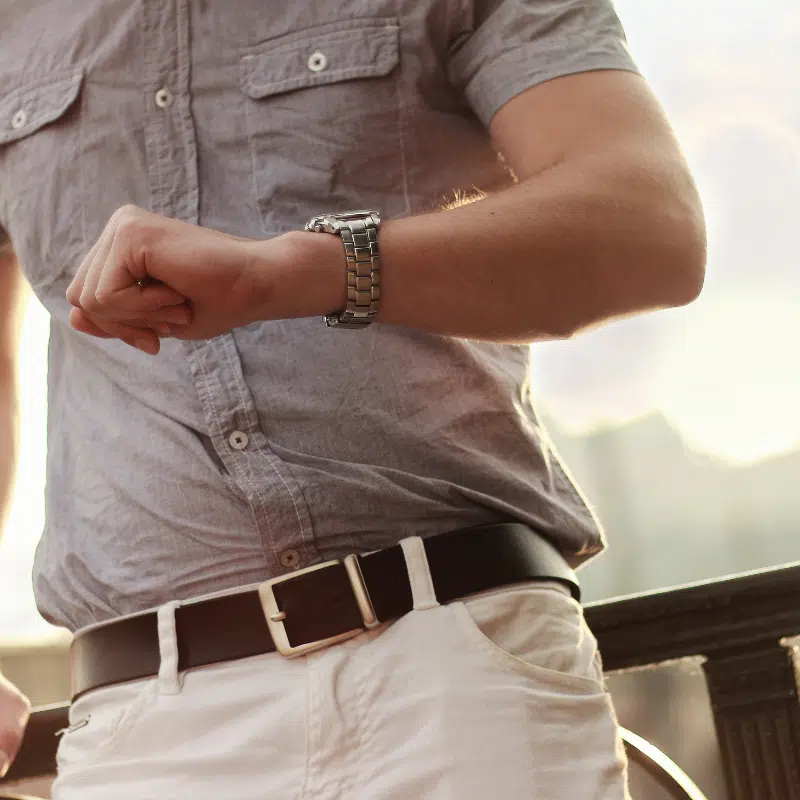 Aside from specific styles or occasions, you always want to have an everyday option that can be thrown onto nearly any outfit. A casual belt, whether made of leather or another fabric material, is great to have on hand whether you're wearing jeans, slacks, or even a pair of shorts.
These belts are usually cheaper as they're meant for everyday use, but you can easily find some high-quality options if that's more your style.
Browse casual belts for men at Nordstrom Rack.
---
6. Double-Sided Belt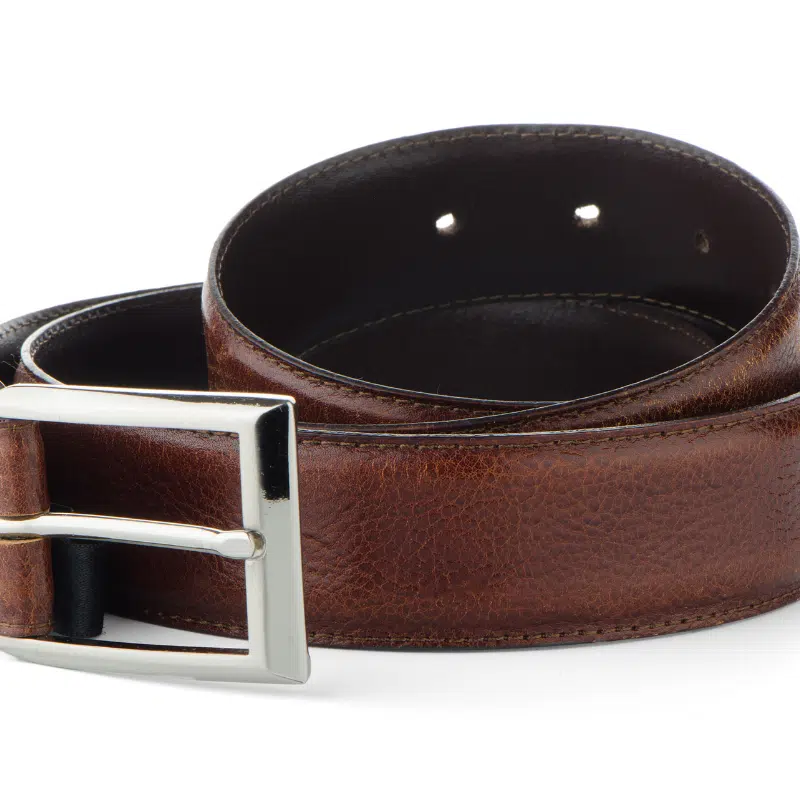 We briefly talked about this type of belt earlier in the article, but double-side belts offer the most versatility if you don't care to have multiple belts in the closet. It's also a solid choice for those who don't wear belts too often. This allows you to switch between colorways and apply them to casual or professional settings.
You can find double-side belts of a premium quality, but you can also save plenty of money by choosing one made with faux leather.
This reversible belt at Macy's is the perfect staple option.
---
7. Dress Belt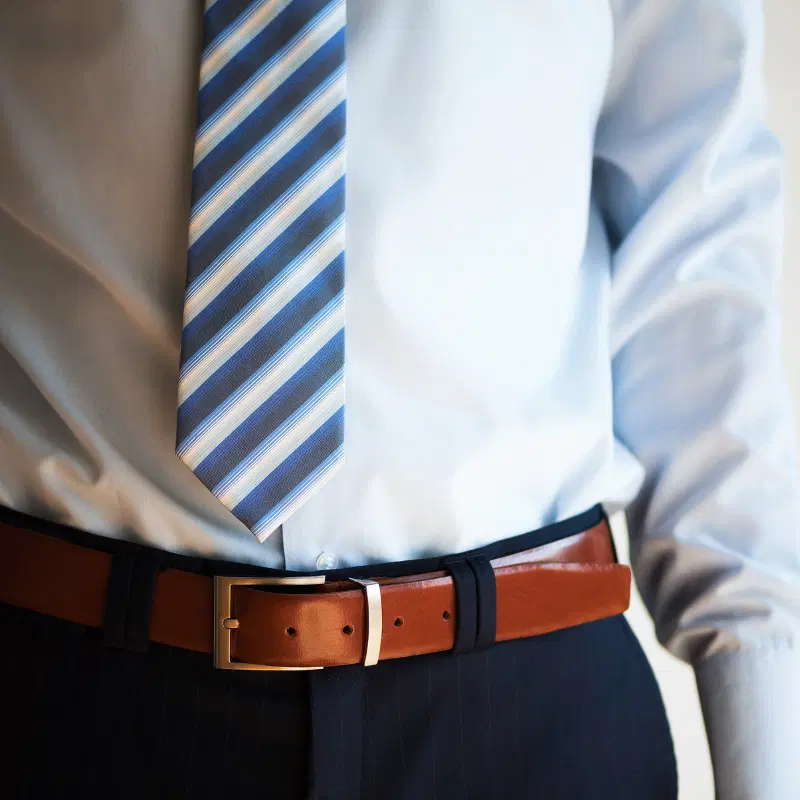 Dress belts for men generally come with a universal design that's signature to dress-wear. Usually boasting a thin look and made from varying types of leather such as grain, tooled, genuine leather, and more, they're commonly found with a black or brown colorway.
They're meant to be neutral while complimenting a suit's color and appearance in all the best ways. It's also a good indicator of how you should pair your shoes, socks, and tie.
Check out this full-grain leather dress belt from Buffalo Head Leather.
---
8. D-Ring and O-Ring Belts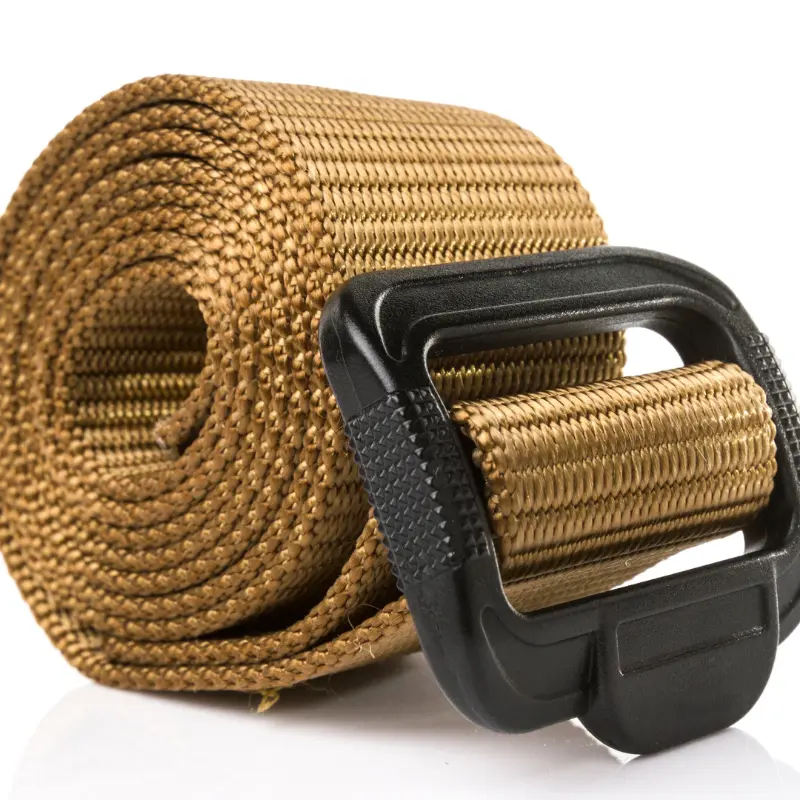 One of the simpler designs on this list, these belts are fastened through looped tension with the help of an open buckle that has an "O" or "D" shape. With a couple of loops and tight pull, this belt will quickly tighten around the waist, and the simple loop design does a great job of keeping tension throughout the day.
It definitely isn't a professional look, so you'll want to stick to casual styles for this one, and it's a go-to choice for jeans and shorts alike.
Here's a great option from Vineyard Vines for a casual look.
---
9. Suede Belts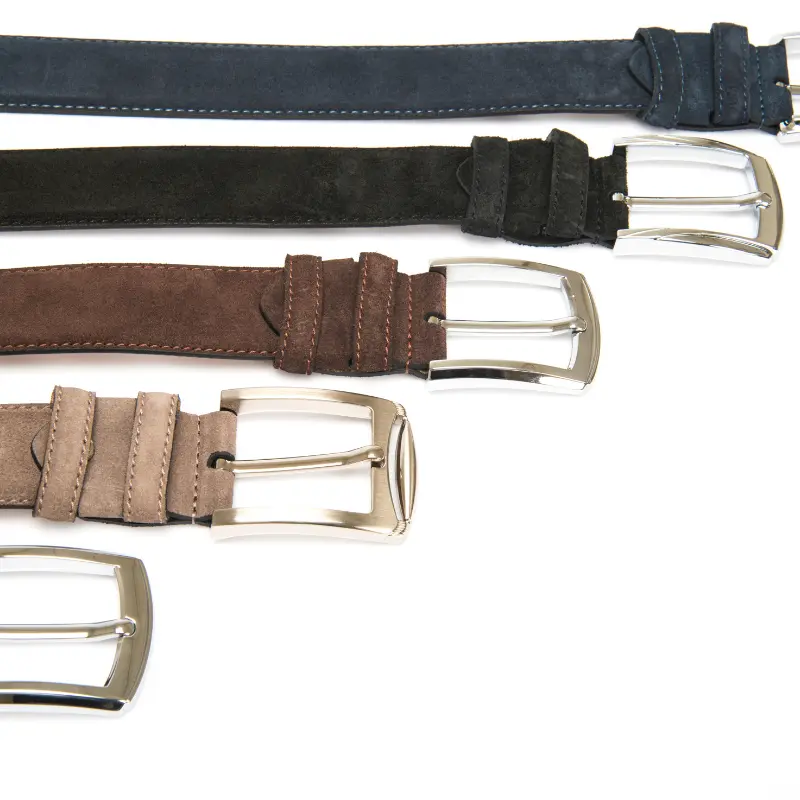 They may not be the most popular among others in this article, but suede belts still hold relevancy without a doubt. With a unique feel and prominent aesthetic, it's a great choice if you're looking for a contrasting flair or the perfect match to an exotic suit or pair of dress shoes.
Suede works with casual and more upscale looks, so feel free to style it at your discretion. They offer plenty of versatility, but it's essential that a suede belt color matches the rest of your outfit.
This handstitched suede belt from Thurdsay Boot Company is a closet staple you'll have for years.
The Bottom Line
Men have a lot of different belt styles to choose from nowadays, and there are numerous pairings and style choices that make a huge difference for an entire ensemble. From casual to professional designs, having some variation in your wardrobe will have you prepared for any occasion.
This article covered the different types of belts for men, as well as the best way to style them so you're prepared for any social or professional setting.
UP NEXT: 11 Best Belts for Men to Shop Now