There are some things in life we shouldn't play around with, and comfortable shoes are definitely one of them.
Luckily, there are so many shoe brands out there that prioritize comfort and style, and two of those are Rothy's and Birdies. Both brands are well-known for their supportive, fashion-forward, and high-quality shoes.
When deciding between these two brands, is there one that's better than the other? Read our Rothy's vs Birdies review to see which brand comes out on top.
Rothy's vs Birdies: Overview
Before we get into the nitty-gritty, let's see what both brands have to offer at a glance.
Rothy's
Birdies
– uses sustainable materials like recycled plastic water bottles
– easy to break in
– has a bigger collection of products than Birdies
– has styles for women, men, and kids
– $119 to $190
– has a sale section for better deals
– carries sizes 5 – 13
– 100% machine washable (the entire shoe)
– Free shipping & free returns
– Only offers returns on unworn shoes
– Founded by a man
– Offers 20% off to teachers, students, medical professionals, military, and more
– certified B-corp and is dedicated to making an impact in their community
– uses their 7-Layer Comfort technology
– some styles have a longer break in period
– has a smaller collection than Rothy's
– only offers styles for women
– $85 to $165
– has an awesome sale section for better deals
– carries sizes 5 – 13
– some styles have washable insoles
– Free shipping & free returns
– Their 30-day fit guarantee allows returns on worn shoes if you don't like them
– Founded by a woman
– Offers 20% off to medical professionals and teachers
What Is Rothy's?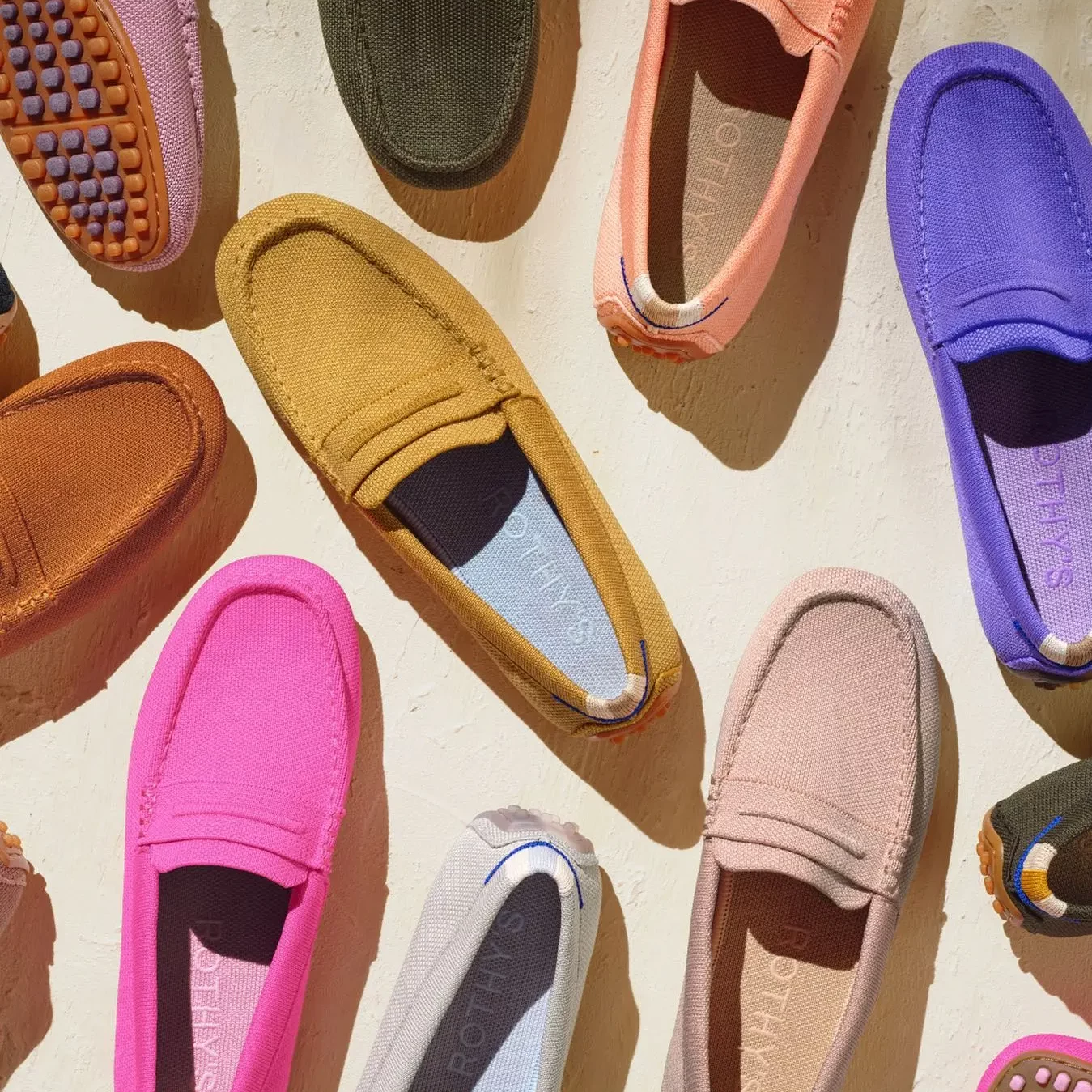 Rothy's is a shoe company for women, men, and kids that was founded in 2012 and is based in San Francisco, California.
Rothy's is best known for its traditional ballet flats and other comfortable shoes in different styles that are perfect for any and every occasion. They're also known for their shoes being 100% machine washable (aka you can throw the entire shoe into the washer).
Another major attribute of Rothy's is its commitment to sustainability, which we'll talk about more in-depth a little later.
What is Birdies?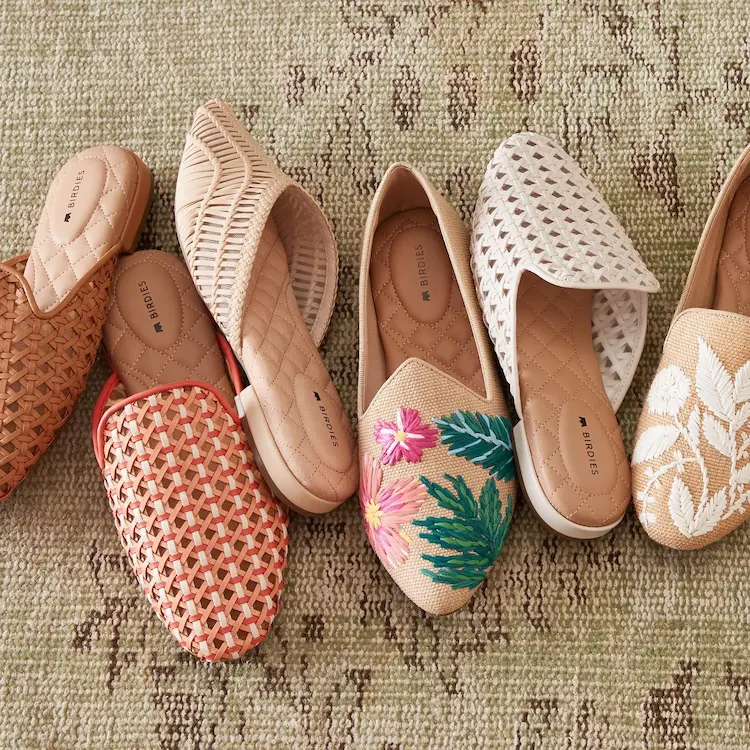 A shoe brand created for women, Birdies was founded in 2015 and is also based in San Francisco, California.
Birdies is best known for its 7-Layer Comfort technology and its slipper-style flats.
In fact, Birdies were originally designed to be used as slippers, but they were just too good to be kept indoors and were later marketed for both outdoor and indoor use.
The brand seems less committed to sustainability in the materials they use than Rothy's, but they are a certified B-corp and are dedicated to creating shoes that last. Plus, they support many different programs that support various communities.
[Rothy's vs. Birdies) – Styles
Rothy's
When it comes to the different styles Rothy's offers, the company carries more options than Birdies. Plus, they offer shoes for men, women, and kids, whereas Birdies just has women's styles.
Rothy's is known for its styles like The Point and The Flat, which are unsurprisingly the brand's best-selling shoe types.
Other than that, Rothy's offers fashionable styles like flats, mules, sneakers, slippers, loafers, and tons more.
Even better, at Rothy's you can also find awesome accessories like totes, handbags, and other small accessories.
Birdies
Unlike Rothy's, Birdies only offers shoewear for women and has a lesser amount of products to offer.
Even so, all of the footwear by Birdies definitely packs a punch and are adorably named after different birds! (Not gonna lie, I would be kind of mad if they weren't named after different birds.)
Birdies carries flats, sneakers, slides, and sandals, but the shoe brand is popular for its slipper flats, specifically The Starling and The Vesper!
Bonus: if you're feeling super fancy and need shoes to wear to a wedding or another formal occasion, Birdies carries occasion shoes that are perfect for those formal night outs.
[Rothy's vs Birdies]: Price
Rothy's
When we're looking at price ranges between Rothy's and Birdies, Rothy's certainly has a larger range, with prices going from $119 to $190.
Overall, Rothy's is a tad more expensive than Birdies depending on the style of shoe you're looking for, so if you're looking to spend a little bit more money, Rothy's is a safe bet.
To get an idea of what to expect, Rothy's priciest product is The Driver ($189) and the most affordable is The Original Slip-On Sneaker ($119). They do also have sale sections for each gender (meaning there is a sale section for women and men), but we couldn't find one for kids.
Birdies
Meanwhile, Birdies is definitely the more affordable option in terms of price, with the price range being $85 to $165.
So if you're lowkey balling on a budget but are still looking for quality shoes that are stylish and comfortable, Birdies is the way to go.
The most affordable shoes Birdies has is The Phoebe in Cream Faux Fur and The Phoebe in Black Velvet Faux Fur ($85) while one of the most expensive is The Swan in Jeweled Gold Sparkle ($165).
Despite their prices already being lower, they also have an excellent sale section where you can find shoes as low as $75.
[Rothy's vs. Birdies]: Materials
Rothy's
If you're one who really takes shopping sustainably seriously, Rothy's is certainly the shoe brand to consider.
Not to say Birdies doesn't care about sustainability, but Rothy's commitment to eco-friendly practices and manufacturing processes is really impressive.
First, all of Rothy's products are made with its signature thread—made up of single-use plastic water bottles. Not just that, but Rothy's has re-purposed more than 580,000 pounds of ocean-bound marine plastic by using it to knit bags and accessories.
Other materials Rothy's uses include algae-based foam, recycled rubber, and other natural and renewable minerals!
Birdies
On the other hand, Birdies and its sustainability plans seem to still be in the works, however, the brand's vegan materials include velvet, woven textile, faux fur, and suede. The non-vegan shoes are made with calf hair and leather.
The main star of Birdies's materials, though, is its 7-Layer Comfort Technology, which consists of quilted satin, dual layer high-density foam, and memory foam cushioning.
[Rothy's vs. Birdies]: Comfort and Fit
Rothy's
There's no doubt that Rothy's are comfortable shoes, and what they lack in arch support they make up for it with soft and breathable materials.
Shoes from Rothy's fit snuggly and are great even during hot summer days. So if you're looking for shoes that don't feel like they're pinching your feet, Rothy's is great.
Rothy's are also pretty true-to-size, even for those with wider feet as the outer materials are pretty stretchy.
Birdies
Though Rothy's are comfortable, Birdies appear to take the cake when it comes to comfort. Thanks to the brand's 7-Layer Comfort technology, these shoes are like walking on clouds.
It's also worth noting that Birdies run true-to-size, but those with wider feet might want to size up by half a size. I personally have weird feet that are in the middle of normal and wide, and my Birdies feel a bit snug. I definitely could have afforded to go up half a size.
[Rothy's vs. Birdies]: Sustainability
Rothy's
When it comes to sustainability, Rothy's and Birdies are both dedicated to making a difference in the world, but they do so in different ways.
Rothy's focuses more on using sustainable materials. Their fabric is made from plastic bottles and marine plastic. On their sustainability page, they state that they have repurposed over 548,000 pounds of ocean-bound marine plastic.
They also use an algae-based foam, plus their outsoles are made with 35% natural and renewable materials and their insoles are made with 30% bio-based materials and recycled rubber.
Rothy's also uses knit-to-shape manufacturing, which avoids about 30% of typical material waste. Aside from all this, they are dedicated to creating quality shoes that will last for years in your closet to avoid their shoes ending up unsustainably in the trash can.
If you do want to give up your Rothy's, they have an in-store recycling program you can take advantage of (they give $30 store credit for adult shoes and $15 for kids shoes).
Birdies
Rothy's sustainable practices are pretty impressive, but Birdies makes an impact in another category.
While Birdies has many shoes that are vegan, they are less focused on using sustainable materials (although they do use some recycled materials and aim to make quality shoes that will last for years to minimize the waste in the world).
Aside from this, they focus more on having a positive social impact. They dedicate their platform to uplifting women in various ways. For example, they have a Souls4Soles partnership where they have donated over 54,000 pairs of shoes to women around the world.
Birdies is also a certified B-corp.
Conclusion: Who's The Winner?
Honestly, both brands make excellent quality shoes. Whichever you choose, you will end up with a long-lasting stylish shoe that is ultra-comfortable.
For me, one of the biggest pros is that all Rothy's styles can be washed (literally the entire shoe can be thrown in the washing machine). If you're buying flats, I would go with Rothy's because of this, unless you plan on wearing no-show socks with the flats. Some Birdies styles do have removable insoles though, but there's nothing like the ease of throwing shoes in the washer.
It's also worth considering how important sustainability is to you as both brands make an impact in the world in different ways. Rothy's focuses more on using sustainable materials by creating their thread out of recycled plastic bottles and marine plastic, whereas Birdies focuses more so on women-focused community impact (they're a certified B-corp).
Another huge factor to consider is that Birdies offers a 30-day fit guarantee (no questions asked), whereas Rothy's only allows returns on unworn shoes within 30 days. So if you're really on the fence between the two brands, you might as well try Birdies first since you can still return them after wearing them out and about. If you don't like them, you can return and try Rothy's.
Aside from this, Birdies is the more affordable option.
Other Brands to Consider
While Rothy's vs. Birdies is definitely a debate, it's also worth considering other popular brands that have similar offerings. Here are some similar brands that offer ultra-comfortable shoes with similar styles and similar pricing:
Allbirds – When comparing Birdies and Rothy's, Allbirds typically comes up in the conversation as well. They offer many similar styles, with a focus on comfort and sustainability. You can find options for men, women, and kids. Their prices typically range between $80 – $120, so they are relatively affordable compared to Rothy's and Birdies. Plus, they often have sales that bring the cost even lower.
Note: We also compared Allbirds vs. Rothy's!
SUAVS – Although less popular than the brands above, I recently tried a pair of SUAVS and love how comfortable they are. They don't have as much variety compared to Rothy's or Birdies as they mainly just offer sneakers or slip-on sneakers, but they're still worth considering because they are just so darn comfortable (and washable)!. Check out my full SUAVS review for more details!