One thing everyone needs is a comfortable pair of everyday shoes. Sadly, it's difficult to find a versatile and comfortable pair of shoes that you can wear anywhere, whether you're taking a walk in the city or hitting the gym.
Today, I'm excited to share my honest SUAVS shoes review, a brand that focuses on making your feet feel as comfy as can be on a daily basis.
I'll be diving deep into my in-depth experience with a pair of their shoes as well as everything you should know before you try out their shoes.
Note: The brand sent me a complimentary pair of shoes for review purposes, but my opinions remain 100% honest.
What Is SUAVS?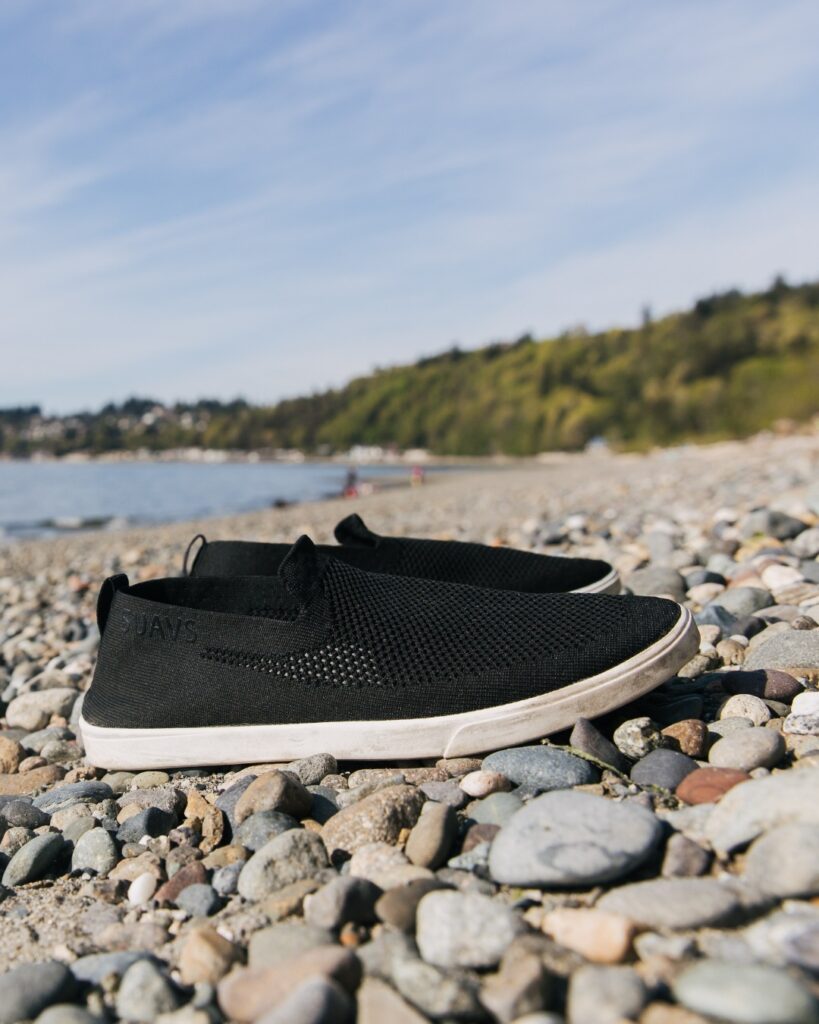 Founded in 2020 by Monxi Garza, SUAVS is a brand dedicated to creating comfortable shoes suitable for everyday wear for both men and women.
The brand prioritizes sustainability – all of its knits are made with 100% recycled fabric made from post-consumer plastic. They use digital knitting, 100% vegan materials, and donate to various charities.
RELATED: 20 Sustainable Sneaker Brands We Love
SUAVS Shoes Review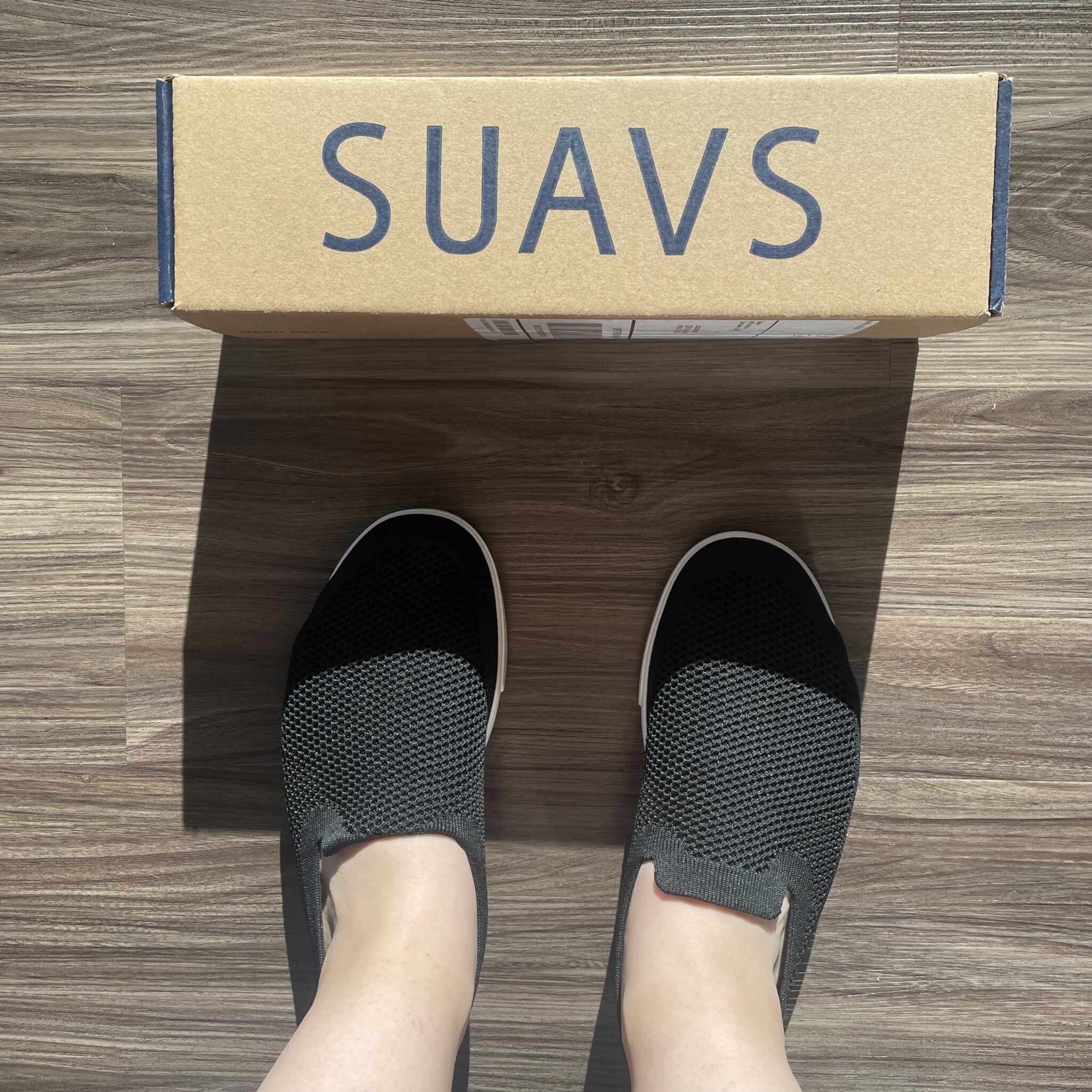 Overall
Rating: 7/10 ⭐️⭐️⭐️⭐️⭐️⭐️⭐️⭐️⭐️
I have owned my SUAVS for about a month now and they have been wonderful. They are so comfortable, breathable, and just incredibly easy to put on (I got the slip-ons).
I've had a few days where I got 15,000+ steps and never felt discomfort in these shoes. Some SUAVS reviews do say they wish they offered shoes with arch support, but the insoles are removable, so you can replace them with a more supportive insole if needed. They also have a $15 full support insole add-on that people really like.
I will say, although their motto is shoes that you can wear anywhere and doing anything, there's one thing I wouldn't use these shoes for – rocky hikes. I wore these on a rock-filled hike up a mountain and I felt every rock underneath my feet. I was also terrified of slipping down the mountain, but thankfully they held their grip well.
Also, sometimes you need to sacrifice comfort for style when it comes to shoes, but I don't feel like this is the case with this brand. Their shoes have a pretty basic design, but they are so easy to pair with any outfit. I especially liked the slip-on style that I got because they are the most minimalist style they offer.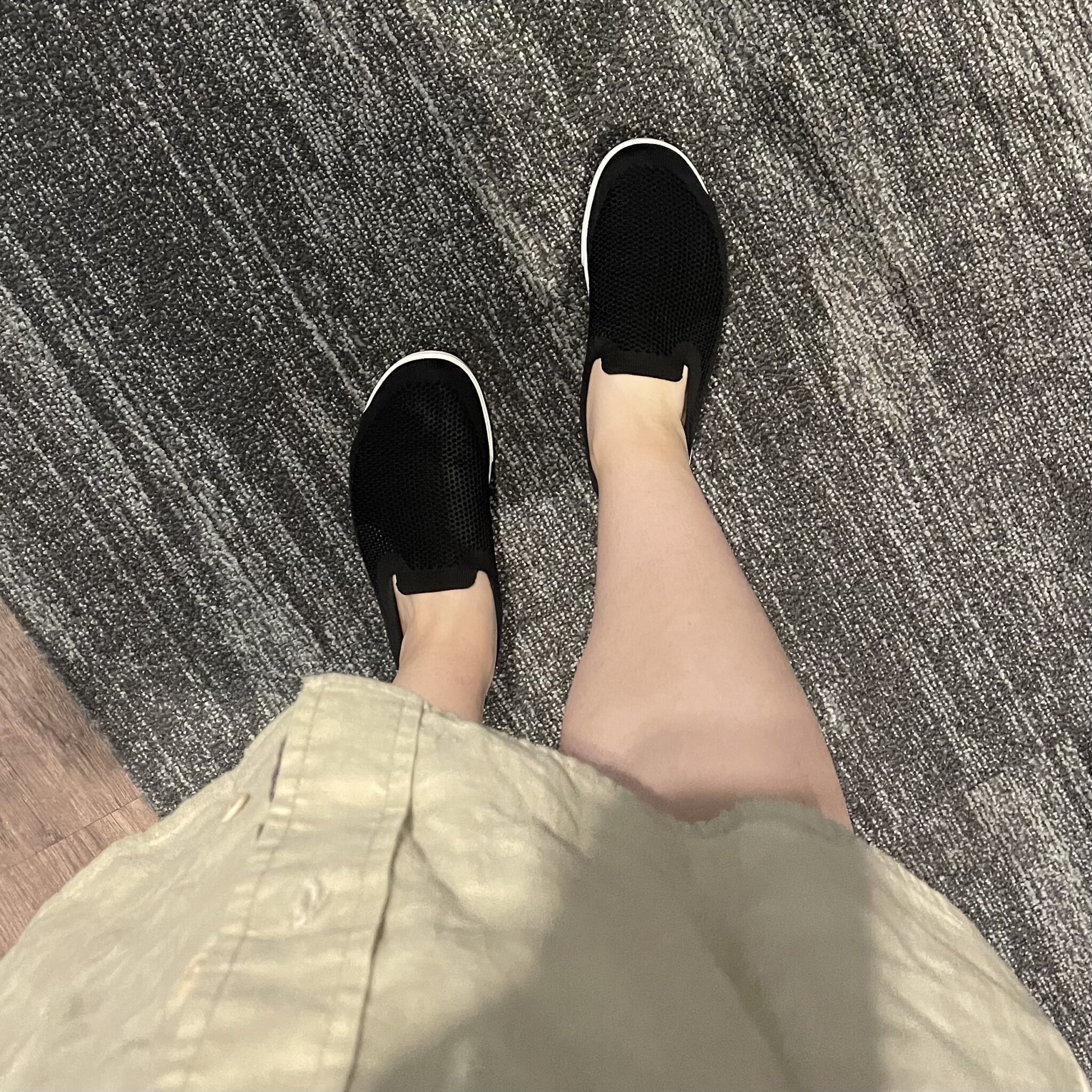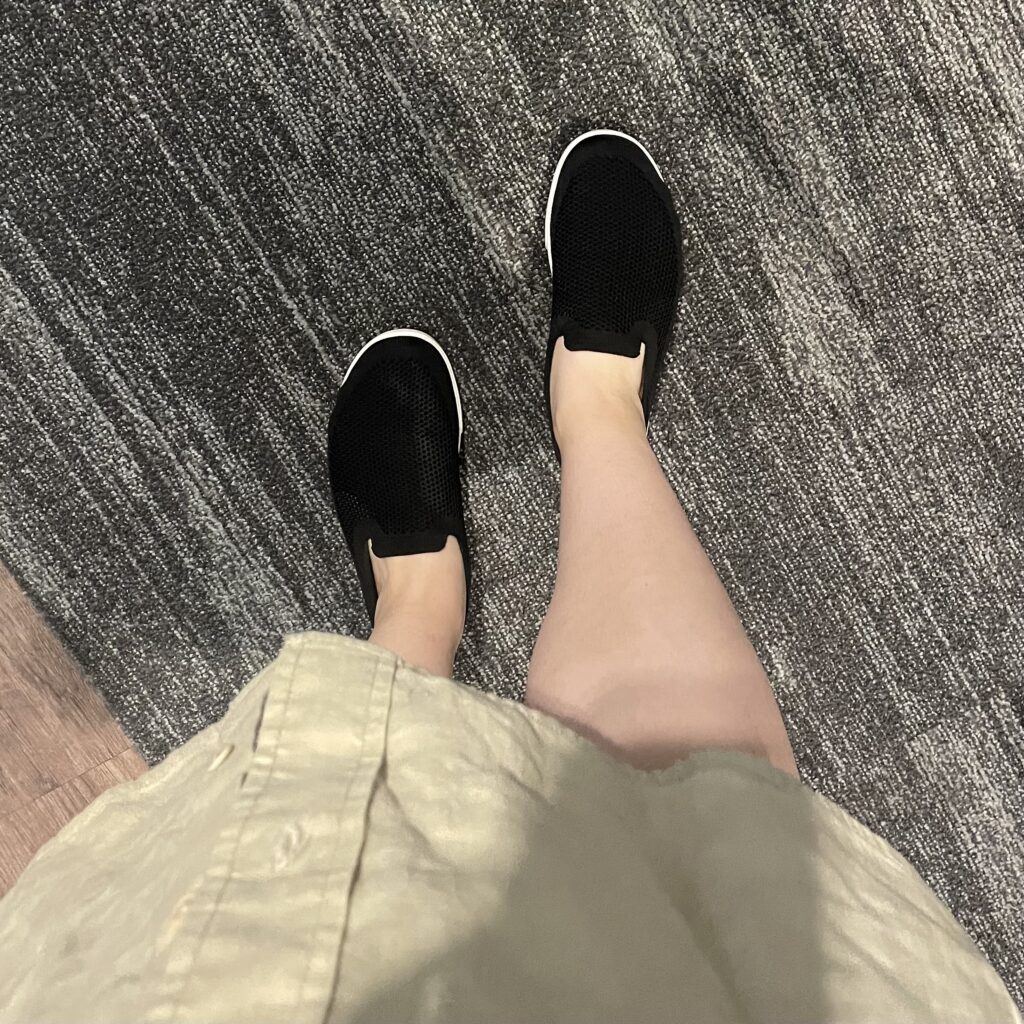 Comfort
Rating: 8/10 ⭐️⭐️⭐️⭐️⭐️⭐️⭐️⭐️⭐️
The main feature of SUAVS is comfort. Since I got the slip-on pair, they are so comfortable and so easy to put on. My feet have never hurt when wearing these shoes. They never even had a break-in period, they were ultra-comfortable right out of the box.
They are also very breathable. I've worn them out on 100+ degree days here in Las Vegas and I never felt uncomfortable. My feet definitely sweat into the shoes, but I never noticed any uncomfortable dampness. What's especially awesome about these shoes is you can just throw the insoles or even the entire shoe into the washer, so I don't worry so much about not wearing socks – they are so comfortable without socks (read more about their cleaning instructions).
I will say that I have never had any issues with foot support; I can wear a flat pair of shoes all day and not notice much. I'm not the best judge, but my SUAVS do seem a bit flat, so this might be something to look into deeper if you need extra support. Luckily, the insoles are removable and they also offer a full support insole, or you can buy one from another brand.
Also, it's worth noting that the sole is a bit thin – I wore them on a very rocky hike up a mountain and I could feel all the rocks under my feet. It was not very comfortable, but that was my mistake, I shouldn't have worn them at all. I didn't take the rating down for this because I don't think these shoes are designed for hiking up a rocky mountain.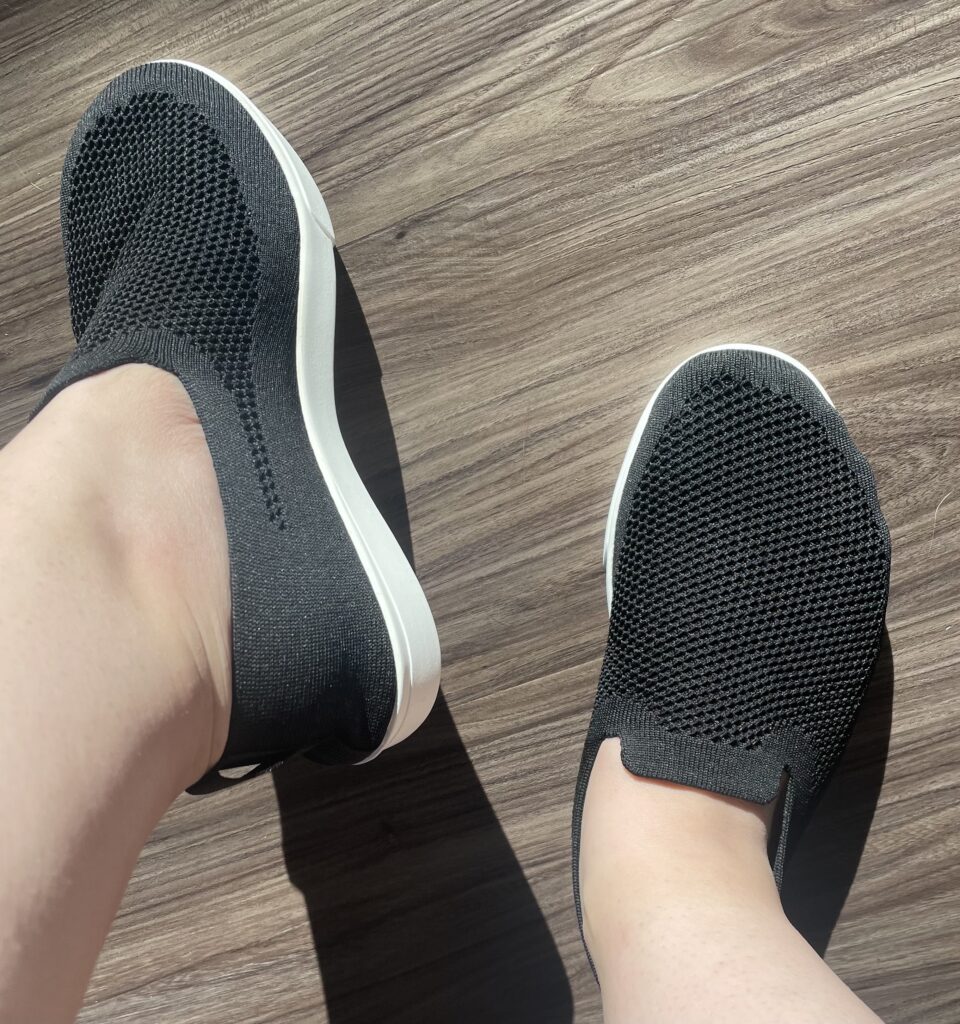 Quality
Rating: 7/10 ⭐️⭐️⭐️⭐️⭐️⭐️⭐️
The shoes are still pretty new to me, so I can't speak on the long-term quality yet, but I will come back and update this article after having them for a few months. However, the quality feels pretty good!
The knit shoe material does feel a little thin, but I believe they are supposed to be that way to keep them breathable. That said, I was stubbing my toes on all sorts of sharp rocks during my hike and the fabric didn't rip, which is a great sign.
There were also many slippery areas of flat rock that I had to climb down and I was impressed that the SUAVS never slipped out from under me. Thankfully, they have a great grip!
The only thing that bothers me is that I can kind of see my toe outlines on the top of the shoe when I wear them without socks, but this really isn't a big deal.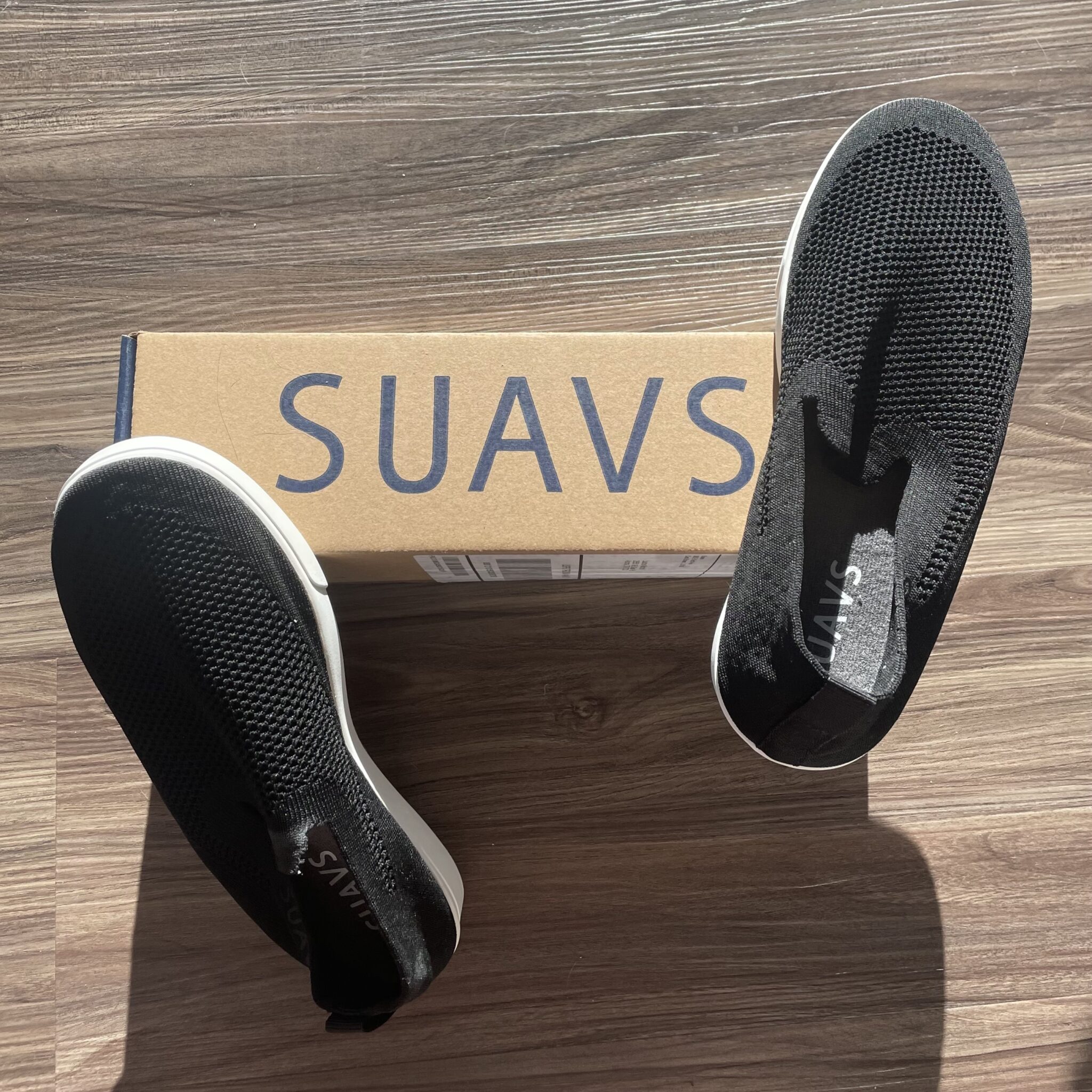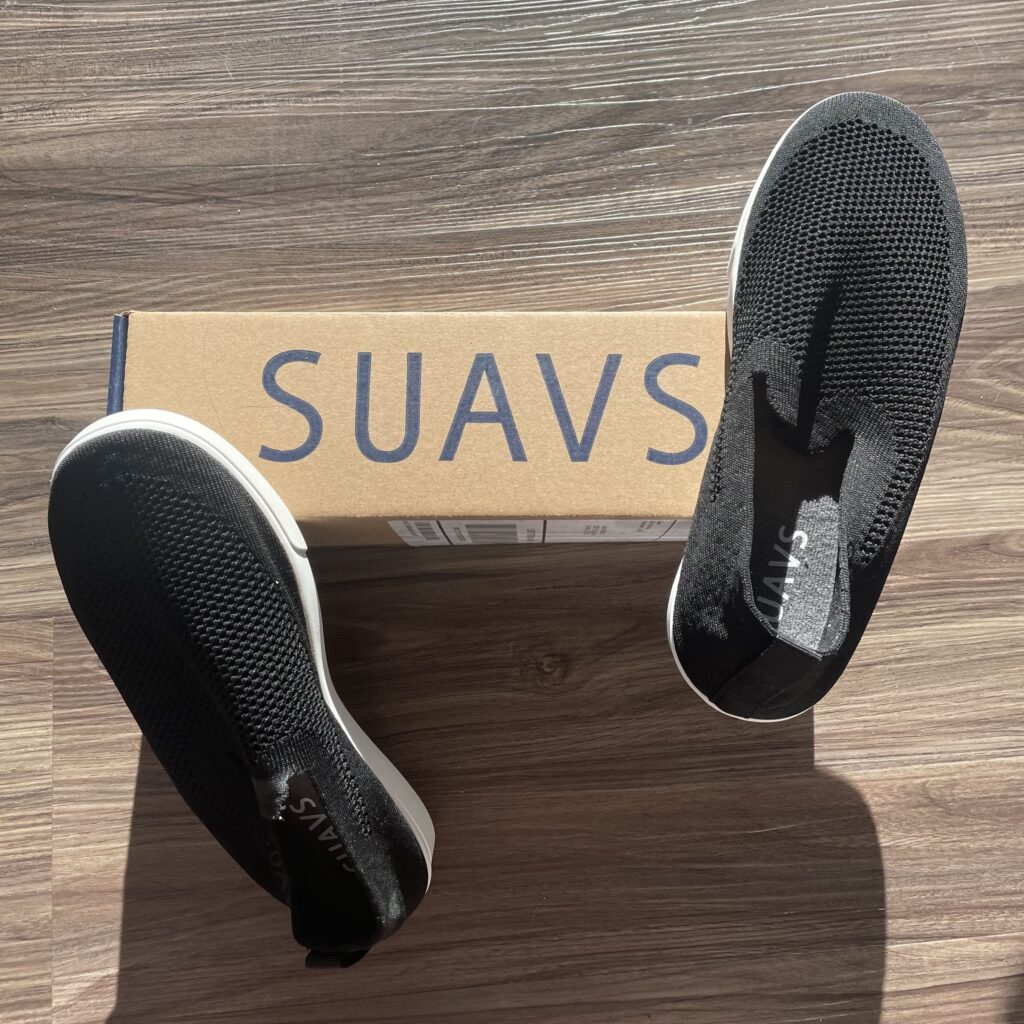 Pricing
Rating: 8/10 ⭐️⭐️⭐️⭐️⭐️⭐️⭐️⭐️
For how comfortable and convenient these shoes are, they are pretty reasonably priced. The slip-ons that I received cost $85 a pair, and most of their other shoes are $130 or under.
Plus, I have seen a few sales that can bring the price per shoe down a bit. They also have a rewards program that can help you save extra cash. For example, 50 points can be redeemed for a $5 discount on your order. You can earn points for each of the following:
50 points for signing up for texts
50 points for creating an account
1 point per $1 spent
100 points as a birthday reward
See more ways to earn points here!
I did notice that they offer free shipping on orders $120+, which can be a little inconvenient if you wanted to order just one pair of shoes that cost less than $120.
I will have to come back and update this SUAVS review with more details on the long-term quality as I have only had them about a month now, but so far they have been excellent.
FAQS
What is SUAVS return policy?
SUAVS offers a 30-day return policy on products in their original, unworn condition. They provide a return label. Plus, they have a 1-year warranty on their shoes in case of manufacturing or quality issues. 
Do SUAVS fit true to size?
Yes, they do. I am normally a size 8 or 8.5; I got an 8 and they fit perfectly. They do only offer full sizes, but they recommend sizing down if you're in-between sizes. 
Where is SUAVS shoes based?
The brand is based in Austin, Texas. 
Can you wear socks with SUAVS?
Yes, SUAVS are very versatile. You can wear them with or without socks. I love wearing mine without socks because they are so comfortable and you can just throw them in the washer after a couple wears. 
Who owns SUAVS shoes?
SUAVS is owned by founder Monxi Garza, who started the brand back in 2020. 
Does SUAVS have a zero-drop sole?
The brand offers a few different sole drops, some of which are zero-drop. 
Does SUAVS have wide sizes?
No, SUAVS doesn't offer wide sizes at the moment. However, since their shoes use a stretchy digital knit fabric, they state that it can stretch to fit any size feet. 
SUAVS Shoes Alternatives
If SUAVS isn't the best option for you or if you want to compare with other top brands, here are some other brands that offer similar shoes at similar price ranges:
Allbirds – Arguably the most popular brand in the comfortable and sustainable shoes space, Allbirds has pretty similar knit styles to SUAVS. They have a few more options to choose from, such as running shoes and hiking shoes. Their prices range between $100 – $150, which is fairly similar to SUAVS as well. They also have waterproof shoes, which SUAVS doesn't offer.
Kizik – Kizik is another very popular brand. One thing I love about this brand is they have more streetwear-inspired styles (like the Roamer), whereas SUAVS focuses on a minimalist and basic design for their styles. I also like that Kizik offers shoes that look like your typical leather sneaker, like their Vegas sneaker. SUAVS are still cute, but I would love if they had some non-knit styles. Kizik also has a unique hands-free slip-on technology so you never have to worry about bending over to put your shoes on, which is pretty cool.
Cariuma – Cariuma is another upcoming brand that I really like. They're dedicated to comfort, sustainability, and quality. They have a vegan section with a wide variety of options and lots of stylish everyday shoes. Their prices are great too, perhaps even a bit cheaper to SUAVS depending on which style you might want. They do fun collaborations as well (I love their Pantone collab).