Unlimited, high-end, elegant jewelry for only $21 each month? Yes, please.
I have subscribed to Rocksbox for nearly a year now and have had very few issues – read on to see what I've received and more about the subscription!  
Overall, Rocksbox reviews aren't lying – it's a great way to treat yourself and feel luxurious while staying in your jewelry budget (it also makes a wonderful gift).
Quick overview: I love this subscription. It's inexpensive and they have beautiful, elegant jewelry that you can never go wrong with. Aside from the small risk of losing pieces and the rare low-quality piece, it's one of the best subscriptions I've invested in.
Rocksbox Reviews – Unboxing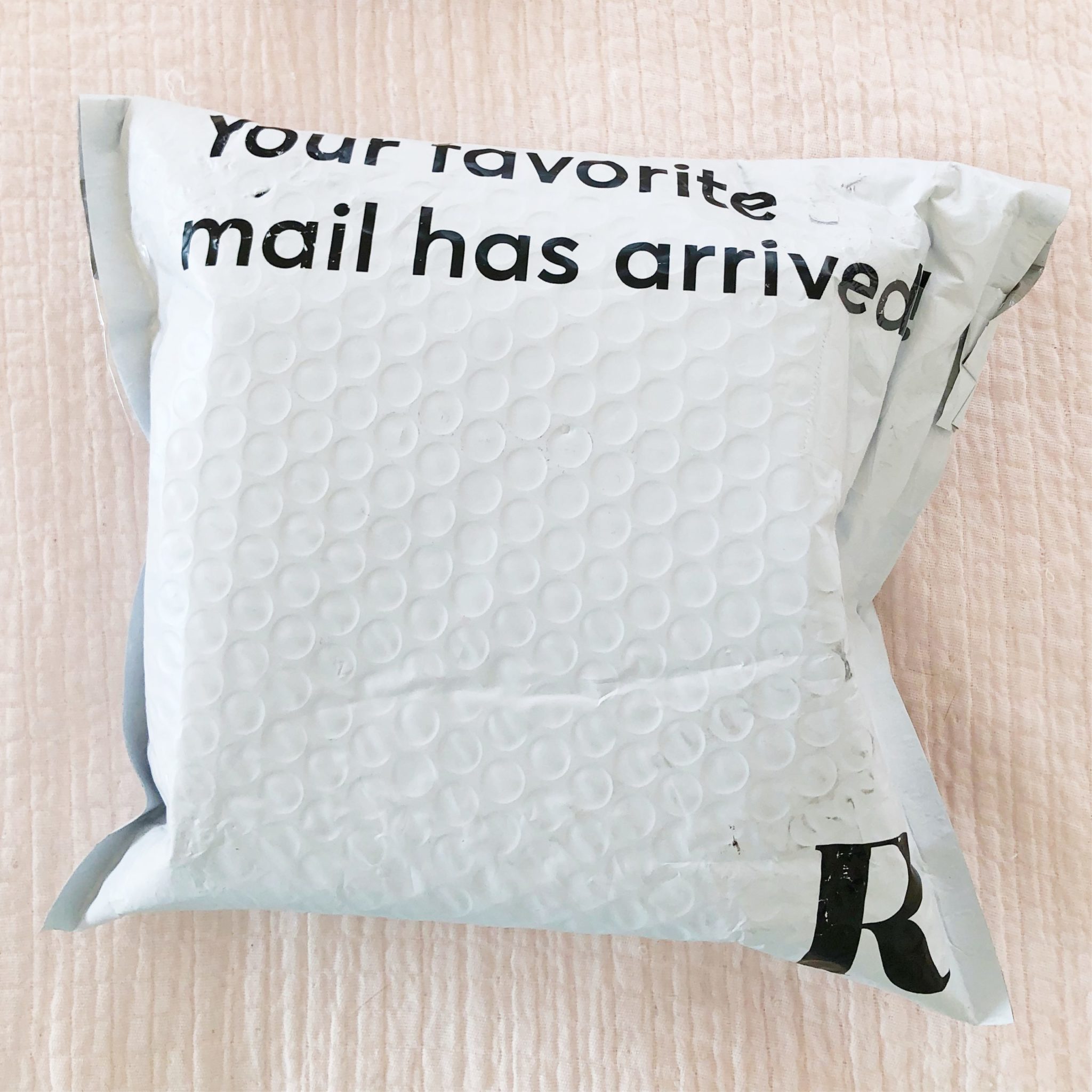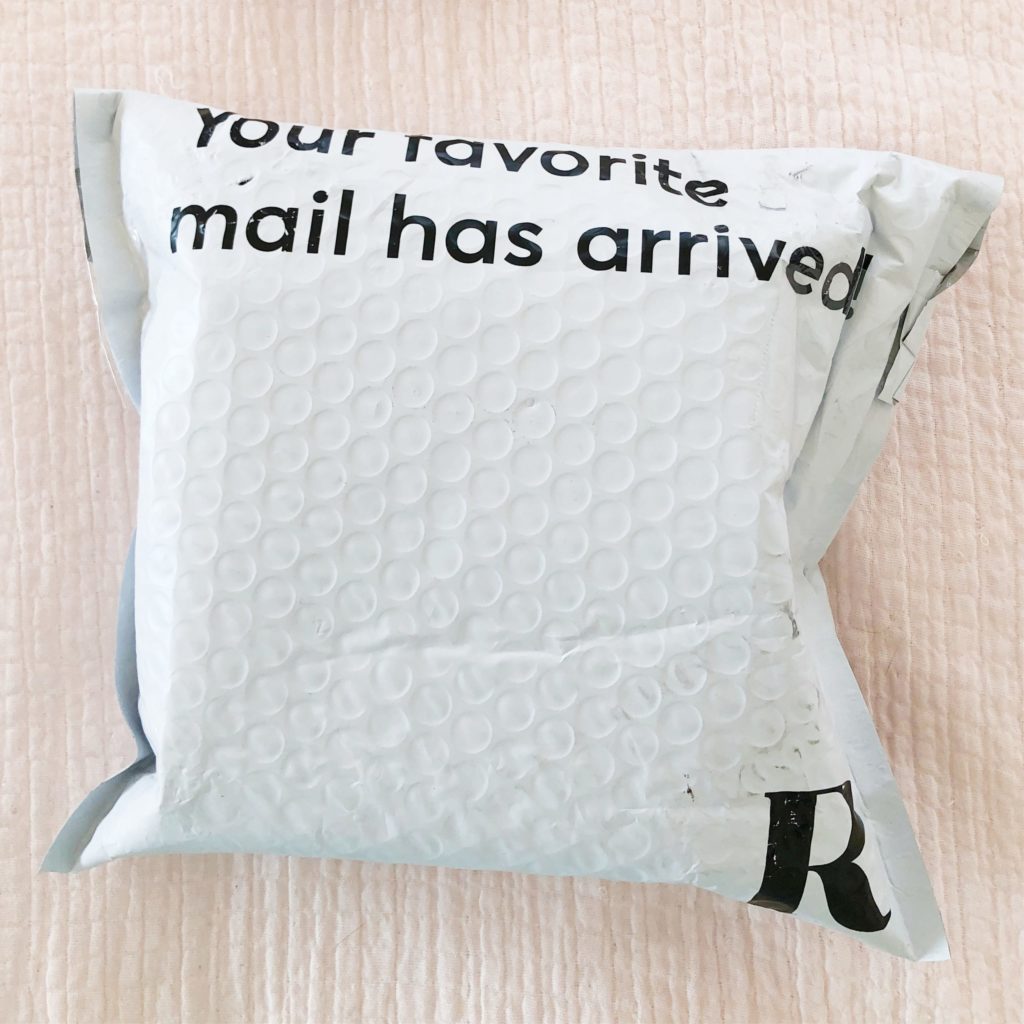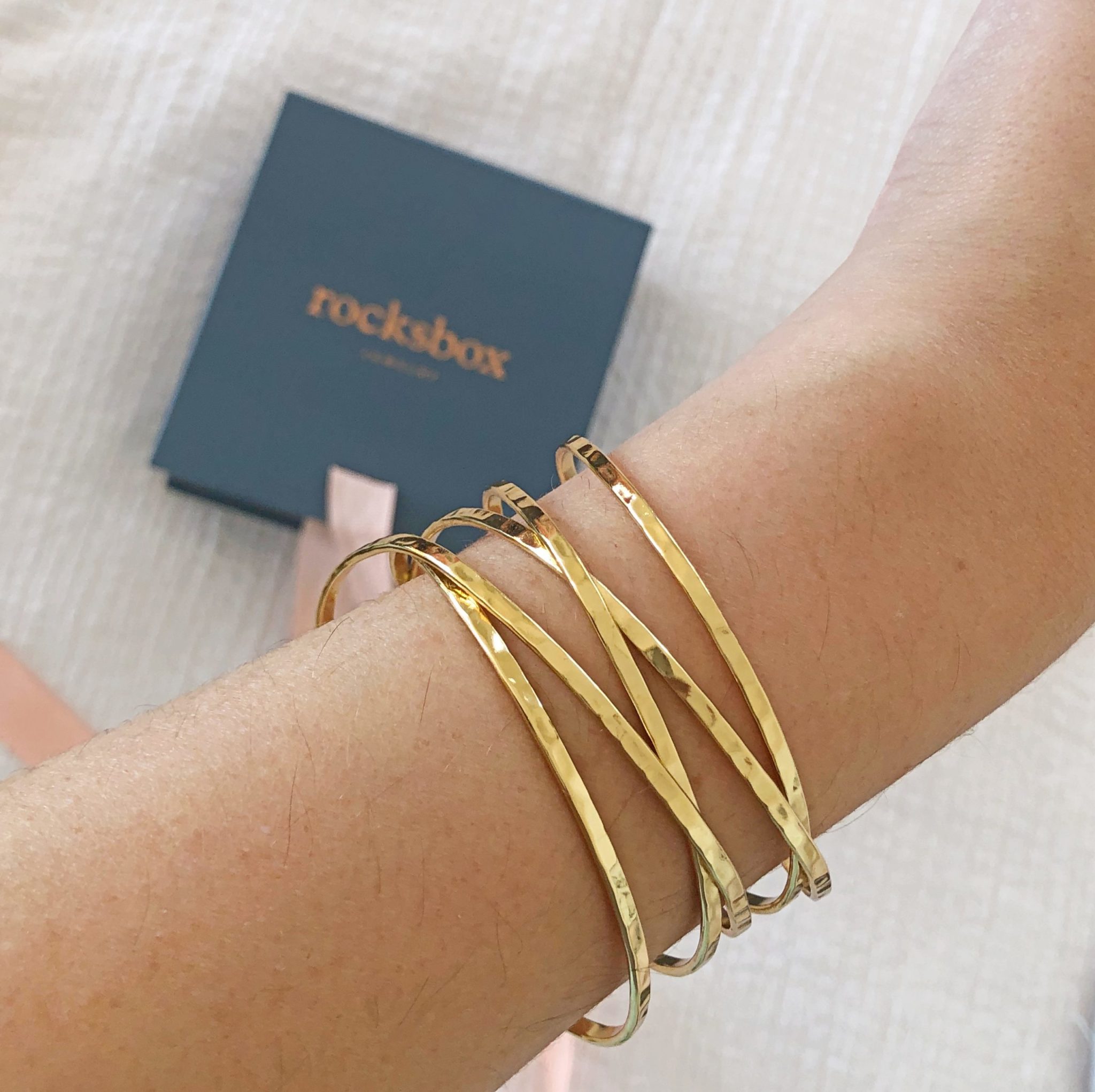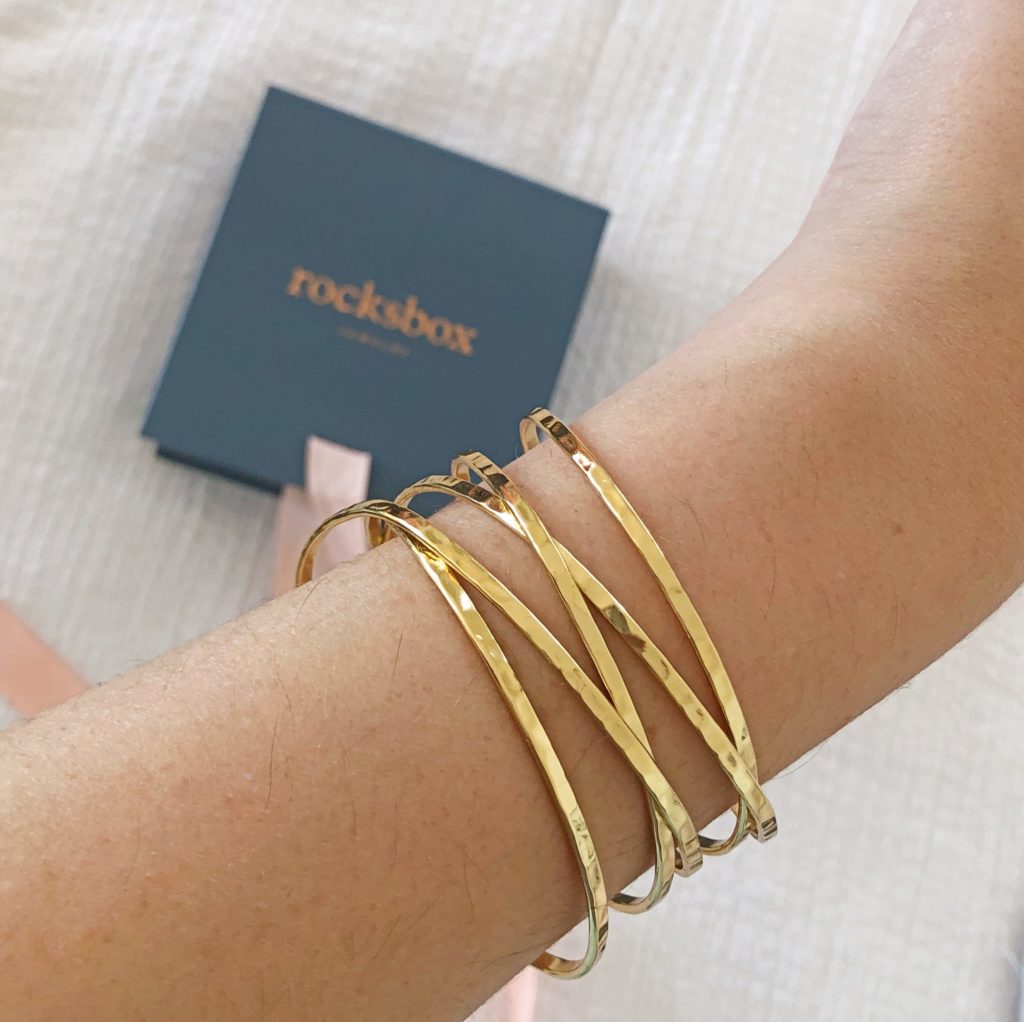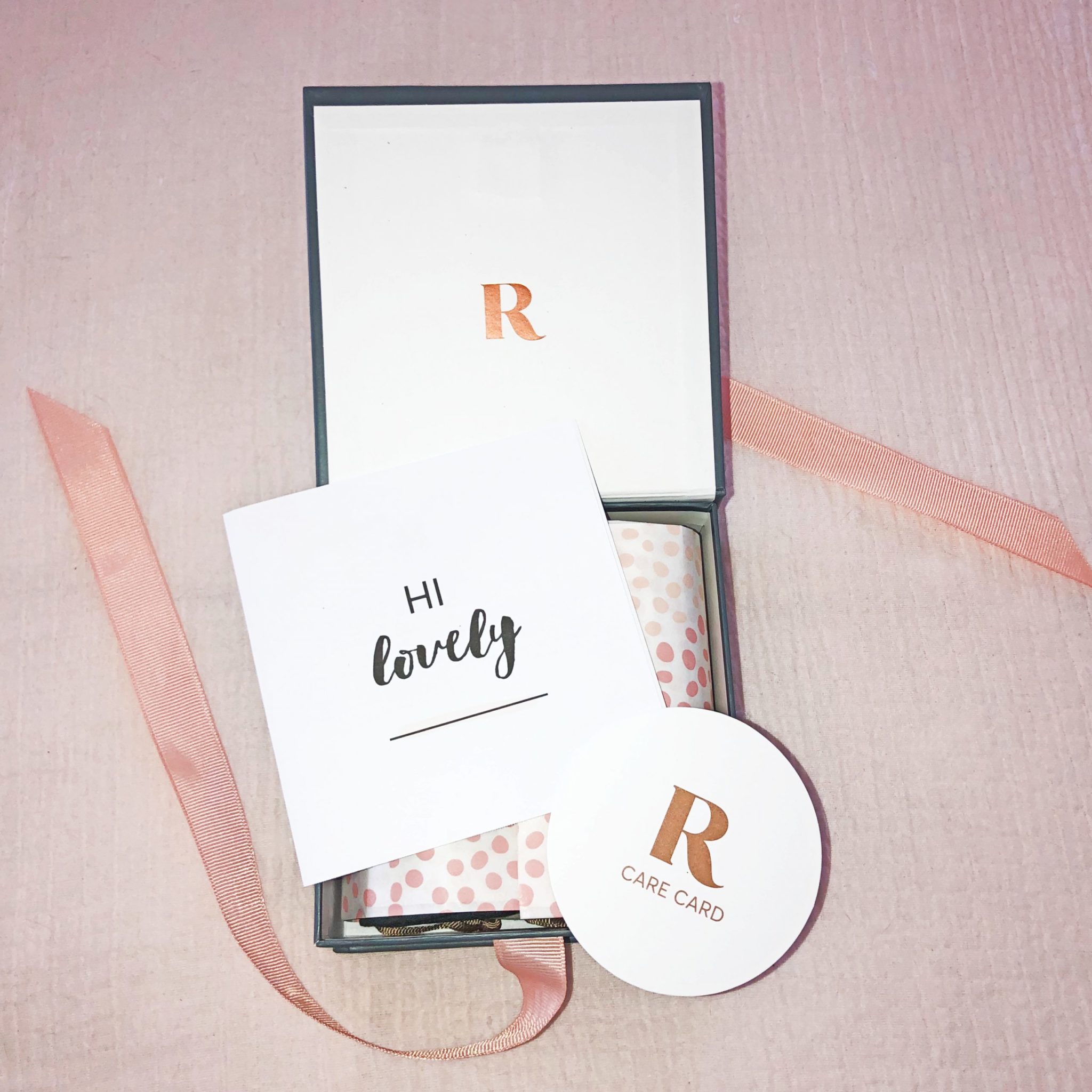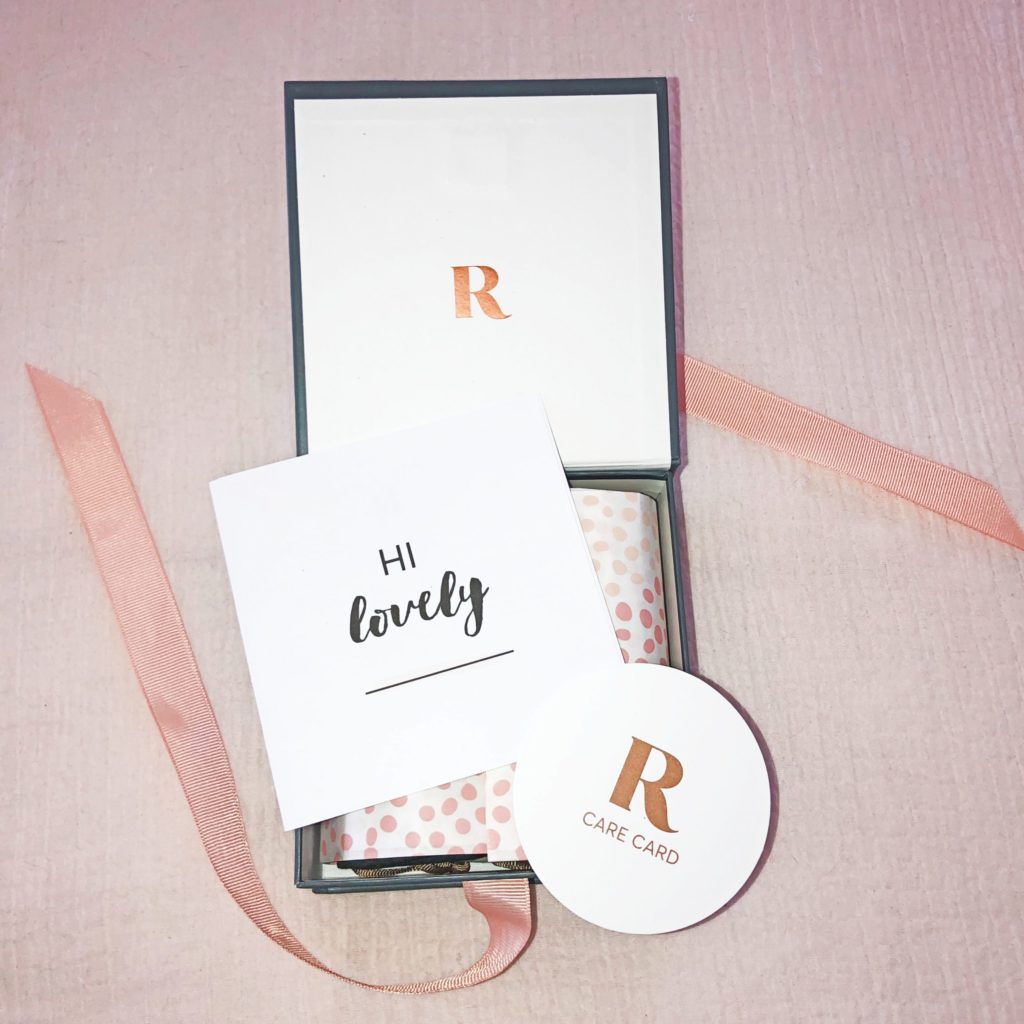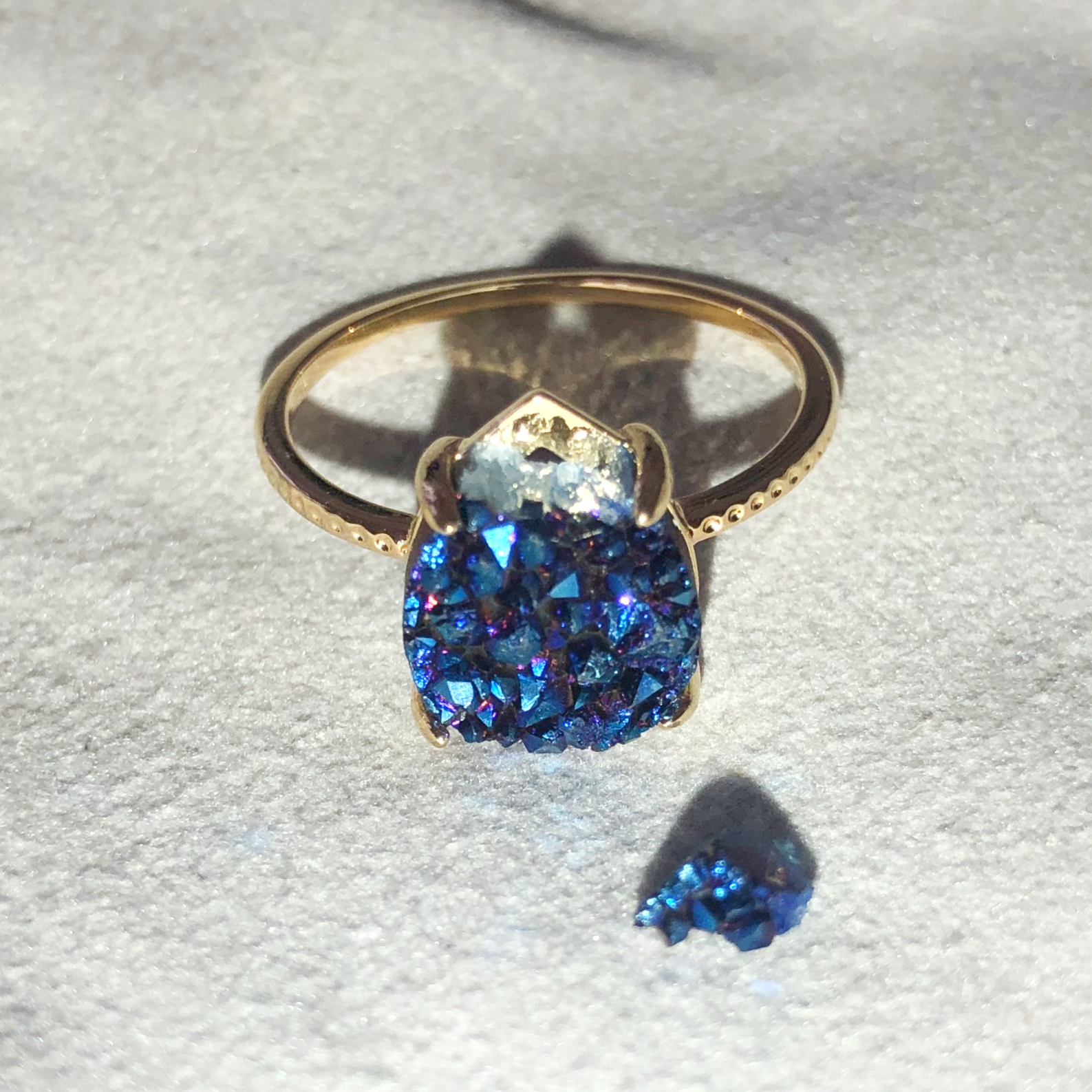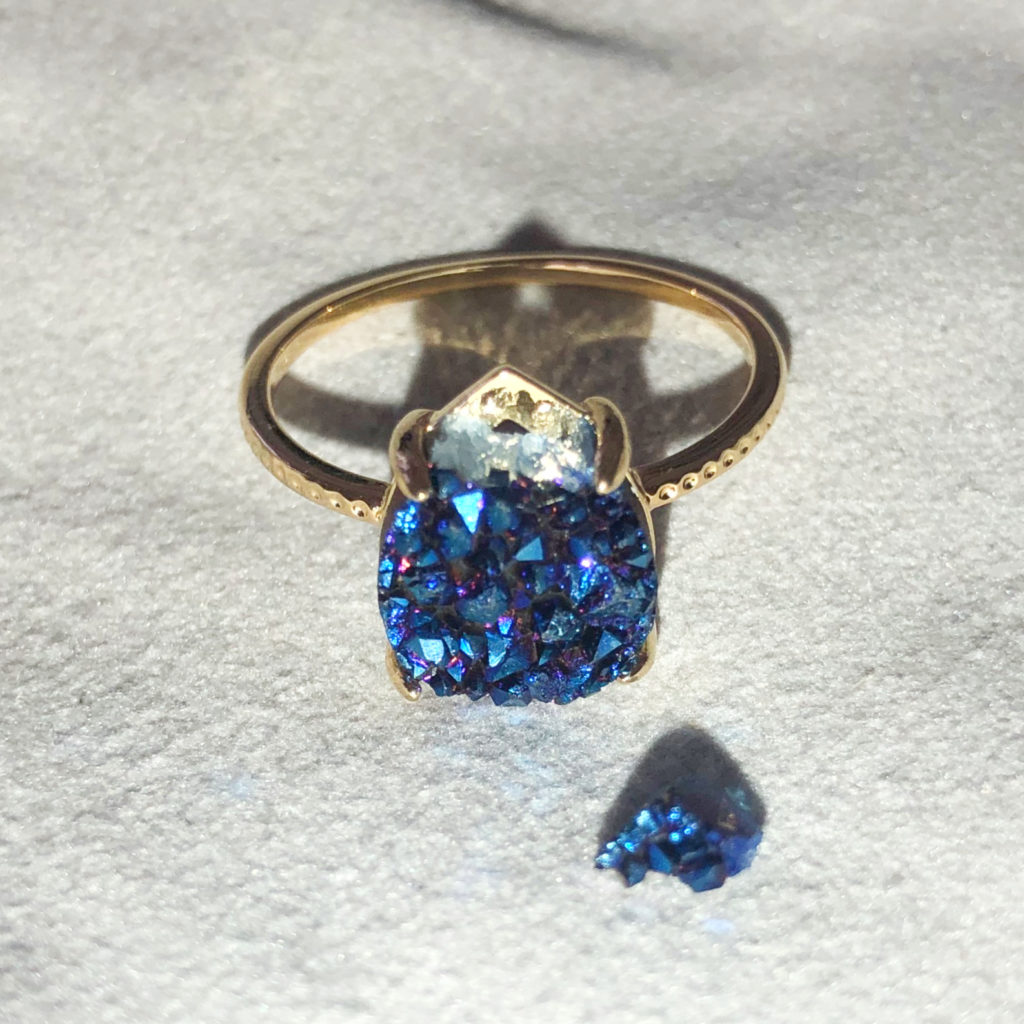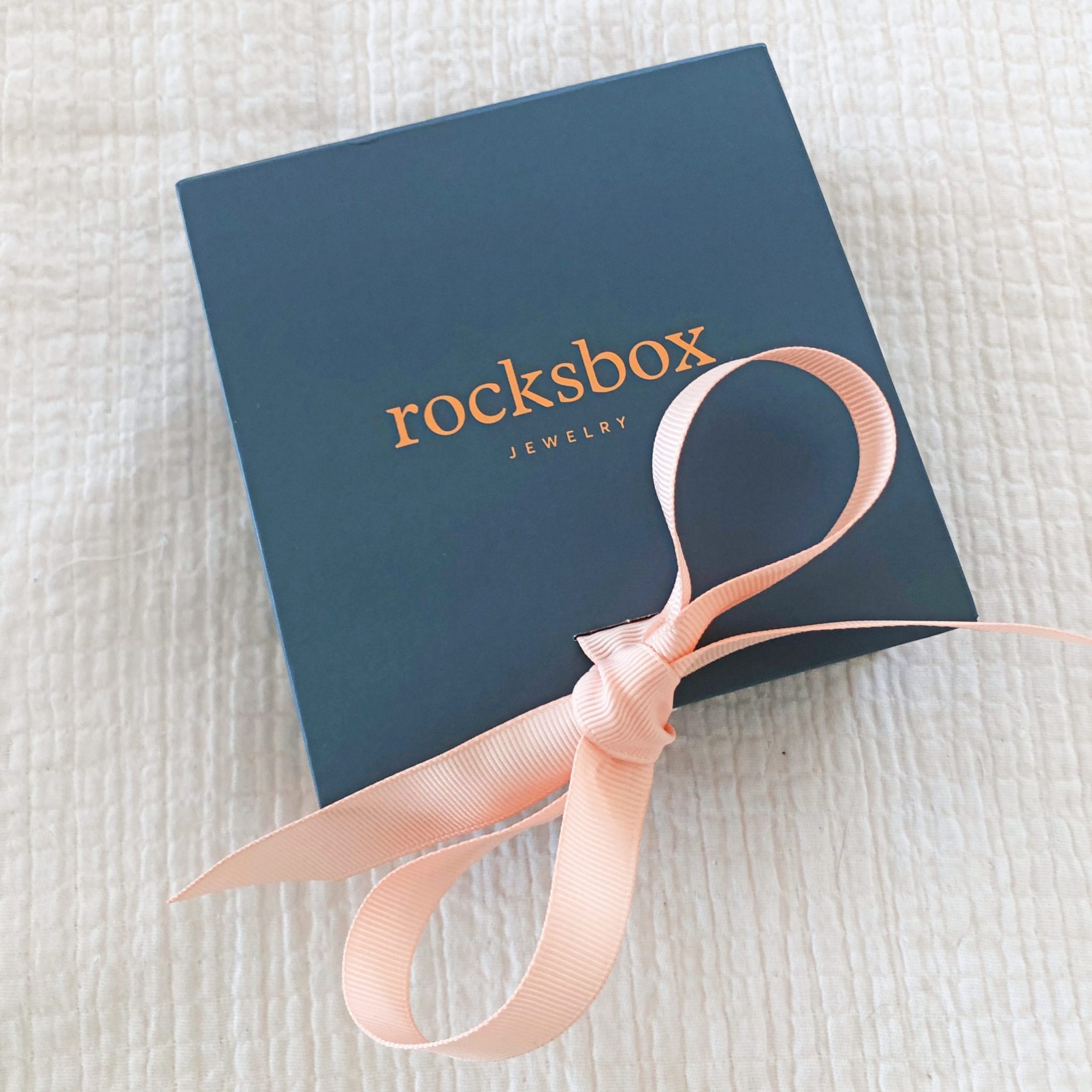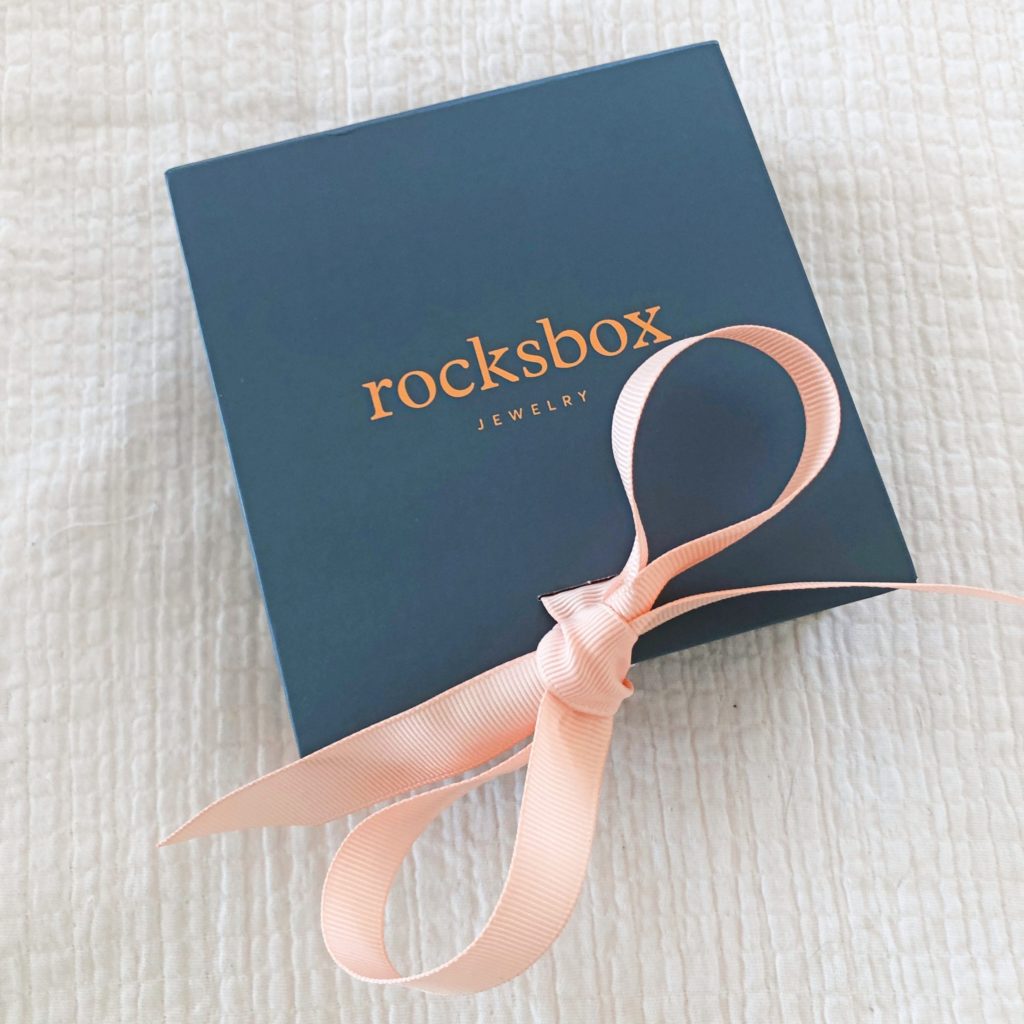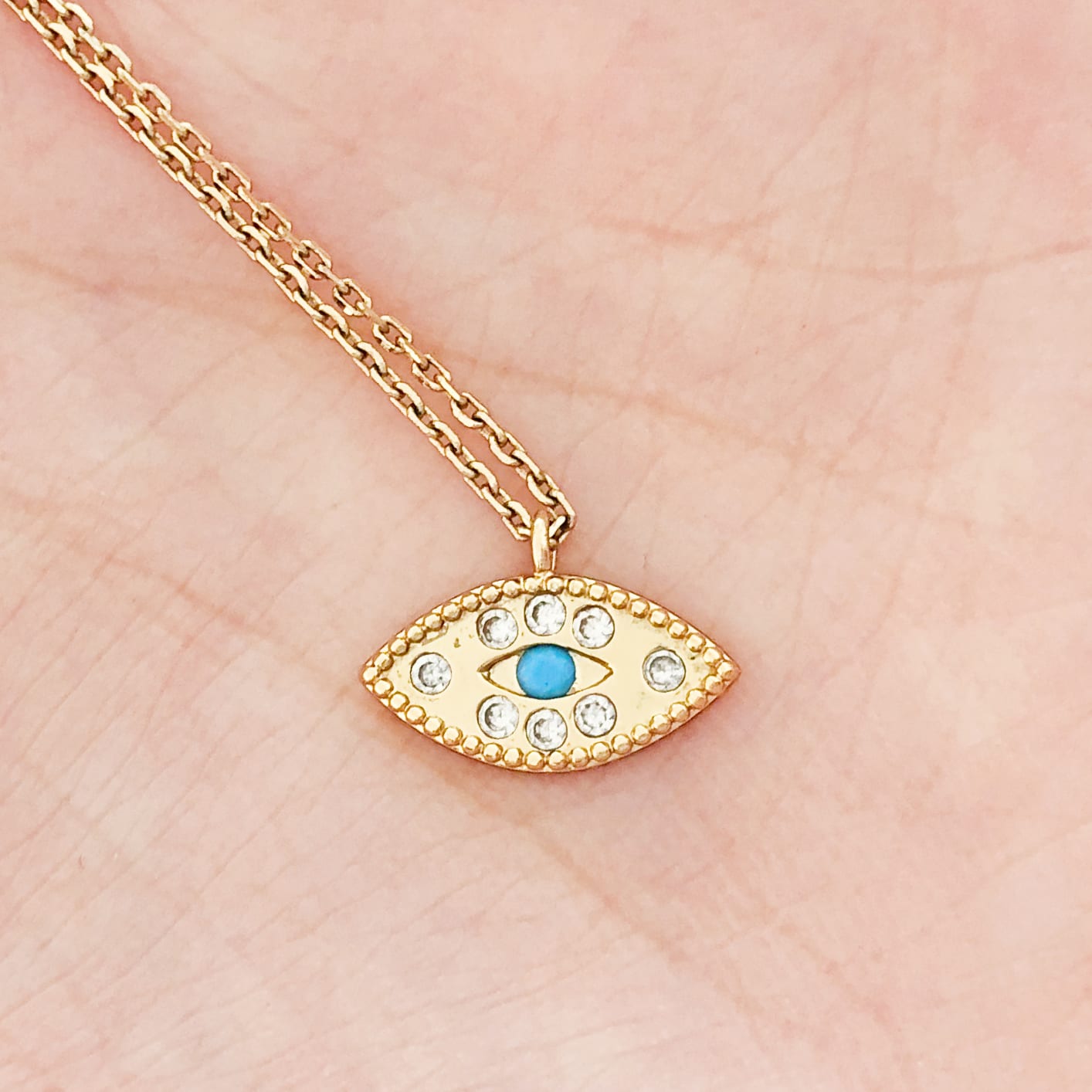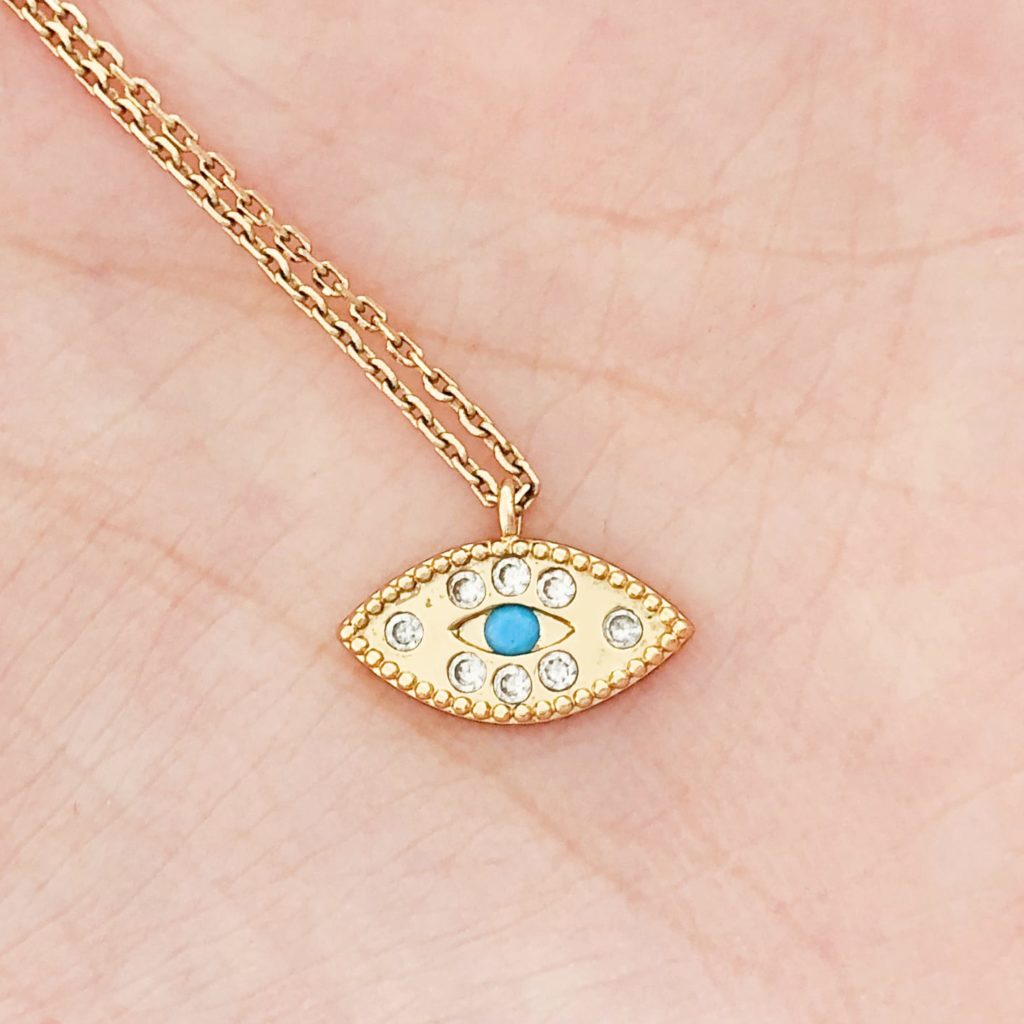 Rudiment Valencia Layered Necklace – $65 ($55 for members)
This dainty necklace was a simple layered gold chain with a sparkling evil eye pendant. It was very cute and I loved wearing it for a few weeks, but I wouldn't spend $55 on this tiny necklace.
Ava Rose Raleigh Ring – $65 ($55 for members)
As cute as this ring was, a piece of the rock broke off before I even had the chance to wear it! This was disappointing and I was worried they might charge me for it, but the Rocksbox customer service was very understanding. The 15+ other pieces of jewelry I've received in other boxes have been great quality, so it wasn't a big deal.
Aster Space Cuff – $65 ($55 for members)
I love bangles! This elegant cuff was lovely and looked great with nearly any outfit. Although I didn't fall head over heels in love with it, I still enjoyed accessorizing with it for the couple of weeks I kept my set.
RELATED: 15 Best Jewelry Subscription Boxes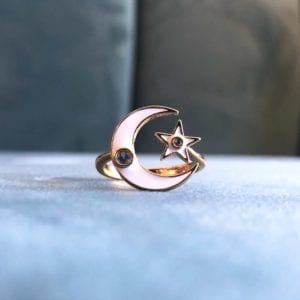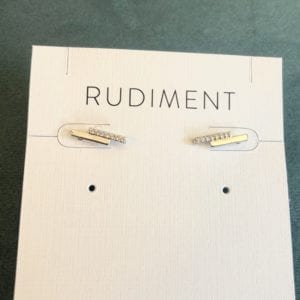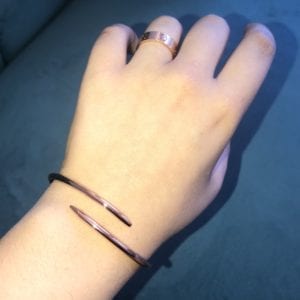 How Rocksbox Works
For just $21 per month, you receive access to beautiful pieces of jewelry ranging from $30 – $100 per piece. Each set comes with three items and can include necklaces, bracelets, or rings.
They have a variety of designer brands and add new pieces often. If you absolutely fall in love with something, you can keep it for the full price (many prices are pretty reasonable).
Your $21 per month fee also acts as a credit towards any jewelry you keep!
Although the pieces are typically more expensive than $21, it's a great perk since you already get to rent these lovely pieces. In addition, there is a discount if you keep the entire set.
You're able to request as many boxes as you please. When you're ready for a new set, simply send back your current set back and they will automatically send out another.
Do you get to pick out Rocksbox jewelry yourself? 
Initially, you can't pick out the items that will come in your box. You add jewelry to your wishlist, then your personal stylist will do their best to grant your wishes.
However, they do send you an email 24 hours before your box ships where you can switch out pieces, essentially giving you the opportunity to pick out Rocksbox jewelry yourself. You just have to make sure to catch the email in this time period. 
You can add unlimited pieces to your wishlist, then select up to 10 pieces that you want most.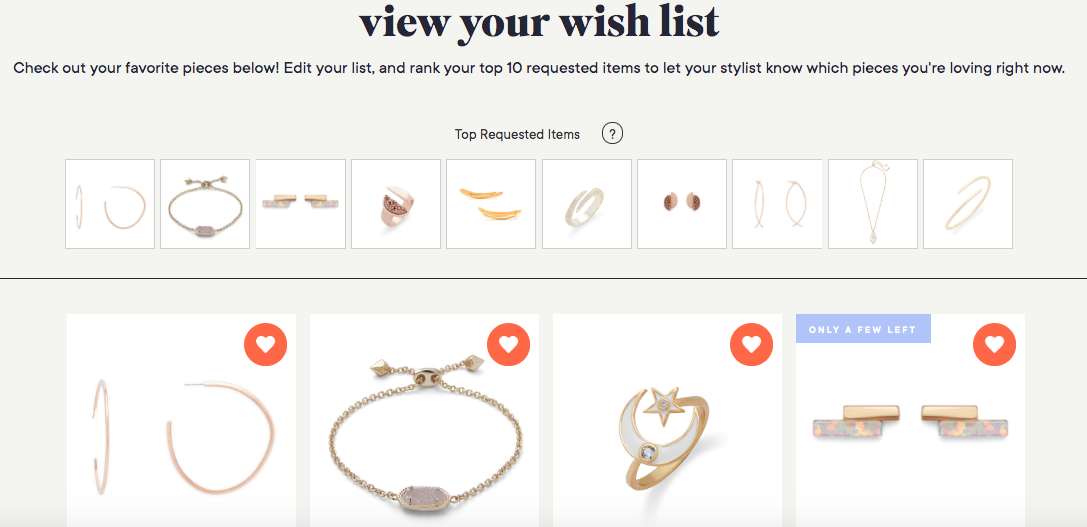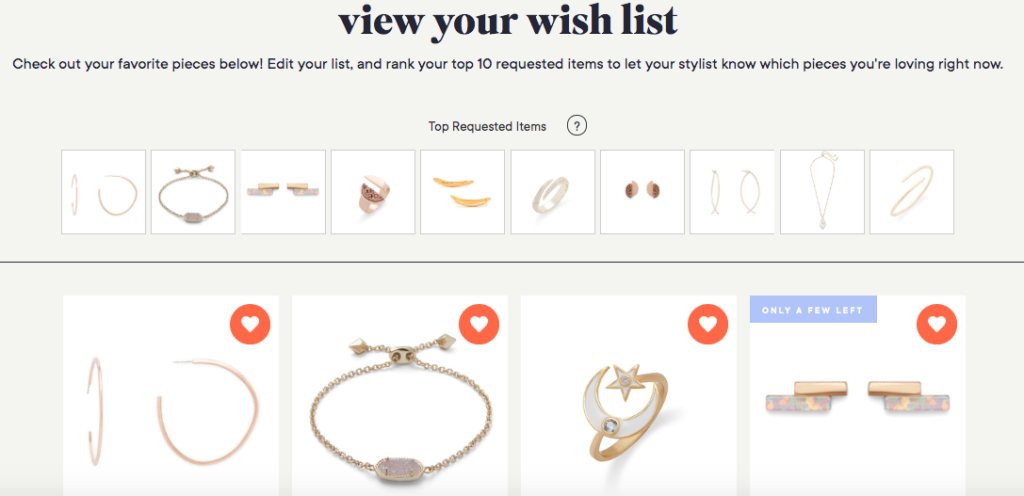 Additionally, you're able to set a few preferences that show your stylist which type of jewelry you want. For example, you can select what type of metal you prefer and styles you like best (necklaces, rings, bracelets, etc.)
Their stylists are excellent at picking jewelry that matches your preferences. A dire aspect to mention in this Rocksbox jewelry review is their talented stylists. I've honestly stopped customizing my boxes because it's a fun surprise and I always like the items I get (it also helps that nearly everything in their collection is adorable).
RELATED: Mejuri Reviews: Is Their "Affordable Luxury" Jewelry Worth It?
Rocksbox Pros & Cons
Pros
An affordable way to switch up your jewelry style
Variety of jewelry styles and brands available
3 pieces of jewelry in each set
No limit on the number of sets you can receive each month (need to return your current set before receiving another)
$21 monthly credit each month to use towards an item you purchase

Able to purchase jewelry for a discounted "member price" if you fall in love with a piece

Discount for purchasing your entire set
Browse their jewelry collection before subscribing
Cons
No high-end designer jewelry options (we'd recommend Switch if this is something you're looking for)
You don't get to keep the jewelry unless you pay extra
Even with the $21 credit they provide each month, you'll still typically spend $20+ if you decide to keep a piece of jewelry
Rocksbox Deals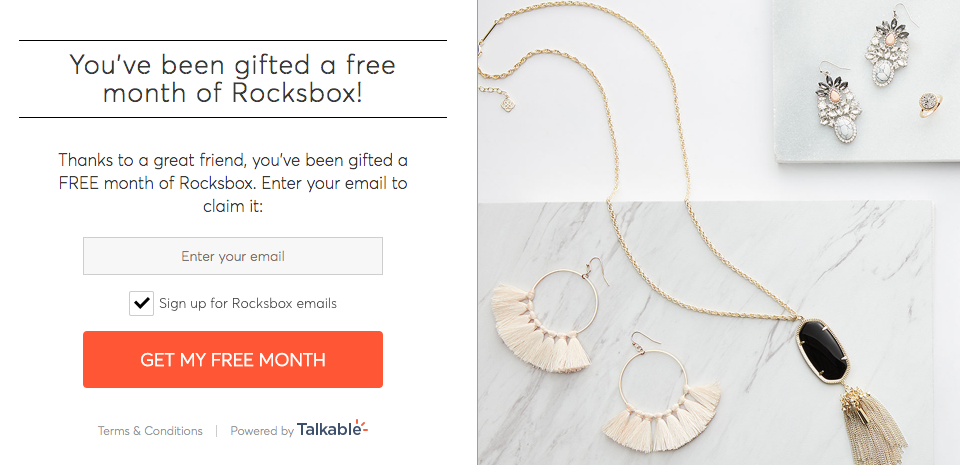 Rocksbox has an amazing first-time member deal – one month free! This lets you try out their subscription at no cost for an entire month.
The free trial offer is a great way to truly get a feel for the subscription. After one month, your subscription automatically renews unless you cancel.
Rocksbox Reviews – What Do Customers Think?
While a lot of people are on the same page as we are, some others don't think Rocksbox is worth it.
The biggest complaint is the value. A lot of people don't feel like they're getting their money's worth by spending $21 a month without being able to keep anything unless you pay extra.
Overall, I wouldn't recommend this subscription to someone who would rather spend their money on pieces they will own. Instead, take $21 a month and save it across a couple of months to invest in a nice piece of jewelry to add to your collection!
This subscription is great for people who like the convenience of wearing new, trendy jewelry without having to purchase it.
Inside Their Collections 
What really drew me to Rocksbox is how elegant and beautiful their jewelry pieces are. Most of their jewelry perfectly matches my style. They do a lot of dainty jewelry, but also have other styles if you like something more eye-catching.
They have a few different jewelry brands in their collection, which typically cost $35–$100 per piece if you keep the items. Your monthly Rocksbox credit will be applied.
A Few Brands They Offer
Ava Rose
WILDE
Rudiment
Dusk
Sophie Harper
SLATE
Returns
If you've never tried a subscription that requires you to mail things back, you might imagine it's difficult. However, Rocksbox makes their returns extremely simple. They provide a free return shipping label with each box, plus the shipping bag it comes in is resealable.
If you can't make it to the post office or a mailbox near you, you can scan the QR code on the package and USPS will come pick it up at your doorstep.
Lost Rocksbox?
One of the only downsides about this subscription is the potential of losing the jewelry – I've definitely lost my share of rings and earrings in the past. If you lose something, they will charge you the full member price.
Luckily, I haven't lost any of my Rocksbox pieces yet. I'm definitely more careful when I don't actually own the jewelry!
Is Rocksbox Worth It?
Overall, we definitely think it's worth it, but this also depends on what you're looking for.
If you want to always be wearing new pieces of quality and trendy jewelry without breaking the bank, Rocksbox is likely a great fit for you.
However, if you're someone who doesn't wear a lot of jewelry or would rather spend the money on a staple piece of jewelry to add to your every few months, we'd recommend saving your money.
Or, if you're looking for high-end designer jewelry from brands like Chanel, Rocksbox isn't the place to find it. However, their competitors Switch and Vivrelle offer designer brands – Vivrelle also has designer bags and insurance you can add in case something happens.
FAQ (Quick Recap)
How much does Rocksbox cost?
Just $21 / month. As for specific pieces that you decide to keep, prices typically range from $35 – $80. Most items hover in the middle.
How do I cancel my Rocksbox subscription?
You can easily cancel online. Just enter your Rocksbox login information, go into account details, and there will be a section to cancel your subscription (they will ask you to "pause," just continue to cancel). Make sure you send your current set back right away to ensure they don't charge you another month!
Do you have a Rockbox promo code?
The only first-time deal they offer is the month trial. You don't need a promo code for this, simply sign up through the provided link. 
What should I do if I lose something from my Rocksbox? 
Unfortunately, there's not much you can do (except find it). This is one of the risks you take with the subscription and you'll have to pay for anything you lose. However, it's worth a shot to reach out to their customer service and see what they can do.  
Do you have any Rocksbox complaints?
My only complaints involve the risk of losing jewelry and the occasional low-quality pieces of jewelry. However, the customer service is so great that they will make sure any low-quality pieces are refunded. 
Top Alternatives to Rocksbox
If Rocksbox doesn't sound like the perfect fit for you, try these alternatives instead:
Offers high-end designer jewelry rental including brands like Chanel, Gucci, Saint Laurent, and others. They don't offer extra insurance, so proceed with caution (you're out of luck if your designer jewelry is stolen).
$40 per month to rent 1 piece of jewelry
$70 per month to rent 2 pieces of jewelry
$90 per month to rent 3 pieces of jewelry
They also have more expensive plans that include designer bags and other high-end items.
Plus, you can purchase extra insurance for $15 per month in case anything should happen.
$59 per month for 3 high-end pieces per month