In this battle between Manscaped vs Meridian, find out which grooming brand you should trust.
The market for men's grooming products has been expanding exponentially over the years. Manscaped and Meridian both offer unique grooming products and packages for men to choose from, and this article will go into the details of both companies.
From razors, shaving creams, shampoos, and more, you won't have an issue finding something you'll want to try. Although both websites reel you in with good marketing and shiny products, it's essential you vet the specifics of each one.
We're here to help you decide which company is best worth your time while providing the most value. In this Manscaped vs Meridian review, we're going to break down what each company has to offer for men's grooming needs.
Plus, be sure to check out the 12 Best Hair Clippers for Men to Maintain the Mane.
Manscaped vs Meridian Overview
Manscaped is a grooming company that comes with a dedicated cause towards men's health, specifically focusing on the risk of cancer in their private area. Aside from that mission, their products range from general grooming to more specific formulations that focus on a particular body area.
In the same regard, Meridian also knows a thing or two about men's grooming from every angle of the body. They offer a decent range of products for full-body and downstairs maintenance. To get a better look at their differences, you can find some of their best qualities down below.
Manscaped
Meridian (Winner)
–Peak hygiene subscription plan

–Free shipping

–Discounts for first responders and healthcare workers

–Detailed FAQ section

–Offers SkinSafe trimmers as well as other grooming products

–Pricing ranges from roughly $10-$120
–More geared toward full-body grooming

–Free shipping for orders over $30

–Grooming packages for the entire body

–Proprietary trimmer designs

–Niche product selection

–Pricing range is $17-$240
Manscaped vs Meridian
Aside from what can be seen at a surface level, let's get into the fine print of each company and see how they compare across the board.
What They Offer
Taking a look at both companies, it seems that they offer pretty similar products, but their formulations, technology, and qualities vary from product to product.
With a core mission and focus on the health of men's skin and their private parts, Manscaped has many different products to keep your hygiene in check and your body smelling clean. Their selection is a bit more vast than Meridian's, and they're pretty generous with their free shipping, discounts, and other freebies included in their bundles.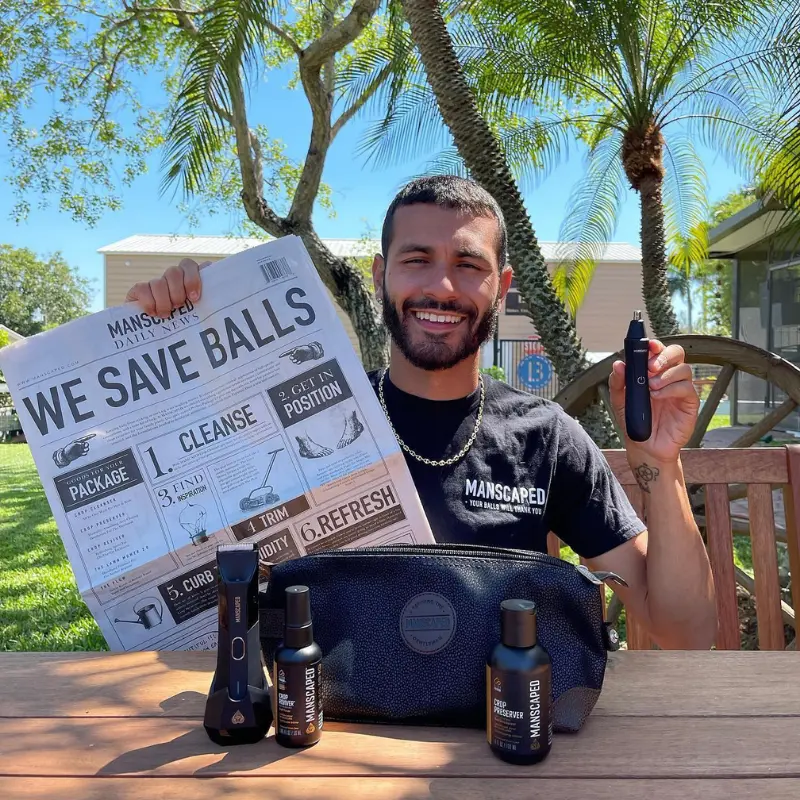 Whether you're simply looking for shaving equipment or need a product for every area of your body, Manscaped wants to make sure you're covered head to toe. They offer detailed information on what their products are made out of so you can buy with confidence.
Meridian focuses on men's downstairs area more than anything, and their products not only ensure the utmost cleanliness but all-day comfort as well. Their product selection is a bit more refined, offering a niche catalog that blends well into your morning routines.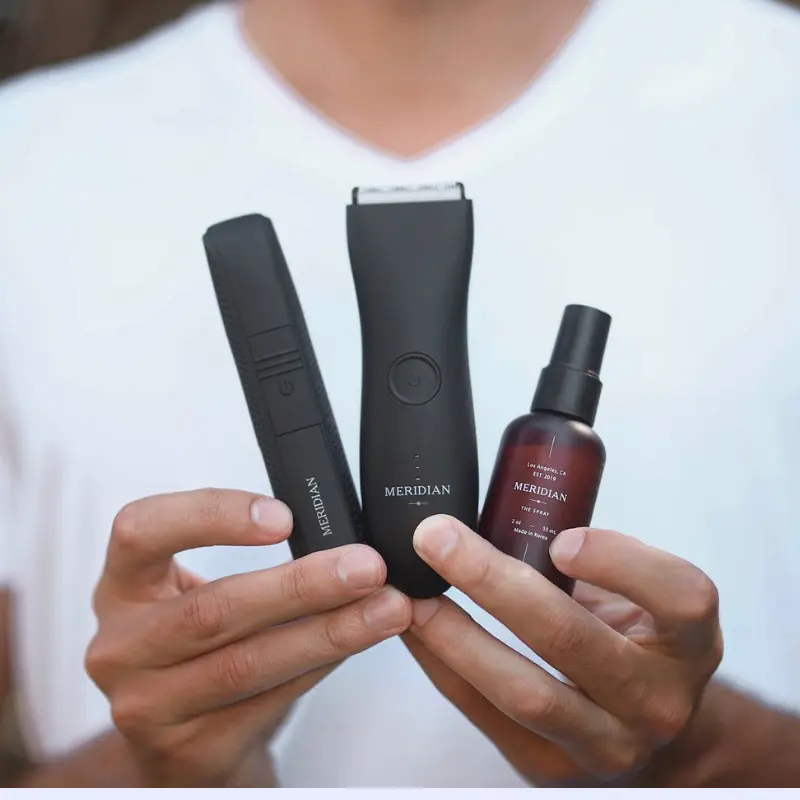 Aside from the main focus of their products, you can also find a handy nail trimming kit, in addition to their nose trimmer, that offers quick and painless results.
You'll also find multiple handy bundle options to choose from, some of which come with Lumin skincare products!
Pricing
They make shopping as cost-efficient as possible for their customers. Although their pricing ranges from $10-$120 depending on what you buy, their catalog allows you to purchase a single grooming product, or you can look into their bundles to ensure your whole body is covered.
Overall, they're relatively competitive with their pricing compared to Meridian, and their catalog comes with more products to choose from as well. They also offer a subscription model if you'd like to receive your grooming items on a schedule.
It's evident that they care about their customer base and want their products to be as accessible as possible.
Although its product selection may not be as vast, they still do its best to remain as affordable as it can be.
You'll find that their grooming products range in price from about $17 up to $240 for their larger bundles. You can opt for their all-in-one packages or simply select the individual products you need.
Regarding men's grooming, Meridian primarily caters to body hair maintenance, and they pride themselves on a trimmer that's designed for the job.
Quality
From the information on their website alone, it seems Manscaped has everything a guy might need for their hygiene. All of the ingredients in their products are meant to provide the best comfort without irritating your skin.
You'll find that their products are free of animal cruelty, paraben, dyes, and many more distasteful additives. A lot of their products work quickly, too, so they won't add too much time to your grooming routine.
Some could argue that Meridian's products are of equal quality, but it's clear that each brand has its own unique quality ingredients. In a similar fashion, many of the items on their website are also free of paraben, animal cruelty, sulfate, and other additives.
After taking a closer look, you'll notice their products come with an array of exotic and enticing scents that last all day.
Men seem to appreciate their product's anti-chafing formula, as their sprays and moisturizers don't leave any kind of unpleasant residue behind, allowing you to move freely and comfortably.
Considering the sensitive nature of their products, the fact they pay such close attention to their formulations is a good look.
What Do Customers Have To Say?
Both companies have excellent marketing, but that doesn't mean they're perfect for everyone. Below you can review some of the most common feedback about both companies:
Manscaped's subscription model isn't that straightforward
Some customers love Manscaped, whereas others loathe their business practices
Many appreciate the bundles and kits both companies provide
International customers have issues with Meridian's shipping
Customers feel the trimmers from Meridian work pretty well
Some feel Manscaped cuts corners on the material quality of their trimming equipment
Meridian's trimmers are more lightweight and comfortable to hold
To Summarize
As with any company, Manscaped and Meridian have their own pros and cons that some customers are okay with, while others are not. Nevertheless, customers seem to lean toward Meridian's trimmers based on price, quality, and abilities overall.
Their websites make a lot of claims, but that doesn't mean all of them are true. The reality lies in all of the public customer reviews, which showed that both companies have some logistical and ethical issues.
In fact, after some research regarding Manscaped vs Meridian, a lot of customers recommended the Philips Bodygroom series, if you want to check them out.
Nevertheless, this isn't to say that neither brand is worth your time, as there are literally thousands of men who love their products; just make sure you consider all of these points before you click the buy button.