Aimed at providing men with the most reliable and comprehensive skincare routine, Tiege Hanley has created a selection of skincare products specifically designed for men, from moisturizers, facial cleansers, and more. This Tiege Hanley review will determine if they're truly the best skincare brand for men.
Finding a skincare routine that actually works has taken some people years to develop. It may be easier for others, but that doesn't mean you won't ever get your chance at clear skin. Achieving glowing skin day and night generally requires a handful of products that tend to different aspects of your skin. The right combination of skincare products is vital for a successful routine.
Tiege Hanley seems to have everything a man might need to get his skin in order, but do their products actually hold up to their claims? Keep reading through this Tiege Hanley review to see how effective their products really are.
What Is Tiege Hanley?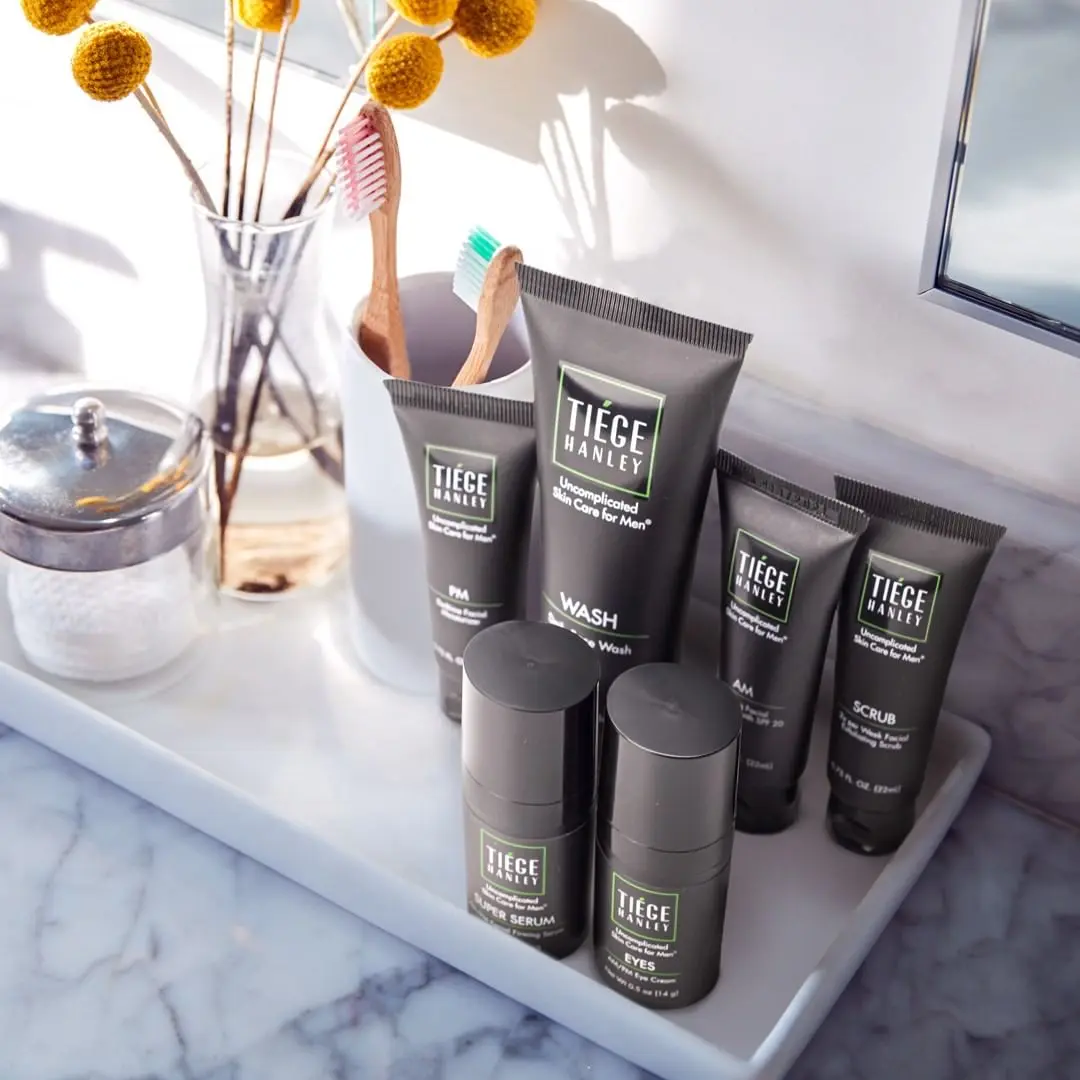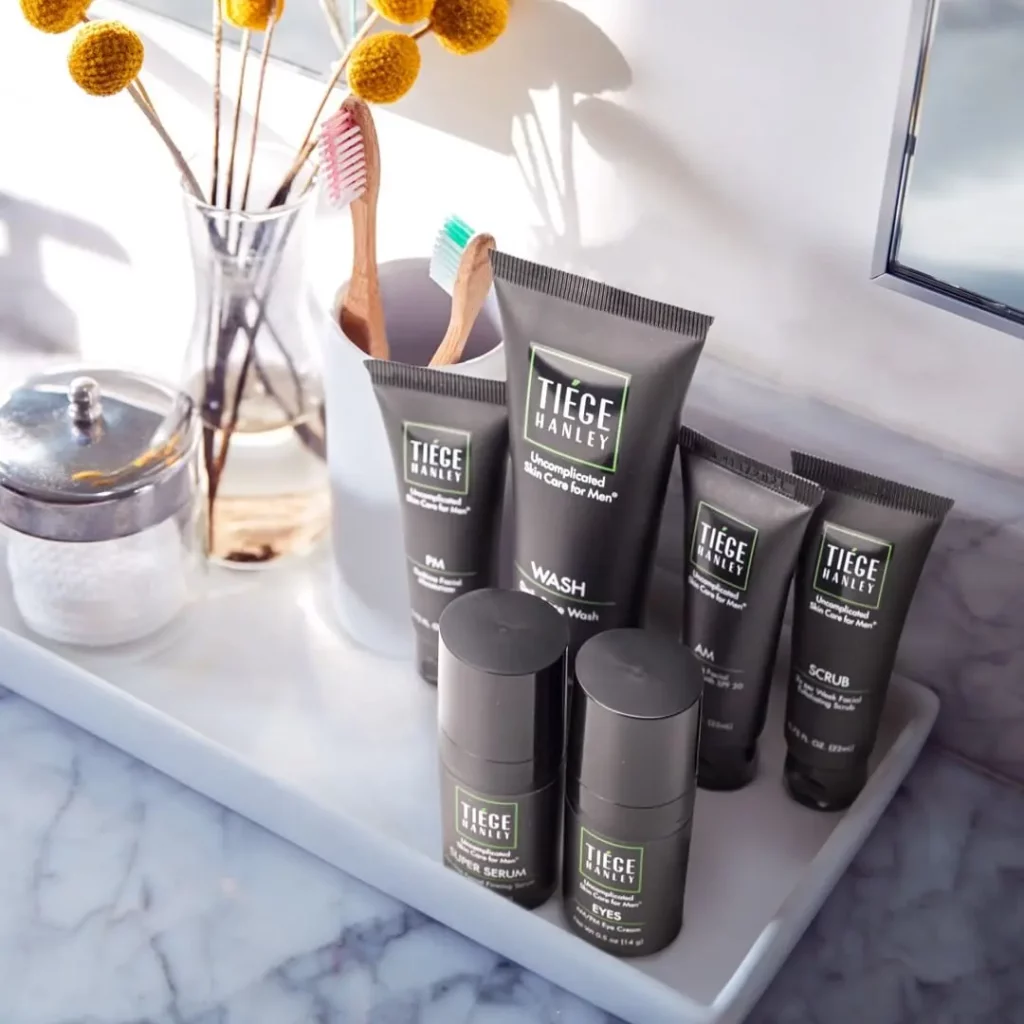 Tiege Hanley is a skincare company for men that looks to offer a cost-effective and consistent skincare regimen that provides everything you need to maintain healthy skin. All of their products are made to avoid irritation and can work with any man's skin type.
On their website, you'll find a few different skincare packages curated to tackle specific skincare challenges. The company wants to be a one-stop skincare routine for men, from simple rehydration routines to full-on exfoliating and moisturizing regimens.
Overview of Tiege Hanley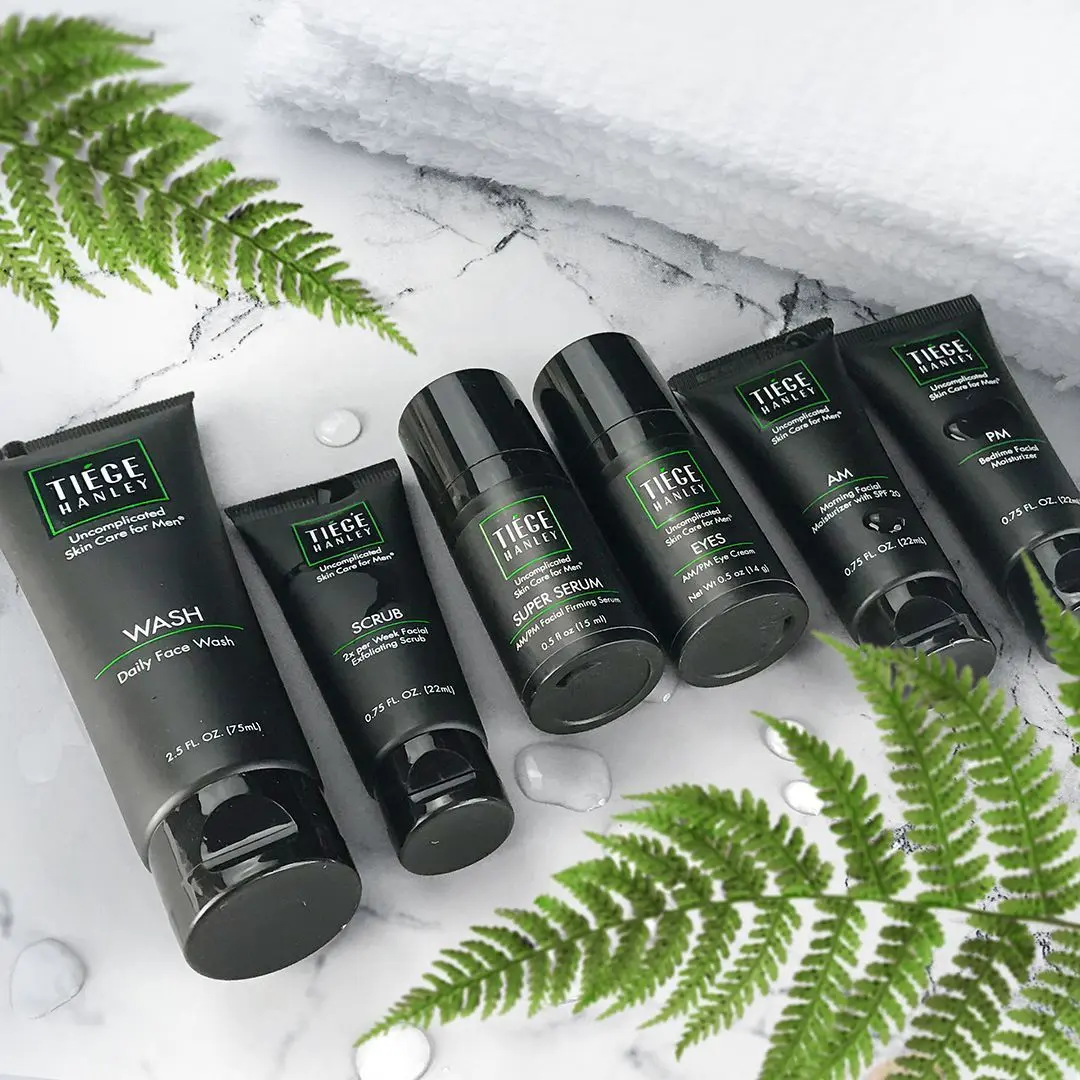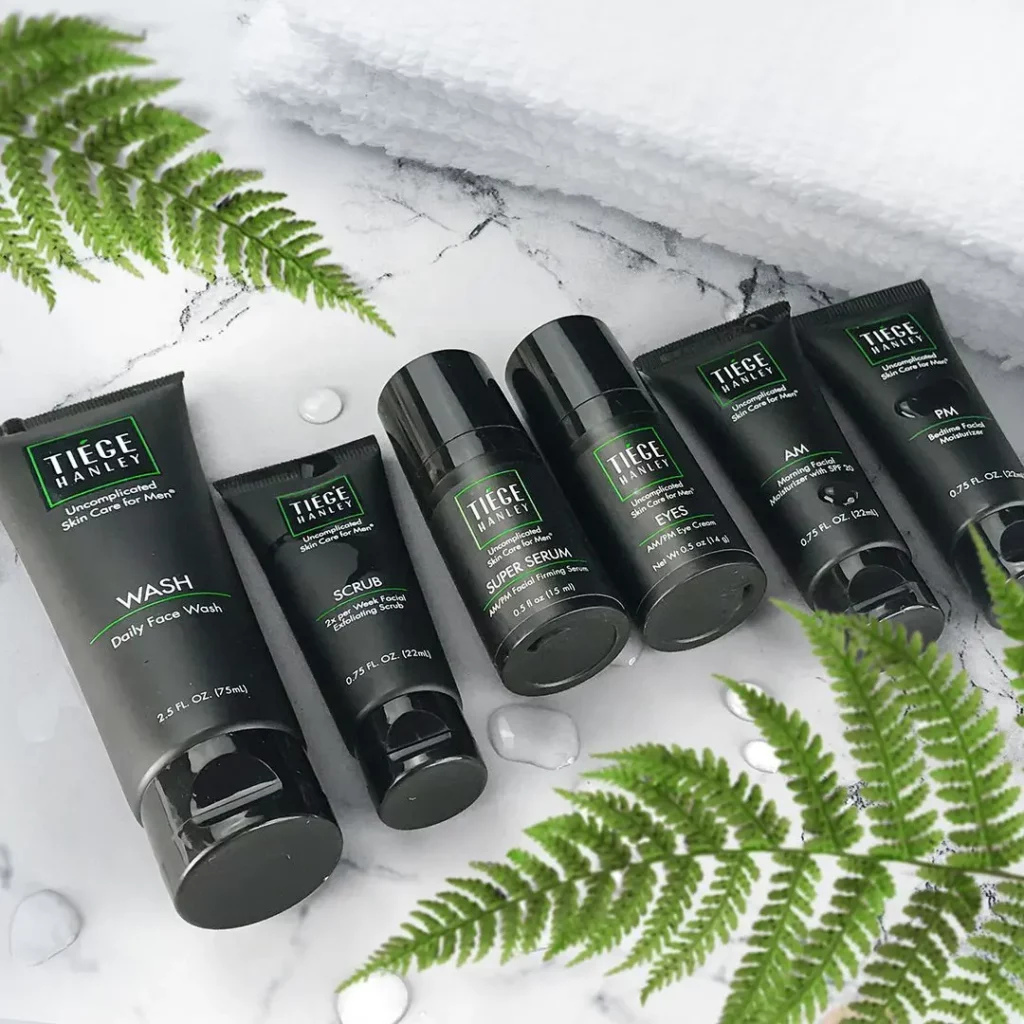 Tiege Hanley was started to provide men a full line of effective skincare products structured with a routine in mind. You'll also find that the company offers some of the best prices in the skincare market, beating their competitor's pricing on every product they sell.
The company provides every product a man might need for their routine:
From a go-to face wash, AM and PM moisturizers, in addition to exfoliating scrubs, masks, and lip scrubs, Tiege Hanley truly has it all. Better yet, they created all of these products to work in conjunction with each other for optimal results.
The company also sells a decent range of body wash products. If it's your first time on the website, you can take their skincare quiz to get a quick recommendation on which products are suitable for you, in addition to 30% off your first order.
Tiege Hanley Review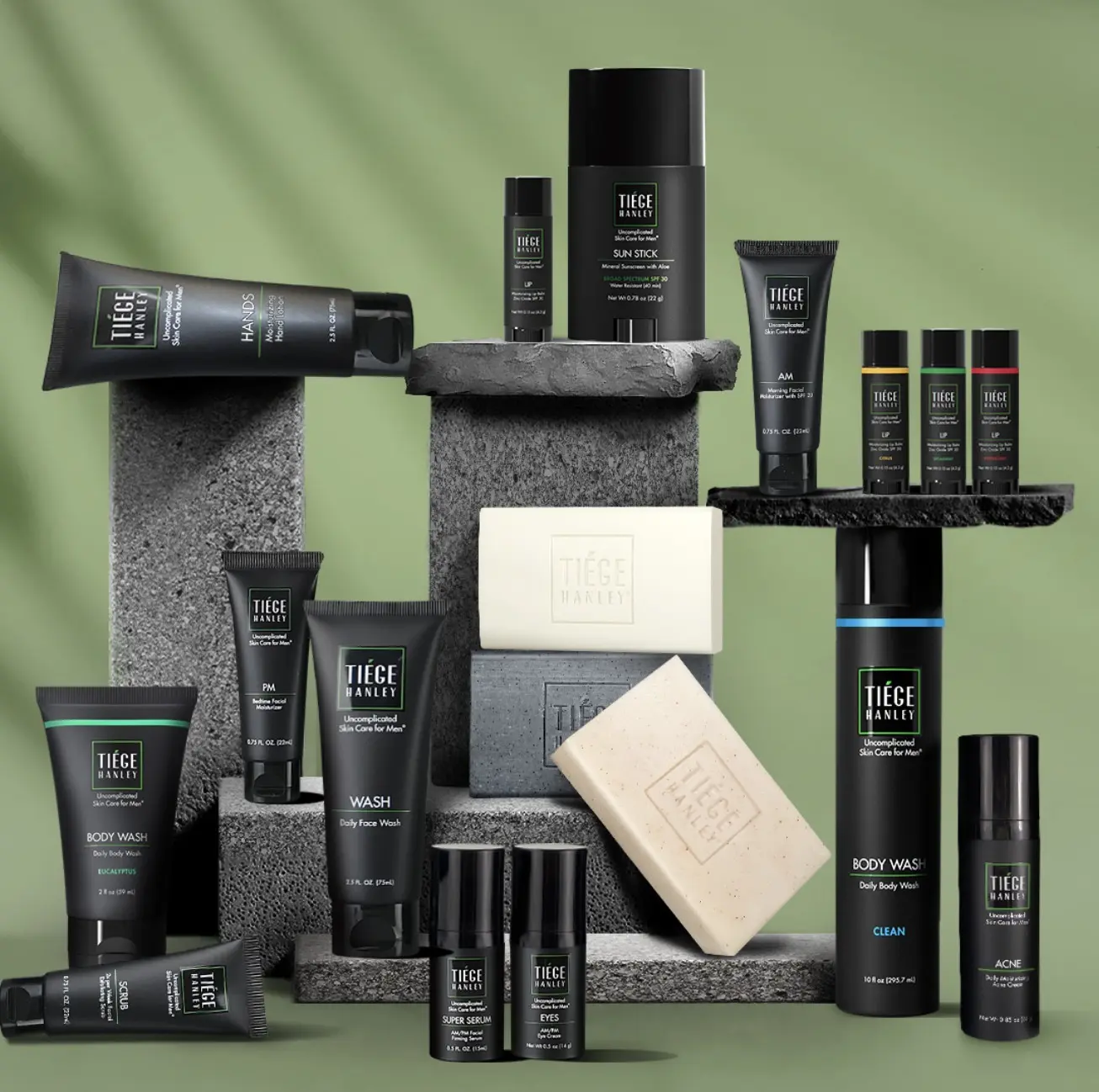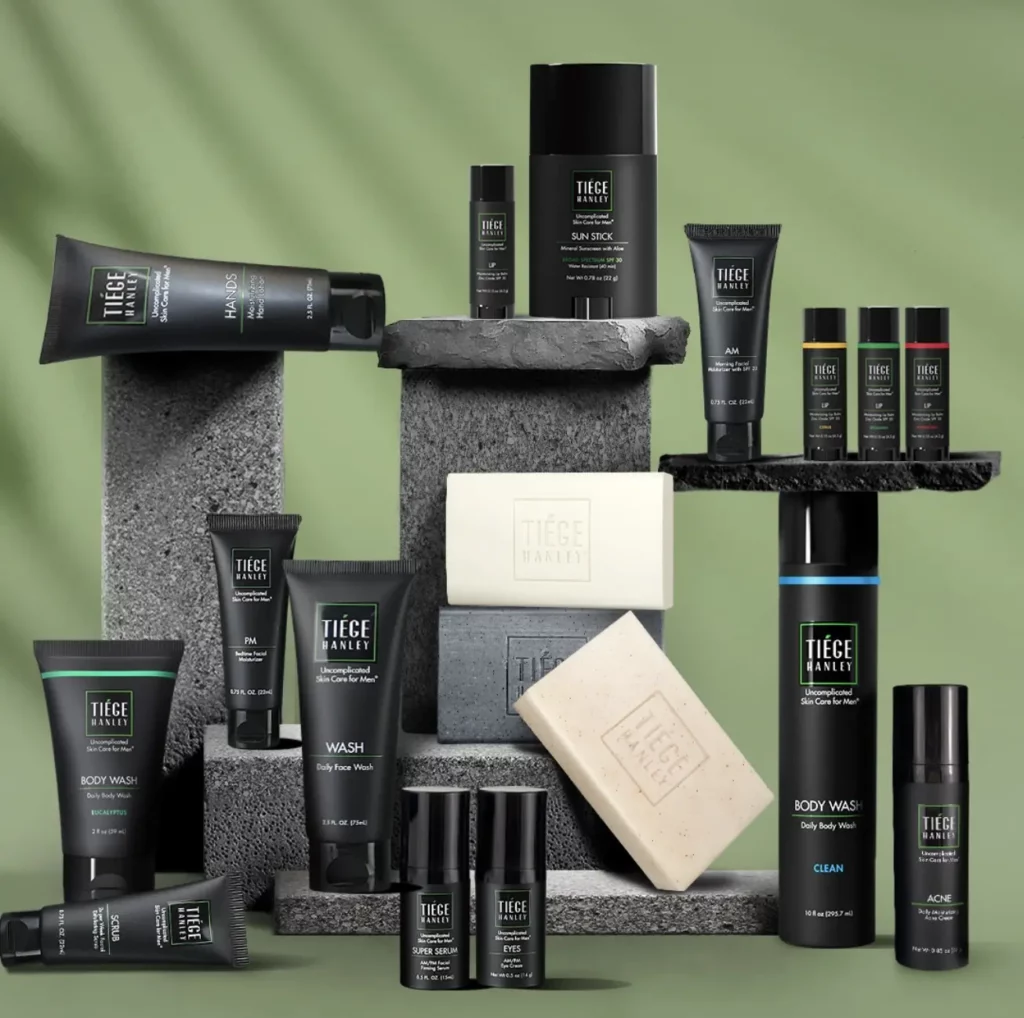 Overall: ★★★★ 4 Stars
The brand has an excellent skincare regimen for men that provides a uniform approach rather than choosing from multiple brands. Not only are their products specifically formulated for men's skin, but they also beat the prices of many other top skincare companies with each product.
Pricing: ★★★★★ 5 Stars
Tiege Hanley offers multiple skincare bundles that range from $30-$60, and you can choose between either a monthly subscription or a single purchase. You'll find that many other skincare brands charge $20-$30 for a single product, whereas Tiege offers an entire bundle in a similar price range.
Shipping: ★★★★ 4 Stars
They're happy to offer free and fast shipping to residents in the USA, and the company ships to over 100 countries in total. International customers will have to pay a small fee for shipping, and it could take 2-4 weeks for their products to arrive.
Selection: ★★★★ 4 Stars
You'll find Tiege Hanley has more to offer than just a face wash and moisturizer kit. You can tend to every aspect of your face's skin with the effective selection the company provides. However, the products come in travel sizes which could be a deal-breaker for some.
Customer Service: ★★★★★ 5 Stars
The company strives for excellence in this area. They're known to be very responsive to emails and even send out follow-up phone calls to customers after purchasing their products.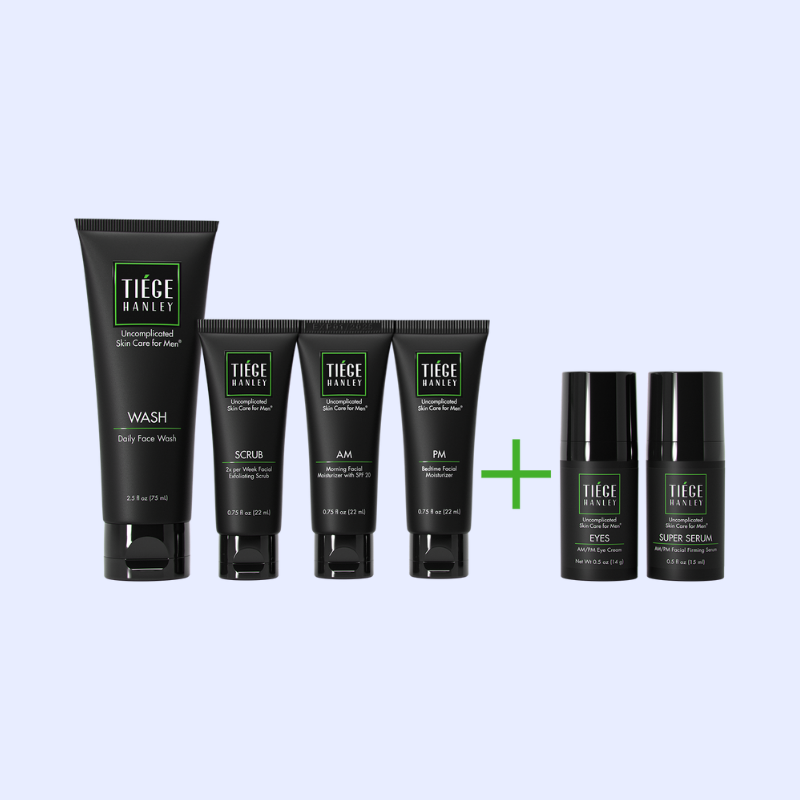 If you're looking to tackle all of your skincare needs, the level 3 regimen from Tiege Hanley is all you'll need.
This bundle offers an incredible value with their face wash, scrub, AM and PM moisturizers, eye cream, and facial firming serum.
---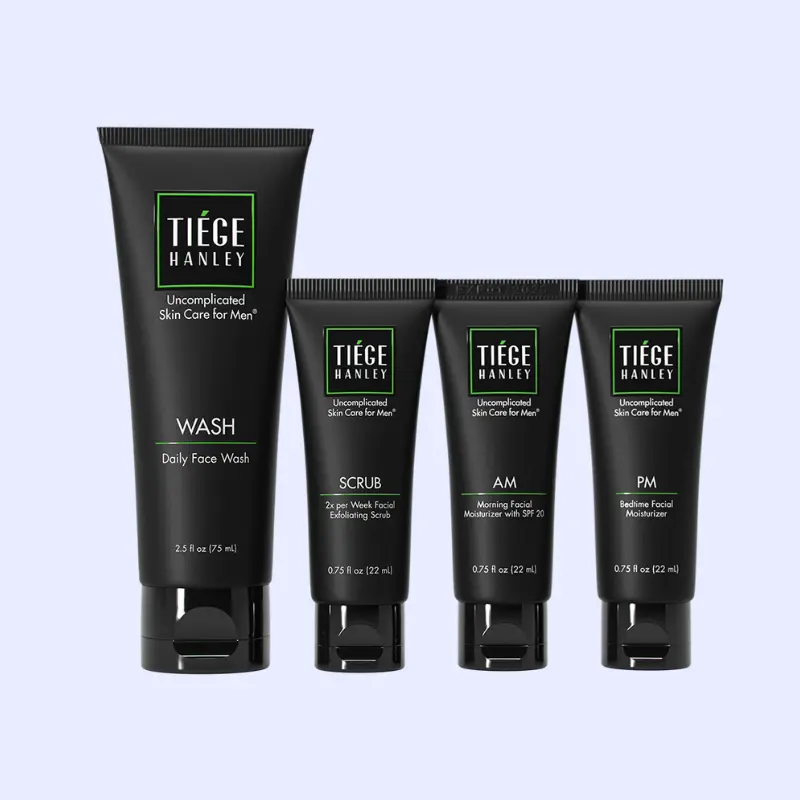 The Tiege Hanley skincare bundles seem to be the go-to choice for men, considering their convenience and easy regimen schedule.
The popular Level 1 routine includes every product Level 3 does, except for the eye cream and firming serum. It's also an excellent option for men looking to get a routine started on a budget.
---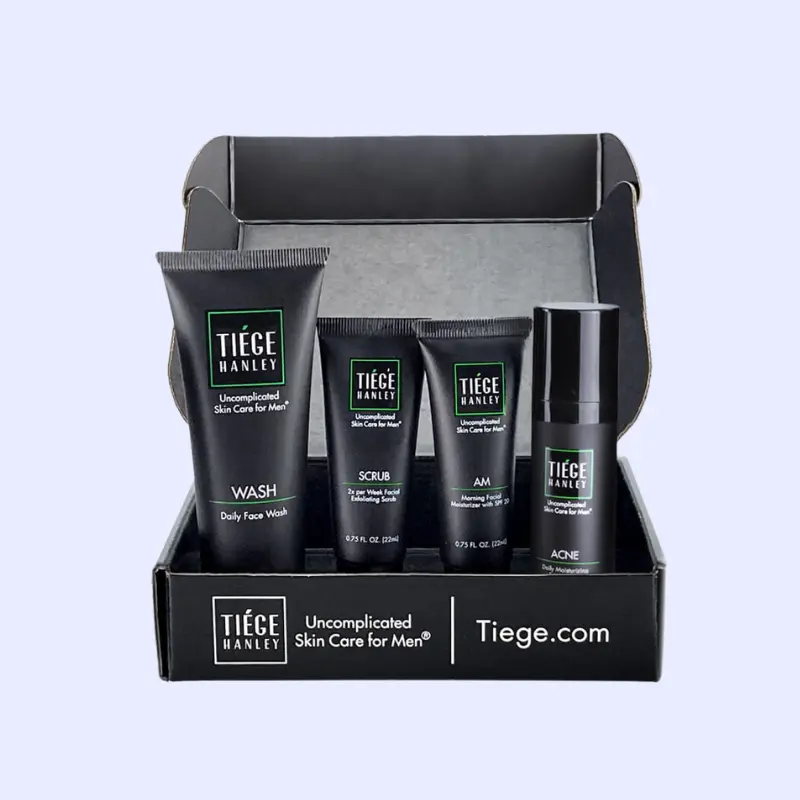 The journey to clear skin requires a multi-purpose regimen, and this bundle includes the companies well-known face wash, scrub, and AM moisturizer.
Their acne cleanser is also included and specifically tackles scarring, blackheads, and helps control future breakouts.
---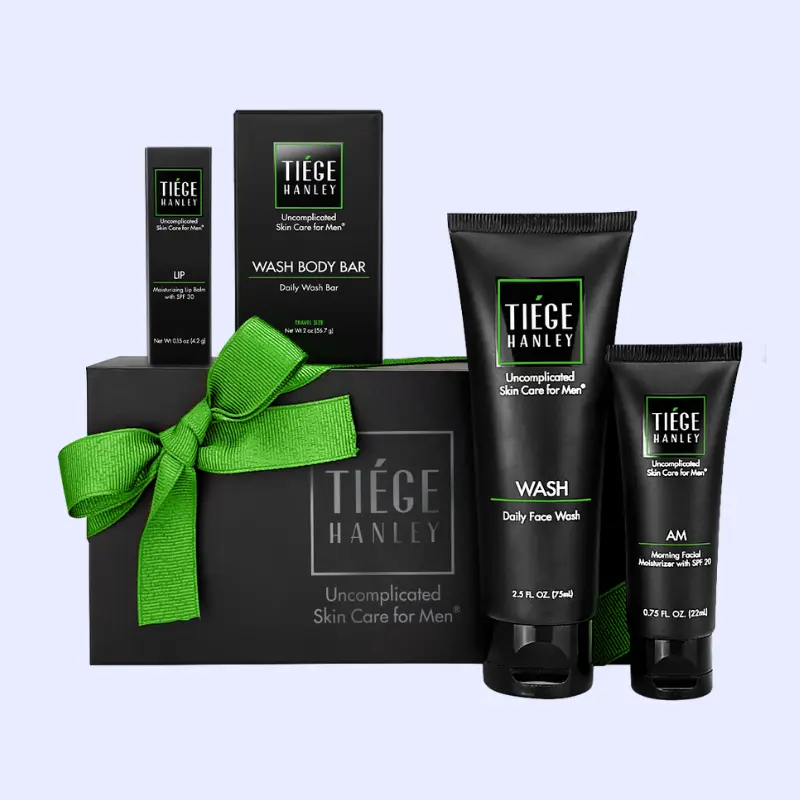 A perfect set for any man looking to dive into skincare, this set provides a decent variety to test what Tiege Hanley has to offer.
Aside from their staple face wash and AM moisturizer, this set also comes with 30SPF lip balm and a wash body bar that's rich in Vitamin E and antioxidants.
What Do The Customers Think?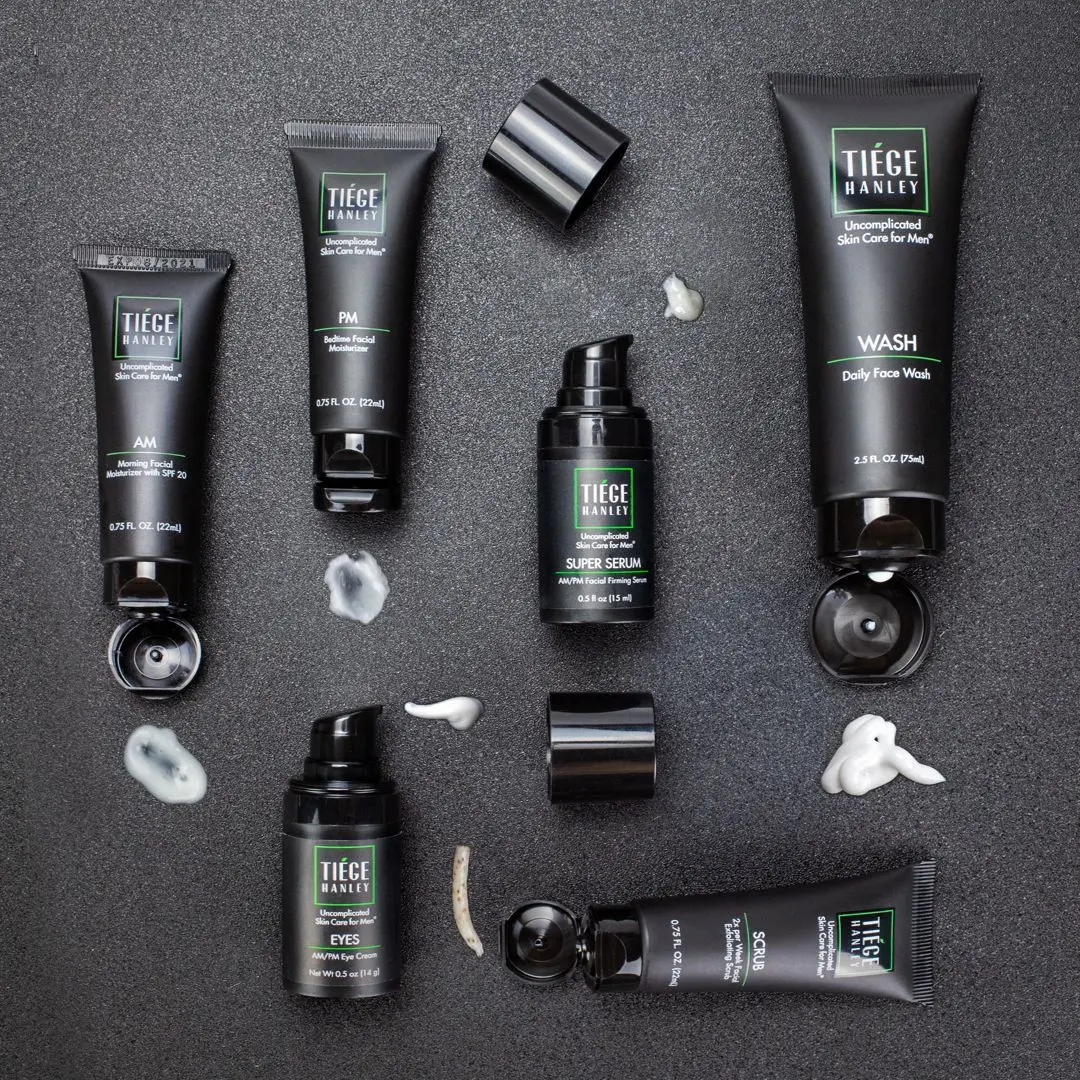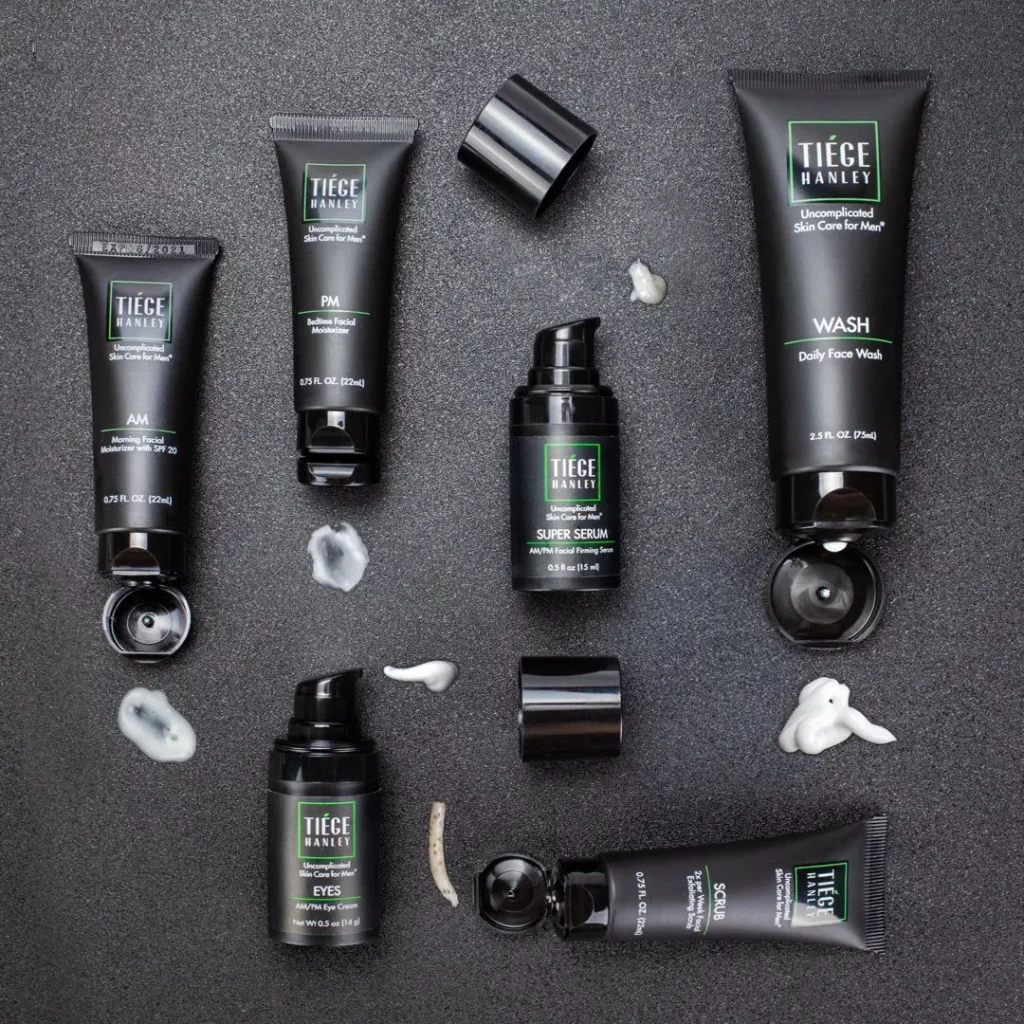 Considering that Tiege Hanley has garnered over 7,000 reviews with an overall 4.5-star rating, let's see which products customers are raving about the most:
Skin Care Routine – Level 3: 4.5 out of 5 stars with over 5,000 reviews
Acne Treatment System – Level 1: 4.5 out of 5 stars with over 800 reviews
Daily Face Wash: 4.6 out of 5 stars with over 100 reviews
After looking at the company's long list of reviews across their website, Google, and Trustpilot, Tiege Hanley holds a strong average of a 4.7-star rating. Here's what their customers seem to benefit from the most:
Reduced wrinkles
Less oily skin
Blackheads cleared
Excellent customer service
Convenient subscription model
Tiege Hanley FAQ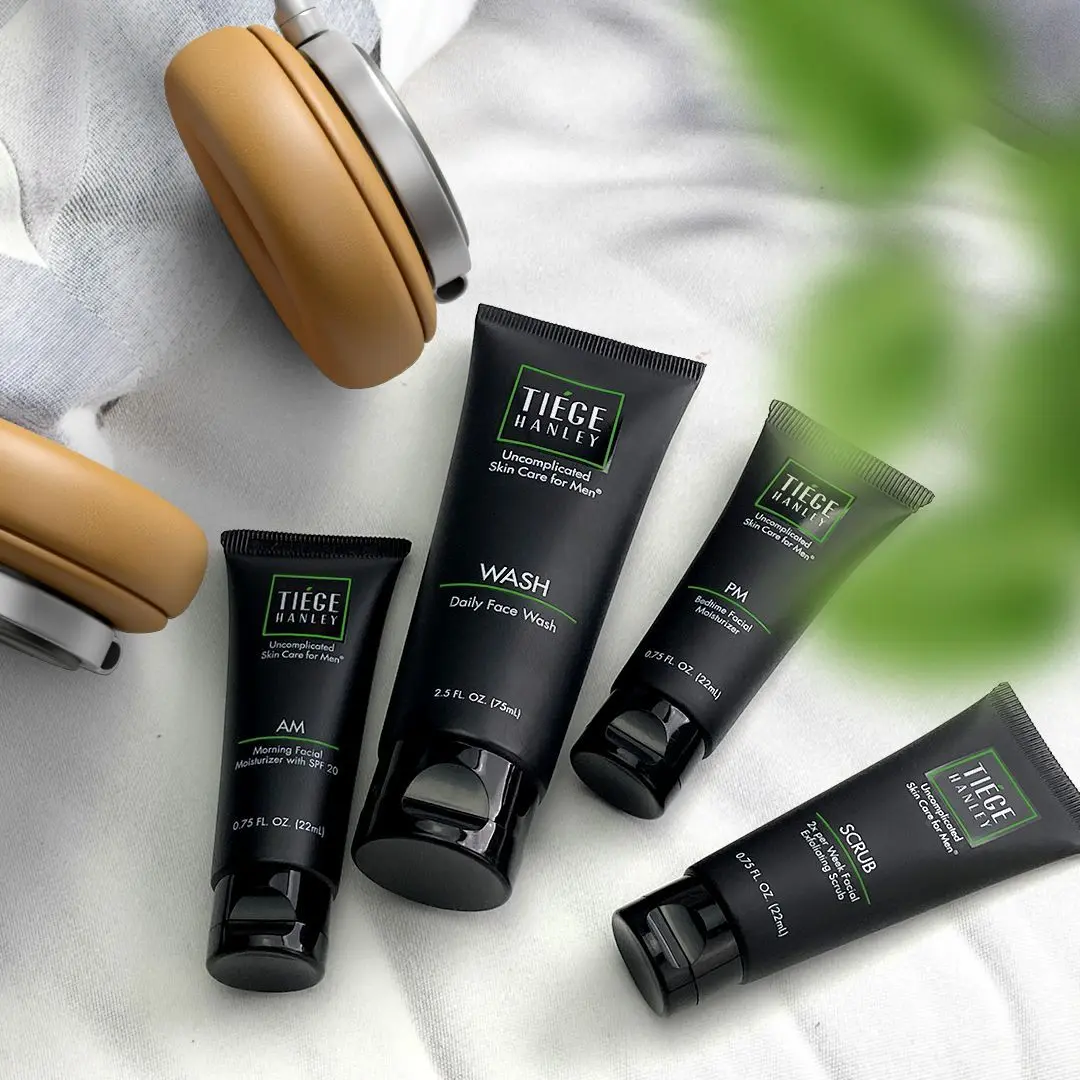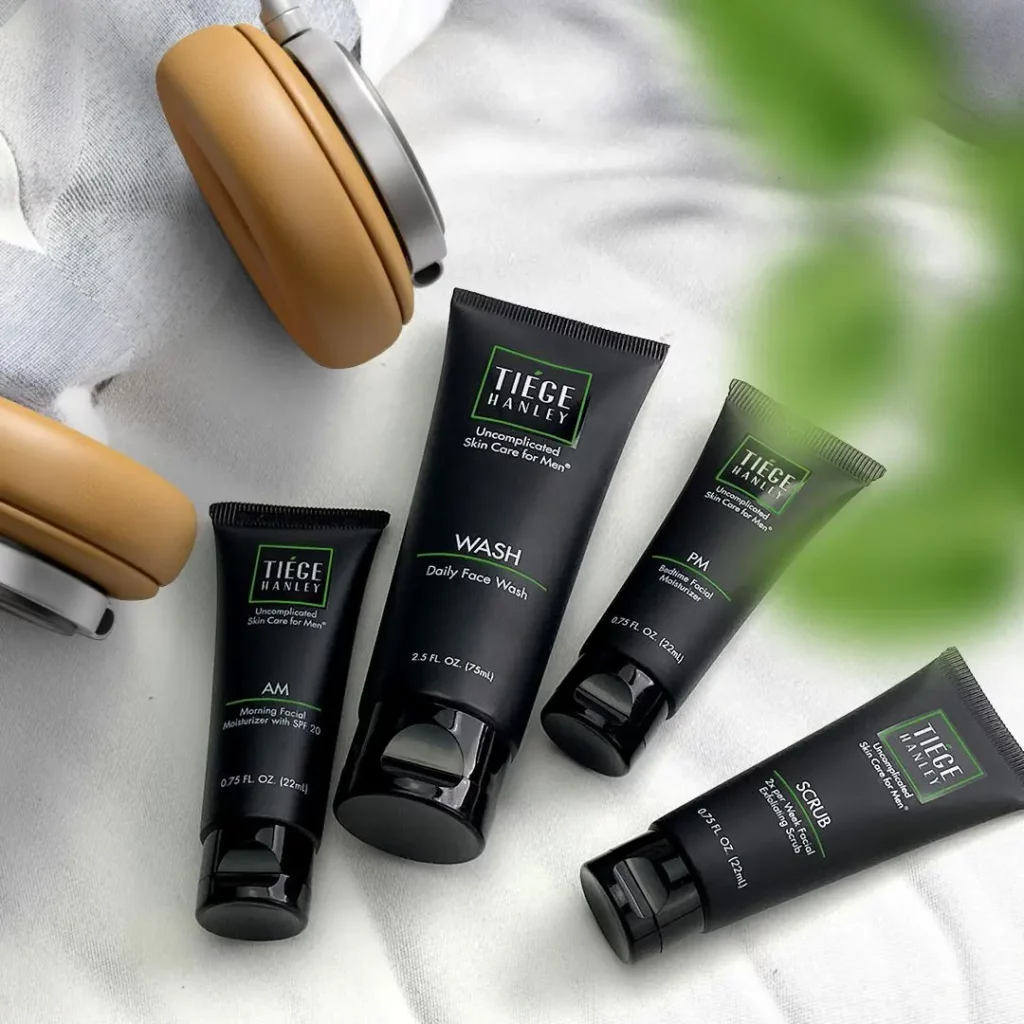 What is their return policy?
If your products end up not being the best fit for your skin, you can email the company, and they'll process a refund for your order, simple as that.
How long do the products last?
The bottle sizes are meant to last at least thirty days, but this may vary for each individual. Some customers have reported that they ended up running out before their next shipment arrived.
Are their products fragrance-free?
The Tiege Hanley skincare products have no added fragrances, but their line of different body washes is scented.
RELATED: Is Fragrance Bad for Your Skin?
Can you cancel your subscription at any time?
You most definitely can, and although the company promotes a subscription model for their skincare routines, you can decide to opt for a one-time purchase instead if you choose.
To Recap: Is Tiege Hanley Worth The Buy?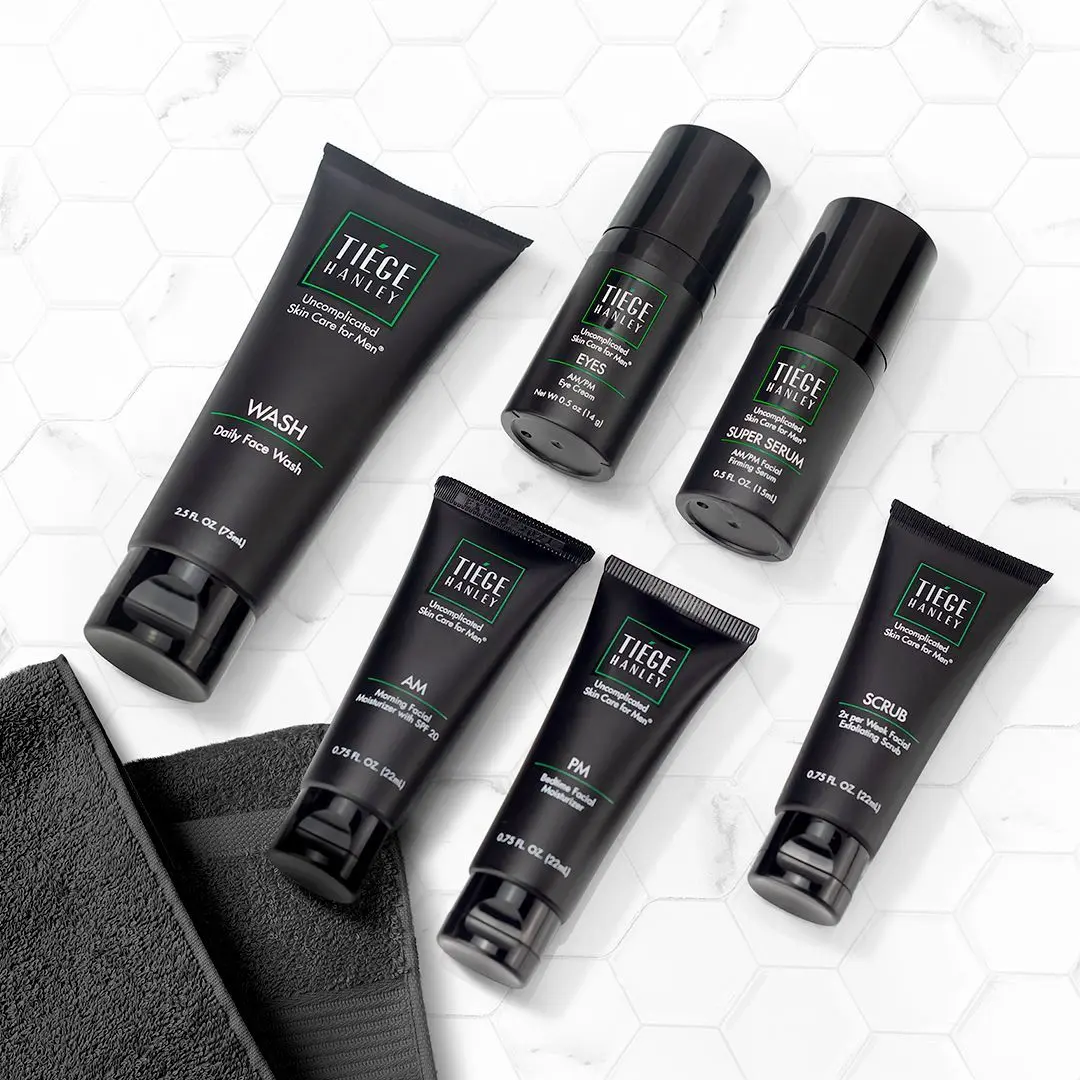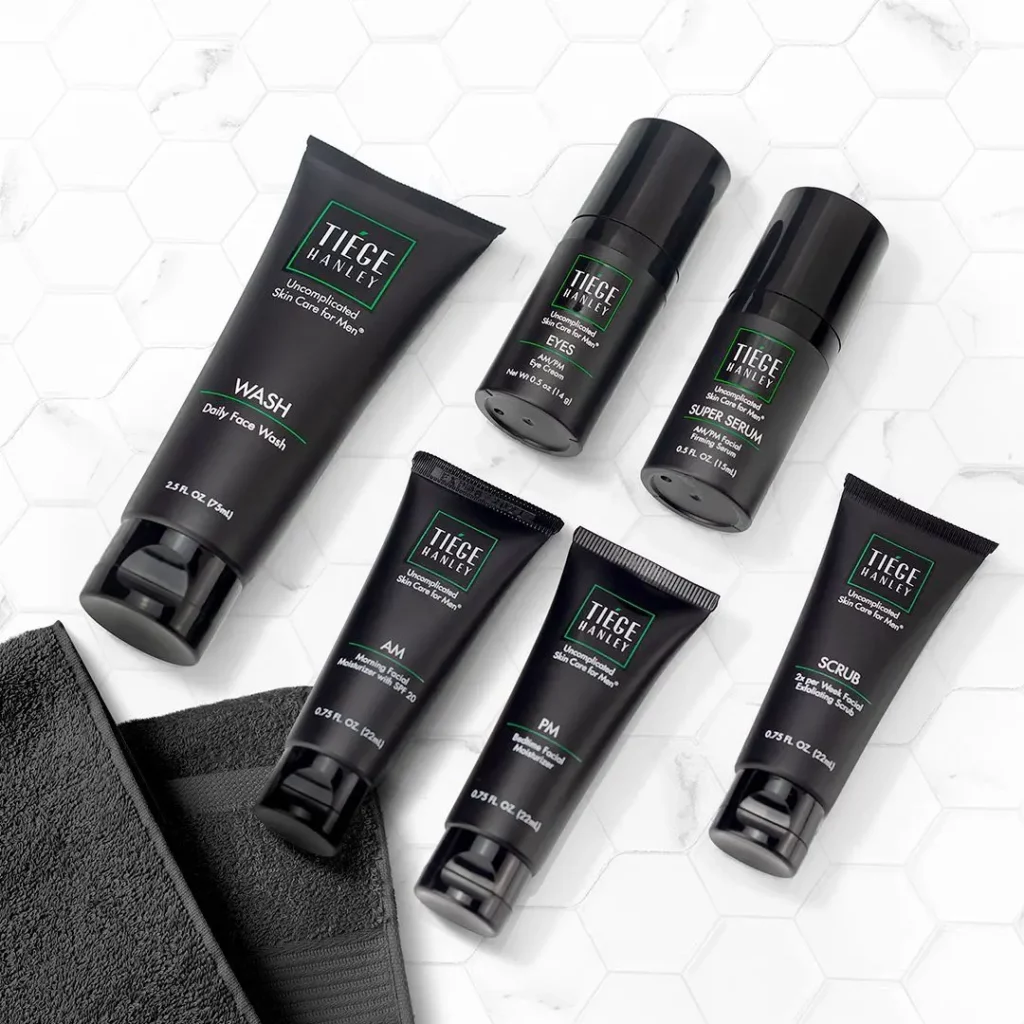 Considering that the purpose behind their products is to solve the core issues with many other skincare products for men, they're definitely worth a look if you haven't found a regimen that works for you.
The products are cost-efficient, safe to use, and have thousands of reviews from satisfied customers: there truly isn't much to lose!
Brands Like Tiege Hanley
UP NEXT: 16 Best Face Washes for Men