Do you have mature skin and need a good foundation? Laura Geller Beauty claims to have the best cosmetic products, particularly foundation, for mature skin.
With minimal options when it comes to makeup formulated for mature skin, is Laura Geller the perfect choice for those who need to cover up fine lines and wrinkles without looking cakey? Read our Laura Geller Foundation Reviews to find out.
What is Laura Geller Foundation?
Laura Geller foundation is the line of foundation products at Laura Geller Beauty which started in 1997 with a highlight and contour kit. Laura Geller, the creator, started her beauty line after years in theatrical makeup and having her own professional studio.
As Laura Geller Beauty grew, the brand became known for primer and baked makeup, specifically catering to those with mature skin. Laura Geller products are handcrafted in Italy, and provide a smooth, weightless look.
Laura Geller wants to celebrate beauty at all stages of life, on a mission "to make all women feel beautiful and worthy whether they're 19 or 90."
Though Laura Geller Beauty is best known for primers and foundation, they also offer other beauty items like blush, bronzer, concealer, and all kinds of eye and lip products.
Laura Geller Foundation Reviews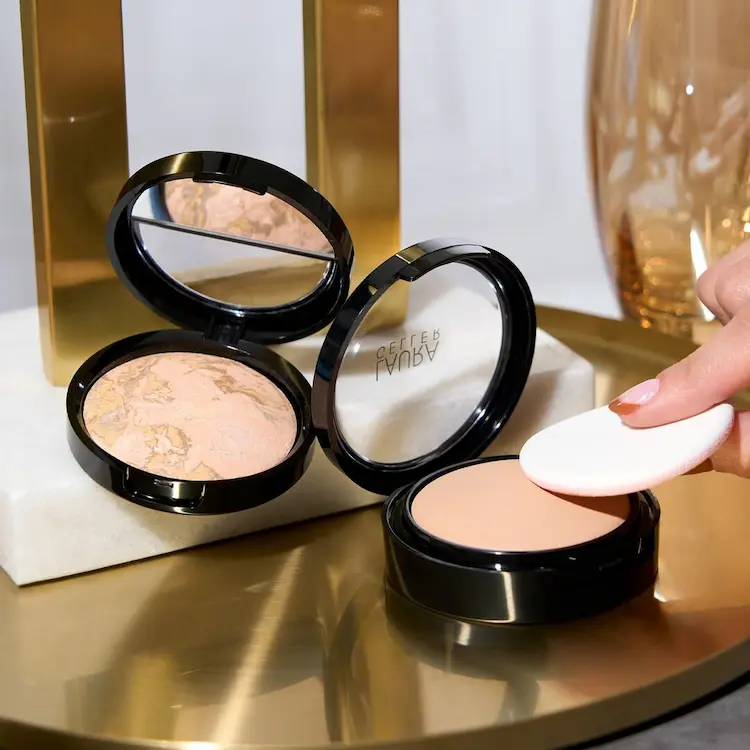 Overall: ★★★★ (4 stars)
Laura Geller foundation is a pretty solid choice, especially considering the limited options out there for those with mature skin. The price is certainly not drugstore level, but it is still in a more affordable range for high-end makeup. Customer experiences with the foundations are generally positive, with a few complaints about coverage.
However, the feedback is very positive nonetheless, with many customers praising its buildable coverage, non-cakey application, and effectiveness in covering blemishes without exaggerating fine lines.
Pricing: ★★★★ (3.5 stars)
Although not the most affordable makeup brand around, they're also not the most expensive. Prices at Laura Geller are pretty average for any higher-end makeup brand. For example, the baked foundations are all around $36, and all other products are typically less than $40.
The cost isn't the most affordable for everyone, but based on the quality and how well it works for so many people, we'd say it's worth the price.
Quality: ★★★★ (4 stars)
In general, customer reviews about the quality of Laura Geller foundations are positive. Customers like that the baked foundations don't get cakey on your skin, last all day, and can provide decent coverage for imperfections.
However, customers also generally used the powder foundations as setting powders on top of different foundations because the coverage was a bit too light and worked better as a finishing product.
Shipping: ★★★★ (3.5 stars)
Standard shipping (3-6 business days) costs $5.99 or is free for orders over $40. There is limited international shipping available.
There are quite a few customer reviews regarding delayed shipping times and packages not arriving. If you're worried about it, you can also some Laura Geller Foundations at large retail stores such as Amazon, Macy's, and Walmart.
RELATED: 16 Foundations for Oily Skin Approved by Editors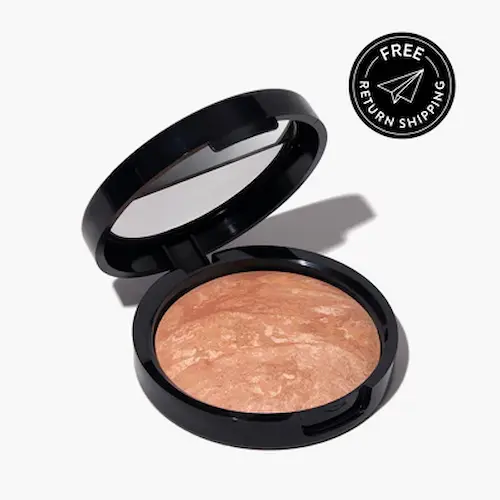 This foundation is one of Laura Geller's all-time best sellers and most hyped up products. It's a powder foundation that is used for mature skin, uneven complexion, and fine lines or wrinkles. It provides light-to-medium coverage while feeling weightless, and it never gets cakey.
It is offered in 9 different shades, but the formula contains multiple color-correcting shades that should adjust to your skin tone.
Customers, in general, love this product. Reviews say that the Balance-n-Brighten Foundation applies to the skin smoothly and is easy to blend out, which covers wrinkles and other imperfections well. The texture didn't get cakey (even after hours of wear), and coverage lasted all day.
However, there were complaints about the formula not being buildable enough, and the shades were hard to match their skin. Hopefully, in the future, Laura Geller will keep adding to their selection of shade range to make it more accessible for everyone.
---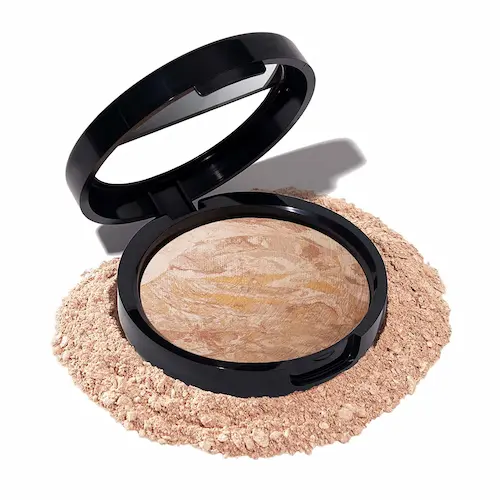 Price: $36
The Baked Balance-n-Glow Foundation is very similar to the Balance-n-Brighten, except this product provides light to medium coverage with a satin finish instead of a natural finish. It still works best for mature skin and doesn't get cakey.
Reviews for this product are also very positive, but many customers commented that this worked better as a powder rather than a foundation.
It was hard to get coverage and wasn't very buildable, so many people used it as something to go on top of another foundation.
However, it still covered up blemishes and wrinkles well, lasted all day, and provided a glowy complexion.
---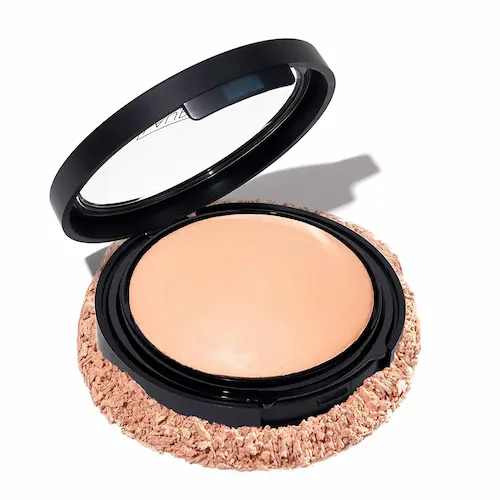 Price: $36
This is the third foundation in Laura Geller's Baked foundation line. This version provides full coverage with a matte finish. Unlike the other two shared previously, this can be applied wet or dry (wet for fuller coverage). It's long-wearing, sweat-resistant, and doesn't get cakey. 
Overall, we noticed that Laura Geller foundation reviews were the best for this product because customers felt they could get better coverage. Customers said the foundation was great for fine lines and wrinkles, making the skin look nearly flawless.
Even more, it felt great on the skin because of ingredients like jojoba seed oil and other extracts. However, there were still reviewers that said they didn't get the coverage they wanted and used the powder to set other complexion products with a matte finish.
---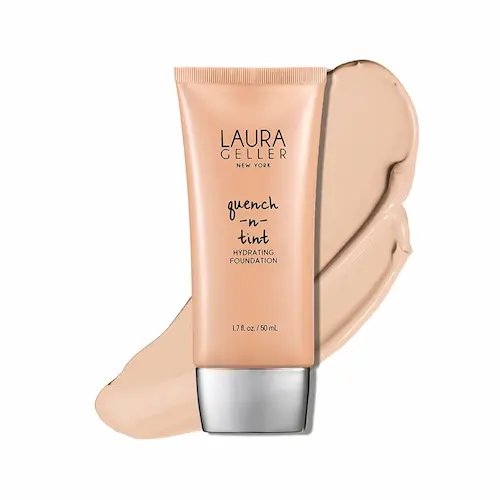 Price: $34
This is a liquid foundation that offers sheer to light coverage. It's hydrating, weightless, buildable, and leaves a dewy finish. This foundation works best for dry skin and to cover uneven complexions.
Customers say that this foundation is good for very light coverage and to hydrate your skin, so it worked more like a BB cream or tinted moisturizer. For those who just wanted something light and simple, this foundation was an excellent choice.
Others said they wished for something more full-coverage to disguise blemishes, but for a lightweight foundation, this is a home run.
---
What Customers Are Saying
If you still aren't sure about purchasing a Laura Geller foundation, check out this list we compiled of the top comments from customers through reviews:
Also, make sure to note that experiences may vary depending on which Laura Geller foundation you decide to purchase.
Great for mature skin
Most Laura Geller foundations offer sheer/light coverage
Evens out complexion and covers fine lines and wrinkles
Doesn't get cakey
Long-lasting (most buyers report their foundations lasting all day)
Somewhat buildable, Double Take foundation seemed the most buildable
Some found it worked better as a setting/finishing powder
Not the best choice for a full coverage look
Instances of delayed shipping and missing packages, but customers can shop through other retailers
For especially dry skin, a liquid or cream foundation might be a better fit
In Conclusion: Worth It?
All in all, Laura Geller is a great option if you have mature skin and are looking for a light coverage foundation. Many customers praise their products, saying they don't get cakey and can often cover up those stubborn fine lines.
Even though there are a few customers who couldn't use the products as a foundation alone as they felt it wasn't enough coverage, these shoppers said it worked really well in other ways (such as a setting powder, bronzer, and even blush).
If you're still hesitant to buy, just know that whatever the outcome, you will more than likely be able to get your money's worth and make a Laura Geller foundation work for you.
Laura Geller Foundation Alternatives
FAQs
How to apply Laura Geller Baked Foundation
The Laura Geller Baked Foundation should be applied dry with a swirl brush for light coverage or with a denser brush for medium coverage. The Double Baked foundation can be applied wet or dry with the sponge provided. 
Is Laura Geller Foundation good for mature skin?
Yes, Laura Geller Foundation is especially great for mature skin and for covering up fine lines and wrinkles. 
Where to buy Laura Geller Foundation?