The skincare industry is saturated with so many products and brands that it's hard to figure out what your skin will like — and what your wallet will tolerate.
Some brands have so many products that you have no idea where to start, but Krave Beauty is not one of them.
With the motto #PressReset, Krave Beauty focuses on having a select amount of products that do the most for your skin.
But is Krave Beauty worth checking out? Keep reading our Krave Beauty reviews to find out!
RELATED: 22 Best Clean Beauty Brands Worth Buying
What is Krave Beauty?
Krave Beauty is an online skincare brand that sells a small but essential selection of skincare products.
The brand focuses on the motto #PressReset, meaning the company wants to change the way we perceive the relationship between our skin and skincare products.
Rather than forcing the skin to adapt to different products, Krave Beauty wants to shift the focus onto what your skin actually wants and needs.
Krave Beauty Overview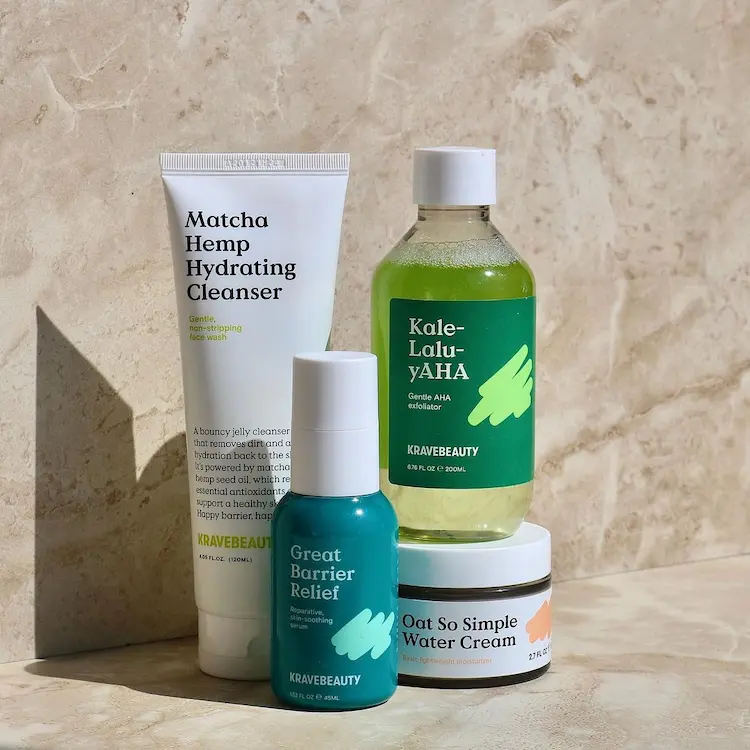 Founded in 2017 by YouTuber Liah Yoo, Krave Beauty carries the essentials of skincare: a daily cleanser, daily moisturizer, exfoliator, serum, and makeup remover.
Yoo was overwhelmed by how saturated the skincare industry was and how many different products were being advertised on social media and made the connection that all these products weren't going to give results if we didn't listen to what our skin really needed.
Thus, Krave Beauty was born.
Krave Beauty Reviews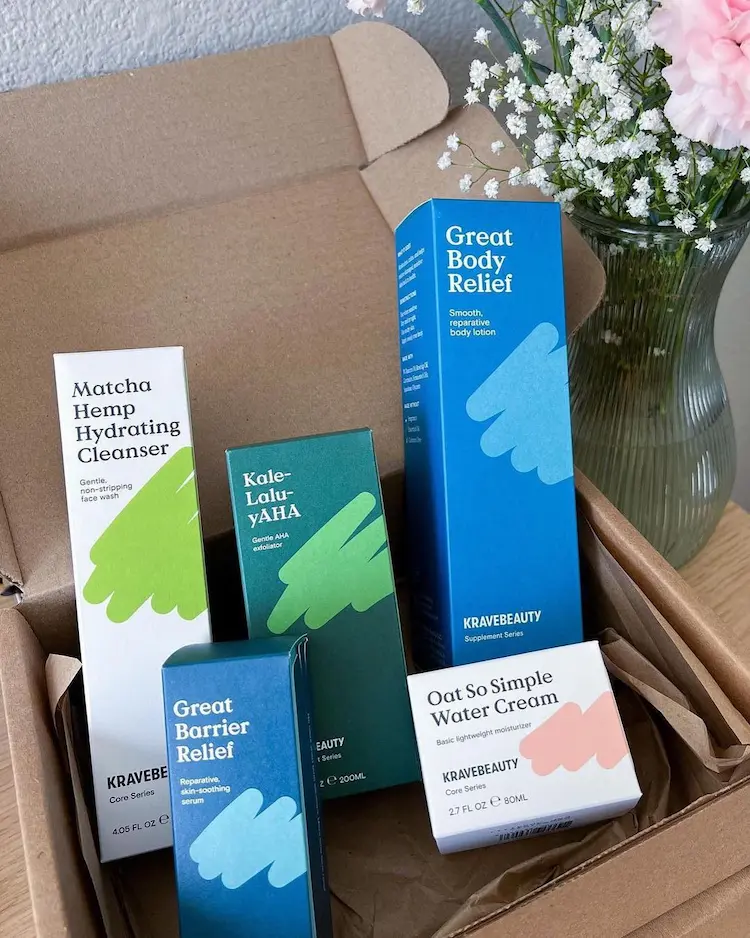 Overview: ★★★★ 4 stars
Overall, users of Krave Beauty are delighted with the products and specifically love how light and gentle the cleanser is.
One critique the brand faces though is some customers think the products are overpriced. However, a majority of customers love the simplicity of the brand and the company's steps to becoming sustainable and environmentally friendly.
Customers also say that a little goes a long way, so the value is ultimately there.
Price: ★★★★ 4 stars
The price for Krave Beauty products ranges from $16 – $30, which is arguably a bit pricey for a brand that's not high-end.
It's generally affordable, but customers say there are similar products out there that offer the same benefits for a lesser price.
Overall though, the price range is pretty affordable, and they even offer a "Snack Pack" of samples to try for just $24 before you commit.
Sustainability: ★★★★★ 5 stars
Krave Beauty is really on a journey to become a brand that's not only good for your skin, but also for the planet.
The company's sustainability journey is quite commendable as Krave Beauty is Climate Neutral Certified and Plastic Neutral Certified!
The brand's packaging is used out of recycled materials, and Krave Beauty's current goal is to have 100% traceability when it comes to the ingredients used in their products.
Ingredients: ★★★★ 4 stars
Krave Beauty has ingredients that are PETA-certified, vegan, and cruelty-free. All products are free of dyes, fragrances, essential oils, and colorants.
Used with natural ingredients packed with benefits like Tamanu oil, kale, oats, and ceramides, Krave Beauty products are enriched with elements your skin will love!
Now, let's get to reviewing some Krave Beauty products!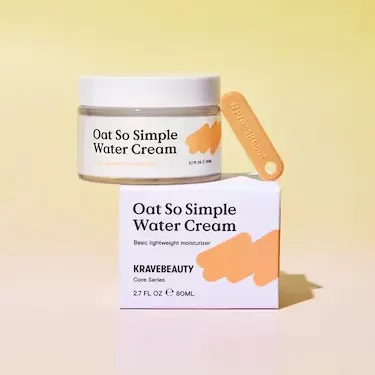 ★★★★ 4 stars (478 reviews)
Customers love the Oat So Simple Water Cream thanks to how gentle and light the formula feels on the skin.
Made with only 9 ingredients, this cream is perfect for sensitive skin and includes superstar ingredients like squalane and oat extract to keep your skin calm, moisturized, and hydrated throughout the day.
Thanks to the featherweight feeling of this moisturizer, customers love it for daily use.
---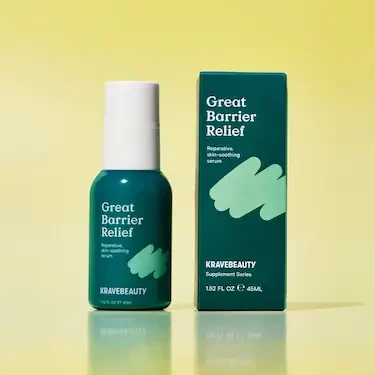 ★★★★ 4.6 stars (1266 reviews)
Krave Beauty's Great Barrier Relief serum helps to calm skin sensitivities caused by a damaged or broken skin barrier.
This serum has beneficial ingredients including oils like Rosehip, Safflower, and Tamanu to keep your skin from redness while also giving moisture and nourishment to the skin's natural barrier.
Customers who've used this product are extremely satisfied with the creaminess of the serum and have noticed a big difference in the texture of their skin!
---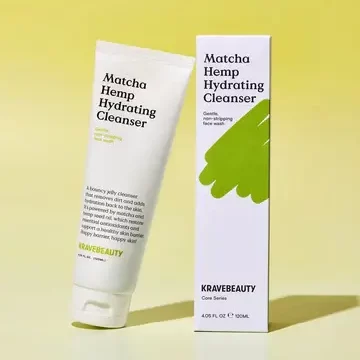 This gentle cleanser has two star ingredients: matcha and hemp.
Matcha is packed with antioxidants and anti-inflammatory polyphenols that help fight acne-causing bacteria, boost blood flow and circulation, and also minimize oily skin.
Meanwhile, hemp oil is another rich ingredients as all skin types can use it. It helps maintain oil production and moisturizes without clogging pores!
Customers love how gentle Krave Beauty's Matcha Hemp Hydrating Cleanser is on the face and how the milky-gel texture soothes the face.
What Customers Are Saying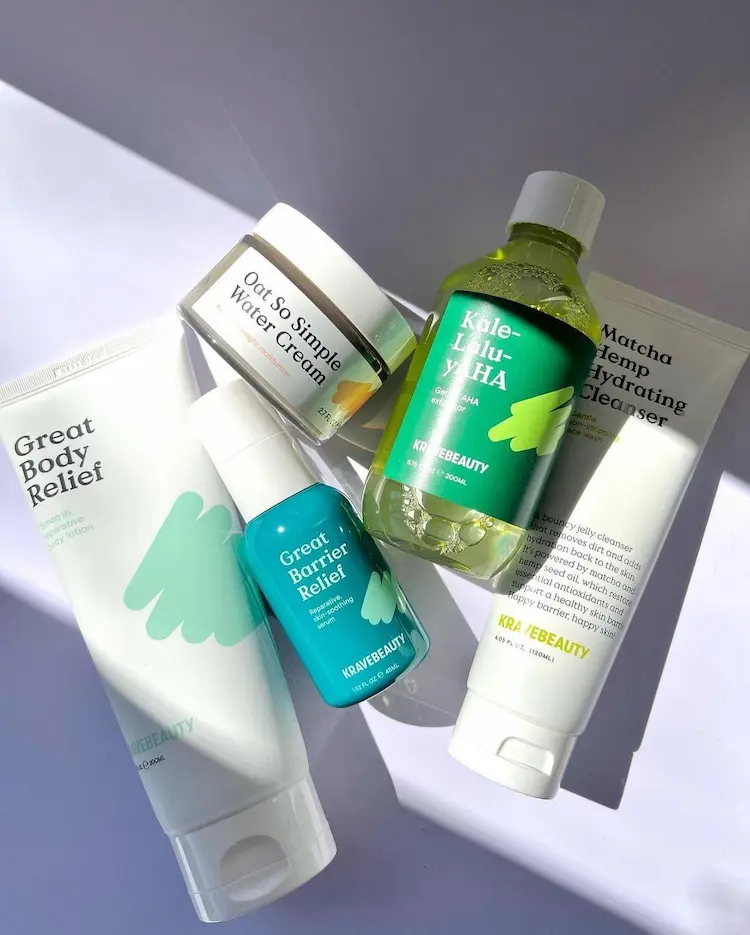 If you want some more honest testimonies to this brand, we scoured the web and picked out some critical points from real customer reviews!
Here's what they have to say:
Krave Beauty has perfect products for sensitive skin
The Oat So Simple Water Cream is a holy grail
Some of the products seem to be overpriced
The company has a great sustainability plan
The Bottomline: Worth It?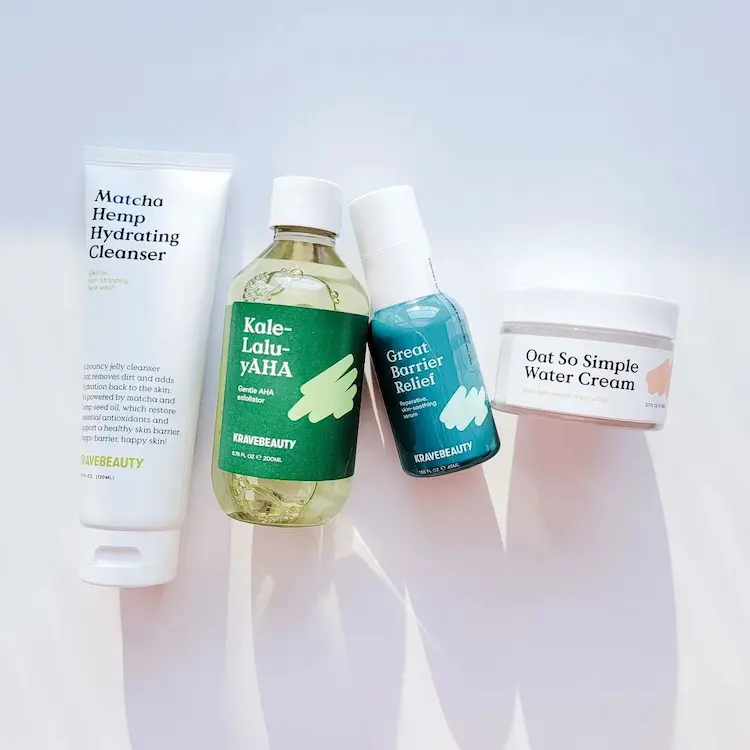 So is Krave Beauty worth the money? We think it's definitely worth giving a shot!
The brand has honest products and honest ingredients, and its mission to better the perception of the relationship between skincare and our skin is admirable.
Krave Beauty is awesome for all skin types and its plan for sustainable skincare is something worth supporting.
Krave Beauty Alternatives
If you want similar brands to Krave Beauty, we got you covered! Here are some brands to get you started:
FAQs
Where can I buy Krave Beauty?
Krave Beauty products can be purchased directly through the website at KraveBeauty.com. 
Is Krave Beauty cruelty-free?
Yes! Krave Beauty is PETA-certified, cruelty-free, and vegan. 
Where is Krave Beauty made?
Krave Beauty is made in South Korea.
What is their Return Policy? 
As part of the sustainability plan, Krave Beauty does not accept any physical returns.
All returns are handled on a case-to-case basis, and the company asks unsatisfied customers to contact customer service with any issues within 30 days of receiving any product.
In the case of damaged or defective items, Krave Beauty takes full responsibility and will gladly issue an exchange!
UP NEXT: 12 Best Indie Skincare Brands To Keep On Your Radar