K18 and Olaplex are two popular and reputable haircare brands that use innovative technology and science to repair, protect, and strengthen hair.
But what's the difference between the two, and is one of them better than the other? Read our K18 vs Olaplex review to find out! 
K18 vs Olaplex: Overview
Before we dive in, let's take a glimpse into what these two haircare brands have to offer.
K18
Olaplex
– Known for their Molecular Hair Mask
– Only offers three products
– Uses patented peptides
– Suitable for all hair types
– Focuses on hair restoration
– Has a 45-day return policy
– Available on their website or Sephora
– Carries more products than K18
– Has over 100 worldwide patents
– Suitable for all hair types
– Focuses on hair restoration and healthy maintenance
– Has a 60-day return policy
– Available on their website, Ulta, Sephora, or a few other retailers
K18 vs Olaplex: A Deeper Dive
What is K18?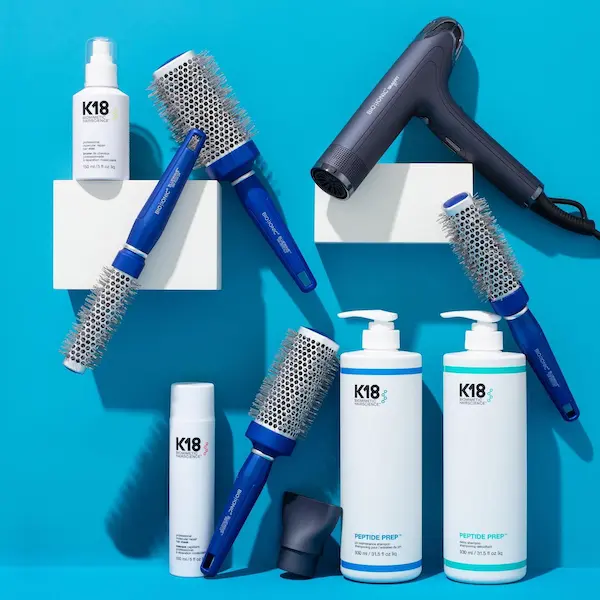 K18 is a fairly new company that started out in 2020 but has grown in popularity thanks to the brand's best-selling Leave-in Molecular Hair Mask.
The brand only offers two other shampoos in addition to their hair mask, but this Molecular Hair Mask definitely packs a punch and can hold its own. 
In fact, the K18 hair mask is a viral internet star and has accumulated over 11+ billion Tik Tok views! Celebrity, much?
Although many products claim to be a good alternative to Olaplex, K18 is the only one we've found offer similar damage-restoring effects.
What is Olaplex?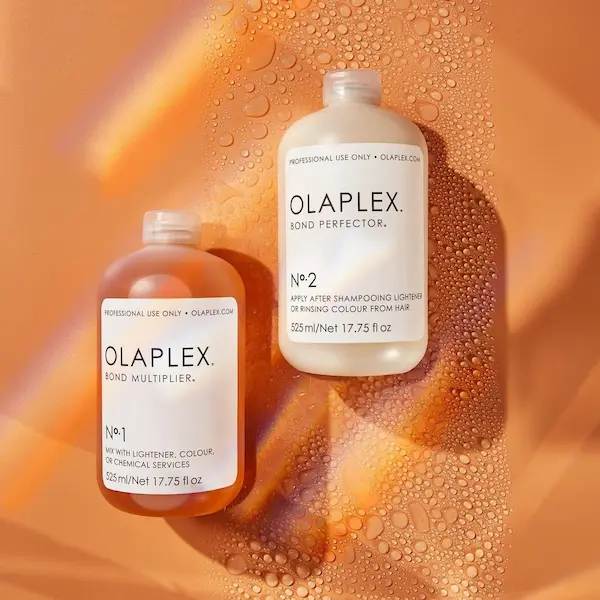 Living on the same street but on the other side of the fence, Olaplex walked so K18 could run.
Founded in 2014, Olaplex's superstar ingredient Bis-Aminopropyl Diglycol Dimaleate catapulted Olaplex's products by singlehandedly creating the haircare category of "bond-building." 
The company's patented technology has made it one of the largest independent haircare brands in the world and its formulas have refined the definitions of hair care and color.
Now that we know a little more about K18 and Olaplex, let's see how these two hair care brands stack up against one another!
Patented Technology Comparison
K18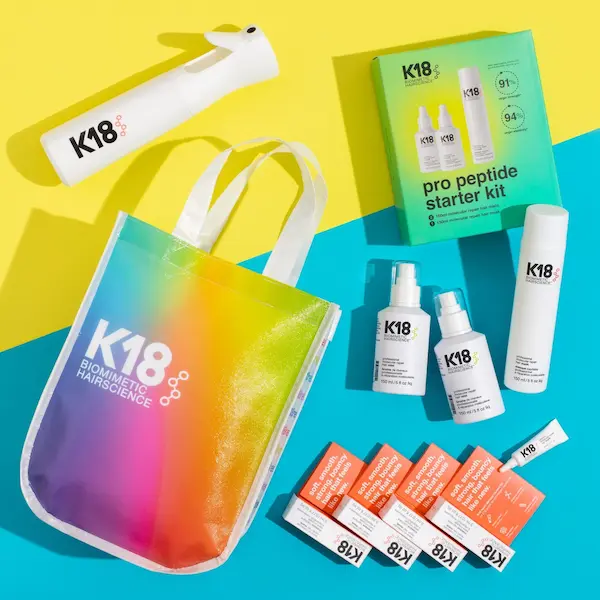 The main character of K18's products is the K18-developed peptide uniquely called the K18Peptide.
The K18 Peptide works at the innermost layer part of the hair to repair damage from the inside out.
This peptide was engineered in a biotech lab for ten years to perfect the process of reversing hair damage made by heat, chemical services, and bleach.
How it works is the K18Peptide dives deep into the hair and reconnects broken polypeptide chains and disulfide bonds, which are bonds that determine hair types and hair strength. 
Olaplex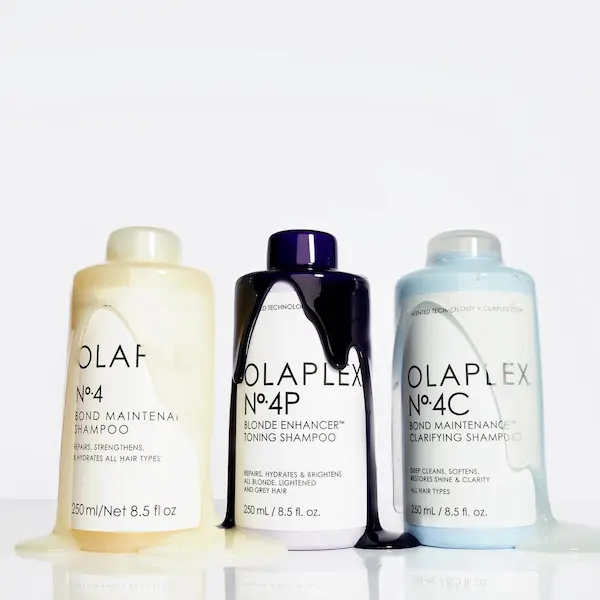 On the other hand, Olaplex uses Bis-Aminopropyl Diglycol Dimaleate (we wish it had an easier name like K18Peptide) as its secret weapon in its products.
Like the K18Peptide, Olaplex's patented peptide also works from the inside out to repair disulfide bonds by pairing with damaged bonds to prevent further damage and begin the reversal process.
However, Olaplex was recently swept up in some drama after it was brought to the public's attention that one of its best-selling hair treatments, the No.3 Hair Perfector, contained an ingredient called butylphenyl methylpropional or "lilial."
Lilial is a fragrance compound that became banned for cosmetic use in the EU starting in 2020 for allegedly being toxic and linked to infertility.
The ban began in 2020 and was set to be phased out by March of 2022, and since then, Olaplex has removed the ingredient and reformulated the product.
Products Comparison
K18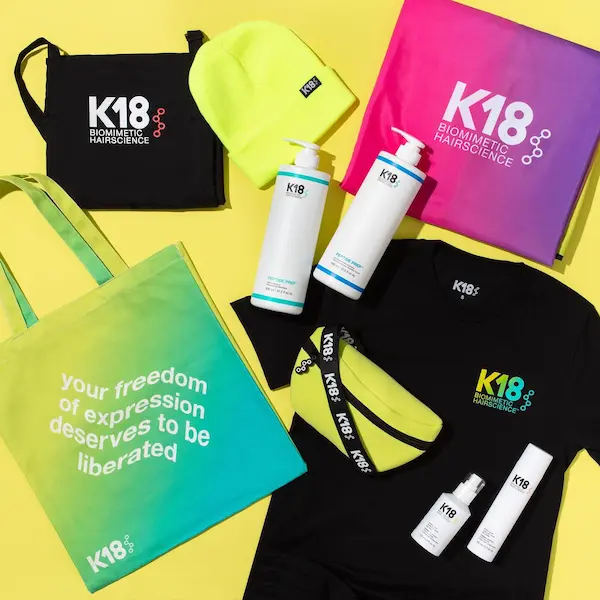 Currently, K18 only offers three products:
As mentioned before, the star of K18 is the Leave-In Molecular Repair Mask, which has over 11+ billion views on Tik Tok and over 6,000 reviews on the K18 website.
This hair mask is offered in a mini size, which is 15mL, while the full size is 50mL.
Meanwhile, the two shampoos K18 offers are for maintenance and detox.
Olaplex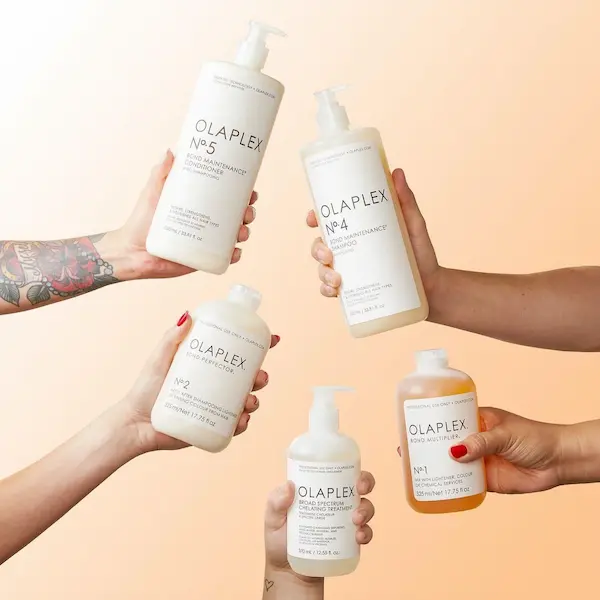 Olaplex has a larger selection than K18, with ten products and plenty of sets and bundles to choose from. 
Some of the most popular hair care products the company currently carries are:
Olaplex products are meant for all hair types as their main purpose is to strengthen the hair, but these products are meant to reverse damage from bleach, chemical services, environmental factors, and heating tools as well!
Pricing Comparison
K18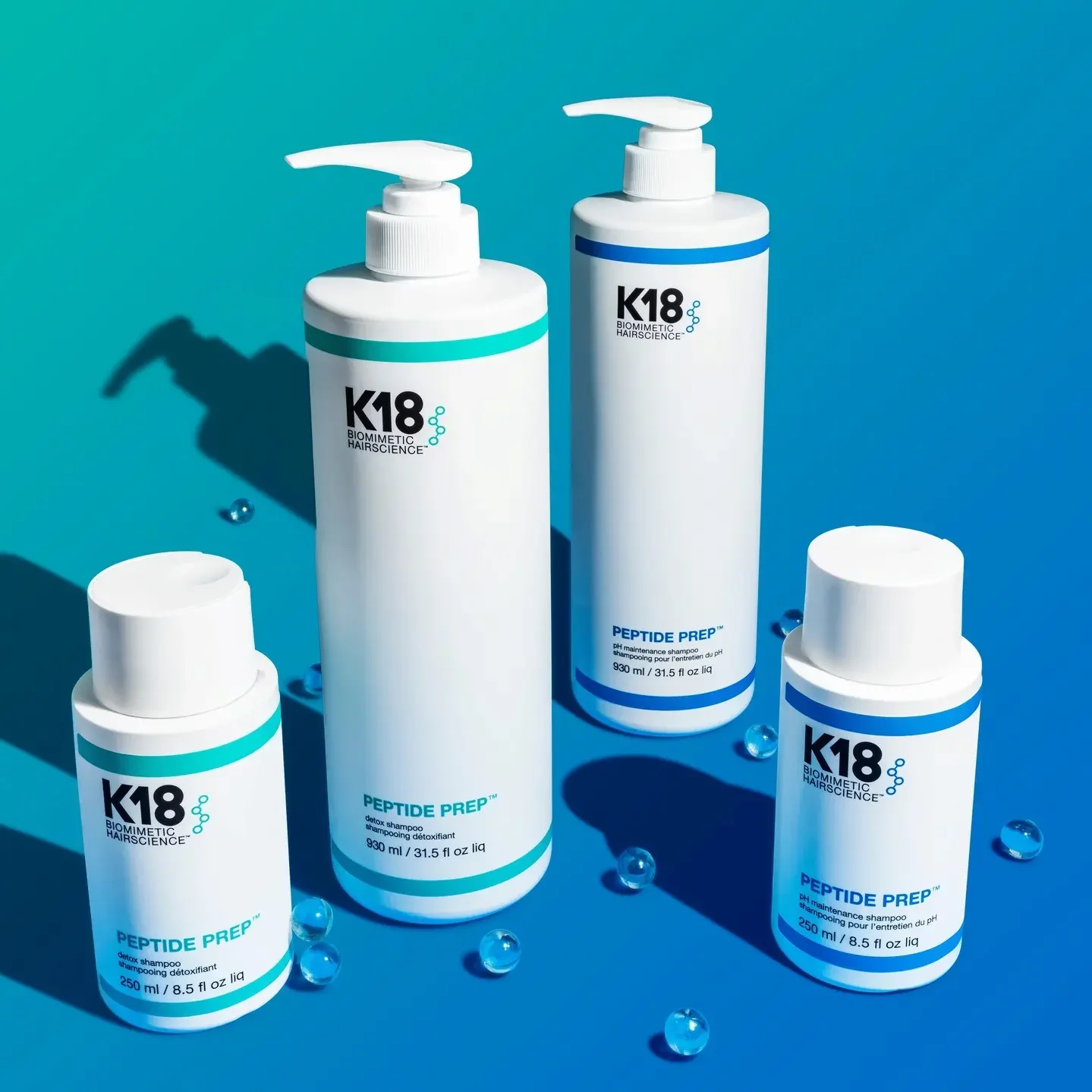 If we're being honest, K18 products do not come cheap. The PeptidePrep pH Maintenance Shampoo is $36 for an 8.5oz bottle and the PeptidePrep Detox Shampoo is $38 for an 8.5oz bottle.
Even more, a 50mL bottle of the best-selling Leave-In Molecular Repair Mask is $75. With that being said, K18 definitely doesn't come cheap, but a lot of K18 users do say a very little product goes a long way. 
Not just that, but customers say the K18 mask works so well that the price is totally worth it!
Olaplex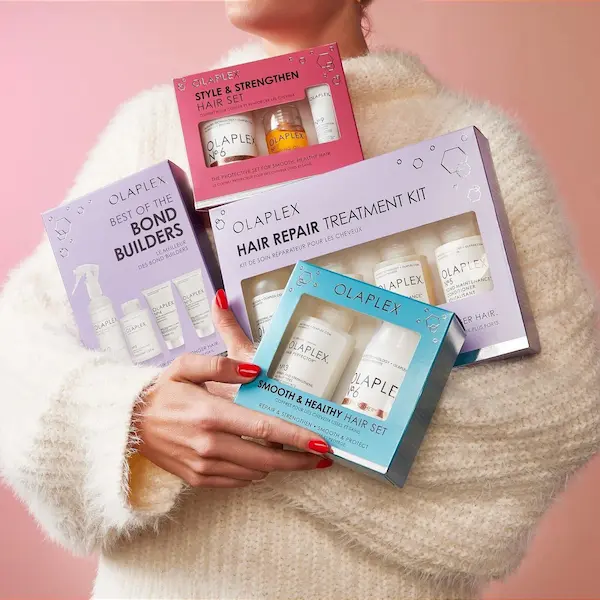 On the flip side, Olaplex prices are a bit more affordable.
For individual items, prices range from $30 to $96. Standard sizes for products (8.5oz) sit at $30, while the bigger sizes (33.8oz) are $96.
Olaplex bundles and sets are priced in between!
Much like K18 products, customers say Olaplex is totally worth the price due to the wonders it works on the hair.
Return Policy Comparison
K18
K18 offers a 45-day return policy with no hiccups, so long as you purchased the product directly from the K18 website and not a third-party retailer. 
If you do purchase through a third-party retailer (such as Sephora), you will have to rely on their return policy.
Olaplex
Olaplex offers a 60-day return policy from the date purchased. Returns usually take 10 to 14 days to process. If you are doing a return and are from the US, expect a $5 return shipping fee to be deducted from your refund. 
The Final Verdict
Olaplex and K18 are undeniably great brands that have contributed great technology to hair care. 
Honestly, we don't think you could go wrong with either, and since everyone's hair is different, one formula could work better for you than the other.
Olaplex is definitely a better choice if you want a wider range of products to choose from and if you want to create a hair care routine. However, K18 is great if you're mainly looking to treat and repair your hair.
That being said, both brands offer samples and small bundles so you can try them before splurging on a full bottle. We would recommend trying both!
ARTICLES TO READ NEXT: