Dr. Martens have come a long way from their humble prototype creation in 1945. Since the official introduction of their signature boot in 1960, this style of shoe quickly went from postal worker favorite to a symbol of rebellion and revolution of the working class.
It's incredibly rare to find a stylish, iconic shoe that also delivers on functionality but, fortunately, Doc Martens have a plethora of options that all come equipped with their signature cushioned sole and yellow stitching.
If you've recently purchased (or plan on purchasing) a pair and are wondering how to wear Doc Martens, keep reading for quite a few different tips and outfit ideas!
How to Wear Doc Martens
Skirt (Any Length)
An even more versatile option, the skirt is an awesome piece to pair with a Doc Martens 1460 boot because of how many different styles and outfits you can choose.
Pairing a feminine skirt with an edgy shoe is a great way to maximize your wardrobe and bring some spunk to your outfit. The 1460 boot in black is the original, and the most versatile, option since it can pair with anything. This gives you more color choices when it comes to pairing a skirt.
Find a skirt with a loose fit, something that is airy and light to contrast your boots. The classic boot we linked to above also comes in white, cherry red, and purple. If you have one of these colors, look for a skirt that has a pattern or color scheme that subtly picks up this accent.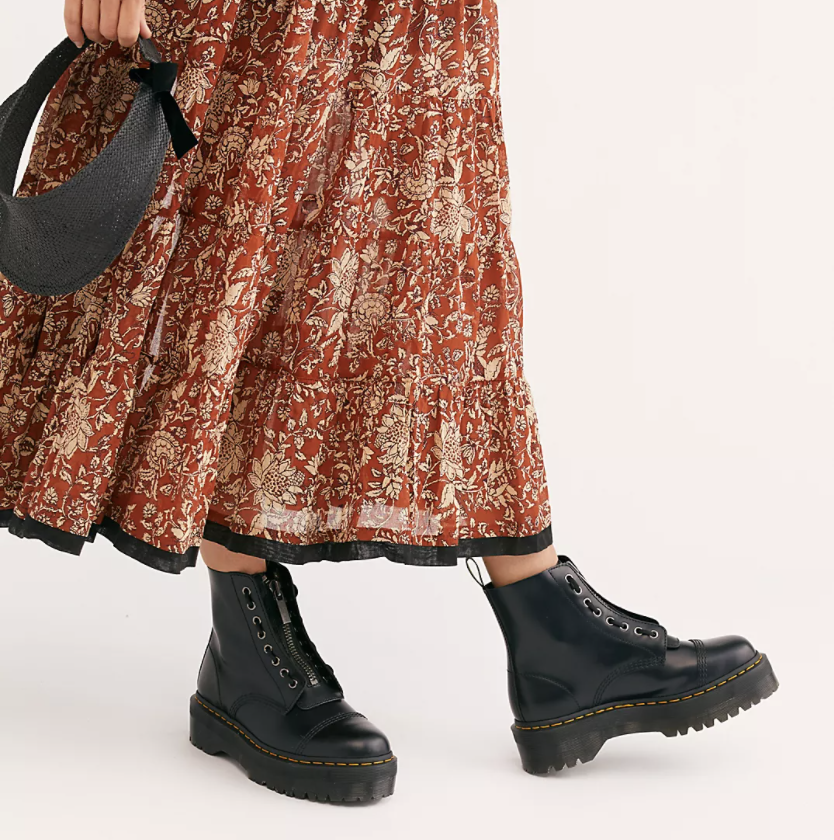 Need some ideas? For a fitted look, a bodycon midi skirt with side slits and matching crewneck sweatshirt mashes comfy and sleek together.
If you're looking for something with more movement, a pleated midi skirt with a plaid pattern will work as a vintage look. Finish it off with a simple tee shirt to keep the focus on your boots.
For a dressier look, pair your boots with a black flounce skirt and fitted mock neck top.
The plaid mini skirt paired with the 1460 boot is perhaps the most iconic punk rocker chic look there is. Pair this style with a white crop top tee shirt and jean jacket.
Dress (Any Length)
When it comes to how to wear Doc Martens, a skirt is another great pick.
Similar to the skirt, the dress is an all-in-one option that can be easily transitioned through any season (plus, it's easier to style since you don't have to worry about finding a matching top).
For a smooth transition from spring to summer, pair a strappy maxi dress with a white tee underneath. From fall to winter, add or subtract a long sleeve shirt and cozy cardigan.
Jumpsuits + Rompers
For a retro look, you can't go wrong with a jumpsuit or romper.
This can be paired well with any type of Doc Martens, from their classic combat boots to oxfords to chelsea boots.
Jeans
Another go-to look when it comes to Dr. Martens is jeans. While you can pair their boots pretty easily with any type of jeans, we've shared a few of the top types that work best. First off, skinny jeans!
Pair your Doc Martens with these and a hoodie, flannel shirt, or breezy blouse.
A very trendy cut of jeans right now are the mom jeans, a high waisted, loose fit that usually run straight at the ankle. You can tuck your jeans into your Doc Martens or cuff them.
For an all-out look, try a fitted shirt under a boyfriend blazer. Cropped jeans are another great pick for Doc Martens, especially if you want to show off your boots. One of our favorite styles is cropped jeans with heavily distressed ends – they really bring in that edgy look.
Overalls
Overalls aren't just for fall anymore. Trade your long sleeves for a tank and wear this piece with your Doc Martens through multiple seasons.
Leggings
Another way to wear a grunge look is with a pair of cotton leggings – try pairing it with an oversized flannel or graphic tee! Top it all off with a messy bun and your Doc Martens.
Leather Leggings + Pants
You probably have 100+ pairs of black spandex leggings, but simply changing up the material completely transforms your look.
Think of leather leggings (or faux leather leggings) as the dressier, edgier version of your go-to bottoms.
Need a good pair? Browse the best faux leather leggings!
Longline Jacket
For light winter or autumn weather, a longline jacket is a great statement piece when paired with Doc Martens.
Black Tights
Elongate your legs and keep them warm with a pair of black tights. Wear under skirts or dresses for a graceful transition from fall to winter.
For seamless length, pair opaque black tights with black Doc Martens.
If you want a bit of a sexy, edge look, opt for fishnet tights!
Graphic Top
When you want to keep it simple, there's no better match than your Doc Martens and a graphic tee or other graphic top (such as a hoodie).
Cropped, fitted, or loose, you can pair this look with jeans, leggings, or skirts of any length.
If your bottoms are a loose fit, pair them with a fitted top. High waisted bottoms work best with a crop top, knotted tee, or shirt tucked into the waistband.
Trousers/Pants
Doc Martens can be dressed up or down. For a formal look, grab a pair of black cropped trousers and a blazer for an outfit that's dressed up but not over the top.
Sweatpants
The ultimate laid-back look for running errands or just hanging out is matching sweatpants and sweatshirt, a cozy pair of socks, and your Doc Martens.
Stay warm and dry from head to toe!
Moto Jacket
A leather moto jacket is a perfect addition to almost any of these outfits, but you can't go wrong with an all-black look.
Duster Cardigan
A cozy look for chilly days that hits just above your 1460 boot, a duster cardigan will keep you warm and toasty paired with jeans, leggings, or skirts.
Jean Shorts
When summer comes around, you don't have to tuck your boots away with your winter clothes. Pair your 1460 boot with jean shorts, a tee shirt, and a flannel tied at the waist.
Bottom Line
We hope you gathered plenty of ideas for how to wear your new pair of Doc Martens! Overall, you can wear these go-to shoes with nearly any outfit, from girly floral dresses to edgy pants and a graphic tee.
Keep in mind that the color and specific style of your shoes makes a big difference as well since they sell quite a few different styles. Just make sure your colors match – if you're going with a less common color of Doc Martens, one trick is to make sure your outfit has some accent colors that match your shoes.
For more information, discover ideas about what to wear with white shoes or how to wear platforms.
No matter the season, the style, or the outfit, Doc Martens will enhance any look. The best part? Your feet will be comfortable anywhere you go.