Comfort, quality, and style? Hey Dude shoes claim to have it all. Check out our unsponsored Hey Dude shoes review below.
Sometimes it can feel as though we have to choose between comfort and style when it comes to shoes. But with Hey Dude, you can have the best of both worlds with their stylish, all-weather designs.
Hey Dude claims to specialize in high-quality, durable, aesthetic shoes, but are they actually worth it? Read our Hey Dude shoes review below for an in-depth look.
What Are Hey Dude Shoes?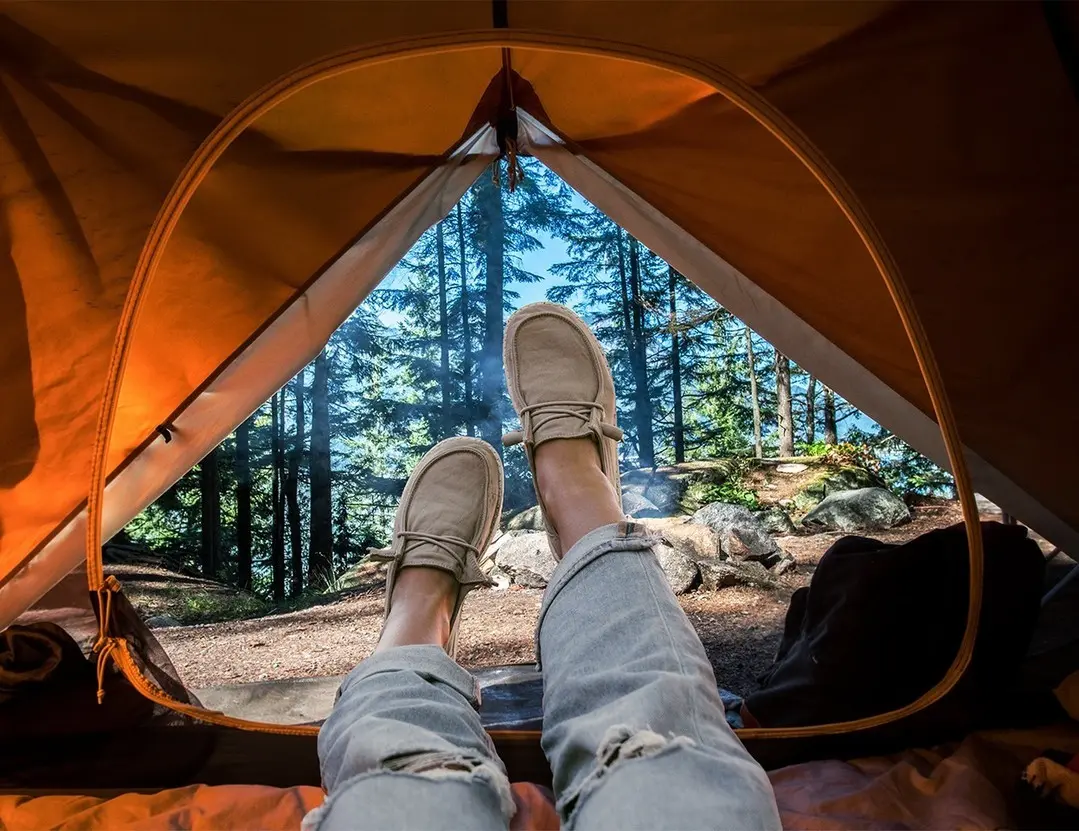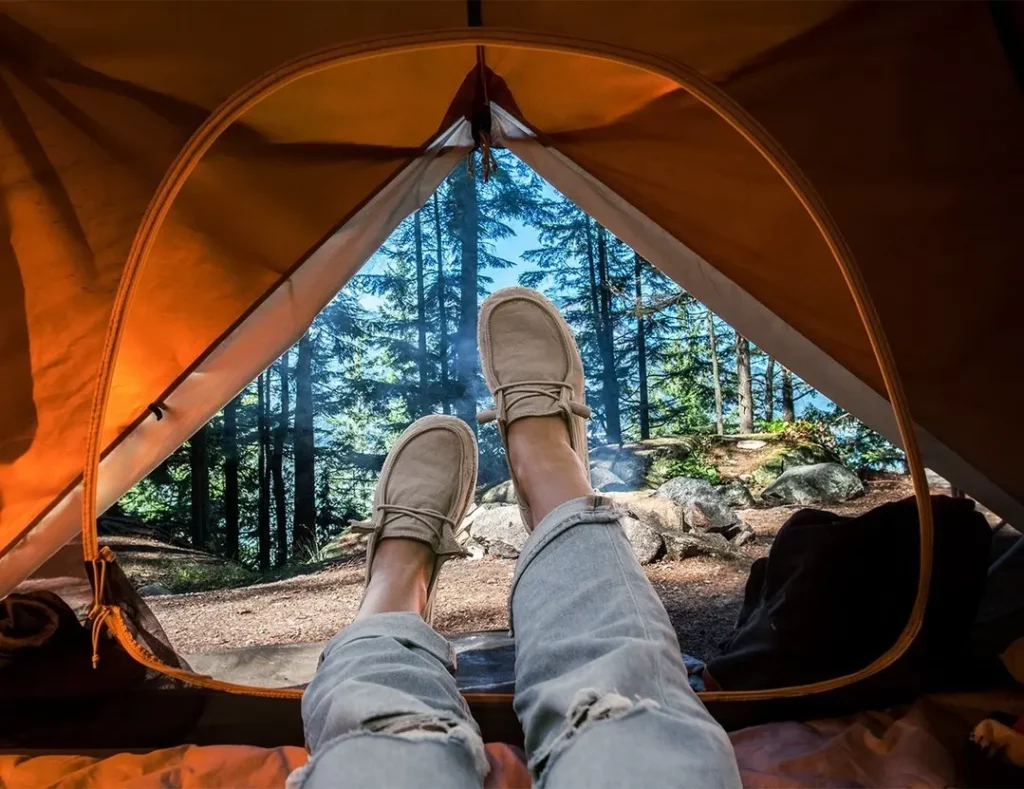 Hey Dude is a brand of footwear for the whole family. They're made with adventurous and on-the-go people in mind, offering comfortable, quality shoes that you'll actually want to wear in public.
They carry a variety of styles for women, men, and kids such as booties, slip-ons, and sandals.
Founded in 2008, Hey Dude Shoes began its mission to provide stylish, durable shoes for all-day wear. The perfect pair for any active lifestyle, Hey Dude creates shoes with sustainability in mind.
For example, a majority of their shoes are made with sustainable cork insoles, which allow better air circulation and help reduce odor. They also strive to use repurposed and recycled materials, such as plastic water bottles.
RELATED: 11 Best Vans Shoes to Add to Your Wishlist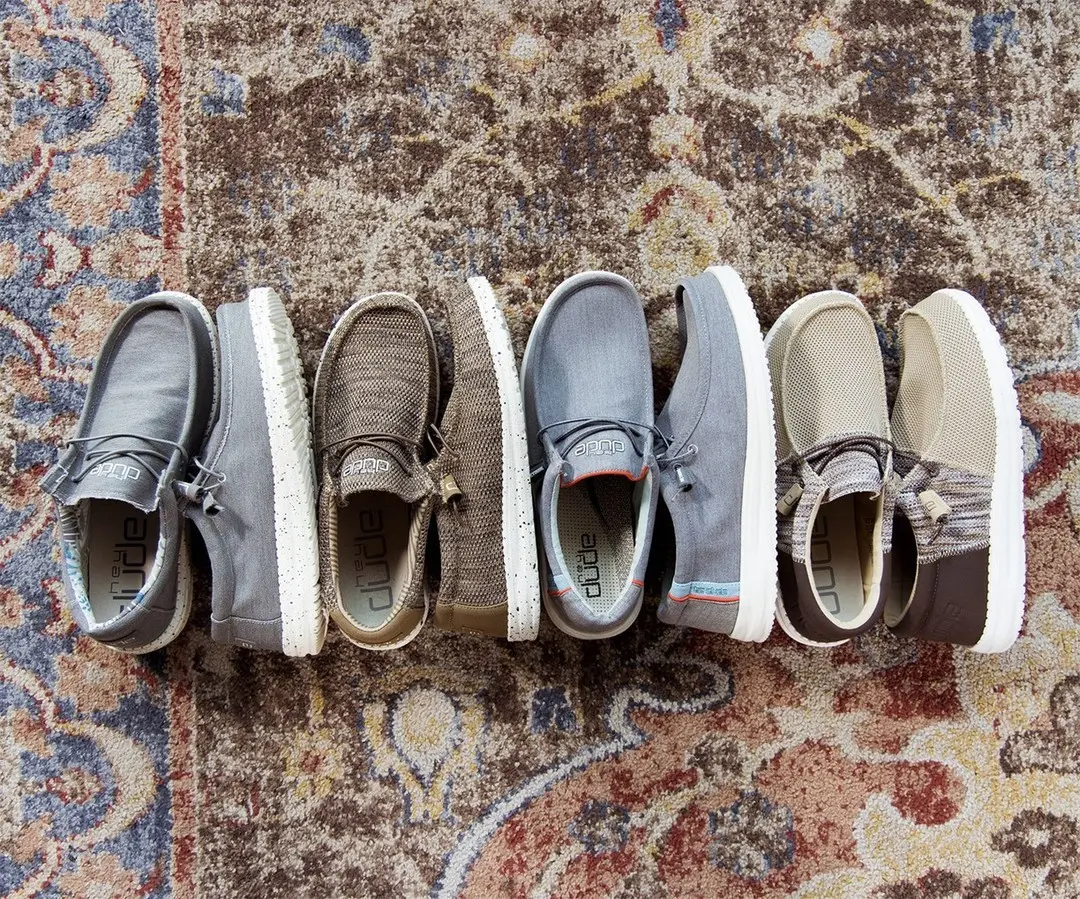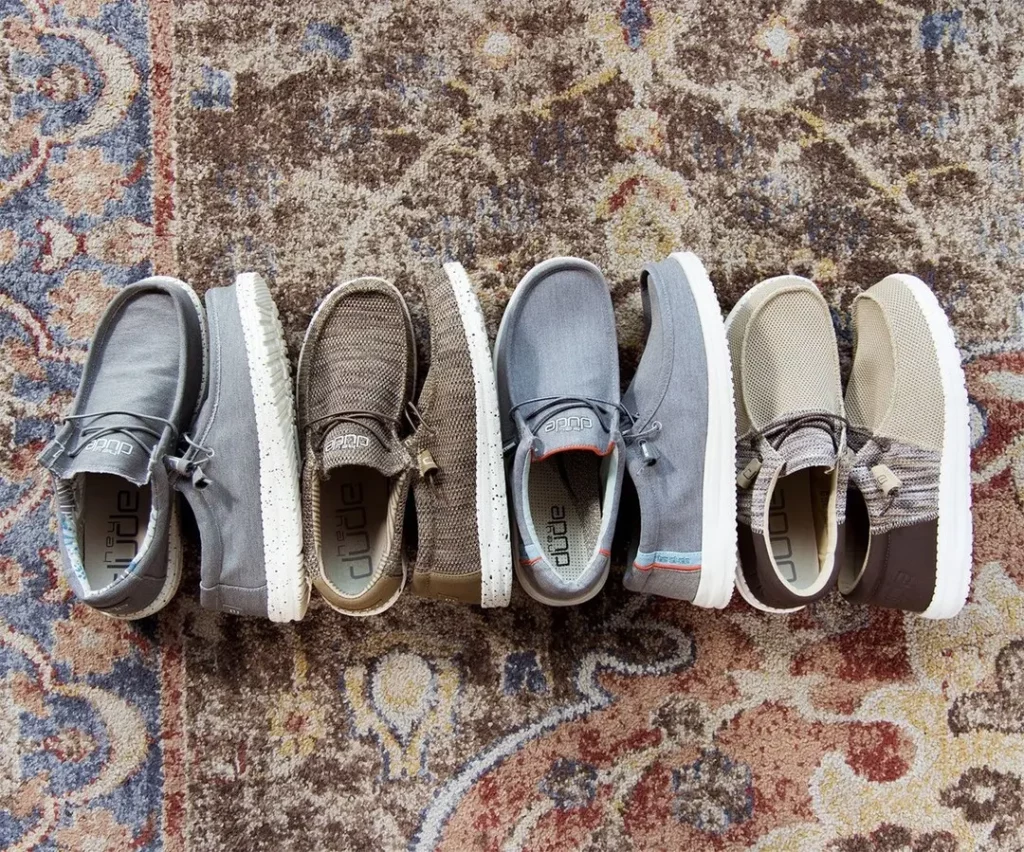 Hey Dude Shoes Reviews
Overall: ★★★★ 4 stars
Overall, customers either seem happy with the comfort of Hey Dude Shoes or really dislike them. Many people say they could use better support, better traction, and the customer service could use some improvements.
However, there are quite a few satisfied customers as well, so it's hard to say if you're going to like their shoes. We'd only recommend Hey Dudes if you plan on walking mainly on smooth surfaces (such as walking around the office or a pair of house slippers). They don't have the best traction or support, but they are pretty dang comfortable when you're just walking around a smooth area. Plus, they are super easy to slip on.
Price: ★★★★ 4 stars
At about $45–$80 per pair, most customers agree Hey Dude Shoes are pretty affordable in comparison to other high-comfort shoes. 
They also offer a great sale section, which always seems to be stocked with a variety of options at discounted prices. We've seen Hey Dude sneakers for kids as low as $25 in the sale section!
Quality: ★★★★ 3.75 stars
Most customers seem happy with the quality of their shoes, but some do say they wear out quicker than they expected. Overall, however, customers agree the shoes are comfortable and make great casual shoes.
Value: ★★★★ 4 stars
For the price you pay, you get comfortable, lightweight shoes that are of great quality.
---
Hey Dude Men's Shoe Review
Hey Dude Men's shoes are some of the most comfortable and stylish shoes on the market. They offer a unique style that is perfect for any outfit and occasion, and they're built to last.
We love Hey Dude shoes for their incredible comfort, durability, and style. If you're looking for a new pair of quality shoes for a decent price, we highly recommend this brand.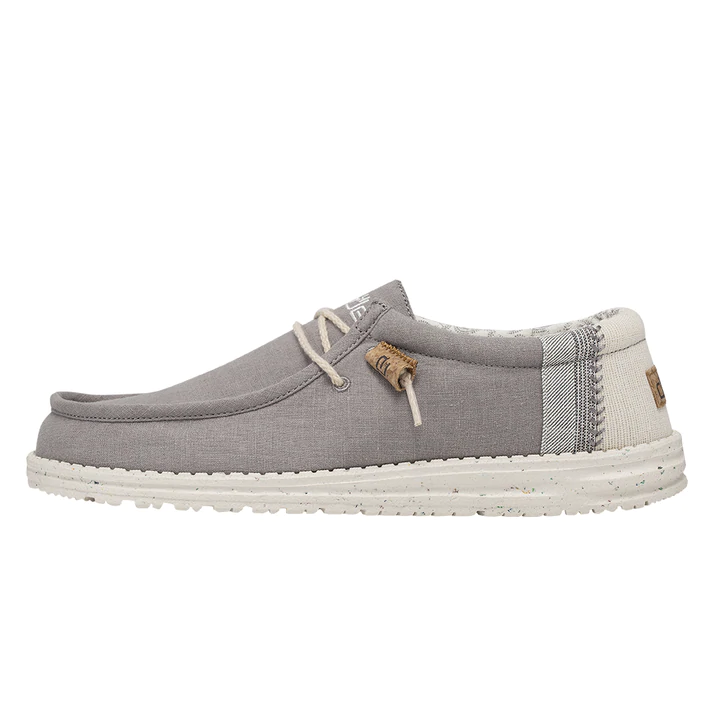 The Wally Shoe is Hey Dude's #1 selling men's pair of shoes – it comes in over 70+ colors and styles!
The Wally is a great casual shoe that's perfect for everyday wear. The most noticeable feature is the unique stitching on the upper, which gives the shoe a bit of personality. The construction is also top-notch, and the materials are very soft and comfortable.
Quality: They are also made with Flex and Fold technology and memory-foam insoles. Their bi-component knit uppers provide comfort and versatility for one of the most versatile, everyday shoes for men.
Fit: Like most Hey Dude shoes, the Wally shoe has a relaxed wide fit and has an extremely comfortable sole that makes it feel like you're walking on clouds.
Price: $59.95
What Others are saying:
"These are extremely comfortable and stylish, with lots of options to choose from. I was told by friends to order a size smaller than my usual 11, but the 10s didn't fit so Hey Dude took them back and I purchased a new pair in size 11 and they fit perfectly."
"Awesome huge fan just bought 4 pairs💪🏼"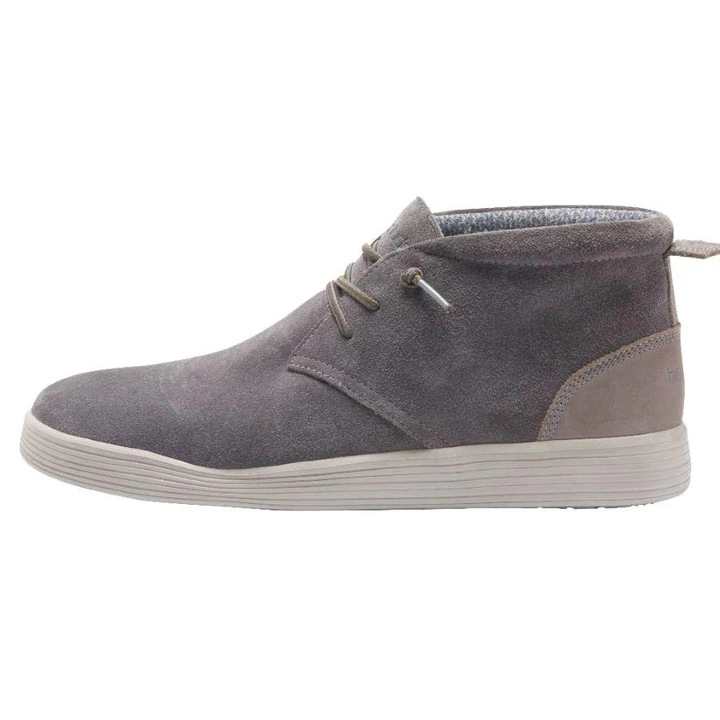 A clean, understated boot in supple premium suede. Waxed leather reinforcement at the heel for extra stability. Soft and breathable wool blend lining. Featuring our Easy-On System with no-tie elastic laces.
Quality: They are also made with Premium cow-suede leather upper, Waxed nubuck heel counter and loop, Heat-and moisture-regulating wool blend lining and an Easy-On System with elastic laces.
Fit: Relaxed fit with added width for the knuckle of the foot making this one of the most comfortable boots out.
Price: $59.95
What others are saying:
"This is my second pair of these shoes. I also have a tan color. These are my favorite shoes. I'm a self-confessed shoe addict and I have a lot of nice shoes. Unfortunately, since I bought these two pairs, I can hardly make myself wear anything else, they are just that comfortable. Plus, they are super easy to get on and off. I highly recommend"
Hey Dude Women's Shoe Review
Hey Dude shoes are a great choice for women who want comfort and style. They offer a variety of styles that are perfect for everyday wear, and their shoes are made with quality materials that will last.
If you're looking for a new pair of shoes to add to your wardrobe, Hey Dude shoes are definitely worth considering.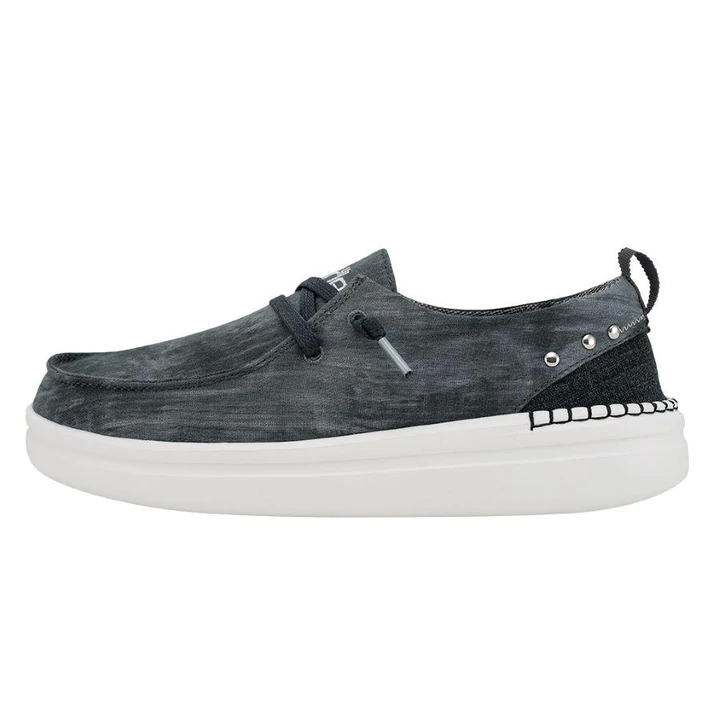 This is one of over 80+ Versions of the women Hey Dude Wendy Shoe. I highly recommend looking through their collection to find a style that fits you.
The original low-top moc with a unique design. Plus a tiny bit more height and cushion for good measure. Still very light despite the higher height and additional cushioning. Easy-On system, as well as our innovative UltraLIGHT EVA outsole for maximum comfort. The heel is finished with contrasting textures and hand-stitching.
Quality: These shoes have Hand-stitched detailing at the heel, UltraLIGHT platform outsole, Ergonomic, leather-lined, and a removable memory-foam insole. The sole of these shoes are easy to clean making them a perfect shoe for outdoor activity.
Fit: If you've ever purchased Hey Dudes Wendy shoes beware that the sizing on this shoe is much different, it runs loose at the heel so you will most likely want to size down.
Price: $59.95
What others are saying?
"These are my 2nd pair of the "rise" version and I LOVE them- I prefer them to the thinner midsole if regular HeyDudes. I normally wear a 9 and had to exchange the first pair for an 8, which fit perfectly and the 8s in this second pair are perfect as well. I highly recommend them!"
"LOVE LOVE LOVE THEM!
Most comfortable shoes I have EVER worn❣️"
With over 1100 reviews this shoe averages 4.8 stars out of 5 making it one of Hey Dude's top-rated shoes.
Hey Dude's most iconic low-top moc in a breathable, flexible, and stretchy soft canvas for all-around flexibility and support. With no-tie laces, the Flex & Fold system and their Easy-On System are built with leading-edge technology. Built on their patented UltraLIGHT EVA outsole.
Comfort: "Most comfortable shoes. Easy slip-ons like walking on cotton balls."
Size: The Wendy Stretch Fleece shoes run big, you will want to Size Down.
Price: $59.95
Other Customer Reviews:
"VERY CUTE. Everyone seems to love when i wear these!! They are super comfy and light as well."
"I received my new Hey Dudes about 2 weeks ago. I love them. They are comfortable, easy to clean and look great."
---
Hey Dude Shoes Reviews: What Other Customers Are Saying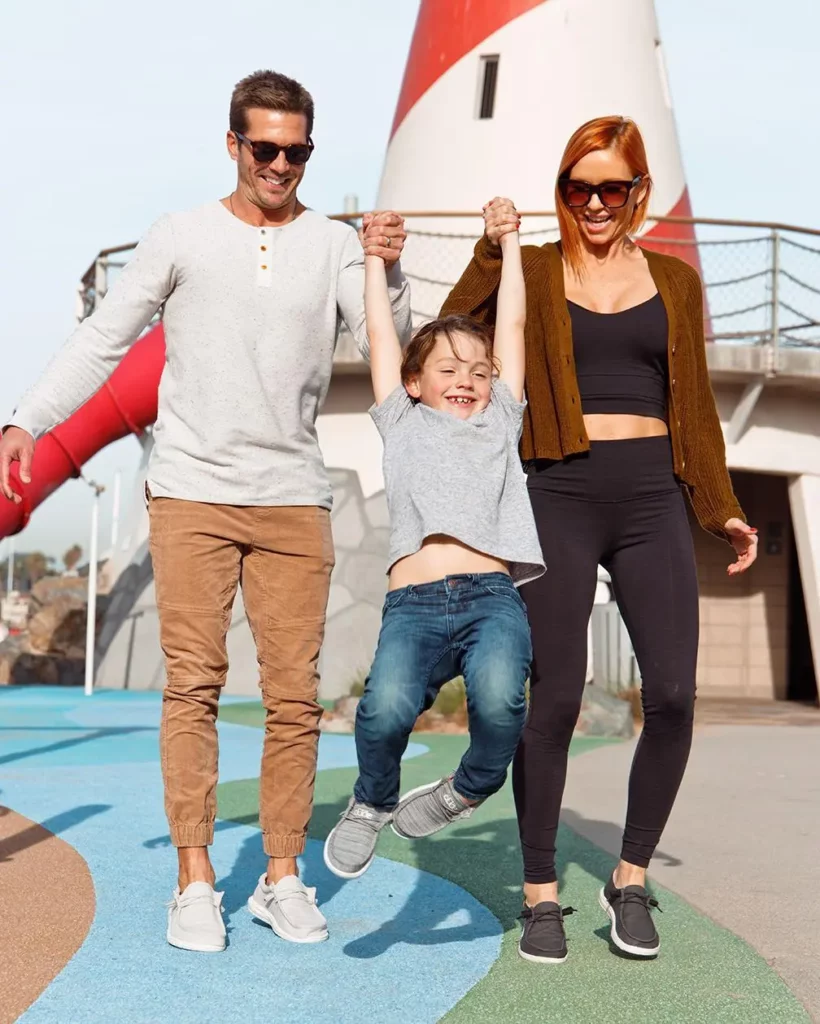 Hey Dude Shoes has a 4.9-star rating out of 5 on Reviews.uk with an astounding 5,222 reviews, which means most customers are generally happy with their purchases.
Here are some quotes from customers, including the good, the bad, and the ugly:
"Walking on air. That's how I would describe wearing Hey Dudes. These are the most comfortable lightweight yet durable shoes! I was hesitant to try them being skeptical of them just being a new fad. They are amazing! I now have 4 pair and bought 3 for friends." – Scott Packer on Trustpilot
"I'm 45 been wearing them for 10 years. Comfortable, lightweight, and not expensive" – wacky8ball on Reddit
"They are very comfortable but I don't see much ankle support built in them. I personally don't need support but everyone is different. I would recommend them to try. [Will] be getting another pair soon." – htasmith on Reddit
Based on thousands of Hey Dude Shoes reviews from sites like Reddit, Trustpilot, and Reviews.uk here is what most customers have to say about this brand:
Lightweight
Comfortable
Great for travel
Some say they could use more support
Some customers report issues with customer service
Are Hey Dude Shoes sustainable?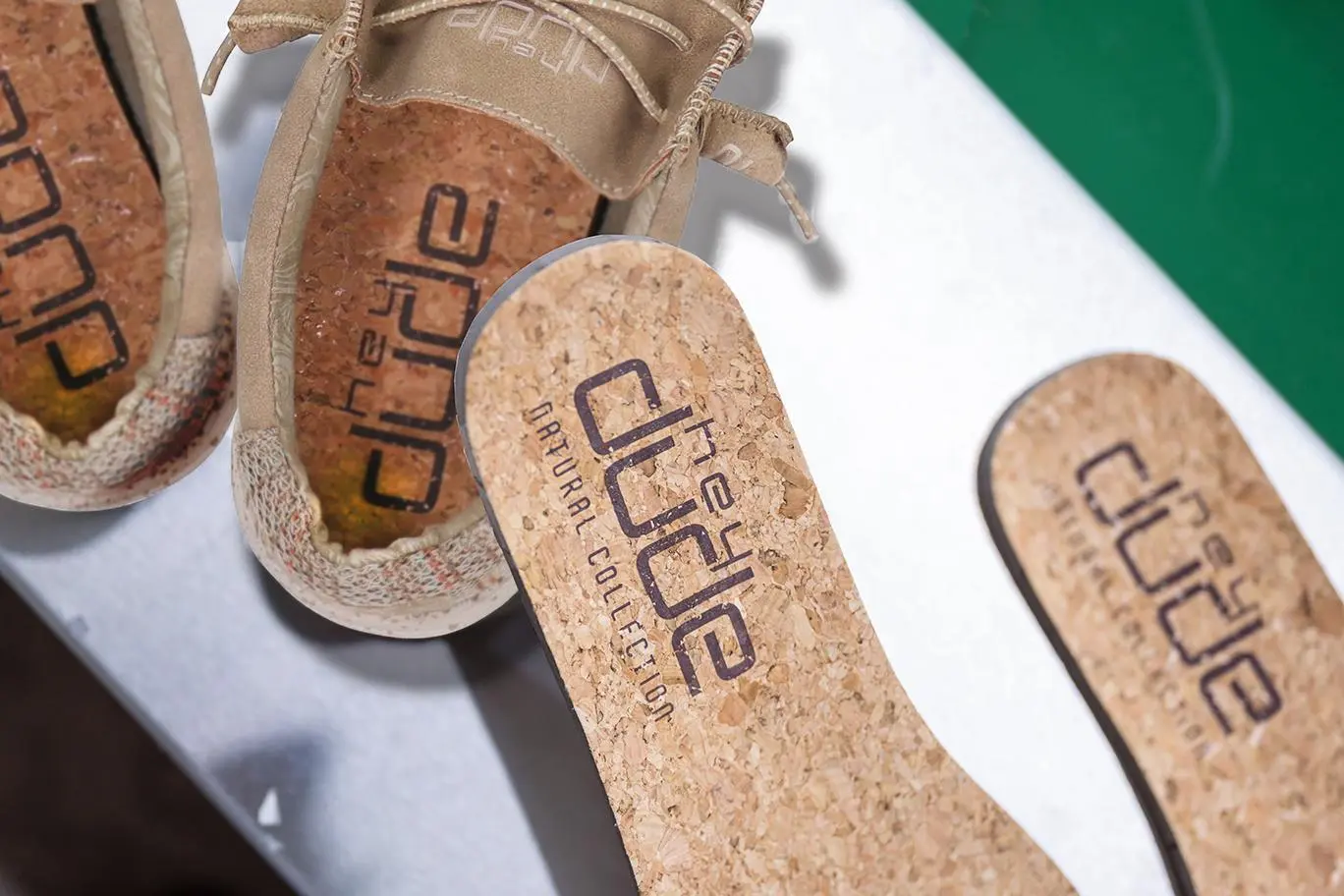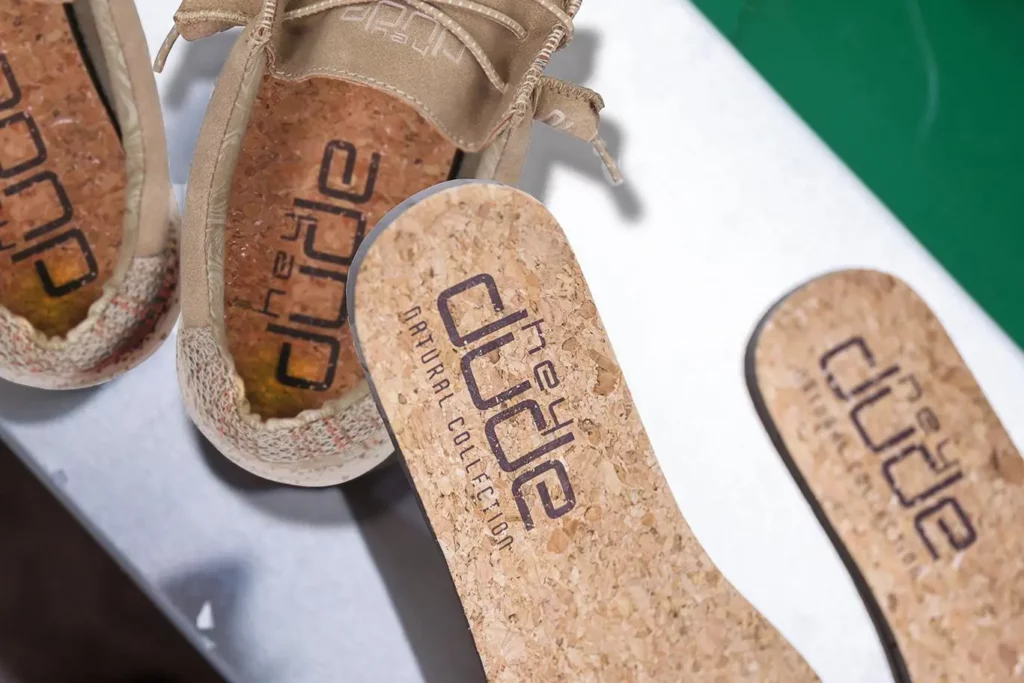 Hey Dude Shoes strive to be a sustainable, ethical brand with fair wages, biodegradable packaging, and recycled materials. Some of the materials they use to make their shoes include recycled cork, recycled plastic, recycled leather, and organic cotton.
Even more, their packaging is 100% biodegradable, made with cornstarch, and promises to biodegrade in just one year.
Are Hey Dude Shoes True to Size?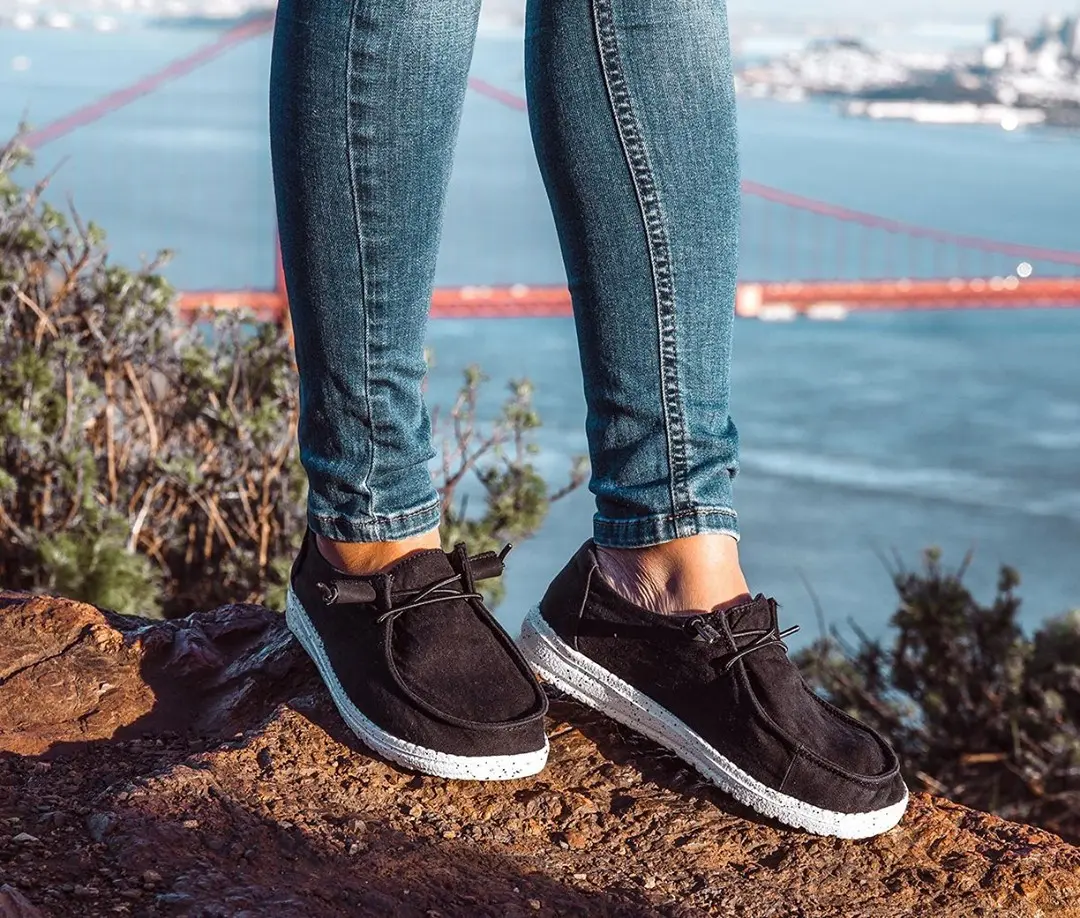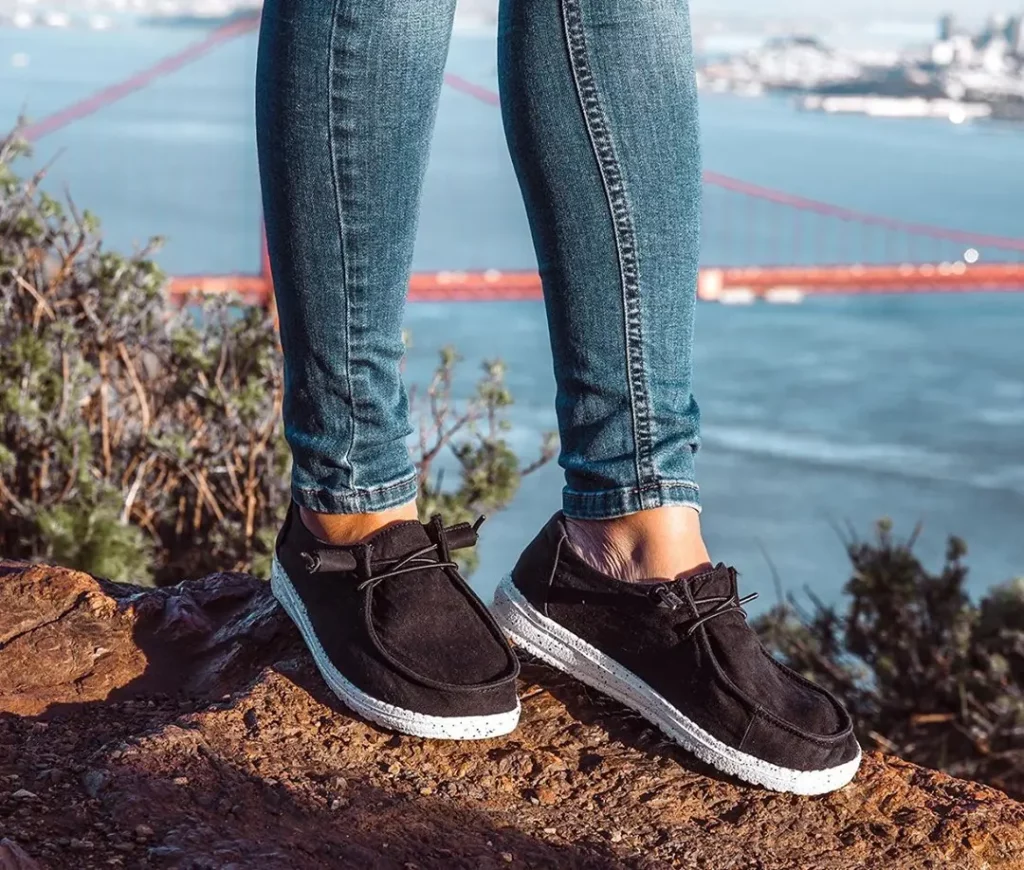 According to their website, Hey Dude Shoes may run large or small, depending on each shoe type.
Because of this, they recommend that you look at the sizing tips for each individual pair of shoes on their product pages.
It's important to note that Hey Dude shoes only come in full sizes; they do not offer half sizes. Because of this, a lot of customers recommend sizing up. This may also be a reason that some shoppers experienced issues with sizing.
Return Policy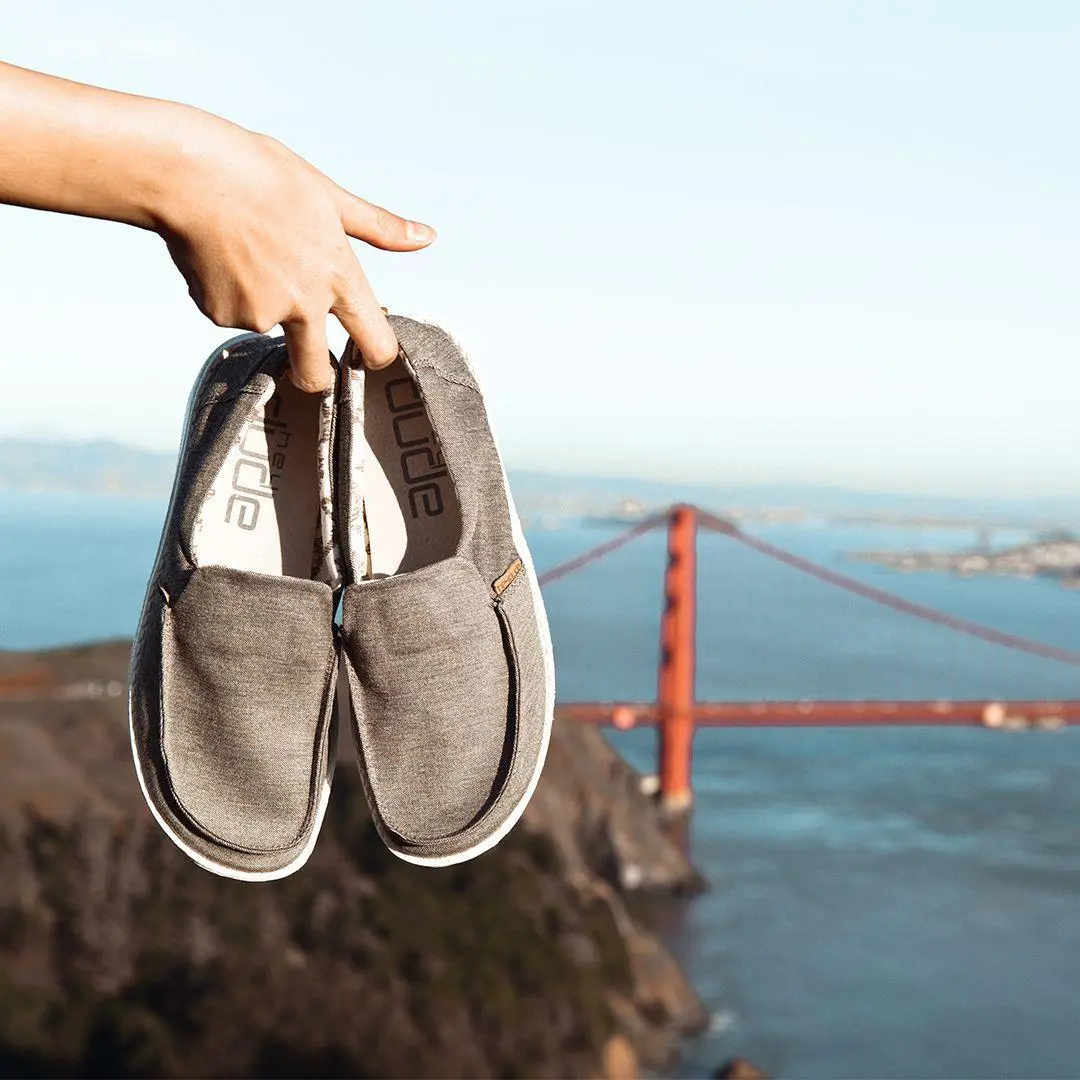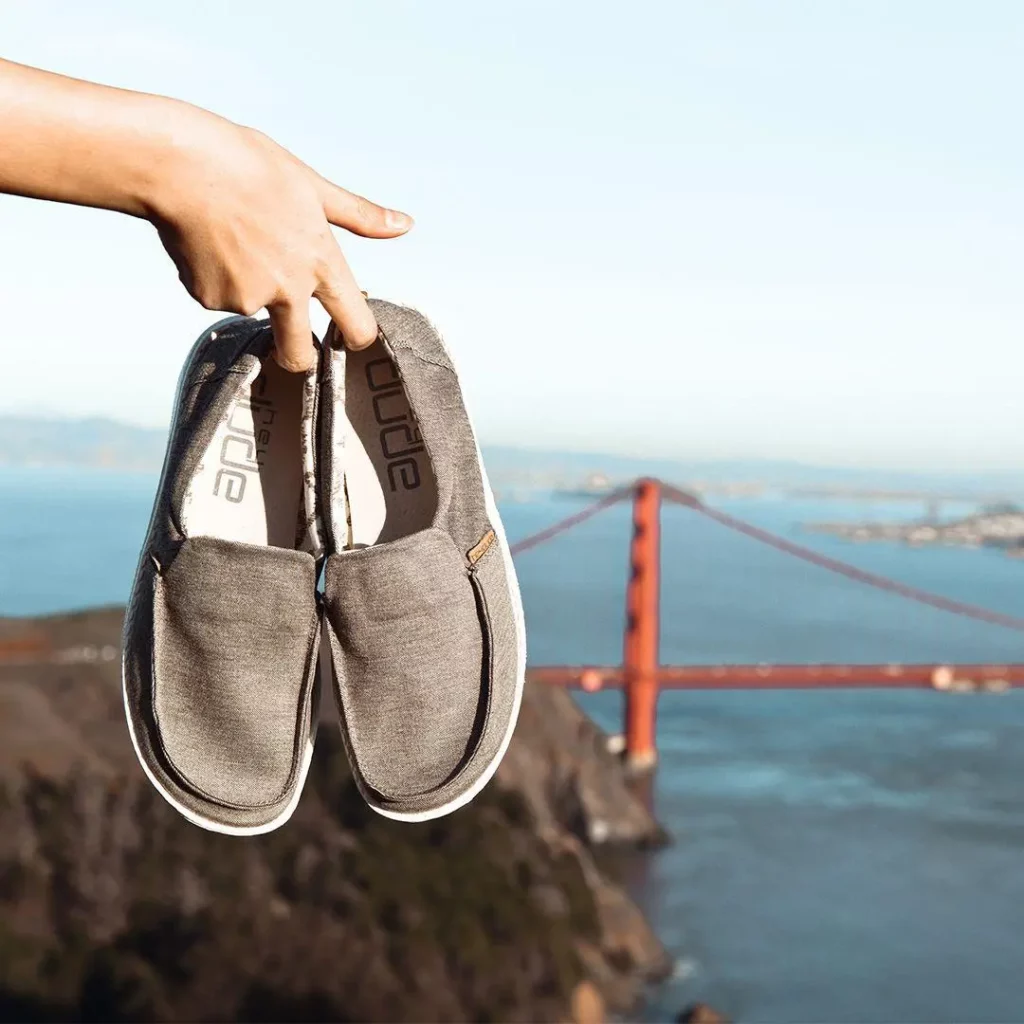 Hey Dude's return policy states that they accept returns for a refund or store credit within 30 days of delivery.
Qualified returns and exchanges are free. However, all shoes must be unworn, unwashed, and free of any odor and dirt.
FAQs
Where can you buy Hey Dude shoes?
How should you clean Hey Dude shoes?
Shoes from Hey Dude are machine washable; use cold water and the gentle cycle for best results. Air dry.
How to tighten Hey Dude shoes?
All you have to do is unknot the laces at the sides of the shoe, pull them to how tight you want them, then retie the knot to keep them in place.
Final Thoughts: Are Hey Dude Shoes Worth It?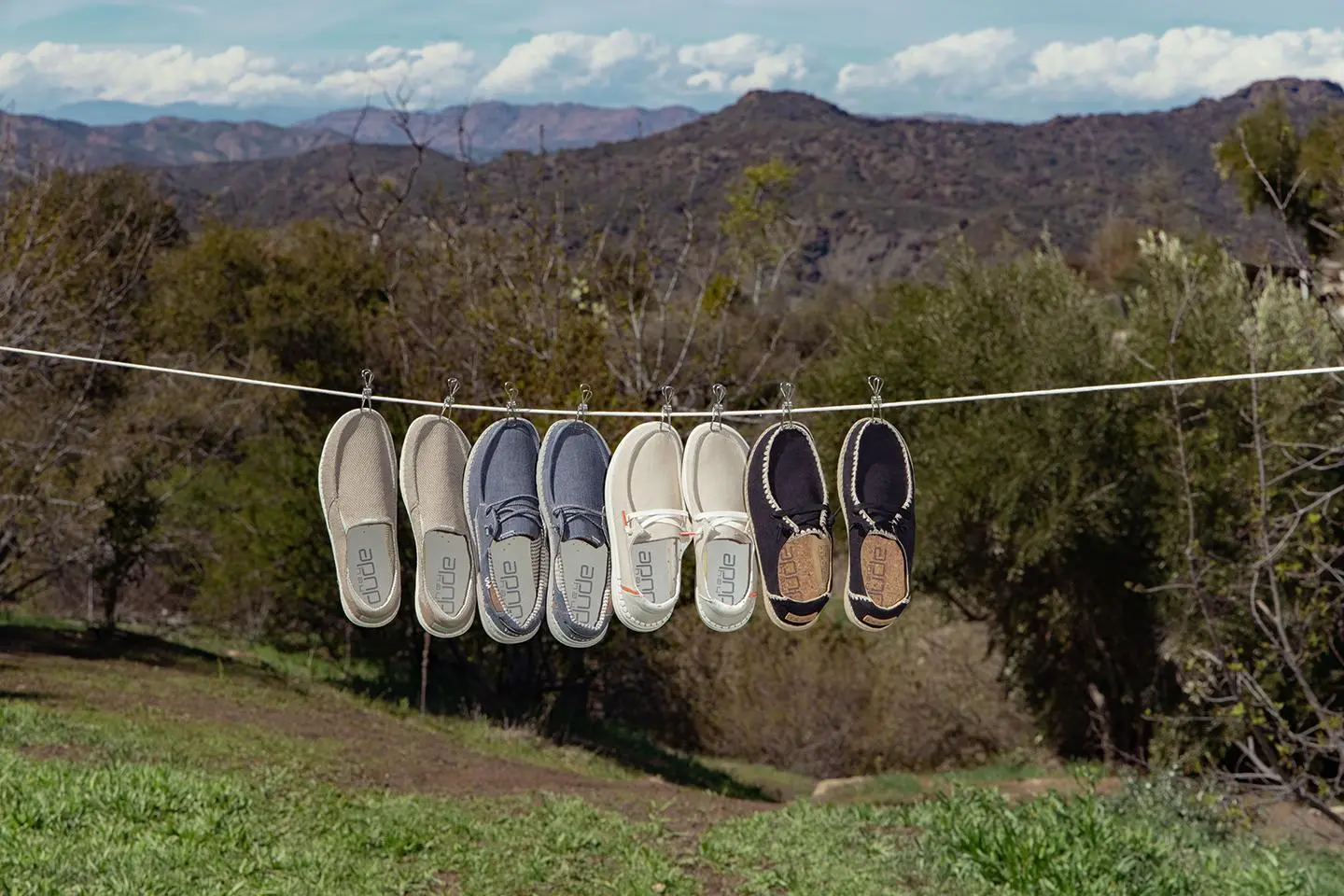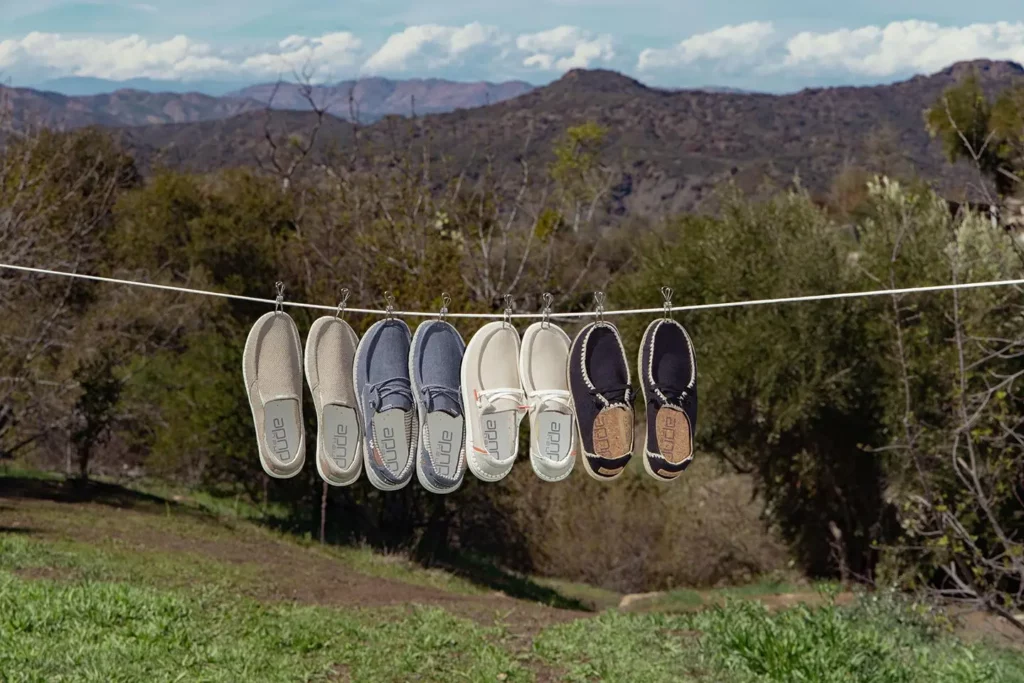 Functional doesn't have to mean boring, and Hey Dude Shoes prove just that. They have a large following of happy customers that praise their comfortable, lightweight, affordable, and stylish shoes!
That said, some customers have complained about poor customer service as well as poor support from the shoes. If you want to give them a try, be sure to check out their full return policy first.
UP NEXT: 19 Best Slip-On Shoes for Men