Comfort, quality, and style? Hey Dude shoes claim to have it all. Check out our unsponsored Hey Dude shoes review below.
Sometimes it can feel as though we have to choose between comfort and style when it comes to shoes. But with Hey Dude, you can have the best of both worlds with their stylish, all-weather designs.
Hey Dude claims to specialize in high-quality, durable, aesthetic shoes, but are they actually worth it? Read our Hey Dude shoes review below for an in-depth look!
What Are Hey Dude Shoes?
Hey Dude is a brand of footwear for the whole family. They're made with adventurous and on-the-go people in mind, offering comfortable, quality shoes that you'll actually want to wear in public.
They carry a variety of styles for women, men, and kids such as booties, slip-ons, and sandals. 
Hey Dude Shoes Overview
Founded in 2008, Hey Dude shoes began its mission to provide stylish, durable shoes for all-day wear. The perfect pair for any active lifestyle, Hey Dude creates shoes with sustainability in mind.
For example, a majority of their shoes are made with sustainable cork insoles, which allows better air circulation and helps reduce odor. They strive to use repurposed and recycled materials such as plastic water bottles.
RELATED: 11 Best Vans Shoes to Add to Your Wishlist
---
Hey Dude Shoes Review
Overall: ★★★ 3 stars
Overall, customers seem happy with the comfort and versatility of Hey Dude Shoes! Some people say they could use better support and customer service, however.
Price: ★★★★ 4 stars
At about $45-$80 per pair, most customers agree Hey Dude Shoes are affordable in comparison to other high-comfort shoes.
Quality: ★★★ 3 stars
Most customers seem happy with the quality of their shoes, but some say they wear out quicker than they expected.
Value: ★★★★ 4 stars
For the price you pay, you get comfortable, lightweight shoes that are decent quality.
---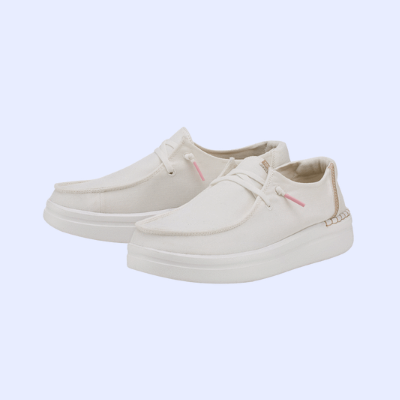 Hey Dude's Wendy shoe is their best-selling shoe for women. Similar to a boat shoe, they have a versatile look and a wide fit.
They're made with Flex and Fold technology for their most comfortable fit and have soft canvas exteriors with a variety of colors and patterns.
---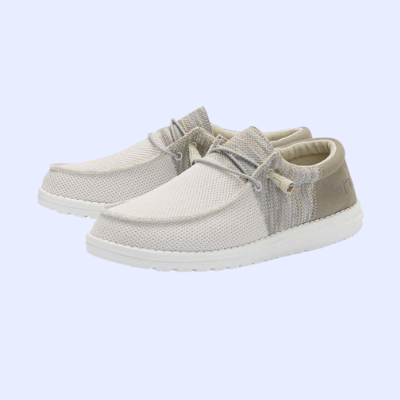 Similar to the Wendy shoe, Hey Dude's Wally shoe is their best-selling shoe for men. They are also made with Flex and Fold technology and memory-foam insoles.
Plus, their bi-component knit uppers provide comfort and versatility for one of the most versatile, everyday shoes for men.
---
What Others Are Saying
Hey Dude Shoes has a 3-star rating out of 5 on Trustpilot, which means most customers are generally happy with their purchases. Here are some quotes from customers, including the good, the bad, and the ugly:
"Very poor communication from customer service. I kept sending emails with pictures about my damaged shoes and they kept sending me the same email about sending pictures to them. Finally after 4 emails I was able to do a return and they are shipping me another pair. I love my Dudes but I don't like how they ship shoes without them being in boxes. Makes it hard to keep them from getting damaged in the delivery process." – Kathleen Bellow on Trustpilot
"Walking on air. That's how I would describe wearing Hey Dudes. These are the most comfortable lightweight yet durable shoes! I was hesitant to try them being skeptical of them just being a new fad. They are amazing! I now have 4 pair and bought 3 for friends." – Scott Packer on Trustpilot
"I'm 45 been wearing them for 10 years. Comfortable, lightweight, and not expensive" – wacky8ball on Reddit
"They are very comfortable but I don't see much ankle support built in them. I personally don't need support but everyone is different. I would recommend them to try. [Will] be getting another pair soon." – htasmith on Reddit
Based on thousands of reviews from sites like Reddit, here is what most customers have to say about Hey Dude shoes:
Lightweight
Comfortable
Good for travel
Some say they could use more support
Some customers report issues with customer service
Are Hey Dude Shoes sustainable?
Hey Dude Shoes strive to be a sustainable, ethical brand with fair wages, biodegradable packaging, and recycled materials. Some of the materials they use to make their shoes include recycled cork, recycled plastic, recycled leather, and organic cotton.
Even more, their packaging is 100% biodegradable, made with cornstarch, and promises to biodegrade in just one year.
Are Hey Dude Shoes True to Size?
According to their website, Hey Dude Shoes may run large or small, depending on each shoe type. Because of this, they recommend that you look at the sizing tips for each individual pair of shoes on their product pages.
It's important to note that Hey Dude shoes only come in full sizes; they do not offer half sizes. Because of this, a lot of customers recommend sizing up.
Return Policy
Hey Dude's return policy states that they accept returns for a refund or store credit within 30 days of delivery.
However, all shoes must be unworn, unwashed, and free of any odor and dirt.
Final Thoughts: Are Hey Dude Shoes Worth It?
Functional doesn't have to mean boring, and Hey Dude Shoes prove just that. They have a large following of happy customers that praise their comfortable, lightweight, and stylish shoes!
Some customers have complained about poor customer service or poor support from the shoes, so if you want to give them a try, be sure to check out their full return policy first! 
UP NEXT: 19 Best Slip On Shoes for Men